Perfect dessert to celebrate summer with, this blueberry mascarpone cream pie (tart) is made with a sweet tart shell and filled with a generous amount of velvety smooth mascarpone cream. Topped with wild jammy blueberries that take it to another level. Stays perfect for days and is a treat to eat.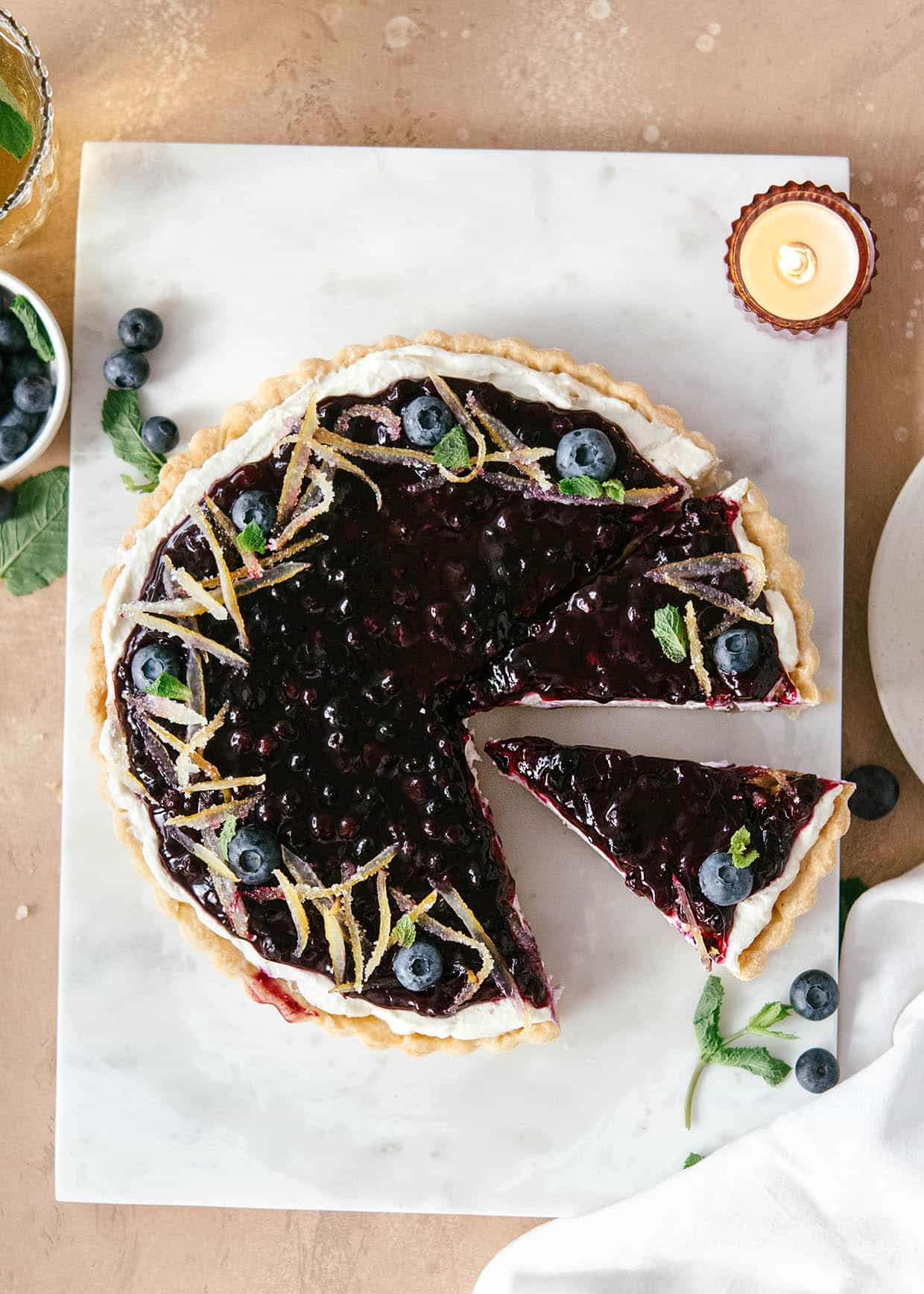 For how much I hate the summer heat, you would think I hate everything about summer. But every time I curse the humidity or the scorching heat or the fact that I can't air our the apartment, I remind myself that it's not all bad. Not at all.
Not when I look at my counter overflowing with stone fruit and the numerous berries in my refrigerator. I am grateful for that and thus I am grateful for summer, even if it does annoy me. Let this blueberry mascarpone cream pie (tart!) be my appreciation gift.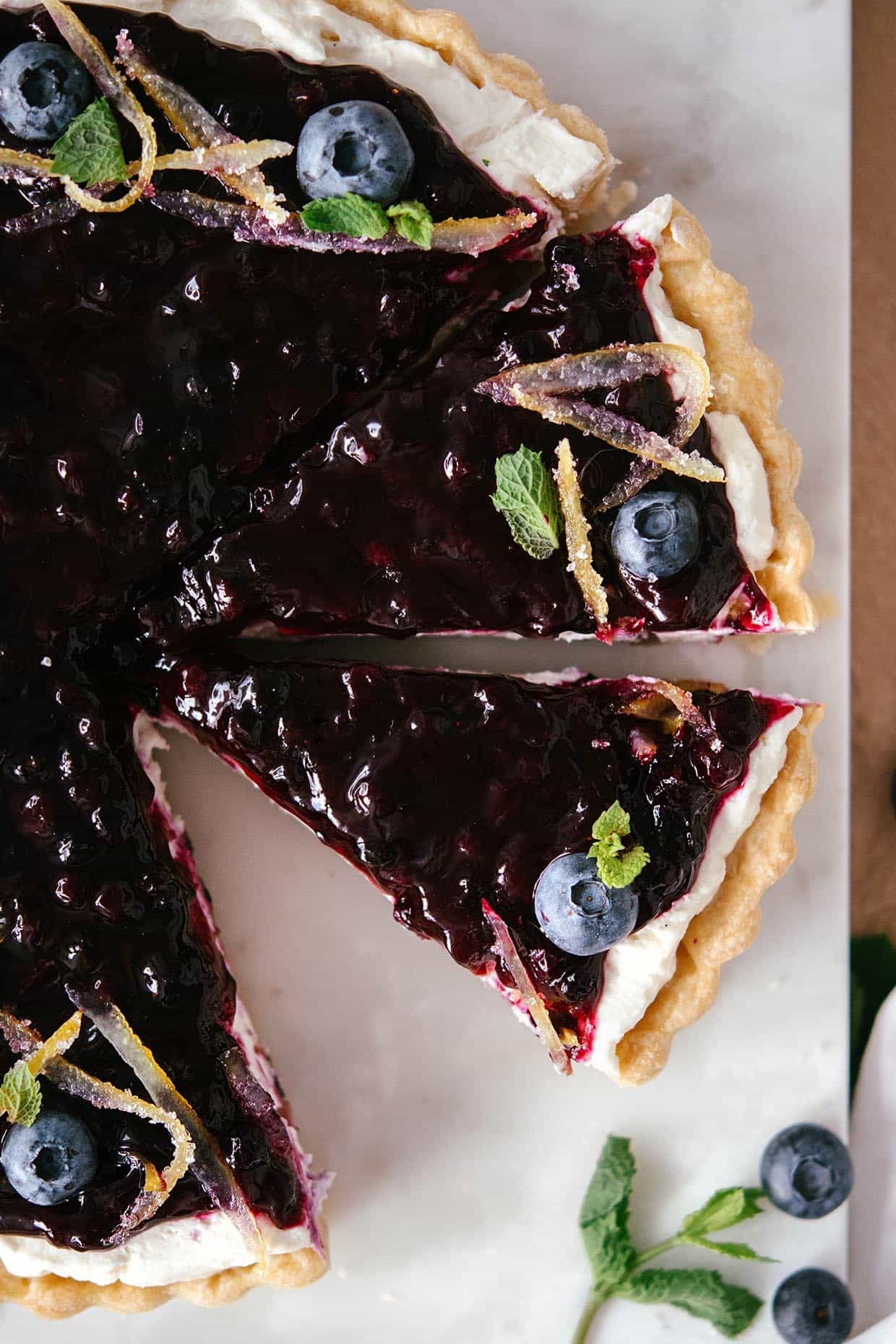 I've always loved blueberry desserts in any shape or form. Picking wild blueberries is a favorite activity for so many Slovenians and growing up even I got to do it a few times. It's been a long time now since I last went blueberry picking, but I do still find myself walking in the woods as much as I can. Escaping the sounds of honking, sirens and motors running is a constant struggle and anytime I get the chance to get lost in the big green I take it.
Even without my blueberry picking escapades, I am happy to find wild blueberries at every grocery store. Not that there's anything wrong with your everyday blueberries. But the wild ones have a color and aroma from another world. They are my favorite to use in this blueberry mascarpone cream pie.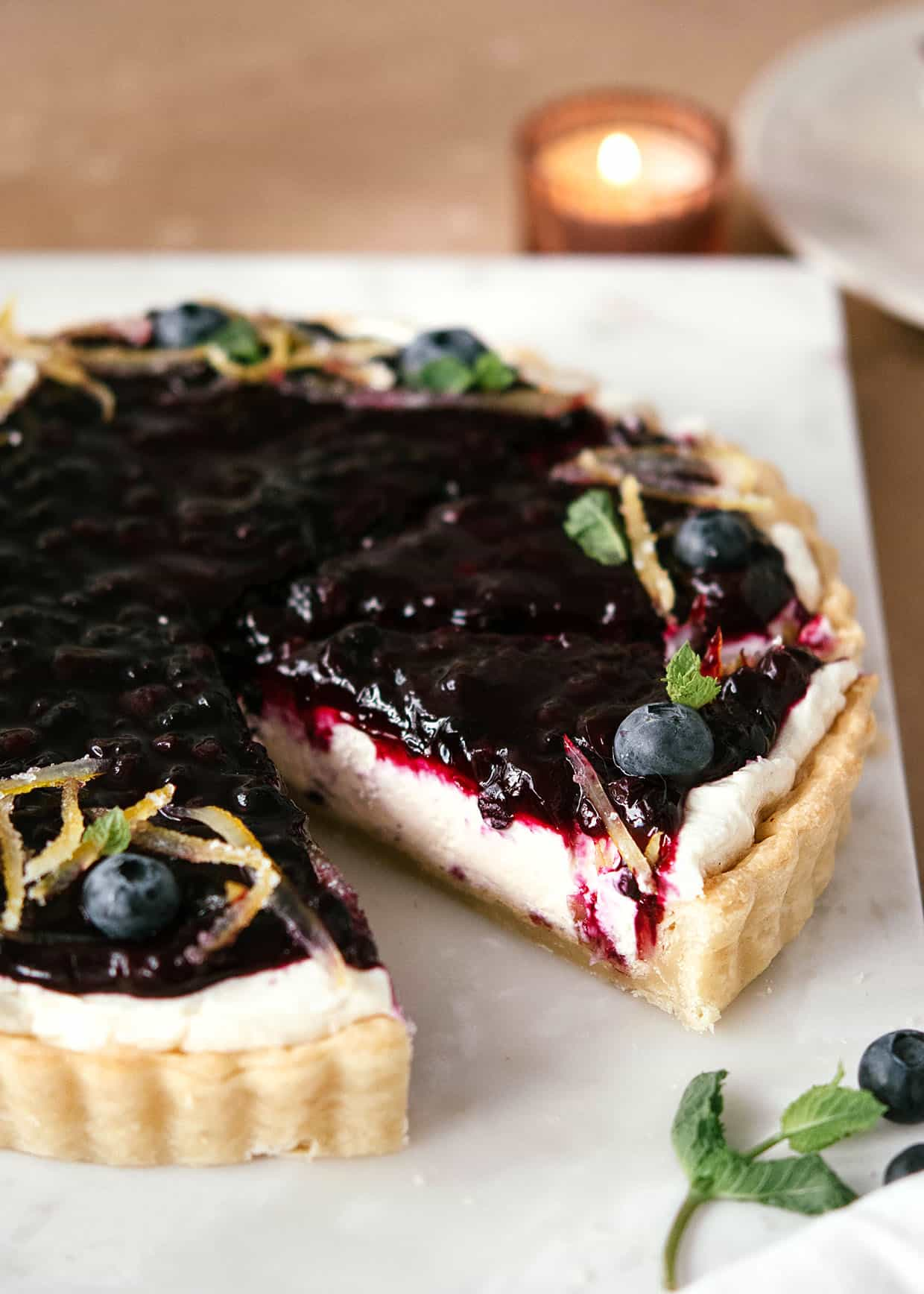 About this blueberry mascarpone cream pie
Okay I know I keep calling this a pie, but it's really a tart. I used to only think of tarts as nutty tarts with a chewy dense texture, with small amounts of fruit and plenty of sugar dusted on top.
And so years ago when I first wrote down this recipe, I just called it a blueberry cream pie because it looked so different.
And now here we are. The name's stuck. And I don't mind. The amount of filling in this baby challenges any pie out there. But if we look at how it's built, we can easily just call this a tart.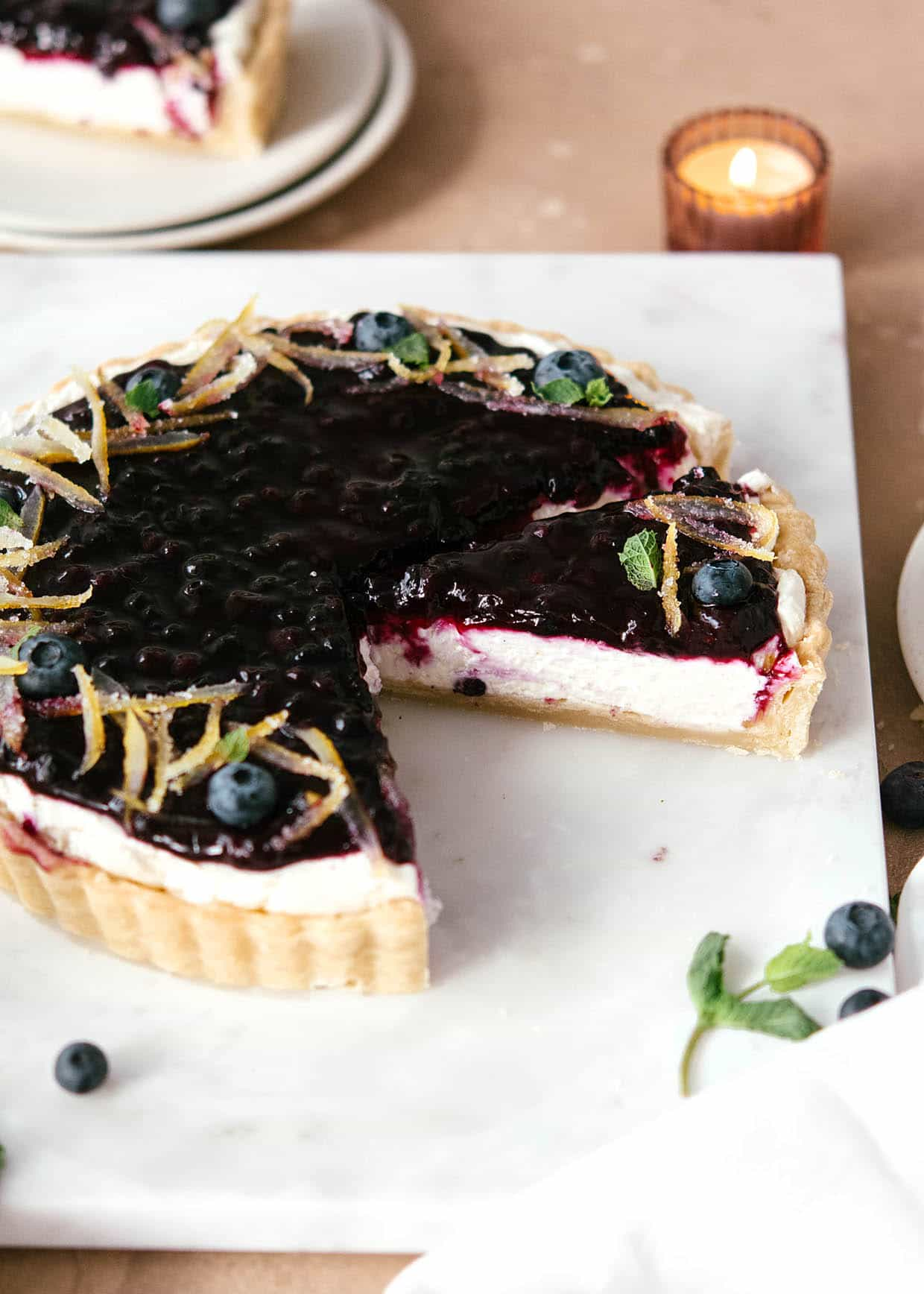 The anatomy of a blueberry mascarpone cream pie
1.Sweet tart crust
Unlike your classic tart shell, this one is made with a bit of sugar, giving it a slightly sweet flavor. This recipe can be made with any type of crust or shell, but I love a sweet classic.
2. Mascarpone filling
By far my most favorite filling to use in anything. Velvety smooth mascarpone cream with a hint of vanilla is the perfect base for any topping. Or if you use this in a cake (try this apple cider cake or chocolate stout cake) it pairs beautifully with stronger-tasting cake layers.
3. Blueberry topping
This is essentially a quick blueberry jam (like this plum jam). You can of course use fresh blueberries instead of this. Personally I go all out with this Blueberry mascarpone cream pie and jammy blueberries on top really make all the difference. They sink into the mascarpone cream and create the most perfect filling. Perfectly fruity, with a hint of lemon.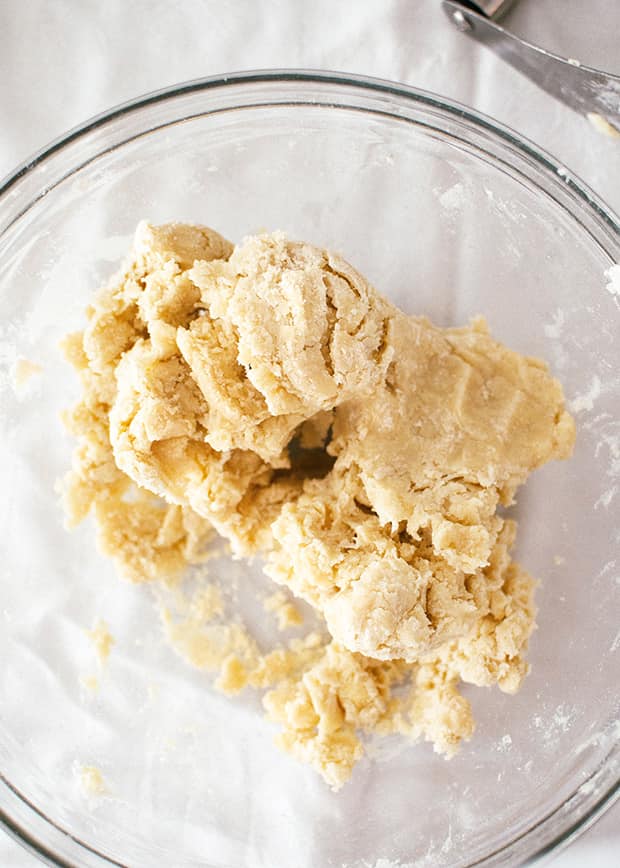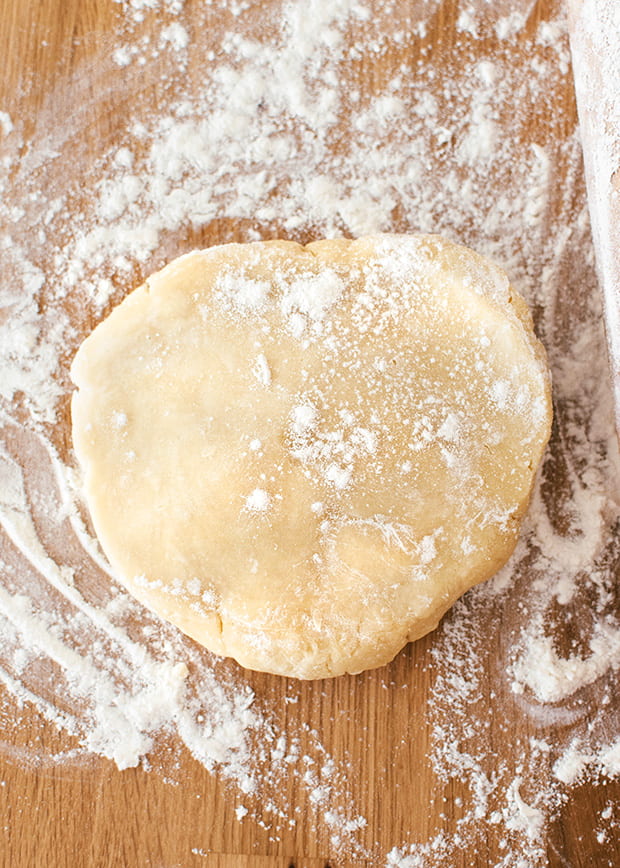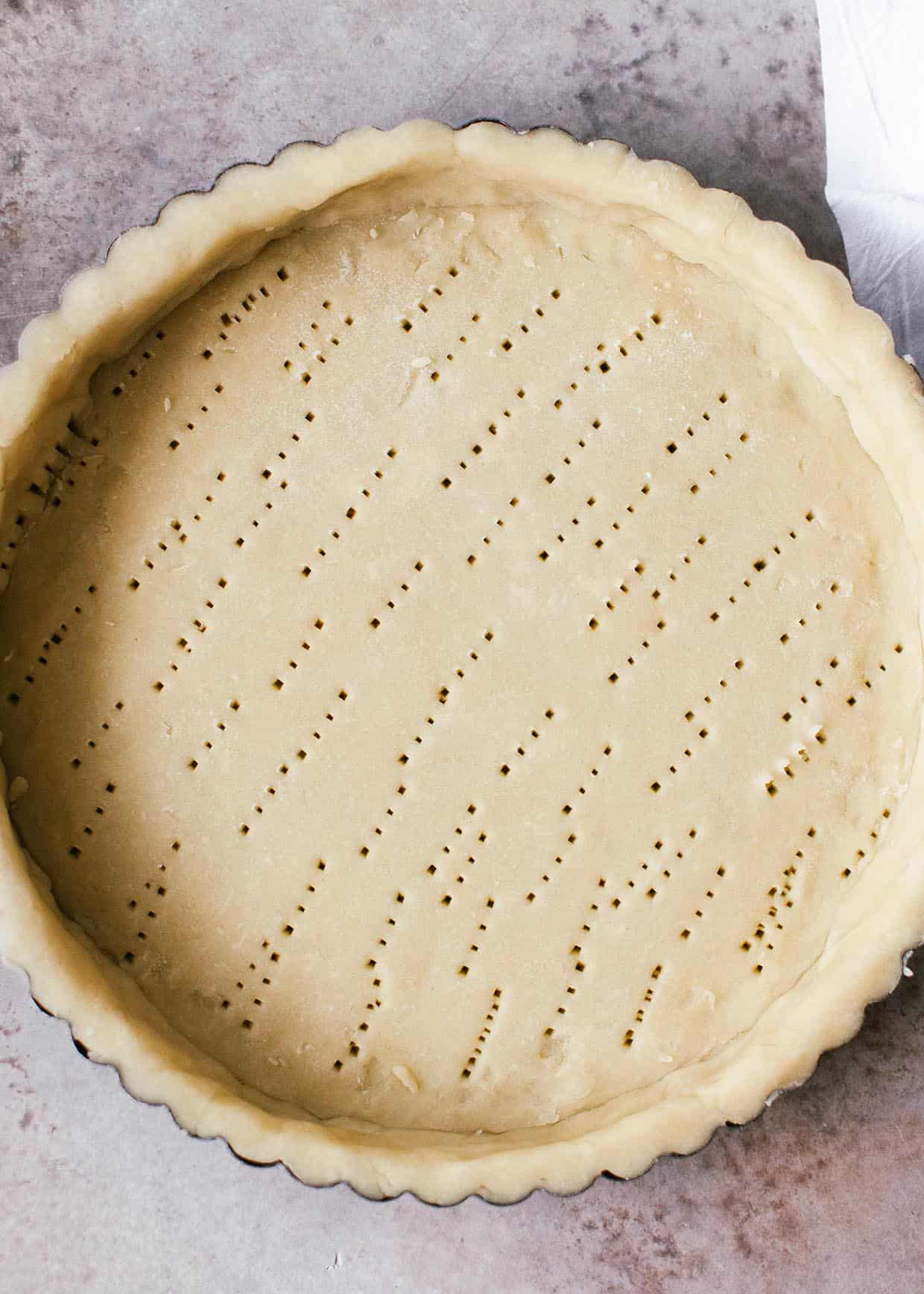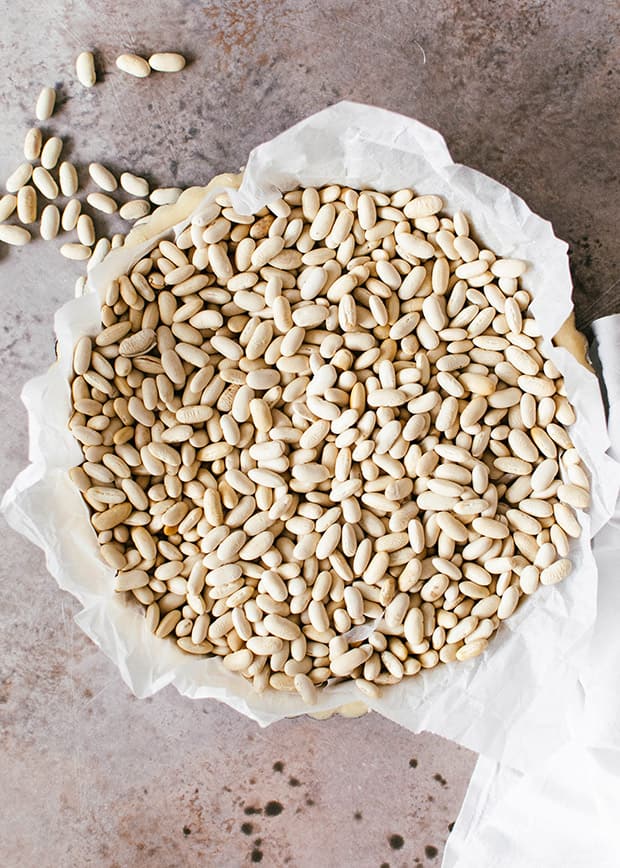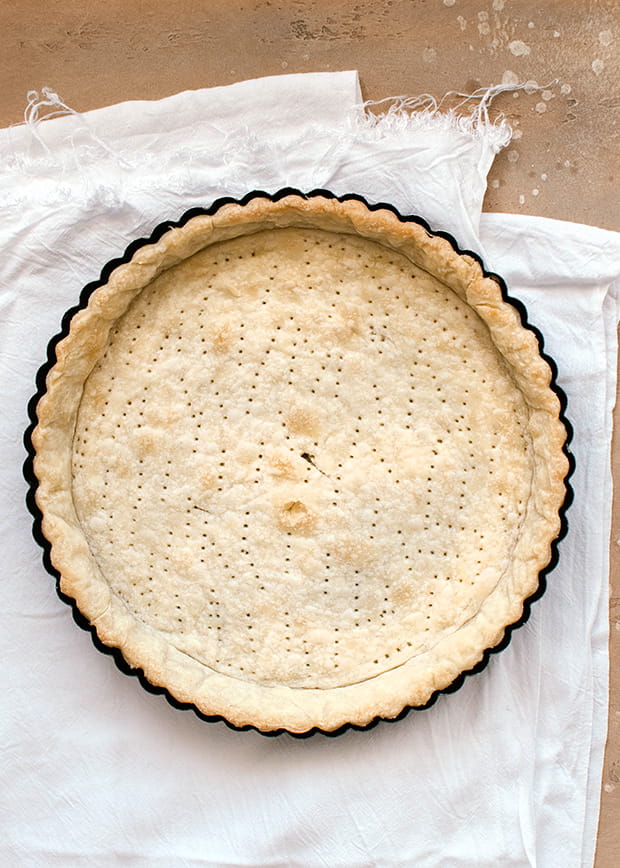 How much time do I need to make this blueberry tart
Complete honesty – You do need a bit of time to make all three of the components I just mentioned. It's like putting together a puzzle.
TART CRUST
15 minutes to make
30 minutes to chill in the freezer
or 2 hours (or overnight) to chill in the refrigerator
25 min to bake
The shell is butter-based like any pie crust is, so it needs to chill before you can roll it out. You can keep it in the refrigerator for about 1 day or freeze it for up to 3 months.
MASCARPONE FILLING
10 minutes to make
1 hour to set in the refrigerator
Once you have the shell, you can make the mascarpone filling. It's easy to make and tastes the best fresh, so don't make it too far in advance. However this too needs to set in the refrigerator before you can add the blueberries and serve it. The mascarpone filling holds up beautifully for 2-3 days and a filled tart can easily rest in the refrigerator overnight.
BLUEBERRY TOPPING
15 minutes to make
30-60 minutes to cool to room temperature
Just like the mascarpone filling, the jammy blueberry topping is very easy to make. But just like any fresh jam, this is pipping hot when cooked. It has to cool down to room temperature before you can put the blueberries on the tart.
Mascarpone and cream hate heat and if you add hot blueberries to that you'll end up with a weird melty mess. However the blueberry topping will hold up splendidly in the refrigerator and you can store it like that for about 5-7 days.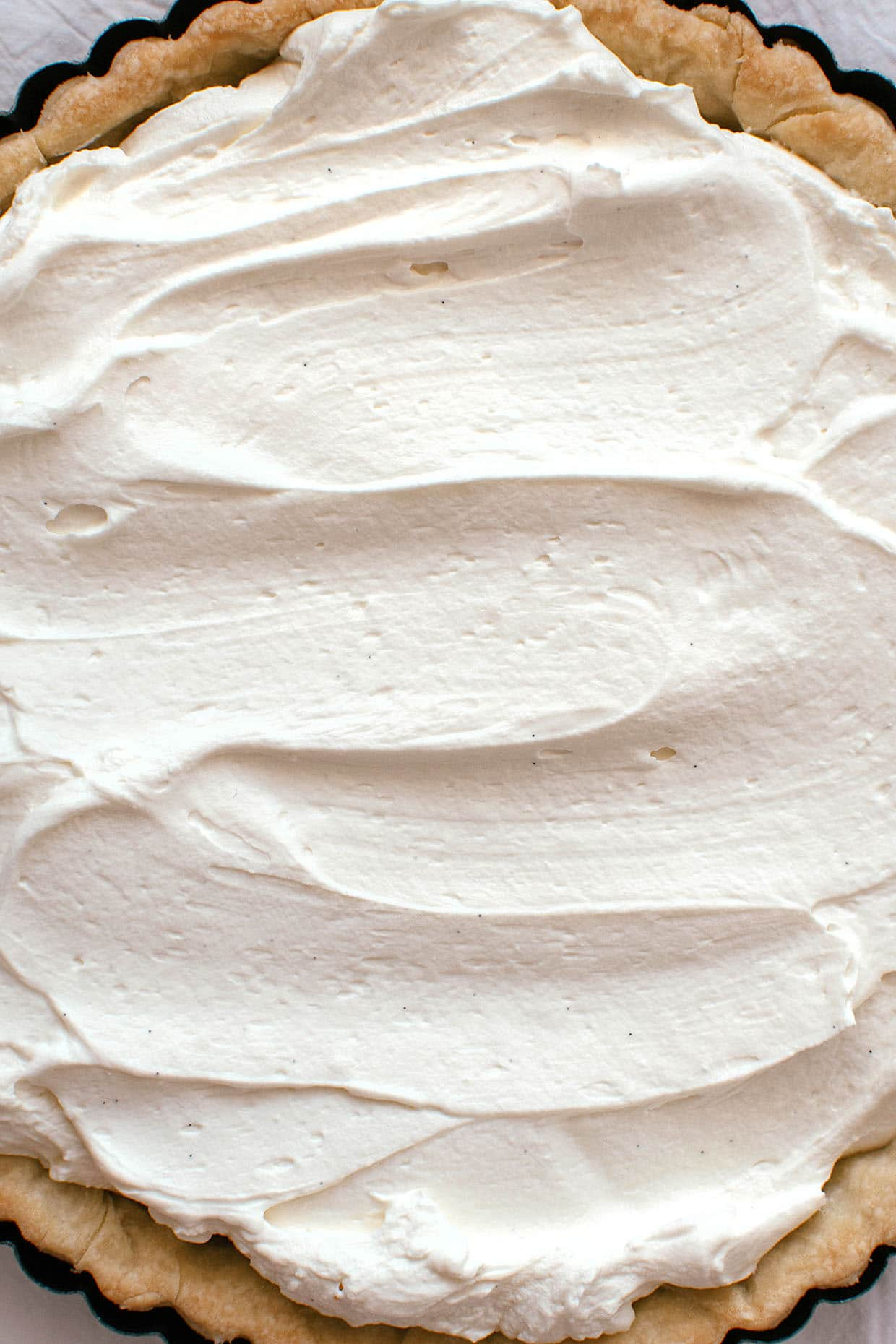 Mascarpone filling tips
Mascarpone cheese is a wonderful ingredient, albeit a little sensitive. The temperature and how you handle it are the two factors you need to keep in mind. The filling is made with 4 ingredients: mascarpone cheese, whipping cream, sugar and some vanilla.
Both mascarpone and cream need to be at the same temperature. This could be room temperature or refrigerator temperature. Personally I prefer the latter, I find that it's more foolproof than playing around with room temperature since the density of mascarpone and cream is different.
I store both cream and mascarpone together on the same shelf in the same corner of the refrigerator. Cream is also much easier to whip if it's cold.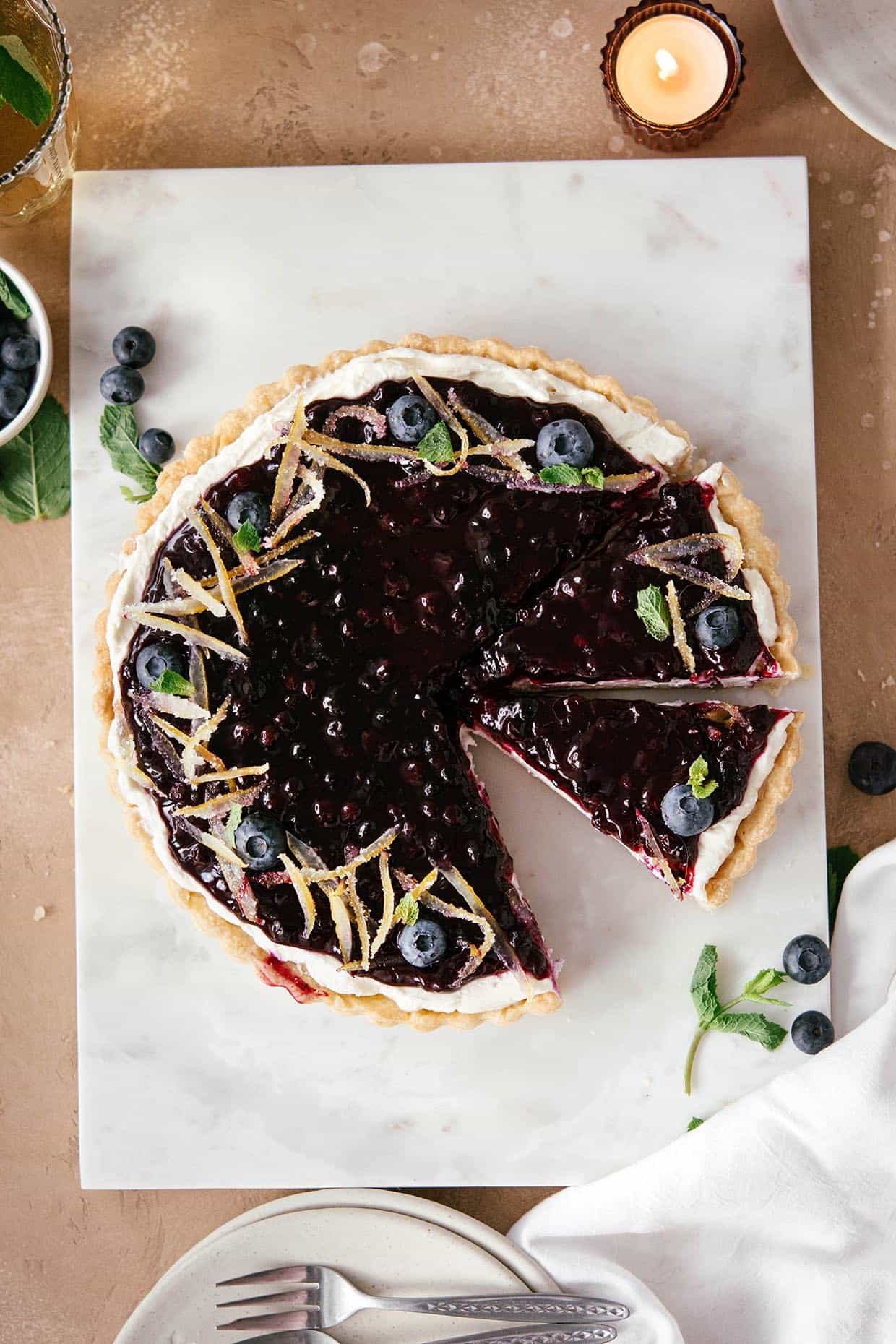 To make the filling, I pull out both at the same time. Using a hand-held mixer I first whisk cream with vanilla and sugar until I have medium firm peaks. The kind that do hold some shape, but then fall back. (You don't want stiff peaks, as you still need to whisk this with mascarpone.)
Then I take another bowl and put mascarpone in there. I just lightly break it apart with a spatula, so it's less hard. Then I fold in the cream. And only then do I whisk it with my hand-held mixer on the lowest setting. Just until it's smooth and velvety. It takes less than a minute. The filling will look almost too fluffy, but trust that it sets in the refrigerator.
If your mascarpone and cream are of different temperatures, you risk curdling the mascarpone. Also, if you beat the mascarpone too hard, you risk curdling it too.
Like I said, it's a sensitive ingredient, but nothing you can't handle. Just don't rush it.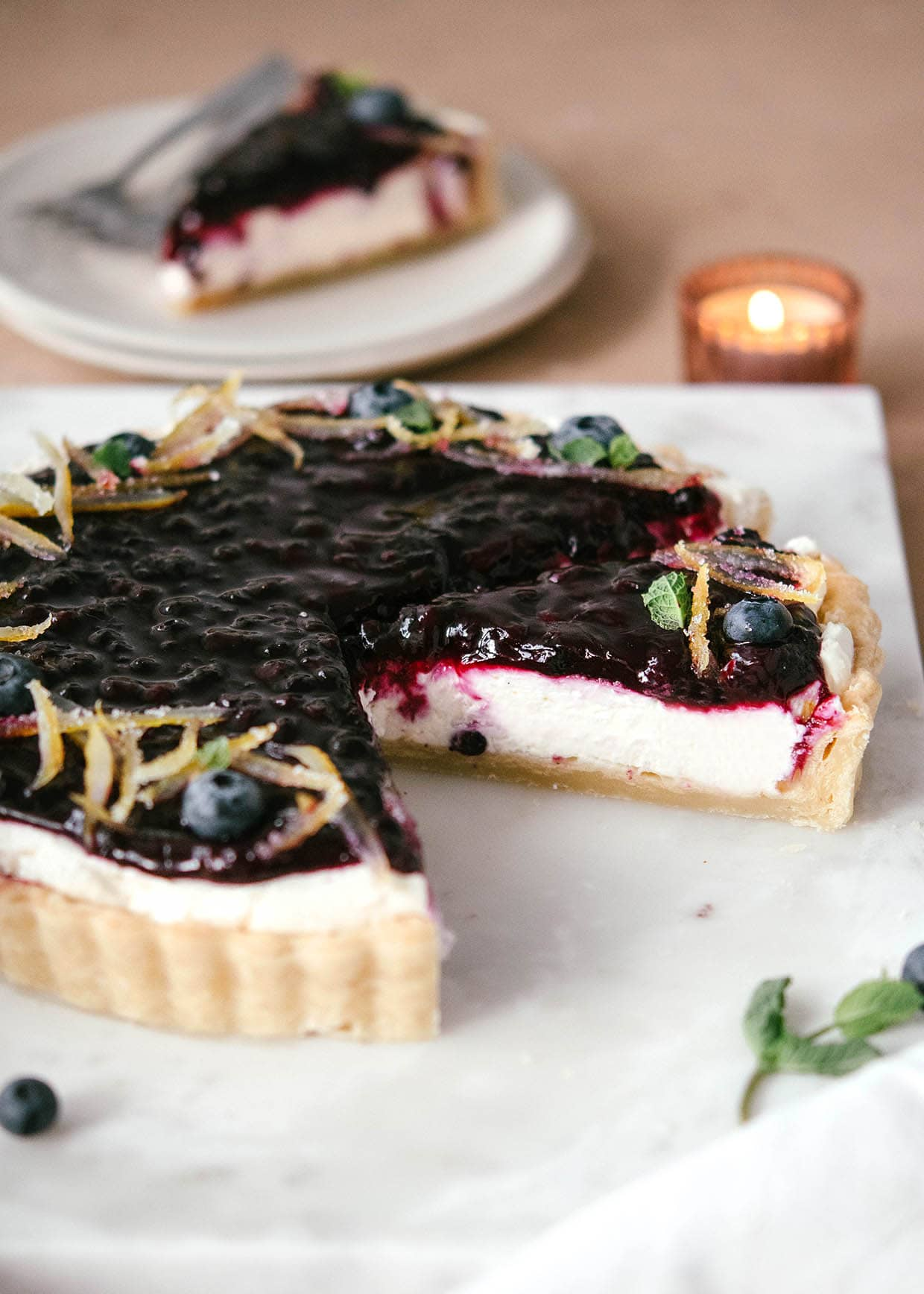 My mascarpone curdled, now what?
If your mascarpone curdled, you can try adding some cream and whisk until it is smooth. Another thing that you can do is warm it up:
Set up a double boiler first. Fill up a saucepan with some water and bring it to a simmer. Transfer your mascarpone mixture to a heatproof bowl and place it on top of the saucepan. As the mascarpone warms up, keep whisking it until all lumps are gone and the mixture is once again velvety smooth.
This happens pretty quickly so make sure you do not over-heat mascarpone. Remove it from the heat as soon as it's lump-free and allow it to come to room temperature. Then whisk it again until soft peaks form.
Can I use other fruit to make this tart?
Of course! I know that this is a blueberry mascarpone cream pie, but you are free to use any berry you like. A combination of berries would be wonderful too.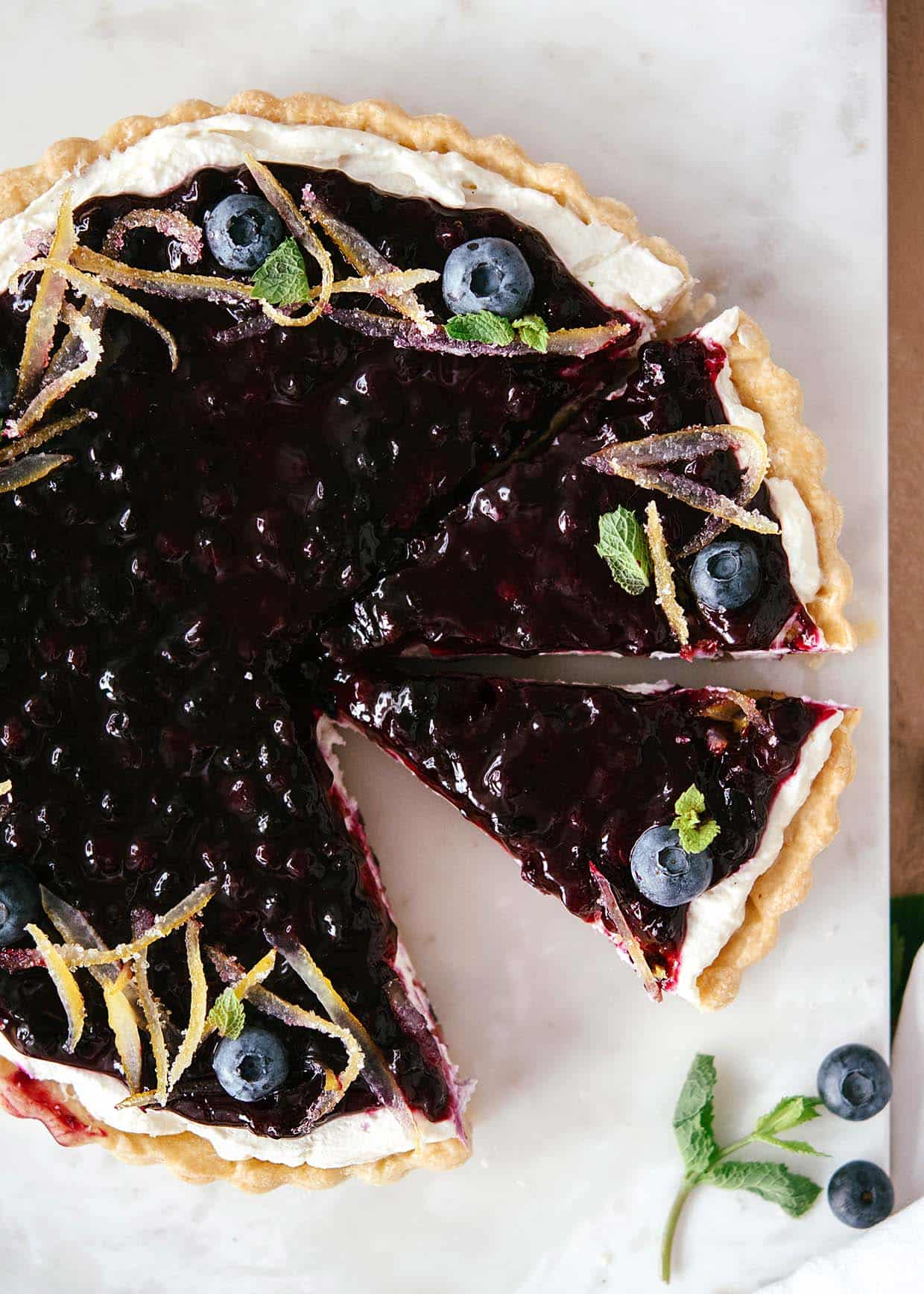 Hope you like this blueberry mascarpone cream pie (tart). It's a dream on a plate and all I want to do is sit under a tree somewhere in the summer shade and eat the whole thing. With a side of lemonade or this blueberry mocktail.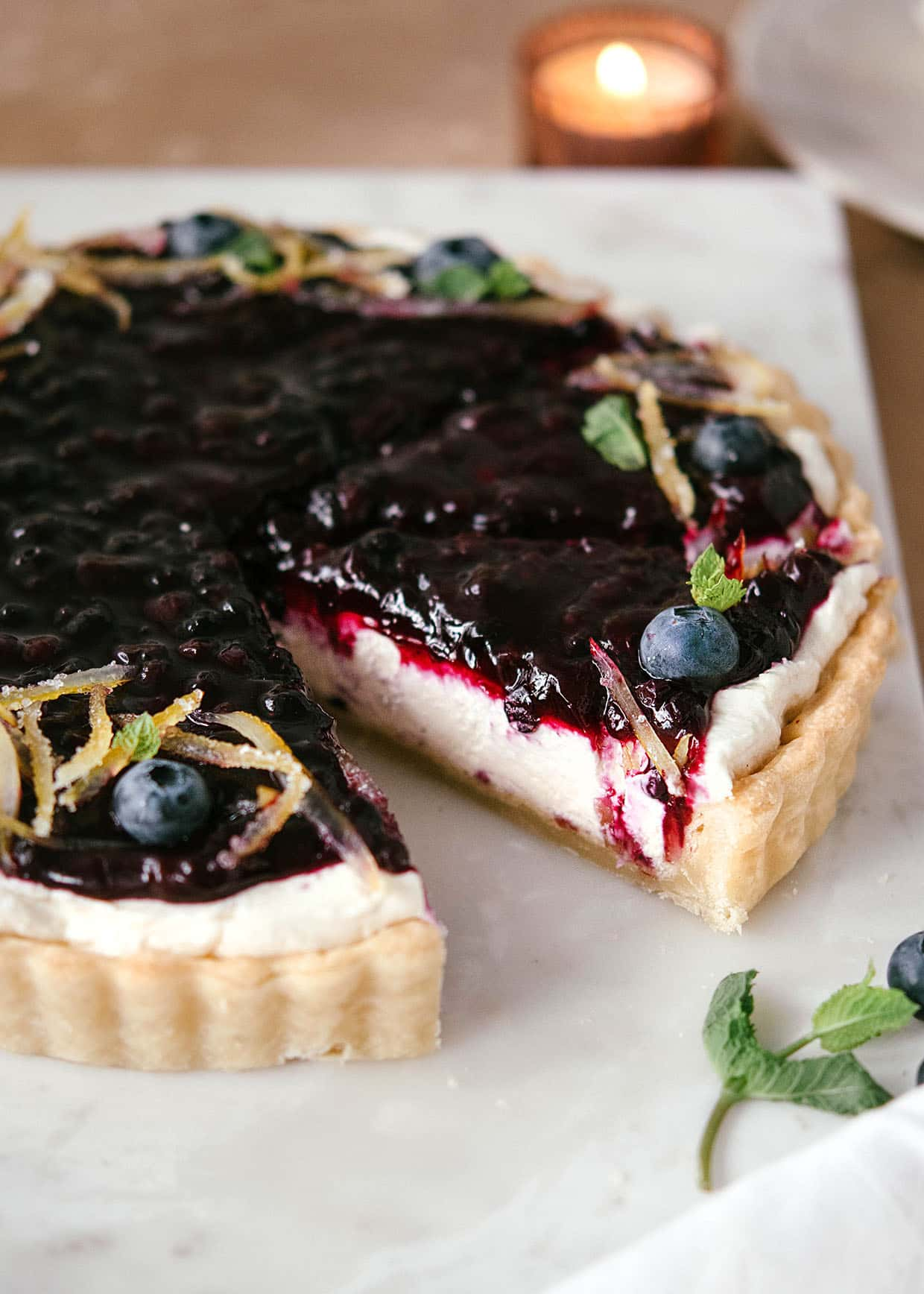 Blueberry mascarpone cream pie (tart)
A real treat! Perfect mix of velvety smooth mascarpone cream and jammy blueberries packed in a sweet tart shell. 
Ingredients
Crust
1 3/4

cups

(

220

g

)

all-purpose flour

1/2

teaspoon

sea salt

1

tablespoon

powdered sugar

1 1/4

sticks

(

145

g

)

unsalted butter

,

cold

3-5

tablespoons

cold water
Blueberry jam topping
2

cups

(

230

g

)

wild frozen blueberries

1/2

cup

(

100

g

)

white granulated sugar

1/4

cup

(

60

ml

)

lemon juice

2

tablespoons

corn starch
Mascarpone filling 
3/4

cup

(

180

ml

)

whipping cream

,

straight from the refrigerator

4

tablespoons

(

40

g

)

powdered sugar

1

teaspoon

vanilla bean paste

,

(or vanilla extract)

12

oz

(

340

g

)

mascarpone cheese

,

straight from the refrigerator
Instructions
Make the crust
In a food processor (or a large bowl) whisk together flour, salt and sugar. Grate butter atop the mixture. Pulse 4-6 times (or use a pastry blender) until the mixture is crumbly.

Add 3 tablespoons cold water. Stir it into the mix and the dough should start forming clumps. If needed add water, tablespoon by tablespoon, until the dough sticks together. Lay a sheet of plastic wrap on your work surface, dump the dough onto it and knead it into a ball. 

Flatten dough into a disk, wrap well and chill in the freezer for 30 minutes or in the refrigerator for 2 hours (can also do this overnight). 

When ready, take dough out of the refrigerator. Let it rest at room temperature for 5 minutes. Generously flour your work surface and rolling pin. Roll out the dough to a 10-inch (26-cm) round, making sure you rotate it every so often, so it doesn't stick as you're rolling it out. 

Wrap dough around the rolling pin and unroll it over the tart pan. Gently fit in the sides, trim any dough hanging over the pan. Pierce the bottom of the crust with a fork. Place in the refrigerator for 15 minutes.

Preheat oven to 425°F (215°C). Take the tart pan out of the freezer. Place a piece of parchment over it. Fill it up with baking beans. Bake for 15 minutes.

Remove tart from oven and lower temperature to 375°F (190°C). Remove the beans and parchment paper from the crust. Continue baking the crust for 10 minutes or until the pastry is golden brown. Remove from the oven and let it cool completely. 
Make the mascarpone filling
Combine cream, vanilla and sugar in a medium bowl (or bowl of your mixer). Beat until medium (firm) peaks form. In a separate bowl, lightly break apart mascarpone with a spatula.

Whisk the cream into mascarpone on low speed, just until the mixture is smooth. Do not mix aggressively and do not over-mix or your mascarpone will curdle. You want a smooth, velvety, fluffy mixture. 

Evenly fill the tart crust and put it in the refrigerator to set. It needs at least one hour to chill. 
Make the blueberry jam
Combine blueberries, sugar and lemon juice in a medium saucepan. Bring to a boil over medium-high, stirring occasionally.

Lower the heat to medium-low. Mix cornstarch with 2 tablespoons of cold water. Pour it into the blueberries while stirring constantly. Cook the sauce for 2-5 minutes, stirring all the time, until it thickens. (It should change from a soup-like consistency to a lighter pudding.) 

Transfer the blueberry jam to a bowl and allow to cool completely. It will thicken further as it cools.
Finish assembly
Once the mascarpone filling has set and is firmer to the touch, you can add the blueberry topping to your tart. Take spoonfuls of the blueberry jam and place it all over the top over the tart. Gently spread the jam with a spoon to fill all the gaps.

Chill in the refrigerator for 30 minutes allowing the blueberries to stick to mascarpone. Decorate with fresh blueberries (and lemon zest) before serving. Store leftover tart in the refrigerator and eat within 3 days. 
Notes
I'm using an 8.5-inch (22-cm) tart pan with a removable bottom. A 9-inch (23-cm) tart pan works just as well. 
MAKE AHEAD:
You can make the tart dough ahead of time. Store it in the refrigerator overnight or in the freezer for up to 3 months. 
Mascarpone filling is best fresh. But a filled, finished tart can easily rest in the refrigerator overnight. 
When cooked, cool blueberry topping to room temperature. Keep it covered in the refrigerator for up to 5 days.
Text recipe
Email recipe
Pin Recipe