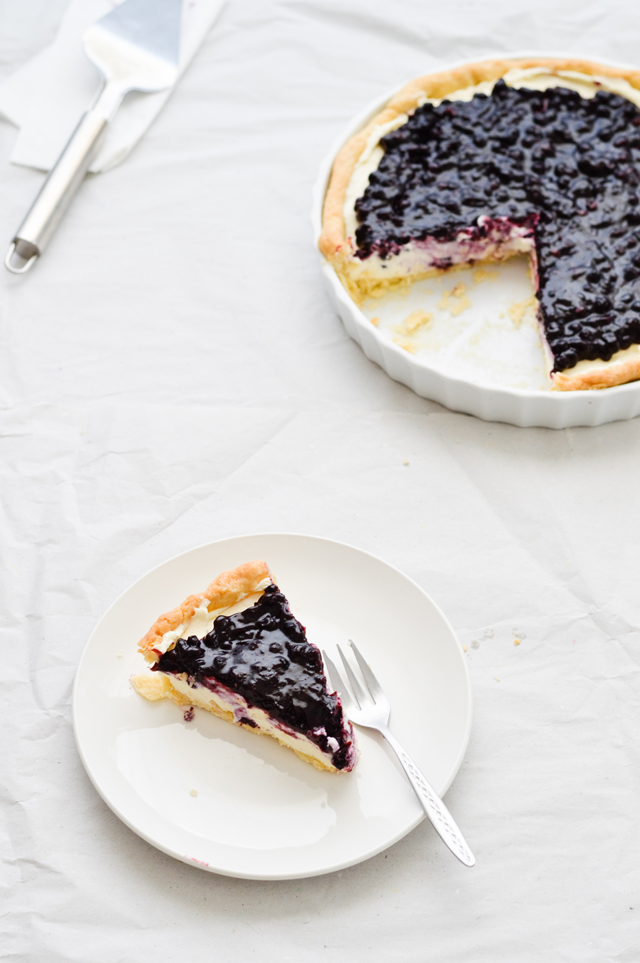 This recipe is long overdue and I feel bad for not sharing it sooner. Blueberry pies are probably more of a spring and summer thing and here I am posting this recipe at the very end of August.
But you know it's always warm somewhere, right? And when you like pies and mascarpone as much as I do every season is pie season. To make things easier this recipe uses frozen blueberries anyway!
I have a story that goes with this pie.
Years ago, one of my many student jobs included a job at a café/brunch place. I would make coffee, serve lunch, make sure the pies and bread were stored properly and I also had to wash the dishes and mop the floors. It wasn't a very exciting job, but it wasn't a bad one either.
Looking at those pies daily and having a taste sometimes, I wanted to make something similar at home. And one of my favorites was this cottage cheese blueberry pie.
Cottage cheese and blueberries are real best friends, I can guarantee that, and I've made this pie with that combo a few times over the years. But because I bake with cottage cheese way too much, I decided to swap it with mascarpone. A few testing hours and months later I can now share this with you.
Print
Blueberry mascarpone cream pie
Scale
Ingredients
Crust
235g

(

1 cup

7 tablespoons

) all-purpose flour
 2/3 teaspoon sea salt

10g

(

3 teaspoons

) powdered sugar

150g

(1 1/3 stick |

5.3 oz

) unsalted butter, cut into small cubes, chilled

70

ml (1/4 cup +

2 tsp

) ice-cold water
Mascarpone filling
160

ml (2/3 cup) whipping cream

500g

(

17.6 oz

) mascarpone cheese
lemon zest (from 1 small lemon)

50g

(

3 tablespoons

) white granulated sugar

1/4 teaspoon

vanilla paste
Blueberry topping
240g

(

2 cups

) wild frozen blueberries

60g

(

1/4 cup

) white granulated sugar

50

ml (almost 1/4 cup) fresh lemon juice

60

ml (1/4 cup) apple juice

1 1/2 tablespoons

corn starch
Instructions
First make the pie crust: In a food processor, combine the flour, sugar and salt. Add the butter and pulse until the mixture is crumbly.  Add 60 ml (1/4 cup) of ice water and mix until the dough starts to clump together when pinched. If needed, add another tablespoon or two of water until the dough sticks together when you pinch it with your fingers.
Turn the dough onto your work surface and form into a ball. Flatten into a disk, wrap in plastic wrap and store in the refrigerator for 45-60 minutes. Grease your baking pan with oil, cooking spray or melted butter and have it ready for later.
Once chilled, put dough on a well floured surface. Roll it into a circle about 2 inches (5-cm) bigger than the baking pan. Roll out from the center and keep turning it a quarter as you roll it. This will prevent the dough from sticking to your surface and help you keep it in a nice circle shape. Add more flour if needed. 
Gently lay dough in the pan and press it onto the bottom and up the sides of the pan. You can cut off the dough that is overlapping the edges of the pan or fold it in under the pastry. Cover it with plastic wrap and chill for 30 minutes in the fridge or about 10 in the freezer.
Preheat oven to 215°C (425°F).
Before baking pierce the bottom of the crust with of a fork. Next, lightly oil (or butter) a large round of parchment paper or aluminum foil, and place it (oiled side down) onto the pie crust. Fill with beans (or pie weights). Put your pie pan on a sheet pan (makes handling the pie easier) and bake the crust for about 15 minutes or until the sides of the pastry have started to brown.
Remove from oven, remove the parchment and beans. Reduce the oven temperature to 190°C (375°F) and continue baking the crust for about 10 more minutes or until the pastry is dry and lightly browned. Remove from oven and let it cool completely. You can also, once it is cooled, wrap it with plastic and it'll keep nice and fresh till the next day, if you want to have the crust ready in advance.
As it chills, make the mascarpone filling: Beat the cream until it's fluffy and peaks form. In a separate bowl combine the mascarpone with sugar, lemon zest and vanilla paste. You can do this with a spatula or a spoon, but not a mixer.
Once the mascarpone is creamy, fold in the whipped cream. Do it slowly, until the cream is incorporated.
Evenly fill the pie crust with the mascarpone mixture and put in the fridge to cool.
Meanwhile make the blueberry topping:In a saucepan set over high heat, combine the frozen blueberries, sugar, lemon and apple juice. Stir and bring the blueberries to a boil. Lower the heat to low and add the cornstarch. Keep stirring until the mixture starts to thicken. It should go from a soup to a pudding, but you don't want it to be too thick. If you have trouble mixing and it's too thick add a tablespoon of water to thin it out.
Remove from heat, transfer blueberry sauce to a bowl and let cool to room temperature.
Assembly: Put blueberry topping on the pie in dollops (don't just pour it on). Start at the center and spread it out. Put your pie back into the fridge for at least 30 minutes. This will really tie the fillings together.
Notes
Although this recipe calls for a classic flaky pie crust, it works just as well with a shortbread tart crust or even a graham cracker crust.

And speaking of crust, don't feel discouraged if it shrinks or is not as pretty as the store-bought one. What I've learned over the years is that perfecting any dough takes practice, lots of it. And even then you can still sometimes end up with a not-so-perfect looking dough, that tastes just as great and that is what matters in the end.

To make a cottage cheese filling instead, use the same amount of cottage cheese as you would mascarpone. But you will need more sugar (at least 1-2 tablespoons more), so taste the filling and adjust the amount to your taste before spreading it over the crust.