With a fierce chocolate flavor and superb mascarpone frosting, this chocolate stout cake just might be your new favorite cake. Dress it up for a dinner party or serve with lunch on the weekends. It is very easy to assemble and packed with amazing, rich chocolate flavor. Topped with the fluffiest whipped mascarpone.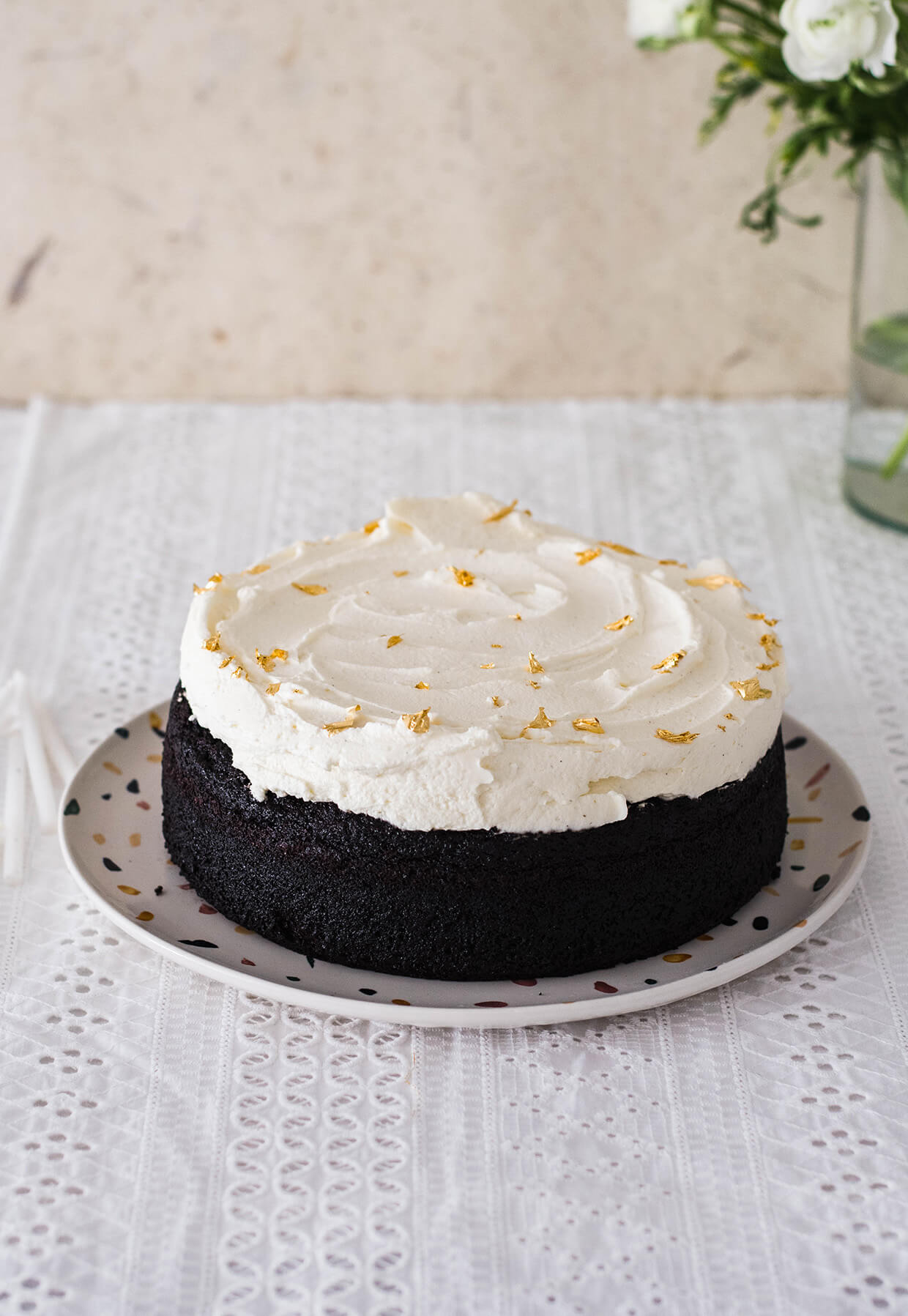 St Patrick's day is one of those holidays that makes beer-baking totally acceptable. What I mean by beer-baking is using beer as one of the ingredients, as the name of this recipe suggests. Although, truth be told, this Chocolate stout cake isn't (just) as St Patty's cake. It's a gourmet chocolate cake, the kind you make for someone who insanely loves chocolate (and maybe beer too).
First, I have to mention this chocolate lover's cake, in case you want to bake an insanely rich chocolate layer cake. If that is what you want, then chocolate lover's ganache dream cake has you covered. But today, we're making something a little different.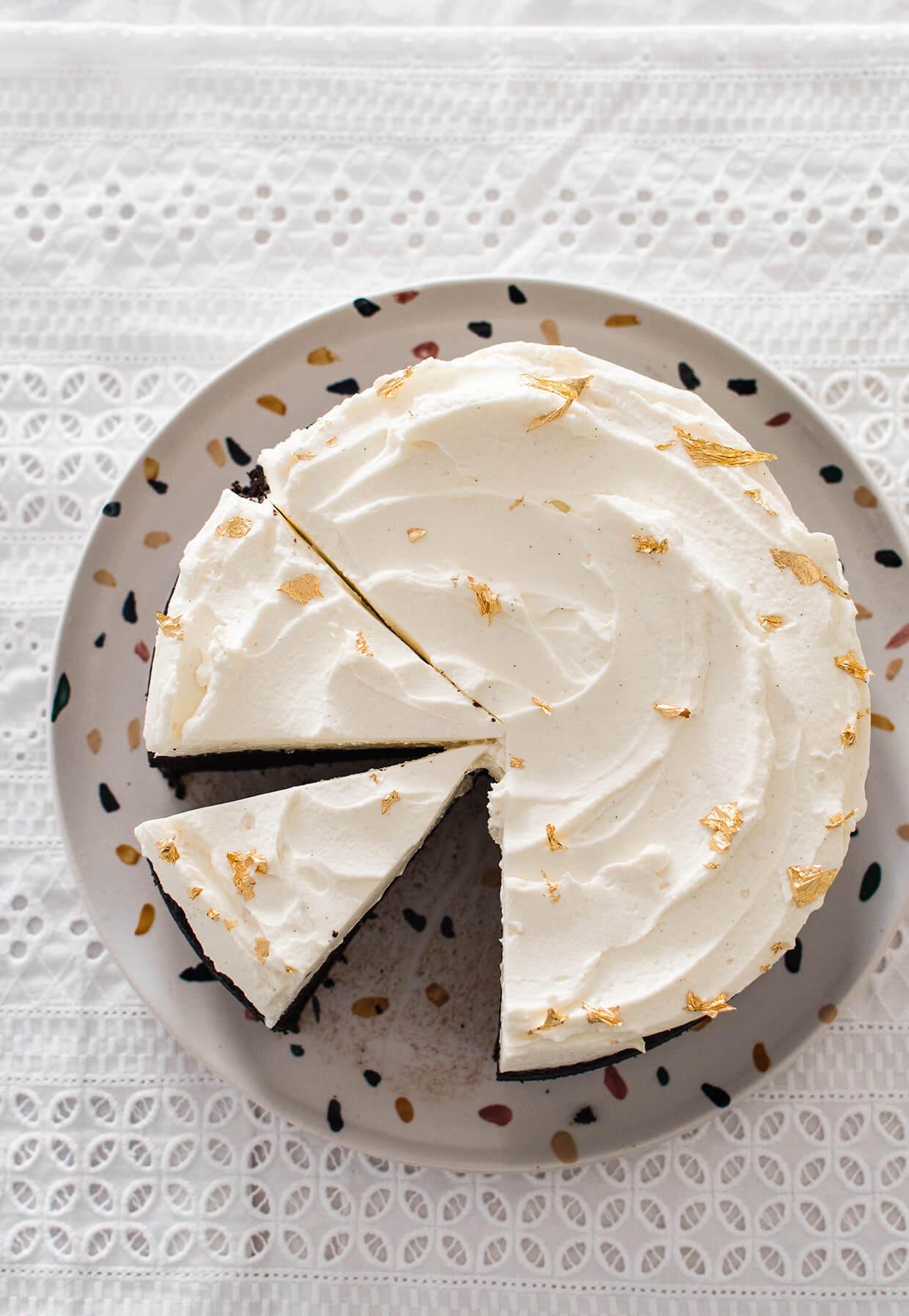 This chocolate stout cake is a single layer cake. Which truthfully makes the whole process a lot easier, since you don't have to slice it up and be that carefull with assembly. Also, this is a rich and dense cake. It's not airy like a sponge cake and carries some weight, so keep that in mind. It is also insanely moist, for lack of a better word, and will stay like that for days! 
About chocolate stout
I'm sure you are curious about this. I'll just say it right away – the cake does not taste like beer! There's a hint of chocolate stout that you will notice, especially if you have a beer-friendly palate. But otherwise, you really won't be able to tell. However, if you were to have a chocolate stout cake along with a non-beer chocolate cake and you did a taste test, you would notice the difference. Which is a good thing!
I'm making this sound more complicated than it actually is, but I just don't want you to fear baking with beer. It's really easy and simple and you can't get drunk with this cake.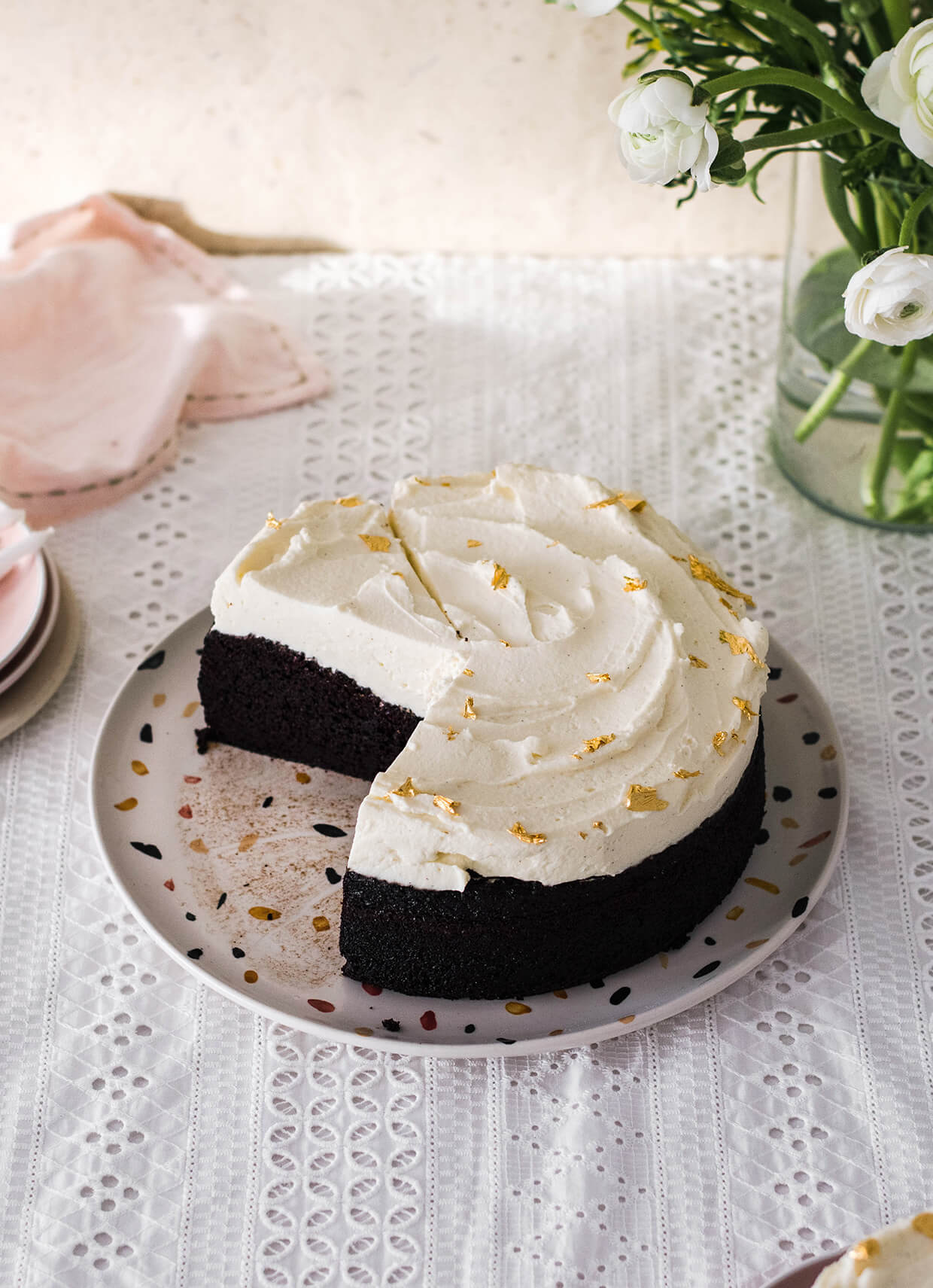 The chocolate stout brings the chocolate flavor even more to life, which is why I love this cake. The stout adds to the rich deep chocolate flavor and complements the unsweetened cocoa, which is also used in the recipe. You may have seen lots of Guinness cakes floating around online and Nigella (that inspired this recipe) uses Guinness too, but personally I prefer the chocolate stout.
And then there's espresso powder. I find myself always adding either instant coffee or just ground coffee to recipes with chocolate. Coffee and chocolate make an amazing pairing and coffee really intensifies the chocolate notes.
The rest of the ingredients are very traditional, right to the whipped mascarpone frosting, which you all know is my favorite. The last time I used this was in this Apple cider cake and while the ratios used in this recipe are a bit different, the concept and flavor are the same.
Honestly, this chocolate stout cake is so rich, you can actually finish it just with a dusting of powdered sugar. That would be perfectly enough.
But I'm always a little extra, so I opted for a mascarpone frosting instead. I noticed that Nigella uses a cream cheese frosting and you can always try that too. Personally I love the light and milky flavor of mascarpone. You know that cream cheese has a distinct flavor and I didn't want to take away from the cake. On the contrary, mascarpone is very low-key and offers a nice balance to the complex chocolate flavors of the cake.
Bottom line, this chocolate stout cake with mascarpone frosting is the ultimate celebratory cake. It's simple but still pretty and perfect for any occasion, even a simple Sunday hangout at home. And if you want to bake one just for yourself, you totally can! Slice it up and freeze it in portions, then thaw a slice or two, add some sugar or whipped cream and you are set! #blessed (But really I wrote a post with a few suggestions.)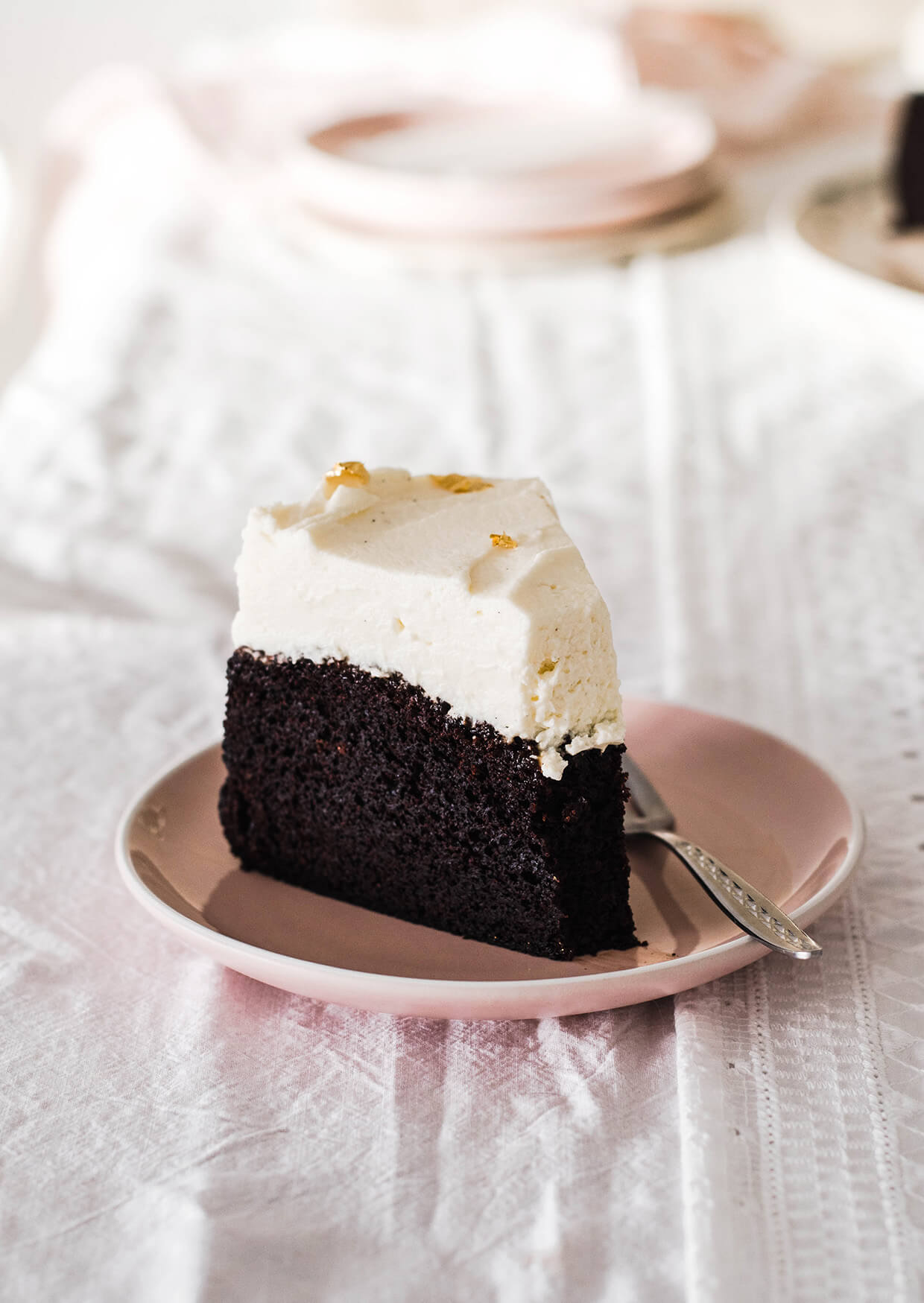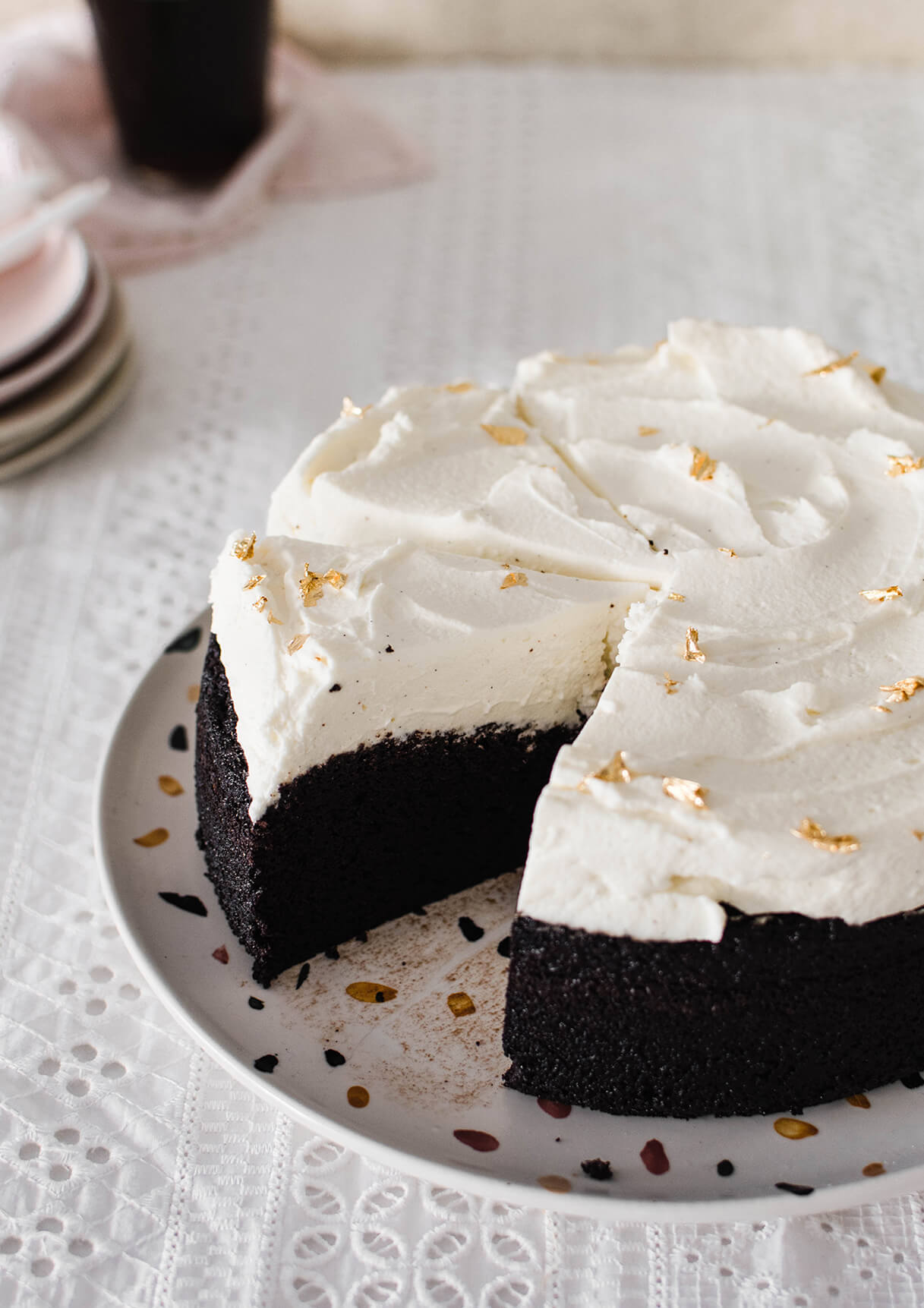 Chocolate stout cake with mascarpone frosting
With a fierce chocolate flavor and superb mascarpone frosting, this chocolate stout cake just might be your new favorite cake!
Ingredients
Cake
1

cup

(

240

ml

)

chocolate stout

1 1/2

sticks

(

170

g

)

unsalted butter

,

chopped

3/4

cup

(

75

g

)

unsweetened cocoa

,

(I use Dutch processed)

2

cups

(

420

g

)

granulated sugar

1

teaspoon

instant espresso powder

1/2

teaspoon

fine sea salt

3/4

cup

(

180

g

)

sour cream

2

large

eggs

1

teaspoon

vanilla extract

,

or vanilla paste

2

cups

(

270

g

)

all-purpose flour

2 1/2

teaspoons

baking soda
Frosting
17.6

oz

(

500

g

)

mascarpone cheese

,

cold from the refrigerator

1

cup

(

240

ml

)

whipping cream

,

cold from the refrigerator

6

tablespoons

powdered sugar

,

plus more to taste

1

teaspoon

vanilla bean paste

,

or beans from 1 vanilla pod
Instructions
Preheat your oven to 350°F (175°C) and butter a 9-inch (23-cm) springform pan. Line the bottom with parchment paper and butter the parchment too. Set aside. 

Combine stout and butter in a medium saucepan set over medium heat. Stirring occasionally, keep it like that until the butter completely melts, then remove from heat. Stir in cocoa, sugar, espresso powder and salt, whisk until the mixture is smooth. 

Whisk sour cream with eggs and vanilla in another bowl. Next stir in the stout mixture. Lastly add the flour and baking soda and whisk until smooth. The batter can have air bubbles, but no patches of flour. It should be smooth but somewhat thick, like pancake batter. 

Pour batter into prepared pan and bake for 45-60 minutes (mine needed only 45 minutes), until the cake is firm and a cake tester inserted into the center comes out clean. Remove cake from the oven, set it on a cooling rack and let it sit like that for 45 minutes. It has to cool in the pan.

To remove the cake from the pan, run a thin knife around the sides of the cake. Remove the ring part of the pan, invert cake on a plate to peel of the parchment paper, then flip the cake back so the bottom part sits on a plate. (At this point you can frost the cake or wrap it into plastic and store it at room temperature for up to 4 days or in the freezer for up to 2 months.)

To make the frosting, first place the mascarpone in a large bowl and gently stir it with a spatula to make it creamy. In another bowl, combine cream with sugar and vanilla. Beat on medium-high speed until soft-to-medium peaks form.

Stir the cream into mascarpone and beat on low speed for 30-60 seconds until the mixture is completely blended. It should be smooth (not grainy!) and fluffy. Spread frosting over cake, add gold leaf or sprinkles if desired and serve.

If you're not serving it right away, keep the cake in the refrigerator. Keep leftover cake covered in the refrigerator as well and eat within 3 days.
Notes
About mascarpone frosting
Cream whips best when it's cold. To prevent curdling, the cream and mascarpone have to be at the same temperature, so both need to be cold.
Mascarpone gets softer in a warm environment. So the more time it spends outside the refrigerator, the softer it'll get. Take it out when you are ready to make the frosting, no sooner.
If your frosting is too fluffy and soft, has a hard time staying put and making hard peaks, you should chill it before you put it on the cake. 1-2 hours should be enough. This will allow the mascarpone to harden again.
You can also make it in advance, as I find that whipped cream keeps pretty well overnight. Store made frosting in an airtight container, lightly mix it with a spatula before putting it on the cake the next day.
You don't have to use a springform pan, a simple cake pan is good enough. However you want one with high sides, because this is a pretty tall cake. If you only have classic cake pans, bake this cake in two 9-inch cake pans instead and make it a layer cake instead!

 
Gold leaf on top is very, very optional. Gold or colorful sprinkles would make this cake extra pretty. For a more classic look, use chocolate shavings instead.

 
Email recipe
Pin Recipe