Happy Valentine's day!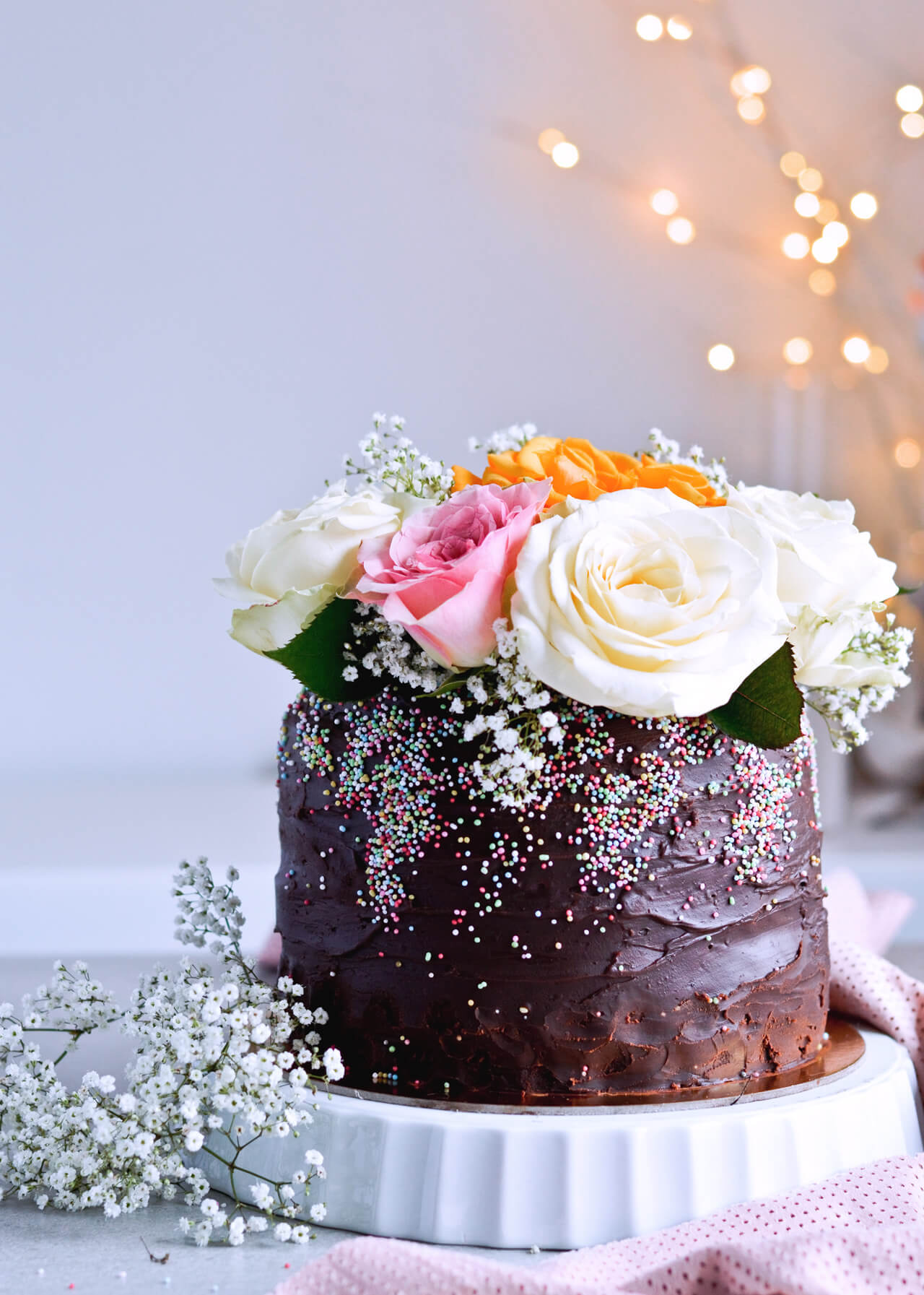 Whatever your relationship status, I hope you're having a kickass day. I do like Valentine's day but I'm not that into it… I mean, I don't mind the cake or the flowers, but I'm not one to expect or want anything too out of the ordinary.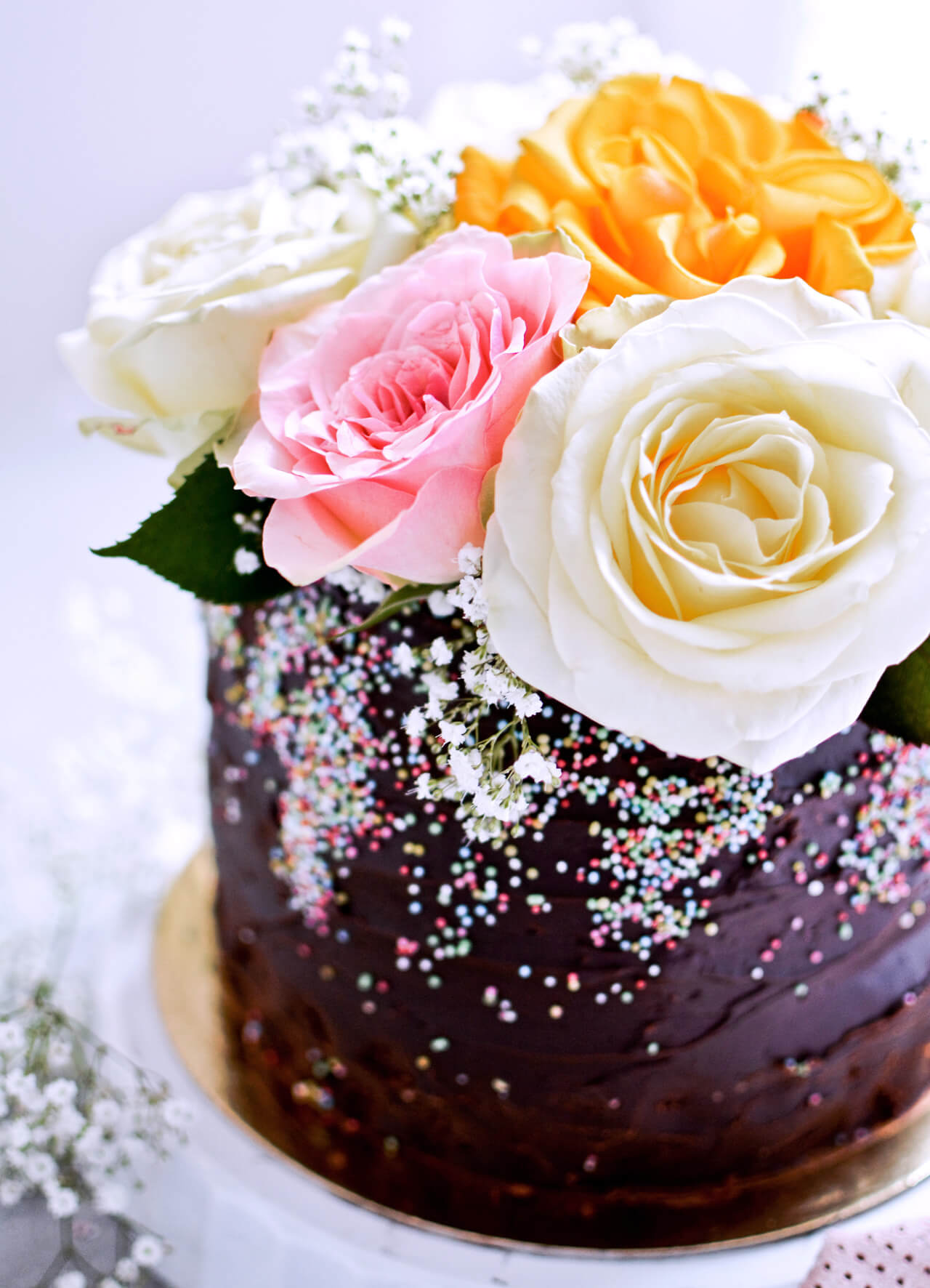 That's not bad, right? But the one thing that I did want was just to make a cake for you guys. Because I love cake and I don't have nearly enough cake recipes on the blog. And you guys deserve cake! Now, I have to warn you, if chocolate is not your thing it's time to click out now. But trust me you'll be missing out, ha!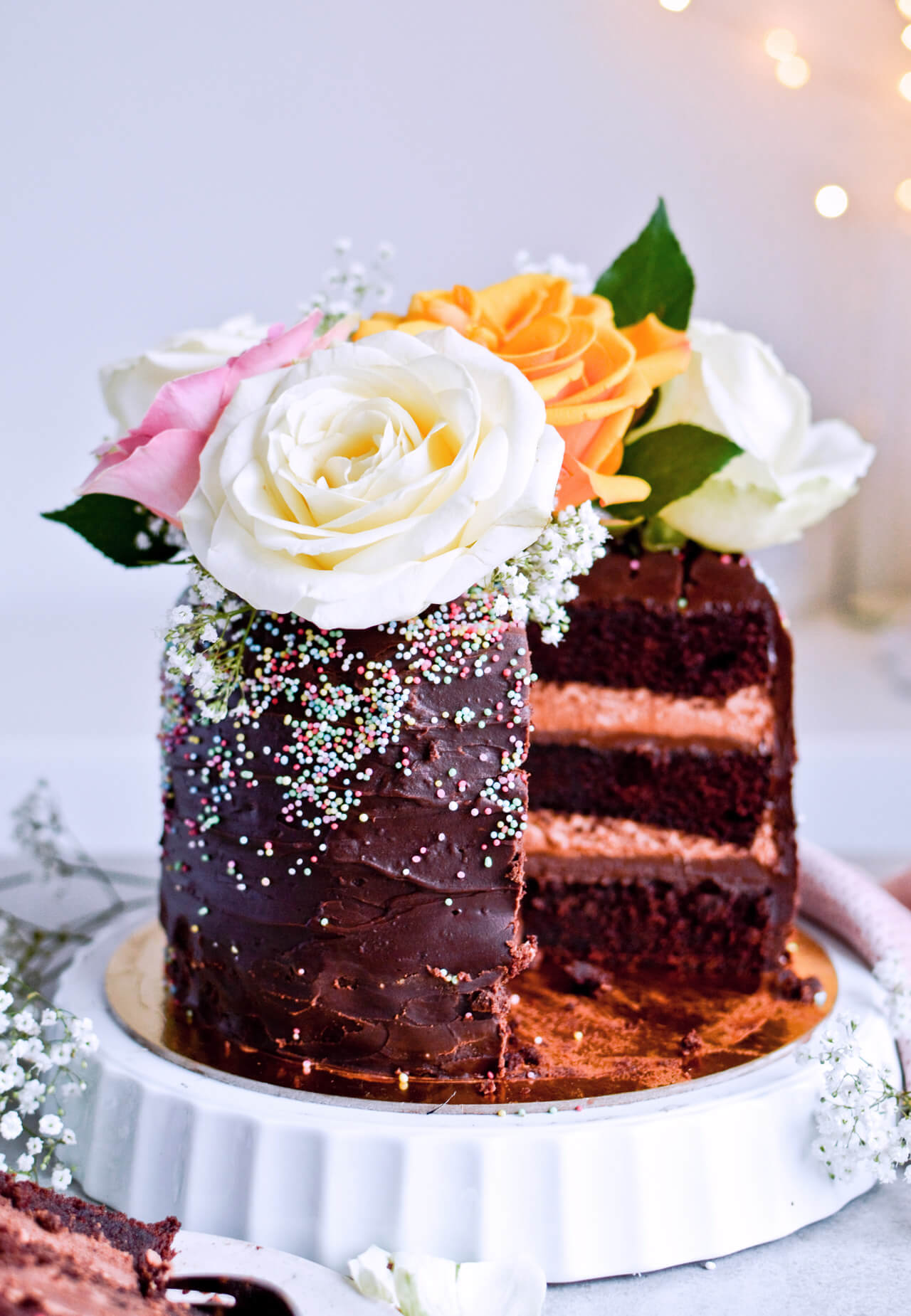 Because what I have here today is the craziest chocolate cake ever, very appropriately named the Chocolate lover's triple chocolate ganache layer cake. It's made with insane amounts of bittersweet chocolate, some cream and some coffee… but to everyone's surprise it at least doesn't have any butter.
I'm still working on opening my heart to buttercream, as gross as that sounds, so until I find / create a really good, inoffensive buttercream recipe I'm sticking to chocolate and cream. My two absolute favorite things.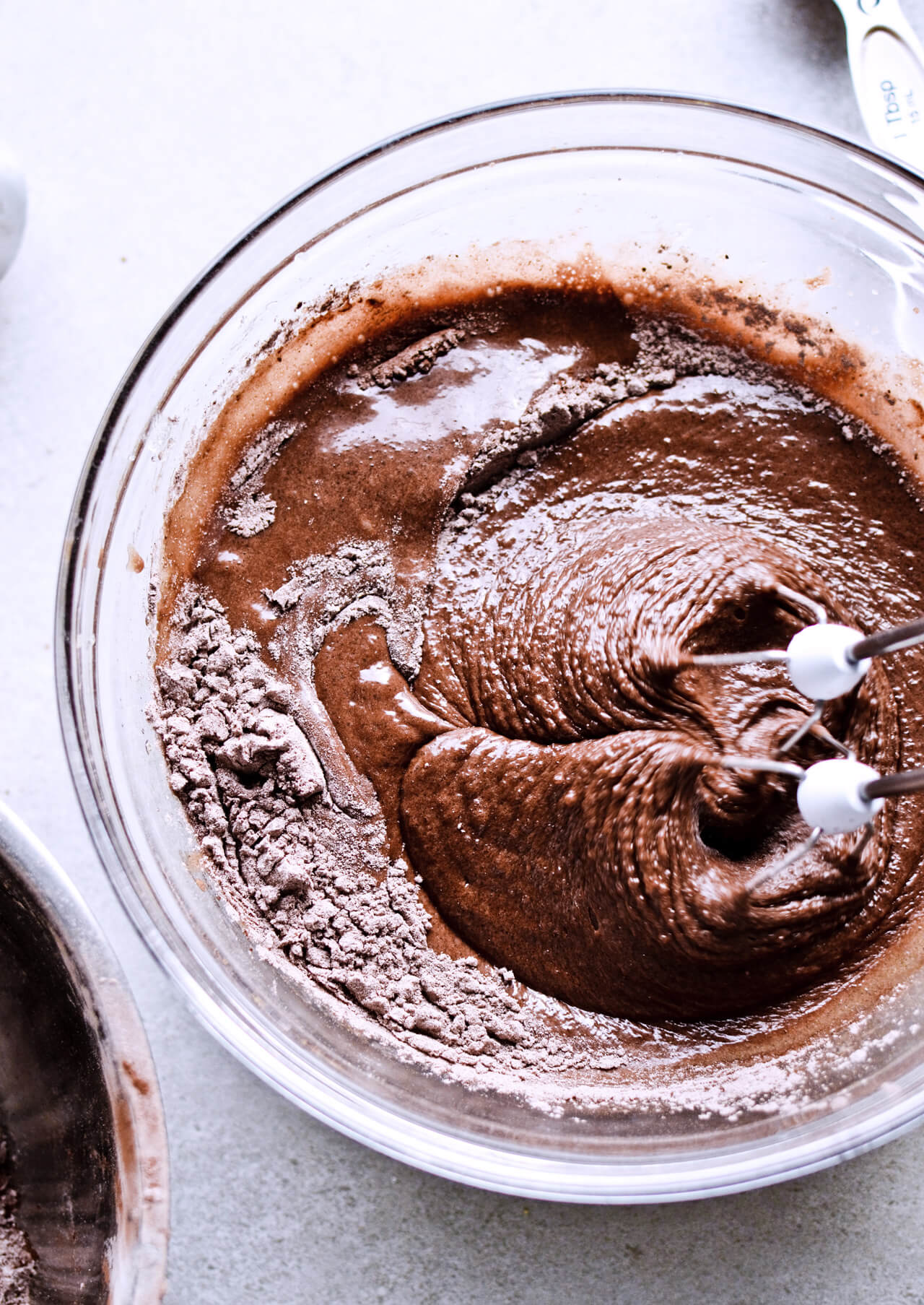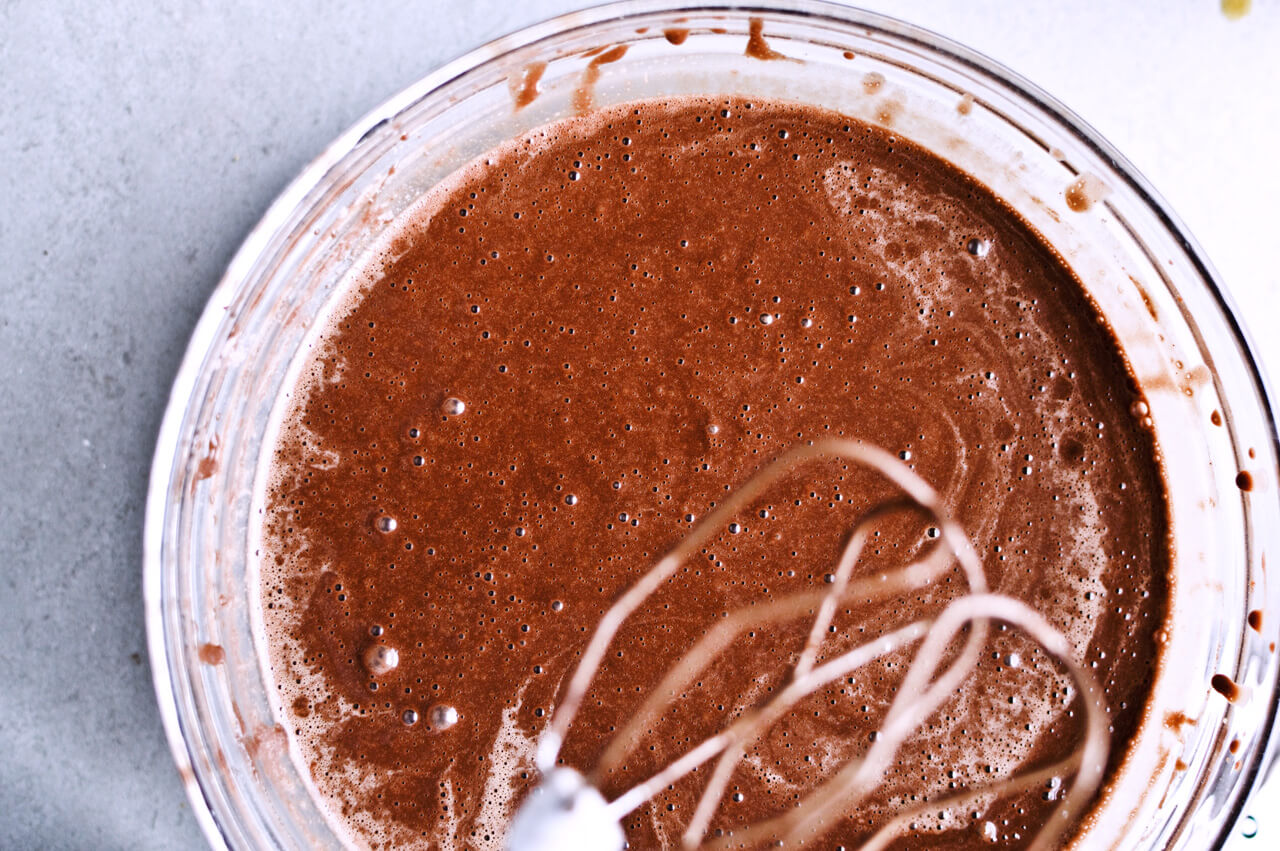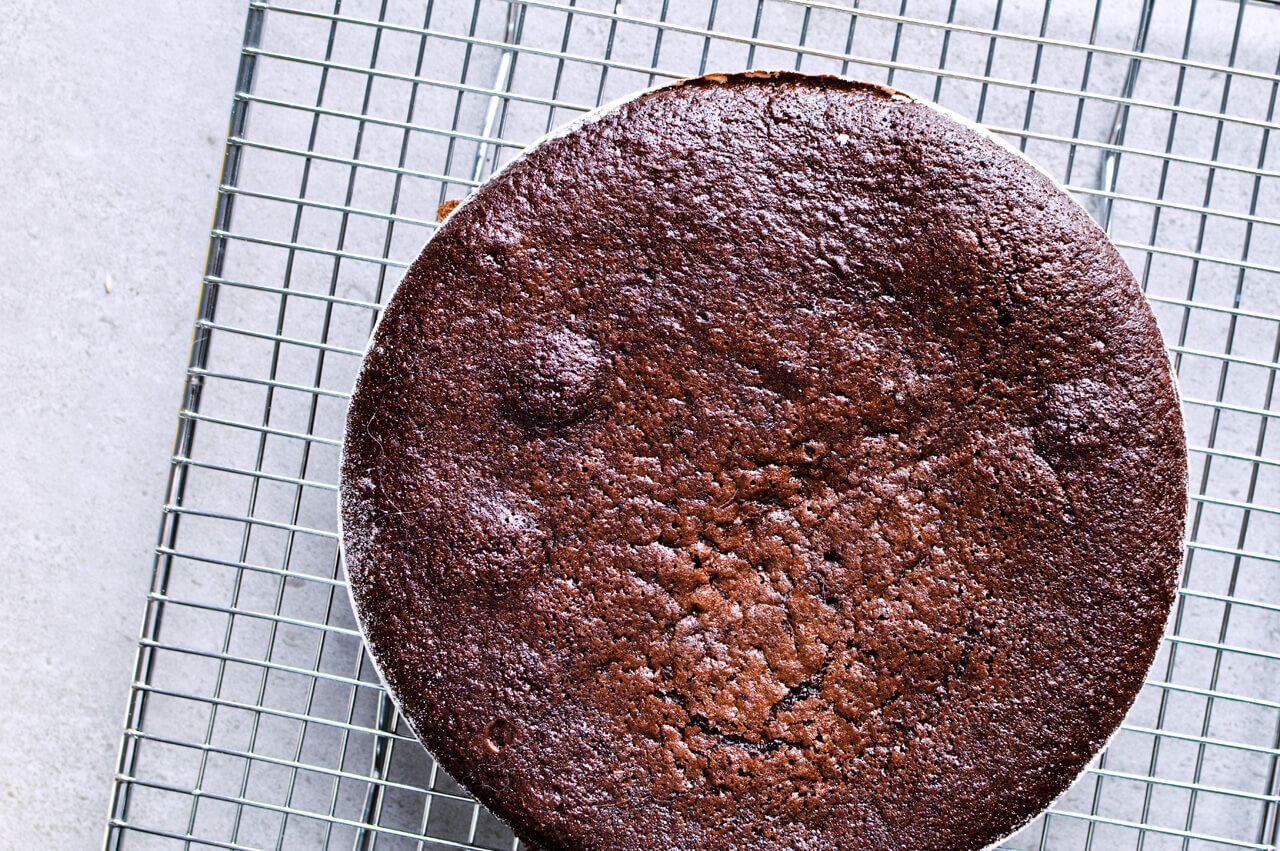 The base of this wonderful layer cake is the wonderful, coffee filled chocolate cake. I only slightly adapted the recipe from Layered, which is truly an amazing book. The reason why I love this cake so much, and why you will to, is that it's very chocolaty and rich in flavor but it doesn't really taste all that sweet. The recipe of course uses sugar, but the sweetness is controlled by the bitter coffee (a whole cup!) and unsweetened cocoa which both add incredible depth to something as simple as cake.
This chocolate cake is actually really good on its own, as it's almost like a brownie, but of course we're doing a lot more to it. The first thing is the rum syrup. I want to always make sure that the cakes I bake are, for lack of a better word, moist. Nothing is worse than a dry cake and the rum syrup works really well with the chocolate. And no need to worry – we're boiling it to the point that it's not alcoholic, just aromatic!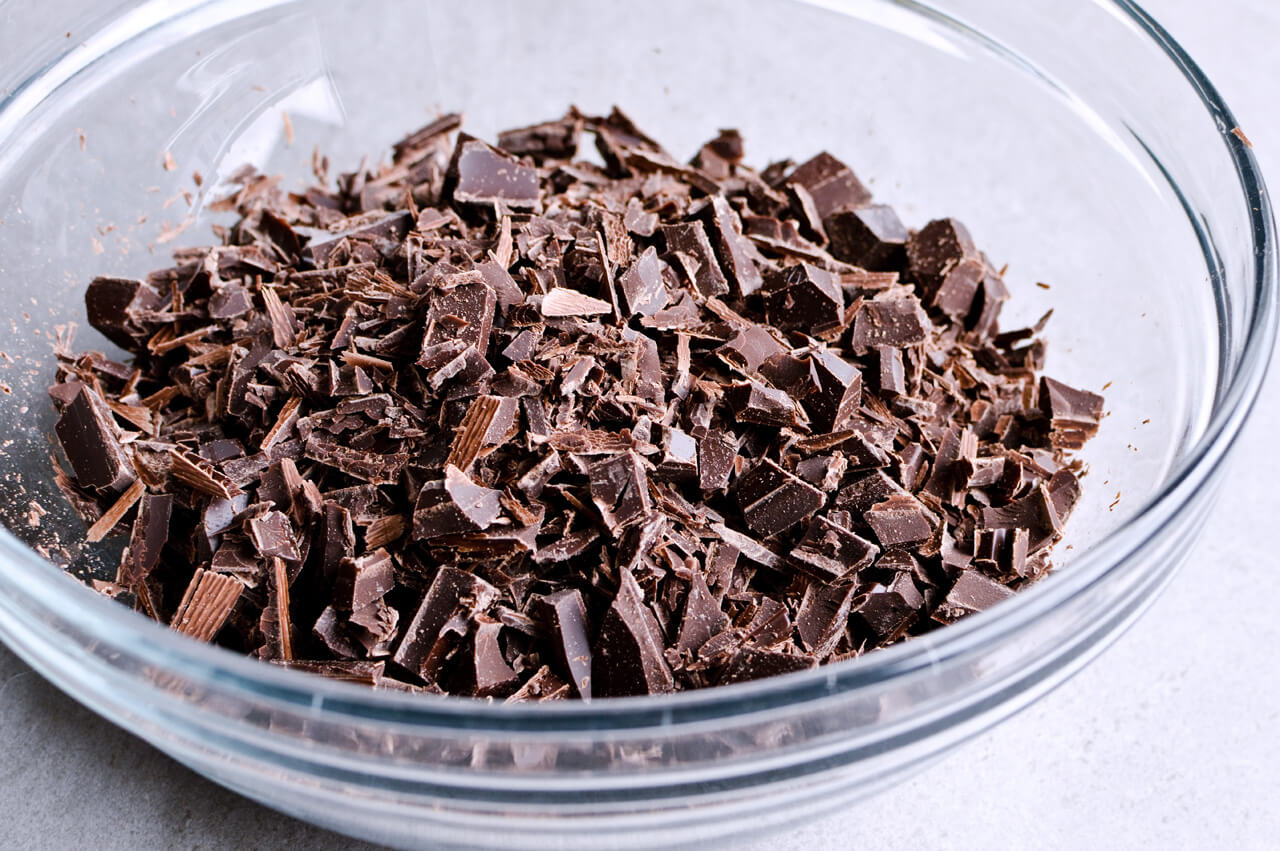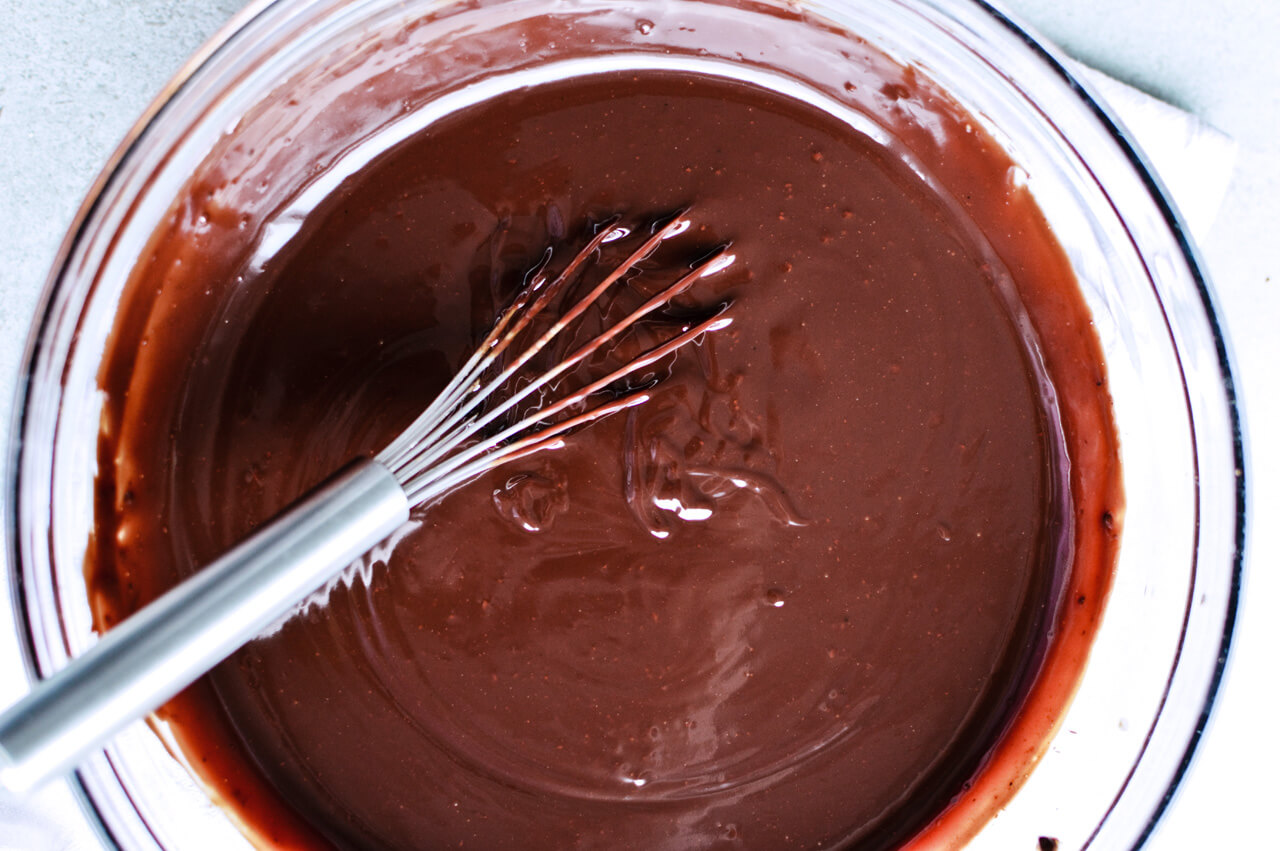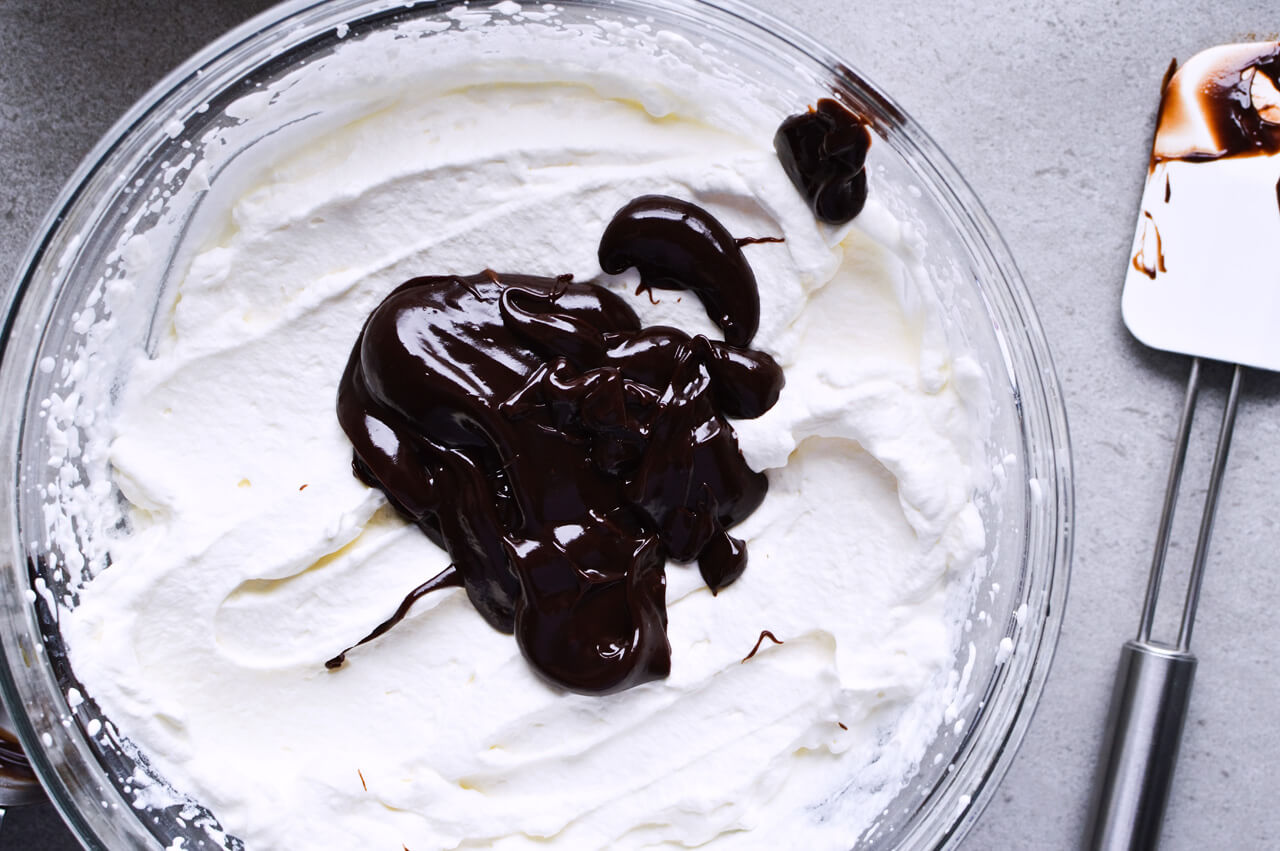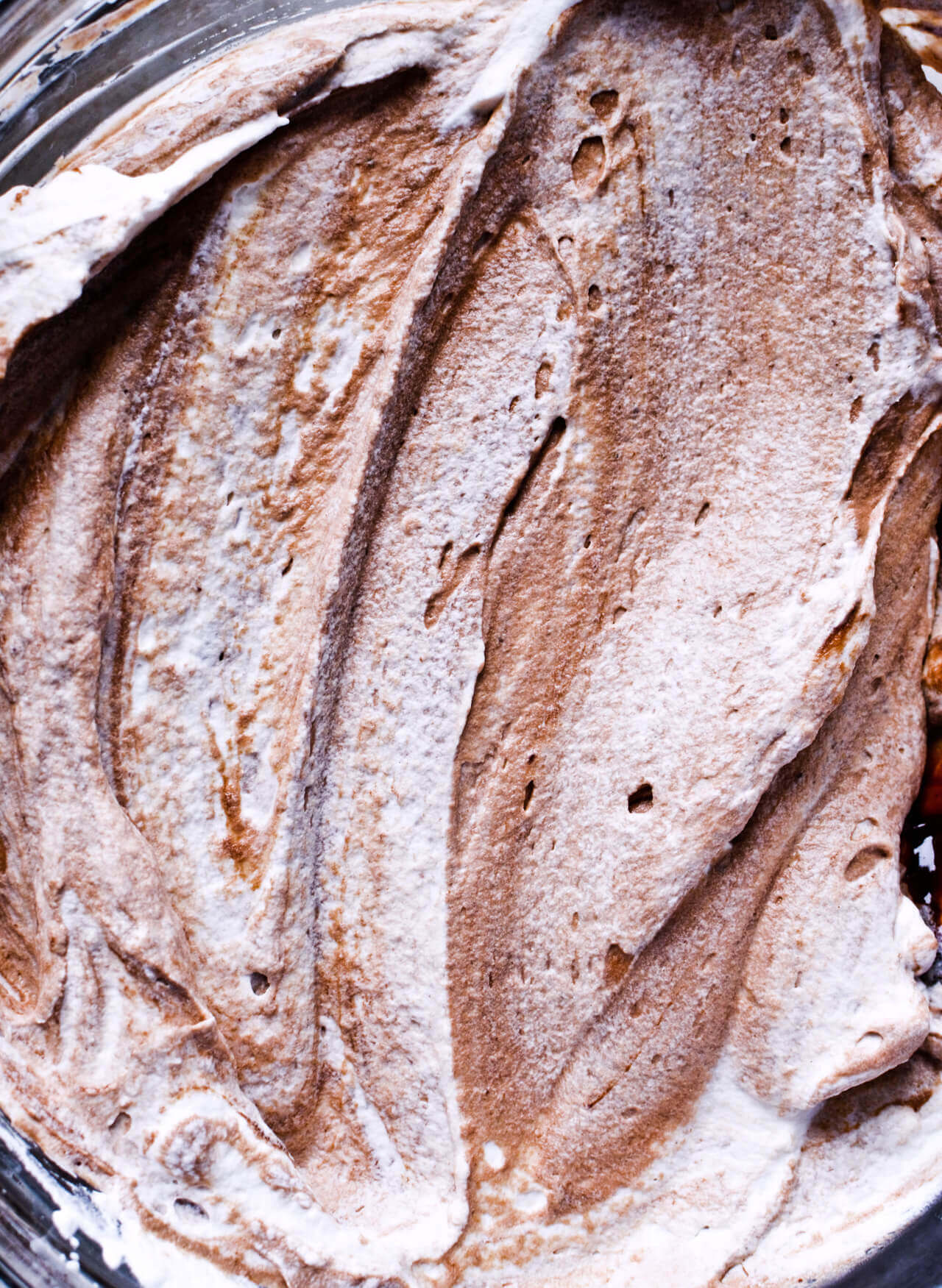 And then the fun part comes – the chocolate ganache. I'm talking about crazy amounts of chocolate ganache. This cake is hiding layers of sweet, fudgy and smooth ganache that are topped with ganache whipped cream, which is whipped cream combined with chilled ganache. And you'll love that because at first the cream is fluffy, but as it chills it becomes almost mousse-like. It's incredibly smooth and it'll just melt in your mouth.
Once the cake chills and is stable enough for more ganache craziness, another layer of ganache is added all around the cake. I really like the rustic look so I slathered the ganache onto the cake with a spatula, but you could also pour ganache over the cake for a smooth finish.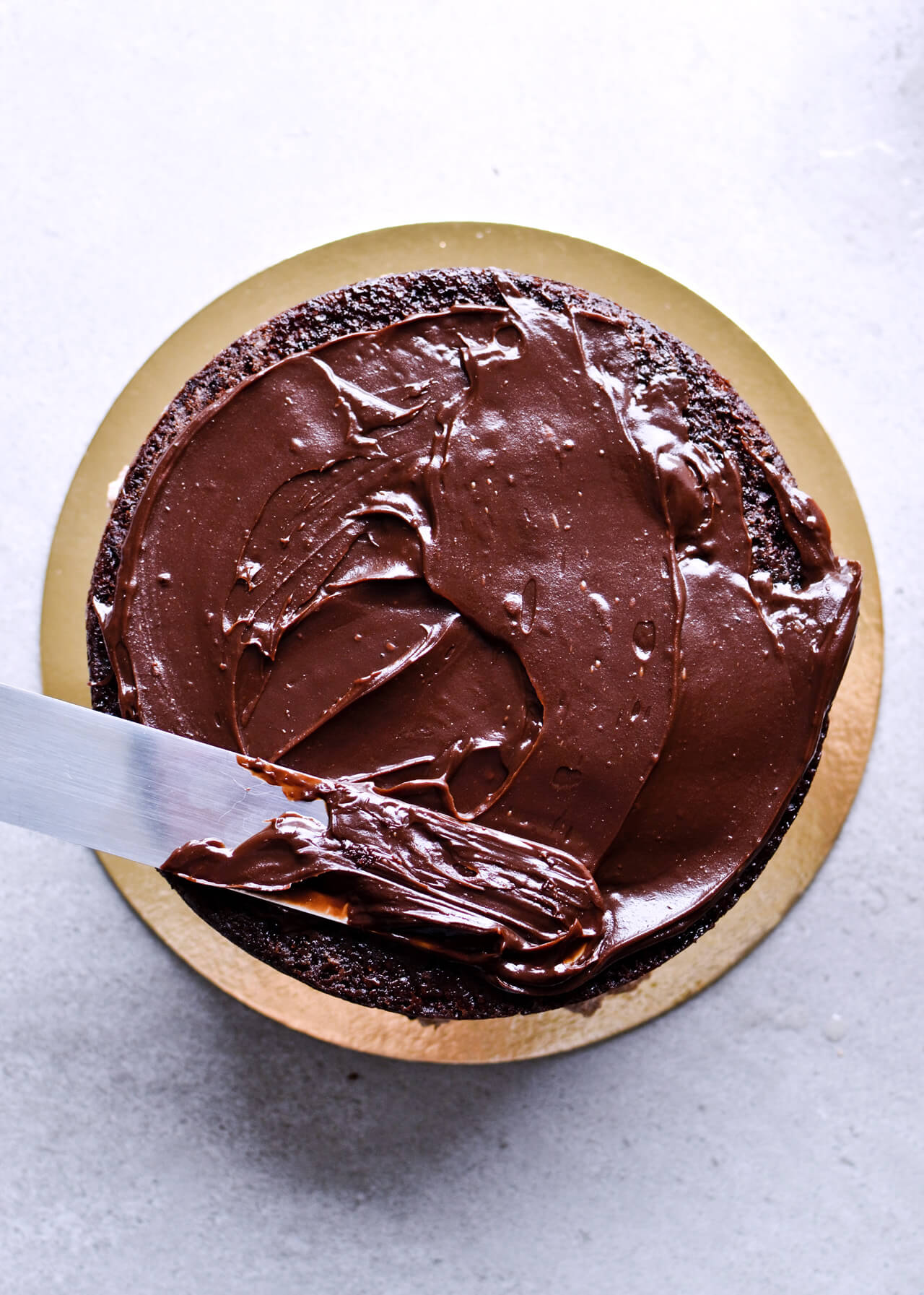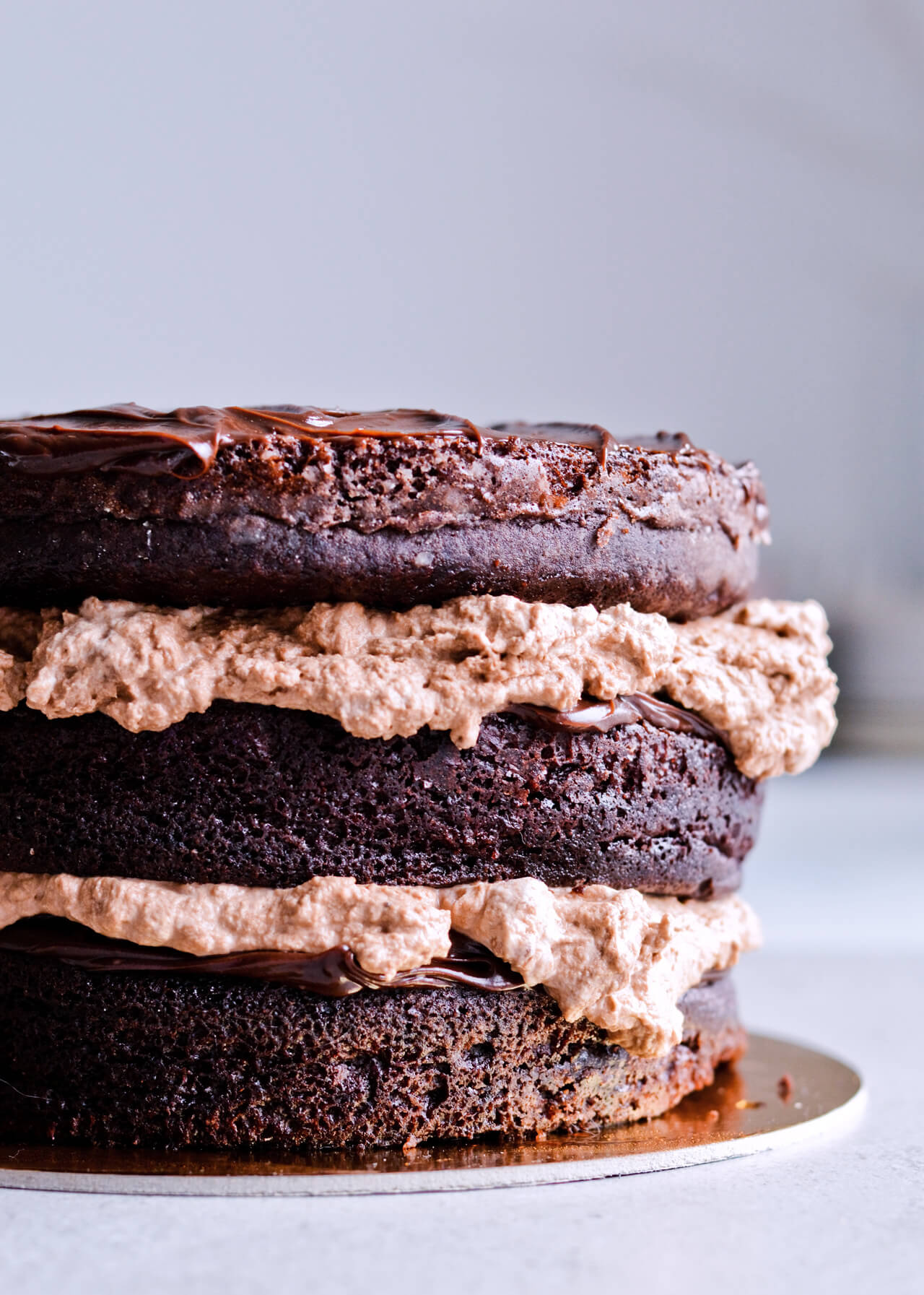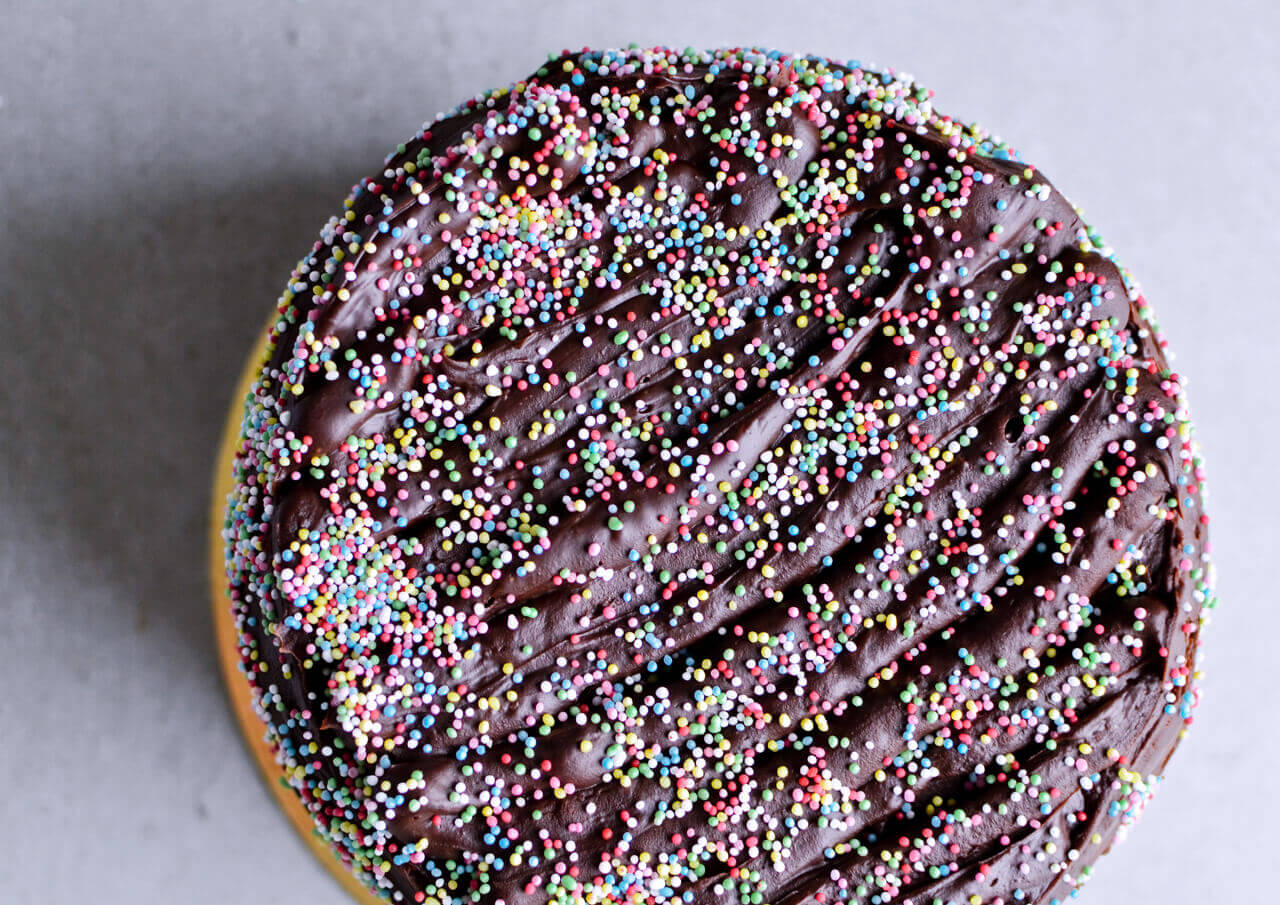 The flowers and sprinkles are completely optional, but I decided to go all out and do both. How does one decide between sprinkles and flowers? I honestly couldn't and because I was doing this for Valentine's day I also felt like I didn't have to decide. Sometimes I allow myself to be a bit over the top. Or more like all the time?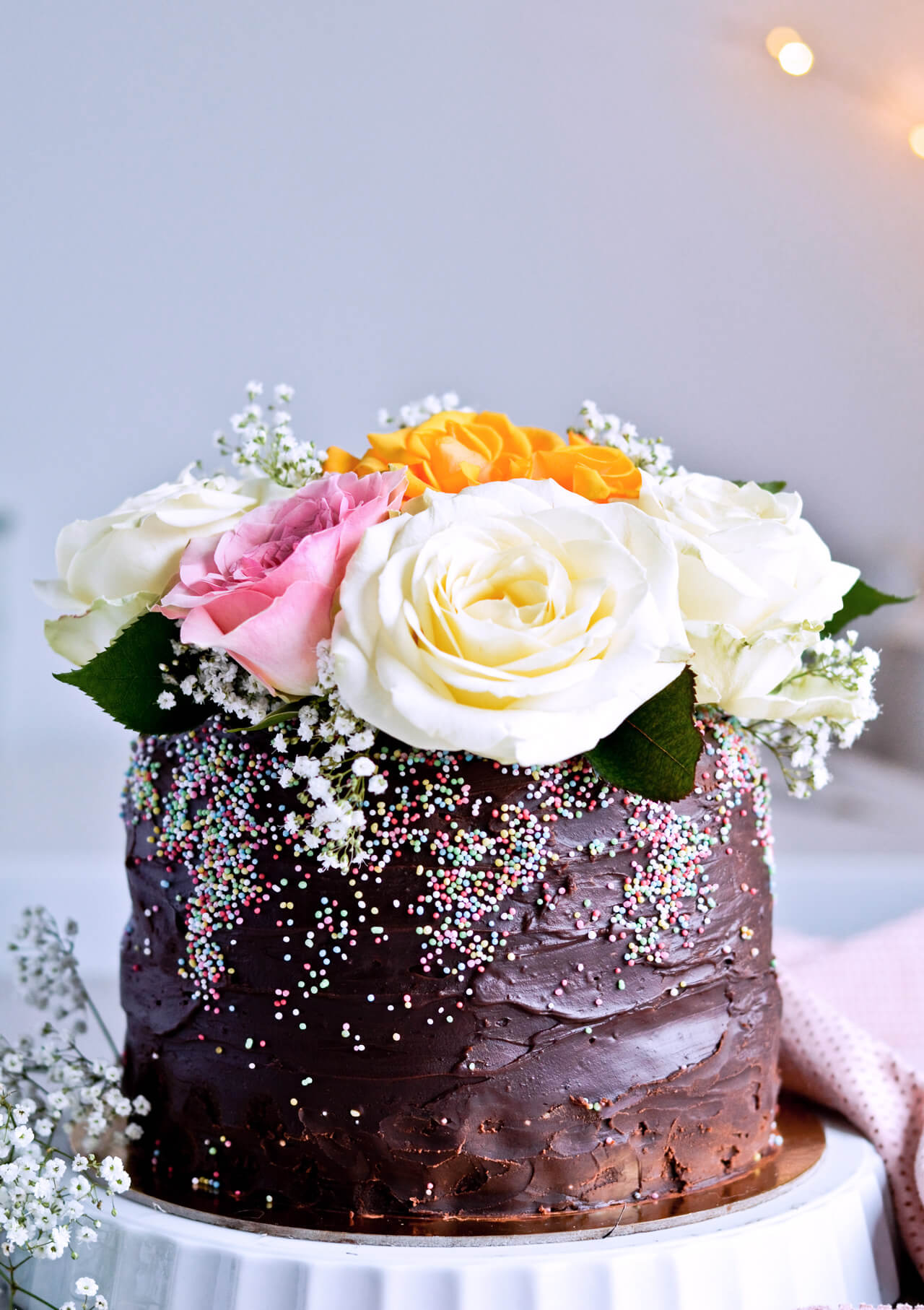 This Chocolate lover's triple chocolate ganache layer cake is a 7-inch (17.5-cm) 3-layer cake, but you could also make a 6-inch (15-cm) 3-layer cake or even an 8 inch (20-cm) 2-layer cake, although if making the latter, you might need less filling. But whatever size you pick, the best thing is that because this cake is so filling a little of it goes a long way. This is one of those cakes that needs to be cut into slim slices, unless you're the ultimate chocolate lover and you can handle large slices; in that case I applaud you. Really.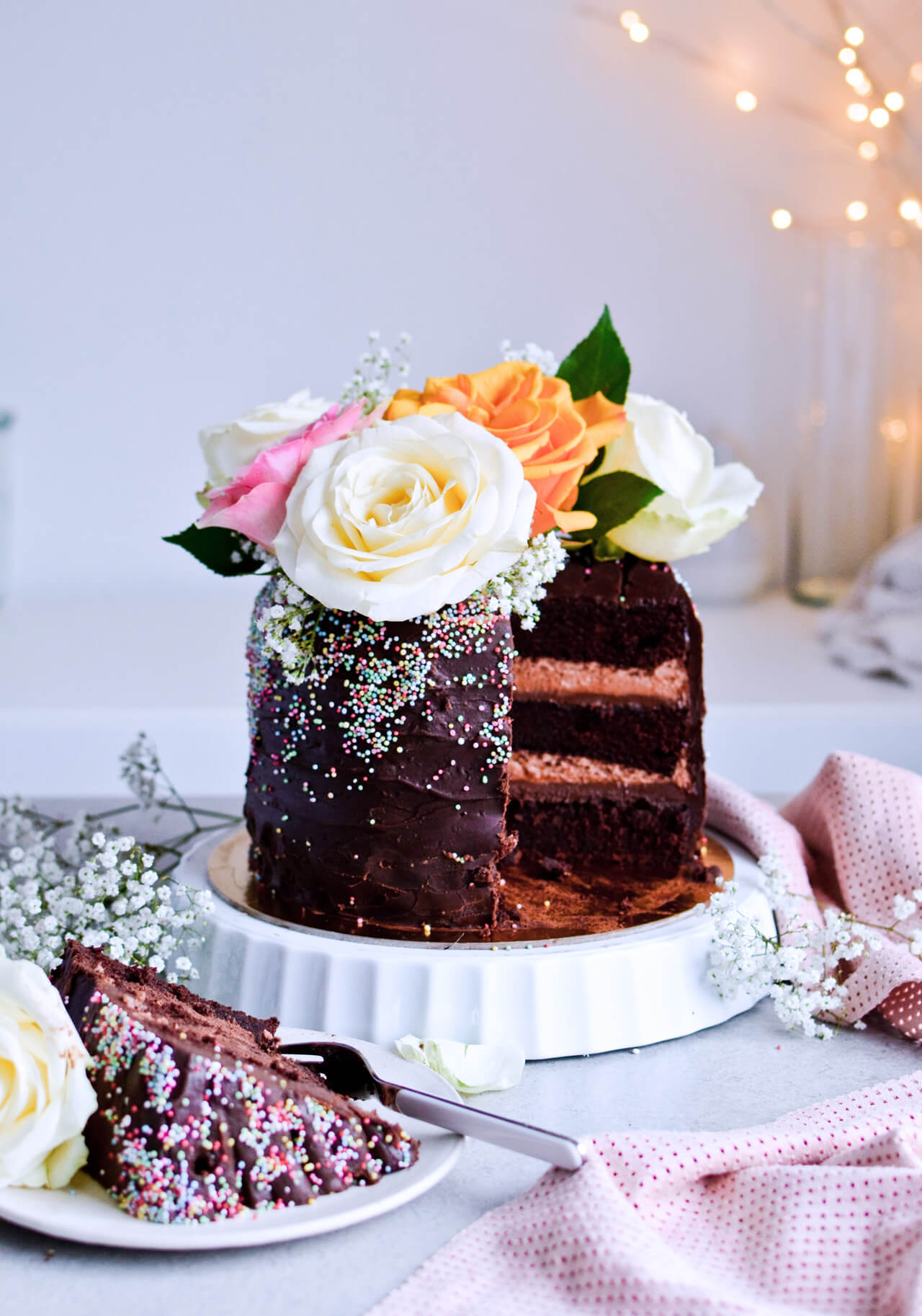 Chocolate lover's triple chocolate ganache layer cake is truly a dream cake for anyone that loves chocolate. It's rich, with a very deep chocolate flavor and it'll just melt in your mouth. It is the kind of cake you'll keep going back to, if only to have just a bite, because anything more would be too much (you know after you've had the first 2 slices).
Print
Chocolate lover's triple chocolate ganache layer cake
The ultimate chocolate cake!
Recipe makes one 7-inch (17.5-cm) three-layer cake.
Author:
Prep Time:

20 min

Cook Time:

30 min

Total Time:

50 minutes

Yield:

8

servings

1

x
Category:

Dessert
Chocolate cake
265g

(

1 3/4 cups

+ 2 TBSPs |

9.3oz

) all-purpose flour

65g

(

3/4 cup

) unsweetened (Dutch-processed) cocoa powder

1 1/2 teaspoons

baking powder

1 teaspoon

baking soda

3/4 teaspoon

fine salt

120

ml (1/2 cup) sunflower oil (or grapeseed or other neutral oil) + more for greasing

310g

(

1 1/2 cups

) granulated sugar

1 teaspoon

vanilla bean paste (or extract)

2

large eggs

180

ml (3/4 cup) whole milk

240

ml (1 cup) warm strong-brewed coffee
Rum syrup (for soaking)
50g

(

1/4 cup

) granulated sugar

60

ml (1/4 cup) water

15

ml (1 TBSP) dark rum
Whipped chocolate ganache filling
510g

(

18oz

) bittersweet (45-52%) chocolate, finely chopped

720

ml (3 cups) chilled whipping cream, divided
Chocolate ganache – frosting
510g

(

18oz

) bittersweet (45-52%) chocolate, finely chopped

360

ml (1 1/2 cups) whipping cream, chilled
For decoration (optional)
Instructions
First make the chocolate cakes:
Preheat oven to 180°C (350°F), with a rack set in the middle of the oven. Lightly grease and flour three 17.5-cm | 7-inch round cake pans, set aside.
Sift flour, cocoa powder, baking powder, baking soda and salt in a medium mixing bowl. Stir to combine, set aside. In another large bowl, or bowl of your stand mixer, beat oil and sugar on medium speed for 2 minutes, until the mixture looks like wet sand. Beat in vanilla and eggs one at a time. Stop and scrape down the sides with a spatula. With speed on low, beat in flour and milk in 3 batches, starting and ending with the flour mixture (flour – milk – F – M – F). Scrape down the sides again. With the mixer on low-medium, slowly pour in the coffee and beat to combine, but no more than 30 seconds.
Evenly divide the batter between the three pans. Bake for 20-25 minutes or until a toothpick inserted into the center of each cake comes out clean. Let cakes cool on a wire rack for 10-15 minutes, then remove them from the pans and let cool completely.
As the cakes bake, make the rum syrup: Combine sugar and water in a small saucepan and cook over medium heat for about 5 minutes or until the sugar completely dissolves. Add rum and bring mixture to a boil. Cook for about a minute, then remove from heat and let cool completely.
Next make the chocolate ganache filling:
Combine chocolate and 1/2 of cream in a large heatproof bowl and place over a saucepan of simmering water (don't let it boil), set over medium heat. Cook like that, stirring occasionally, until the mixture is smooth and warm. It should look like a silky soup. Remove from heat. Cool in the fridge for 30-60 minutes, until the mixture is thick but still spreadable (like smooth peanut butter or Nutella).
Once the ganache has hardened a bit, whip the remaining 360ml (1 1/2 cups) of cream. Using a stand mixer, or a hand mixer, beat cream on medium-high speed until medium-stiff peaks form. Using a spatula, fold 2/3 cup of ganache into the cream. Be careful and don't overmix.
Assembly:
First level cakes if necessary, then choose one as the first layer. Place it on a cake plate and lightly brush with the rum syrup. Next, spread about 1/3 of ganache all over the cake, using an offset spatula or spoon. Top with 1/2 of ganache-whipped cream. Cover with next layer of cake and repeat the steps. Top with last layer of cake, lightly brush it with rum syrup and remaining ganache. – At this point, you'll have some whipped cream peeking out at the sides. Using a spatula or scraper smooth the sides. Chill the cake for about 2 hours – this will harden the cream and make the cake more stable.
Once the cake has been chilling for about one hour, make the second ganache the same way you made the first one, by setting up a double boiler. Once smooth, chill ganache until it reaches your desired consistency. Spread ganache evenly over the cake, top with sprinkles and chill for another hour or overnight. Decorate with flowers, if desired, before serving the cake.
Notes
On cake layers:
A soup ladle or scoop is great for dividing the batter between the cake pans and making even portions. If your oven is on the smaller side or you only have 1 pan, bake each cake on its own.
You can wrap cooled cakes in plastic wrap and store at room temperature overnight, before you continue with making the cake. Alternately, you can double wrap them and store in airtight containers in the freezer for up to 3 months.
Frosting with ganache:
For a smooth cake, you'll want to pour ganache over the cake. Chill ganache until it's lukewarm and still has a very soup-like consistency, then place the cake on a rack set over a baking sheet and slowly pour over the ganache. Chill in the fridge until hardened.
For a rustic finish, chill ganache until it's a bit more thick (like peanut butter or Nutella). Take cake out of the fridge and gently spread ganache all over with an offset spatula, as even as possible.
SaveSave