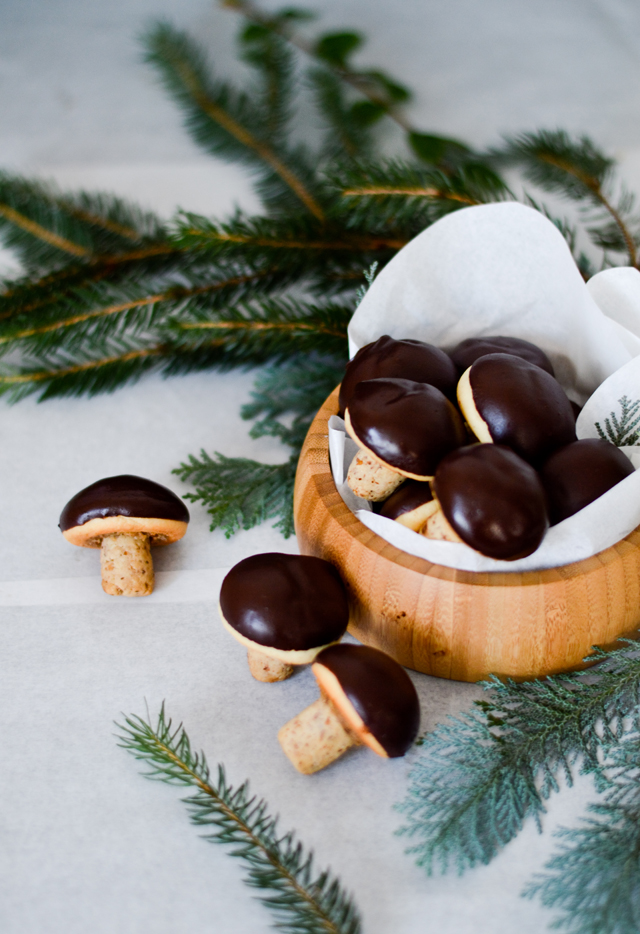 Do you like mushrooms? I think they're one of those foods that people either adore or hate, and there's very little grey area left. That's probably where I fit. I've never been a big fan. My mom loved mushrooms and never cooked much with them because of me I guess.
When I cook with them, I chop them finely, and hide the texture but keep the flavor. It's exactly that, the flavor, that I like and if I ever stumble upon big mushroom chunks in a dish, I leave those on the plate. It'd kind of embarrassing but I can't help myself. But people love mushrooms where I live. Going to the woods and coming out with a basket full of them is a favorite pastime for some. I love to go to the woods too actually, just without a basket.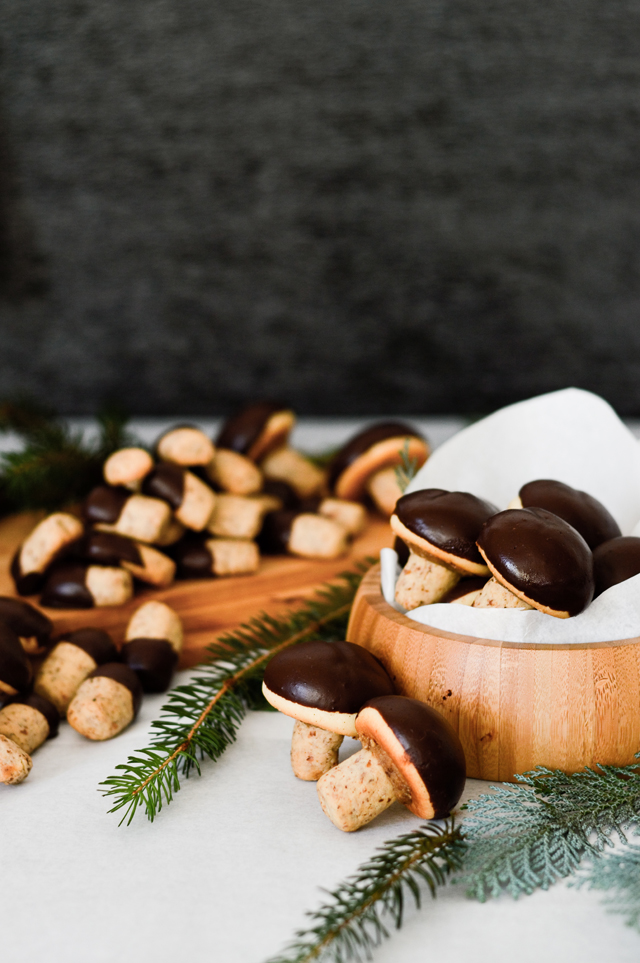 Anyway, I'm not giving you a mushroom recipe today, just mushroom-shaped cookies. Isn't that much better? I've always loved these. They're a constant at family parties or similar gatherings, and they're what I look for when I see a cookie platter.
They're chocolaty, crunchy and have a moist nutty center. And they're cute. I don't normally describe food as being cute, but these really are adorable. They remind of the forest, its quietness, the beautiful trees  and the cool air.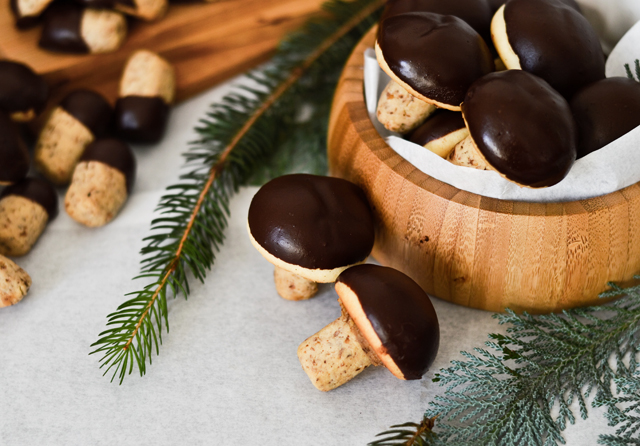 These mushroom cookies are made of three parts. The stems are made of a wonderful walnut dough and the caps are sweet and buttery. Their center is scraped out to make room for a better filling. They are filled with a mixture of cookie crumbs, walnuts, jam and a hint of rum. The cherry on top is the dark chocolate they're dipped in. When you bite into one all these flavors connect and make a really tasty cookie.
And because I like to make extra stems, I dip those into chocolate as well and transform them into tiny tree logs that complete this woodsy cookie table.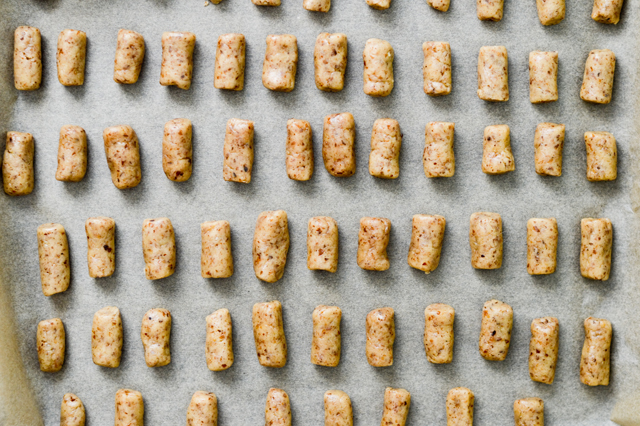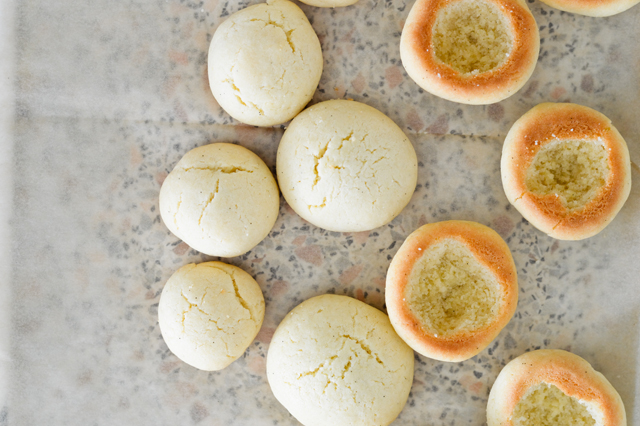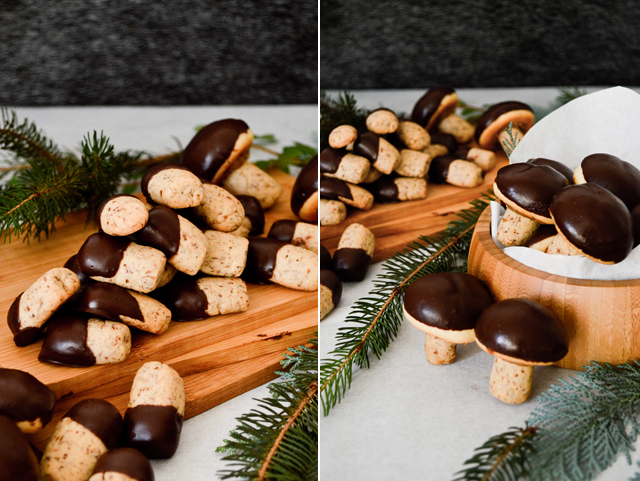 Print
Walnut mushroom cookies
Bring joy to the table with these mushroom cookies. Recipe makes about 40 mushrooms and 40 logs.
Author:
Yield:

40

cookies

1

x
Category:

Dessert

Method:

Baked

Cuisine:

Slovene
Stems
200 grams

(

1 1/4 cups

) all-purpose flour

80 grams

(

2/3 cup

) walnut meal

1 tablespoon

baking powder

70 grams

(

4 1/2 tablespoons

) white granulated sugar

70 grams

(

2.5 ounces

) unsalted butter, at room temperature

1

egg
Caps
380 grams

(2 1/4 +

1/2 cup

) all-purpose flour, sifted

155 grams

(

1 cup

) powdered sugar, sifted

1 tablespoon

baking powder

150 grams

(

5.3 ounces

) unsalted butter, room temperature

1

egg

1

egg yolk

1/2 teaspoon

vanilla extract (or paste or vanilla seeds)
Filling
crumbs from the caps

50 grams

(

2/4 cup

) walnut meal

1 teaspoon

cocoa powder (sweetened) or chocolate powder

1/4 teaspoon

rum (optional)

125 grams

(

5 tablespoons

) apricot jam, room temperature
Chocolate glaze
200 grams

(

7 ounces

) dark (70%) chocolate, broken into pieces

60 grams

(

2 ounces

) unsalted butter
Instructions
Make the stems: In a bowl, combine the flour, walnut meal and baking powder. In the bowl of your electric mixer, beat the egg with the butter and sugar. Once creamy, add the flour mixture gradually until it's all incorporated. Form the dough into a ball and put it in the fridge while you prepare the second dough.
Make the caps: Combine 2 1/4 cups flour, sugar and baking powder in a bowl. In the bowl of your electric mixer beat the egg with the egg yolk and add butter. Mix until it's incorporated. Gradually add the flour mixture until a ball of dough forms. It should be smooth, but not sticky. If needed add more flour (from the additional 1/2 cup). Wrap the dough into plastic wrap and cool it in the fridge for at least 30 minutes.
Set the oven to 180 degrees C (356 degrees F). Line a large cookie sheet with parchment paper. Take the walnut dough (for the stems) out of the fridge and tear it into chunks. Roll out each chunk into a thin log and cut it into 2-3 cm (0.8-1.1 inch) long bits. Place them on your baking sheet, a few centimeters / 1 inch apart. Bake for about 10-15 minutes, until they rise a bit and are golden brown around the edges. Let them cool.
When the dough for the caps has been properly chilled take it out. Form it into small balls and place them on the baking sheet, lined with parchment paper (can be the one you used before). Bake for about 10-15 minutes, until they rise and get slightly golden brown.
Take them out of the oven and start scraping out the centers immediately while they're still hot (once cold, you won't be able to do this). Take a small knife and make small holes in the bottom of the mushroom caps. Do this above a mixing bowl, because you need the crumbs for the filling. Set the emptied caps aside.
Make the filling: In a bowl, combine the cookie crumbs, walnut meal, cocoa, rum and jam. Mix into a paste. Fill each mushroom cap with a bit of filling (the amount depends on the size of the hole). Then gently stick a stem into the center. Wipe away any excess filling. Set the cookies aside.
Make the glaze: Place the chocolate and butter in a heatproof bowl and place it over a saucepan of simmering water. Stir occasionally until the chocolate and butter melt and the chocolate is smooth and glossy. Remove the saucepan from the heat. Dip the cookies in upside down one by one and lay them on a baking sheet.
Once all the cookies have been dipped, place the baking sheet in the fridge for 20 minutes or more until the chocolate has hardened. Do the same with any leftover stems.
Notes
Store the cookies in airtight containers in the fridge (put parchment paper in between the layers of cookies), they should last at least a week. They are best served at room temperature.
The mushroom caps might crack a bit as they bake. This should not worry you. Once you dip them in chocolate the cracks are not visible.
You can make the dough a day in advance.
You can substitute walnuts with pecans or hazelnuts.
I like apricot jam because the taste is not overpowering, but you can use any other kind. I think strawberry would work nicely too.
New:
Recipe for Strawberry almond mushroom cookies!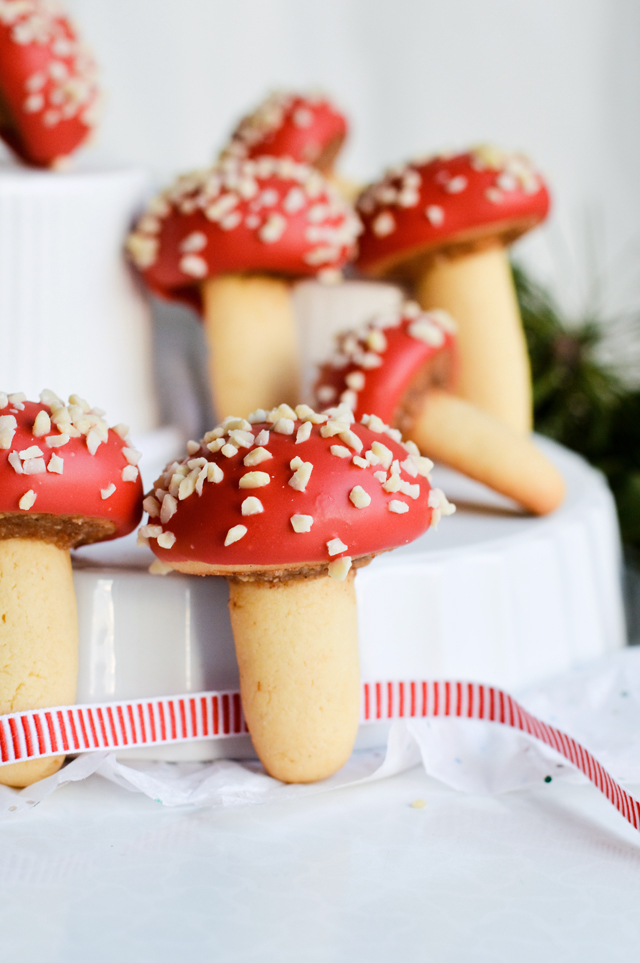 SaveSave