The cutest thing to ever make around Christmas are these Strawberry almond mushroom cookies!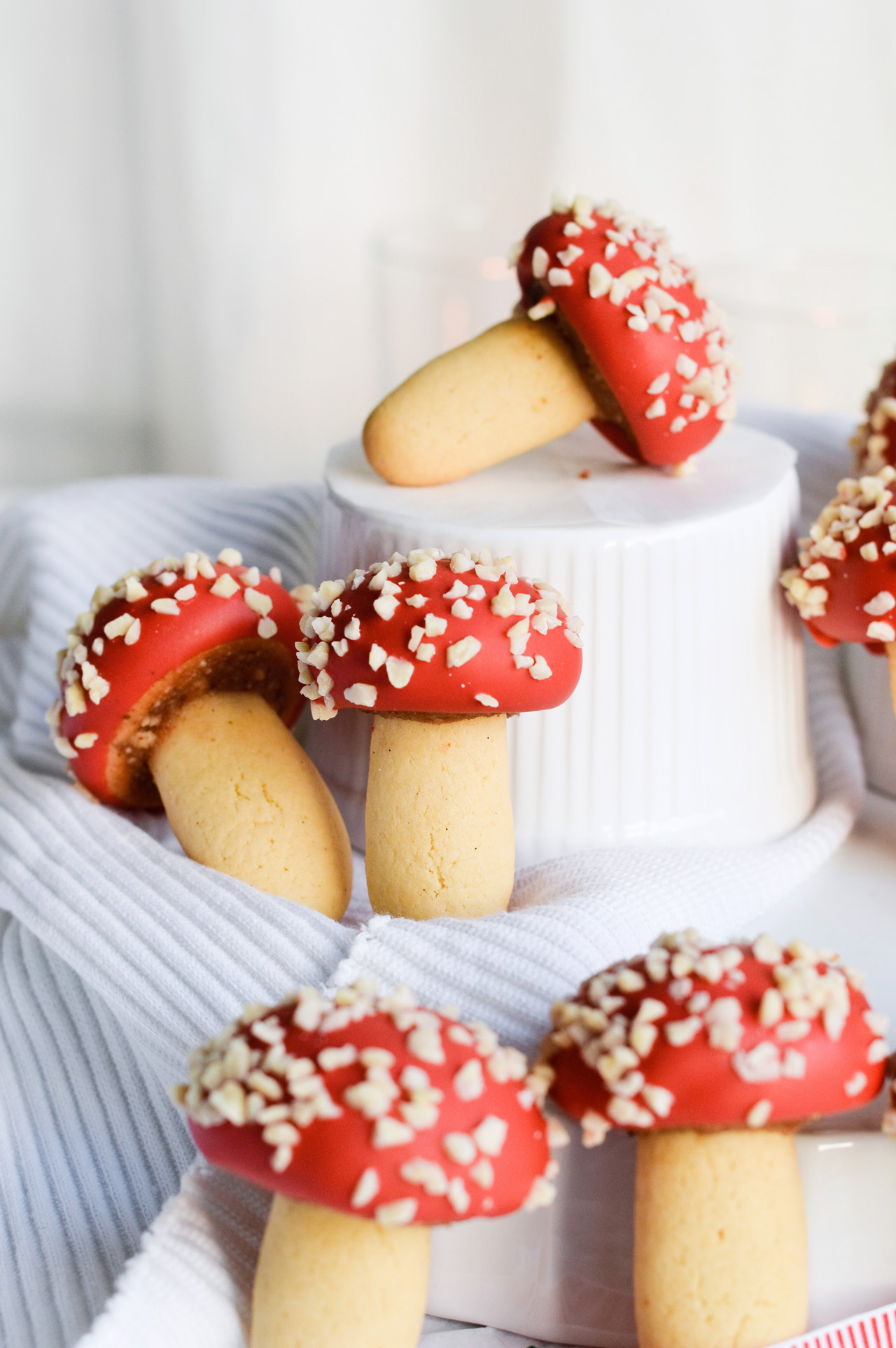 We have this saying for when the sky is orange-red at sunset. Something you start hearing as a kid and then it just sticks, even though it doesn't make much sense. The saying is "St. Nicholas is baking cookies". Ever heard of it?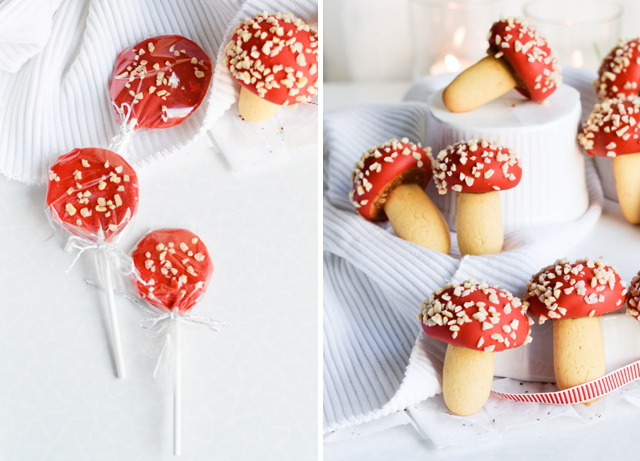 St. Nicholas was celebrated this last weekend. He's one of the three men that get talked about a lot during December (the other two being Santa Claus and Grandpa Frost). A bunch of old, bearded gift givers. It's the gifts that everyone gets excited about, or at least those that celebrate the holiday.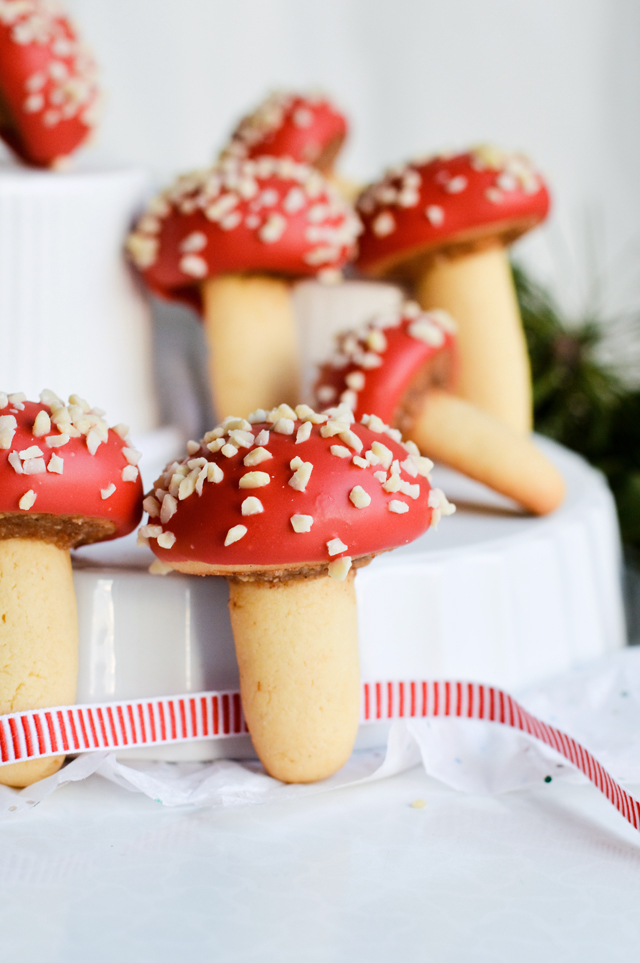 By tradition St. Nicholas brings people small gifts on the evening of 5 December.  Traditionally the gift would be an orange and some dried fruit or cookies, but people usually give out candy, clothes, toys and even money too. When I was little I loved going to town with my mom to see the St. Nicholas festival and I loved getting a small gift even more than watching the show.
Naturally, I've outgrown all of this. And if I were to give a gift to anyone now I'd really just bake some cookies or buy an advent calendar.
And that brings me to these cookies today. Besides making sugar scrubs, this was the only really festive thing I've managed to do so far. Or if you count buying gifts as a festive activity, then I guess we can count that in. But I really thought my home would be decorated for the holidays by now.
Somehow I always make a promise to myself to have everything ready in the first week of December, and then I'm always late. I plan on doing it all right after my birthday. But until then, I think baking pretty cookies isn't too bad, right?
These mushroom cookies are a cheerier version of the chocolate walnut mushroom ones. I'm on the fence with which I love more. The chocolate ones are an older recipe, more traditional and I've always been a huge fan.
But these strawberry almond mushroom cookies are wonderful too. The white chocolate – almond – strawberry combination is a slam dunk. The almonds are not as heavy as walnuts and the cookies are simpler to make, as they use just one type of dough instead of two.
In all honesty, I just love tiny mushrooms. They're so cute I've even been looking for ornaments to put on my tree. But at the moment, the red cookies just might be my favorite. And I may be biased, but I think you really need to make some.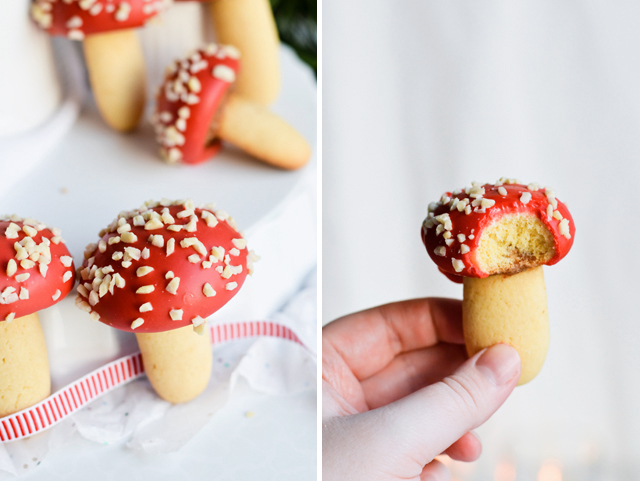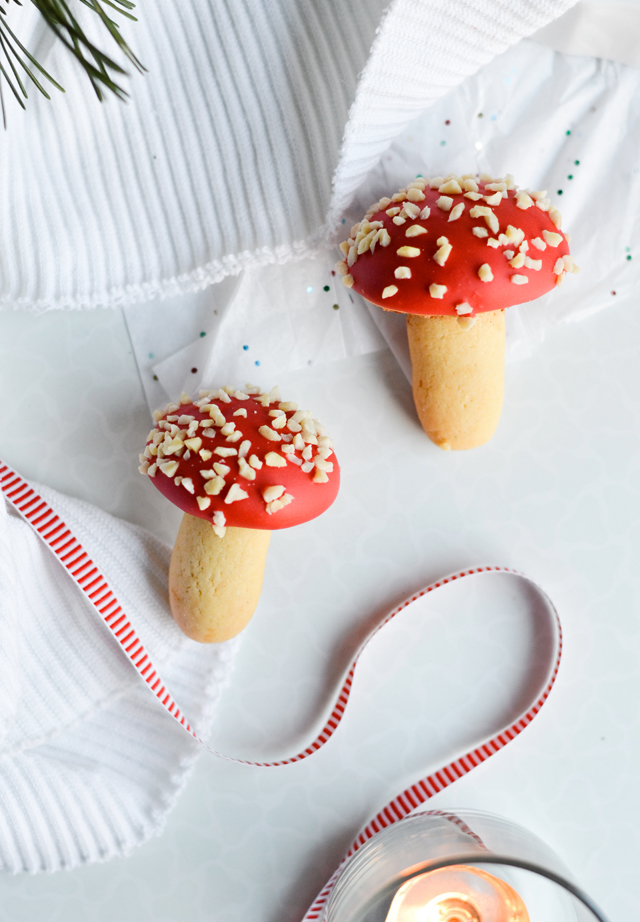 Print
Strawberry almond mushroom cookies
Almost too pretty to eat, these strawberry almond mushroom cookies are everyone's favorite.
Author:
Yield:

23

cookies

1

x
Category:

Dessert, Cookies

Cuisine:

Slovenian, European
Cookie dough
370g

(

2 3/4 cups

or

13 oz

) all-purpose flour, sifted

160g

(

1 cup

+ 2 TBSPs or

5.65 oz

) powdered sugar, sifted

1/2 tablespoon

baking powder

150g

(

5.3 oz

or 1 1/3 sticks) unsalted butter, room temperature

1

large egg, beaten

1

large egg yolk, beaten

1/2 teaspoon

vanilla bean paste
Cookie filling
crumbs from the cookies (my yield was 92g / almost 1 cup or 3.3 oz)

55g

(

1/2 cup

) almond meal

150g

(

1/4 cup

+ 2 TBSPs or

5.3 oz

) strawberry jam
Cookie decorations
300g

(

10.5 oz

) white chocolate, broken into small pieces
red food coloring
coarse almond meal (or chopped slivered almonds)
Instructions
In a bowl, combine the flour, sugar and baking powder. Set aside. In a large bowl, cream the butter with a spatula. Add the egg, egg yolk and vanilla paste, whisk until incorporated.
Mix the dry ingredients into wet in 2-3 additions. Keep stirring with a spatula until you form a ball of dough. Transfer to your working surface and knead for a minute. If the dough is sticky, add more flour. (The dough should be soft enough to make an indentation, but not sticky.)
Flatten dough into a disk, wrap in plastic wrap and chill in the fridge for at least 30 minutes.
Set the oven to 180°C (356°F) and line two baking sheets with parchment paper. Set aside. Take dough out of the fridge and divide it into two parts (one larger than the other, almost 2/3 of the dough). Set the smaller piece aside.
Split the larger portion into 23 equal parts, then roll each one into a smooth ball. Place all on the baking sheet about 2.5cm (1 inch) apart. Gently press each ball down, to flatten the bottom. Bake in the middle of the oven for 10-15 minutes, until the cookies rise and get slightly golden brown around the edges (the top will stay pale).
As these bake, split the smaller portion of the dough into 23 equal parts and roll each one into a log, about 6 cm (2.4 inches) long. Place on the baking sheet and set aside.
As you take out the first cookie sheet (the "mushroom caps"), put the second one with the "stems" in the oven and bake for 10-15 minutes (until golden brown on the bottom).
Then immediately start prepping the first batch of cookies, while they are still warm (this is important!). Cut a circle in the bottom of each cookie and scoop out about 1 – 1 1/2 teaspoons of crumbs. Do this with all the cookies and set the crumbs aside.
Filling and assembly
In a bowl combine the cookie crumbs, almond meal and strawberry jam. Take one mushroom cap and fill the hole with the filling. Then take a stem, dip it in the filling, then stick it into the mushroom cap.
As the filling begins to crawl out, try to push some of it back in, and wipe away the rest. This is most easily done with your index finger, dipped into water to prevent the filling from sticking to it. You can also just use a toothpick or a skewer.
Continue with the rest of the cookies and place each mushroom cookie upside down on a plate. Chill in the fridge for 15 minutes or until you prepare the chocolate.
Line a half sheet or a few plates with parchment paper. Set aside on your work surface / table, along with coarse almond meal (or chopped slivered almonds). In a heatproof bowl placed over a saucepan of simmering water, melt the chocolate. Keep stirring as it melts and remove from heat when only a few chunks remain. Let the chunks melt completely. Once melted add the food coloring, as much as you want or need to get a desired red color. Transfer the chocolate to a smaller bowl, which will make dipping the cookies easier.
Take cookies out of the fridge. Dip each cookie in the chocolate, deep enough to cover the entire cap. Sprinkle almonds on top and transfer cookie to the prepared plates. Continue with the remaining cookies. Chill cookies for about 2 hours, until the chocolate hardens.
Transfer cookies to airtight containers or cover the plates with plastic wrap, store in the fridge for up to a week.
Notes
The food coloring I use for these cookies is made especially for white chocolate and it's by Wilton. I never want to risk running out of chocolate if making chocolate-dipped cookies, so I usually have some extra left. You can either eat that or make chocolate lollipops. To make lollipops: line a half-sheet with parchment paper. Take a teaspoon (or tablespoon) of chocolate and pour it onto the sheet forming a round. Place a lollipop stick in the middle, giving it a little twist. Sprinkle with almonds and put in the fridge to harden. (Or if your kitchen isn't as hot as mine is when baking, leave them out on the counter until they harden.)