A vanilla scented and chocolate packed loaf cake with a crunchy cookie-like crust. This chocolate chip loaf cake is a delicious combination of soft cake and bits of chocolate. Made with sour cream and oil, it is incredibly tender and moist. Also easy to freeze and save for later.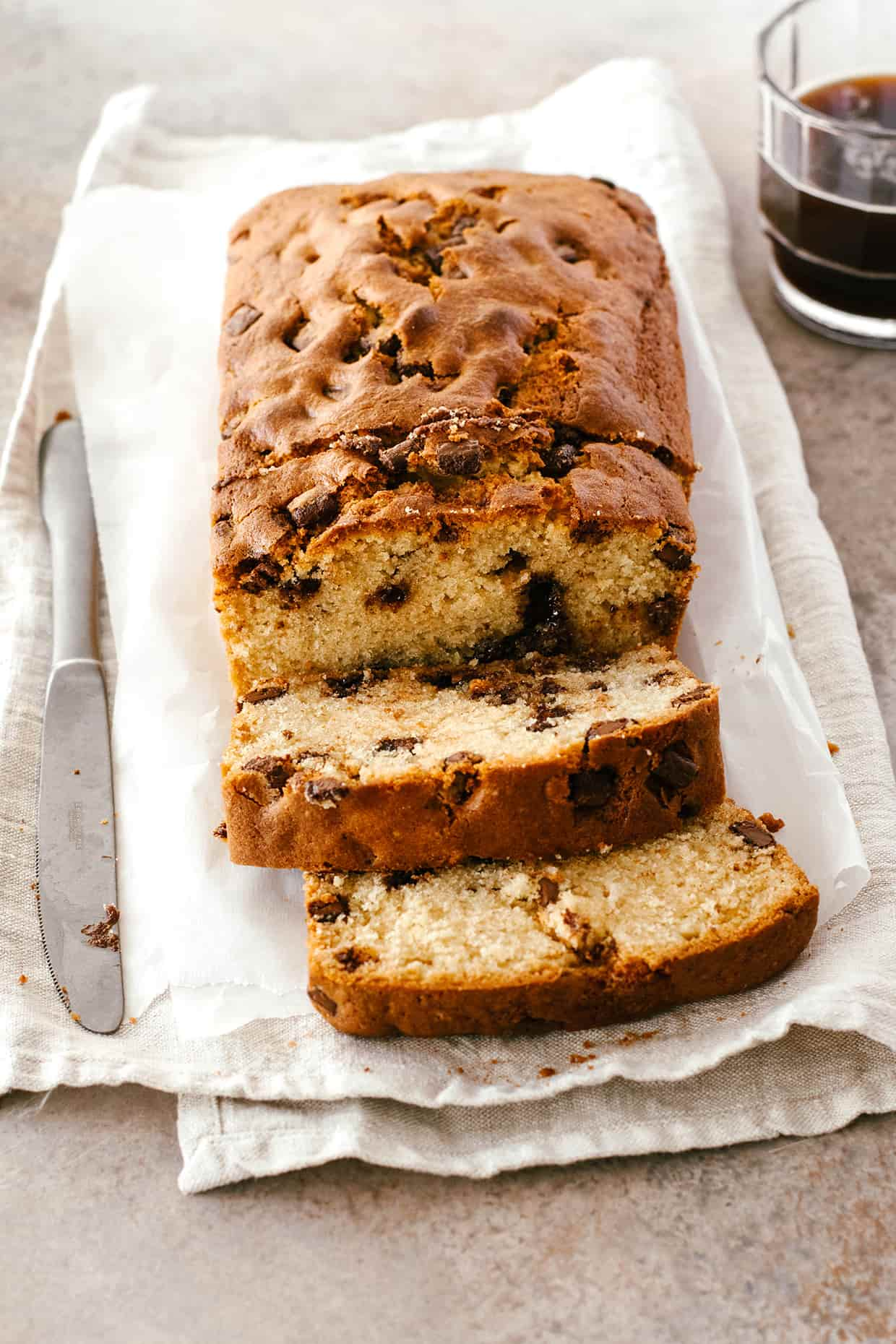 If you've jumped around the site, you know how much I love easy cakes, especially loaf cakes. I make this citrus yogurt cake quite often and I love it as much as I love its tart sister (the kiwi lime cake). Then there's this chocolate stout cake, which isn't a loaf and looks much fancier, but it's still a very simple, moist chocolate cake.
I guess it's my constant need to eat something loaf-y that drove me to make this chocolate chip loaf cake. We can also call it chocolate chip quick bread, which makes it sound less like dessert. And while this cake isn't overly sweet, it's still dessert. But more the kind that you can fit in with your morning coffee.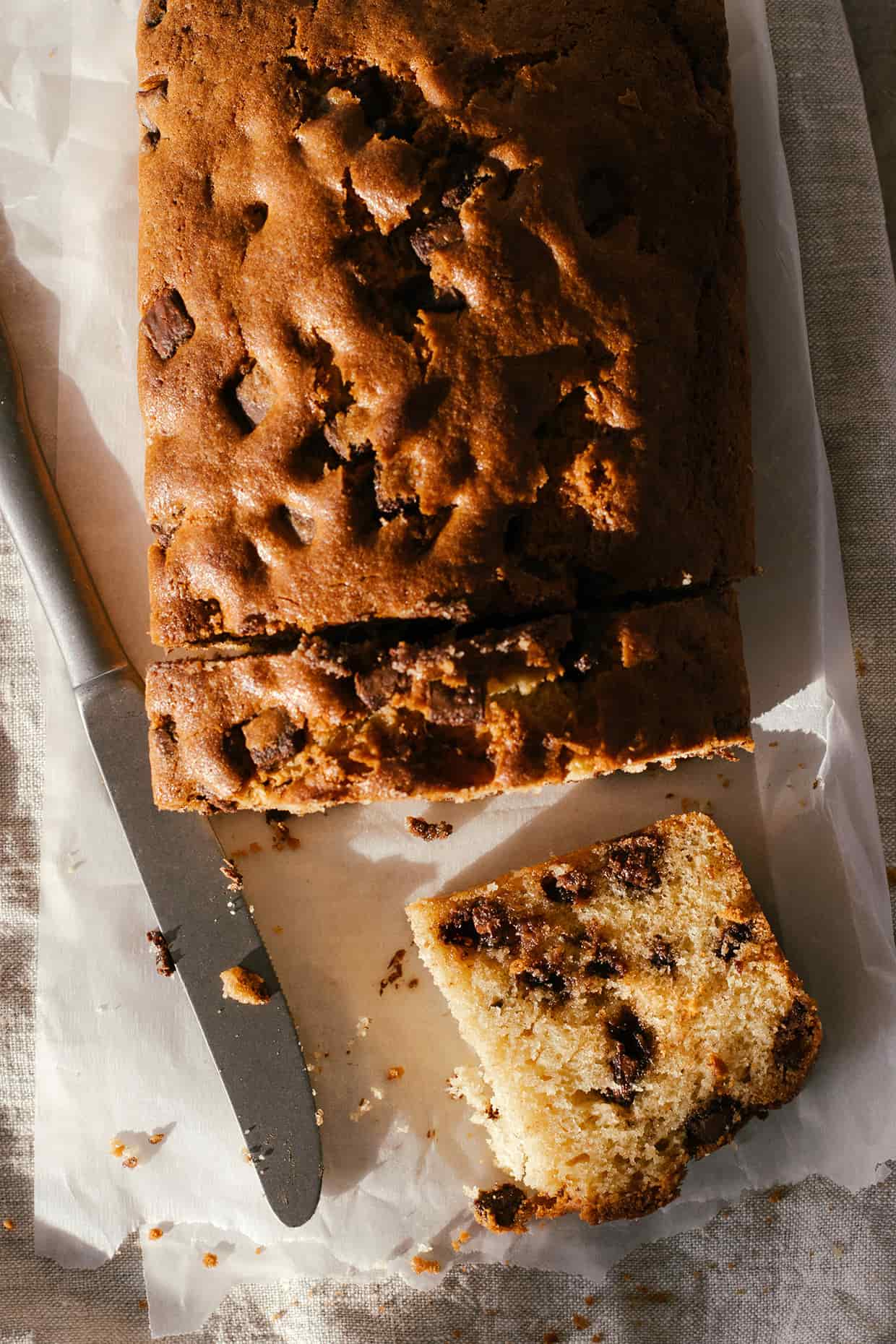 This chocolate-speckled pound cake really is absolutely wonderful and if placed in my presence, I'll snack on it all day long until it disappears. The top gets really nice and crusty during baking, resulting in a cookie-like flavor. The inside is vanilla scented, soft and moist. And most important – it's full of chocolate.
Chocolate chip loaf cake – notes and tips
The secret to making a cake that isn't dry
Oil
I've tested this recipe with butter and it doesn't yield the same results. Neutral tasting oil is what you want and I am, as always, using sunflower oil.
Compared to butter, oil is 100% fat and it's that difference that will keep this cake moist and more importantly tender. You'll see what I mean when you take a bite of this.
Sour cream
Just like oil, sour cream makes a cake both tender and moist. And also incredibly delicious. Full fat Greek yogurt could be an okay substitute, but personally I prefer the taste of sour cream in this cake over any other dairy product.
And if you want another incredible sour cream based cake, try this cinnamon coffee cake.
Best chocolate for quick bread
You can pick any chocolate you like. My favorites are milk (around 33% cocoa) and semisweet (around 51% cocoa) chocolate. I sometimes use a mix of both.
What's more important is the size of the chips. You don't want big chunks in this bread, because they'll just sink too much. I like small chocolate chips or small chunks. I add half to the batter right away and then I sprinkle the other half all over the cake and gently push them into the batter with a spatula.
If you're using whole blocks of chocolate, just chop it finely. You don't need uniform chunks, they can vary in size, as long as they're all on the smaller side.
Also make sure you're not putting in too much chocolate. I know, I know, is there such a thing as too much chocolate? I would normally argue no, but in this bread there is a limit. If you put too many in, they'll just weigh down the batter and interfere with the cake.
I think 50z (140g) is a generous amount of chocolate chips for this cake. Feel free to use less, but be careful with using any more than this.
Greasing or lining the cake pan
I use a combination of oil and baking paper. Truthfully, a well greased pan should be enough and your cake shouldn't stick, especially if you have a metal pan.
But just to be on the safe side, I always like to line my loaf pans with some parchment. It also makes lifting the cake out super easy. I just cut enough parchment to line the bottom and the longer sides of the pan, with some extra paper hanging over.
Storing the cake
This cake keeps well at room temperature for a few days, as long as you keep it covered with plastic or tucked away in an airtight container. It will dry out if exposed to air.
If you want a super delicious slice and have a microwave, put a slice on a plate and warm it up in the microwave. I think 30 seconds or so is enough, depending on your microwave's strentght. You'll get a warm, incredibly soft slice, tasting as if you just baked it.
Chocolate chip loaf cake
A tender, moist cake with a crunchy top and soft middle full of chocolate chips. Recipe makes one 9×5 loaf. 
Ingredients
10

tablespoons

(

150

ml

)

sunflower oil

((or other neutral oil))

1

cup

(

200

g

)

granulated sugar

3

large eggs

(at room temperature)

2/3

cup

(

160

ml

)

sour cream

1

teaspoon

vanilla extract

1/4

teaspoon

fine sea salt

2 1/4

cups

(

300

g

)

all-purpose flour

1 1/2

teaspoons

baking powder

5

oz

(

140

g

)

chocolate chips

(milk or semisweet)
Instructions
Prep: Preheat oven to 350°F (175°C). Lightly grease a 9×5 inch (23×13 cm) loaf pan with oil and line it with parchment paper. Set aside. 

Make batter: Mix sugar and oil in a large bowl (or bowl of your stand mixer). Whisk in eggs one at a time, then mix in sour cream, vanilla and salt. 

In a separate bowl, whisk flour with baking powder. Then mix flour into the batter, at the lowest speed, just until there are no patches of flour left and the batter looks even. Don't over mix it! 

Fold in 1/2 of the chocolate chips, then transfer the batter to the prepared pan. Sprinkle with remaining chocolate chips and lightly press them into the batter with a spatula. 

Bake in the center of the oven for 55-65 minutes or until a skewer inserted into the center of the loaf comes out clean. (The top of the loaf should be brown, but not burned. If your loaf is taking longer to bake and you don't want to burn the top, cover it with aluminum foil.)

Allow baked cake to cool in the pan for 10-15 minutes, then remove it from the pan and let it cool completely. Store uneaten cake at room temperature covered with foil or stored in an airtight container. 
Email recipe
Pin Recipe