Here's one thing to make winter better:
Have you noticed that the days are getting longer? I know they slowly have been since late December, but I feel like the change is really apparent now. The sun sets a good half hour later which means we get a tiiiiny bit more of light and I am loving it.
There are 2 more things that I'm loving:
1) Project life! I have wanted to do this for so long and this year I finally ordered an album along with some page protectors and cards. I know some people do the whole Project 52 thing, where they document all 52 weeks of the year. While I like that concept, I won't be doing this entirely. My goal is more focused on just taking more photos of us and actually printing them out. The latter is the most important thing.
You know I'll tell you more about this as the year goes on, but I'm just so happy right now I had to share it right away.
2) CITRUS! Oh my goodness, I love citrus. And I know I sound like a broken record because I literally talk about this every year, but citrus season is the best season. Not that you can't get any in the summer, because we all know that you can… but citrus during the winter is a whole different game.
To be honest, December was so laden with chocolate, I'm sure part of my excitement is a direct result of that. And I love chocolate. Too much in fact. But even a chocoholic like me has its limits and I've reached mine. For a little while at least. I literally want to bathe in citrus right now. 
So I am in full fruity fresh mode, which I guess I already made clear with last week's recipe. Apart from citrus I also have a caddy of homemade jams to go through, which our dear friend Karmen made for us in December. I just love homemade gifts. Especially food gifts.
But I have saved those till now, apart from one tiny taste, ahem. There was a part of me that wanted to jump right in and eat everything, and then there was the other part – the sane one – that said "wait a minute, step away" and so I did. Have you ever felt like that after the holidays? So stuffed that food doesn't even taste the same? I wanted to savour these homemade jams – gems I should say – till now.
And you know they go really well with a homemade cake, like this winter citrus yogurt loaf cake. You put all that together and add a big cup of warm chamomile tea, "spiked" with honey and fresh lemon juice and you are in lemony heaven.
So, let's talk about this cake. It's got citrus upon citrus upon citrus. Really. You taste the lemon right away, but then you'll notice it has that extra layer of something. That something being lime and orange, but all three together make this cake taste like fruit punch. It's SO good.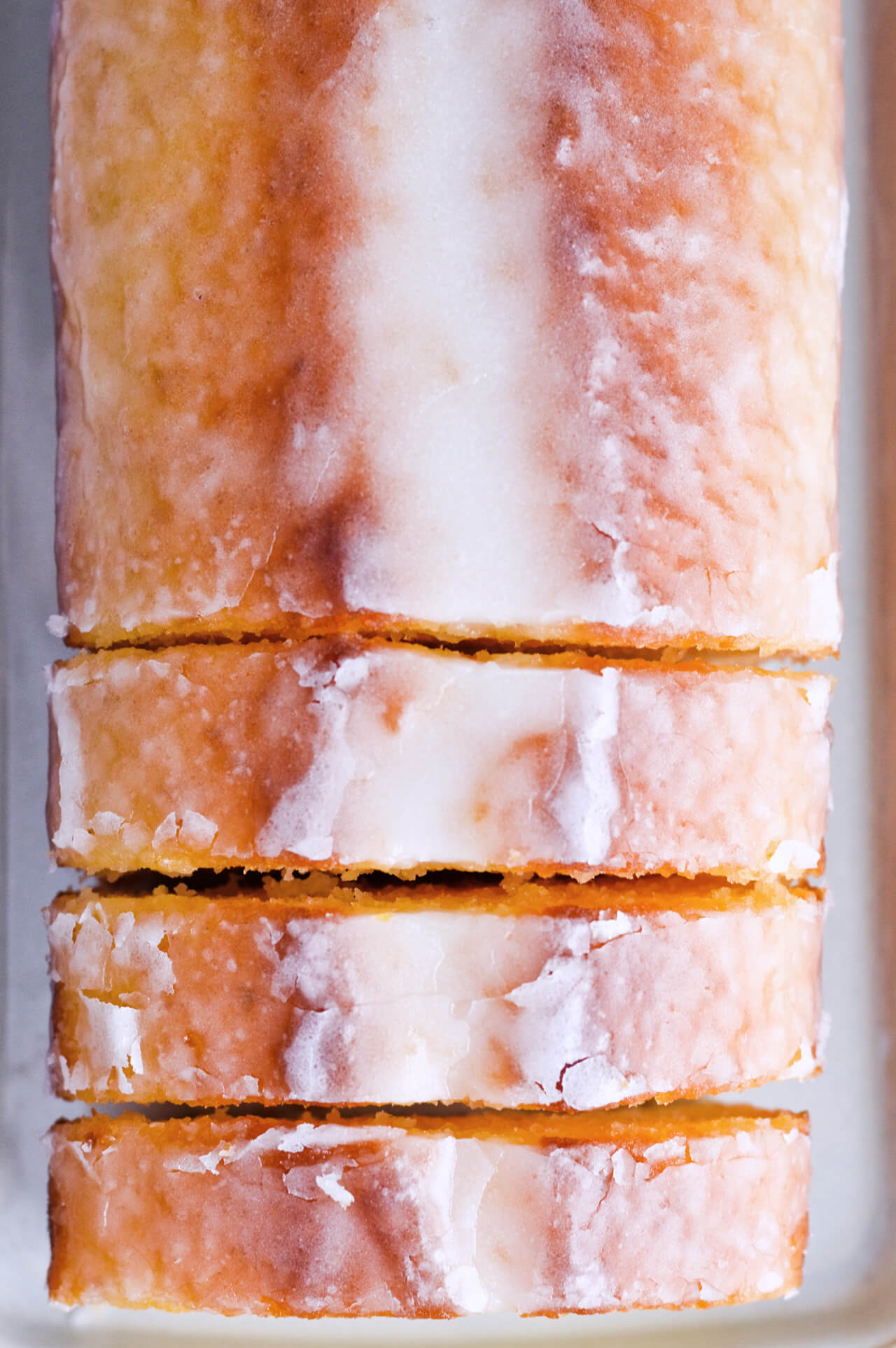 The cake itself is made with lime, lemon and orange zest, along with yogurt and other goodies. And by the way, I love baking with yogurt. Once baked, you soak the cake with some citrus syrup. And then when it's nicely cool and pretty much ready to be eaten you have to force yourself to have one of those sane moments and make a lemon sugar glaze first to put on top. And only after that dries, this cake is truly ready to be eaten.
I know there are a few steps involved, but they're really nothing to worry about as they're easy and you'll be surprised to see the cake cools quite quickly. And the wait is worth it, because not only is the citrus aroma addictive, the cake itself is so soft that every bites just makes you want to have more.
So, if you want to make the most of this wonderful season go ahead and make this winter citrus yogurt loaf cake. I'm sure you don't need more convincing, but can I just shamelessly admit we ate 90% of this whole loaf in just one day. The two of us. Isn't that crazy?!
By the end of the day we contemplated whether to eat the last pieces or not, but we decided to listen to the sane part of the brain and we saved them for breakfast the next morning. Definitely worth it!
Print
Winter citrus yogurt loaf cake
Wonderful soft and aromatic cake that's so easy to throw together!
Recipe makes one 30-cm | 12-inch loaf.
Author:
Prep Time:

10 min

Cook Time:

50 min

Total Time:

1 hour

Yield:

10

servings

1

x
Category:

Bread, Dessert
Scale
Ingredients
Cake
200

g (1 1/2 cups) all-purpose flour

2 teaspoon

s baking powder

1/2 teaspoon

fine sea salt

240

g (1 cup) plain whole-milk yogurt

210

g (1 cup) granulated sugar

4

large eggs (or

3

extra large)
freshly grated zest of 1 lime
freshly grated zest of 1 lemon
grated zest of 1 small orange

1 teaspoon

vanilla bean paste

120

ml (1/2 cup) sunflower oil (or vegetable oil)
Citrus syrup
80

ml (1/3 cup) freshly squeezed citrus juice (from about

1/2

lime,

1/2

lemon,

1/2

orange)

70

g (1/3 cup) granulated sugar
Lemon sugar glaze
30

ml (2 TBSPs) fresh lemon juice (from about

1

lemon)

160

g (1 cup) powdered sugar
Instructions
Preheat oven to 180°C (350°F). Grease a loaf pan with oil, line bottom and sides with parchment paper, then grease again and dust with flour. Set aside.
Make the cake:
Sift flour, baking powder and salt in a medium bowl, set aside. In another large bowl, whisk together yogurt and sugar until smooth. Add eggs one by one, whisking the batter lightly after each addition. Stir in all the citrus zest and vanilla paste. Slowly whisk in the dry ingredients, just until incorporated. The batter will be quite thick.
Fold the oil in the batter using a silicone spatula and gently stir until it's all incorporated. Pour batter into prepared pan and bake for 40-50 minutes, until the top is golden and cake tester inserted in the center of the loaf comes out clean.
As the cake bakes, make the syrup:
Combine citrus juice and sugar in a small non-reactive (I use enamel) saucepan. Cook on medium-high heat just until the sugar dissolves, about 5 minutes. If you run your spatula through the mixture, the syrup that sticks to it should be smooth without any visible sugar granules. Set aside.
When the cake is done, let it cool in the pan for 10 minutes. Place a baking rack on a large plate or baking pan, then transfer cake onto the rack while it's still warm. Pour the citrus syrup all over the cake, especially down the center where the crack is (if there is one). Let the syrup soak in while the cake completely cools.
Once completely cool, make the glaze by stirring together lemon juice and powdered sugar. Pour it over the cake and let dry completely before cutting the cake.
Store cake in an airtight container at room temperature for up to a week. It might last more, but we always finish it in a few days tops.
Notes
About the pan size: I used a more narrow, 12 x 4 1/2 x 3 inch (30 x 11.5 x 7.5 cm) loaf pan this time, but I also make this cake in a smaller and wider loaf pan. My recipe is adapted from Ina's recipe, who uses a 8 1/2 x 41/2 x 2 1/2 inch pan.
My point is that you don't need the exact same pan as I use. You can use a smaller/bigger one, just know that different sizes give you different heights and widths of cake. You might also have to adjust the baking time, so watch your loaf cake after the 30 minute mark.
You can also make this in mini loaf pans. If you do that watch them carefully after 15-20 minutes, because they'll bake faster than a regular loaf.
You can also add different varieties of citrus fruit, like blood oranges or mandarins. Or, if you can't find anything but lemons, simply use those in place of everything else.