This winter citrus yogurt loaf cake is so good, it rivals lemon cake as the best loaf cake out there. Loaded with limes, lemons and oranges in three different ways, it packs a powerful citrus punch. Its deep golden brown outer shell hides a pillowy soft and juicy center. You know, the kind that keeps getting better and better with each passing day.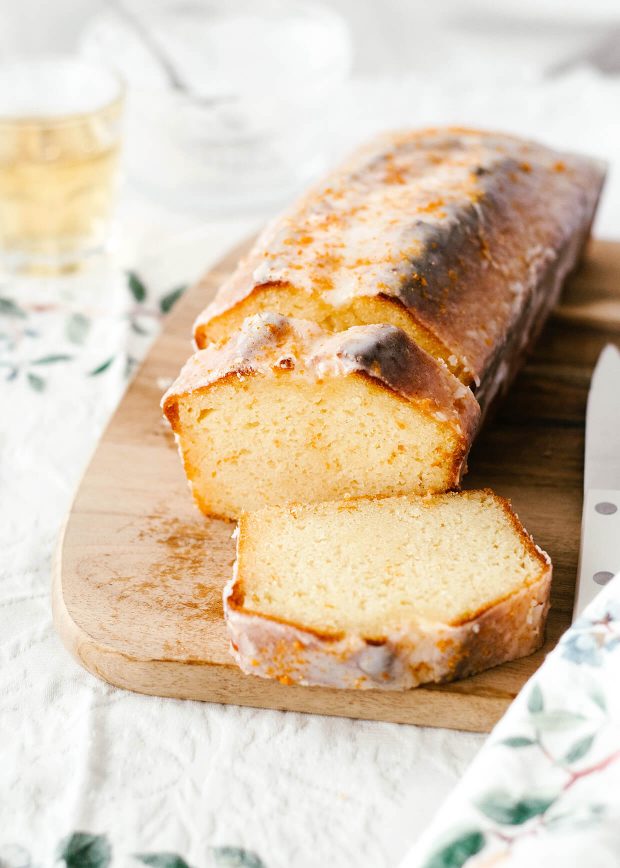 I have always been a seasonal eater, especially when it comes to fruit. Fall is for apples and pears, winter is for citrus and tropical fruits (since it's all imported from warmer places), spring and summer are for stone fruit and berries. And every season I'll tell you fruit XYZ is my absolute favorite, like a broken record with selective memory.
Well, citrus truly is my favorite. I eat it in some way all year round, but feel a very special love for it during the coldest months of the year. And this perfect-for-snacking winter citrus yogurt loaf cake is what I bake most often. It's my version of Ina's lemon cake and I can't seem to get sick of it.
Just like tropical fruits, most (if not all) citrus is imported, so I can't just walk into an orchard and pick my own lemons. It's even rare for me to find some with leaves still attached. But for that hour, when I'm making this loaf cake and the days that follow, I do feel like I'm living under a lemon tree. Or an orange tree. The flavors of this cake and the smell are so intense, so vivid, it takes me to another place.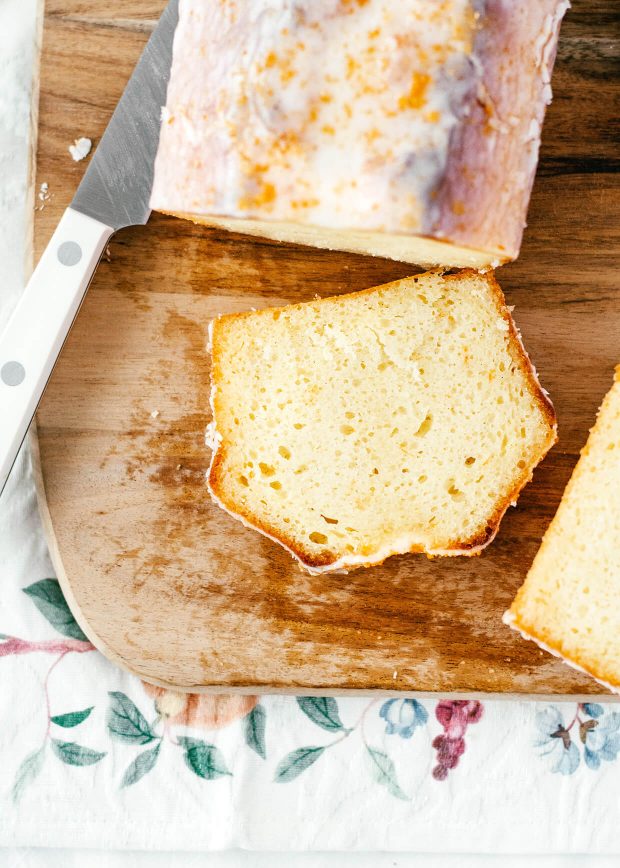 So let me tell you about this winter citrus yogurt loaf cake
As the name implies it's made with citrus and that's putting it very simply. I'm using three types – lemons, limes, oranges and I'm using those in three different ways. It may sound like a lot, but it's the only way you can get that intense and incredible citrus flavor. And this cake isn't called winter citrus cake just because it sounds nice.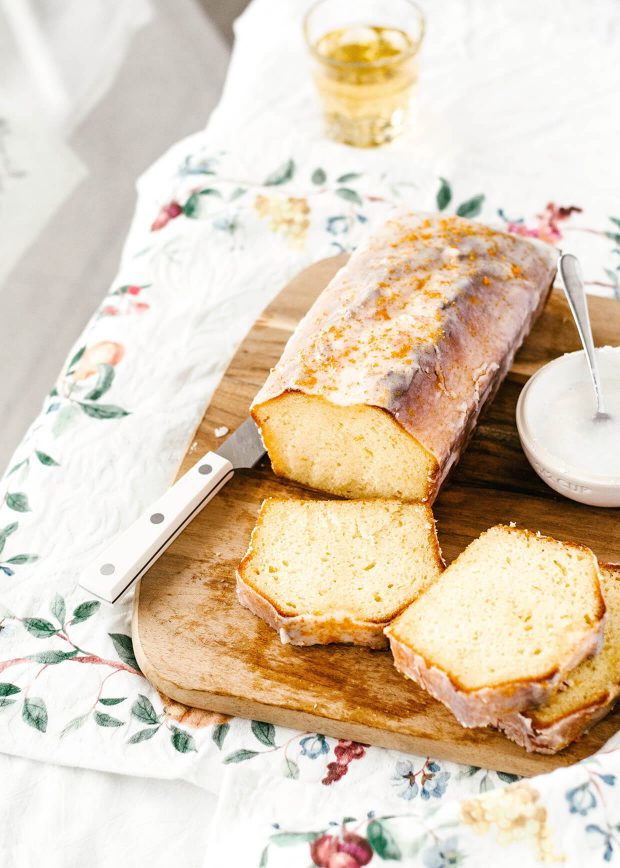 First, I put plenty of zest in the batter itself. On average, I use one lemon, one lime and one orange. Depending on the size of each one I might change things up, because organic oranges are often smaller. Either way, all citrus zest I use is fresh and I'd rather use too much than not enough.
Then, once the cake is baked, well… you'll want to cut into it right away. But don't! I understand the struggle, believe me. The smell does pull you in 100%. Knowing that that crisp deep golden brown shell is hiding a juicy soft center doesn't help either. But this cake is worth the wait. At this stage, when the cake is baked and still warm, you have to pour a hefty amount of syrup all over it.
See all those fruits you have to zest initially end up in this syrup. Which I love, because this way we're not waisting any part of the fruit. While the cake is moist and mildly sweet already, I do think this layer of syrup is vital. The warm cake soaks up all the syrup, which really intensifies the citrus flavor.
And then it's a waiting game. You have to wait for the cake to cool completely, before you add the glaze. Now, if you're watching your sugar intake, this last stage isn't absolutely necessary. The cake is pretty much perfect already, but I love a nice sugar glaze.
I love how pretty the cake looks dressed up in sateen white and how that glaze cracks when I bite into it. Unlike the sugar syrup, the glaze is made with lemon juice only. You can most definitely use any leftover citrus juice you might have. Either only that or in combination with lemon, but I usually just go for lemon.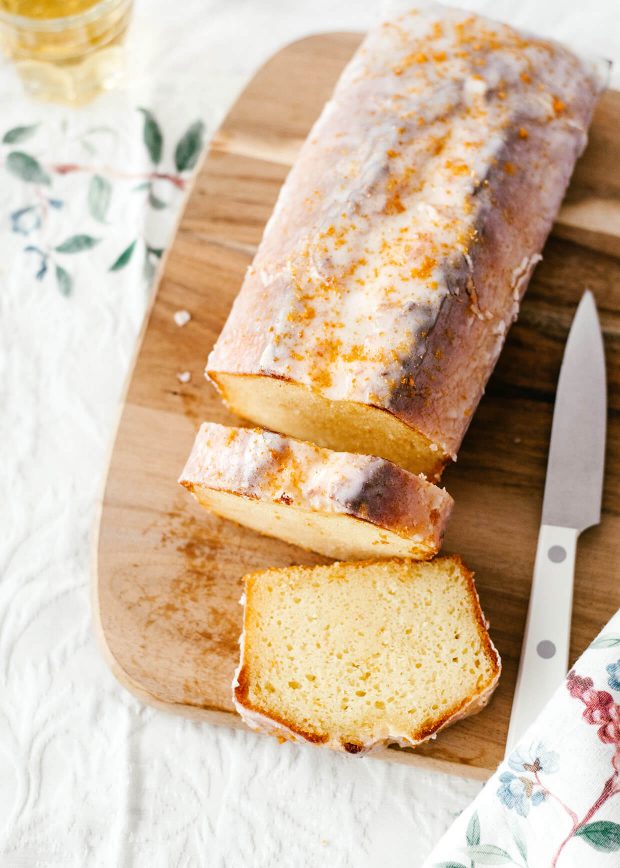 Once coated, you have to wait a little more for the sugar to set. You can easily save this last step for day 2, if you are short on time. I know how it is and I often bake in stages. Do some things in the evening, let cakes set, cool, whatever they need… and then pick up where I left off the next day.
But see, I wasn't joking when I said there's plenty of citrus in this winter citrus yogurt loaf cake. The rest of the ingredients are your classic cake things – eggs, fat (using oil in this one instead of butter), flour, sugar. One thing I need to mention is the yogurt. I think you could easily make this with sour cream, buttermilk or a mix of the two, but I like the idea of yogurt. It's a bit lighter than sour cream but the cake doesn't lack in flavor in any way.
What makes this winter citrus yogurt loaf cake better than a classic lemon cake?
Well, everything and nothing, haha. I'll be the first one to say that a classic lemon pound cake is a thing of dreams. It is right up there as one of my top 5 favorite sweet comfort foods. In the great company of cinnamon rolls, pancakes and strudel. And if you agree that a lemon cake is good, then this winter citrus cake is even better.
This is one of those situations where you think this citrus cake is not that different, but if you had both cakes side by side and would do a blind taste test you could most definitely notice a difference. That lemon flavor is just the beginning of the winter citrus cake. Its flavor is intensified by sweet orange and just when you think that's it, you'll taste that fresh tart lime. It's a whole citrus musical!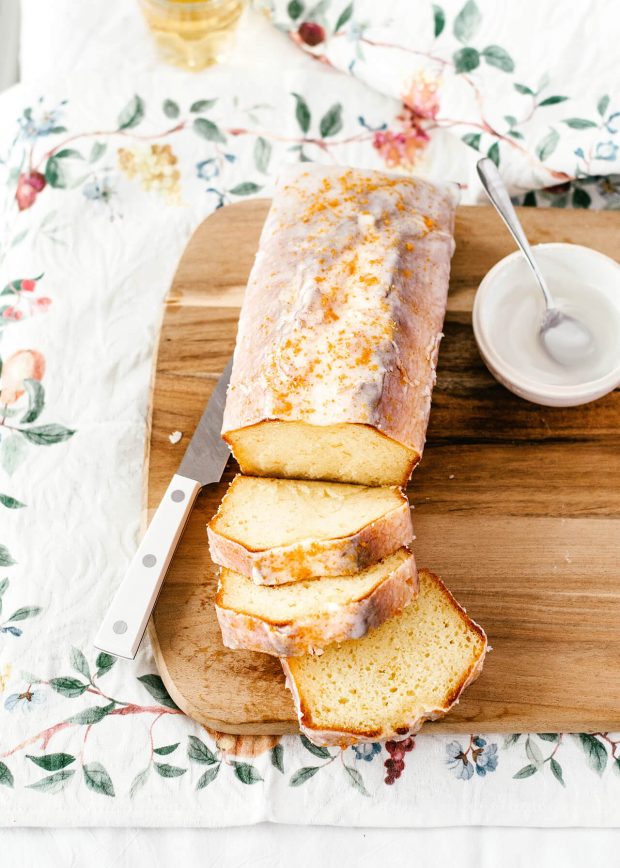 Last but not least, a few other thoughts
Next to everything I just said, another thing that I absolutely adore about this cake is that it only seems to get juicer as the days go by, which is often the opposite with cakes. As long as you store it covered or in an airtight container, either at room temperature or in the refrigerator.
I like to bake this cake in a narrow 12-inch (30-cm) bread loaf pan. You can use a different size loaf pan and adjust the baking time if needed. However I love how the bread loaf pan makes a perfectly high and thick cake.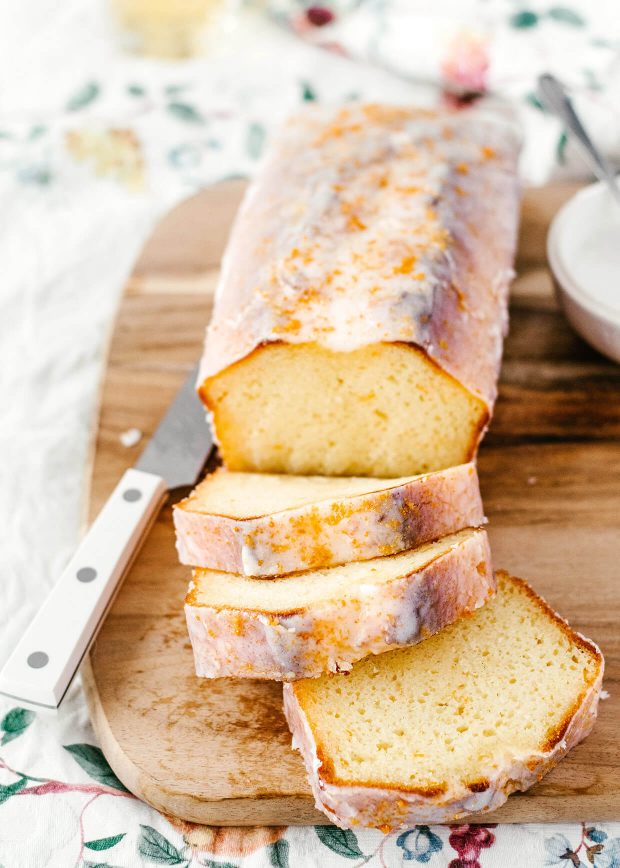 Also, despite it being as soft as a pillow, it cuts beautifully! You can obviously cut it into slices. One other thing I love to do, when giving this to a crowd or to kids is slicing it into little cubes or rectangles. So you take on large piece and slice it in 3 or 6 parts. It makes serving the cake this way much more convenient. If someone just wants a bite to enjoy next to tea (or anything you're having) or if you're giving it to kids. I've seen too many partially eaten slices of cakes and bread in my life to know that smaller cuts are necessary, haha.
In any case, I hope you love this winter citrus yogurt loaf cake as much as I do. Despite all the steps it's really easy to throw together and you'll feel like a professional baker at the end of the day. And if you want something similar but more single-serve, try out these lemon ricotta muffin cakes.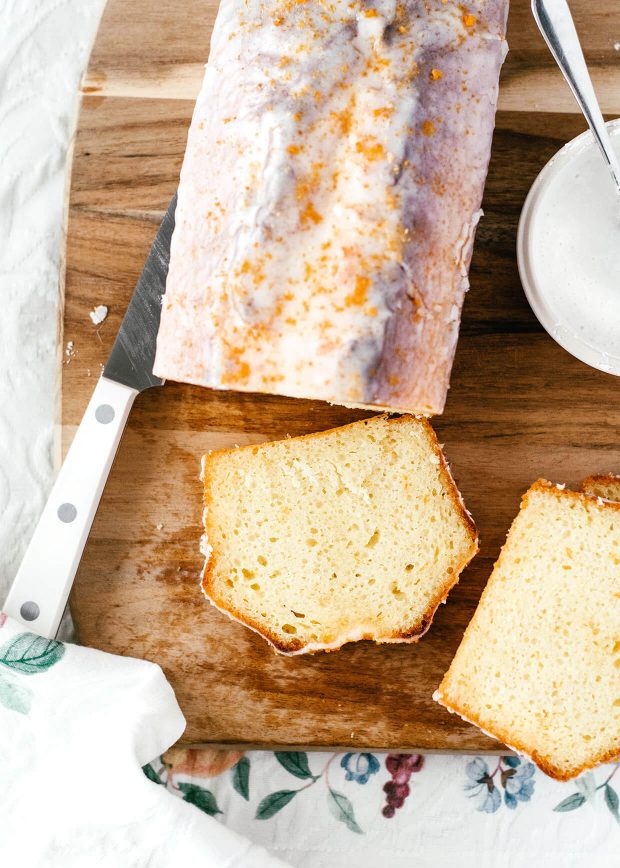 Winter citrus yogurt loaf cake
Easy to make and packed with winter citrus, this cake is super soft, flavorful and will stay perfect for days! 
Ingredients
Cake
1 1/2

cups

(

200

g

)

all-purpose flour

2

teaspoons

baking powder

1/2

teaspoon

fine sea salt

1

cup

(

240

g

)

plain whole-milk yogurt

1

cup

(

210

g

)

granulated sugar

4

large eggs

3

teaspoons

lemon zest

2

teaspoons

orange zest

1

teaspoon

lime zest

1

teaspoon

vanilla bean paste

((extract works too))

1/2

cup

(

120

ml

)

sunflower oil

(or other neutral oil)
Citrus syrup
1/3

cup

(

80

ml

)

freshly squeezed citrus juice

(from the citrus you zested )

1/3

cup

(

80

g

)

granulated sugar
Sugar glaze
2

tablespoons

(

30

ml

)

fresh lemon juice

(or leftover citrus juice)

1

cup

(

125

g

)

powdered sugar
Instructions
Preheat the oven to 350°F (175°C). Grease a 12-inch (30-cm) bread loaf pan with oil, line bottom and sides with parchment paper, then grease again and dust with flour. Set aside.

Make the cake:Sift flour, baking powder and salt in a medium bowl, set aside. In another large bowl, whisk together yogurt and sugar until smooth. Add eggs one by one, whisking the batter lightly after each addition. Stir in all the citrus zest and vanilla paste. Slowly whisk in the dry ingredients, just until incorporated. The batter will be quite thick.

Fold the oil in the batter using a silicone spatula and gently stir until it's all incorporated. Pour batter into prepared pan and bake for 40-50 minutes, until the top is deep golden brown and a cake tester inserted in the center of the loaf comes out clean.

As the cake bakes, make the syrup: Combine citrus juice and sugar in a small non-reactive (I use enamel) saucepan. Cook on medium-high heat just until the sugar dissolves, about 5 minutes. Set aside. If you run your spatula through the syrup, it should be smooth without any visible sugar granules. 

When the cake is done, let it cool in the pan for 10 minutes. Place a baking rack on a large plate or baking pan, then transfer cake onto the rack while it's still warm. Remove parchment paper. Pour the citrus syrup all over the cake, especially down the center where the crack is (if there is one). Let the syrup soak in while the cake completely cools.

Once completely cool, make the glaze by stirring together lemon juice and powdered sugar. Pour it over the cake and let dry completely before cutting the cake. Sprinkle with candied orange powder or zest before the sugar dries (optional). Store cake in an airtight container at room temperature (refrigerator is okay too) for up to a week. 
Notes
If you don't feel like measuring citrus zest with teaspoons, you can just use this rule – you need: one lime, one large lemon and one large (or two medium) oranges. This is about enough of zest and you can't really go wrong with using more than I did. 
About the pan size: If you don't have a 12-inch (30-cm) bread loaf pan, that's perfectly fine. Use any other loaf pan you have, just know that a different sized pan will give you a differently shaped loaf. I like narrow pans because they give this cake some height. 
If you're using a different pan, watch your loaf cake after the 30 minute mark to avoid burning it. You can also make this cake in mini loaf pans. If you do that watch them carefully after 15-20 minutes, because they'll bake faster than a regular loaf.
You can also add different varieties of citrus fruit, like blood oranges or mandarins. Or, if you can't find anything but lemons, simply use those in place of everything else.
Text recipe
Email recipe
Pin Recipe
Recipe first published in 2017, updated with more notes and new photos in 2020.