Kiwi lime loaf cake is the queen of Spring cakes!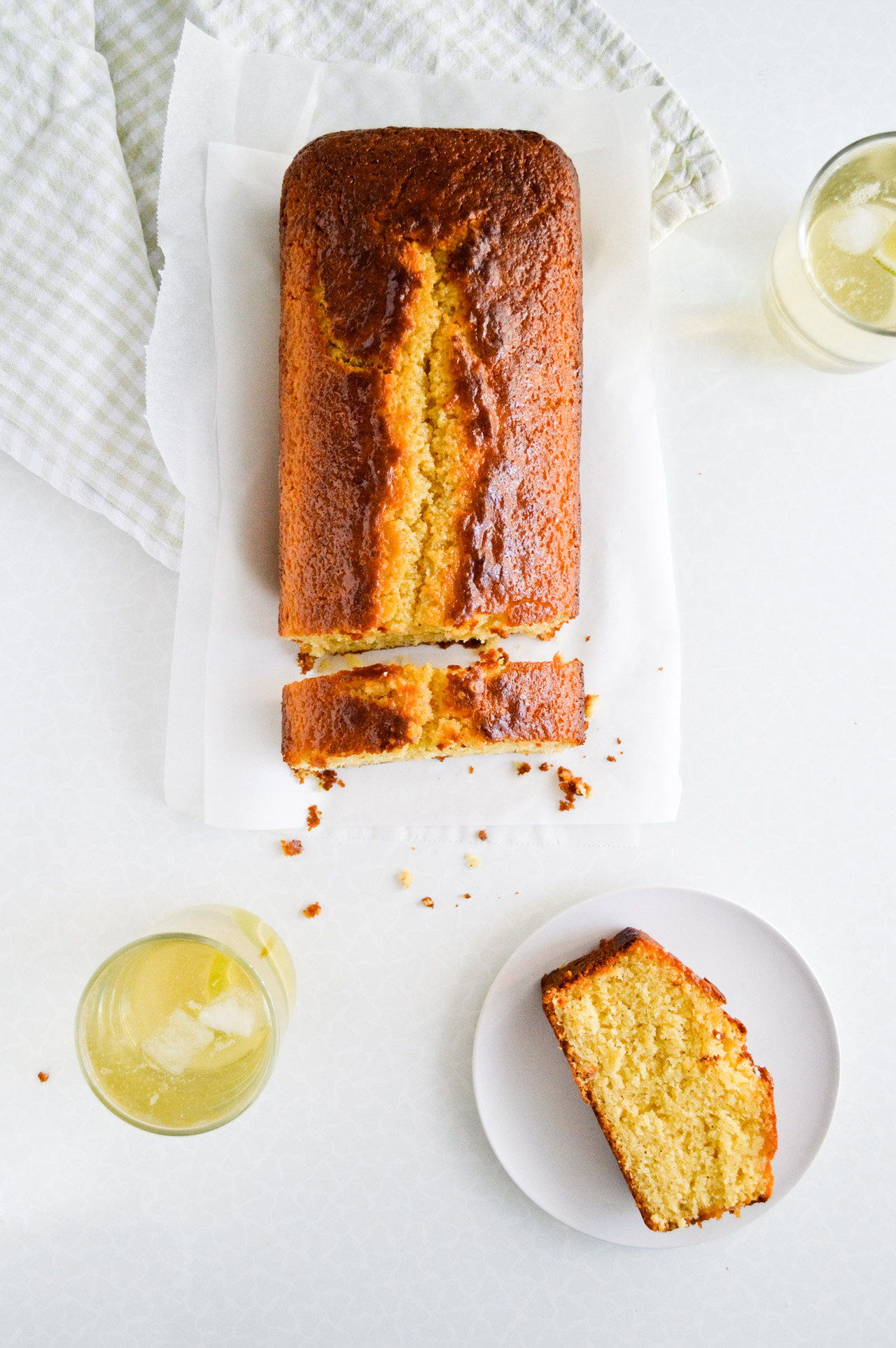 I brought half of this kiwi lime loaf cake to my grandparents on my last visit and now I regret not giving them the whole loaf. I knew at the time I'd be making it again soon anyway, but felt a whole loaf might be too much in case they didn't like it. Because here's the thing with my grandparents. They are both in their 70s, insanely stubborn and creatures of habit. My Oma even more than my grandfather. She has her way of doing things and does not move away from it. She also likes to say she doesn't eat or even like sugar. Which is not true.
As I've said, they are creatures of habit. My grandfather wakes up around 5 AM, Oma on the other hand has always had trouble with waking up early and she always gets up around 8.30. I don't think that's really late, but people often say the elderly don't need much sleep, which is not the case with my grandmother.
I don't really know when they find the time to have breakfast as they're done with lunch by 11.30, 12 at the latest and that includes doing the dishes. And while they don't eat the same lunch every day, the base is usually meat and potatoes, beef stock soup and a bowl of salad. That's their comfort zone.
This is why I only gave them half of the loaf, I just wasn't sure they'd like it and eat the whole thing. My grandpa has a sweet tooth, so I suspected he'd give it a try, but was worried about my Oma. And so I walked in the house, gave them the cake and then proceeded with taking off my coat and shoes. And lo and behold, by the time I did that and came into the kitchen, Oma had already unwrapped the loaf, cut it into slices and they were both munching on it. They loved it!
And by the time we sat down for coffee they each ate two slices and were stuffed. That to me was the ultimate proof that this loaf is wonderful. I really don't see Oma ever eating two pieces of something she doesn't like, especially if it's a sweet thing.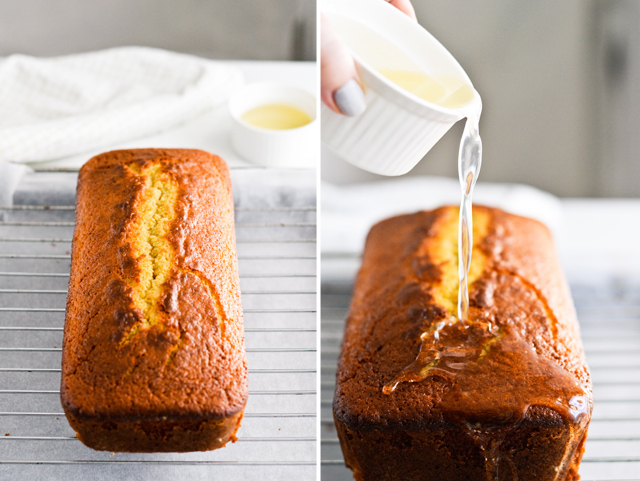 I personally love this kiwi lime loaf cake. While I've noticed that loaf cakes are often smothered with a sugary glaze  (which is also the case with Ina's cake), I personally think a cake like this one doesn't need that. It has enough flavor as it is.
It's still sweet, but doesn't have an overpowering sugary taste. When baked it is brushed with sweet lime juice which makes the cake beautifully moist and glossy.  Thanks to kiwi and limes, it smells absolutely amazing, and so will your kitchen when you make this. You'll have Spring and sunshine even on a rainy cold day.
I love to eat this cake with a cup of coffee and I think it can be an amazing Spring brunch dessert served with a glass of homemade iced tea. It becomes even a bigger crowd-pleaser if you serve each cake slice on a plate, topped with a big scoop of vanilla ice-cream.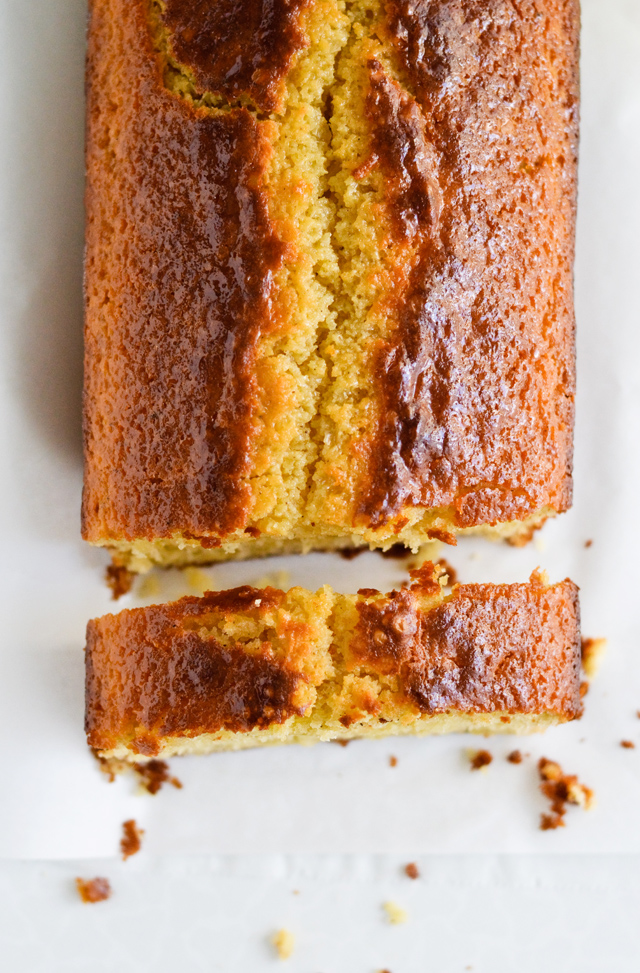 Print
Kiwi lime loaf cake with yogurt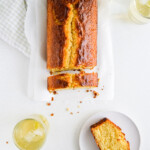 This recipe makes one delicious kiwi lime loaf cake (easily cut into 10 slices), baked in a 30 x 13 x 8 -cm (12 x 5 x 3 -inch) loaf pan.
Author:
Prep Time:

10 min

Cook Time:

50 min

Total Time:

1 hour

Yield:

10

servings

1

x
Category:

Dessert, Bread

Cuisine:

American
Scale
Ingredients
350

gr (2 1/4 cups) all purpose flour, sifted

2 1/2 teaspoon

s baking powder

1/2 teaspoon

salt

150

gr (1/2 cup) Greek yogurt

3

kiwis (250 gr or

0.5

pound), peeled and pureed
juice and zest of 1 lime (110 gr or almost 4 oz)

235

gr (1 cup) +

4 TBSP

s granulated sugar

4

eggs

1/2 teaspoon

vanilla paste

120

ml (1/2 cup) sunflower oil
Instructions
Lightly grease a loaf pan with oil, line it with parchment paper (at least the bottom) and brush with more oil. Sprinkle with flour, set aside. Preheat the oven to 180 degrees C (350°F) and place a rack in the middle of the oven.
In a bowl, whisk together the flour, baking powder and salt.
In another large bowl, whisk together the yogurt, pureed kiwis, lime zest and granulated sugar. Add eggs one by one, mix until incorporated. Lastly whisk in the vanilla paste.
Slowly add dry ingredients to wet, whisking gently.
Fold in the oil with a spatula (do not overmix!).
Pour batter into the prepared pan and bake for 50-60 minutes, until golden brown in color and a toothpick (or cake tester) inserted in the center of the cake comes out clean.
Meanwhile prepare the lime juice. In a small saucepan combine 4 tablespoons lime juice (or a mixture of lime juice and water – depends on the amount of juice you get from your lime) and 4 tablespoons of sugar. Cook until the sugar dissolves and the mixture is clear; set aside.
When the cake is baked let it cool in the pan for 10 minutes.
Gently transfer the cake to a wire rack (placed over a sheet pan) and pour over the lime juice. Dip a pastry brush in the lime juice that is left in the pan and brush it over the cake, until the top of the cake is soaked.
Let it cool completely then serve.
Notes
Store the cake in an airtight container or ziplock bag up to 4 days, although know that it gets drier with each passing day and tastes best the first 2 days. You can add more lime zest, if you wish. The same goes for the glaze – I always make it from 4 tablespoons of liquid, usually a mix of lime juice and water – as much as I need to get to the 4 TBSPs. I wouldn't add more than 2 TBSPs of water though, in that case I recommend juicing another lime instead. How yellow your cake ends up being depends solely on the color of the egg yolks (they can vary from pale yellow to strong orange). ON KIWIS: Easiest way to peel a kiwi: slice it in half and scoop the flesh out with a spoon. Puree the kiwis in a blender. If you don't have it chop them finely with a knife. This recipe is adapted from Lemon yogurt cake by Ina Garten. Her recipe calls for an additional sugar glaze, but I don't think this cake needs it.