Bruschetta-style tomato mozzarella toast makes the perfect breakfast or lunch! Made with fresh, sweet tomatoes and milky mozzarella, it is simple yet extremely satisfying!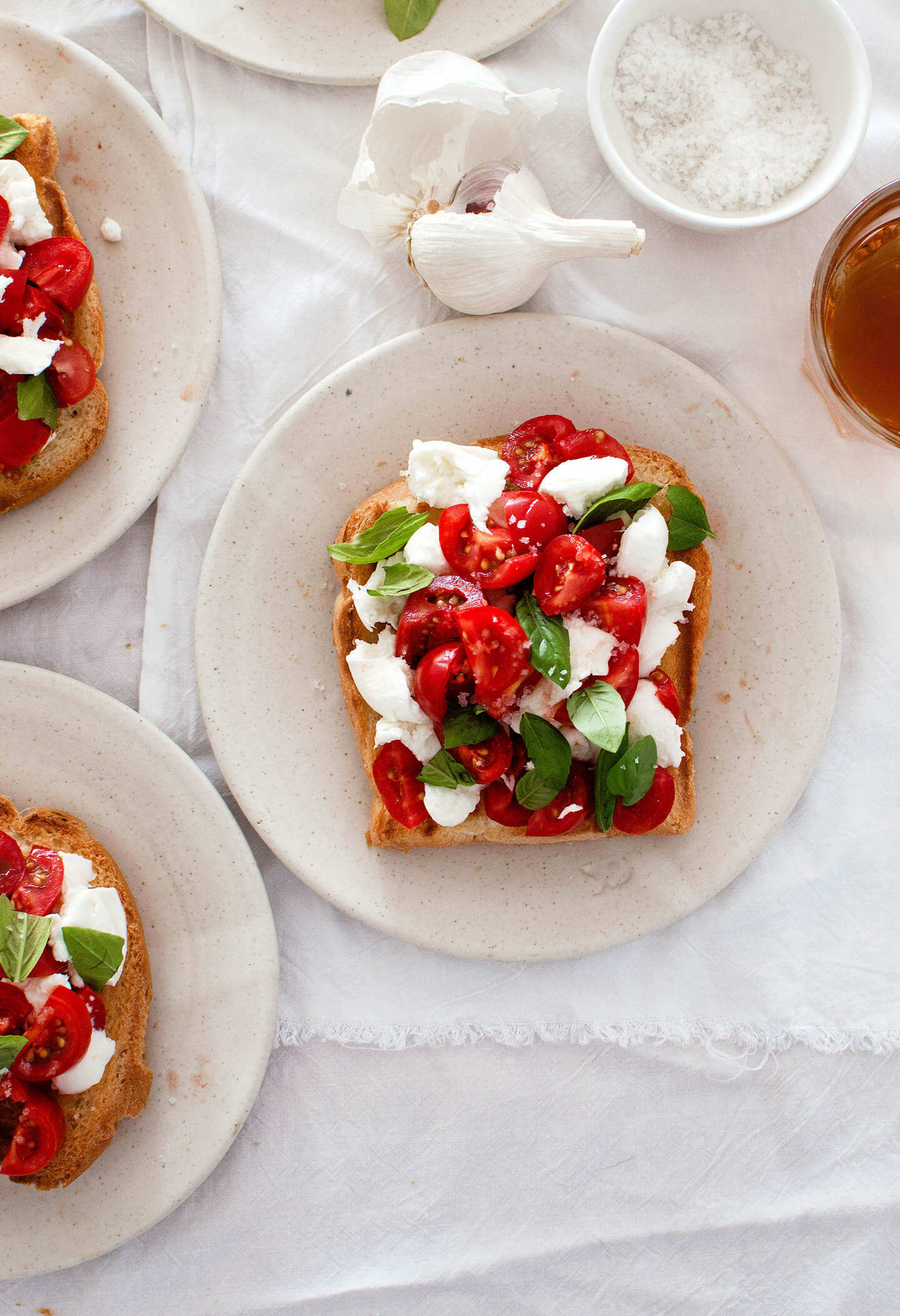 I am dreaming of Fall and apple recipes, but at the same time I'm trying to cherish these last Summer days. These past two weeks I've been slowly cleaning out our tiny freezer, to prepare it for some plums and berries. I also made plum jam, 8 jars of plum jam to be exact. I cannot wait to dig into them, but we only opened one for a taste test (it's delicious) and I'm saving the rest for colder months.
While I wait for plum jam (and here's a quick jam recipe if you're into jamming), there's still so much I can get out of Summer. And tomatoes and peppers are at the top of the list! This toast I'm sharing today might even be too simple of a recipe, or a how-to, to share. But you know how much I love simple lunches. And we've been having this so much, that I just have to show it to you.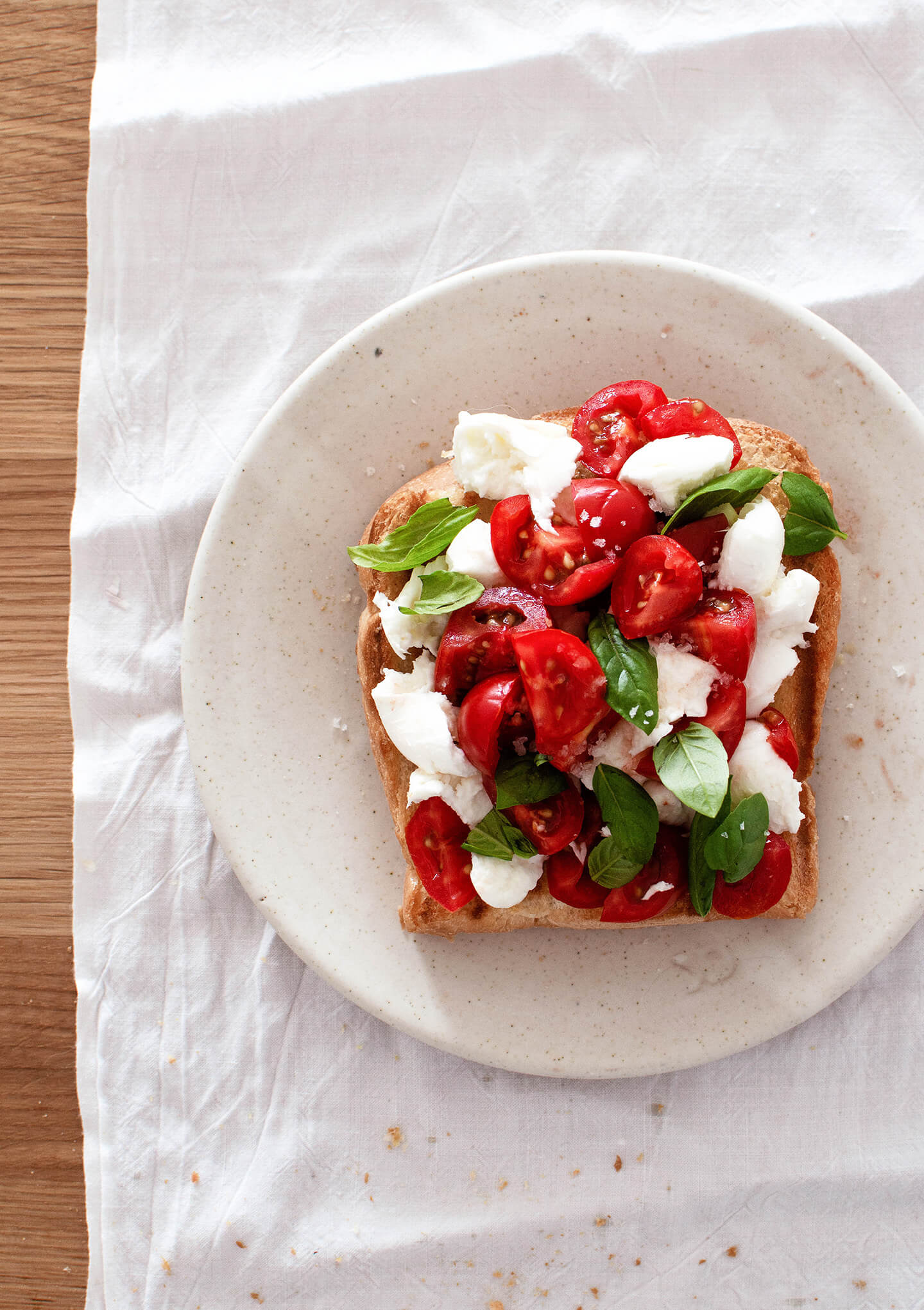 Bruschetta-style toast
It's really a very easy thing. It's part bruschetta and part a classic sandwich. A bruschetta is an Italian invention. It's basically bread that you grill, rub with garlic, brush with oil and salt. Then add toppings. Usually it's chopped seasoned tomatoes, but many people top the bread with cheese and meat too. 
But bruschetta slices, the classic anyway, are small. They're supposed to be small because you serve them as an appetizer. You want people to take a bite or two and be done with it. Naturally, I had to change that to make it more of a lunch. That's why I'm calling this a part sandwich, a bruschetta-style toast.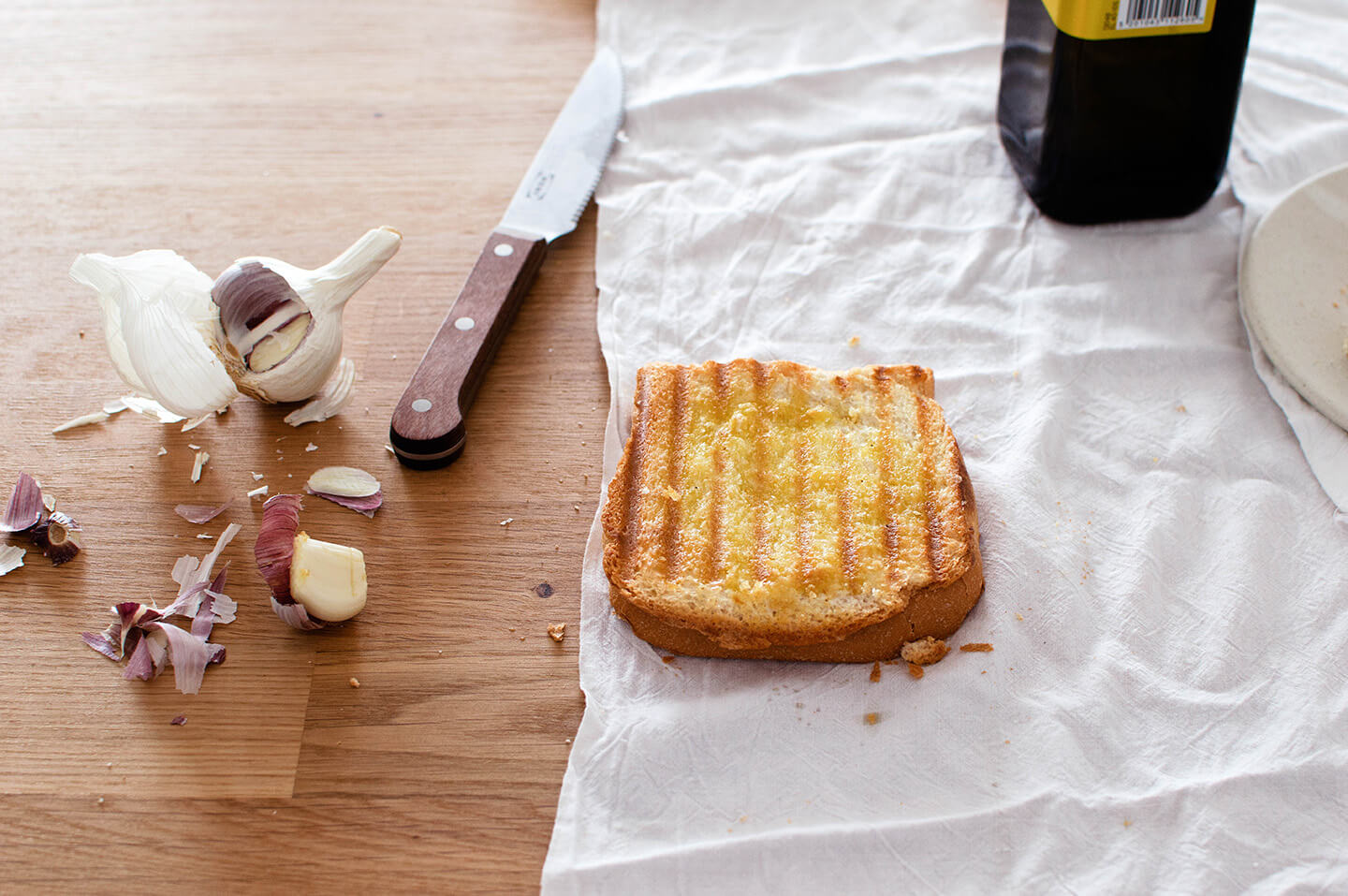 You start off by toasting the bread and my favorite is Japanese milk bread. Every type of bread brings something different to this recipe. I also love sourdough or whole grain varieties, but milk bread is so comforting I decided to go with this.
So… you have the bread, you toast it, then rub it with garlic and brush with oil. You top that with mini mozzarella balls. I like to buy the bufallo mozzarella balls as they're a bit creamier, but any work. And then I add chopped cherry tomatoes, preferably datterini (datterino) tomatoes because they are sweeter.
Lastly, I add some basil (homegrown in this case!) and fleur de sel. You don't have to use fleur de sel, fine sea salt will produce similar results. But I just enjoy the look and taste of fleur de sel.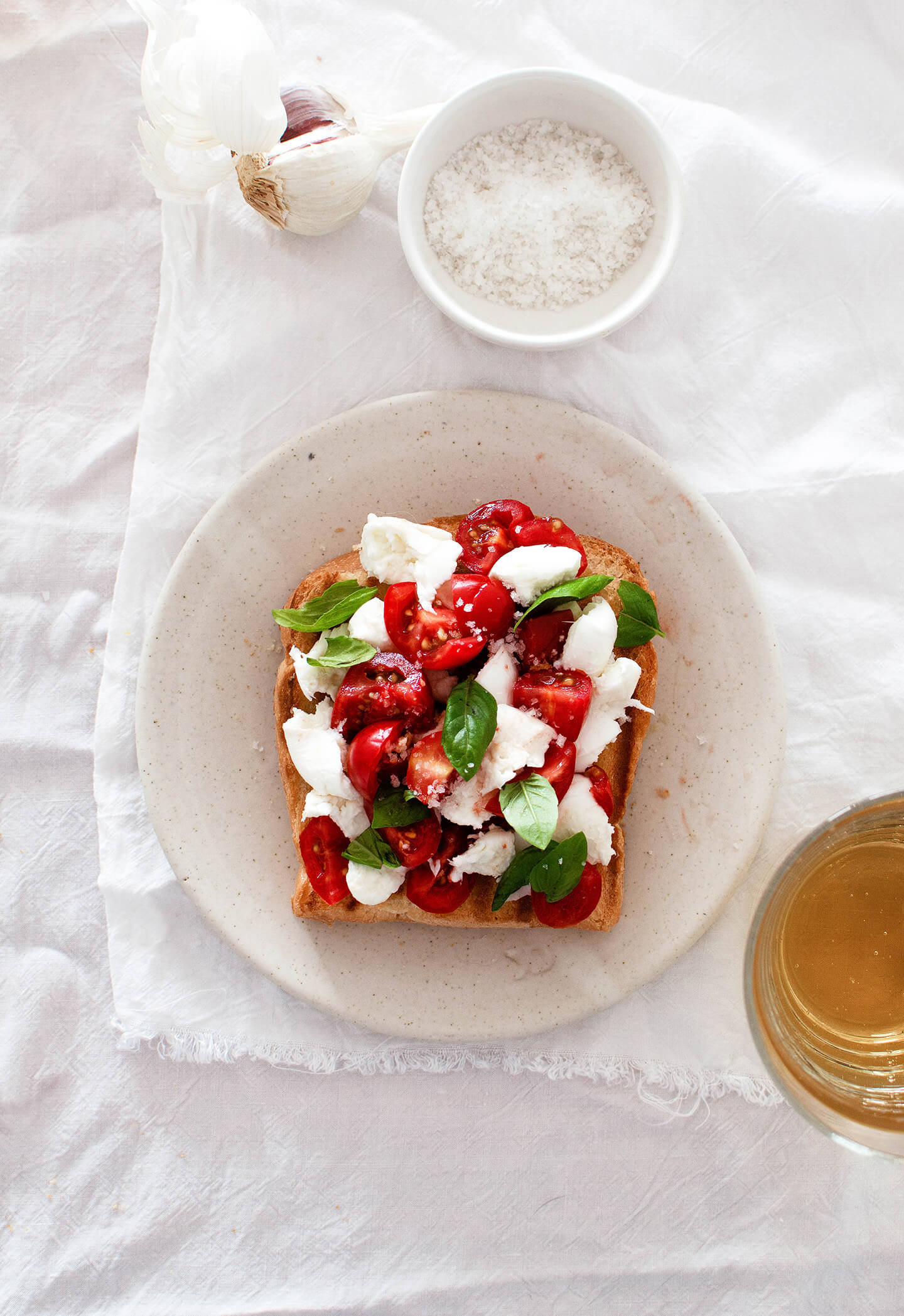 And that's it! Enjoy this bruschetta-style tomato mozzarella toast with a cold drink on the side and you will be in heaven. You know years ago when I worked at a local bistro, my favorite thing to eat there was bruschetta with a Hugo on the side (this is a Hugo). But I have to say an iced coffee or a lemonade would both be wonderful choices too.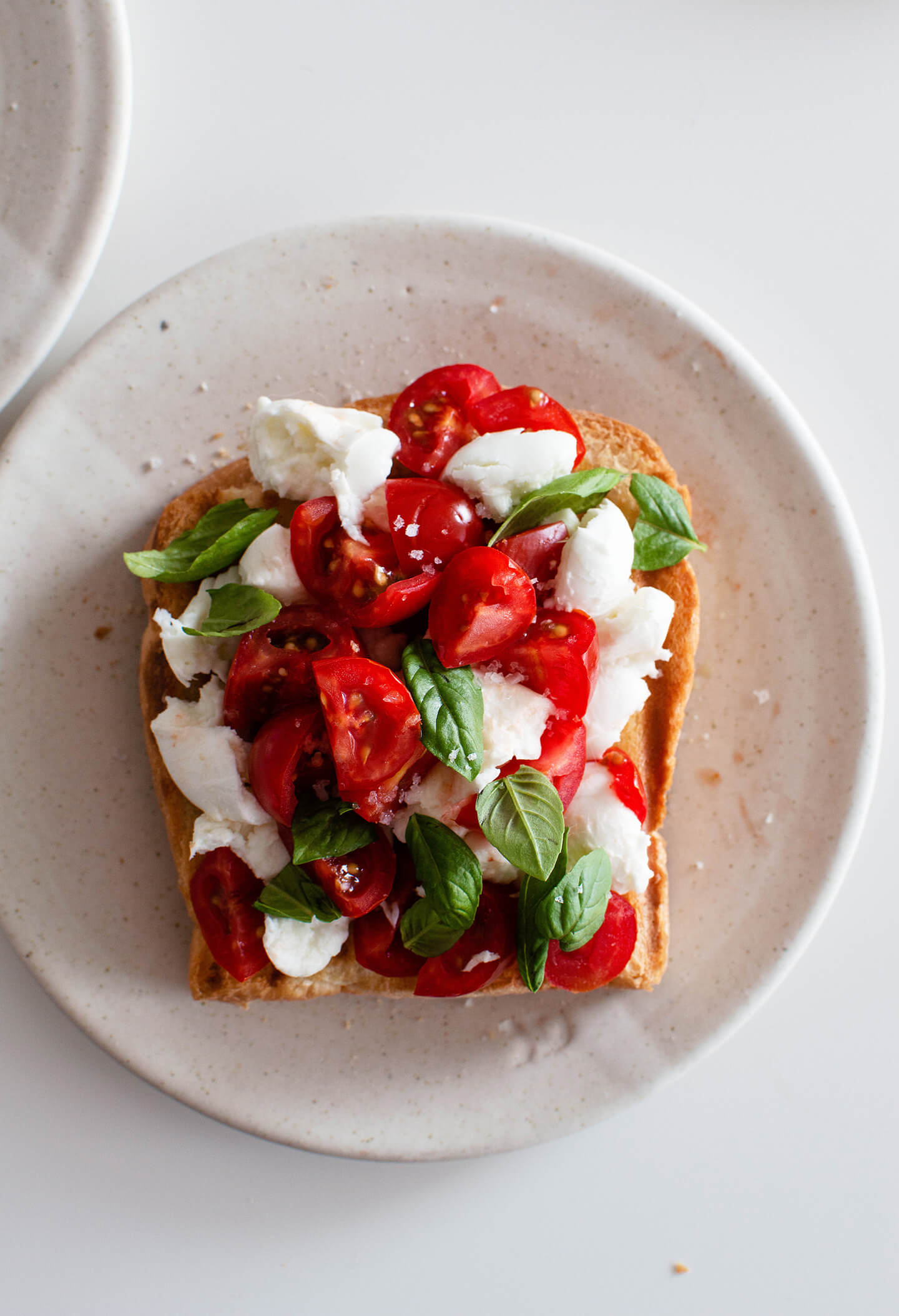 Bruschetta-style tomato mozzarella toast
Quick and easy lunch using summer's best ingredients!
Ingredients
Per toast
1

slice

bread

(I use Japanese milk bread for its taste and fluffiness)

1

clove

garlic

2

teaspoons

extra virgin olive oil

5

baby mozzarella balls

5

cherry tomatoes

(chopped)

fresh basil

1

pinch

flaky sea salt

(or fine sea salt)
Instructions
Toast the bread in your toaster or in a non stick pan set over high heat. Once the bread is golden on both sides, transfer it to a plate. Rub it with garlic. Then brush it with olive oil.

Tear the mozzarella balls apart with your fingers and arrange them all over the toast. Top with tomatoes. Add some basil leaves and a generous sprinkle of fleur de sel.
Email recipe
Pin Recipe