Very blueberry layer cake for when you really want ALL the blueberries!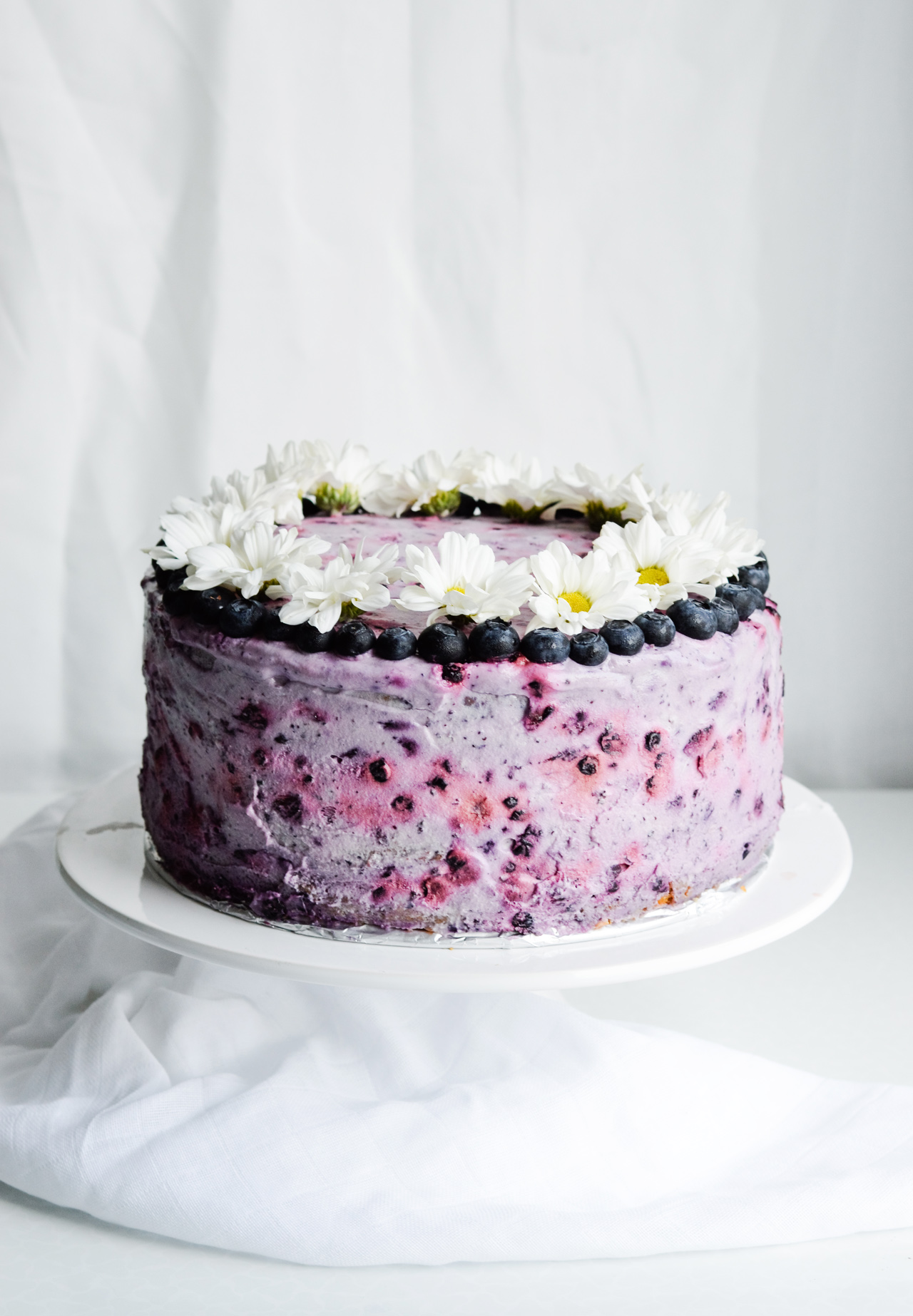 Oh, I made a cake. Just a short time after I told you about how I don't like to bake when it's hot outside. Which is still true, but, ohhhh damn, I just knew I wouldn't be able to stay away from the oven.
I'm stubborn. Probably less now than I was when I was younger, but I still am. And when I want something, like homemade over-the-top blueberry layer cake, well I just have to have it. Who cares about sweating in the kitchen (well, I do care a little), doing a ton of dishes, when you get a piece of blueberry cake in the end? Or two? It's worth it.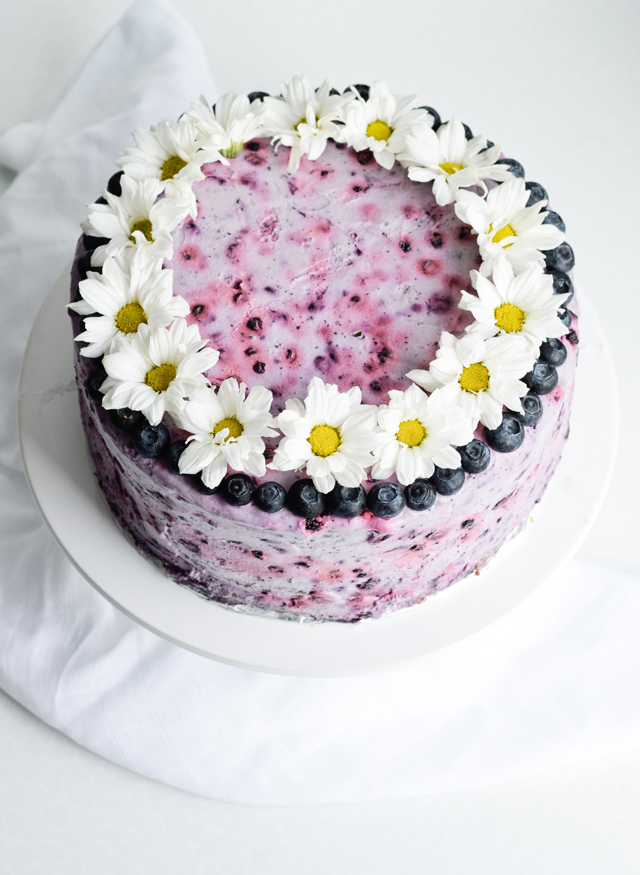 It was also our anniversary week, when I made the cake, because I thought doing something special like this would be fun. We don't have dessert like this one every day.
When it comes to cakes I have certain preferences.
1. I'm not a fan of buttercream.  I apologize to all the fans of buttercream, because I don't know if I'll ever share any buttercream recipes on here, but I just really don't like it. Maybe I haven't tried a good buttercream cake yet, but so far every time I had it, usually at birthday parties, all I could taste was the butter. And I just don't see what good that does when a combination of cream and fruit (or chocolate) is more than enough? I am still leaving a little window open though, waiting for that perfect buttercream, so don't give up on me yet.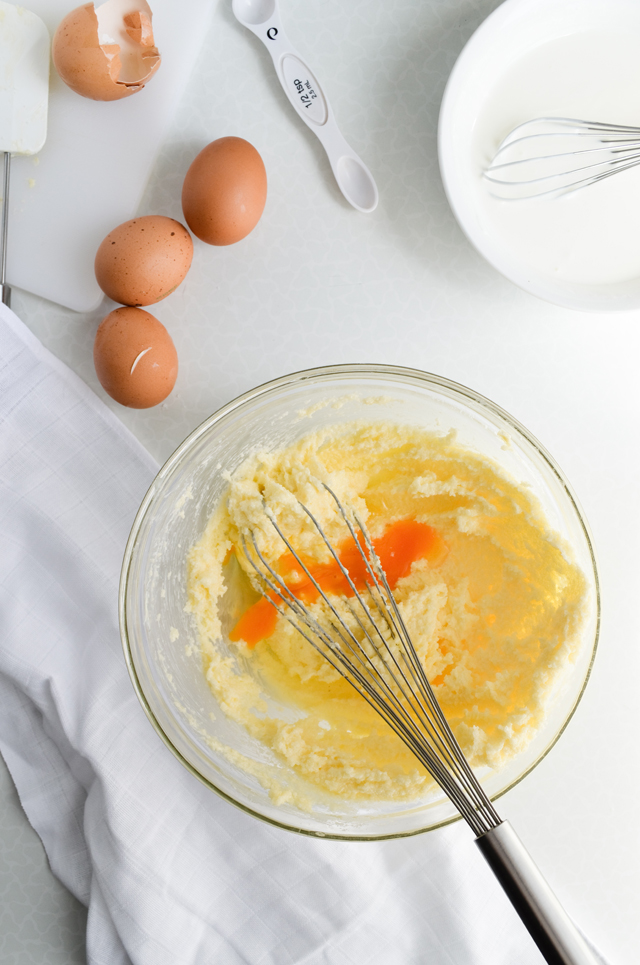 2. I like my cakes moist, with a ton of filling.
If it's mostly cake and little to no filling, lets just call it a coffee cake and have it for breakfast.
If it's a special party cake, it has to have some filling in it! And by some I really mean a lot. My favorite cakes have more filling than actual cake, or at least reach that 50-50 ratio, and I'm not changing my mind about that any time soon.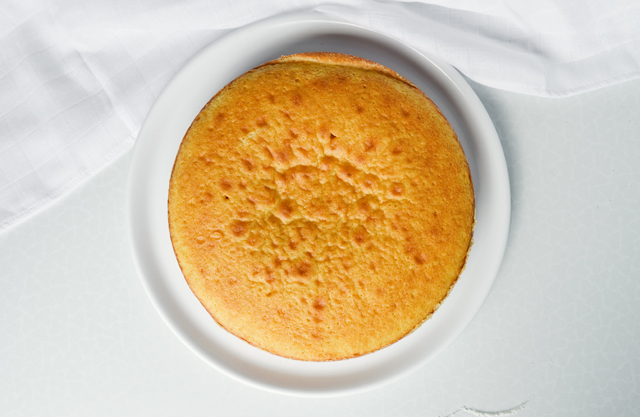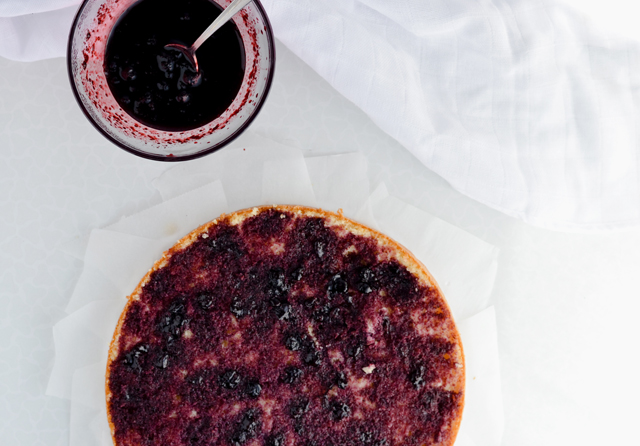 3. And then there's everyone's favorite question – chocolate or fruit cake? I can't decide on that one. I know many people have their preferences and Rok usually picks a chocolate cake, but I like both options equally. It all depends on what I'm in the mood for. Lately it's been more fruit.
While I've always loved strawberries, I'm beginning to realize I really, really love blueberries, probably more than any other berry. And so they were a natural choice for the first proper cake recipe EVER on this blog.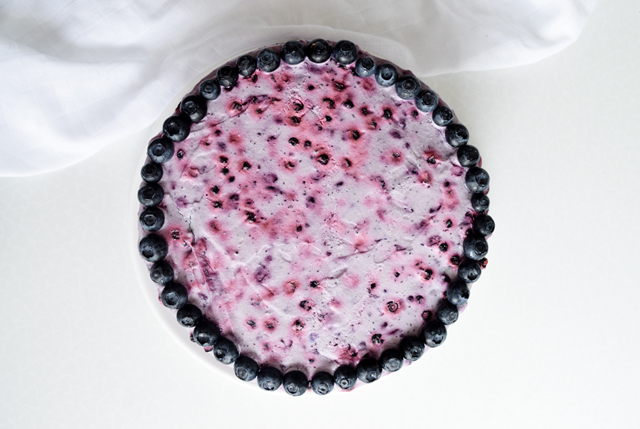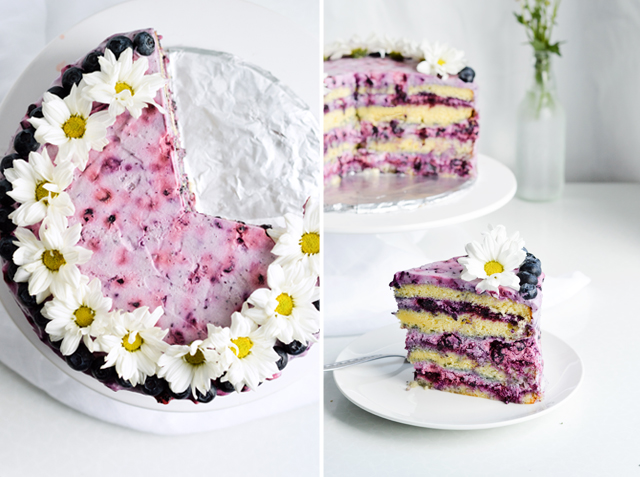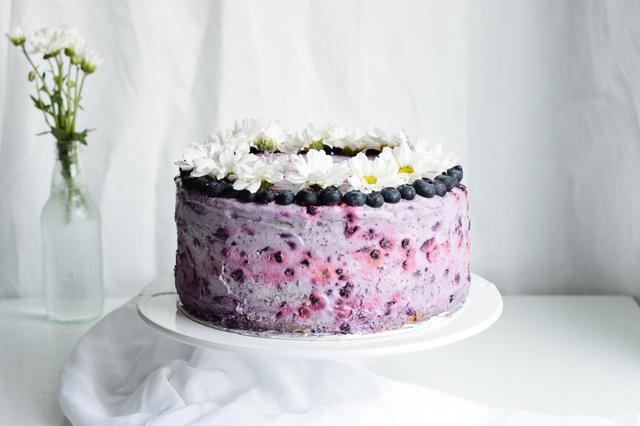 This cake is soft, like the softest pillow in the world. It is rich and moist, but not too dense, thanks to the sour cream in the batter. The cake layers are brushed with blueberry sauce and filled with a rich blueberry whipped cream mixed with mascarpone cheese and lemon zest.
This cake smells like summer, a blueberry summer, and its color matches that of a dreamy lilac hydrangea.
Print
Very blueberry layer cake
Recipe makes one 9-inch creamy blueberry layer cake, that is wonderfully rich and moist. It can be easily cut into 8 pieces, or more.
Author:
Prep Time:

40 min

Cook Time:

30 min

Total Time:

1 hour 10 minutes

Yield:

8

-

10

servings

1

x
Category:

Dessert

Cuisine:

Slovenian, European
Cake
375g

(

13.2 oz

or

2 1/2 cups

) all-purpose flour

1/2 teaspoon

salt

2 teaspoons

baking powder

1/2 teaspoon

baking soda

225g

(

1 cup

or 2 sticks) butter, room temperature

385g

(

13.5 oz

or

1 3/4 cups

) granulated sugar

4

large eggs, room temperature

1 tsp

vanilla paste

60

ml (1/4 cup) whole or part skimmed milk

220g

(

7.8 oz

or

3/4 cup

) sour cream
Blueberry sauce
60

ml (1/4 cup) water

3 tablespoons

sugar

2 tablespoons

lemon juice (from

1

small lemon)

75g

(about

1/2 cup

) frozen blueberries
Filling
500

ml (2 cups +

1 tablespoon

) heavy cream, cold

3 tablespoons

powdered sugar

1/2 teaspoon

vanilla paste

130g

(

4.5 oz

) mascarpone cheese, room temperature
zest of

1

small lemon

400g

(

14 oz

) frozen blueberries, thawed
Frosting + decorations
60g

(

2 oz

) frozen blueberries, thawed

250

ml (1 cup + almost 1 TBSP) heavy cream, cold

70g

(

2.5 oz

) white chocolate, melted and cooled to room temperature
about

1/2 cup

fresh blueberries (optional)
daisies or similar flowers (optional)
Instructions
Cake
Butter two 23×5-cm (9×2-inch) cake pans, line the bottoms with parchment paper and sprinkle the sides with flour. Set aside. (Look at notes if using just one pan.) Preheat the oven to 180°C (350°F).
In a medium bowl, whisk together the flour, salt, baking powder and soda. Set aside. In a small bowl whisk together the milk and sour cream and set that aside too.
In a large bowl (or in your mixer) beat butter until creamy and fluffy. Gradually add sugar and beat until incorporated. Add eggs one at a time, beating well after each addition. Lastly whisk in the vanilla paste.
With the mixer set on low, or by hand, alternately add the flour and milk mixtures, starting and ending with flour (so you add flour – milk – F – M – F). Divide the batter and pour it into the prepared pans. Smooth the surface with a spatula and bake each cake for 25-30 minutes or until the cake is golden brown and a toothpick inserted in the center of the cake comes out clean.
Cool cake for 10 minutes, then remove it from the pan (run a knife around the edges, invert cake onto a plate, remove parchment paper and then invert again on a large plate). Cool completely.
As the cakes bake make the blueberry sauce
Combine all the ingredients in a saucepan set over medium-high heat. Bring the mixture to a boil, stirring occasionally. Cook for a few minutes. The water will become purple just as the blueberries, it'll thicken a bit and the blueberries will be soft.
Remove from heat, set aside and cool completely.
Filling
In a large bowl cream together the mascarpone and lemon zest. Set aside.
Using an electric mixer, beat the cream with sugar on low-medium speed until soft peaks form. Add the vanilla paste and whisk until incorporated. Slowly fold the whipped cream into mascarpone mixture just until incorporated. Then fold in the blueberries (use a small whisk to gently stir them in).
ASSEMBLY:
First level each cake (if needed) and split each cake layer in two, so you get 4 equal layers.
Put the first layer on a large plate and brush some blueberry sauce over it. Spread 1/3 of the filling over the cake. Repeat with two more layers. Cover with the last, 4th, layer. Transfer the cake to the fridge and let the filling set, while you make the frosting. TIP: Use a 9-inch cake baking ring when filling the cake to prevent the filling from coming out the sides. Remove the ring before your frost the cake.
Make the frosting as the cake chills:
Whip the cream until soft peaks form. Fold in the melted chocolate and blueberries, gently whisk until incorporated. Spread the frosting over the cake, starting at the top and then brushing it down the sides. This is done easily with a frosting spatula.
Chill cake in the fridge until frosting sets, then decorate and chill until you are ready to serve. Cake keeps, covered in the fridge, for up to 3 days.
Notes
I'm using wild blueberries for this recipes. They're smaller, with a deeper color. If you can't get wild blueberries, use cultivated instead, but crush them a bit before using, so they release some of their color. Recipe for cake layers adapted from Joy of baking. ON CAKE LAYERS If you only have one pan, divide the batter, pour 1/2 into a pan and bake that cake first. When the first cake bakes, remove it from the oven, let cool for 10 minutes then remove it from the pan. Wash the pan and prepare it like you did the first time (butter, line bottom with parchment paper, flour the sides). As the first cake bakes, keep the second half of cake batter in the bowl, covered with foil, at room temperature. MAKE AHEAD When the cakes are baked, cool them completely, then wrap each cake in plastic wrap and place in a ziplock bag. Keep cakes on the counter, at room temperature, overnight, and split into layers + assemble the cake the next day. The cake stays wonderfully moist. For longer storage, keep the uncut cakes well wrapped in the freezer. Blueberry sauce can be made ahead too. Once cooked, put it in an airtight container or a covered glass jar and store in the fridge for up to a week.