Roasted blueberry phyllo ice cream sandwiches are the perfect summer treat! Pretty to look at and tasty, filled with berries and lime sugar!
So… ice cream sandwiches. Yes or no? Obviously a big yes for me. I do generally think that people either like ice cream sandwiches or they don't. There's no grey area here. I definitely love them and I'll be having as many as I can now, in August, before Fall comes.
With the height of summer behind us, I'm definitely enjoying the season more now. Maybe because I know it's coming to an end, but more so because the days are a bit shorter and the average temperatures a few degrees lower, so the days are just easier to handle. And while I'm one of those people who love ice cream in the winter too, I do still eat it mostly in the summer.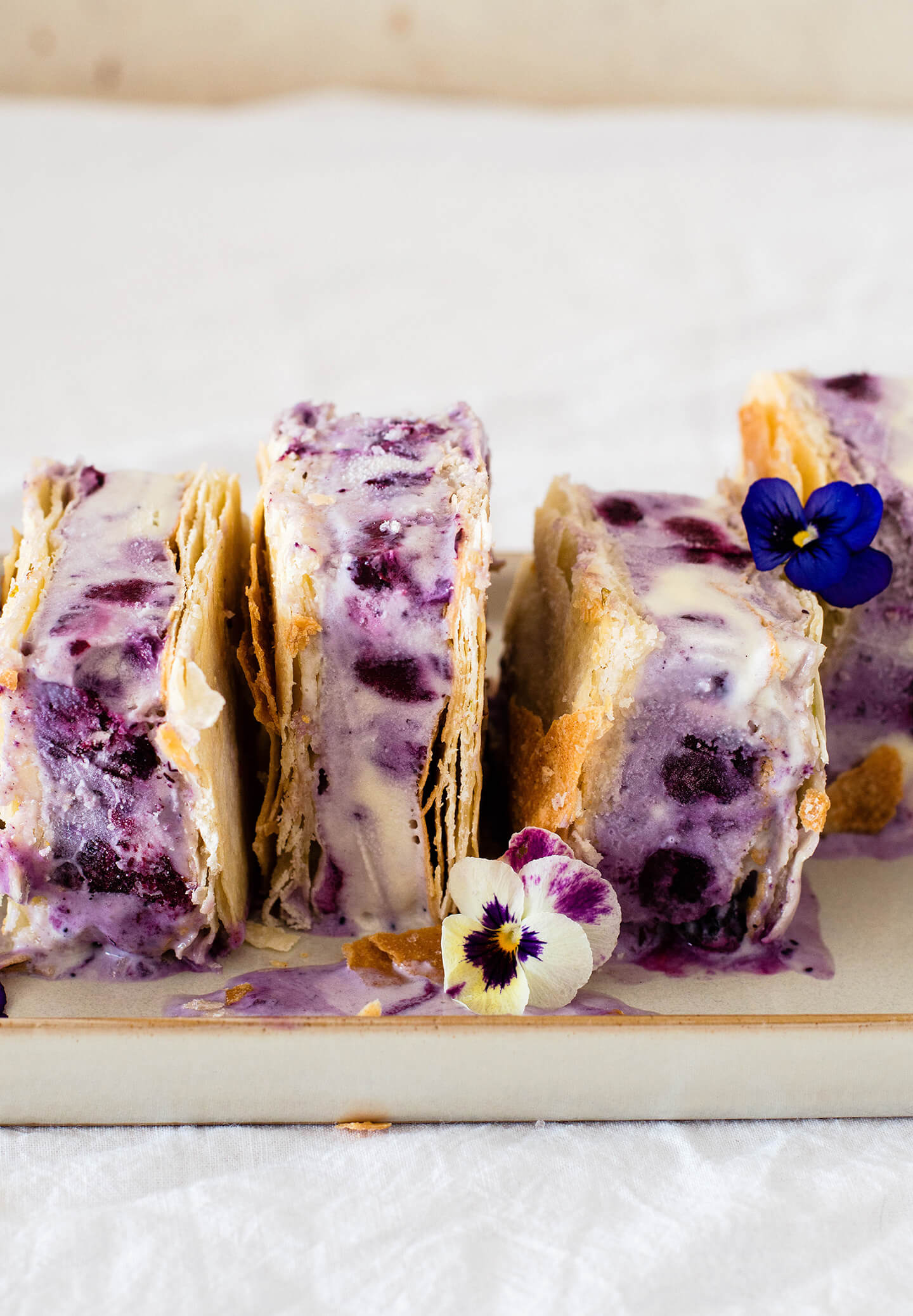 And it's not just ice cream. The berries are slowly saying goodbye too, so we better make use of them now! I have to say, if you find berries on sale or any other good deal or price, do take advantage of that! Late summer is the perfect time to stock up on fresh berries and freeze them for later. You could also make jam of course (like this small batch jam), but I love freezing berries for the colder months. I use them in smoothies or when I'm baking.
This time around, I'm roasting the blueberries for these Roasted blueberry phyllo ice cream sandwiches. These wonderful treats are pretty easy to make, you just have to put some time aside for it. Instead of using cookies for sandwiches, I'm using phyllo (filo) pastry. Both the bottom and top layer of these sandwiches are made with phyllo sheets, that I generously brushed with butter and sprinkled with some lime sugar. They're very reminiscent of baklava actually.  And if you like baklava, I think you'll like these. 
And then there's the ice-creamy center, squished between the baklava-style phyllo layers. A true milky surprise. It's made with store-bought vanilla ice cream that I mix with roasted berries. I really like the marble effect that the blueberries create when you swirl them around the ice cream. So pretty, right? 
So… let's all celebrate the gorgeous late summer days by making and eating these roasted blueberry phyllo ice cream sandwiches.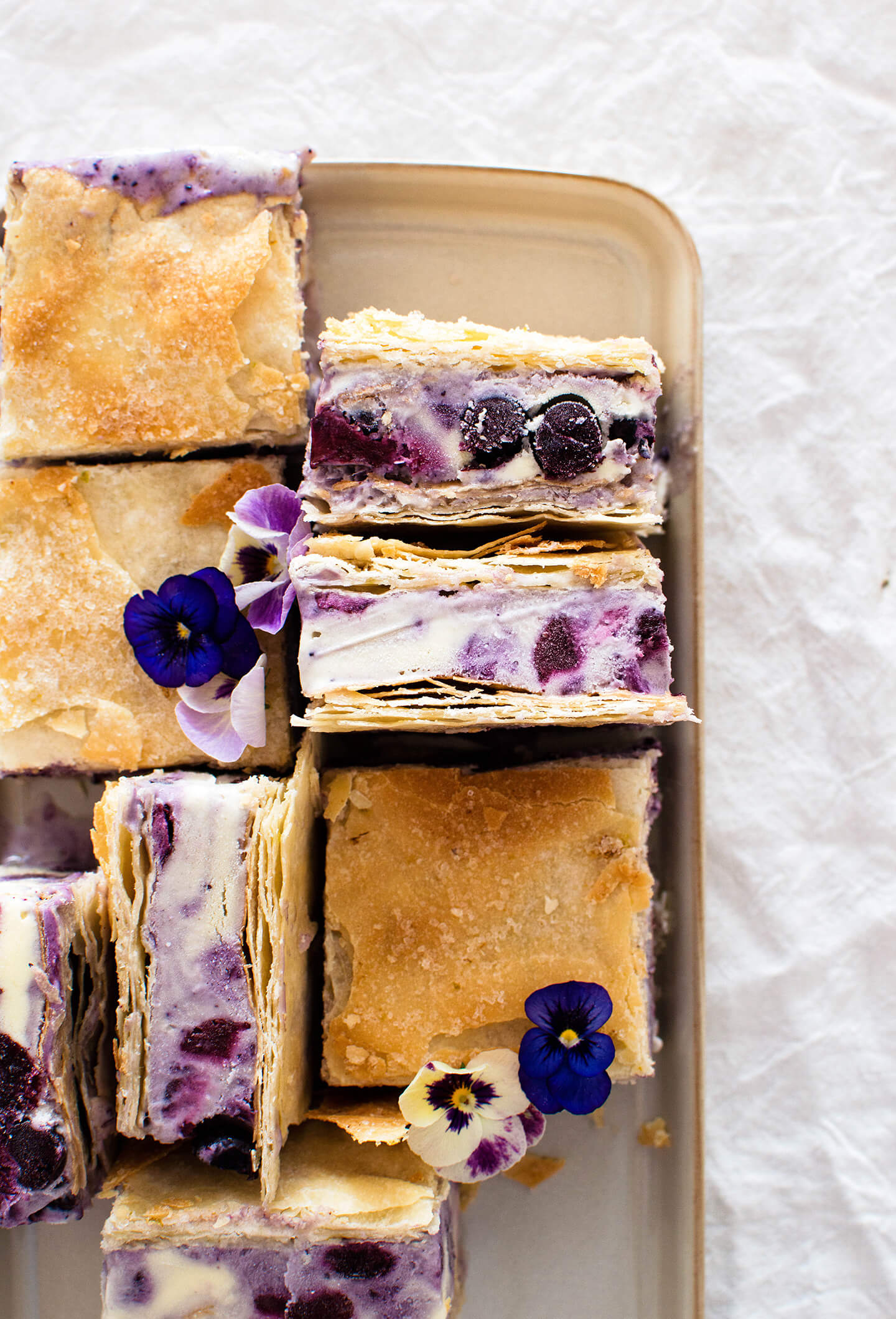 Print
Roasted blueberry phyllo ice cream sandwiches
Layers of sweet phyllo pastry and marbled blueberry vanilla ice cream. Perfect summer treat!
Author:
Yield:

20

servings

1

x
Category:

Dessert
600g

(

21 oz

) fresh blueberries

150g

(

5 oz

) fresh strawberries, hulled and chopped

1 teaspoon

vanilla extract

260g

(

1 1/4 cups

) granulated sugar

12

sheets phyllo (filo) pastry (see notes for specifics)
zest of

two

organic limes

180g

(

1 1/2

sticks) unsalted butter, melted

2

liters (4 pints | 2 quarts) vanilla ice cream
Instructions
Preheat oven to 200°C (400°F), with a rack in the center of the oven. Place berries, vanilla extract and 50g (1/4 cup) of sugar into a medium baking dish (I use a pie dish). Toss to combine, then bake in the oven for 20 minutes, until the berries are bubbling and bursting. Remove from oven and set aside to cool.
Prepare the pastry as the berries are roasting. Place leftover sugar in a small bowl and mix in the lime zest. Line a large baking sheet with parchment paper, then place one phyllo sheet on it. Brush with butter and sprinkle with a heaping tablespoon of lime sugar. Top with another phyllo sheet and continue in the same manner until you've stacked 6 sheets, brushing the last sheet with butter and sugar too. Bake in the preheated oven until crisp and golden, 10-12 minutes. As this bakes, prepare the second phyllo stack the same way you did the first.
When the first phyllo stack is baked, remove it from the oven and put the second one in. Then line a 9×13-inch (23×33-cm) pan with plastic wrap. Measure and trim the warm phyllo stack, so that it fits into the 9×13 pan (you'll probably have to cut about an inch from each side). Transfer the trimmed phyllo stack into the pan. When baked, trim the second phyllo stack too and set it aside.
When you're ready to make the sandwiches, place ice cream in your stand mixer or food processor. Beat until it's soft and spreadable, but still icy. Quickly stir in the roasted berries, then spoon the ice cream into the prepared pan (with one phyllo stack on the bottom). Spread ice cream evenly all over, top with the second phyllo stack, wrap well (I use both plastic wrap and aluminium foil) and freeze until solid. This will take at least 4-6 hours, but it can easily wait overnight.
When ready to serve, cut the ice cream into 20 equal pieces (or how many you want). Serve how many you want, put the rest back into the freezer immediately.
Notes
About phyllo pastry:
When you're buying phyllo, you'll probably notice different companies make different sizes of phyllo. I bought two packs of phyllo pastry, each weighing 300 grams (10.5 oz) and containing 6 sheets, the size of each about 29 x 39 cm (11.5 x 15 inches).
You can get anything similar, as long as you have enough sheets. Once the phyllo stacks are baked, you'll be trimming them to size anyway. However, if the phyllo available to you is thicker and heavier than what I use, you can also use 4-5 sheets per stack. (Example: you might find a 300-gram (10-ounce) pack of phyllo that only has 4 sheets. In this case you don't need six sheets.)

Working with phyllo:
When you remove phyllo from its packaging, place the whole stack on a clean, slightly damp kitchen towel (I use a spray bottle to dampen it). Then cover the whole stack of raw phyllo with another clean dampened kitchen towel. Uncover when you take out a phyllo sheet and cover right back. This might seem annoying or unnecessary, but uncovered phyllo dries really quickly which results in phyllo breaking as you pick it up.
About sugar:
These sandwiches are definitely on the sweet side. If you want to make the sandwiches less sweet, you can skip the sugar used in the phyllo stacks and simply brush the phyllo sheets with butter only. Or sprinkle sugar just on the final, top sheet in a stack.