This Royal vegetarian bean beet burger will change your opinion on all burgers!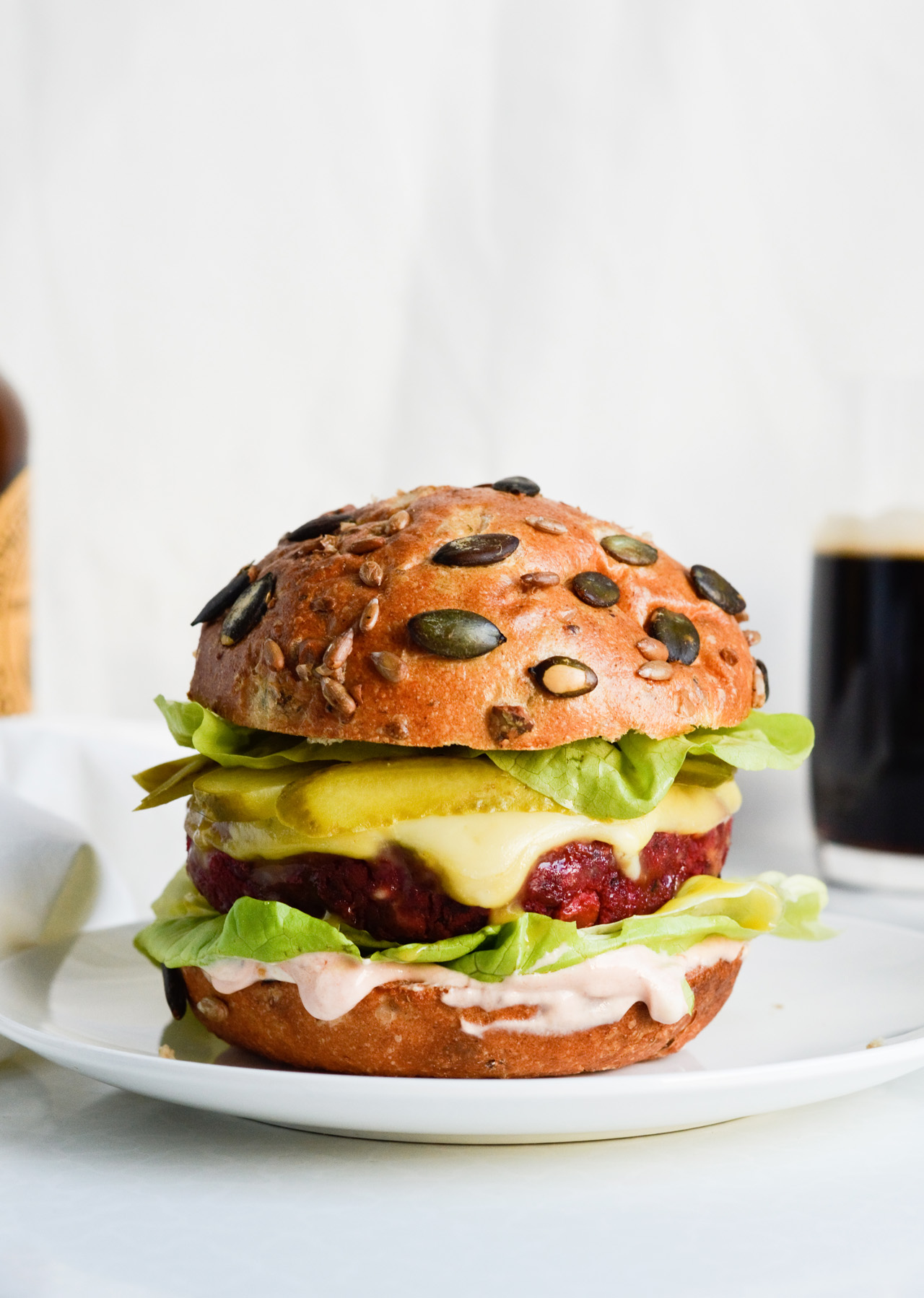 Did I ever tell you about my first job? I don't think I did. I got my first official have-to-sign-a-contract type of job when I was 16 and it was at a local McDonald's. My friend was already working there and she told me to apply for a position. So, I went in for an interview with a manager, got the job and started working there pretty much immediately. I worked there after school, on the weekends and often during the school holidays. I remember kind of hating the job but loving it at the same time, because I got paid and I needed the money.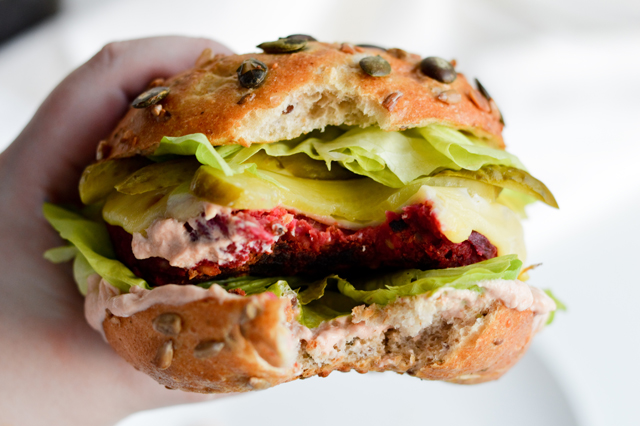 There are several stations where one works when working there and I did them all – back of the kitchen, the grill, the register, cleaning, etc. Looking at all the jobs I've had, I think working there was the hardest. Maybe because I was so young and maybe because it was just exhausting. The heat, the smell of grease, the time pressure, none of that was easy to handle. The uniform was uncomfortable and I ruined a pair of shoes.
If I worked a 6 hour shift or more I got lunch. And working at a fast food place, I of course often got a burger. As far as I remember that was the only time and place where I ate actual meat burgers, because I've always preferred vegetarian versions despite the fact that I wasn't a vegetarian at the time. And after making hundreds of burgers, they never tasted the same to me anyway, so not being a fan before starting that job was probably for the best.
I quit after 7 months. It was the summer before my senior year and I wanted to enjoy it. Because I knew that senior year would be full of graduation prep and endless talks about Uni. After quitting I hardly ever went back. Mostly just to visit old colleagues or get that one vanilla milkshake, but that was it. And these days, well, I still have that one vanilla milkshake or a chocolate sundae a year, or maybe twice a year, but I don't really miss anything else.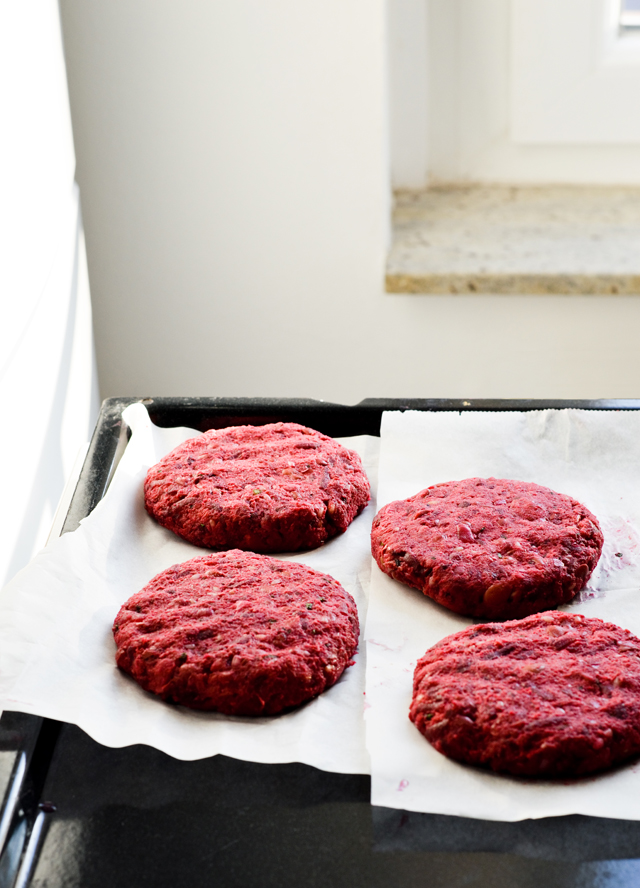 I do like to try gourmet burgers from smaller places though, because the world of vegetarian burgers is so colorful and interesting. Everyone has a different approach, a different mix of flavors. There are black bean burgers, oat burgers, chickpea burgers; topped with caramelized onions or avocado pesto or the most delicious coleslaw. All smothered in barbecue sauce or a fresh yogurt dressing or… the list goes on and on.
I have a few favorite sandwiches and burgers I make at home, similar to what I can find outside, but I'm saving some ideas for later. Today I want you all to focus on this beautiful royal vegetarian bean beet burger. I'm not calling it royal for nothing, it's honestly that good.
The funny thing about it is that it doesn't even look vegetarian, it looks so meaty and bloody. And that's not what I was going for, but beets are a bloody vegetable and do give that meaty effect.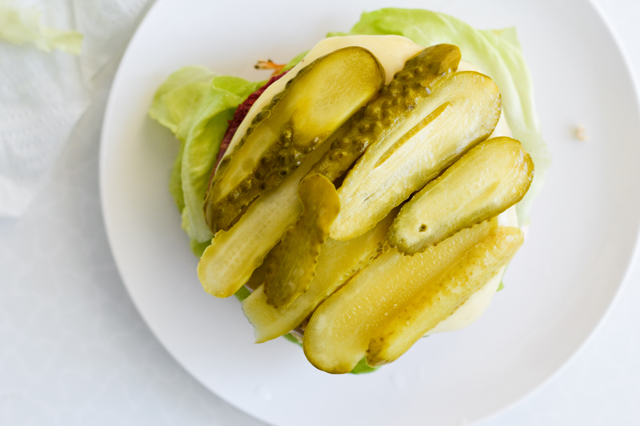 And the beet patty is absolutely divine. It's soft, with a crispy surface and topped with melted cheese, that is hiding a sweet and spicy mustard honey sauce underneath. I add thinly sliced pickles over that for acidity and crunch. My bread rolls of choice are multi-seed rolls, slightly toasted and topped with a mixture of ketchup and sour cream. This may be a fatty spread, but trust me, you need it in a burger. Also, lettuce is a must, a nice fresh counterbalance.
You can make the beet burger mix a day ahead, which makes planning a dinner much easier. Alternately, if you don't want an actual burger, I think these patties would work beautifully with a side of mashed potatoes and a vegetarian gravy or even tomato sauce.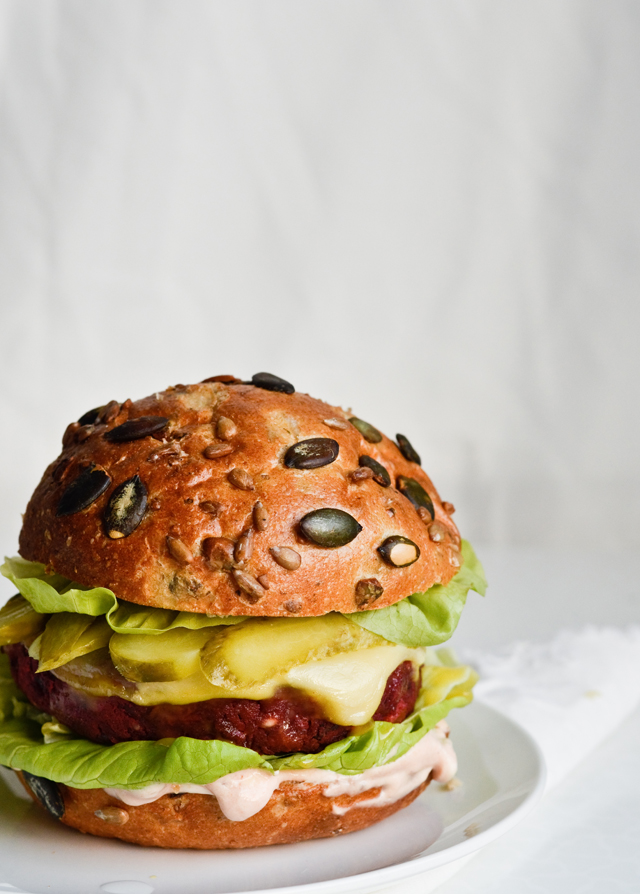 Print
Royal vegetarian bean beet burger
A delicious burger that will impress everyone!
Prep Time:

20 min

Cook Time:

40 min

Total Time:

1 hour

Yield:

4

-

6

servings

1

x
Category:

Main course

Cuisine:

American
Beet burgers:
1

medium-large beet, cooked (about

200g

or

7 oz

) // see notes

55g

(

1/4 cup

or

2 oz

) brown rice, uncooked

1 1/2 tablespoons

olive oil

1

small onion (about

100 grams

or

3.5 oz

)

2

garlic cloves

15

ml (1 tablespoon) apple cider vinegar

2 tablespoons

old-fashioned oats

450g

(

15 oz

) can of Borlotti beans (or cranberry, cannellini, or kidney beans)

1 teaspoon

hot smoked paprika

1 teaspoon

Dijon mustard

1/2 teaspoon

ground cumin

1/4 teaspoon

dried thyme

1 tablespoon

chopped fresh coriander

1

large egg

40

–

60

g (4-6 TBSPs or

1.5

–

2

oz) dried breadcrumbs

1 teaspoon

sea salt

2

grinds fresh black pepper
Toppings:
3 tablespoons

Dijon mustard

3 tablespoons

honey

1/2 cup

sour cream (about

100g

or

3.5 oz

)

1/2 cup

ketchup (about

100g

or

3.5 oz

)

1/2 teaspoon

garlic powder
about

12

thin slices of cheese (like Edam, Gouda, Swiss)
about

10

big German dill pickles
small head of lettuce (like Butterhead or Iceberg)
+ Bread rolls
Instructions
First make the burger mix:
In a saucepan, bring 360ml (1 1/2 cups) of slightly salted water to a boil. Add the rice and cook covered on medium-high heat for 30-40 minutes, until rice absorbs the water and is tender. When cooked, transfer the rice to a plate and let cool.
Meanwhile, chop the onion. In a pan set over medium-high heat, warm a tablespoon of oil. Add the onion and cook, stirring occasionally, until it's translucent. If some of it burns, that's okay. Grate the garlic over the onions, stir and let cook for about a minute. Add the vinegar. Stir and cook until the liquid has evaporated. Set aside to cool.
Grate the beet on a box grater. Squeeze out most of the liquid, set aside. Grind the oats in a food processor, set aside.
Drain and rinse the beans, then roughly chop them and transfer to a large bowl. When the rice has cooled, add it to the beans, along with grated beets, onions, 1/2 tablespoon of oil. Stir with a spatula.
Add the mustard, paprika, cumin, thyme, chopped coriander and stir well until combined. Then add ground oats and an egg. Mix until incorporated, best done with your hands.
Lastly add the breadcrumbs, between 4-6 tablespoons, depending on how wet the mixture is. (The mixture should be soft, but not sticky wet.) Cover the mixture tightly with plastic wrap and chill for an hour (or overnight).
Make the burgers:
Prepare the toppings:
In a small bowl combine the mustard and honey. Stir until incorporated and the mixture is creamy, set aside. In another small bowl, combine the sour cream, ketchup and garlic powder. Stir until incorporated, set aside. Rinse the lettuce and tear off the leaves, lay them on paper towels to dry. Thinly slice the pickles and set aside. Slice the bread rolls horizontally into two parts, set aside.
Make the patties:
Take the mixture out of the fridge and make 6 balls. Flatten each ball into a disk, set aside on a baking sheet or large plate.
Over medium-high heat warm a tablespoon of oil in a skillet. Bake two patties at a time (or 4 if you have a skillet big enough). Cook them on one side for about 5 minutes, then flip. The bottom should be slightly browned. Cook for another 3-5 minutes, then flip again.
Increase the heat to high and continue cooking. Brush the top side of each patty with the honey mustard sauce. Top with 2 thin slices of cheese. Let cook until the cheese melts.
Either push the patties to one side of the skillet or take another skillet (set over high heat) and place in the bread rolls (cut side down). You want the fresh bread to be slightly toasted on the inside. Toast for about 30 seconds, then continue with the rest of the bread rolls. Set aside on plates.
Assembly:
Spread 1 tablespoon (or more) of the sour cream – ketchup mixture over each toasted bread roll (the bottom part). Top with lettuce, then add the patty, sliced pickles and extra lettuce. Cover with the top part of a toasted bread roll, which you can also slightly brush with the sour cream – ketchup mix. Serve immediately.
Notes
Recipe makes 4 thick patties or 6 a bit thinner patties, the diameter of each one being around 3.5 inches (8-9 cm).
To save on time, I often buy packaged steamed and peeled beets, that are already ready to be used. You can cook the beets yourself, just know that this takes extra time.
Beets lose about 25% of their weight as they cook. You need one raw 260g (9 oz or 0.5 pound) beet to get about 190-200g of cooked beet for the recipe. Small differences in weight are okay and won't ruin the recipe.
HOW TO
In the oven: Wrap each beetroot loosely in aluminum foil and place in a baking dish. Bake in preheated oven set to 200°C (400°F) for about 45-60 minutes, until easily pierced with a fork. Let cool before peeling and grating.
On the stove: Place beets in a large pot and cover completely with water. Bring to a boil, then lower the heat and cook, half covered, for 45-60 minutes until easily pierced with a fork. Put pot under running water to bring beets to room temperature, then peel and grate them.
Feel free to skip any of the toppings or adjust the amounts used, after all the beauty of a homemade burger is that we can all put in whatever we want.
Recipe inspired by The Kitchn's Best Ever Veggie burger.