If you're looking for affordable and cute winter decorations, you can't go wrong with these homemade scented baking soda ornaments. Snow-white and shaped any way you like, they will cozy up any part of your home. Especially your tree! This is also a fun craft to do with your kids. Dried ornaments can be painted any color or drawn on with pretty markers.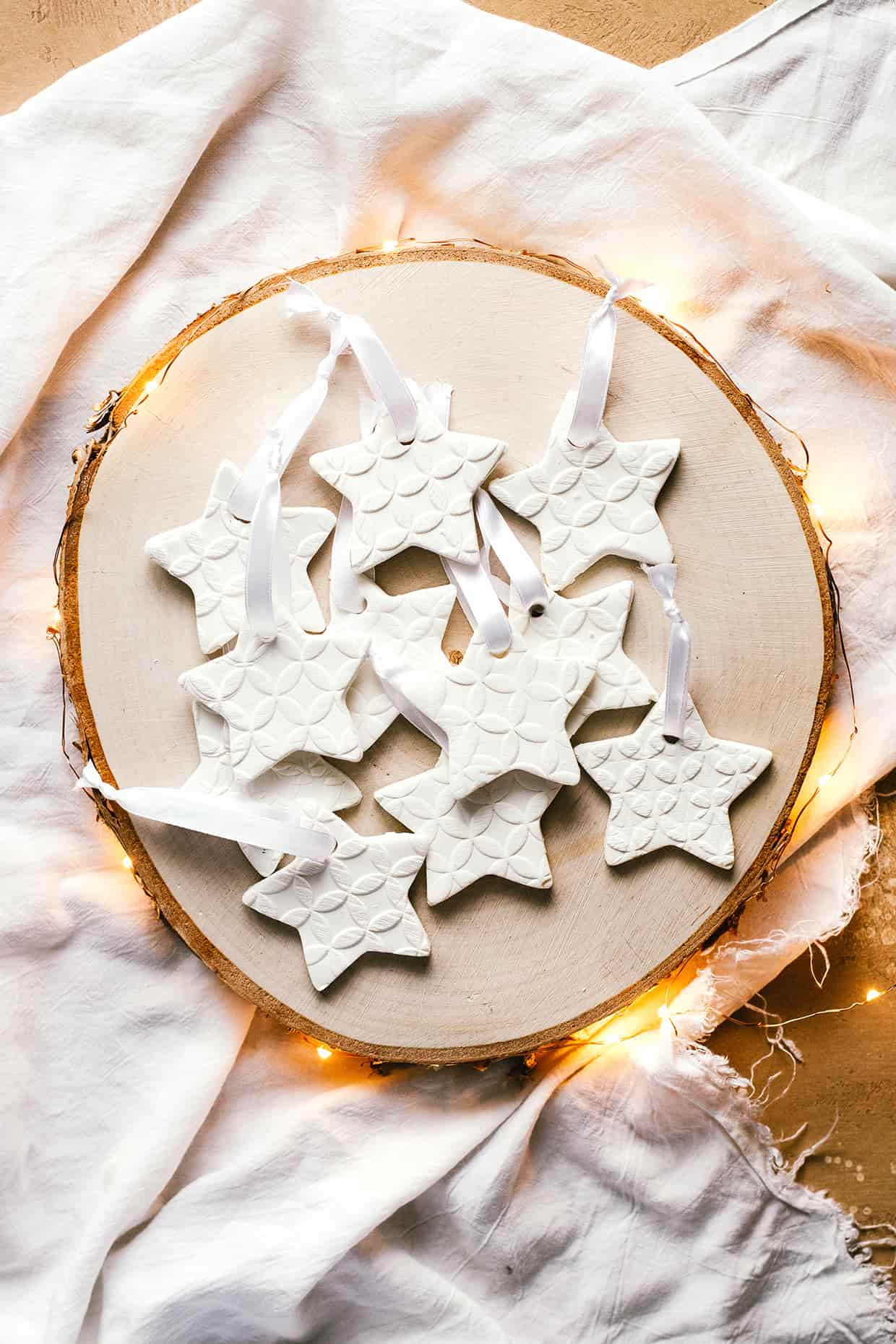 Decorating the tree for the holidays has always been one of my favorite things to do. I don't particularly enjoy flocking it and a natural one isn't an option because I don't trust the cats. But that last part, putting on the decorations, that's the best part.
I still have a small box of 90s ornaments stashed somewhere in the basement, a collection of mostly plastic and vibrant bubbles. Magenta, deep green, blue, … and more oddities I have fond memories of.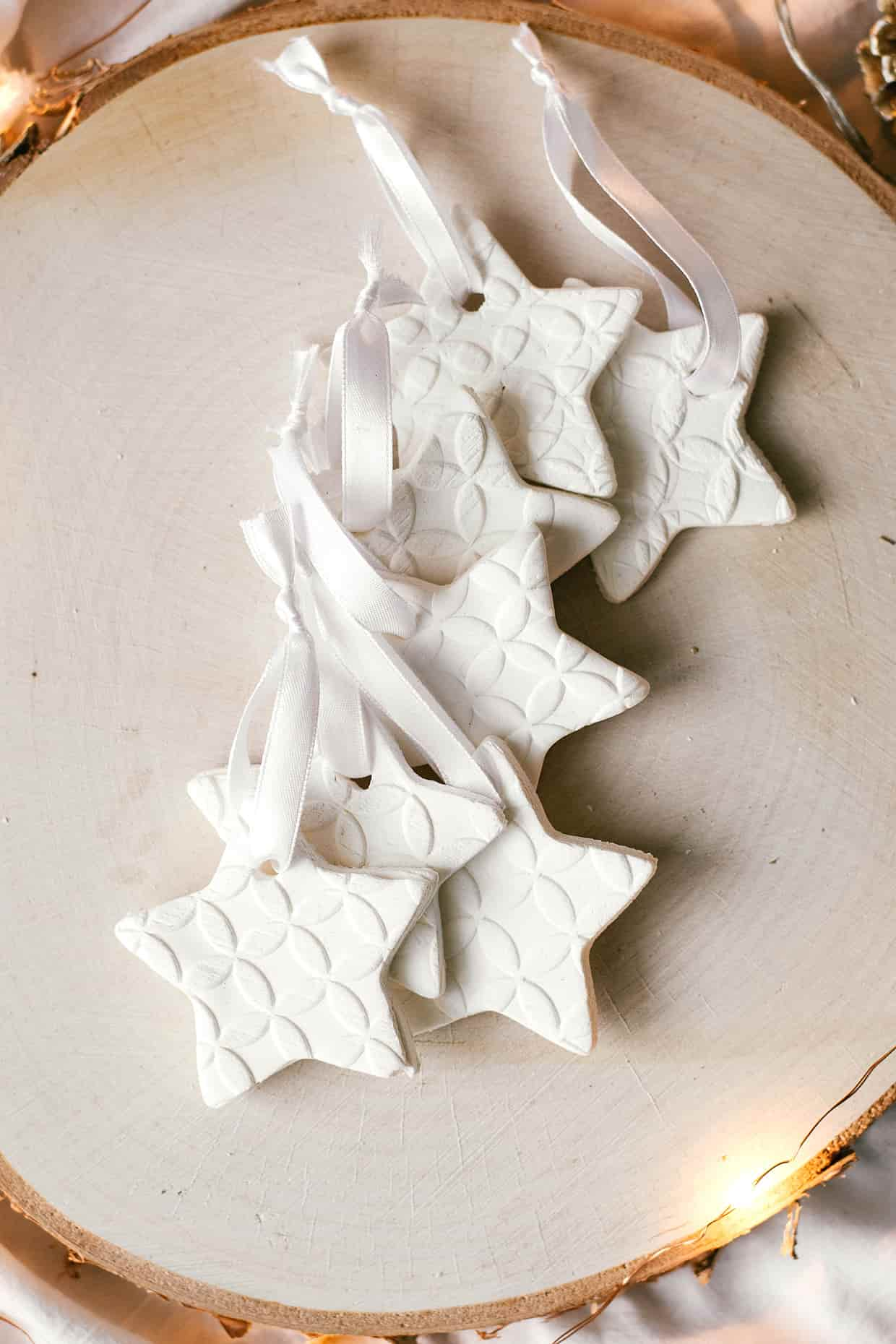 But over the years I've been leaning more towards calmer colors for my tree. Mainly white since it reminds me of snow. Unfortunately snowy winters have become a thing of the past, or so it seems.
I think this is why I love these homemade scented baking soda ornaments so much. They're snow-white, just perfectly crisp, and they look so pretty together with lights and the green of the tree.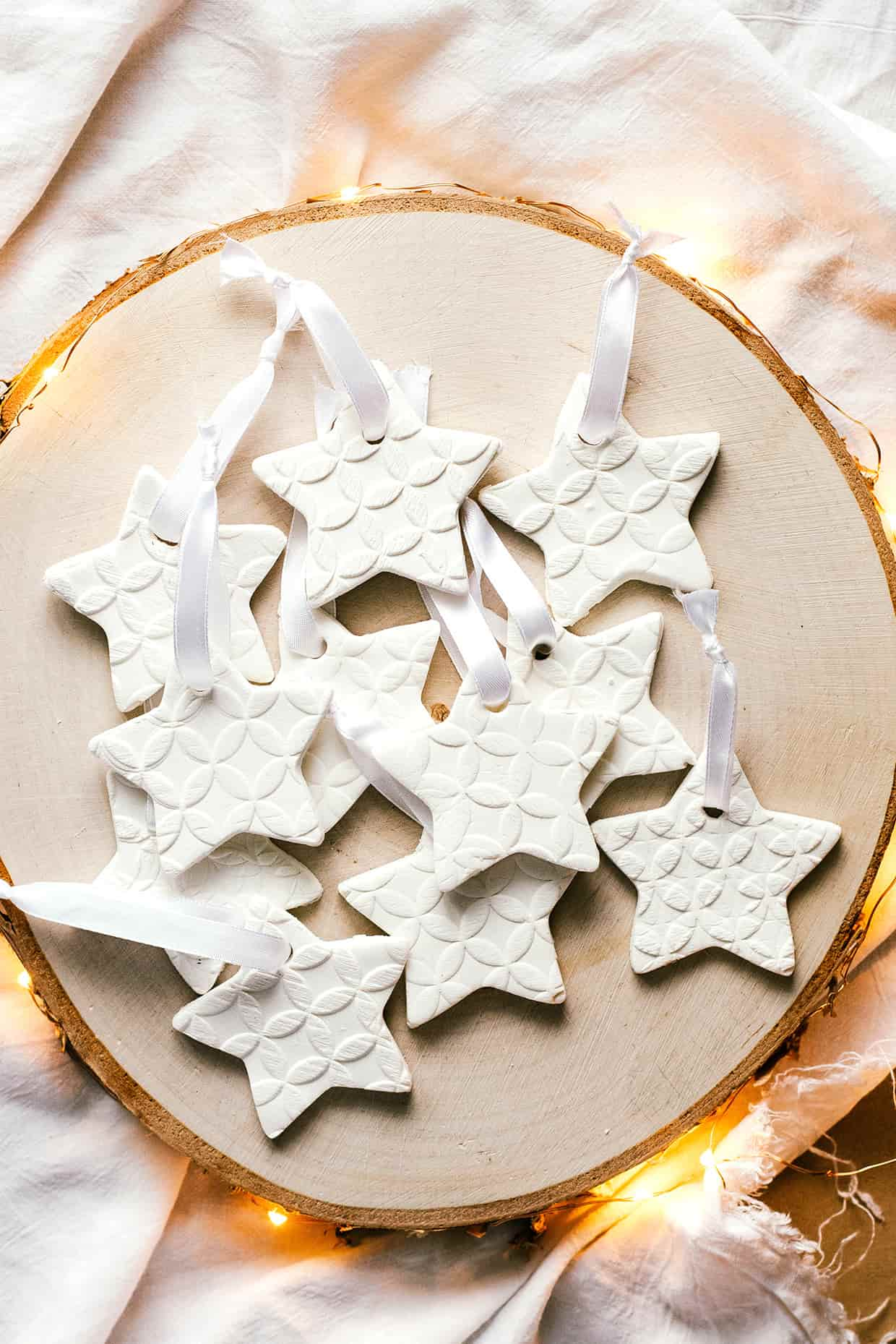 What makes baking soda ornaments so great?
They are affordable.
Simple to make.
Can be shaped any way you like.
Carefree activity to do, by yourself or with kids.
They're pretty!
Last for years.
Buying ornaments and various decorations can quickly add up. Isn't it crazy how a cute thing here and there can suddenly amount to a whole lot that be pretty expensive? But a pack of baking soda and cornstarch will hardly make a dent in your bank account while giving you a good amount of ornaments. I just love that!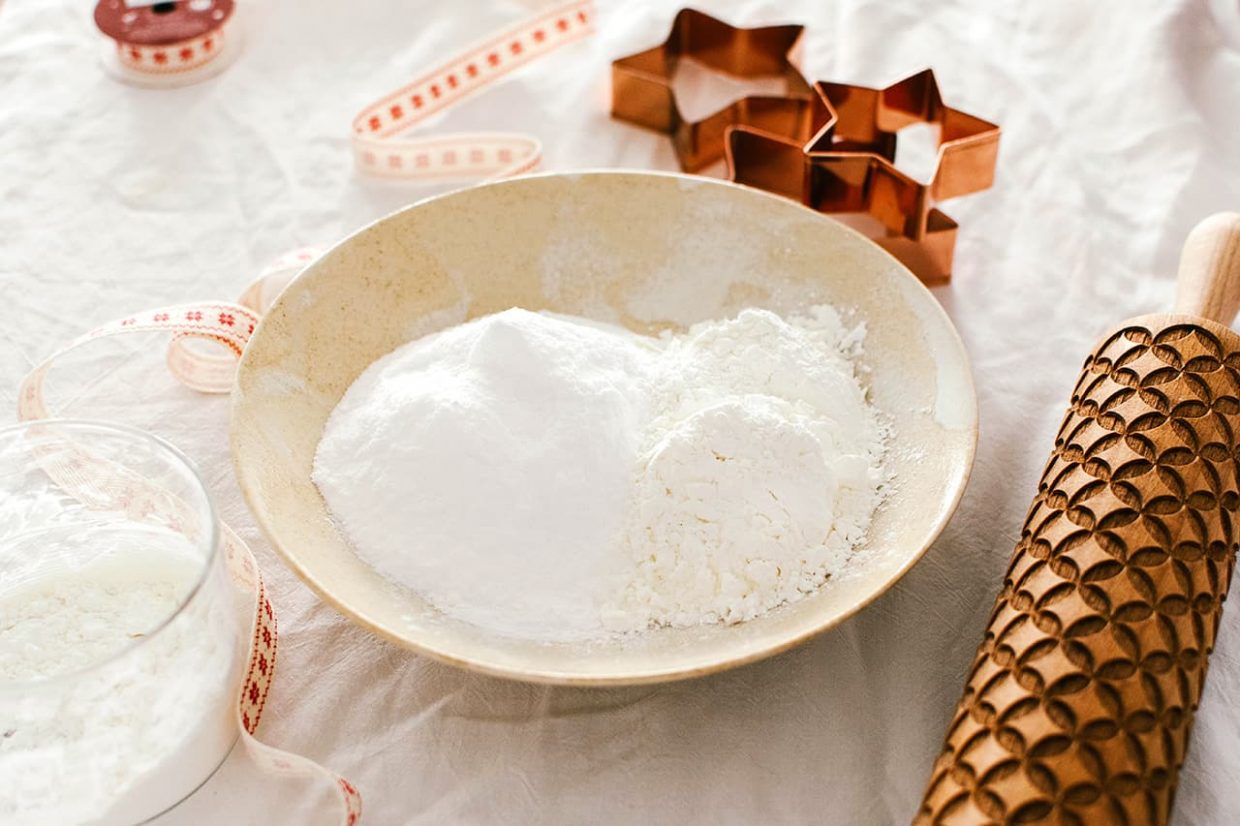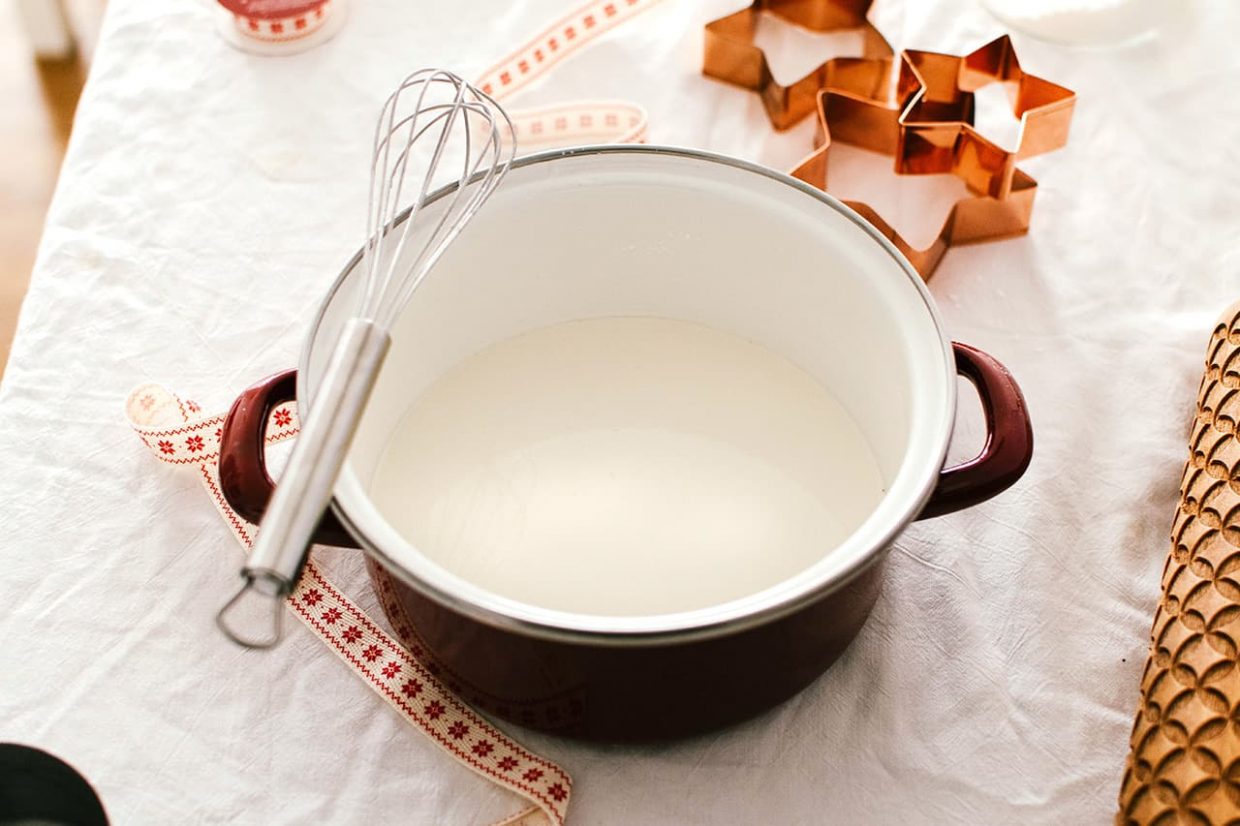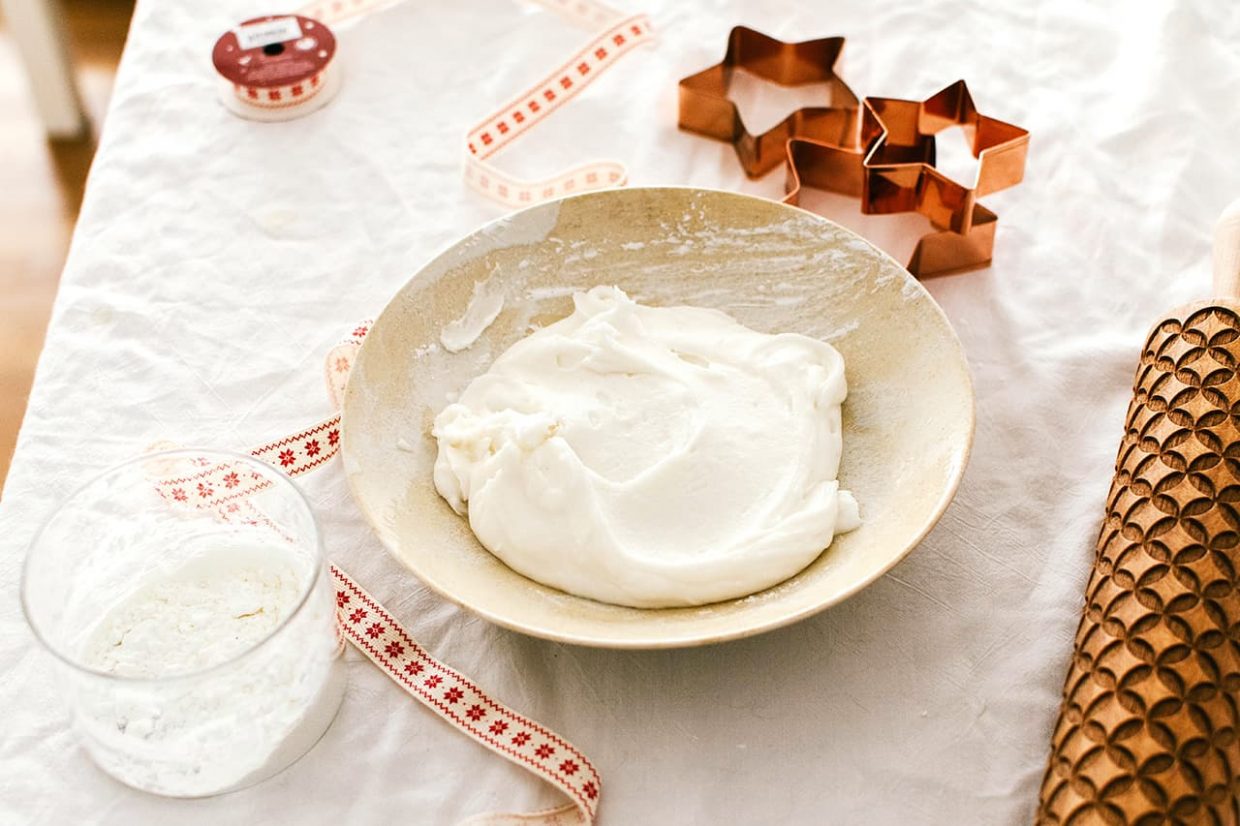 How to make baking soda ornaments?
They are so simple to make it's crazy.
Combine baking soda, cornstarch and water in a saucepan. Whisk until completely combined and your mixture looks like velvety milk.
Cornstarch is a bit tricky to mix-in. I find that it just sticks to the sides of the pot like glue. So make sure you're hitting all the sides of the pot with your whisk or use a spatula to double check you've scrapped off all the starch.
Then add your scents. I like to use either essential oils or food-grade oils that you can otherwise use for baking. Add a few drops. Even if the smell is overpowering, know that the final dried ornaments won't be that fragrant. So it's better to add too much than too little.
Cook this mixture over medium heat for a few minutes, whisking constantly, until it thickens into a paste. Remove from heat, give it another good whisk and transfer to a plate to cool to room temperature.
And then it's kneading time! Knead this lump of dough on a work surface, with a bowl of cornstarch on the side. You'll most likely have to add a few tablespoons of cornstarch to the dough. Just enough that the dough isn't sticky anymore. But it still has to be pliable. If it's too dry it'll crumble and crack and you don't want that.
Roll out the dough. At most 1/4 inch thin. Thicker is better than too thin, just because really thin ornaments can break more easily. But 1/4 inch as about ideal.
Cut out your shapes, lay them on a baking sheet lined with parchment and allow to dry completely.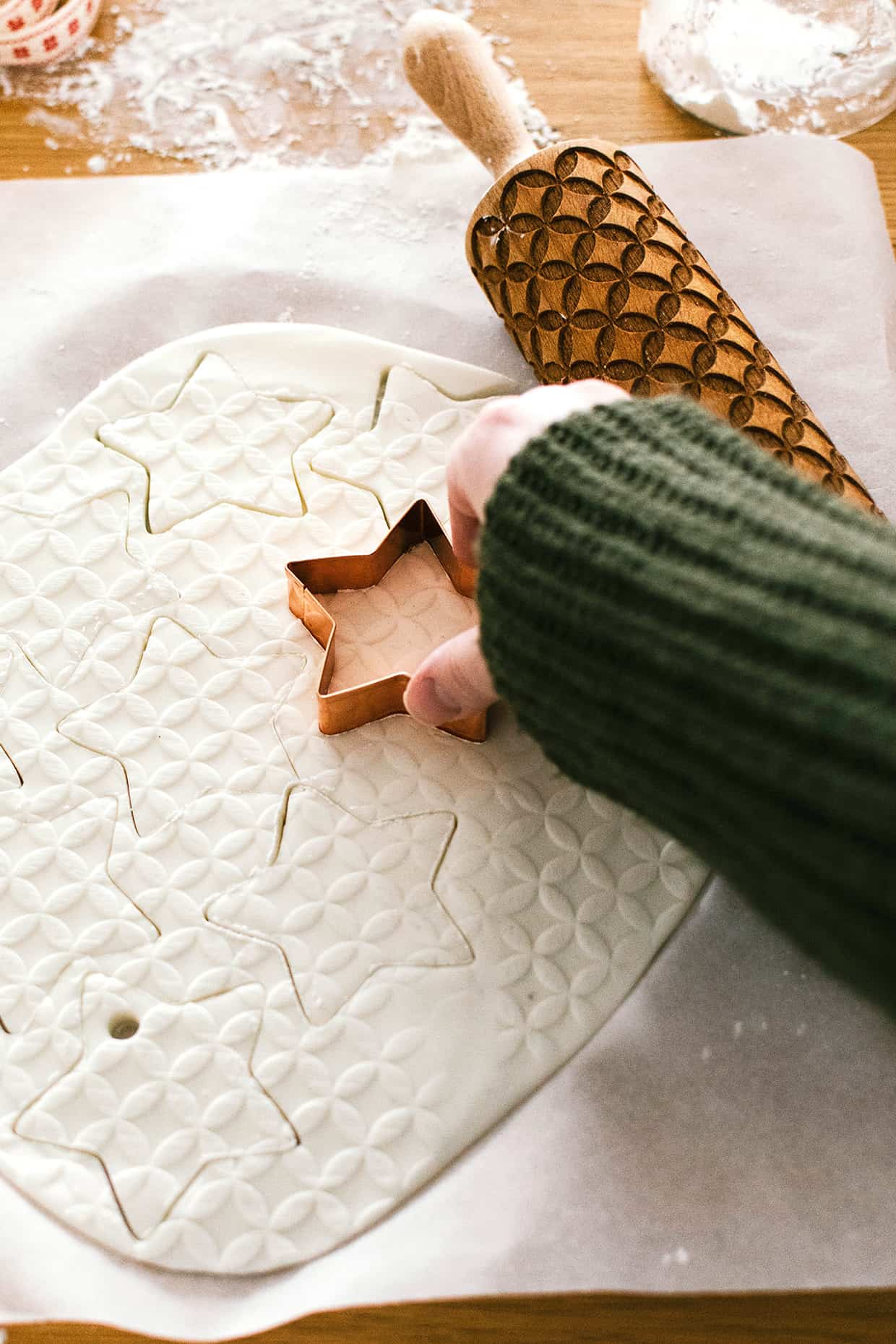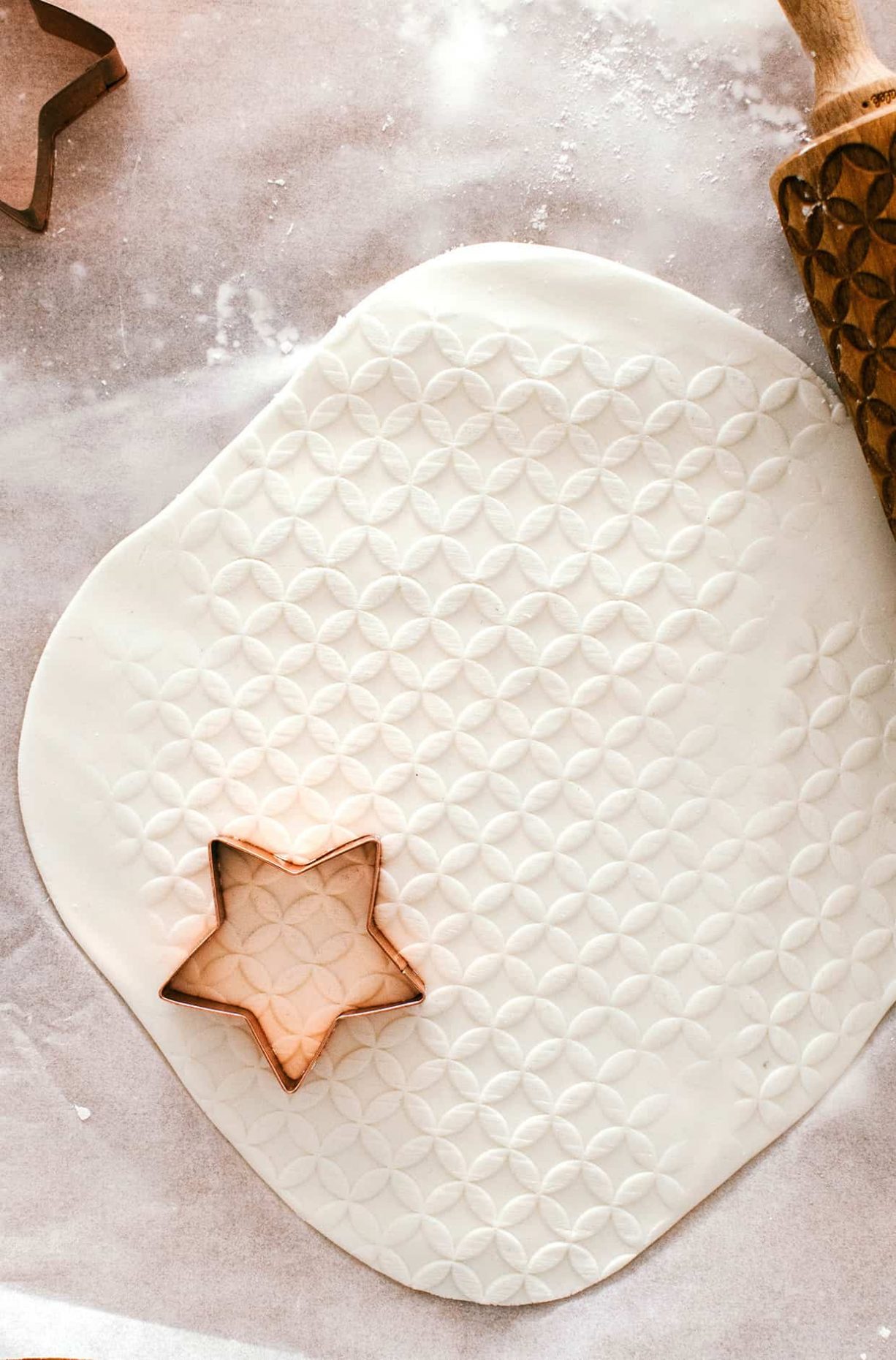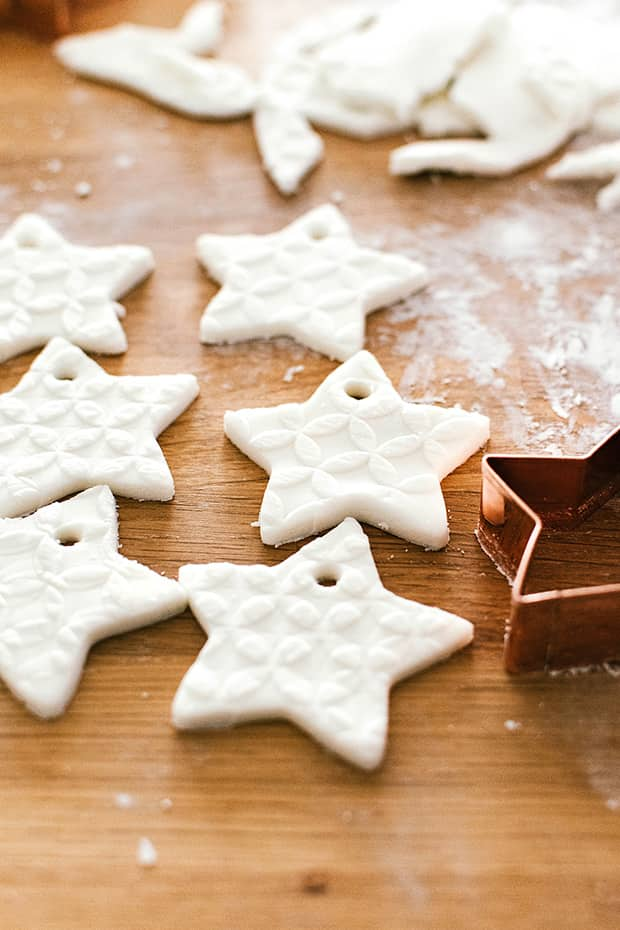 Can I make ornaments with expired baking soda and cornstarch?
YES! Of course only if the ingredients look and smell okay and aren't moldy, you can use them no matter what the expiration date says.
The reason for this is very simple: you're making ornaments, they're not edible.
Cornstarch is pretty indestructible anyway, as long as you keep it dry.
Baking soda might lose some of its strength with age, but you don't actually need it to do anything in this recipe. So if you wouldn't make cookies with expired baking soda because you're doubting its leavening strength, you can definitely make ornaments.
How to dry baking soda ornaments?
AIR DRY!
Okay, there are two methods for drying ornaments. One is air drying, the other is oven drying. Personally I prefer air drying.
The best way to dry ornaments and prevent cracking is by drying them on a baking sheet overnight out in the open (like on your kitchen counter or a partially opened oven). The next day you can check on them. If they still seem damp in the center, gently flip each one so they can dry in the other side as well.
I've never had an ornament crack by doing this. I like to make my ornaments in advance and give them full 2 days to dry before writing on them, adding ribbon or anything else.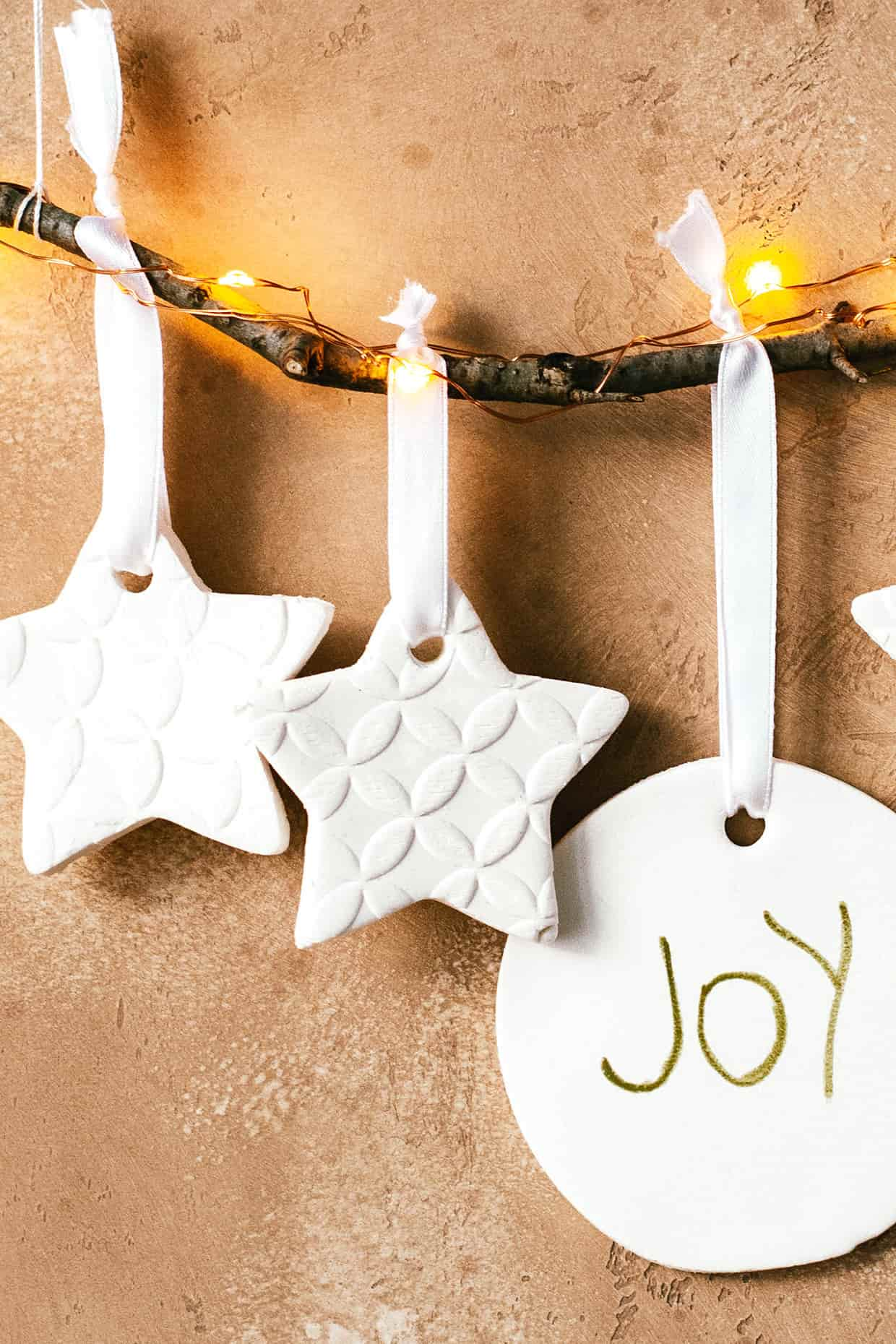 Drying ornaments in the oven:
The key is really low temperature. Set your oven to 175°F (80°C) and place baking sheet with your ornaments in the center of the oven. Check on your ornaments every so often, making sure they're not cracking, browning or similar.
Carefully flip the ornaments to the other side after about 40 minutes. And when another 30-40 minutes pass, you can flip them again and let them dry further.
How much time you need will depend on the size of each ornament, so just keep an eye on them (thicker or larger ornaments need more time than small ones). In the end, you can also turn off your oven and slightly open it and allow ornaments to dry like that.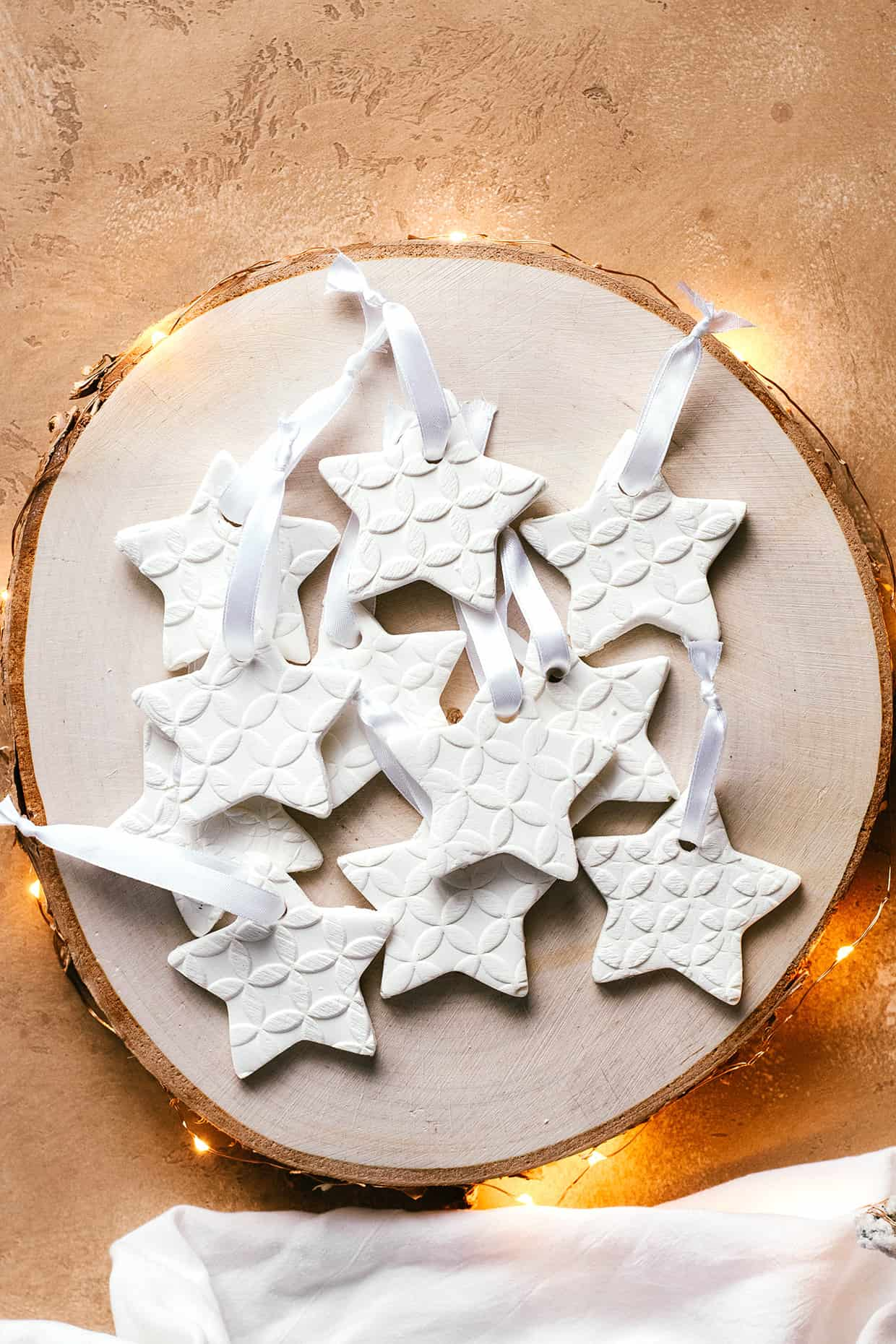 How to store ornaments
I like to store mine in an airtight container, layered between sheets of paper towels. They stay perfect like that and last for a few years at least. How rough you are with them plays a factor as they aren't indestructible, but even with that, I think having them for years is a pretty good deal.
Can you paint baking soda ornaments?
Yes! First it's important that your ornaments are completely dry. Then as you paint them, be conservative with how much you add to them and once you are done, allow the ornaments to dry completely once again.
Personally I prefer markers over watercolors, just because they're drier. So I'd say try drawing on them before painting, but you can do both.
Another great thing you can do is write messages on the ornaments. Simply brush each ornament with a soft clean brush first, to remove any specks of cornstarch still lurking around. Then write… or doodle!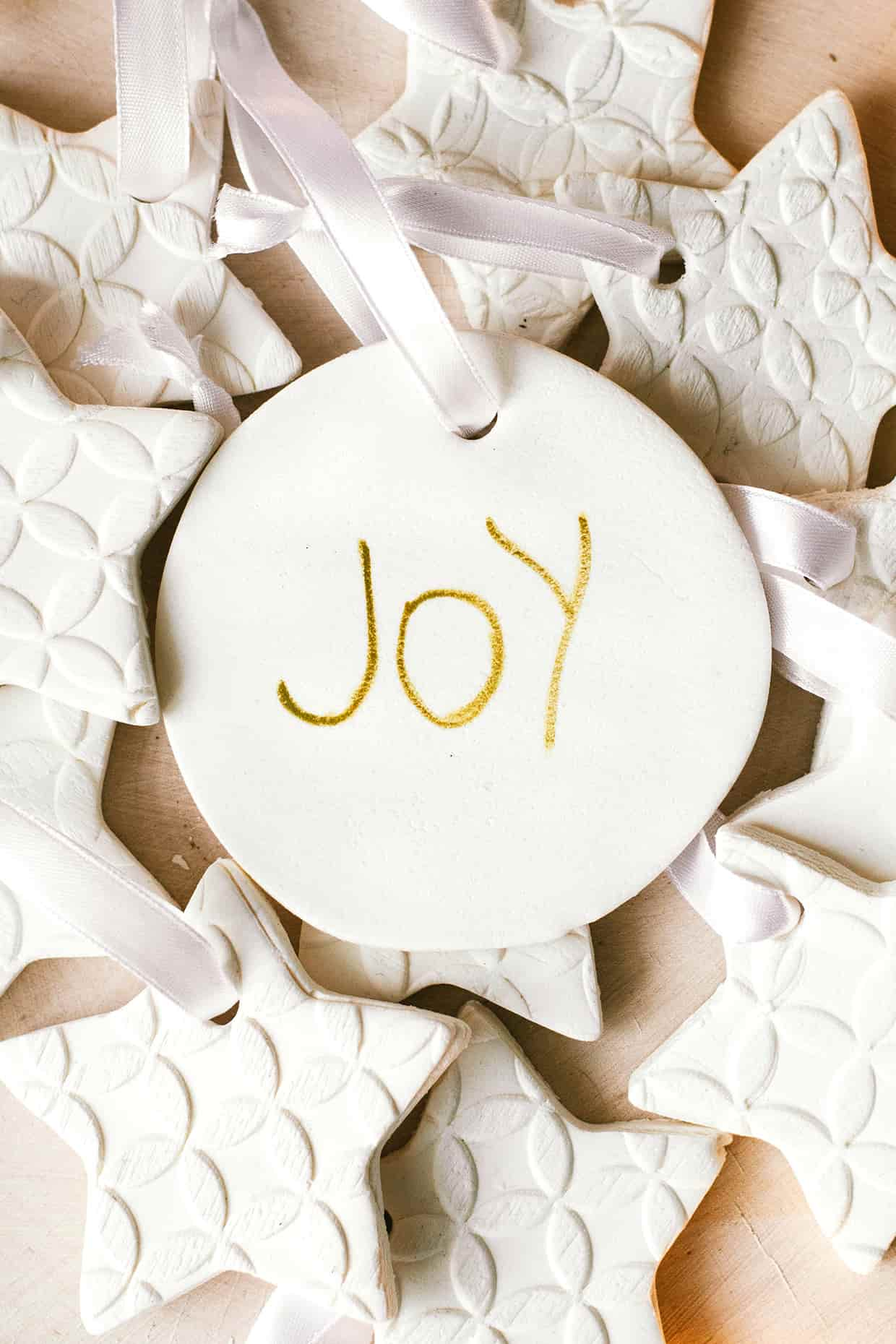 What to do with all the ornaments?
Put them on a tree! Use ribbons that fit into your color theme and hang them up. Just keep in mind that these ornaments can have some weight on them, depending on their size and thickness. If you have a natural tree, pick the thicker branches.
Make a garland!
Put them on a wreath.
Turn them into gift tags! Like mentioned before, you can very easily write on these once they are completely dry.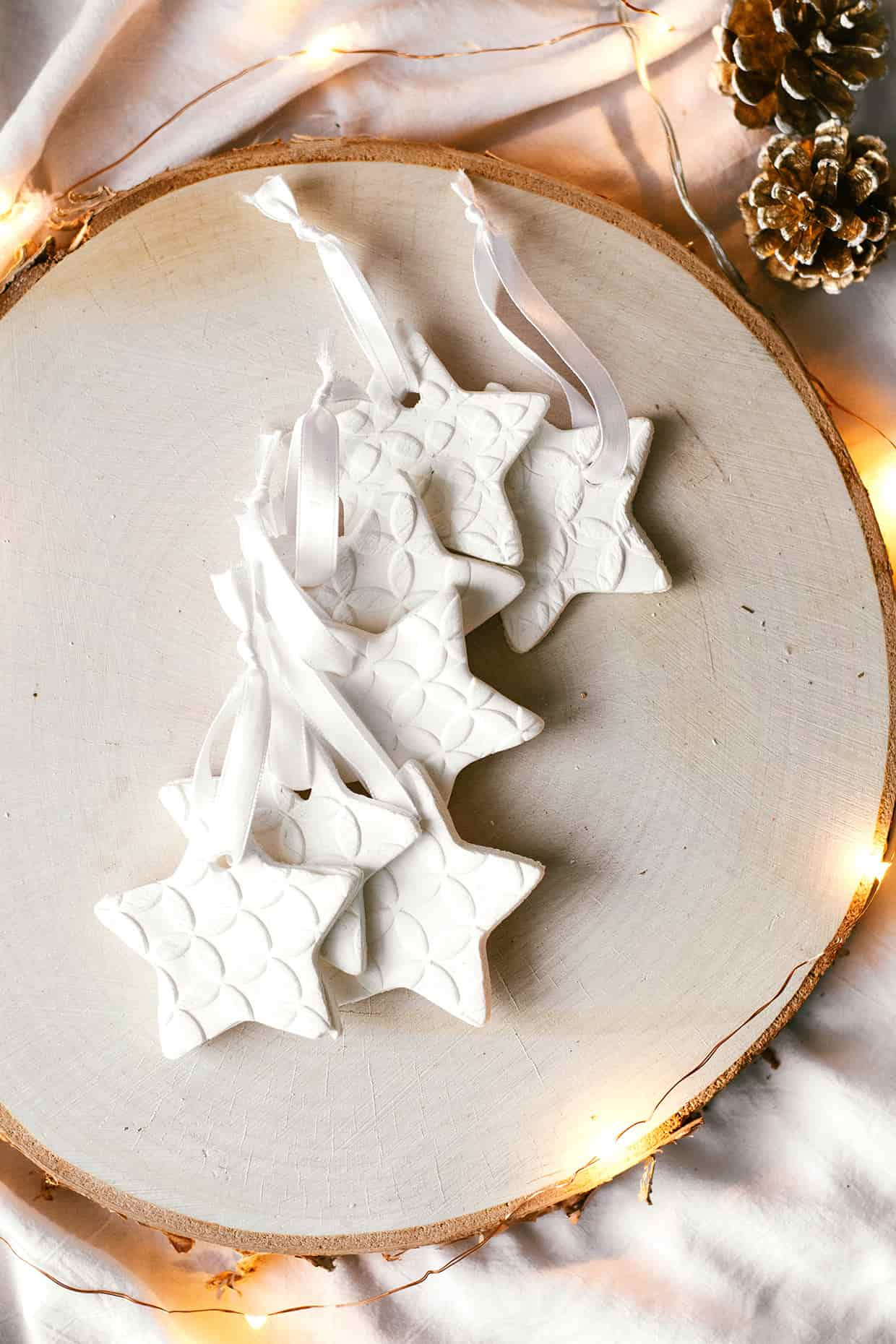 Making homemade scented baking soda ornaments is a staple winter activity for me. It's such a fun and calming thing to do. You can do it either by yourself or in company (of kids, adults or even pets, yes). There's no pressure to make perfect ornaments, no worries of them having to taste good (haha). It's just you, a blob of dough and an hour or two of carefree creativity.
Homemade scented baking soda ornaments
A carefree activity for adults and kids. Easy to make and affordable! 
Equipment
1 cookie cutter shape of choice
Ingredients
1

cup

(

270

g

)

baking soda

1/2

cup

(

70

g

)

cornstarch

(more for kneading)

3/4

cups

(

180

ml

)

water

1

bottle

essential oil

(orange, lemon or cinnamon )
Instructions
Make the mixture: Mix baking soda and cornstarch in a small saucepan. Add water and whisk until soda and starch are dissolved and the mixture is smooth. Add 5-10 drops of each oil. (The scent will be strong, but it all works out in the end.)

Cook over medium heat, stirring constantly, for about 3-5 minutes or until thickened. As you stir, scrape the bottom and sides of the bowl. The mixture will first get bubbly before it gets thicker and you need to scrape the pot to get all of that combined.

Once the mixture is thick like toothpaste,  remove it from the stove. Transfer dough to a cool plate and allow it to cool to room temperature (about 30 minutes).

Place dough on your work surface. Dust with cornstarch and knead the dough into a smooth ball. If it's sticky or too wet add cornstarch, tablespoon by tablespoon and keep kneading until it's less sticky.  It should be pliable, but not sticky wet nor dry and crumbly. 

Add more cornstarch to your work surface and roll out the dough to no less than 1/4 inch (6mm) thin. Use a normal rolling pin for rolling. Only use an engraved rolling pin for a final decorative roll-out. 

Cut out desired shapes and transfer them to a baking sheet lined with parchment paper. Cut out holes (for hanging the ornaments) with a straw. Let ornaments air-dry overnight. Flip them over the next day and let them dry until they're completely set, ideally another day. The longer you wait the better.
Notes
I like to use essential oils or food-grade oils that you would normally use in baking. 
When rolling out your dough, roll it with a classic smooth rolling pin until you get it to the proper thickness. Then roll it just once with a decorative engraved rolling pin. 
To avoid any possible cracking, I like to air dry my ornaments over a period of two days. I always get pretty ornaments this way.
To dry ornaments in the oven, set your oven to 175°F (80°C) and place ornaments on a baking sheet lined with parchment paper. Dry your ornaments like this for 40 minutes, then flip them on the other side and dry for another 30-40 minutes. Check on your ornaments every so often, making sure they're not cracking, browning or similar. 
Hop onto Instagram and check my story highlights to see a video of me making these ornaments. 
Email recipe
Pin Recipe
Recipe first published in November 2016, revised and updated in November 2020.