This cinnamon orange sugar scrub is the perfect winter pick-me-up. Nourishing coconut oil will leave your skin soft, while fragrant cinnamon and orange will make you smell like the holidays! This sugar body scrub makes a great DIY gift too, ideal for self-care Sundays.
There's just something about homemade things that makes them extra special. Whether that is a box of home-baked cookies or a jar of body scrub, like this cinnamon orange sugar scrub. I think it's a nice way to show love, either to someone else or to yourself.
And you know by now how much I love crafty things, I mean just look at these ornaments. Making homemade body scrub is right up there on my yearly list of things to do when it gets dark way too early and way too cold to do anything sensible outside. When that happens I'm all about baking very sweet things, expanding my skincare routine, hiding under blankets… you know, the usual.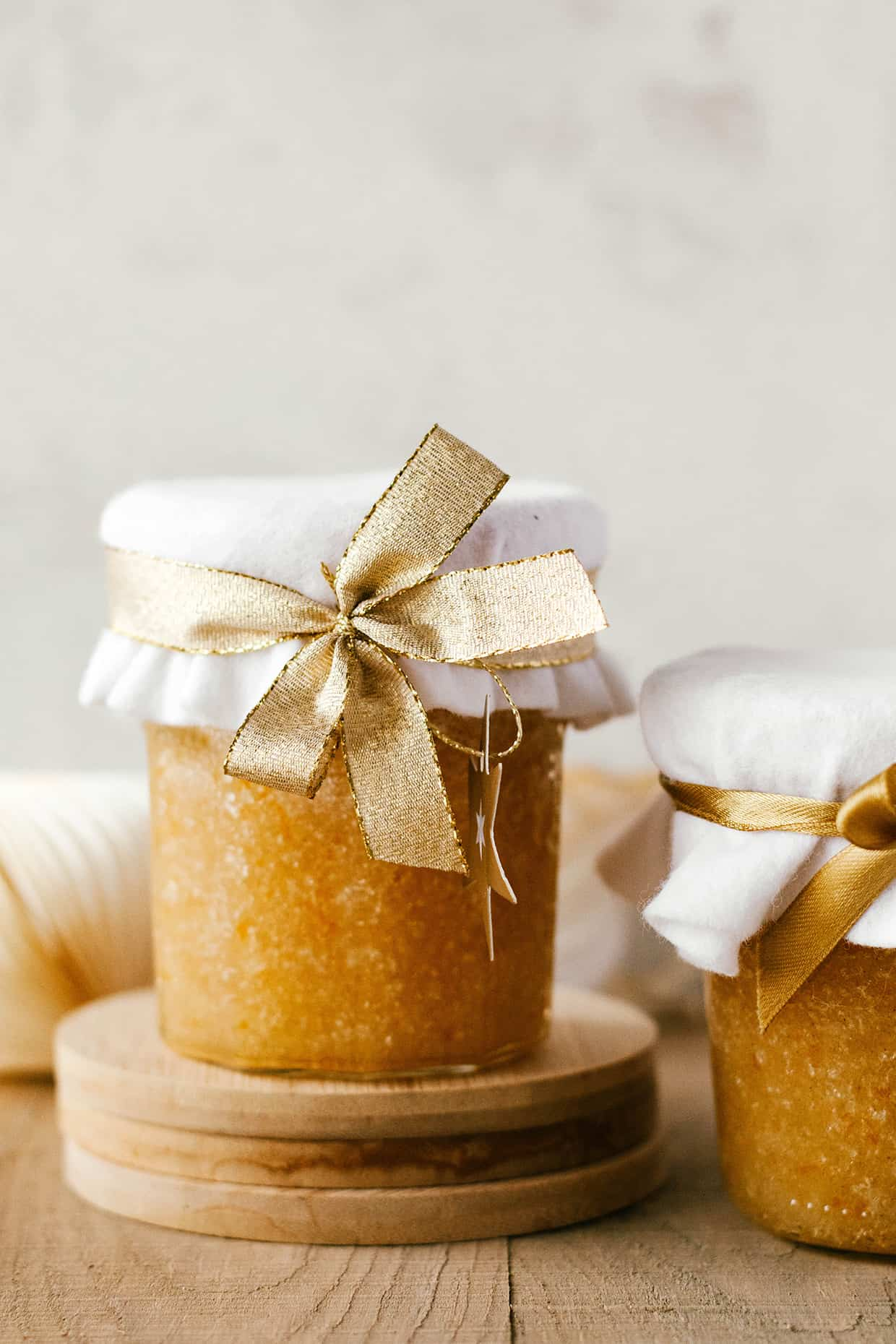 My favorite things about this cinnamon orange sugar scrub
It's really easy to make.
It looks like gold sand!
And smells like festive winter heaven.
It is just the best to use before shaving my legs.
Very adaptable to personal preferences (use a different oil and you get a whole new thing!)
Affordable!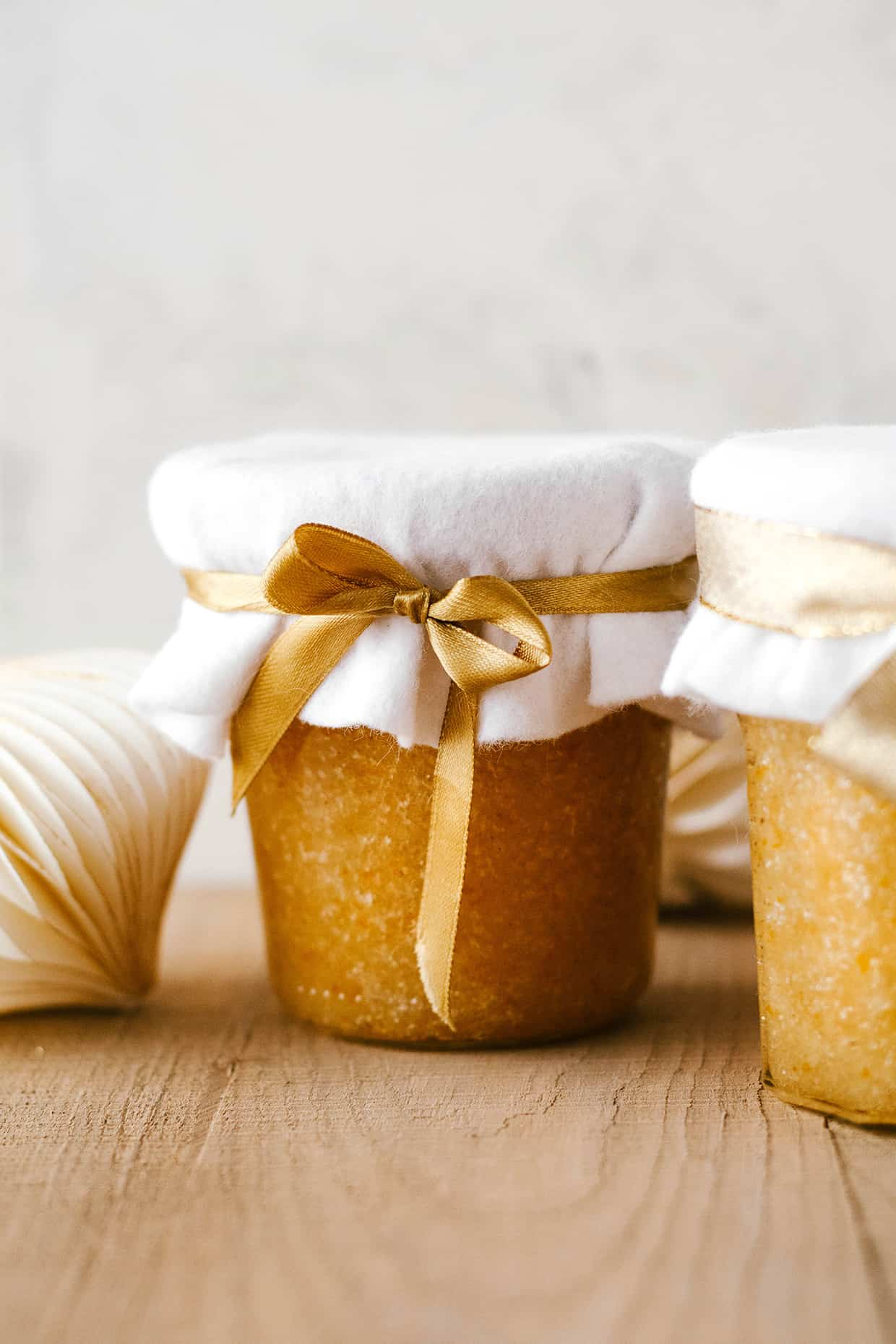 How to make homemade body scrub
This is a very simple, no-fuss body scrub recipe. I make it with a mix of white granulated sugar and organic coconut oil.
The final texture resembles wet sand. To that I add some orange essential oil, orange zest and ground cinnamon.
If the idea of wet sand isn't appealing to you, don't worry! A few extra tablespoons of oil make it more spreadable. Just keep adding oil slowly until you get the consistency you really like.
Once you get what you like, transfer the sugar scrub to a glass jar and close tightly. Keep it in a cool and dark place. Or just in your bathroom (where I keep mine).
It's best if you use a wider-mouth jar, because it makes scooping out the scrub very easy.
Adding orange zest to sugar scrub
You'll notice that I am using fresh orange zest in this. I finely grate it (with a zester like this one) and it basically gets preserved in the mix of sugar and oil. The vibrant orange color and moisture of zest act like dye in the sugar, turning it into liquid gold together with cinnamon.
The color is honestly my favorite thing about this cinnamon orange sugar scrub. It really looks like GOLD!
Best type of sugar for homemade sugar scrub
As mentioned I'm using normal white granulated sugar. I know the size of crystals can vary between brands. My sugar is on the finer side which makes the scrub feel really lovely.
If you want a more caramel-like feel of the body scrub, you can definitely use some turbinado or demerara sugar in the mix. Or even a touch of brown sugar, which is more moist and more like sand and can be mixed into the scrub beautifully.
Tips on gift-wrapping the jars
My favorite way to gift-wrap the body scrub is by using a combination of glass jars and felt fabric.
You can't go wrong by using small Weck jars, unique jam jars or anything glass, really. Glass is the best to keep the scrub fresh, the easiest to clean and looks the prettiest in my opinion.
To make the jars more festive, I cover the lids with felt. I like it because felt is a great no-sew material. You don't have to hem it and it won't tear or fray.
I cut out felt circles and cover the lids. Then I lock each piece of fabric into place with an elastic band. This secures the felt cover, so that it won't move at all as you wrap a string around it. How perfect is that? I then add the ribbon.
You can also add a tag explaining what the secret gold thing in the jar is. Or you can attach that to the lid of the jar before covering it with felt.
How long does homemade body scrub last for?
Because you are using both sugar and coconut oil, this scrub should last for months in theory. But I like to use mine up in about a month. This recipe makes a small amount (less than two cups) so using it all up isn't too difficult.
A few things you can do to prolong the shelf-life is use a wider-mouth jar and a clean scoop each time. This makes it easy to get the scrub out, without introducing anything to it – like bacteria and water or moisture. Tightly close the jar after each use.
This cinnamon orange sugar scrub is a super easy DIY project for the colder months. A mix of nourishing coconut oil and aromatic citrusy sugar will keep your skin soft and your senses satisfied. Makes a great homemade gift for your loved ones that you can make ahead of time!
Cinnamon orange sugar scrub
Easy to make, nourishing sugar body scrub with coconut oil. Makes a great gift.
Equipment
2 glass jars (use small jars)

1 sheet white felt

ribbon
Ingredients
1/2

cup

(

120

ml

)

melted coconut oil

2

cups

(

420

g

)

granulated sugar

20-30

drops

orange essential oil

zest of one organic orange

1

teaspoon

ground cinnamon
Instructions
Combine coconut oil with sugar in a bowl and mix until you get the texture of wet sand. Add essential oil, orange zest (if using) and 1/2 teaspoon cinnamon. Stir until incorporated.

At this point add more cinnamon or oil, depending on your preference, if you want a darker or more fragrant scrub. Also add more coconut oil, about 2-4 tablespoons, if you want a scrub that looks more like a paste. 

Spoon scrub into jars, decorate if desired and store in a cool and dark place (or just in your bathroom). Ideally use up within one month. 
Notes
Feel free to use other types of essential oils or a combination of a few different scents. 
For a more decadent scrub, you can add some Demerara or Turbinado sugar to the mix.
Don't use this scrub on your face! Or any very sensitive area. It's a great scrub to exfoliate with before you shave your legs, for example, but not something you want to rub over sensitive areas.
Email recipe
Pin Recipe
First published in December 2015, revised and updated in December 2020.
SaveSave