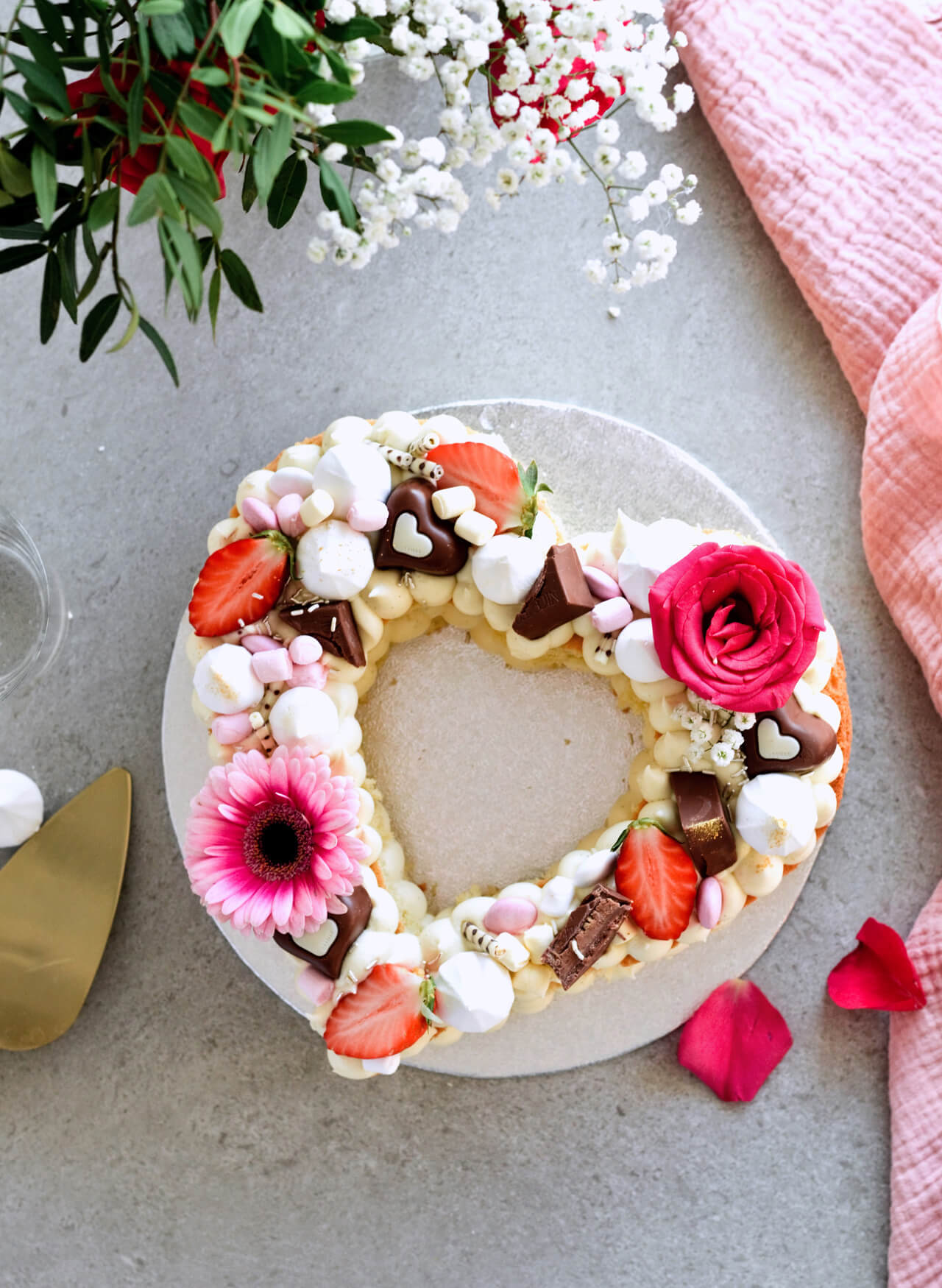 Happy Valentine's day! … HA! Just kidding. I did originally make this cake for Valentine's and didn't post it then, because I decided that heart cakes are a year-round thing, not a V-day only thing. Am I right?
Here's the reasoning behind my belief that this white chocolate cream cheese naked heart cake is perfect for any special holiday:
The cake is cute. It's simple and beautiful and if you want to say "hey I care about you" to someone, you can SO do that with this cake.
The recipe allows you to change the shape of the cake. It can be a heart, it could be a circle, a number or a letter or you can skip all the slicing and make a simple 2-layer cake. Even a square one!
White chocolate cream cheese frosting is one of the best frostings out there. You add flowers and berries and you have a spring or summer cake. Which also makes it a Mother's day cake. And a wedding cake.  Depending on decorations, this could also be a simple Sunday cake.
If you want to turn it into a wintry affair, you can too. Skip the flowers, add more chocolate, macarons and some gold leaf and that's it.
See, it's a year-round cake.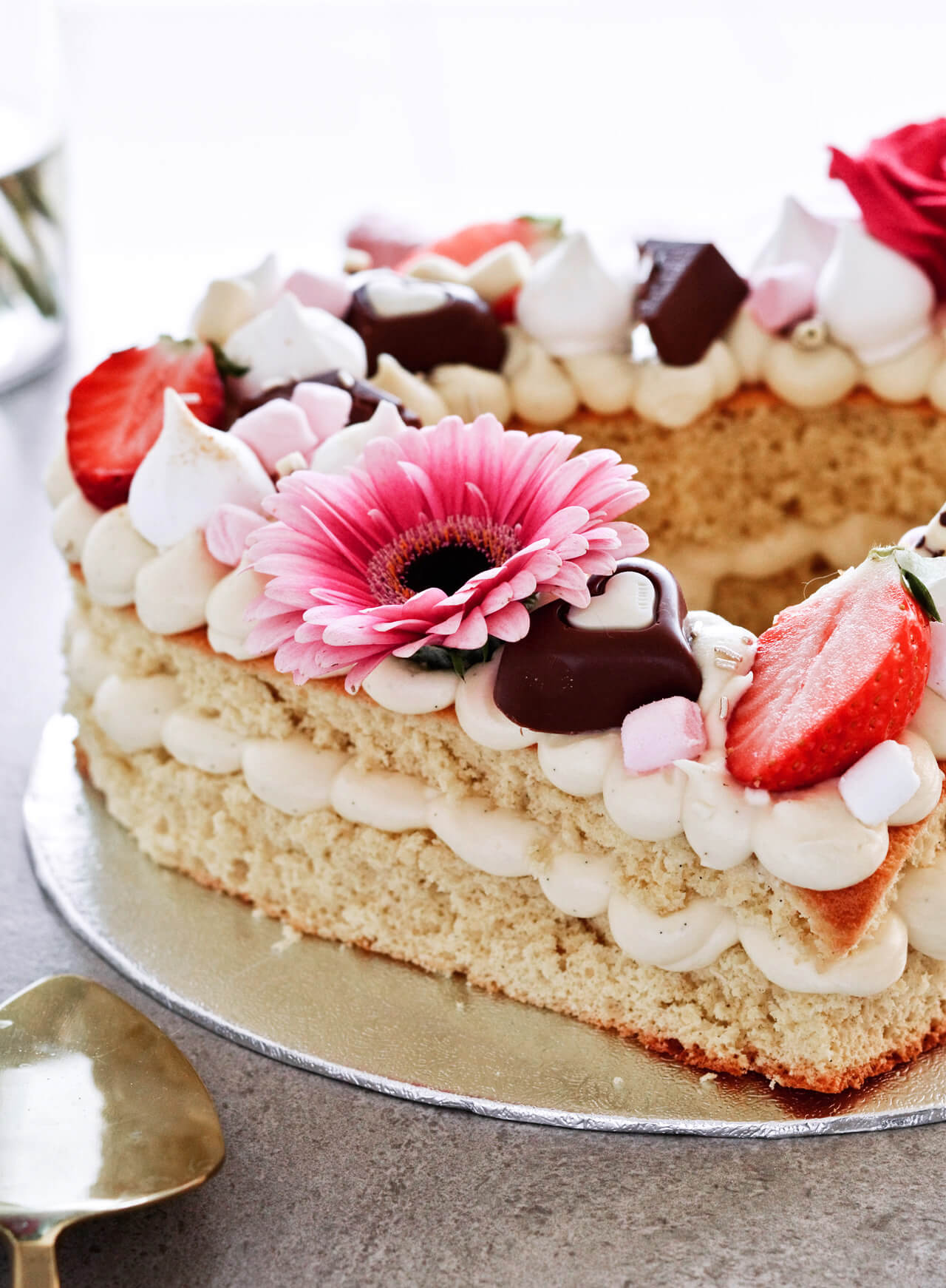 If you're on Instagram (and you know I am), then you may have seen alphabet cakes getting more and more popular. And I was definitely inspired by them. However, one thing I noticed is that all of the alphabet cakes seem to be made with sugar or butter cookies. Which in theory sounds nice, but I don't know what happens with the cookies as you cut into the cake?
So, to avoid any of that, I just borrowed the idea and made this white chocolate cream cheese naked heart cake a proper cake. The layers are made with a somewhat classic cake batter, which contains ZERO FAT.
Yes, you read that right. The cake portion is made with no butter and no oil. How amazing is that? Instead, you have 4 eggs that give it that oomph. And an abundance of vanilla. The end result is a lighter, more airy cake, with a pleasant, modest flavor.
[one-half-first]
[/one-half-first]
[one-half]
[/one-half]
But look, the cake layers are here for support. It's the white chocolate cream cheese frosting that makes this cake amazing. I am just obsessed with it, as it's the perfect pairing of white chocolate and cream cheese, made lighter and smoother with the help of whipping cream. I am in no way exaggerating. This frosting has the most amazing mousse-like texture and it's so good you could serve it on its own. And you'll want to eat it all right away too.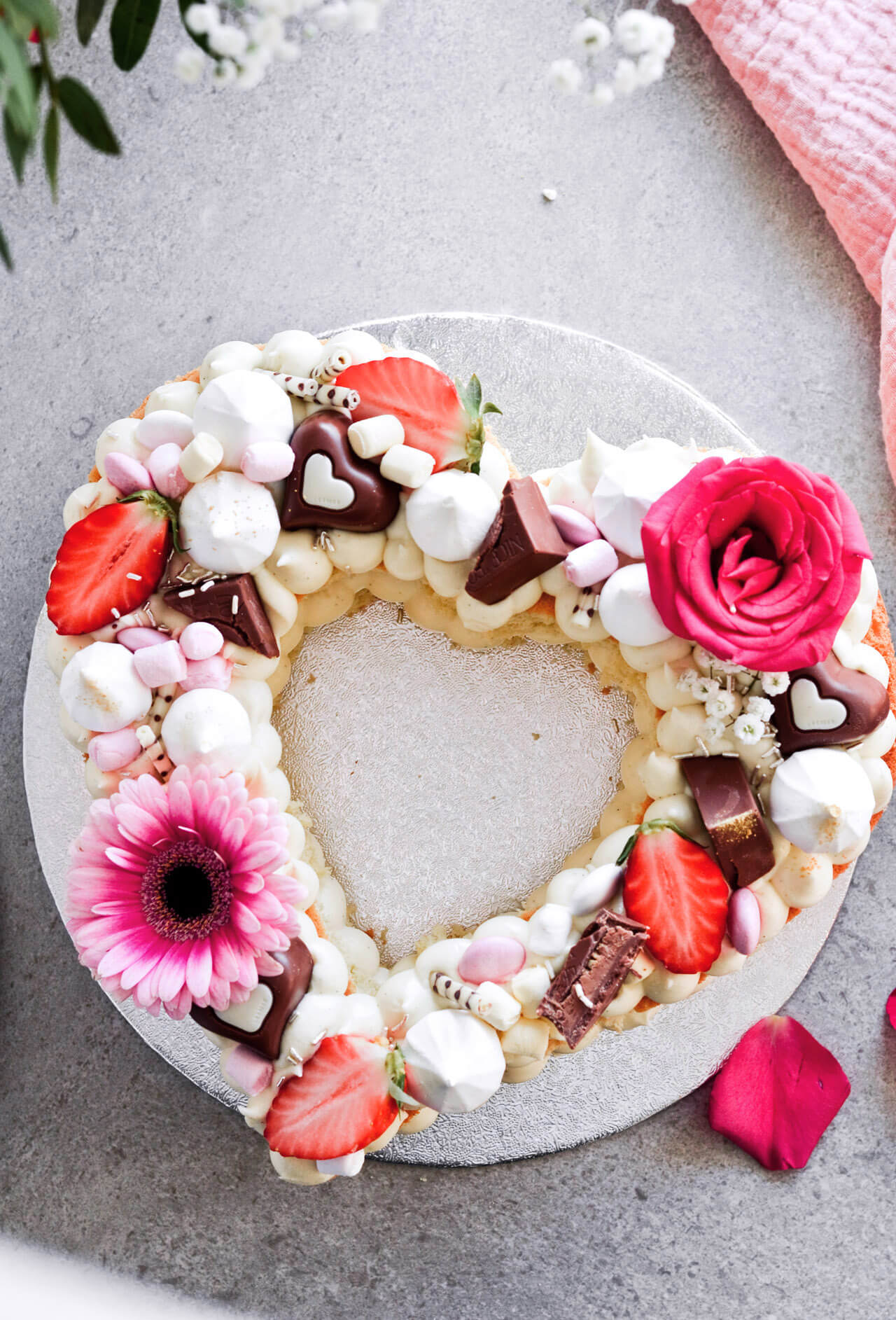 Another thing to keep in mind is that both the cake layers and the frosting can be made ahead. You can even assemble and decorate the cake ahead of time, it's that good. Just remember that the refrigerator is your friend as this cake needs and loves the cold.
The decorations are the final touch, the cherry on top. I wanted a fresh, vibrant look so I picked strawberries, flowers, meringues, chocolate and candy. You can create a simpler combination or use different fruit or… you can just do anything you want. A lot depends on the occasion you're making the cake for, so just have fun.
[one-half-first]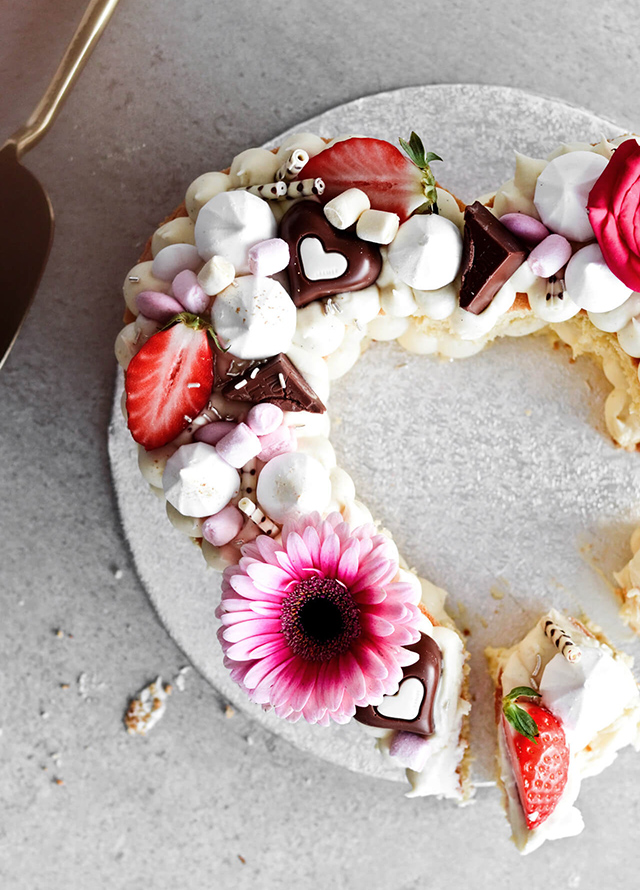 [/one-half-first]
[one-half]
[/one-half]
As you read through the ingredients list, you'll see that this truly is a very simple cake. You don't need that many things. With just a little time and patience and love, you can make this wonderful white chocolate cream cheese naked heart cake too. <3
Print
White chocolate cream cheese naked heart cake
A cake you'll fall in love with!
Author:
Yield:

6

-

8

pieces

1

x
Category:

Dessert
Cake
4

large eggs, divided

1 teaspoon

lemon juice

200g

(

1 cup

) white granulated sugar, with

50g

(

1/4 cup

) saved on the side

1 teaspoon

vanilla bean paste or extract

60

ml (1/4 cup) warm water

1/4 teaspoon

sea salt

250g

(

1 3/4 cups

) cake flour

3 teaspoons

baking powder
Frosting
300g

(

11 oz

) white chocolate, finely chopped (I use coverture chocolate)

120

ml (1/2 cup) whipping cream

300g

(

11 oz

) cream cheese, at room temperature

2

TBSPs powdered sugar

1 teaspoon

vanilla bean paste or extract
Toppings
store-bought meringues
fresh strawberries
various chocolates and candy
fresh flowers
Tools
28

-cm | 11-inch round cake pan (I use a springform pan)
pastry (piping) bag
large pastry tip
heart shape (print 2 copies, then cut out and glue the halves together)
Instructions
Preheat oven to 180°C (355°F), place a rack in the lower third of the oven. Grease the bottom and sides of your cake pan. Line the bottom with parchment paper, lightly oil the parchment and dust the sides of pan with flour. Set aside.
Make cake:
Place egg whites in a large bowl. Add lemon juice and beat egg whites on medium speed for a few minutes, until soft peaks form. Add 1/4 cup of sugar and keep beating until hard peaks form. Set bowl aside.
In another bowl, whisk together the egg yolks, remaining sugar, vanilla paste, salt and water. Sift in the flour and baking powder. Mix, gently, until the batter comes together.The mixture will be thick, but if it's so thick you're having trouble whisking, add water by the teaspoons until it's easier to handle.
Next, gently fold in the egg whites in 3-4 additions. These will transform the dense batter into a fluffy, smooth one. Pour batter into the prepared pan and bake cake for 30 minutes, until the top is golden brown and a skewer inserted in the center of the cake comes out clean.
Leave the cake in the pan for 10 minutes, then flip the pan upside down on a large plate. Remove the pan, peel parchment paper from the cake and let cake rest for at least 2 hours. Once cool, you can also wrap cake in plastic (cling) wrap and store it in the fridge overnight.
Make frosting:
Place chocolate in a large bowl. Heat whipping cream in the microwave (or on the stove) until it's hot to the touch, but not boiling. Pour over the chocolate. Wait 1 minute, then begin gently whisking the chocolate and the cream, until the chocolate is completely melted and cream incorporated. Cool to room temperature.
Place cream cheese in a large bowl and beat until creamy, 30-60 seconds. Whisk in sugar and vanilla paste. Add the melted chocolate. Beat on high speed until the chocolate is fully incorporated and the frosting smooth. The frosting will expand a bit and gain some volume, but it'll be smooth and not hard (like whipped cream would be). Cover mixture with plastic wrap and chill in the fridge for an hour or overnight, until the frosting sets.
Assemble cake:
First, split cake in two layers using a serrated knife. Starting with one layer first, take the heart stencil and place it on the cake. Cut out the shape with a sharp knife. Do the same with the second half.
Take frosting out of the refrigerator. Fit the pastry bag with the tip, fill the bag with frosting and twist it at the end so it closes. Place first cake layer on a large plate. Pipe little dollops of frosting all over the cake in a single layer, using about half of the frosting. Cover with second layer and repeat.
Decorate cake with strawberries, chocolates, candy and fresh flowers. Chill until serving time. (The cake will hold up really well overnight too.)
Notes
About leftover cake
Use the cut-out smaller heart layers for a mini heart cake. You should have a tiny amount of frosting left too, so it works out!
On melting chocolate
If your chocolate chunks are too big or cream not hot enough, sometimes not all of the chocolate will melt. This is perfectly okay. When this happens, set up a double boiler and place the bowl of chocolate over the simmering water. As the chocolate begins to melt, stir it with a spatula. Once it's warm to the touch and looks almost completely melted, remove it from heat and keep whisking until it's completely smooth.
Cutting the cake
If you don't want a heart cake, you can make any other shape or simply skip the slicing and measuring and make a simple 2 layer cake. Also know that a chilled cake that has had time to set is much easier to cut.
Decorations
I left the decorated cake in the fridge overnight and it still looked perfect the next day. However, I recommend you add things like meringues, marshmallows and sprinkles no more than a few hours before serving, as moisture from the frosting can melt them if left on overnight.
The flowers, especially if they are in perfect conditions when placed on the cake, hold up super well. Just make sure you wrap the bottom of the flowers with plastic wrap or tin foil before sticking them into the cake.
You'll notice I didn't brush the cake layers with liquid, which is usually done to moisten the cake. I didn't want the cake to be really wet and risk it falling appart because of it's special shape. However, I think a light brushing of simple syrup or softened jam would add a nice flavor to the cake.
If you're making a simple, round, 2-layer cake, do brush the layers with something (even milk will work). Personally, to make a more refreshing cake, I'd add chopped strawberries on top of the first layer of frosting.
SaveSave
SaveSave
SaveSave
SaveSave
SaveSave