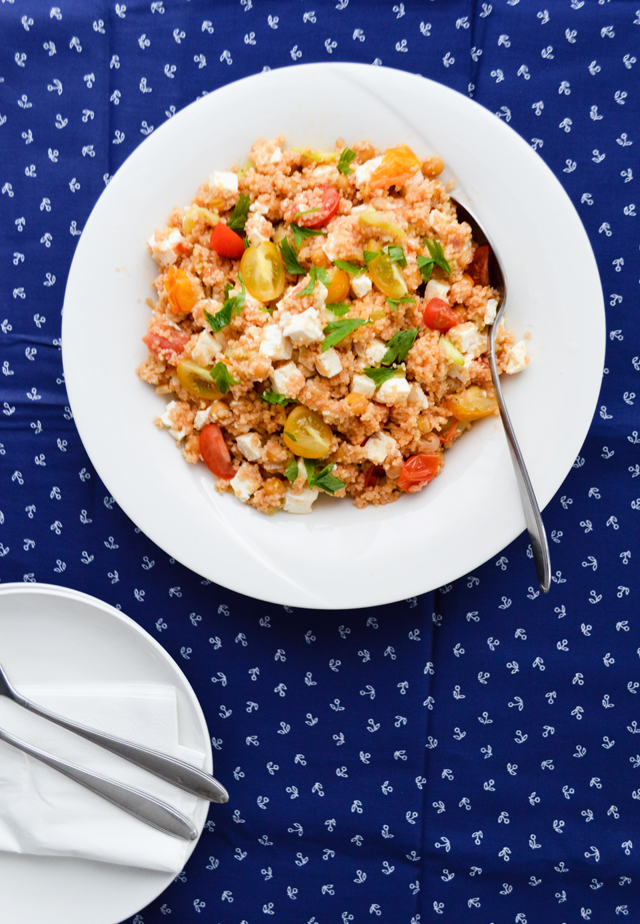 It's recipes like this one that make me wish I had a garden. I don't think I've ever told you about wanting a garden, but I do want one. I just like the idea of walking down the lawn to a little corner on my property (future "dream" property) and picking the fruits of my labor.
That is such a cliche but it is where I see myself in the future. I do know having a garden isn't all fun, it requires work and effort, but I think that if my 70-year-old grandparents can still do it, I could too some day.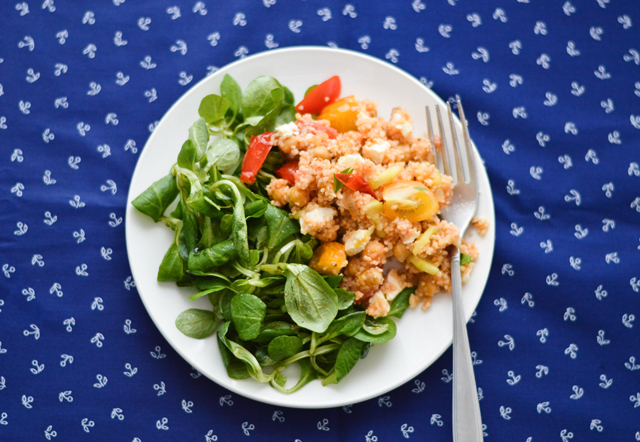 Anyway, this has been one of my favorite recipes for a long time now. I've come to a point where I know it by heart and don't have to look in my notes anymore. And that makes cooking a lot easier.
Apart from couscous, everything else can be easily changed, based on what I have in the fridge, but I do admit that I like this salad the most just the way that the recipe is written down here today.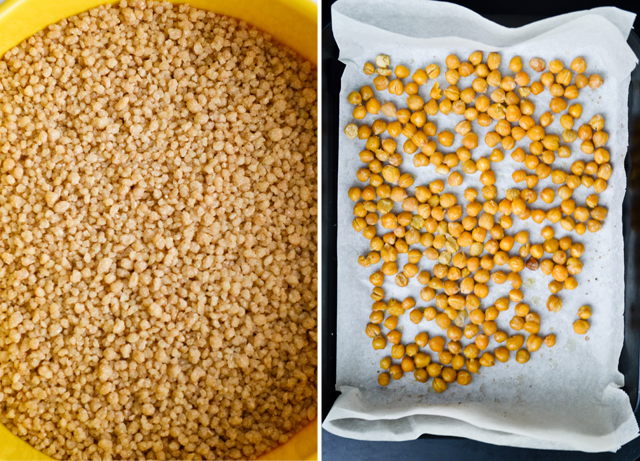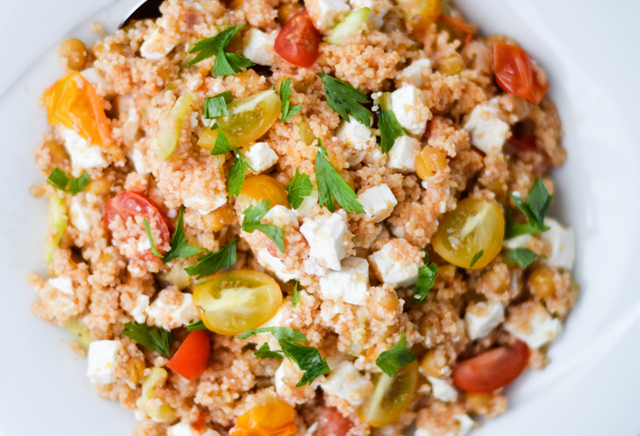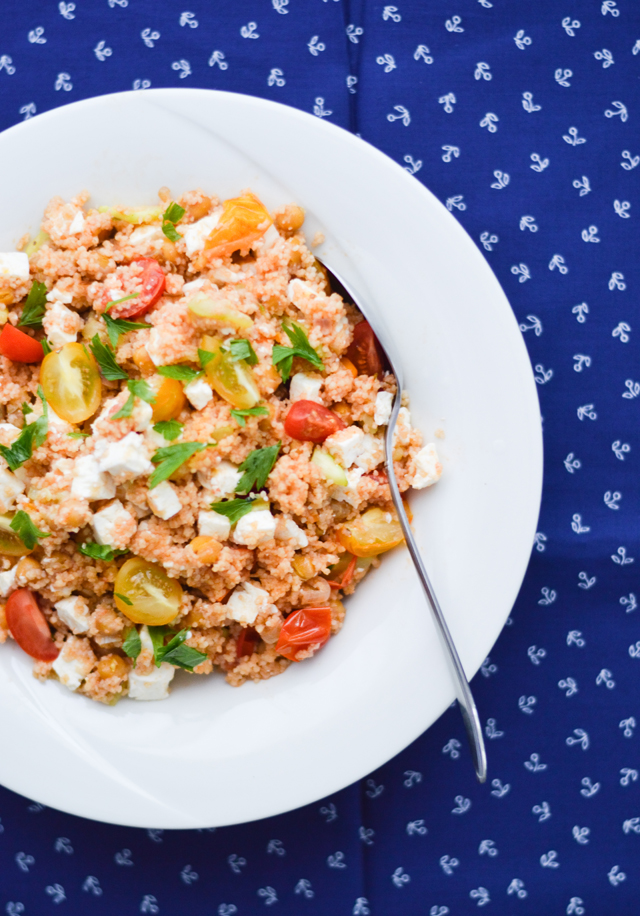 Print
Warm Mediterranean couscous salad
A simple and filling salad. Can serve up to 4 people.
300

ml (1 1/4 cups) vegetable stock or water

110g

(

2/3 cup

) whole wheat couscous

1 teaspoon

tomato paste concentrate

190g

(

1 cup

) canned chickpeas, drained and rinsed

3

TBSPs olive oil

1

shallot, chopped

1/2

large zucchini (about

140g

|

5 oz

), peeled, quartered lengthwise, sliced across thinly

210g

(

1 1/2 cups

) cherry tomatoes (mixed colors), halved
sea salt

1 teaspoon

dried oregano

200g

(

7 oz

) feta cheese, diced
For serving: chopped parsley
Instructions
Bring the vegetable stock to a boil in a small pot, add a pinch of salt and tomato paste. Stir to dissolve and add couscous. Cover with a lid and remove from heat.
Set your oven to 200°C (450°F). Line a small baking pan with parchment paper and put in the chickpeas. Sprinkle with sea salt and coat with about 1/2 tablespoon olive oil. When your oven is ready bake them for 10 minutes or until golden brown and crispy, then set aside.
Meanwhile, heat the rest of the oil in a non stick skillet. Add shallot and cook for a few minutes, until soft. Toss in zucchini, cook for a few minutes and add the tomatoes. Add a pinch of salt and cook until the vegetables are tender. Remove from heat.
Stir in couscous and oregano, then the chickpeas and feta.
Sprinkle with parsley, add more cherry tomatoes if desired.
Notes
I like to eat this salad with a side of something sour, usually some mâche salad (corn salad). I know it seems silly to eat a salad with a salad, but that's my favorite thing to do with this dish, so I just do it. You can eat this cold, I have before and it's just as good. Just store it in an airtight container. This recipe is adapted from Smitten Kitchen.