These crispy roasted potatoes with arugula and creamy beets are the easiest vegetarian side dish you'll ever make. They make a perfect main course too, presented as a loaded vibrant platter of crispy oven baked potatoes, fresh arugula and beets, mixed with a creamy lemon sour cream sauce and crunchy toppings. A simple and wholesome dish that shines on any table.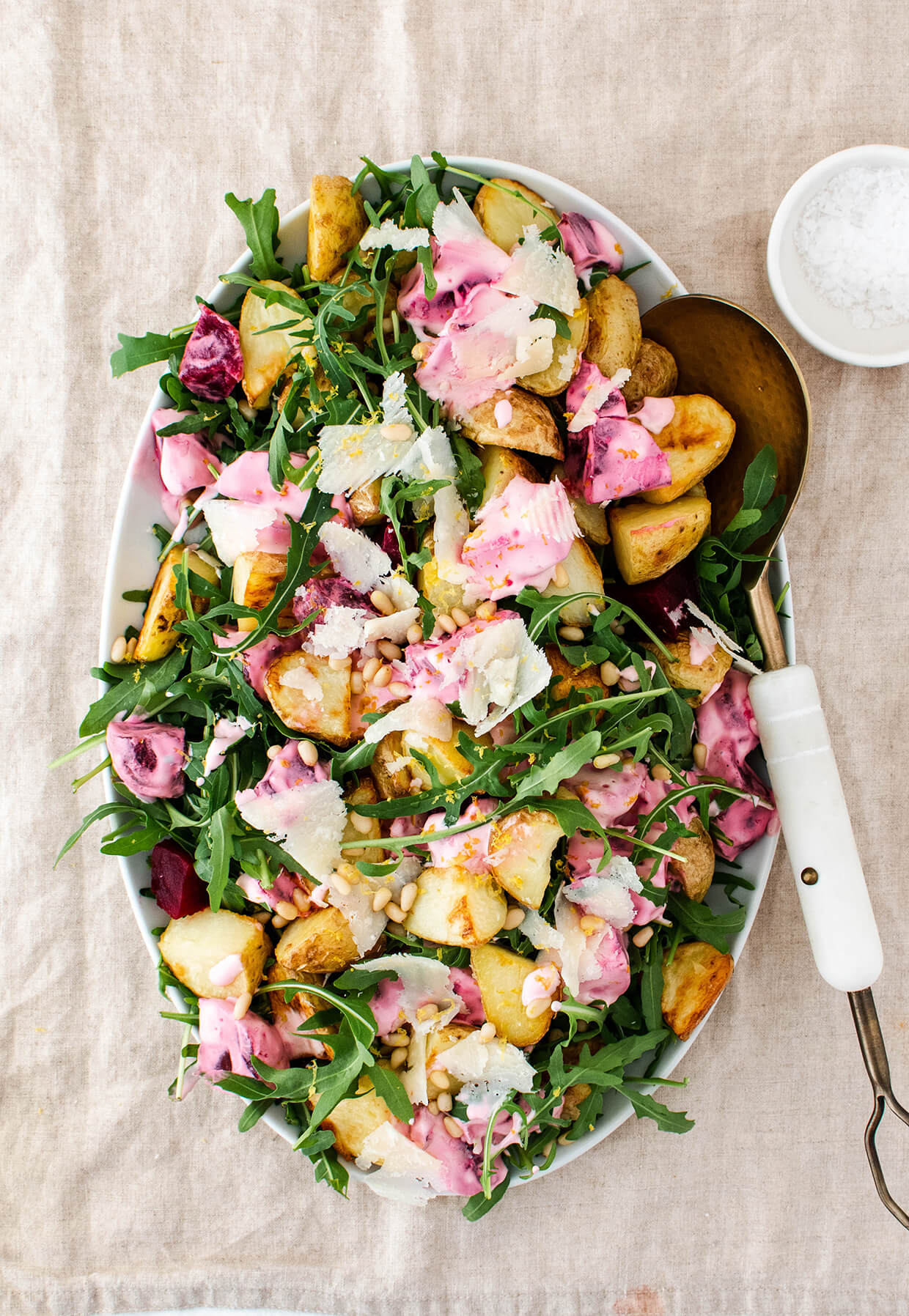 I always like to say that if there's one thing I could eat till the end of time, day in and day out, it's potatoes. No joke. I don't know if it's the Slovenian in me or just the fact that potatoes are awesome, whatever the reason, I love them. Mashed, smashed, baked, fried, kneaded into things (potato bread anyone??) … they're probably my favorite carb. No, they're definitely my favorite carb.
These roasted potatoes with arugula and creamy beets are something I don't make nearly enough, but every time I do I'm just so happy. I think one downfall of being a food blogger, recipe creator or food creative if I can say that, is that I rarely make things over and over again in a short time frame. Does that make sense? The one thing we (me and my boyfriend) stick to is weekly pizza, but everything else is a mix of current cravings, inspiration, recipe testing and whatever season we are in.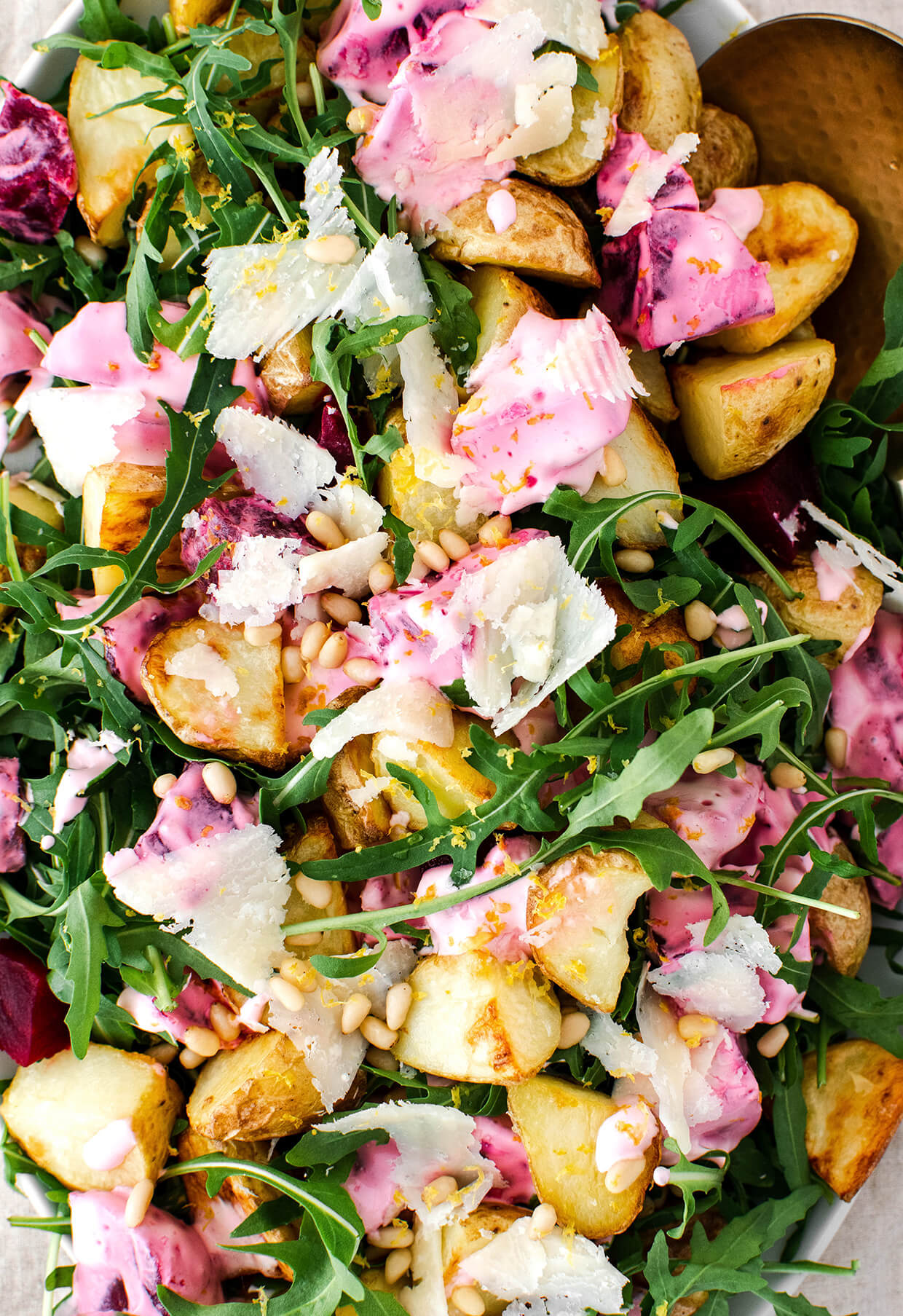 With that said, we adore roasted potatoes with vegetables and have them for dinner fairly often. Usually alongside broccoli and cauliflower, sometimes carrots and peppers. Always with a salad on the side. On most days I like to dip roasted potatoes in some mayo or tartar sauce, on others I'll make this tahini sauce. And sometimes I'll try to make whole roasted potato salad-platter of sorts… like this recipe today.
Okay so these roasted potatoes with arugula and creamy beets are a full meal, not a salad. But I tend to call things with greens salads, even when they're not. And I know roasted potatoes make a great side dish, but I just can't really call this recipe "just" a side dish. When you put all the things together, this is so filling and so great, I don't miss anything else.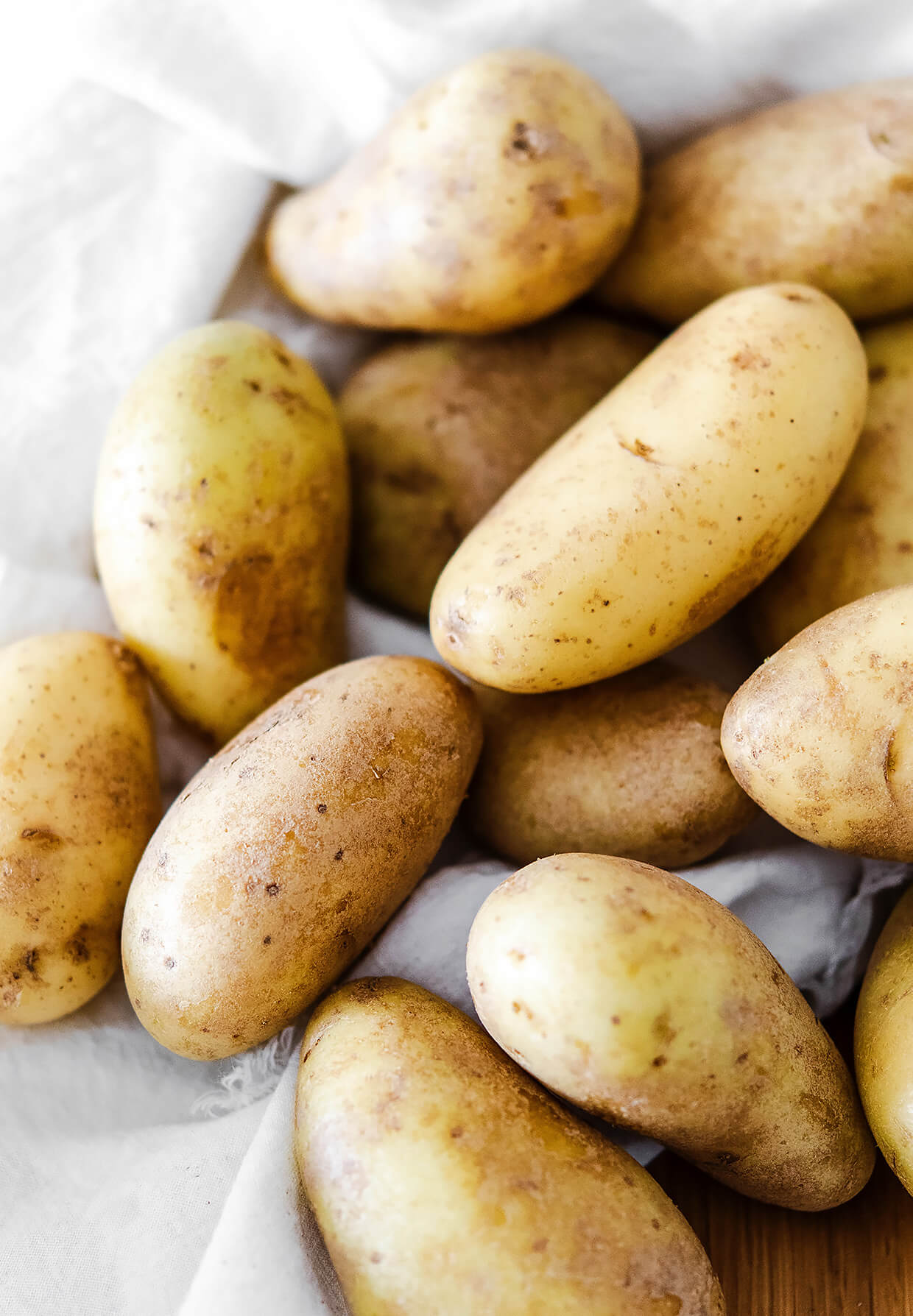 The inspiration comes from an old Jamie Oliver cooking show, I forget which one as there are so many, where he made a salad with arugula and beets. It's been a long time since I saw it and admittedly I don't even watch cooking shows anymore, but the idea stuck in my head. So I did my thing, the only reasonable thing for a carb lover like me, and I added roasted potatoes. Together with arugula and beets, these roasted potatoes are the best vegetarian dish ever. (Okay, I have a lot of favorites, please forgive me.) Even after all these years, we still love this.
And yes, these potatoes make a great side dish for a crowd and would go along perfectly with other roasted veggies or cauliflower steaks bean burgers or faux meat. Or even real steaks, if you're into that. And if you're cooking for 2, you can easily halve the amount of potatoes used and still make a very hearty meal.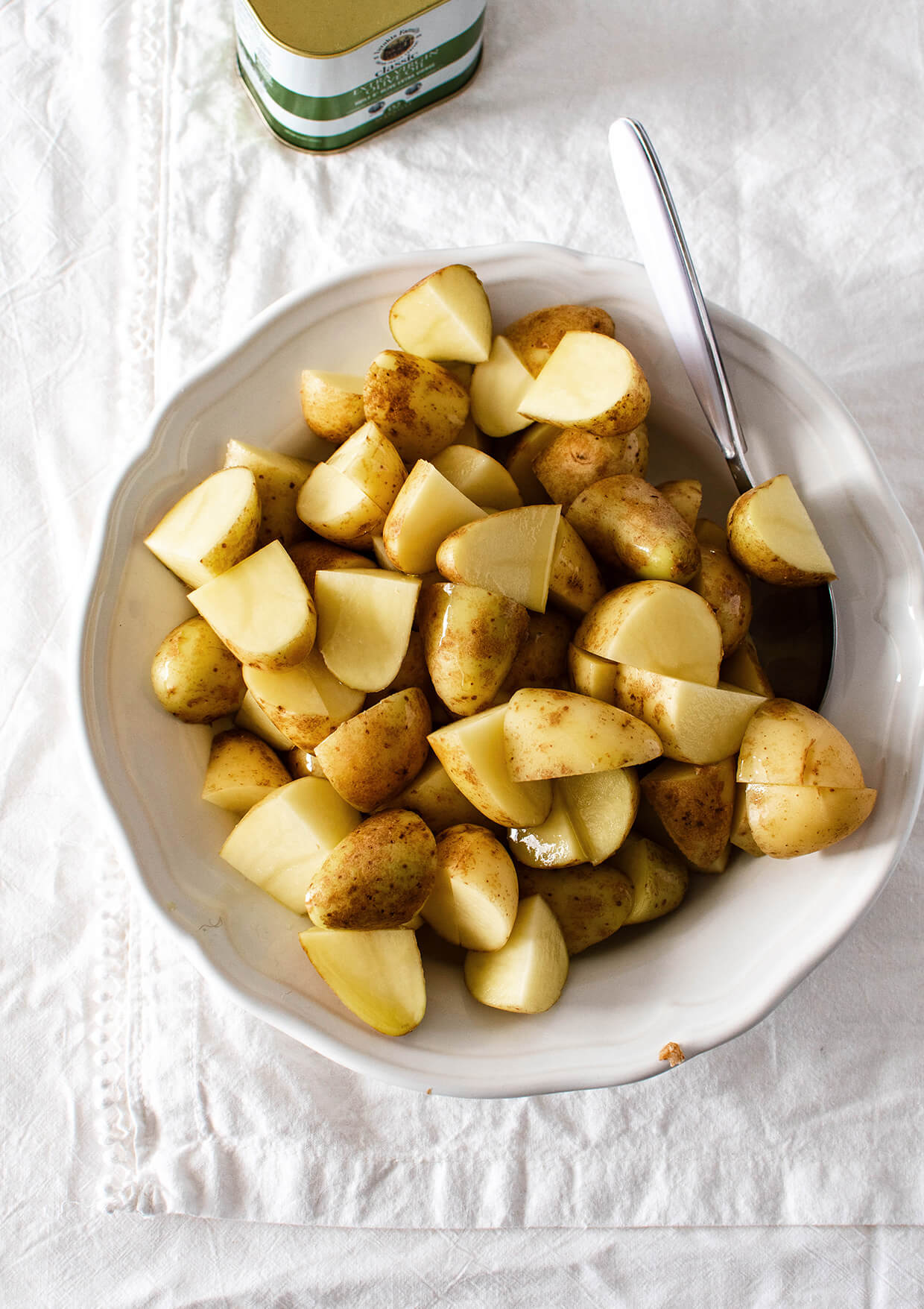 So, let's talk about the roasted potatoes for a bit.
I love using new (young) potatoes for this recipe. New potatoes have a very thin skin, the kind that kind of peels away as you scrub the potatoes. And once baked it becomes super crispy and flavorful. Young potatoes hold their shape really well, especially when cooked, so they're great for all sort of salads. But I love them the most when they are baked. They're also smaller than regular potatoes, which makes meal prepping a breeze. Because sometimes I don't want to chop a bunch of vegetables, I just want to be done with it, ya know?
Now, new potatoes are a spring-summer thing, at least here in Slovenia. They aren't really accessible during the colder months. If you're in a similar situation, it shouldn't stop you from making this dish. Because you can easily use other types of potatoes. And I do, when I'm making this in the fall-winter season. Personally I love yellow potatoes, but use whatever you can find. The one thing that I do with with bigger, older varieties of potatoes is that I peel them.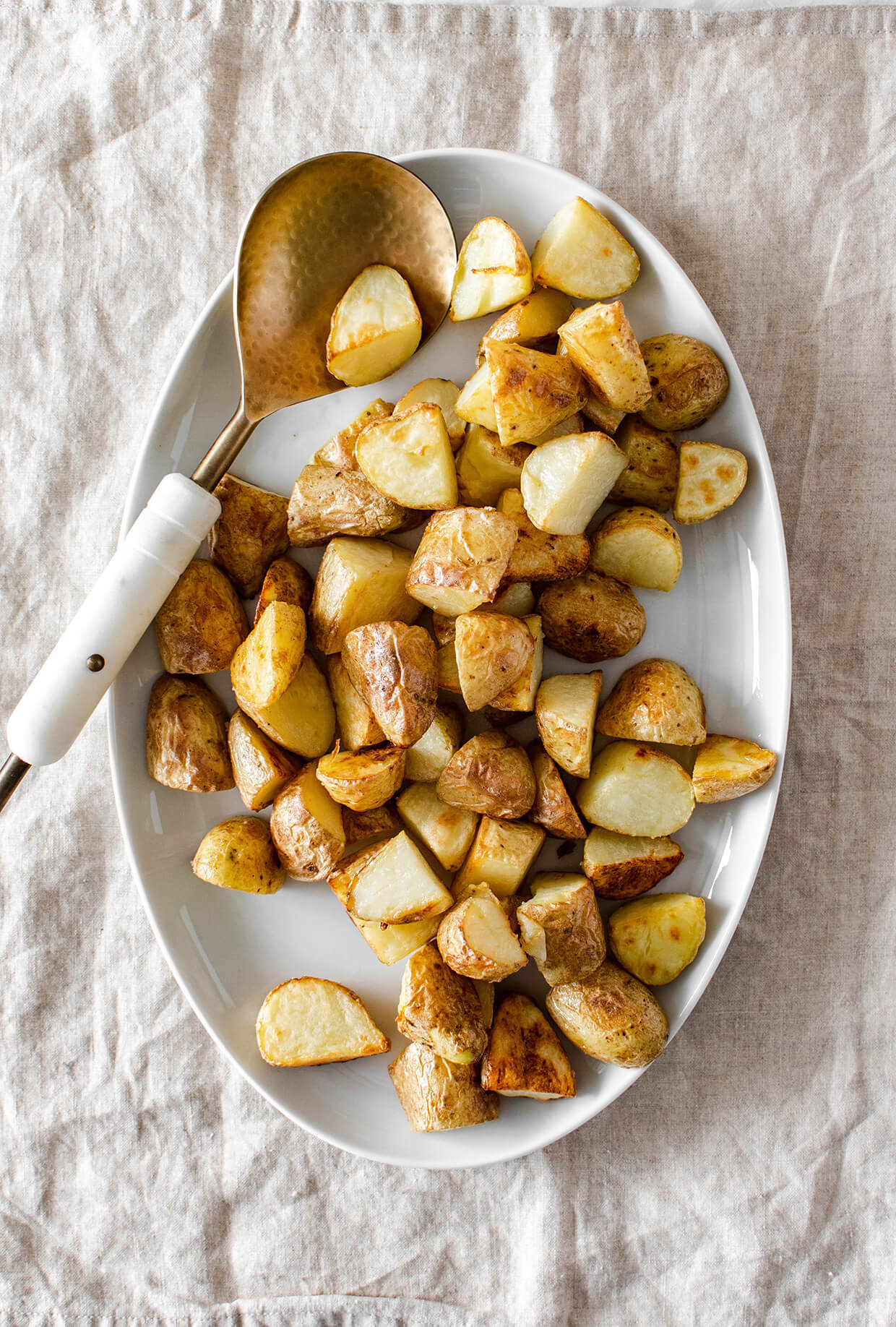 With or without skins?
This seems to be an eternal question with potatoes. My uncle swears you should never peel them, while I usually do and my mom always did as well. The only exception are the new potatoes. If you're using other varieties with thicker skins, I recommend peeling the potatoes before you proceed with the recipe. 
Once you have the potatoes ready, everything else is super simple. I use olive oil (extra virgin) for baking these, but something like sunflower oil is just as perfect. As for seasonings, I like a simple sprinkling of sea salt. That is all this recipe requires from you, because you will be adding other toppings. You can definitely add other spices and herbs. Such as rosemary or a Mediterranean herb mix, paprika or garlic powder, and so on, if you wish.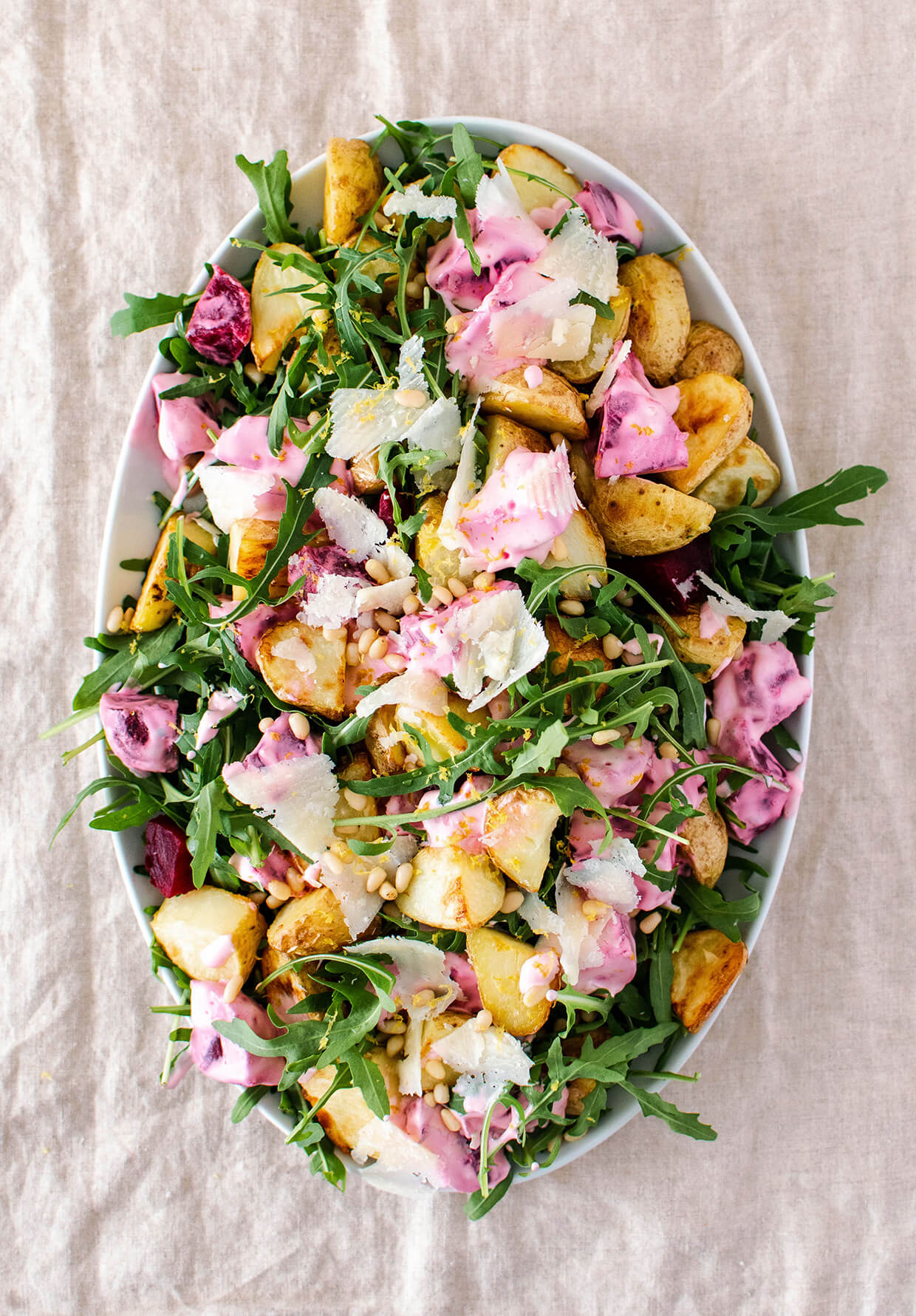 Okay what about arugula and beets?
I love eating these with arugula because arugula has a deep, slightly bitter flavor. I think it goes so great with potatoes. You could also use baby spinach or other greens, but this is one of those recipe where arugula really shines. Because the potatoes are slightly sweet and arugula really plays well with that.
And then you add the beets! One thing about beets is that they really make a plate look extremely vibrant and inviting. And they're juicy, earthy and sweet, which makes them the perfect companion for arugula and potatoes.
The beets are mixed with a creamy sauce made of sour cream, mustard, mayonnaise and lemon juice. This creamy and slightly sour mixture cuts that sweetness of beets as well as the bitterness of arugula and what you end up with is the most amazing, wholesome dish.
But how do I make these roasted potatoes with arugula and creamy beets VEGAN?
To make this vegan, I would skip the sour cream, cheese and mayonnaise and use more vegan mayonnaise instead. Along with extra lemon juice and mustard. You can play around with the sauce, as long as you keep it on the sour side as that really helps bring all the flavors together. And instead of cheese shavings, I would use either nutritional yeast or almond flakes. Anything crunchy or salty will work.
Basically, if you are looking for a crowd-pleaser, a simple vegetarian main or side dish, something that is quick to make for dinner or serve at a BBQ, then look no further. I truly think these roasted potatoes with arugula and creamy beets check all those marks and will most definitely make you leave the table full and satisfied.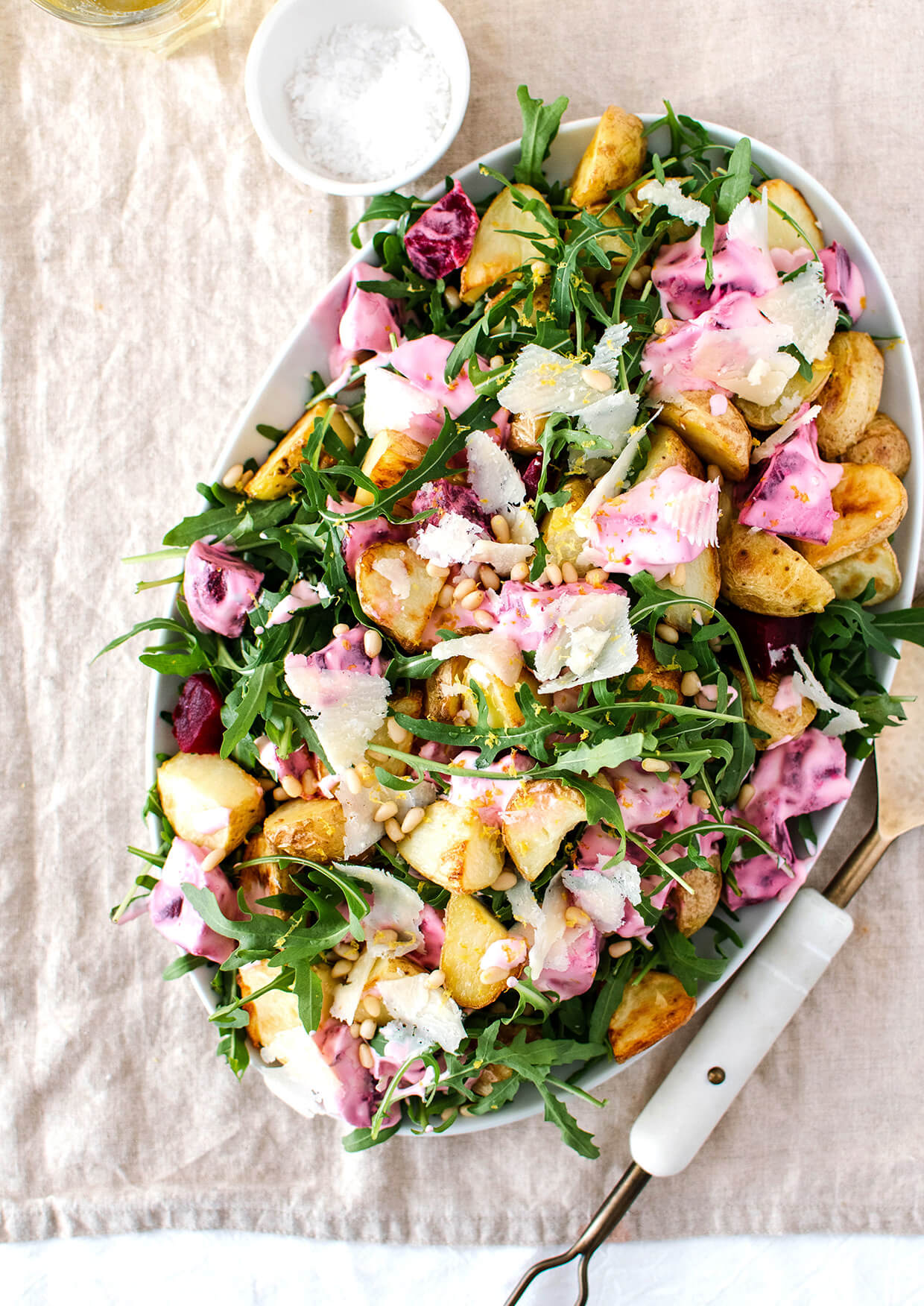 Roasted potatoes with arugula and creamy beets
A simple and wholesome vegetarian main or side dish, perfect for 2 or a crowd. Comes together quickly!
Ingredients
2

lbs

(

900

g

)

new potatoes

2

tablespoons

(

30

ml

)

olive oil

14

oz

(

400

g

)

baby beets

,

(I'm using pre-cooked from the store)

1/4

cup

(

60

g

)

sour cream

juice and zest from one large organic lemon

1

teaspoon

mayonnaise

,

plus more to taste

1

teaspoon

Dijon mustard

,

plus more to taste

3.5

oz

(

100

g

)

arugula

1/4

cup

pine nuts

,

plus more to taste

Parmesan shavings

,

for garnish

sea salt
Instructions
Preheat oven to 390°F (200°C). Scrub potatoes under water, pat dry and slice into chunks. Grease a large baking sheet with 1 tablespoon of oil. Toss potatoes with another tablespoon of olive oil. Arrange them evenly on the baking sheet. Bake for 30 minutes or until potatoes are fork-tender and crispy and golden on the outside. 

Meanwhile slice beets into bite sized chunks. In a medium bowl, whisk together the sour cream, lemon juice, mayonnaise, mustard and 1/4 teaspoon salt. Taste and add more lemon juice (even vinegar) or salt if needed. Combine the sour cream mixture with chopped beets and stir until all beets are covered. Set aside.

When the potatoes are ready, place about 1/2 of them on a large plate. Cover with a handful of arugula, then the rest of potatoes and more arugula. Scatter beets all over along with the sauce. Sprinkle with lemon zest, pine nuts and cheese shavings. Serve immediately.  
Notes
I love to buy pre-cooked beets to keep on hand, but you can totally cook them yourself. Trim the greens and cook beets in a large pot of simmering water until they are fork-tender. This usually takes about 30 minutes. Place cooked beets in a large bowl filled with cold water and peel when they're cool enough to handle.

 
Make vegan: Skip the sour cream, mayonnaise and cheese. Make the dressing with vegan mayonnaise instead, along with more lemon juice and mustard. You can add other things, just keep the dressing on the sour side, as that works best with the rest of the ingredients. Use nutritional yeast or almonds flakes in place of cheese shavings.
Text recipe
Email recipe
Pin Recipe
Disclaimer: This recipe was first posted in May 2015 and updated with extra notes and photos in June 2019. Last updated in June 2022.