The best easy pizza dough is the secret to making a good pizza.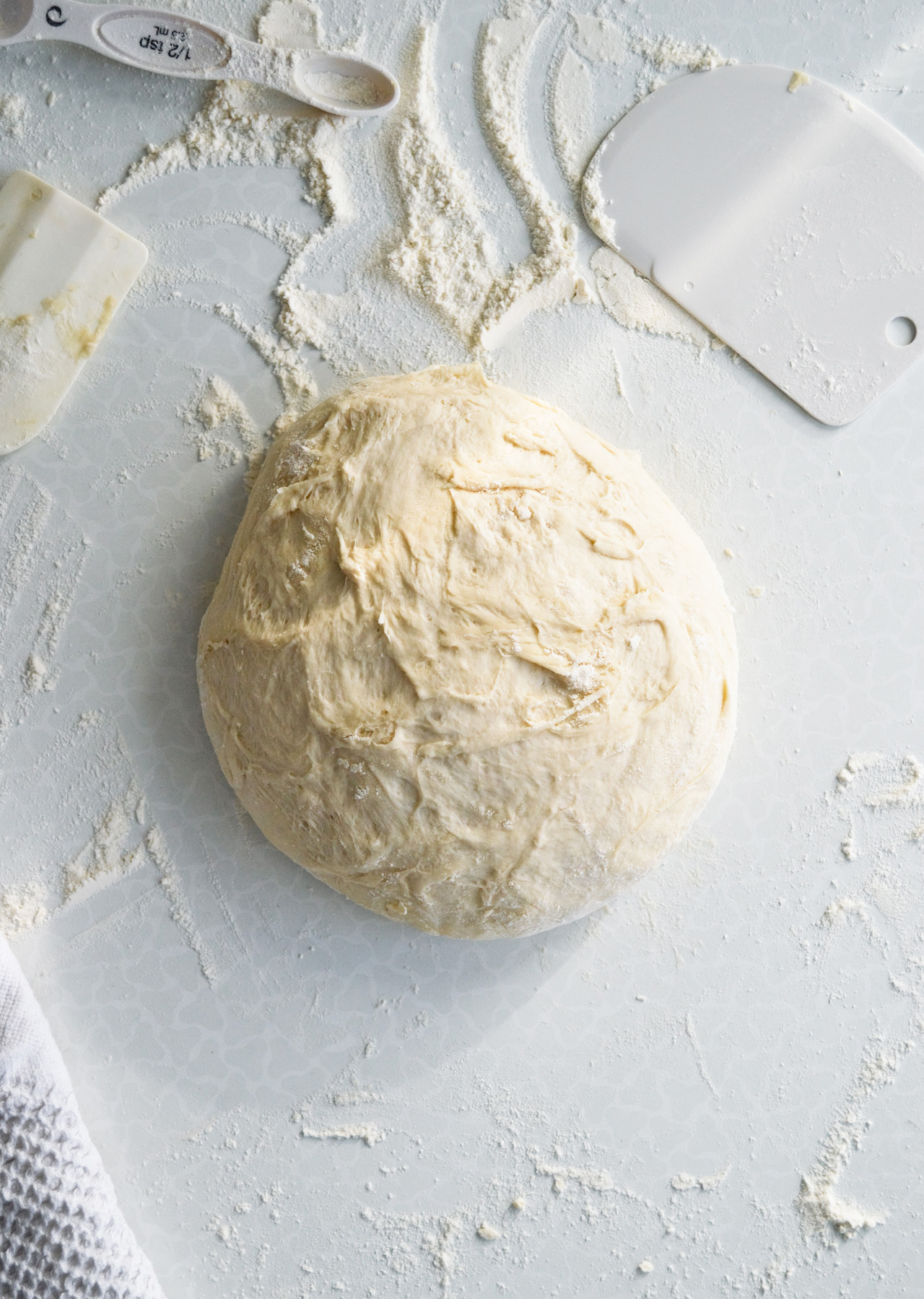 I talk so much about pizza around here (and everywhere else), I thought it was about time I shared a proper pizza dough recipe.
This is one of my Basics posts I want to do. Because if you're like me and you like to cook, chances are you have a few basic recipes you always use, for making pizza dough, perfect crepes or basic pasta. If you don't have the recipes, I hope you find mine helpful.
There are many pizza dough recipes out there, which is wonderful and that's what I find fascinating about cooking. How so many people can make the same thing but it's still unique to them, everyone has their own version or way of doing it, and here's mine.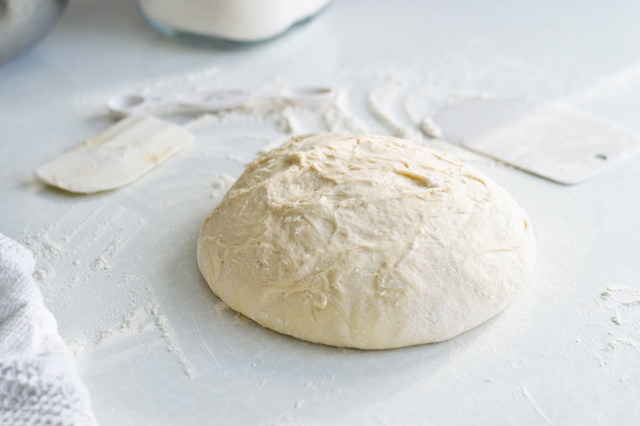 Honestly, I could never get tired of making pizza dough. There's something so comforting about it, I find the process very relaxing and there's a deep satisfaction I feel when I look into the bowl and the little ball is all grown and ready to be baked. This recipe is the same my mom always used and it's the recipe I've been using for years and years. It never fails me and it's very easy to follow.
It makes the perfect crust, crunchy on the outside, but not so crunchy you'll scratch your mouth or have trouble cutting it; soft in the middle, not too thin but not thick at all. A crust that never gets soggy and that tastes great the next day too; because who doesn't love leftover pizza for breakfast? Well maybe you don't, but personally I can't complain.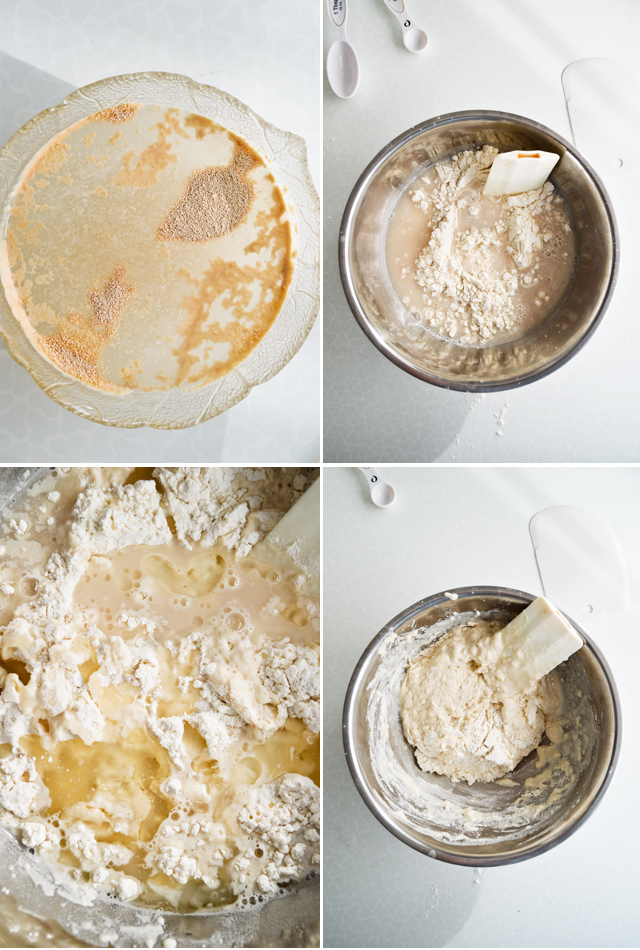 You don't need a mixer!
Like I said, you don't need a mixer of any kind, a bowl and a spatula or dough scraper will do just fine. In fact I'm convinced you end up with a better dough, if it's made completely by hand. Trust me on this.
I used to swear by using a hand mixer (with dough hooks) and I was devastated when it broke about 2 years ago. It almost took the joy out of making dough for me. But people have been making pizza dough long before mixers became a thing, so I decided to go down that road. And of course I succeeded and realized just how unnecessary a mixer is. I don't think it really saves any time and you're just left with more dishes to wash in the end.  I would always knead the dough by hand afterwards anyway, so I don't even know why I bothered with a mixer in the first place. Besides, doing everything by hand gives you a better feel of the dough and I think that leaves less room for error.
We have since bought a fancy food processor that kneads, chops and does everything for me, yet I still make my dough by hand.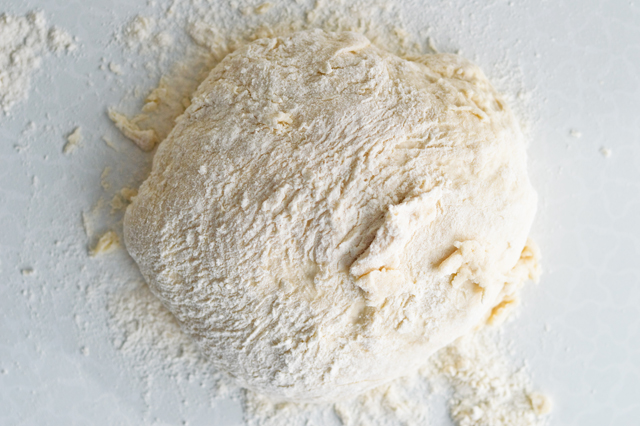 Important: the yeast and temperature
I always use dry yeast. Years ago, I normally used fresh yeast (and you can too) but for the past 4-5 years I've mostly been using dry. I think it makes the process faster and easier. There are two things you need to pay attention to though. The freshness and the temperature. Make sure your yeast isn't old (expired). If it is, your dough will most likely not rise properly, so always check the best before date on it.
When I say the temperature I mean both the water used in making the dough and the temperature of the cooking space. The water you use to dissolve the yeast has to be warm, like a comfortable bath, which helps the yeast to activate. If the water is too hot, it will kill the yeast, if it's too cold it won't do anything to it which is bad too. The temperature you want is around 45°C (110°F) , although I personally never use a thermometer. I just check the water with the back side of my hand.
Once the dough is made, you have to keep it in a warm space without any open windows nearby. If your kitchen is cold, stick the dough in the microwave or on a shelf in the cupboard. My kitchen is usually warm enough, especially once I turn on the oven, so I normally just leave it out on the counter.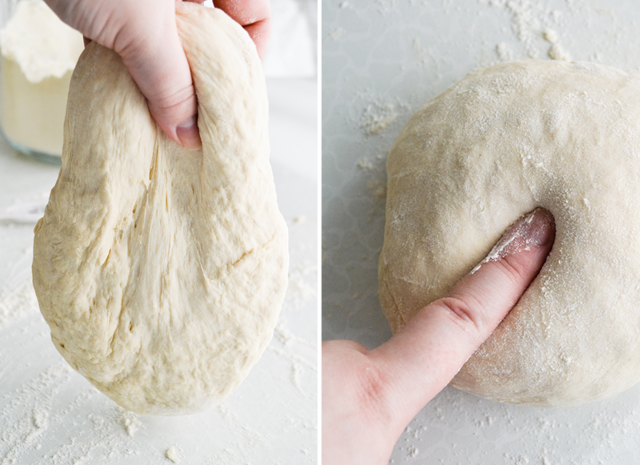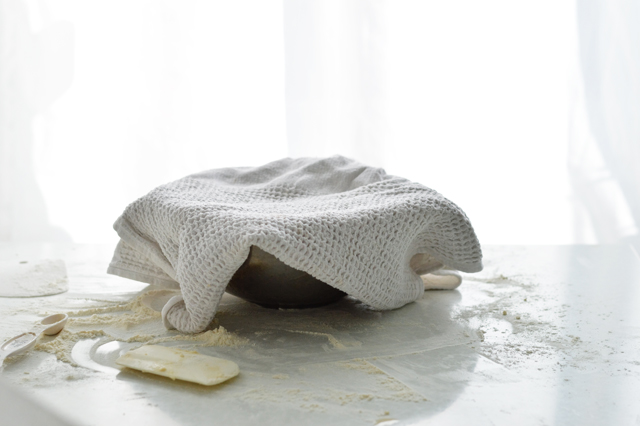 You don't need a pizza stone and your pizza doesn't have to be round.
I don't have a pizza stone. I don't even have a designated pizza pan. Honestly, I just use a regular baking tray that came with the oven and my pizza is usually rectangular, slab style. If I'm making a smaller one, I might roll it out in a round though. It tastes the same as the round pizza, not that you didn't know that. This is how my mom always did it and I still prefer a rectangular pizza today. And a pizza of such shape is very easy to cut into equal pieces that fit on any plate. How handy is that?
I also never preheat the baking tray. I preheat my oven to 200°C (392°F), leave it like that while the dough rises, so it's very, very hot. Then I grease my baking tray with sunflower oil before adding in the dough.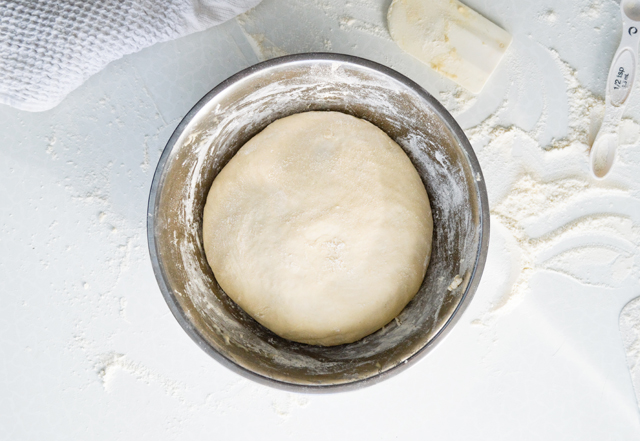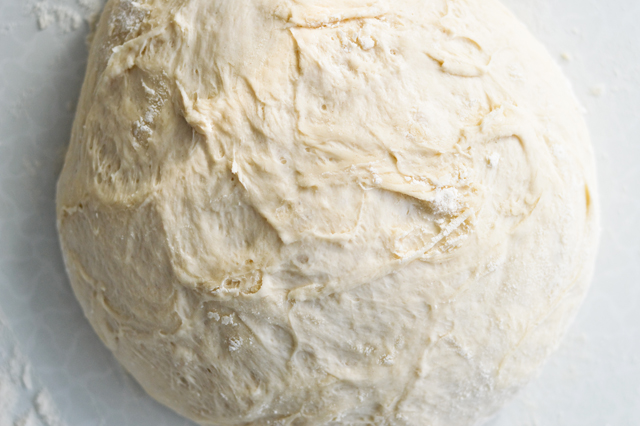 From kneading to eating in an hour!
When I make pizza during the week I aim to be completely done in an hour. If we have enough time, I won't rush as much, but you can be done in 60 minutes. Here's how I do it:
10 minutes for making the dough
25 minutes for the dough to rise (also to prepare the toppings, preheat the oven, grease the baking tray)
5 minutes for rolling the dough and assembling the pizza
10- 15 minutes for baking
5 minutes left for taking out the pizza and serving
If you put your dough in a really warm place, it can rise even faster.
If you have the time and are in no rush, consider kneading the dough twice. After the first rise deflate the dough, knead again for about a minute, let it rise again. Then continue with the pizza making process. I find that this makes the crust taste even better and also crunchier on the outside.
In any case, let the dough rise in peace, but only wait for it until you're ready. You can leave it out all day or you can be done in an hour, it's all up to you.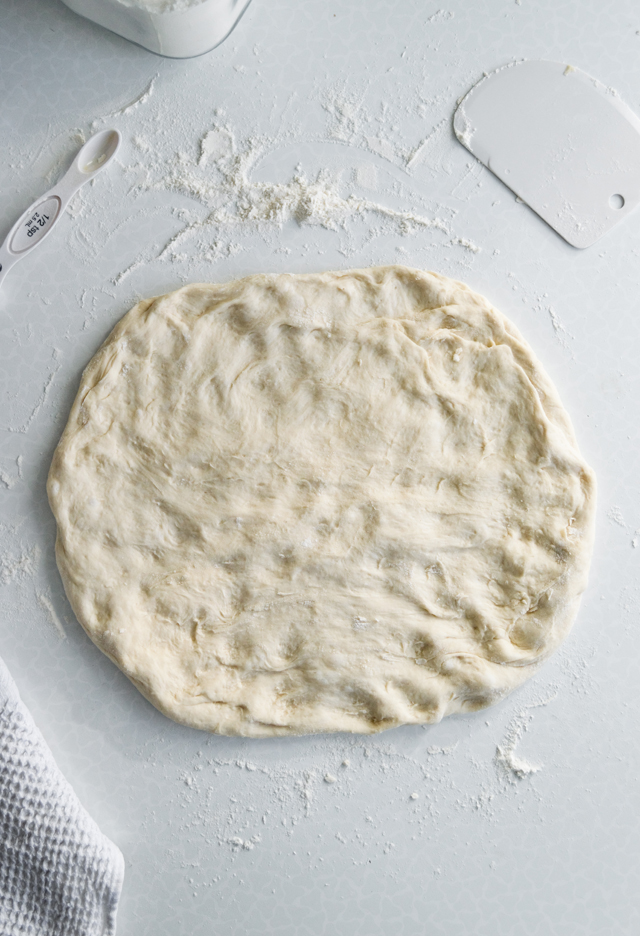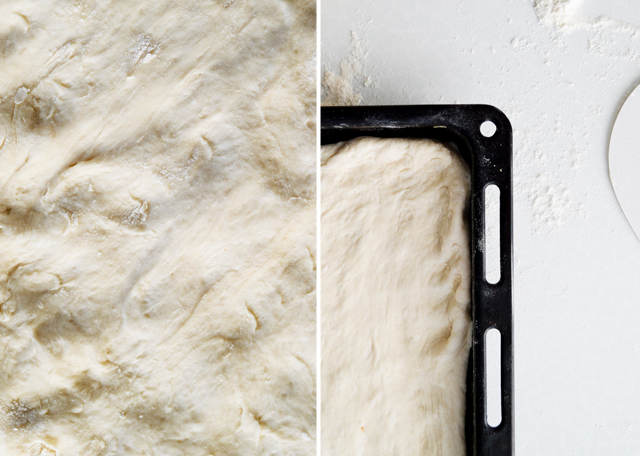 Print
The best easy pizza dough
Makes one 32 x 35 cm (about 12.5 x 14 inch) pizza or two smaller round ones.
Author:
Prep Time:

15 min

Cook Time:

15 min

Total Time:

30 minutes

Yield:

1

large pizza

1

x
Category:

Main course
200

ml (1/2 +

1/3 cup

) warm water

1 1/2 teaspoons

dry yeast

280

gr (1 3/4 cups) all-purpose flour + about 40 gr (

1/4 cup

) for kneading

1 tsp

salt

30

ml (2 tablespoons) sunflower oil + more for greasing
Instructions
Put the water into a small bowl and sprinkle yeast on top. Wait for it to dissolve – it becomes creamy and melts into the water.
Place flour in a large bowl. Gently stir in the yeast. Scatter oil and salt on top.
Start mixing the dough with a spatula, scraping the sides of the bowl inwards, and mixing the dough from the bottom up. Mix until a rough, sticky mass forms. Add some of the extra flour and mix some more, until the dough is a bit less sticky.
Scrape onto a floured surface and knead with your hands. Whenever it gets really sticky, sprinkle it with more flour, knead, but don't dry it up. You want an elastic dough, soft to the touch, but not sticky and wet, so adding the flour slowly is crucial.
You know the dough has been kneaded enough when you poke it with your finger and it springs halfway back up. Place it back into the bowl, cover with a clean kitchen towel and let rest in a warm spot for at least 25 minutes or until it doubles in size.
When you are ready to make your pizza, first set your oven to the temperature listed in the recipe (I always bake mine at 200°C / 392°F) and grease your baking tray with some sunflower oil (about 1 TBSP, remove the excess with a paper towel).
Transfer dough onto a floured surface and push it down with your hands first. Stretch it out in all directions with your fingers to get a desired shape. Once you have that, you can finish it by rolling it out with a rolling pin.
Transfer to the prepared baking tray and proceed with the desired toppings. Bake for 10-15 minutes, until the crust is crispy and golden around the edges, the cheese completely melted and bubbly.
Notes
You can use bread flour instead of all-purpose, or a combination of both.
Instead of the silicone spatula, I just use the head of a silicone spatula. I once accidentally broke one of my spatulas and then realized the so-called head is actually great for making dough.
About sunflower oil:
 If I had to use sunflower oil for only one thing, I would always, always choose pizza. They are the perfect match and I cannot imagine making pizza without it. I've only done that once or twice before, when I accidentally run out of it and I was grumpy the whole time. I think it's essential for a good crust, and better than olive oil for this because it's not as thick.
I also lightly grease my baking tray with it, so the pizza doesn't stick to it and I'm sure it also makes the crust that more crunchier and tastier. If you don't have sunflower oil, use other oil, but do give sunflower oil a chance when you can.
I am also the one that will tell you not to skip on it. Pizza is an indulgent meal in itself, but can be made lighter if you use less cheese and make a thinner crust, but to me sunflower oil is just as important as the flour and so it's one of the few things I always keep the same when making pizza.
Optional: When dissolving the yeast, you can help it get bubbly by adding 1/2 teaspoon granulated sugar. I sometimes do this, but don't find it to be a crucial step.