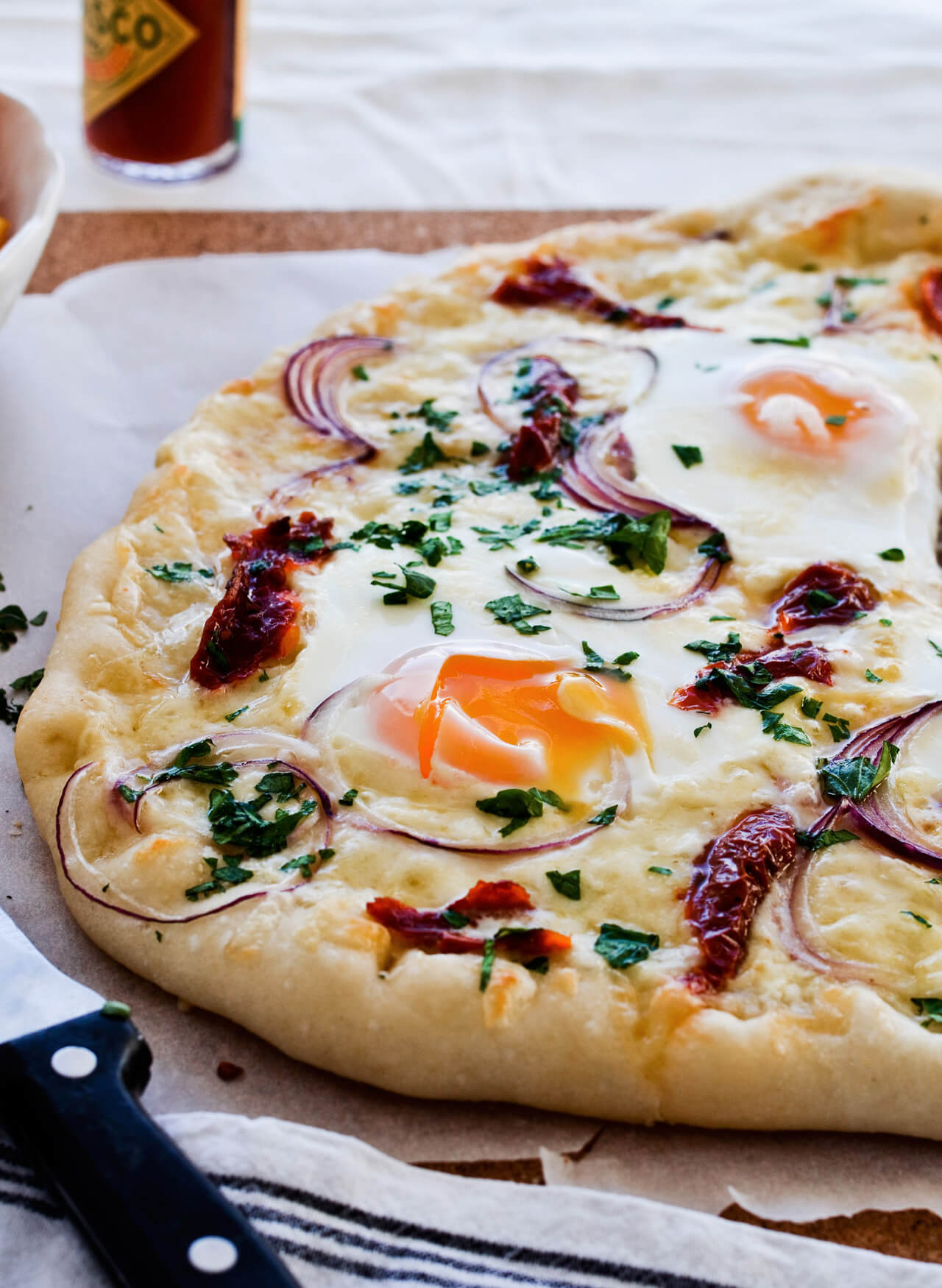 Here's the deal: it's snowing out, it has been for a big part of February, so I'm craving pizza 24/7. I love snow, adore it, really, but it's COLD. And whenever I'm cold or tired I always crave something on the fattier side. This sun-dried tomato onion breakfast pizza is the perfect answer to that craving.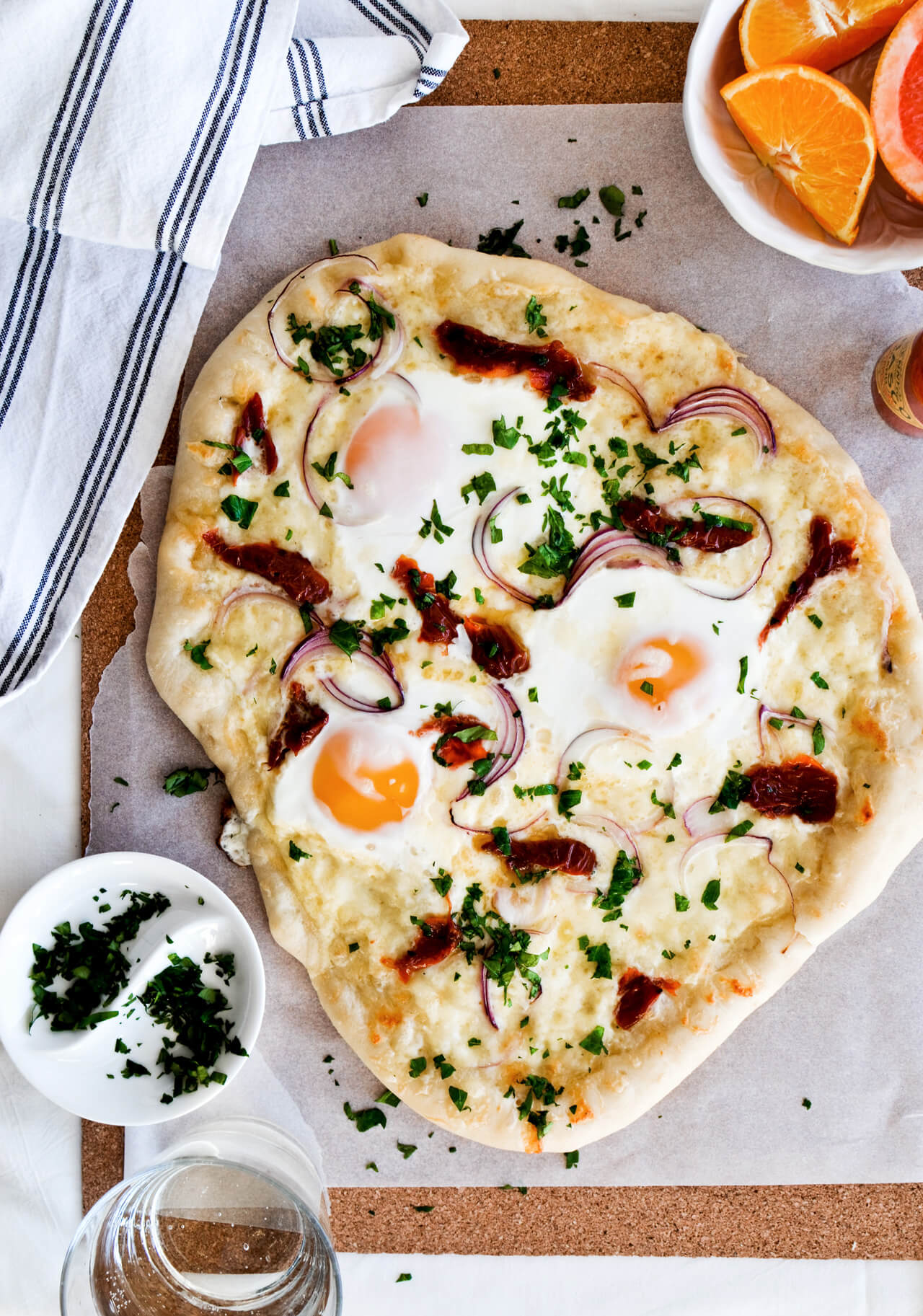 I have to say that our December and January were pretty dry. Basically all the snow that we didn't get back then, we are getting now. I'm still doing my Sugar Salted challenge, which seems boring some days, because I keep eating porridge for breakfast. I can't seem to let go and try something else. I only made an exception one day for a doughnut (because it's paczki season!) and I had yogurt on the side, but other than that I'm still enjoying oats.
Now, this sun-dried tomato onion breakfast pizza is actually something I had the morning before I started the challenge. But with all the snow these days, I'm definitely making it over weekend for brunch. I think pizza can still be part of a balanced breakfast or brunch situation. As long as I have a small smoothie before or some citrus after, it's pretty balanced, I think!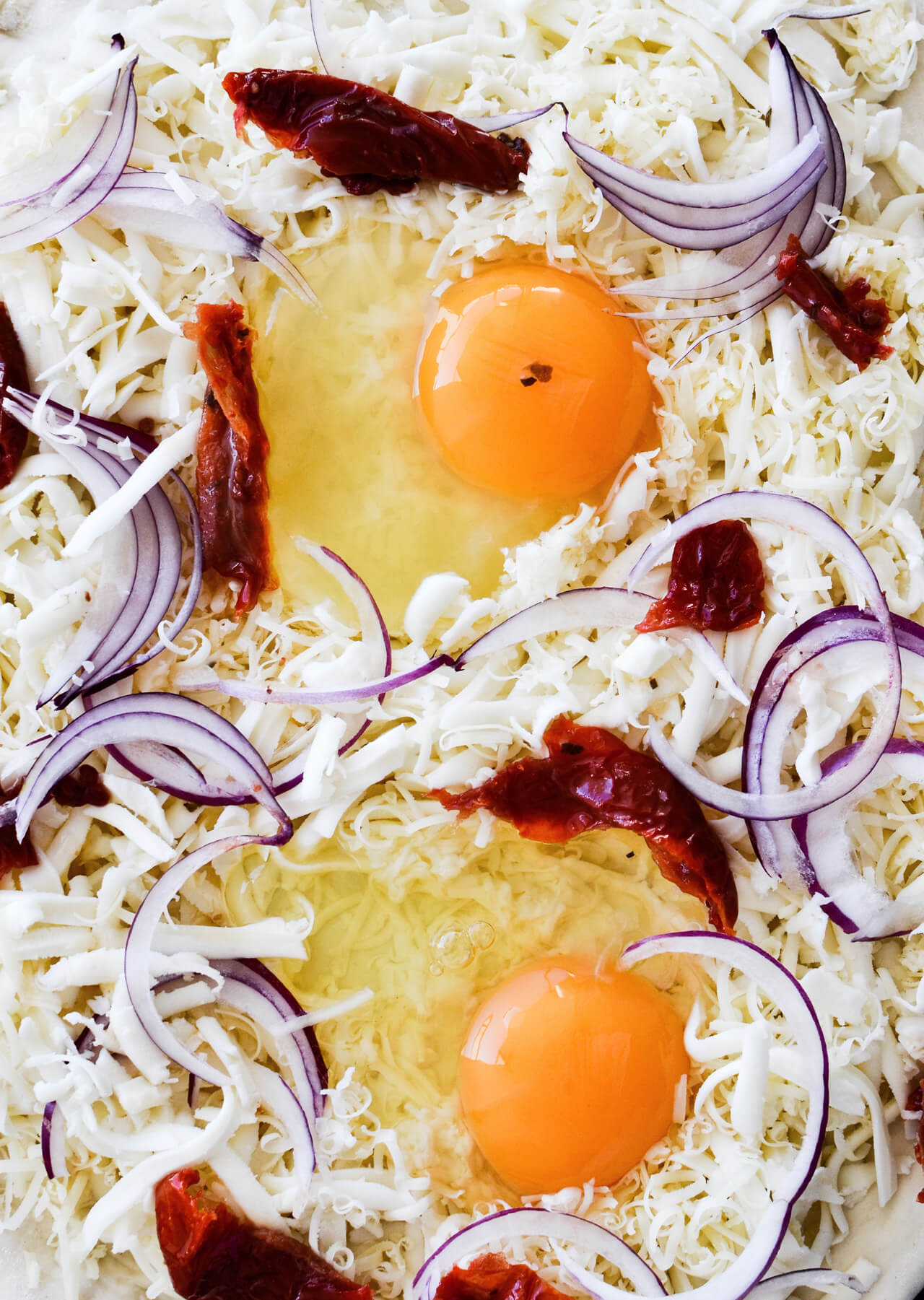 Anyway, let's talk more about the pizza. You'll see I'm using my pizza dough, which is so simple to make. You can make it ahead of time or the day-of pizza baking, works either way. As you get to the recipe you'll also notice I'm baking this on a baking sheet, not a pizza stone! Admittedly, I still don't have one, but I'm a sucker for sheet pan pizza (proof – right here – woof). It's also less fussy to make on those lazy, cold mornings.
The toppings are pretty straightforward, however I did stray from my usual mozzarella. For this sun-dried tomato onion breakfast pizza I'm using part mozzarella and part white cheddar. It's not something I usually do, but OH MY is it good! For some reason mozzarella and cheddar just work together.
Mozzarella is a very mild cheese and cheddar is sharper, so it gives that extra kick that a good breakfast pizza needs. That's because we're not using any sauce, so you have to add the flavor in other forms. Also worth noting is that cheddar melts nicely.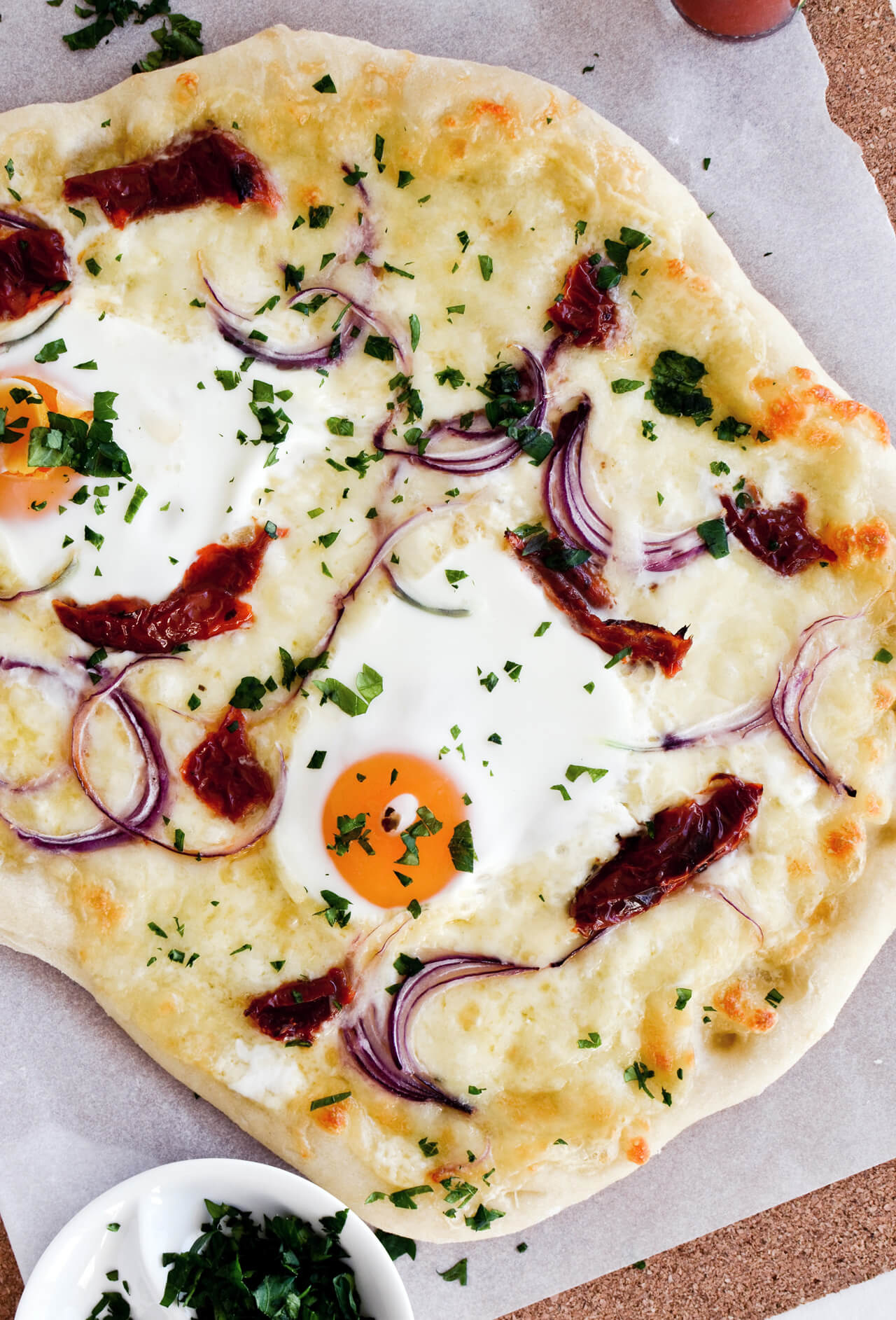 Next to the cheese, I've added eggs, which are a no brainer for a breakfast pizza. And on top of that sun-dried tomatoes and red onion. I'm honestly obsessed with sun-dried tomatoes. If you ever watch my Instagram stories, you've seen I always keep a jar at home. They are just so meaty and rich in flavor, so they instantly transform a dish. And the onion? Trust me, you need it! 
Look, I'm not always a fan of onions. But a thinly sliced onion bakes so beautifully and goes so well with cheese, eggs and tomatoes it would be a shame to skip it. Just make sure it's really thin! I use a mandoline to get those perfect slices.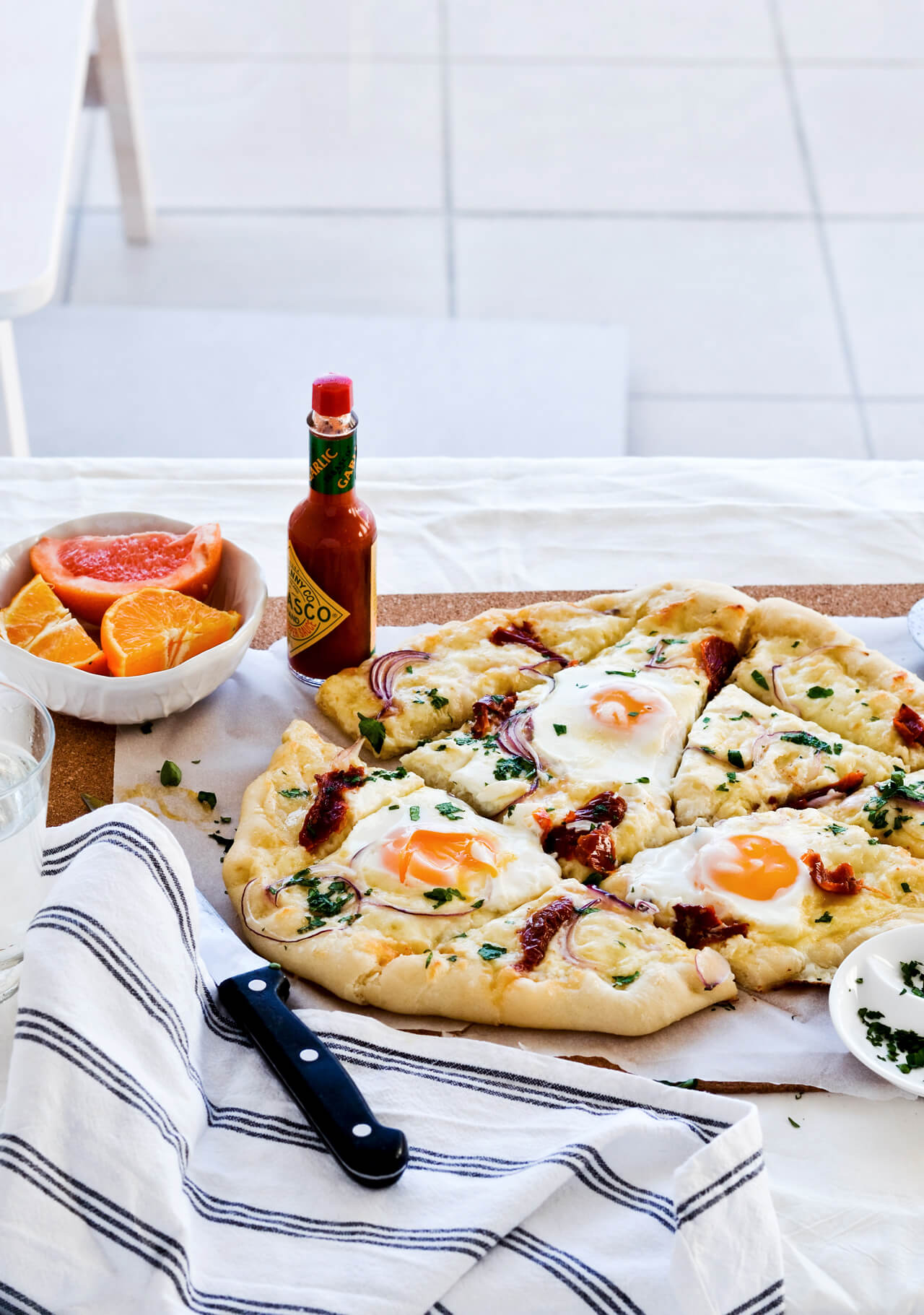 Honestly, I can already picture my weekend. This sun-dried tomato onion breakfast pizza on the coffee table, me on the couch with a blanket, coffee in one hand, snow falling outside and the Olympics  playing on the TV. Perfection, right???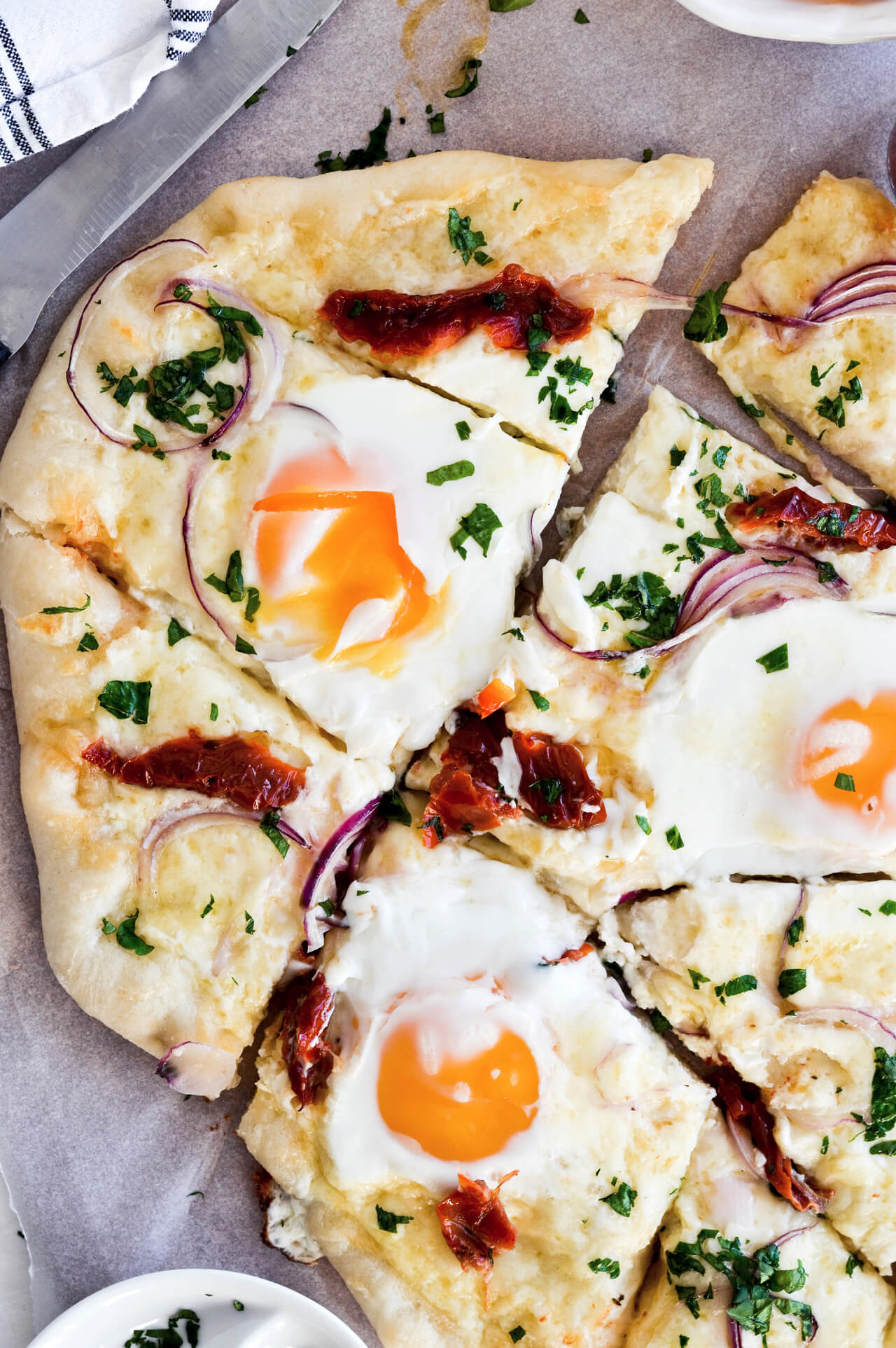 Print
Sun dried tomato onion breakfast pizza
Recipe makes 2 oval pizzas (or one large sheet pan pizza) and serves at least 4 people comfortably.
Author:
Yield:

4

servings

1

x
Category:

Breakfast, Main course
500g

(1-pound) pizza dough (from this recipe)

250g

(

9 oz

) low-moisture mozzarella (often sold as "pizza mozzarella"), grated

100g

(

3.5 oz

) white cheddar, grated

4

–

6

eggs
about

1/2 cup

(

1/2

small jar) sun-dried tomatoes, roughly chopped

1

small red onion, thinly sliced
chopped parsley, for serving
Instructions
You can make the dough the evening before. Store it in the fridge overnight, take it out in the morning and let it rise in a warm place for about 2 hours. You can also make it on the morning of and let it rise for 1-2 hours.
Preheat oven to 200°C (390°F), with the rack placed as low as possible. Lightly grease a baking sheet with oil, set aside.
Once the dough has doubled in size, split it into two parts. To make the first pizza, stretch and roll one piece of dough into an oval, with the edge slightly thicker than the middle. Transfer to the baking sheet. Take 1/2 of the mozzarella and 1/2 of cheddar and sprinkle them over the dough. Shape some of the cheese into little nests, where you want the eggs to go. (The cheese walls will hold the eggs in place.)
Crack each egg into a small bowl first, then slide it into the cheese nest. You want 2-3 eggs per pizza. Lastly, add 1/2 of tomatoes and onions.
Bake pizza in the bottom of the oven for 7 minutes. Then transfer the rack to the middle of the oven and keep baking, just until the egg whites are cooked and cheese bubbly, about 5-7 minutes. Remove from oven, sprinkle with parsley and serve.
Make the second pizza as the first one bakes and as you take one out, you place another one into the oven.
Notes
Adjust the amounts of toppings to your liking. As far as eggs go, I think adding more than 3 per pizza would be too much. If using really large eggs, I think 2 per pizza are perfect.
Instead of two oval pizzas, you can make one large sheet pan pizza. In this case, I'd make it with 4 eggs.
Notes on baking: I bake the pizza on the lowest rack first because I want the crust to be crispy and cooked through quickly. I then transfer it to the middle rack to get the egg white cooked, but keep the yolk soft and runny.
If baking eggs in the oven stresses you out, you can always bake the pizza without the eggs. Bake it in the middle of the oven for 10-15 minutes until the crust is slightly golden and the cheese bubbly. As the pizza bakes, you can cook the eggs on the stove in a non stick (teflon) pan and then just add them to the pizza once it's done. It's not quite the same thing, but I know some people prefer this option.
SaveSave