Brunch it up with this spinach leek flatbread!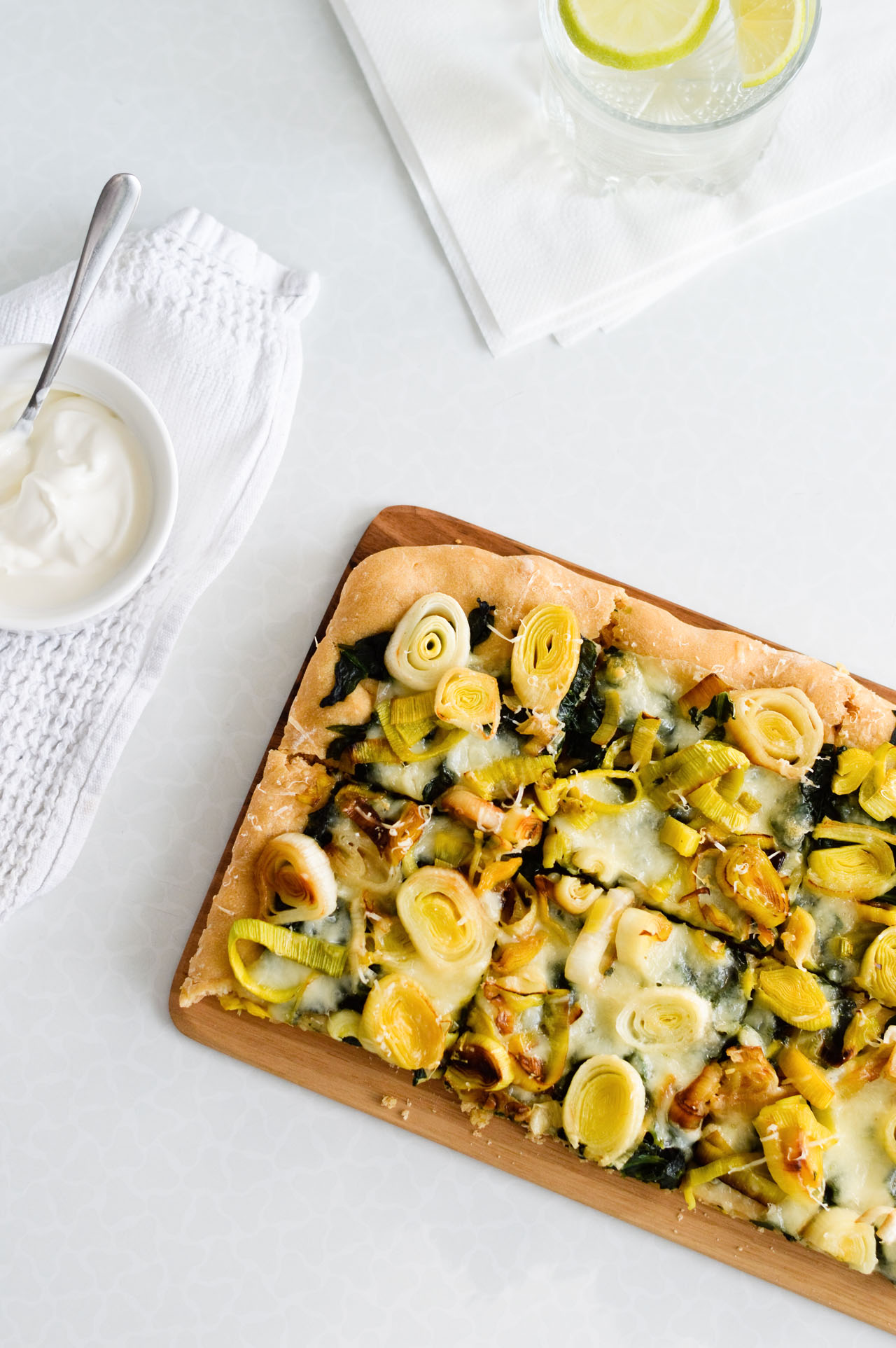 I always seem to go back to spinach. Whatever I cook, spinach is bound to pop up soon enough. And for the past few days I've been really thinking about my love for it and where it comes from. I don't remember a specific time, I just know I've always loved it. My immediate association is always Popeye, I used to watch that, but as much as kids can be influenced by stuff on TV, I don't think I ever liked spinach because of him.
I do remember my mom's creamed spinach and so I guess that was what made me love it so much; along with Swiss chard and I thought for a long time (as a kid) that spinach and Swiss chard were one and the same.
My mom's aunt had a garden and for years she grew insane amounts of Swiss chard, so we always got bags of that in the summer. I still remember sitting behind the kitchen table with my mom, with bags of Swiss chard on the floor and bowls on the table, watching TV while ripping the stems out of the chard. Once everything was trimmed, my mom rinsed it and bagged it for later use.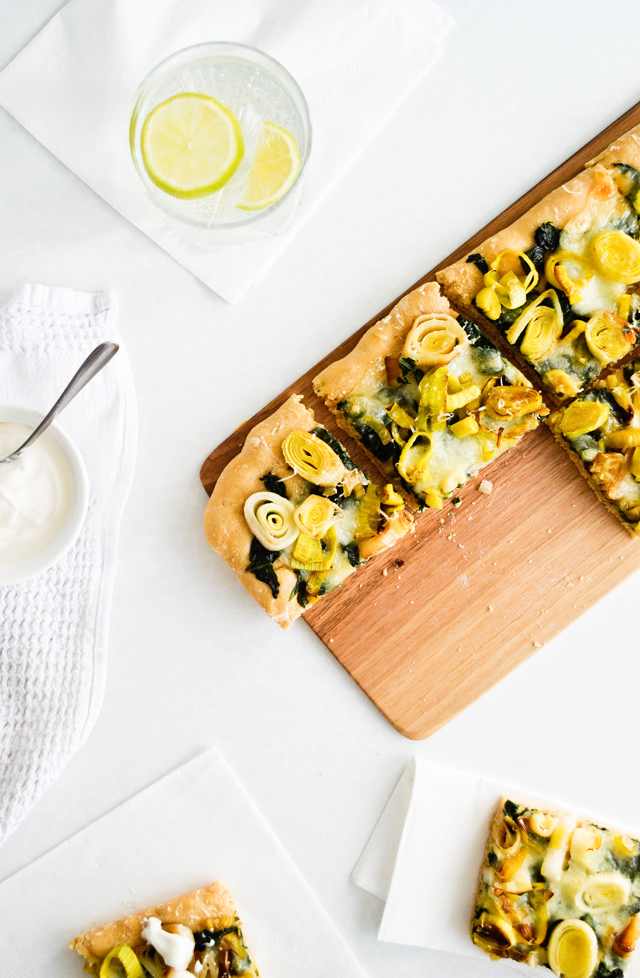 If you're not new to this little corner of the web, you've  definitely noticed my love for it. There's a spinach salad I adore, the best ever spinach lasagna, I have a recipe for the best creamed spinach, then there's the leek and spinach tart that I always get compliments for, and which might seem similar to the recipe I'm sharing today, but it's really not.
This spinach leek flatbread is much lighter, it's a cross between that tart and a regular pizza. Years ago I made it with leeks only, and cheese of course, but I always felt something was missing. Then, I thought of spinach. Naturally, nothing is a better fit than spinach.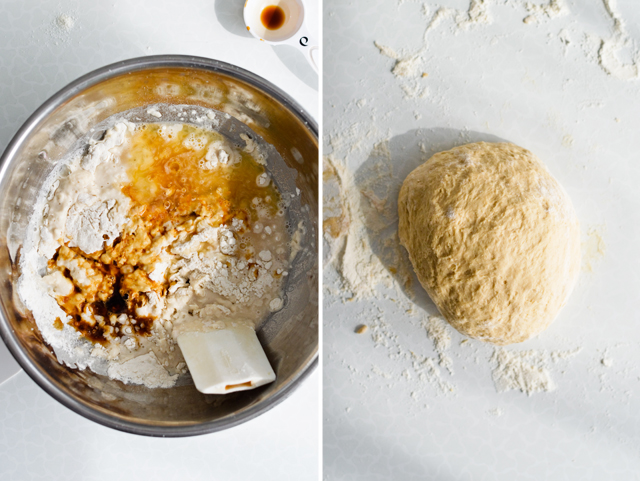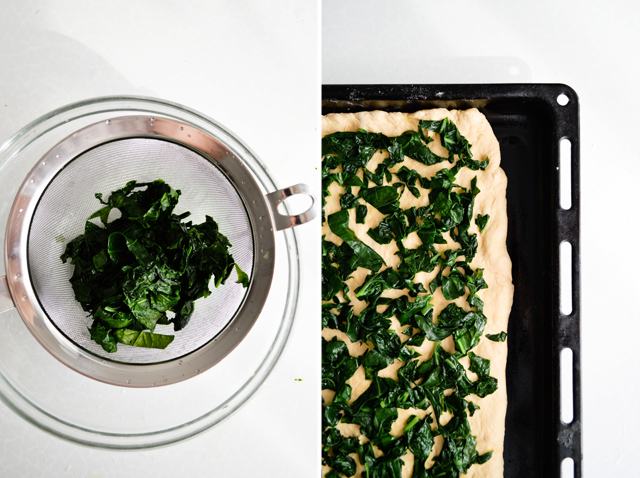 Leeks and spinach just work. It's as simple as that and putting the two together is poetry on a plate. It's a shame, really, that I ever even made flatbread without it.
The crust is thin, slightly thinner than my regular pizza crust and I use soy sauce instead of salt for some extra flavor. The spinach and leeks are cooked on some olive oil, just until they soften. Mozzarella is an important addition because I can't seem to stay away from cheese, although I've eaten these pizza squares with only a sprinkling of cheese too and they're just as wonderful.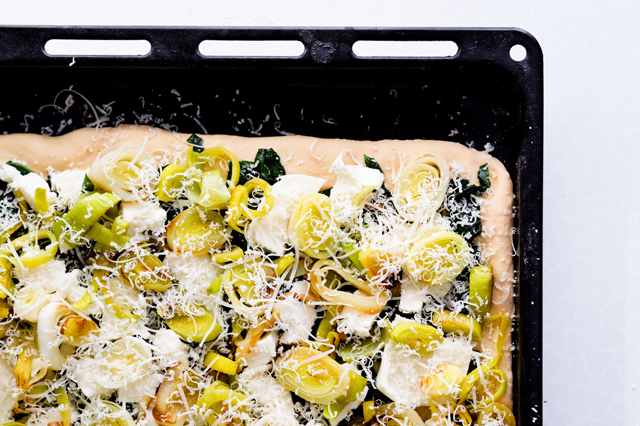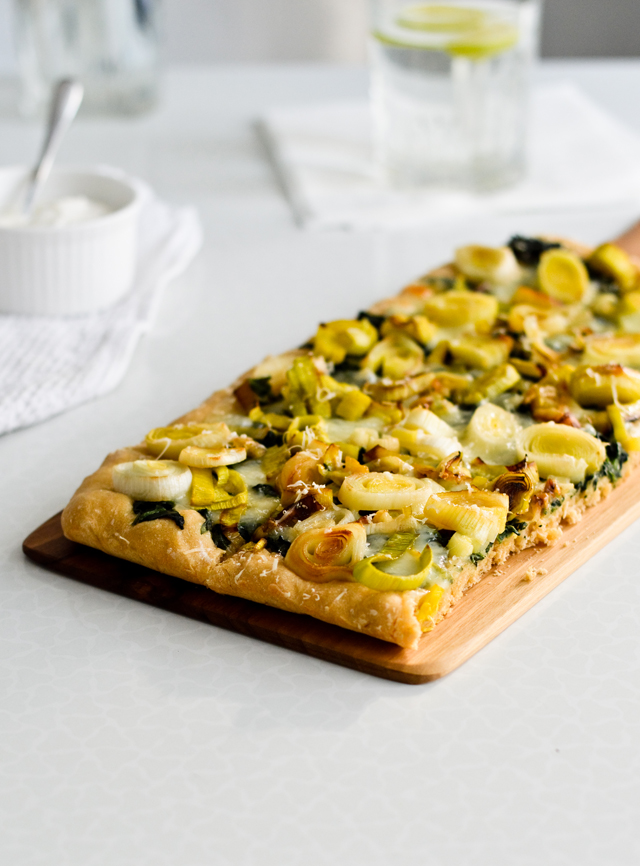 If I had to pick a winter brunch or holiday dinner dish, I'd go with the leek and spinach tart. It's richer and fits the cold weather better I think. But I'm welcoming Spring into my home and so spinach leek flatbread is my choice at the moment. And not that it needs any additions, but I love to put a tiny dollop of sour cream on top of each square. The cold  sour creaminess is the perfect counterbalance to warm and slightly sweet leeks and flatbread.
Ideally, I would serve this with my elderflower blueberry and lime mocktails (a version without the blueberries is seen in the photos).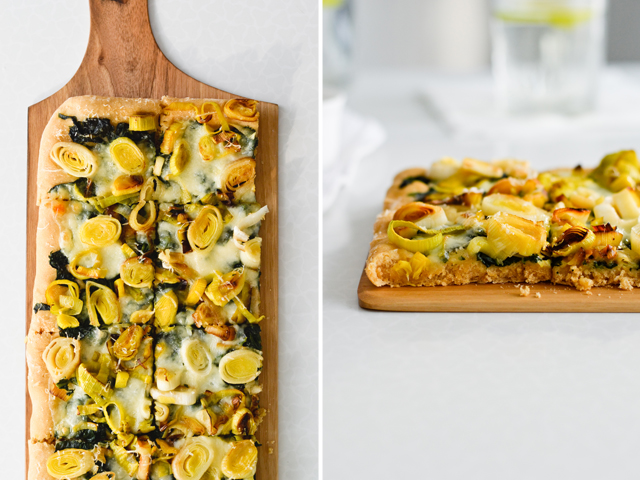 Print
Spinach and leek flatbread
Makes one 28 x 33 cm (11 x 13 inch) spinach and leek flatbread, that can be cut into 16 squares.
Author:
Prep Time:

10 min

Cook Time:

30 min

Total Time:

40 minutes

Yield:

1

large flatbread

1

x
Category:

Sides
For the dough
1 teaspoon

dry yeast

135

ml (1/2 cup +

1 TBSP

) warm water

155

gr (1 cup or

5.5 oz

) all-purpose flour + about

1/2 cup

for kneading

1 1/2

TBSPs sunflower oil

2

TBSPs Tamari soy sauce
Toppings
2

–

3

tablespoons olive oil

300

gr (10.5 oz) spinach, stems removed, roughly chopped

2

large leeks (about

450

gr or

1

pound), trimmed and sliced into rounds

200

gr (7 oz) mozzarella (aged), sliced

2

TBSPs grated Parmesan

1 teaspoon

salt
Instructions
First make the dough:
In a small bowl, combine the warm water and yeast. Once the yeast dissolves, transfer it to a large bowl, together with the flour and whisk it in. Lastly, add the sunflower oil and soy sauce. Whisk the ingredients and start kneading the dough. Once it comes together, transfer it to a floured surface. Add more flour whenever it gets sticky and knead until you get an elastic, soft, but not sticky ball of dough.
Put it back into the bowl, cover with a kitchen towel and keep in a warm place until it almost doubles in size; at least 25 minutes.
Meanwhile, preheat the oven to 200 degrees C (392°F) and grease a baking tray with sunflower oil.
Prepare the spinach and leeks:
Heat about 1/2 tablespoon olive oil in a skillet over high heat. Add the chopped spinach, sprinkle it with 1/2 teaspoon salt and cook, stirring occasionally, until wilted. This should take a few minutes tops.
Transfer the spinach to a sieve, placed over a bowl, to drain the excess liquid.
Add another tablespoon of olive oil to the skillet, once it warms up toss in the leeks and sprinkle with about 1 teaspoon of salt. Cover with a lid and let cook for a few minutes until they are tender and golden (to golden brown) in color. Set aside.
When the dough has almost doubled in size, transfer it to a floured surface and roll it out in a square or rectangular shape that fits your pan (about 28×33 cm). Transfer to the baking tray and lightly brush with olive oil.
Assemble: scatter the drained spinach over the dough, add the sliced mozzarella, top with leeks and lastly sprinkle Parmesan over that.
Bake for 10-15 minutes, until the cheese is melted and bubbly.
Once baked, let it sit for a few minutes, then serve cut in squares.
Notes
You can find more detailed instructions for dough making here – my easy pizza dough.
You don't have to use the soy sauce and can just substitute it with salt, but I think the soy sauce makes this dish more exciting.
If you don't have spinach, Swiss chard is great too.
Aged mozzarella is the dry sister of classic mozzarella. It's usually sold tightly wrapped in plastic and shaped like a log. Where I live it's labeled as "cuisine" or "cooking" mozzarella, because as the name suggests it's best for cooking. It isn't as moist as classic mozzarella and therefore won't add extra water to whatever dish you're cooking. If you can't find it, use the regular mozzarella instead. But once the flatbread is baked, let it sit in the pan for 5-10 minutes, this will help everything stick together more.
This flatbread tastes good cold too.