This just might be my favorite quick summer dinner. And with a mix of flavors that take me all the way to Italy. This lemon ricotta zucchini pasta comes together very quickly. It is made with a 30-second ricotta sauce, quick sautéed zucchini and pasta of your choice. A sprinkle of Parmesan and basil on top make it extra delicious, while still keeping the dish surprisingly light.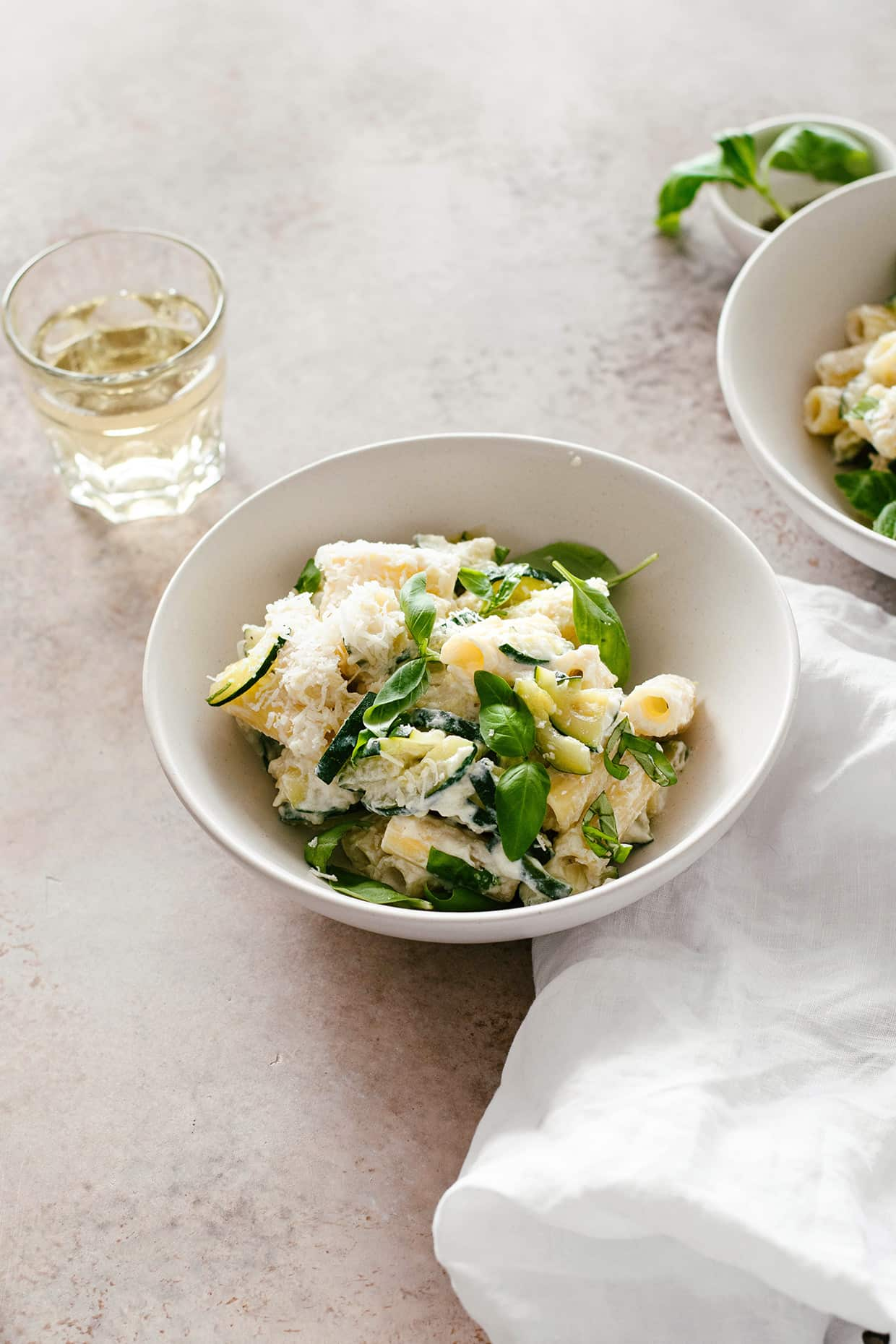 Sometimes the easiest dinners are truly the best ones and pasta is as easy as it gets. Sure, I love breakfast for dinner (like peach waffles, hello) or a good, hearty sandwich (halloumi BLT please). But if we're talking savory, cooked meals, you can't go wrong with pasta. Especially not something like this lemon ricotta zucchini pasta with jammy zucchinis and creamy ricotta sauce.
This is the kind of dish that is as simple as it is impressive. And it only takes about 30 minutes to make from start to finish.
As your pasta is boiling, you are making your sauce. And then with a few folds, stirs and taste tests, all the components come together in one big bowl that you can just put straight on the table. Add some fresh basil and people won't know what hit them! Also don't forget the wine.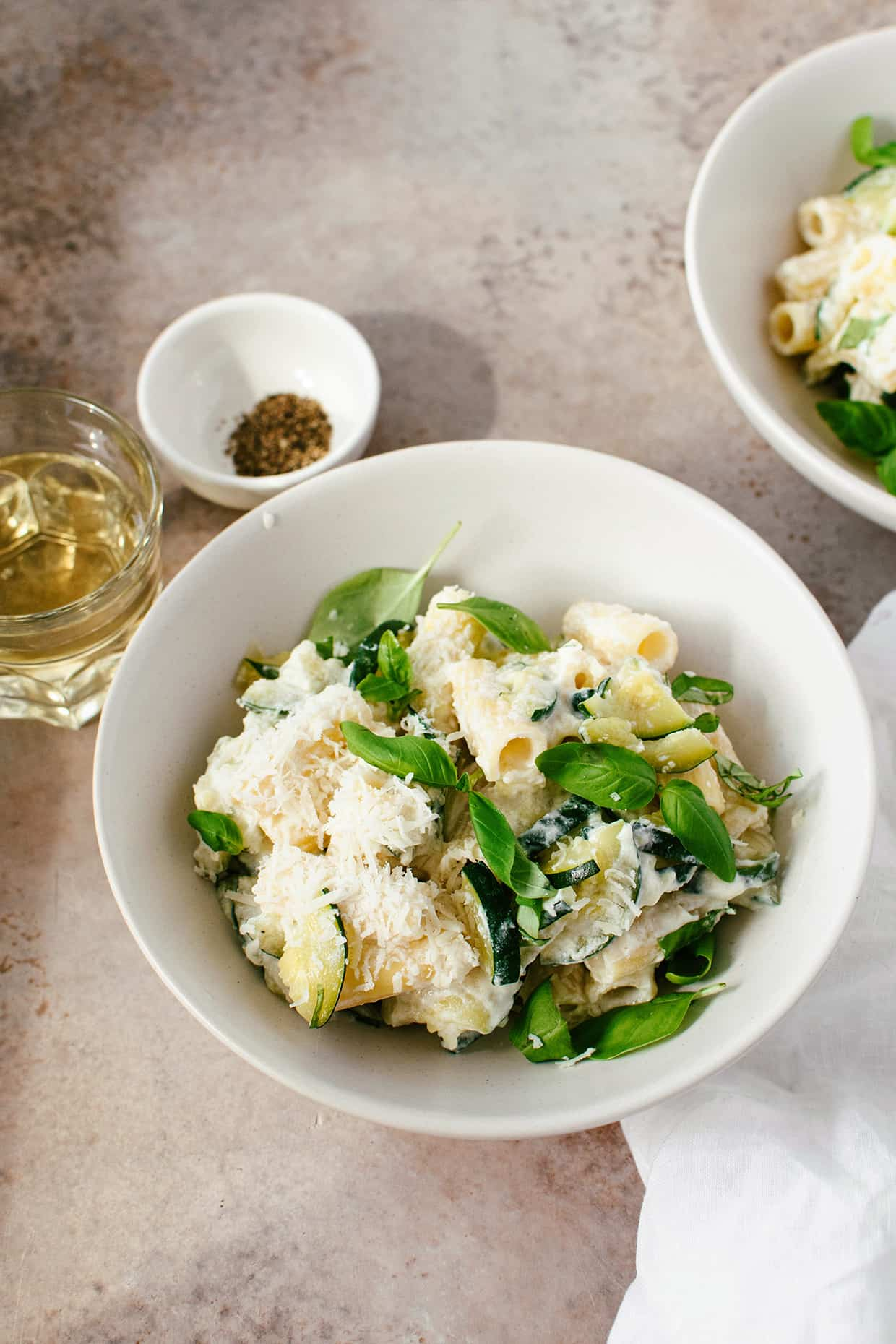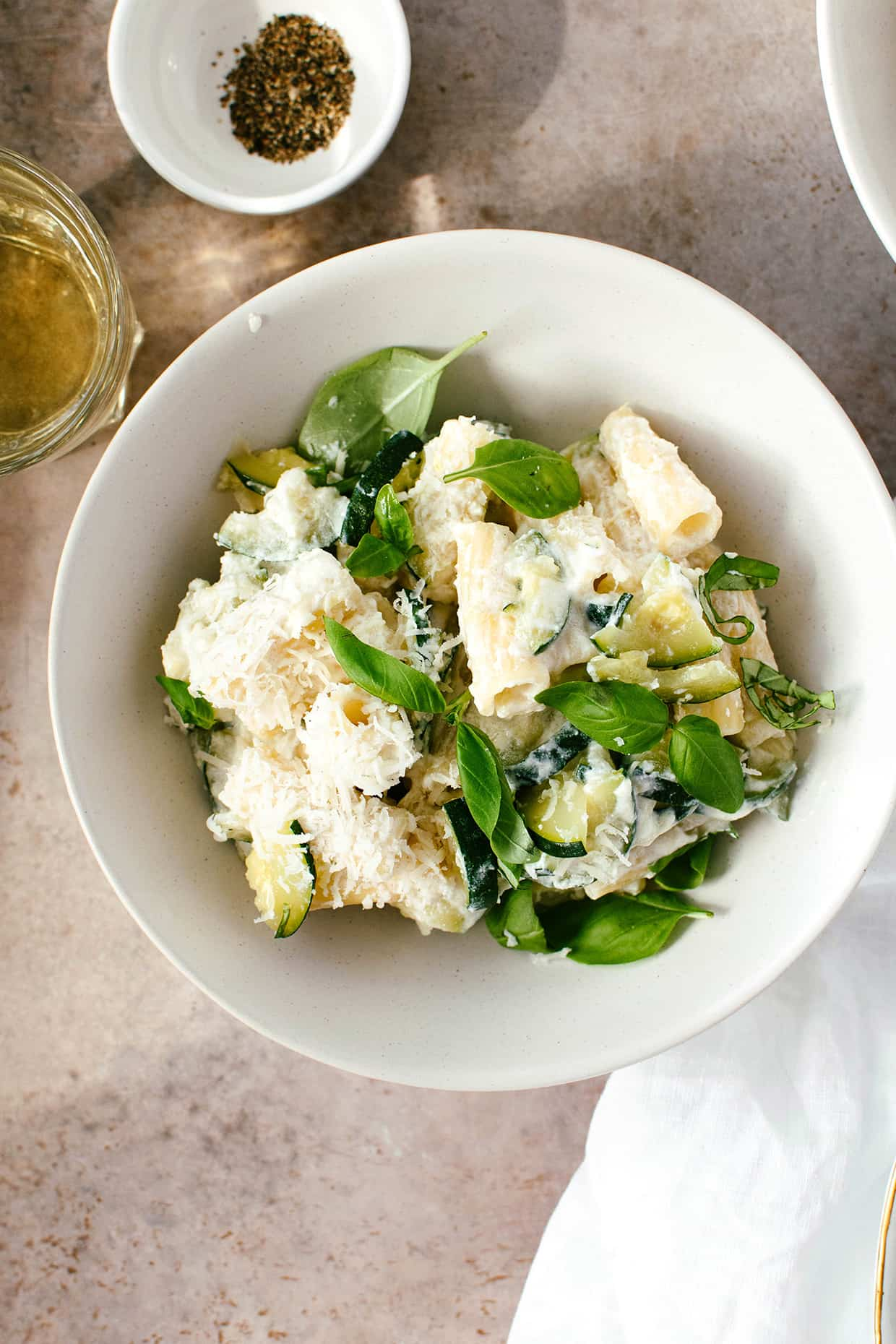 The 3 key components of this ricotta pasta:
Zucchini or yellow squash
I love zucchini but yellow squash is really delicious too. All you do is slice it very thinly and sauté it in olive oil, together with shallots and garlic. Letting some bits brown will give you even more flavor.
My mom kind of made it a rule to brown onions and I always do that.
Zucchini softens pretty quickly and in the end you'll get a somewhat jammy, chunky mix of torn up pieces of zucchini, mixed into onions. That alone honestly tastes so good, you could just eat it on some toast.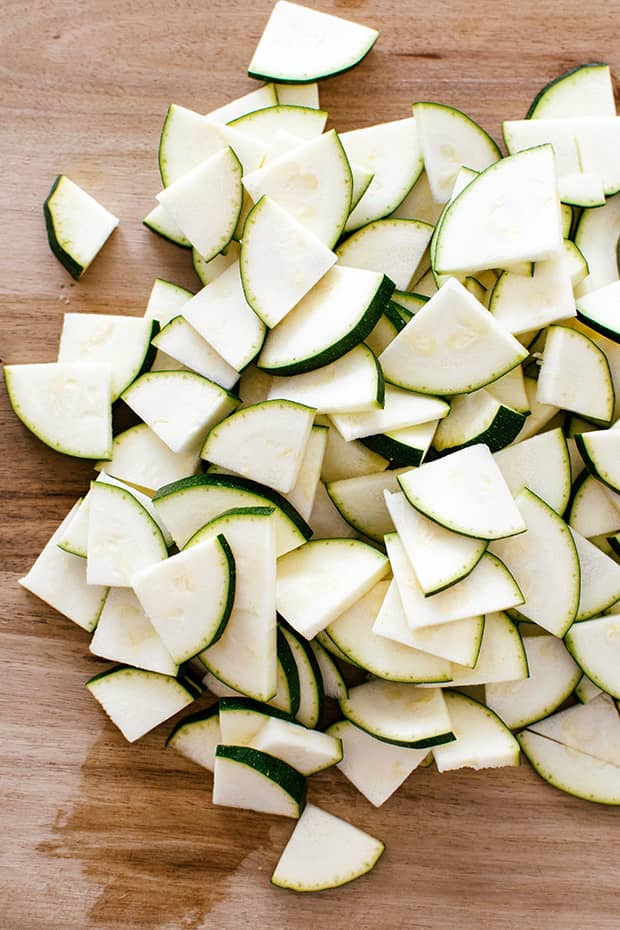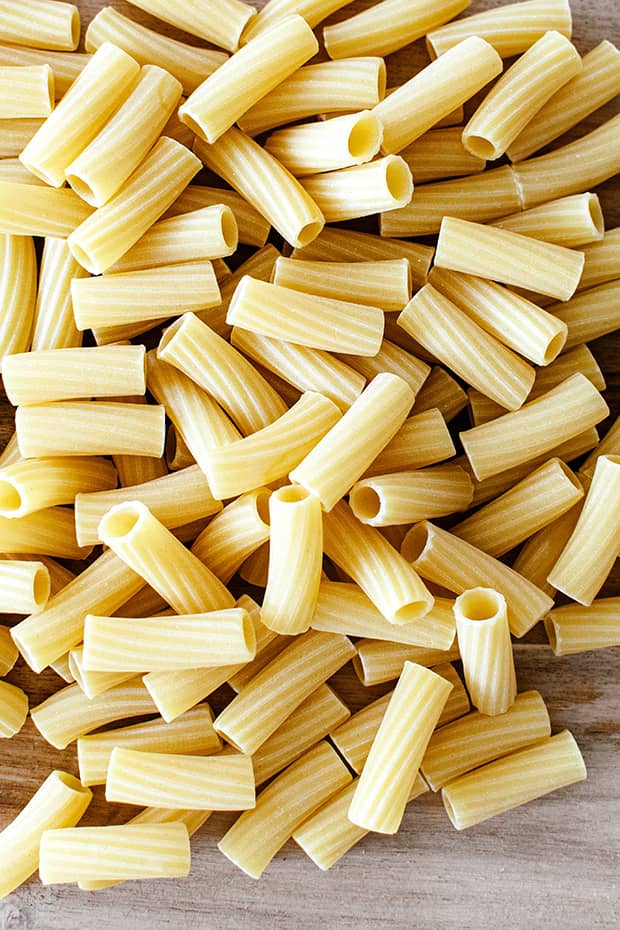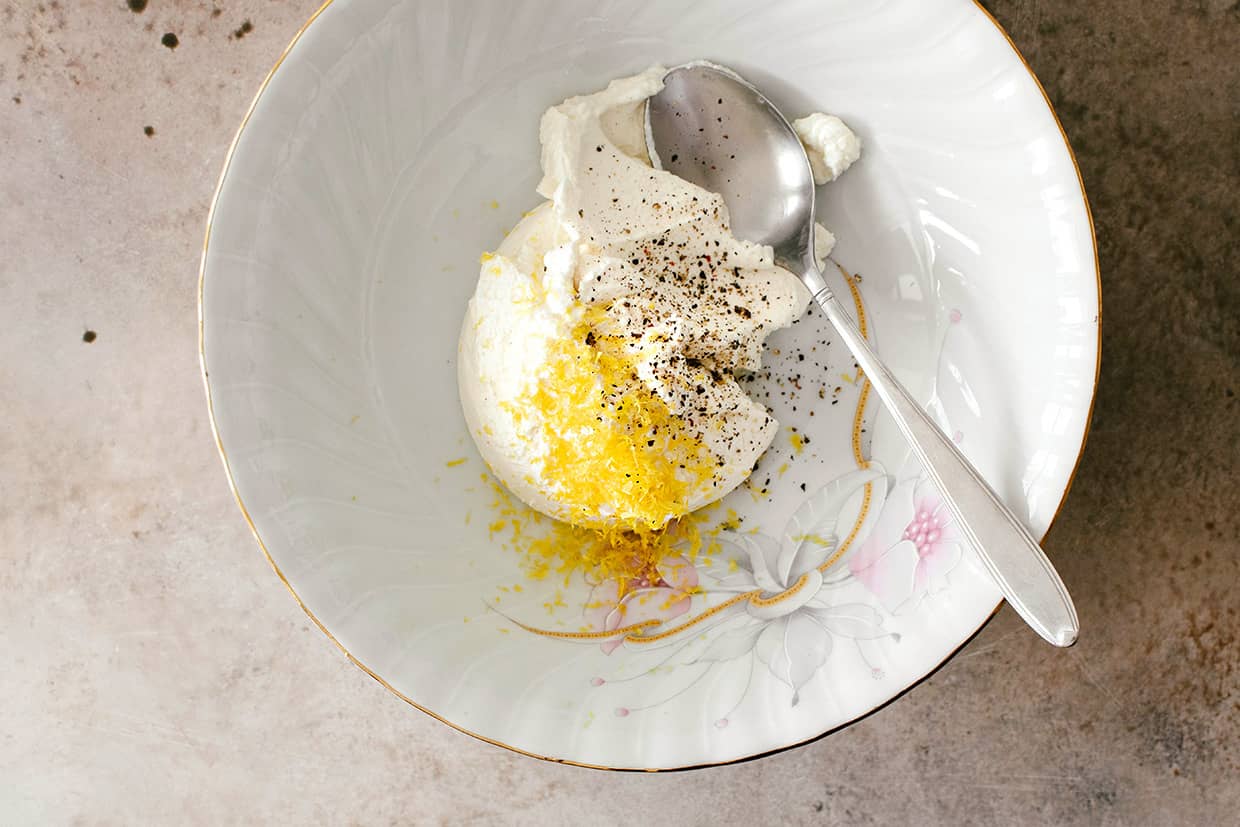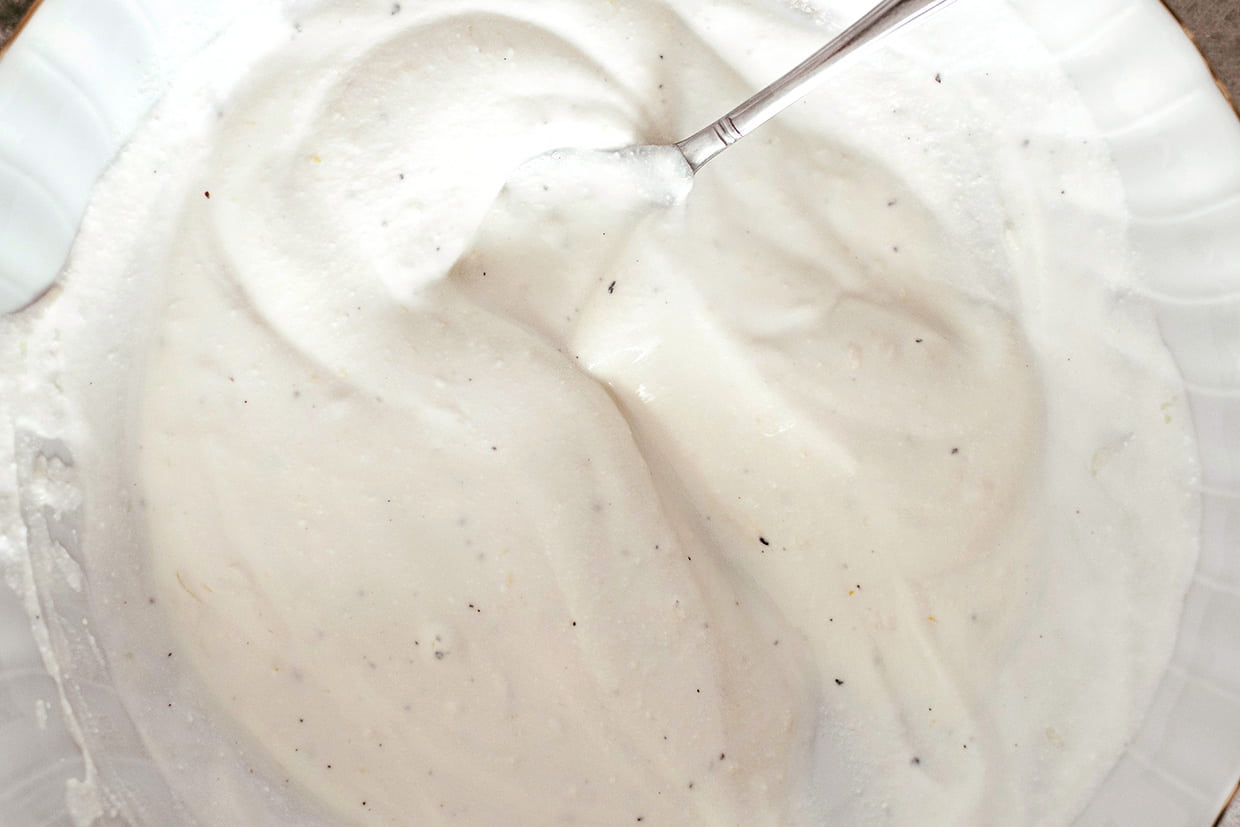 30-second ricotta pasta sauce
This has got to be one of my favorite sauces. It is refreshing and comforting at the same time. And it leaves room for additions, which I adore. So if you're not in the mood for zucchini, you can sauté some tomatoes or peppers and ricotta will take care of the rest.
This sauce is made with:
I get mine from the dairy section at the grocery store, which is the easiest place to get ricotta. But you can use any kind of ricotta you want. Homemade or fresh from the cheese counter (like at an Italian deli), if you have access to that. In fact if you're doing that, you could also grab some fresh pasta and make this recipe super next-level. 
This is what makes the sauce super resfreshing. A mix of (organic) lemon zest and lemon juice. You can use both or one of the two. Make sure to use a zester for zest to keep the flakes as tiny as possible.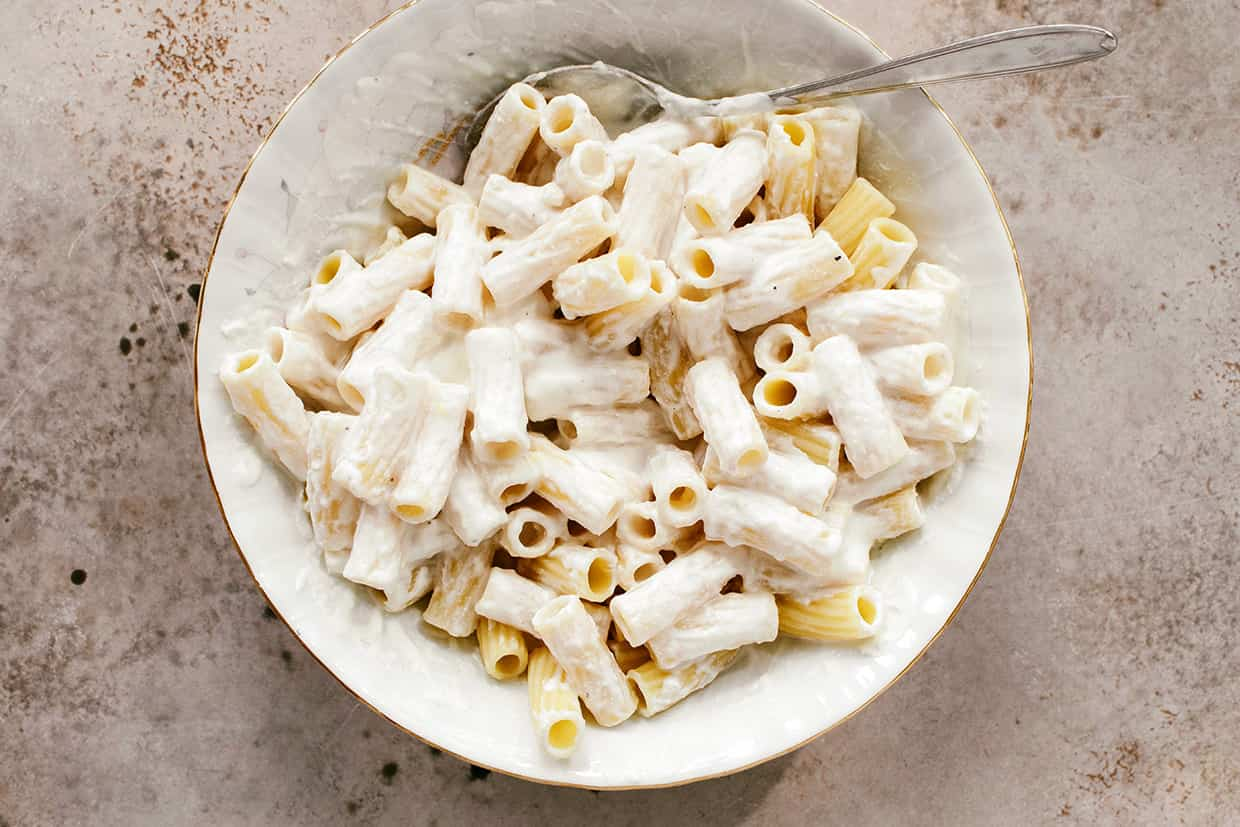 I use Parmigiano Reggiano but any parmesan-type of cheese will work. A small amount of this adds really good flavor and saltiness to the sauce.
This is the key ingredient! Hot, boiling pasta water transforms all of the aforementioned ingredients into a creamy, delicious sauce in a matter of seconds.
As with any sauce, these two ingredients are very important. Add according to your taste. And always salt lightly! You can add more, but if you throw a bunch of salt in, it's hard to fix it.
Pasta
I like short pasta for this zucchini pasta dish, especially something like rigatoni. They are hollow in the middle, which is great for soaking up extra sauce. And also larger than ziti or elbows, so very easy to grab with a fork.
I always describe rigatoni as meaty pasta, just because of the size. I just think they work so well with a sauce that's more delicate in flavor.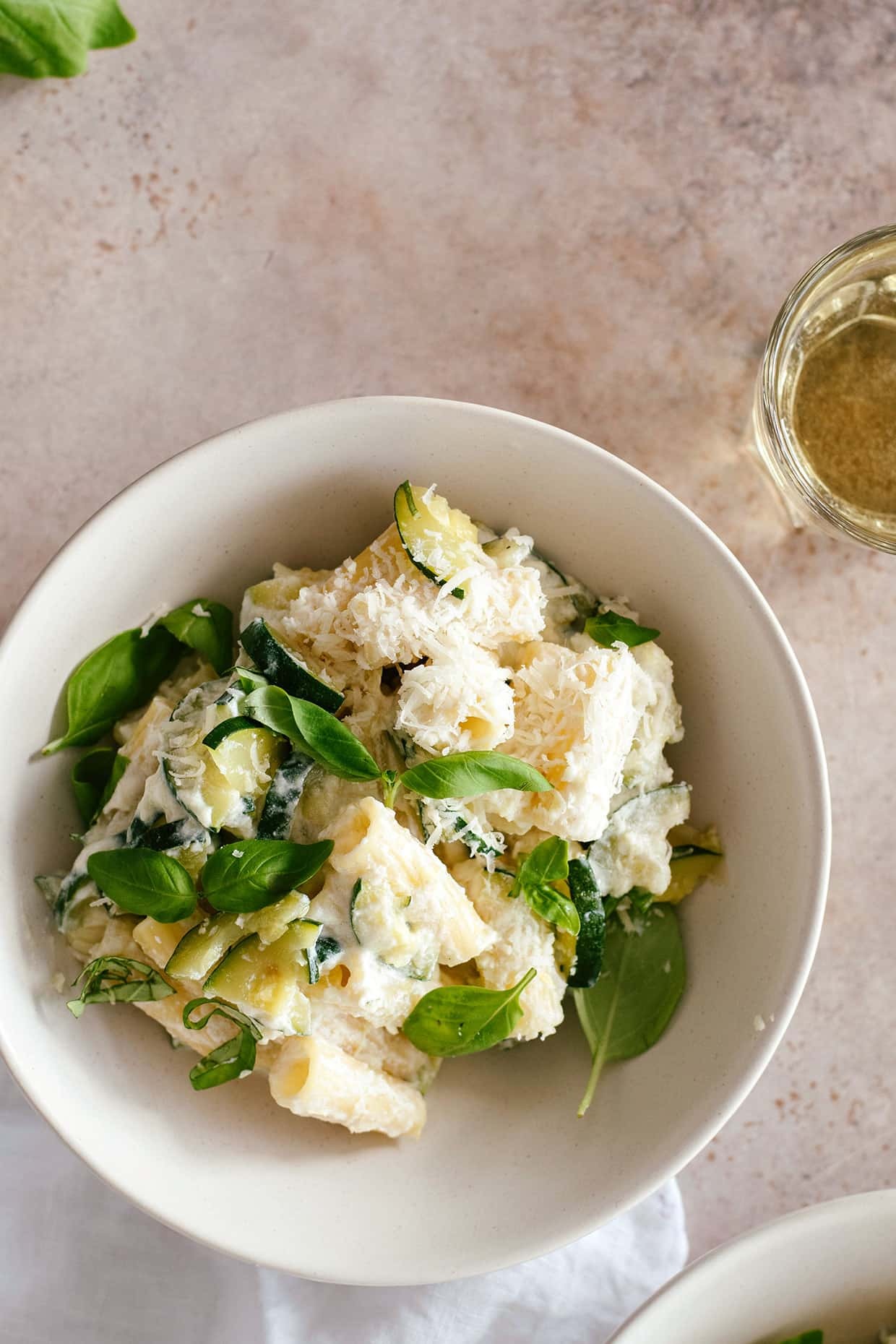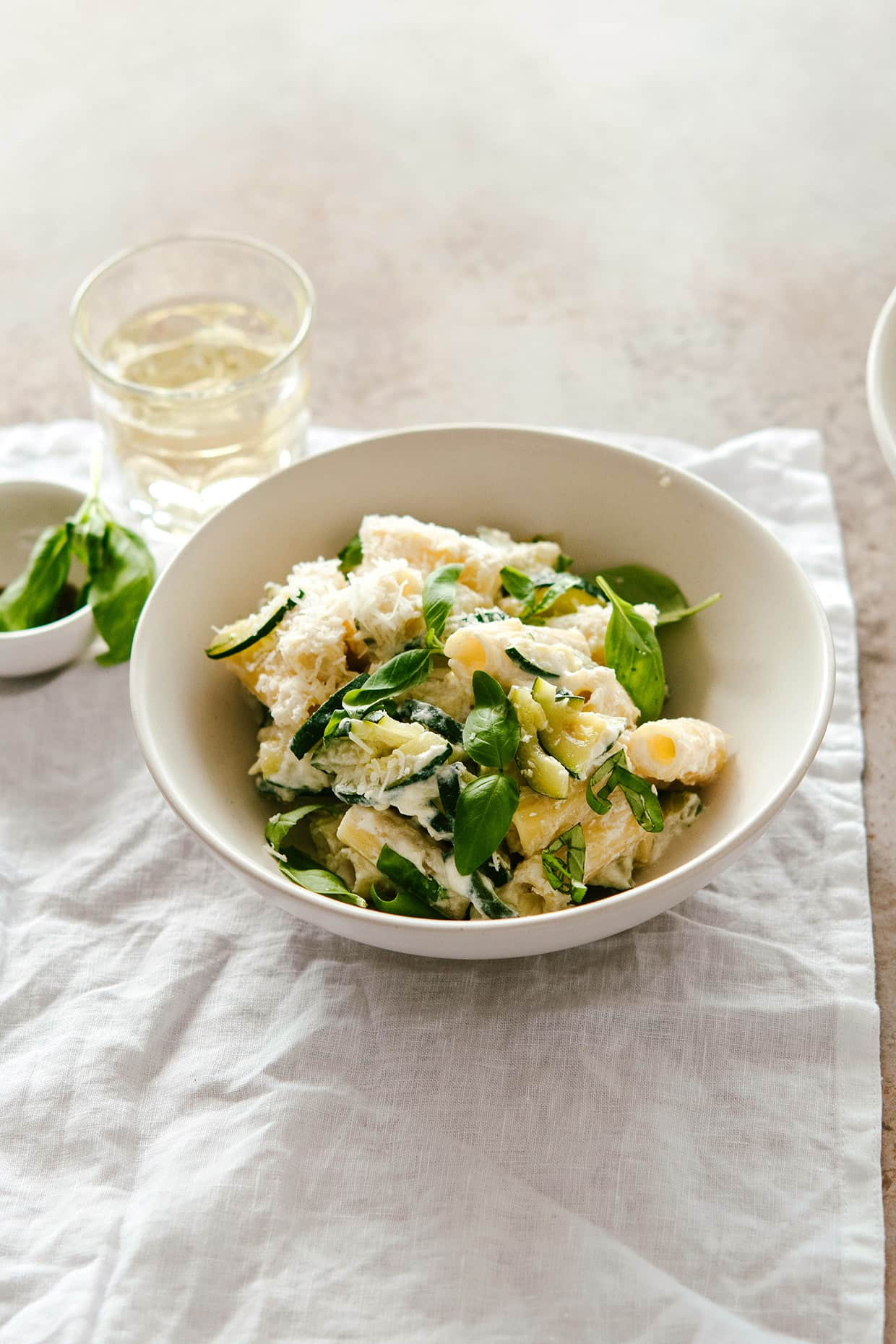 So go, travel to Italy for a second (or 30 minutes) and make this lemon ricotta zucchini pasta. Even though this is a pasta based dish that doesn't skip on the cheese, it's surprisingly light tasting. A mix of ricotta and lemon make it resfreshing and browned zucchini add flavor in a healthy way.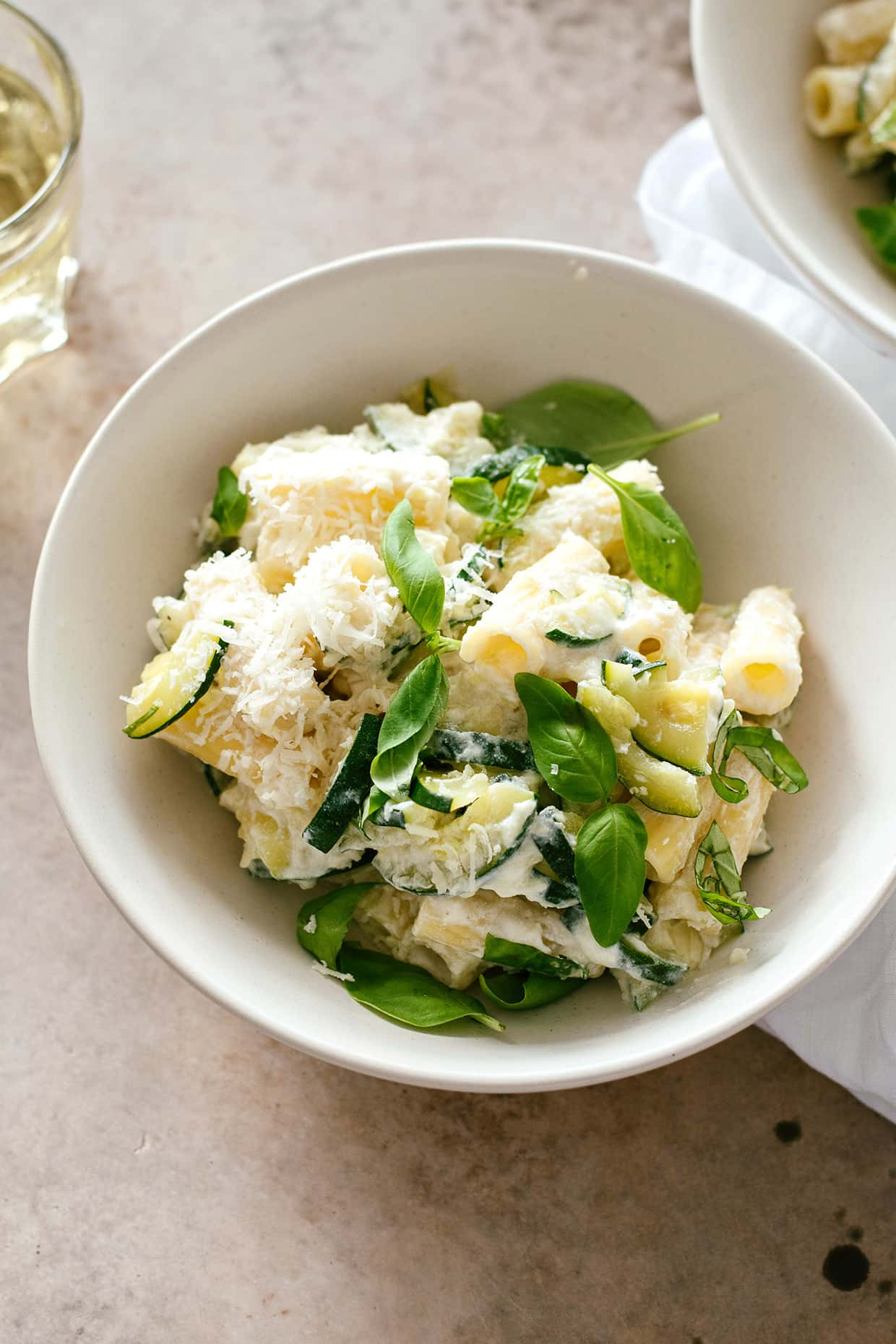 Lemon ricotta zucchini pasta
A surprisingly light and flavor-packed pasta, done in 30 minutes.
Ingredients
2

tablespoons

olive oil

1

shallot

,

finely chopped

2

garlic cloves

,

minced

1

pound

(

500

g

)

zucchini

,

ends trimmed and sliced thinly

9

oz

(

250

g

)

pasta of choice

,

such as rigatoni, penne, fusilli, etc.

1

cup

(

250

g

)

ricotta cheese

1/2

cup

(

30

g

)

grated Parmesan cheese

1/2

tablespoon

lemon zest

, optional, add to taste

1

teaspoon

lemon juice

, more to taste

sea salt

, to taste

black pepper

, to taste
For serving
grated Parmesan cheese

fresh basil leaves
Instructions
Heat olive oil in a large skillet over medium heat, add shallots and cook for a few minutes, stirring occasionally, until soft. Add garlic, stir and sauté for about a minute, just until fragrant.

Add the zucchini and sprinkle with 1/2 teaspoon of salt. Cook for about 15 minutes, stirring often, until zucchini is soft. If it's sticking to the pan, lower the heat and add a few tablespoons of water. When cooked remove from heat.

Meanwhile, bring a large pot of salted water to a boil. Toss in the pasta and cook for 10-15 minutes (follow your package directions). Reserve 2 cups of pasta water for later and drain the pasta. Set aside.

In a large bowl, combine ricotta, Parmesan, lemon zest and juice, 1/2 teaspoon salt and a few grinds of pepper. Pour over some of the pasta water, about 2/3 cup, and stir to combine. Keep adding pasta water until you have a creamy sauce. Taste and adjust seasoning.

Add pasta to the sauce and stir to coat. Fold ricotta-covered pasta into your zucchini. Keep stirring until it's evenly mixed. 

Serve with extra Parmesan on top and fresh basil. Store leftovers in the refrigerator for up to a day.
Notes
If you don't want to use real Parmigiano Reggiano, use any parmesan-style cheese instead.
This recipe serves 2-3 people very comfortably (with possible leftovers), but can be served to 4 people. Especially if you include other things in your meal (like appetizers, sides, dessert). 
Email recipe
Pin Recipe
Recipe first published in August 2016, revised and updated in September 2020.