Crispy chickpea spinach salad is the perfect, protein packed lunch!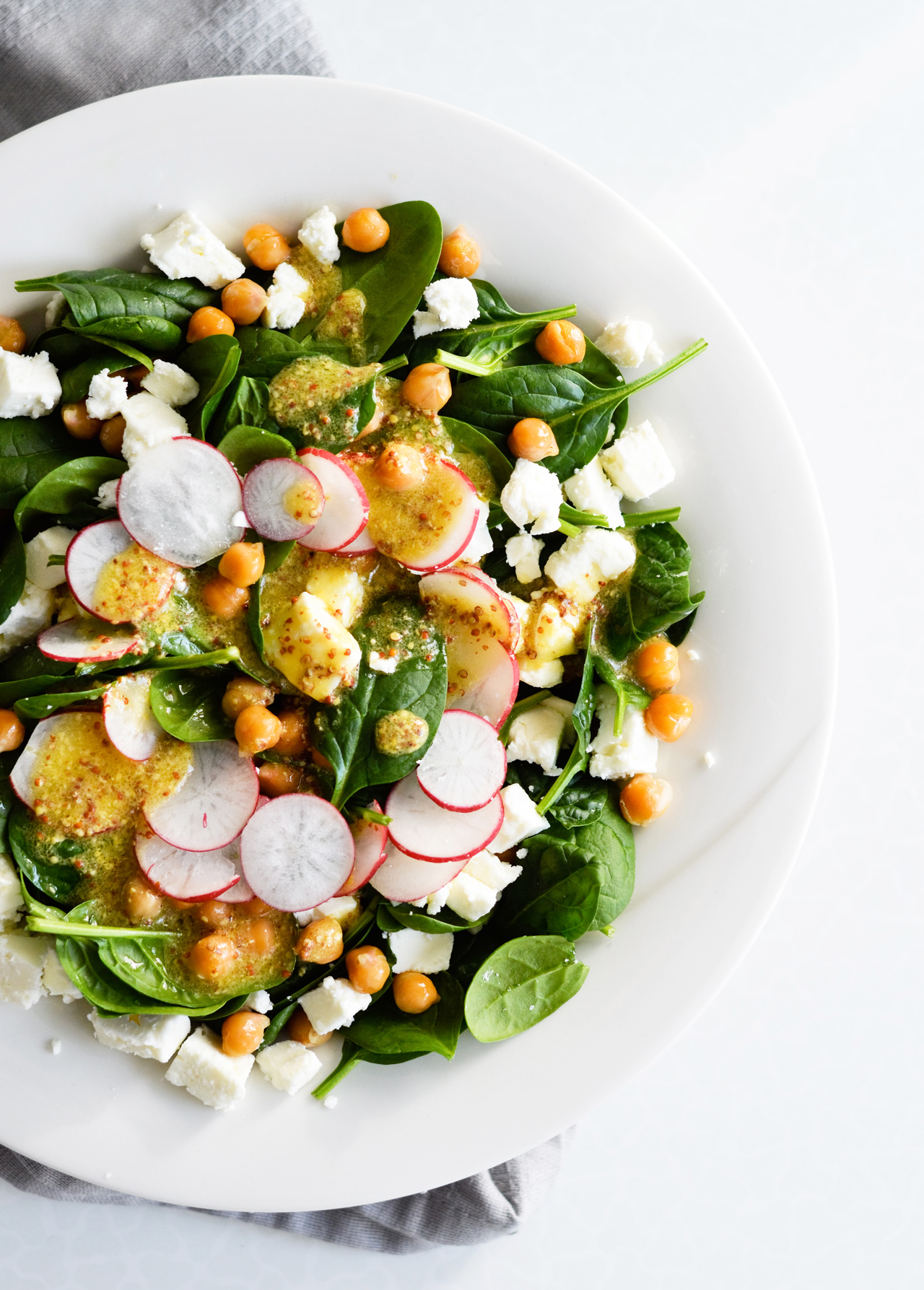 I'm afraid some of you might think all I eat is pancakes and waffles, because I really don't. Just thought I should throw that out there. While I love to indulge in sweet treats and often think "I wish I could eat this allll the time", that's not really what I want.
I think that idea is really nice in theory, but could never be real life. I just don't think you can feel good if all you eat day in and day out are pancakes, waffles and similar. I would challenge you all to try it, but I don't want to give anyone a heart attack. Because life is really all about balance and food is no exception. And to balance out all the sweet things, here is a salad.
A delicious crispy chickpea spinach salad, which I promise won't leave you hungry.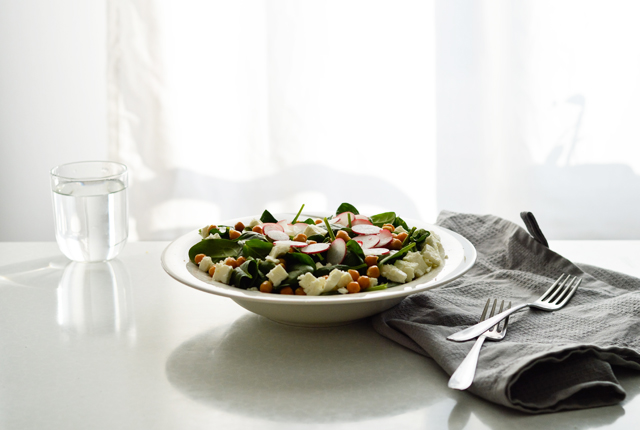 Now, I'm still getting there, and this recipe is definitely helping, but Rok eats a salad for lunch almost daily, which is my new goal now. And it makes perfect sense to have something nourishing, but fairly light for lunch when you're working.
Heavy food can make you feel sluggish and that's not exactly ideal when you have work to do. Back when I still had an office job, I sometimes ordered a salad too (when I had the time to actually eat it in peace) and I have to say, looking back, it was definitely one of my favorite lunches.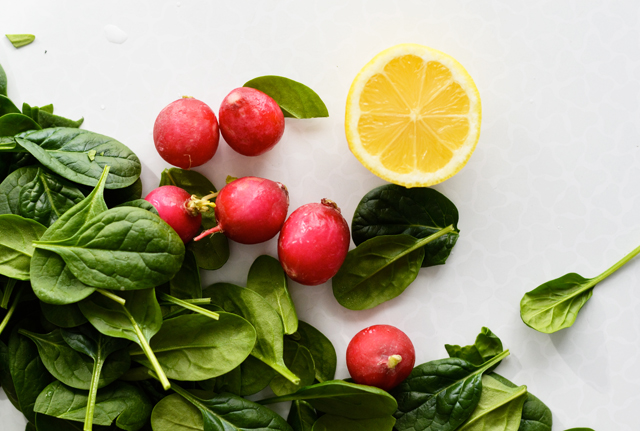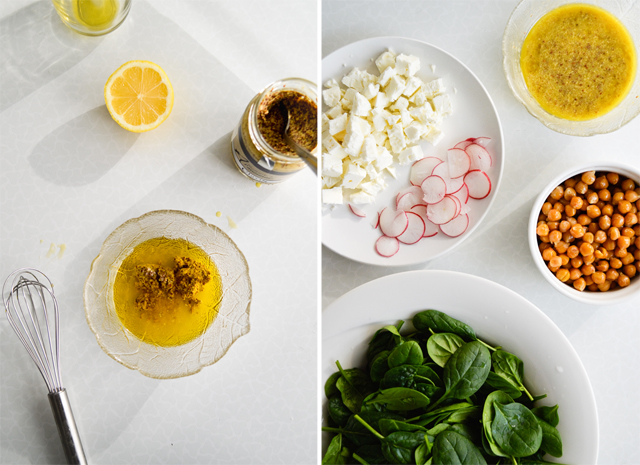 This particular crispy chickpea spinach salad is my take on a few salads Rok and I have had in the past. Whether we order in or go out to eat, these days a lot of places offer salads with chickpeas and a mustard dressing. It's become a very classic combination, but everyone has their own twist on it.
The one thing that they all have in common though is that the chickpeas are always only cooked, not crispy.  While bare chickpeas are easier to add to a salad and take no extra prep time, crispy chickpeas make all the difference in the world. If a regular green salad with chickpeas is good, a salad with crispy chickpeas is amazing! And baking them takes very little effort and only an extra 10 minutes, but the difference is really noticeable and the salad one you'll remember.
I do know that it might be a bit early for baby spinach, depending on where you live, but the weather has been very spring-like here and I just cannot resist it anymore. I love spinach in any form, I always have some frozen in my freezer and cook with it all year round (remember this amazing spinach tart or the best creamed spinach?), but raw, baby spinach is a whole different story. It works so great in a salad and I can't keep passing it in the store, so here it is!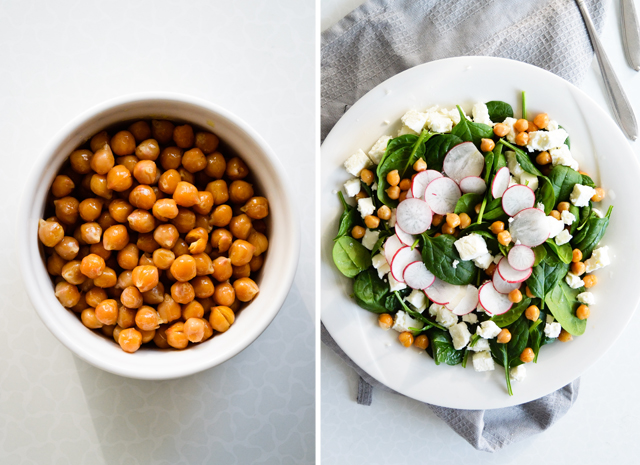 While the chickpeas add richness, the mustard gives this salad a real kick. I'm usually very wary of all things that might burn my mouth, but this mustard dressing has really become my favorite. I've found that as long as I add the mustard a teaspoon at a time (in a dressing) or a thin layer on layer (in a sandwich), I'm fine. The smell is pretty divine though, which is why I first gave it a go anyway.
This spinach salad is a real roller-coaster or flavors. The crispy chickpeas perfectly break soft spinach, the cheese adds the right amount of salt and creaminess. The mustard dressing and radishes are sharp enough to give it a kick, a breath of fresh air.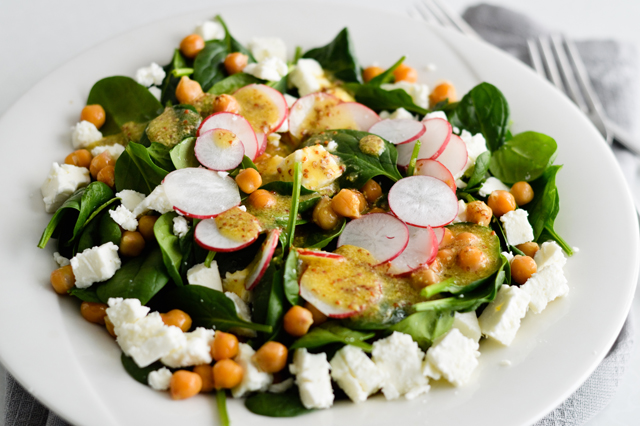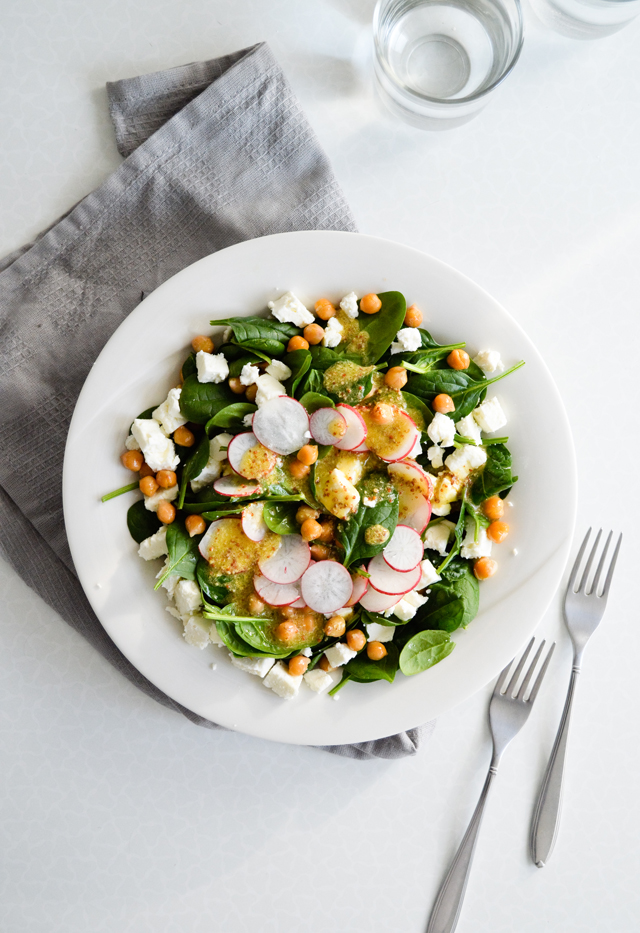 Print
Crispy chickpea spinach salad with a mustard dressing and feta
Try this salad for a light, yet filling lunch. It's crispy, buttery and sharp.
Serves 2 people comfortably as a main, or up to 4 people as an appetizer or side dish.
Author:
Prep Time:

10 min

Cook Time:

15 min

Total Time:

25 minutes

Yield:

2

servings

1

x
Category:

Salad
185g

(

1 cup

) cooked chickpeas (rinse if using canned)

1/2 tablespoon

olive oil

1/2 teaspoon

salt

100g

(

3.5 oz

) spinach, washed

100g

(

3.5 oz

) feta cheese, sliced into small cubes

2

–

3

thinly sliced radishes
Mustard dressing
1

–

2

teaspoons whole grain mustard
juice from

1/2

medium lemon

90

ml (1/4 cup +

2 TBSP

) olive oil
salt to taste
Instructions
First bake the chickpeas:
Preheat oven to 180°C (350°F). Line a small baking sheet with baking paper. Place chickpeas on the sheet, drizzle with olive oil and sprinkle with salt. Stir with a spoon to coat all chickpeas and bake for 10 minutes, until chickpeas are golden brown in color and aromatic.
Meanwhile, prepare the dressing:
In a small bowl whisk together 1 teaspoon of mustard, olive oil and lemon juice. Taste and season with salt, add more mustard if needed. Set aside.
When the chickpeas are baked, let them cool slightly, then assemble the salad.
Place spinach in a wide salad bowl or large plate, scatter chickpeas, feta and radishes on top. Drizzle with mustard dressing and serve.
Notes
For a quick lunch, I always use jarred cooked chickpeas that I rinse under water before use. If you prefer cooking your own, you can definitely do that instead.
Adjust the mustard dressing to your own taste. Your lemons may be more/less sour than mine, you may want a sharper dressing than me or you may want more or less oil. Generally, if the taste is too strong you can thin out the dressing with extra oil, extra lemon juice or simply water.
If you don't have spinach, you can use butter lettuce or any other leaf vegetable that you like instead of spinach.
Avocado (sliced into small pieces) makes a great addition to this salad.