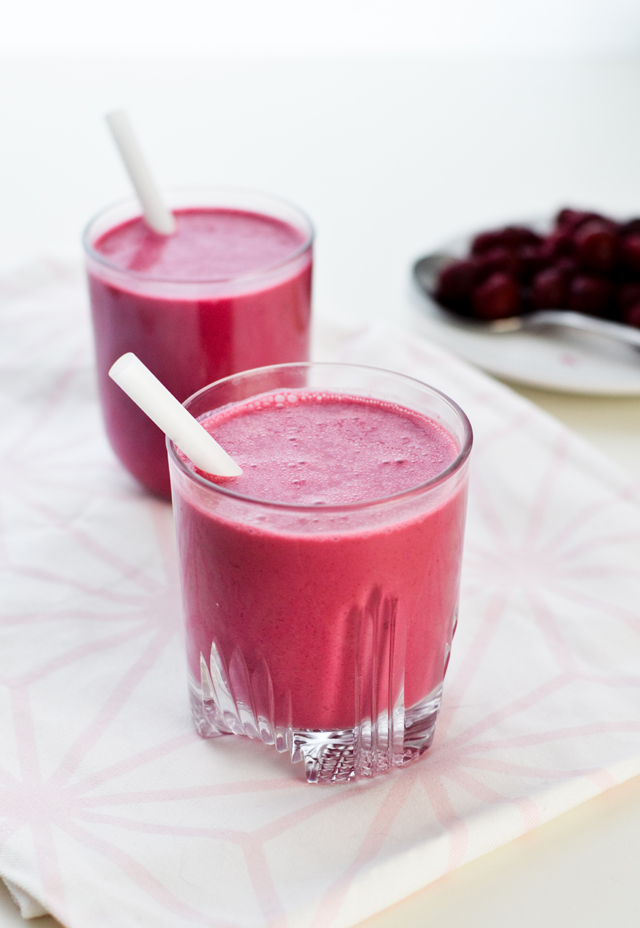 Oh boy, I've been a bad blogger. This little break I've had wasn't planned AT ALL. A little while back I told you about me being sick and at that time I really felt like I was getting better, only to realize I was feeling a lot worse a day or two later.
My doctor thinks I caught one virus and as I was recovering I caught another one. It's unfortunate, but I have noticed a lot of people have been sick and I guess I just wasn't careful enough when I went out. My blood tests didn't show anything apart from me having a cold, so this isn't anything serious, but it still sucks. I have a full list of recipes I want to share but I just haven't had the energy to do anything in the kitchen. Buttt I promise I'll make it up to you!


I am slowly getting better though, with the help of medicine, tea and fruit. Speaking of tea, chamomile tea with honey is my absolute favorite (and I love my honey apricot chamomile iced tea during the summer!). When I was younger, my mom always made me a mix of mint and chamomile tea. That was my favorite back then. Clearly, my taste has hardly changed.
I do love different types of tea, but nothing makes me feel better and cozier than chamomile when I don't feel good. As for fruit, I've been loving clementines and blood oranges. Clementines especially are a winter essential. They're kind of like snow, you know? I can't picture a winter without it and I can't picture it without clementines. Although, we've had better luck with citrus this year. It only snowed for a few days and now the snow is all gone and we're back in this mix of winter/spring weather with occasional autumn-like foggy days.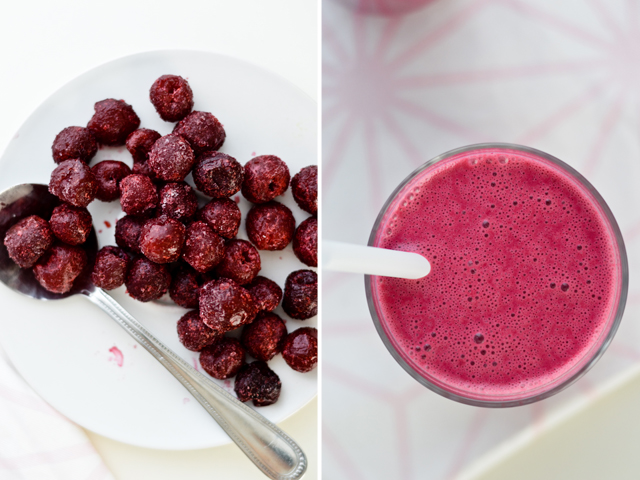 Now to the smoothies. You all know how much I love my smoothies. But I admit I pushed them aside in December. That was just a crazy month of eating way too much cheese and chocolate. Saying no to that is hard! And I'm sure some of you can relate to that.
But I'm ready to get back into my routine now with a very vibrant you-need-me-in-your-life type of smoothie. A smoothie that Barbie would want, as it looks like cotton candy in a glass. Obviously, this cherry beet smoothie doesn't really taste like cotton candy, but  I just think it's so pretty!
The beet juice is what gives it this ridiculous pink color. And it's super good for you too. I love this smoothie because it's made in no time, it is refreshing and very filling. Also, beet juice has a lot of benefits and I don't like to drink it on its own, which is why hiding it in this smoothie is perfect!
And even if this didn't taste good, but trust me it does, the color itself is convincing enough.  It instantly puts me in a better mood. Really, what else could you ask for in the morning?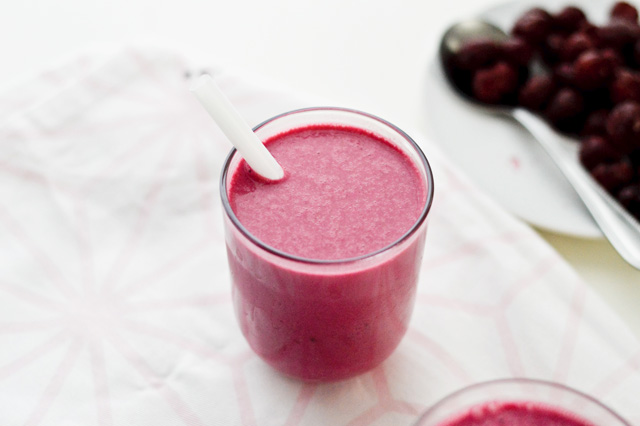 Print
Cherry beet smoothie
Vibrant and healthy, this smoothie will help you start the day right.
Author:
Prep Time:

5 min

Total Time:

5 minutes

Yield:

1

large smoothie

1

x
Category:

Breakfast
120

ml (1/2 cup) beet juice

150 grams

(about

1/2 cup

) Greek yogurt

240

ml (1 cup) unsweetened rice milk

100 grams

(

1 cup

) frozen cherries

1

medium banana, peeled
Instructions
Add the ingredients to your blender and blend well until they're all pureed and smooth.
Taste to see if you want to add anything else, then pour into your glass.
Notes
This is not a thick smoothie, it's easily drinkable (you don't need a spoon), like a milkshake. If you want a thicker one add less milk and/or juice.
Too avoid too much dairy in my breakfast (and a possible stomach ache), I prefer a mixture of yogurt and rice milk or other non-dairy milk. You can of course use regular milk instead.
I use store-bought beet juice. The store in my neighborhood doesn't always have beets, so getting juice is just easier for me. I only buy 100% beet juice without anything added to it (like other fruits or sugar).
If you have beets at home, you can use those instead. Peal one small beet, cut it into chunks and add to your smoothie.
If you don't like bananas, an apple is a great substitute.
Medjol dates are a great addition to make the smoothie sweeter.