Booo, white chocolate ghosts are in the house!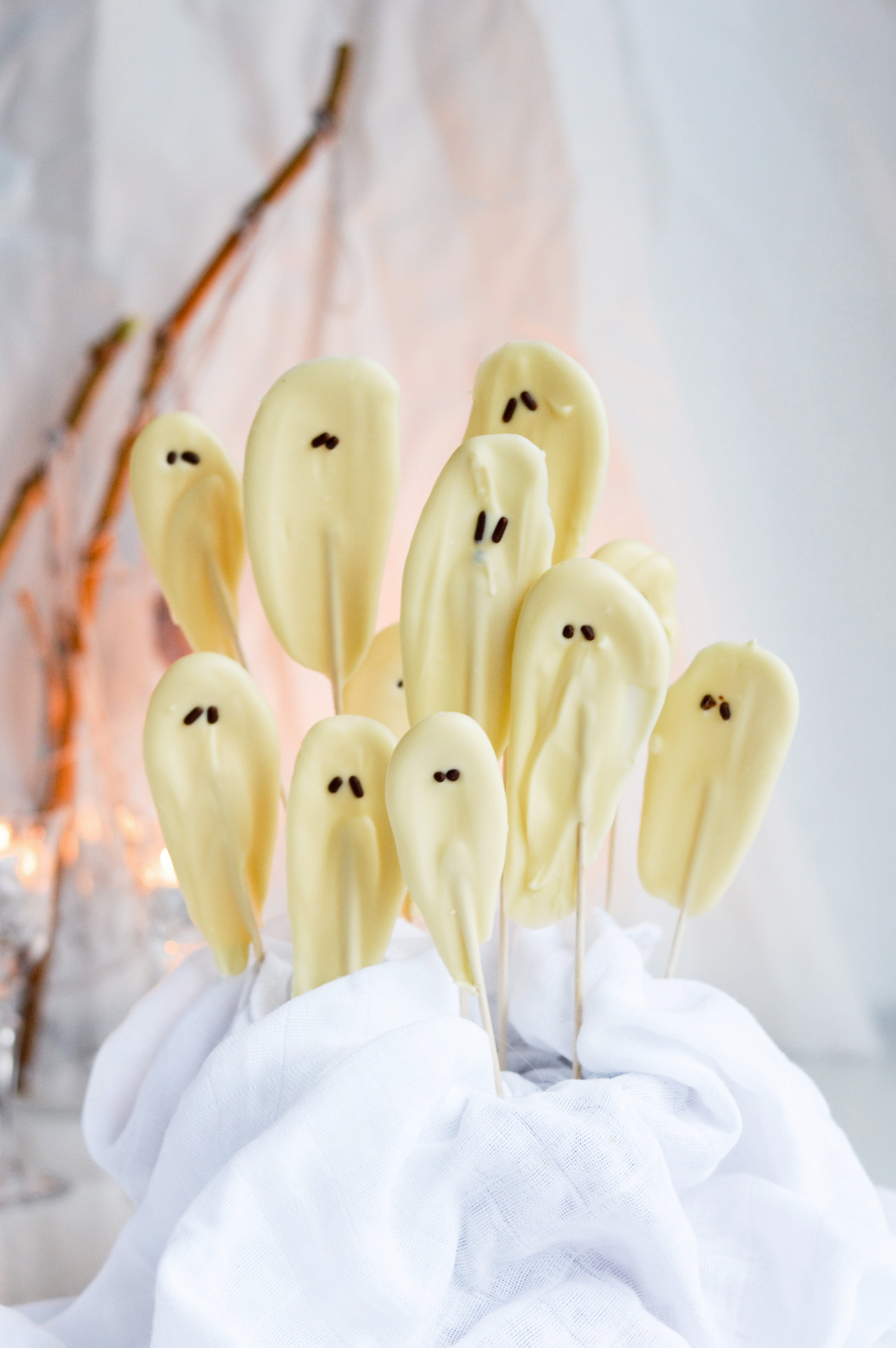 You guys, it's almost Halloween!
Halloween isn't as big of a deal over here as it is in the USA, but I still love it. I think it's actually getting bigger and bigger each year and who knows, maybe we'll one day reach the American level of it. We do have our own carnival at the end of winter, with masks and doughnuts, when kids dress up and go trick-or-treating, but I really wouldn't mind having two big holidays.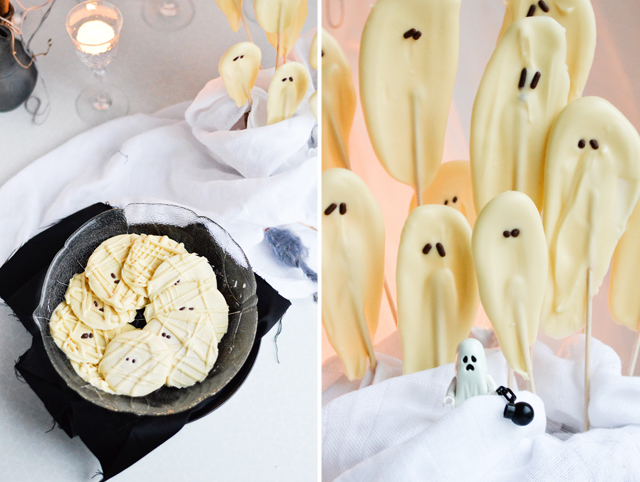 More opportunities to dress up and throw funky parties, make cute candy and watch scary movies. Speaking of scary movies, I plan on watching a ton over the weekend. I absolutely adore horror movies. Although I've been noticing that the older I get the easier it is for me to get freaked out by a movie. I don't really mind gory films or serial killers, but ghosts are something else.
I'm a veteran when it comes to scary movies, or I like to think that. I had to be around 10 when I watched my first one. It was the first Friday the 13th movie from 1980 and I saw it with my mom, another scary movie fan. I've seen the rest of the movies in the franchise too, several times, along with other classics. I love Halloween and the sequel, and then H20, which had a great cast.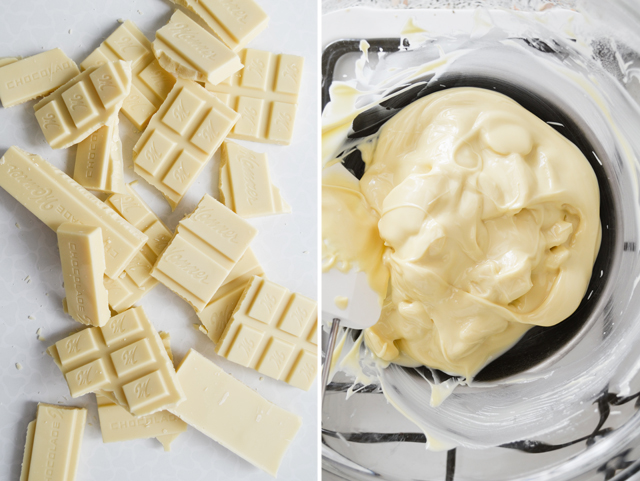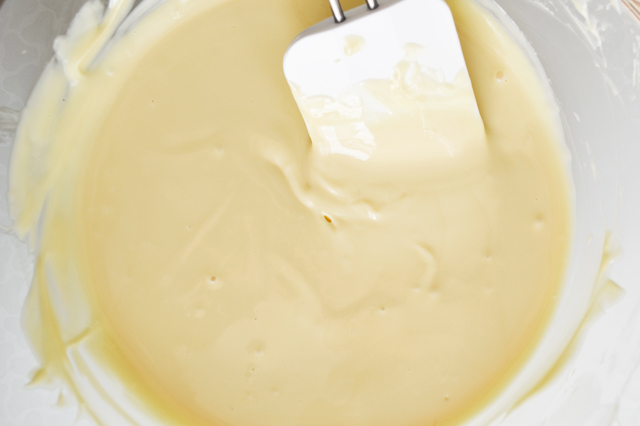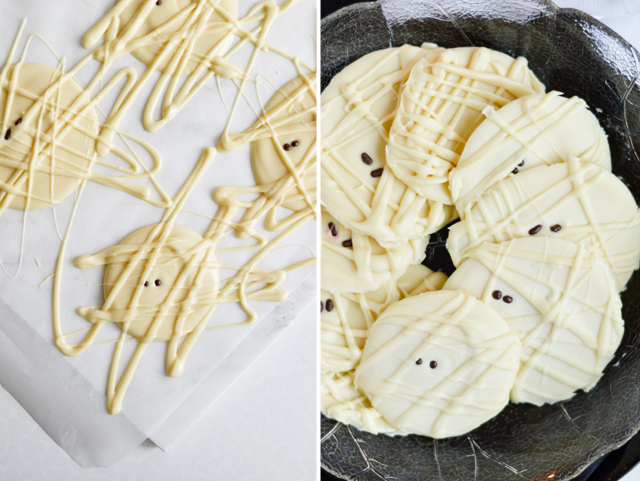 I generally prefer the originals and not remakes, but I'll watch anything to see if it's good.  Back when renting VHS tapes or DVDs at a video store was still a thing (wow are we all getting old or what?), my mom and I rented every thriller and horror movie imaginable and reached a point where there was nothing left for us to rent.
And what's better than eating white chocolate ghosts and mummies while watching scary films?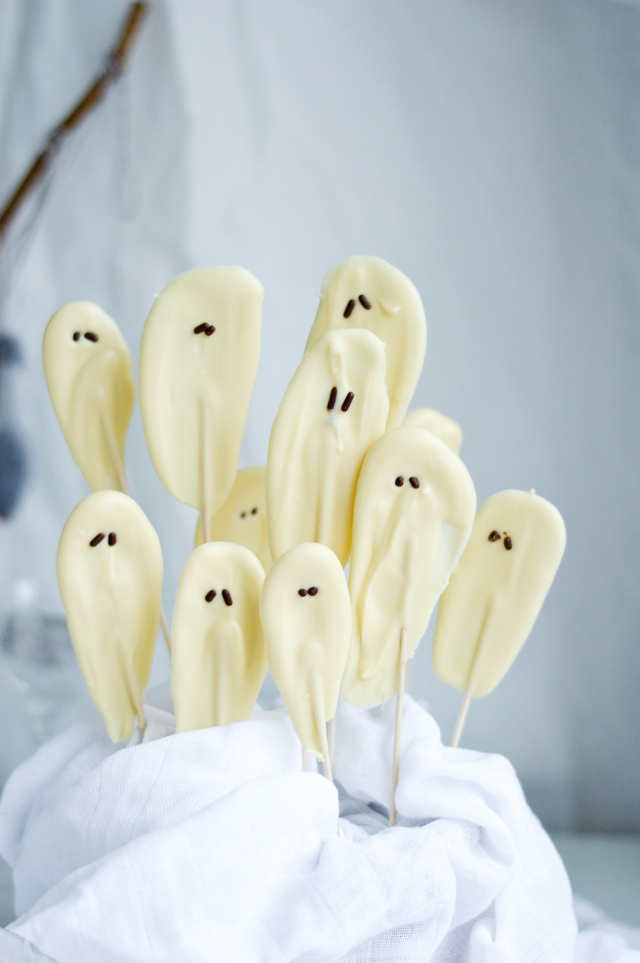 These ghosts and mummies are so easy to make and they are a great addition to any Halloween party table. If you're still looking for ideas, look no further because if there's anything you can make at the last minute it's these little guys. They're also a fun treat to have without a party, if seasonal stuff is what you're into. I admit I am a little (not that you didn't notice).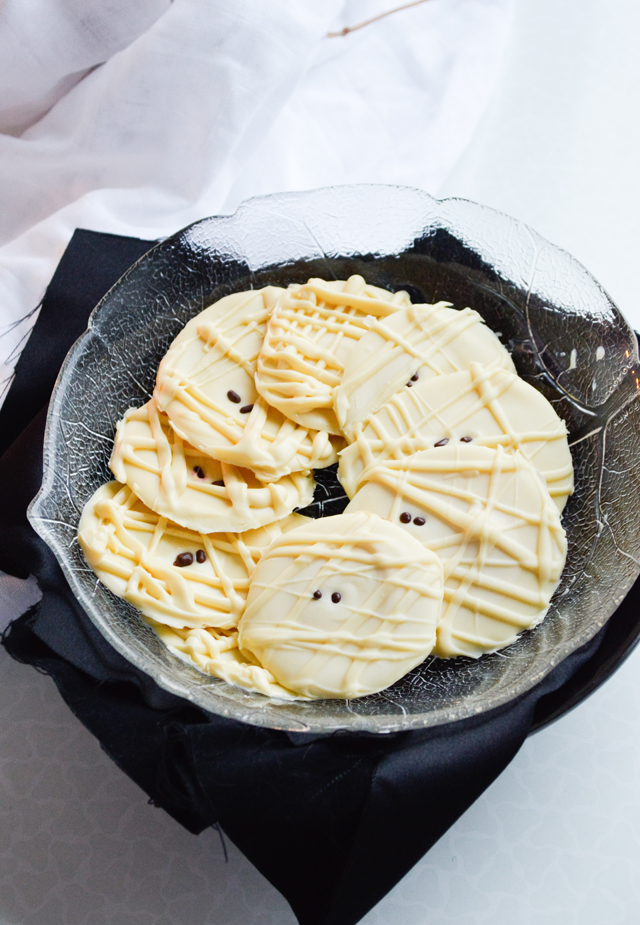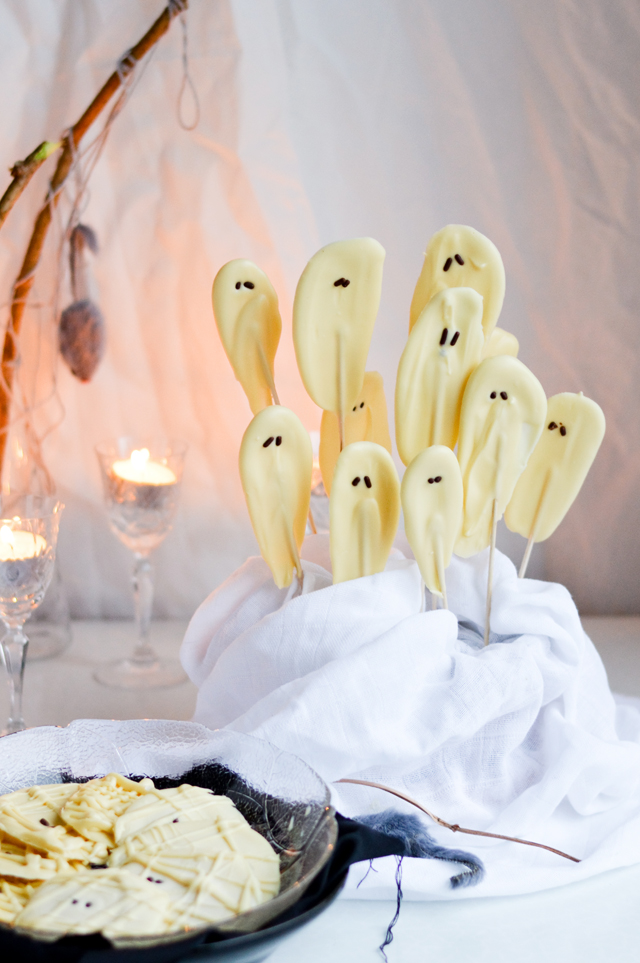 Print
White chocolate ghosts + mummies
Bring some Halloween charm to your home with these white chocolate ghosts and mummies!
Recipe makes about 15 ghost lollipops and 9-10 mummies.
Author:
Prep Time:

30 min

Cook Time:

10 min

Total Time:

40 minutes

Yield:

25

servings

1

x
Category:

Dessert, Snacks
500g

(

18 oz

) white chocolate, broken into pieces

2 tablespoons

sunflower oil (or unsalted butter)
chocolate sprinkles
wooden skewers or lollipop sticks
Instructions
Line a baking sheet, or a few plates, with parchment paper. Set aside.
Place the chocolate in a heatproof bowl and place it over a saucepan of barely simmering water, but don't let the bowl touch the water.
As some of the chocolate melts at the bottom, stir it with a spatula. Stir again as more chocolate melts, and so on until it melts completely.
Remove the bowl from heat, add oil and stir the chocolate until smooth.
Make ghosts:
Take a tablespoon of chocolate and place it on the baking sheet, then swipe down to get a ghost-like shape. Take a skewer, dip it in the chocolate then place it on the ghost, gently roll it in.
Continue with the rest of the chocolate to make as many ghosts as you wish.
Lastly, put 2 sprinkles onto each ghost, to make tiny eyes.
Chill in the fridge for 30 minutes or more. Once properly chilled the chocolate will be hard. Peel the lollipops off the baking sheet and place them on a plate, divide each layer of lollipops with parchment paper. Keep in the fridge.
Make mummies:
Take a heaping spoon of chocolate and place it on a baking sheet. With the bottom side of the spoon, gently flatten the chocolate in a circular motion, until you get a disk shape. Continue with making as many mummies as you wish.
Place two sprinkles onto each one to make tiny eyes. Place in the fridge for about 10 minutes.
During this time, rewarm the chocolate if necessary and then place some of it in a pastry bag (about one heaping tablespoon per one mummy), fitted with a small tip.
Take mummies out of the fridge, drizzle thin stripes over each one in all directions (but not over the eyes!) and place them back in the fridge.
Chill for at least 15 minutes, then take them out and wipe away the excess chocolate around each mummy. Chill for another 30 minutes or more.
Notes
ON DECORATING
If you don't have a pastry bag, use a regular small plastic bag (even a ziplock bag), fill it with chocolate, twist at one side to make it tight, then cut off a tiny hole at one corner and decorate.
You can also drizzle the chocolate over the mummies with a spoon or a skewer dipped in chocolate.
You need one tablespoon of melted chocolate for one ghost and about 2 for a mummy (one for the base, the other for the strips).
Besides melting the chocolate on the stove, you can also melt it in the microwave. Place it in a heat proof bowl or deep plate and microwave it for 30 seconds, take out and stir, microwave for another 15 seconds, take out, stir and repeat until it's almost completely melted. Some remaining chunks will melt as you stir the chocolate with a spatula.
Store the chocolate ghosts and mummies in the fridge, covered. You can store them in layers, separated with parchment paper.