Your holiday favorite – upgraded! This Caramel Biscoff rocky road is made with the addictive Biscoff cookies, crushed pretzels and plenty of soft caramels. A touch of pistachios on top makes this treat super enjoyable to eat. It is crunchy, chewy, salty, chocolaty and sweet. Quick and fun to make, this no-bake dessert is a household favorite.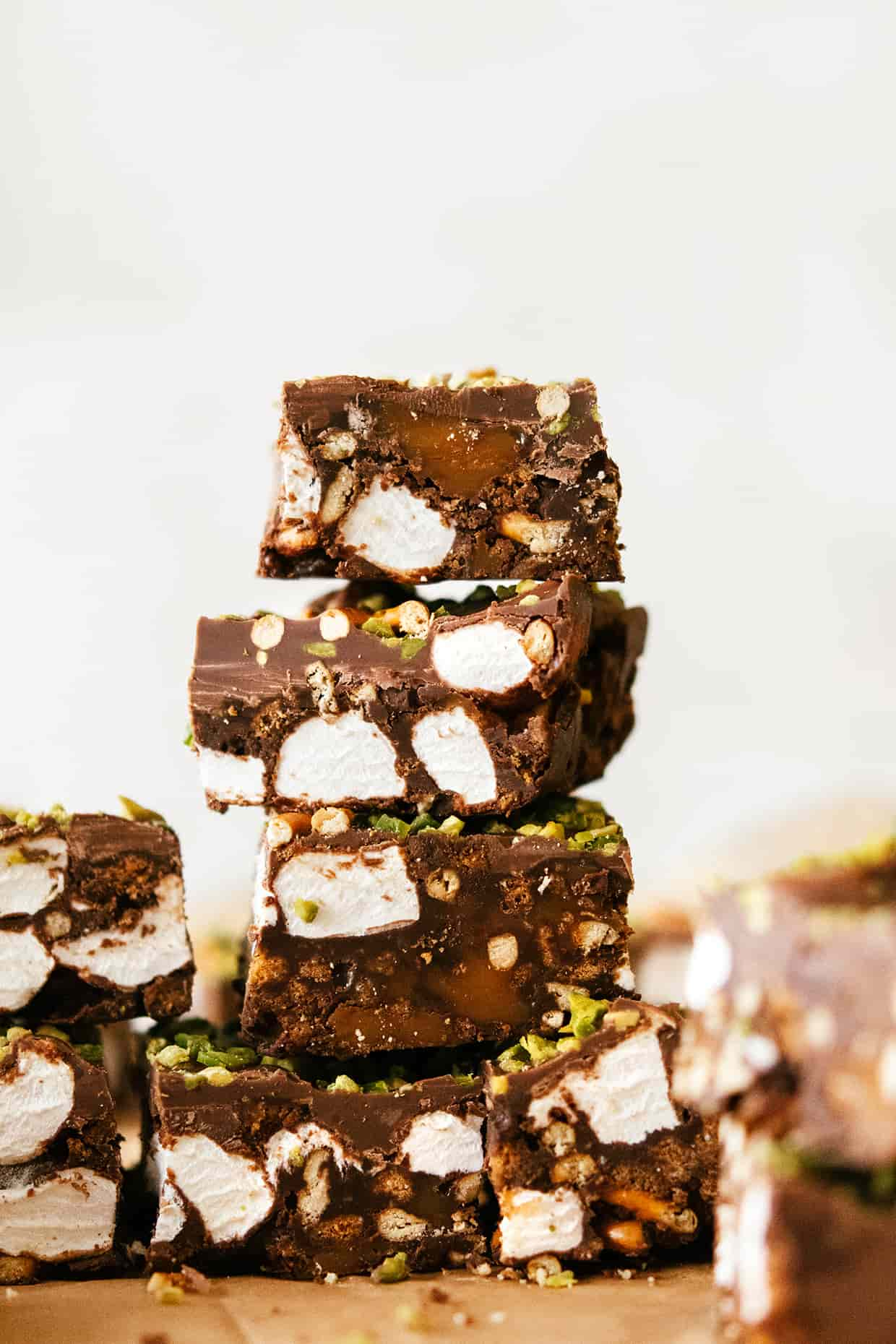 My favorite thing about making rocky road is that I feel like I'm doing something good, instead of just stuffing my face with candy. It's hardly cooking and it's fun. Definitely one of my favorite things to make around the holidays. And it's my excuse to eat marshmallows, which I normally don't.
And I think it's this mix of marshmallows and chocolate that draws people to rocky road. And the adaptability of it. You can find a mix for every season. And for these cold winter months, my choice is a caramel and spiced cookie mix.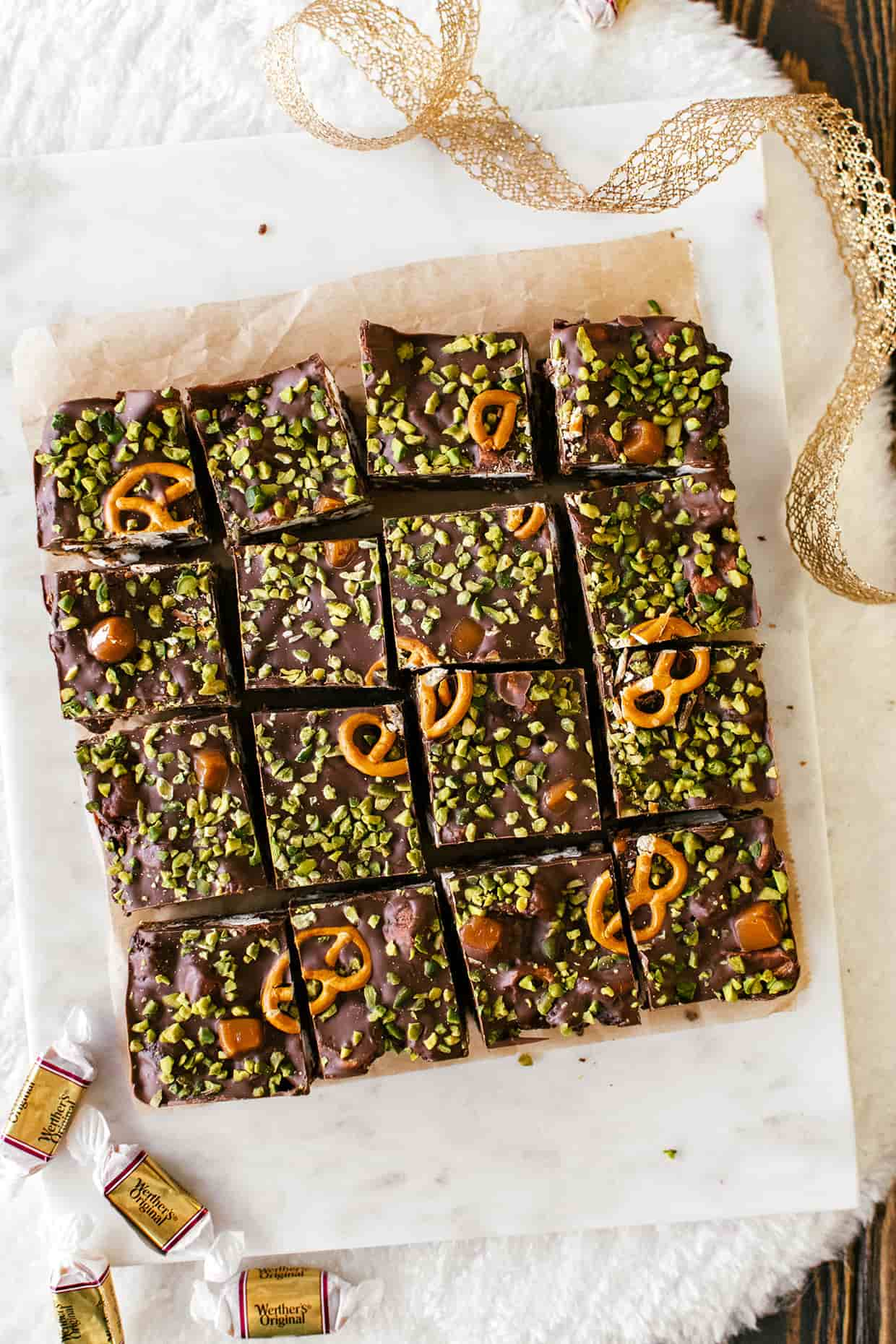 So what is rocky road?
As I mentioned, it's a no-bake dessert. You make it, mainly, with melted chocolate and marshmallows. Usually you would add a mix of dried fruit and nuts too. Then pack this mixture into a baking pan, and put it in the refrigerator to cool. Then you just slice it into smaller portions before serving.
It takes some time to set, true, but this is quite possibly the quickest dessert you can make. And it's the funnest to make too.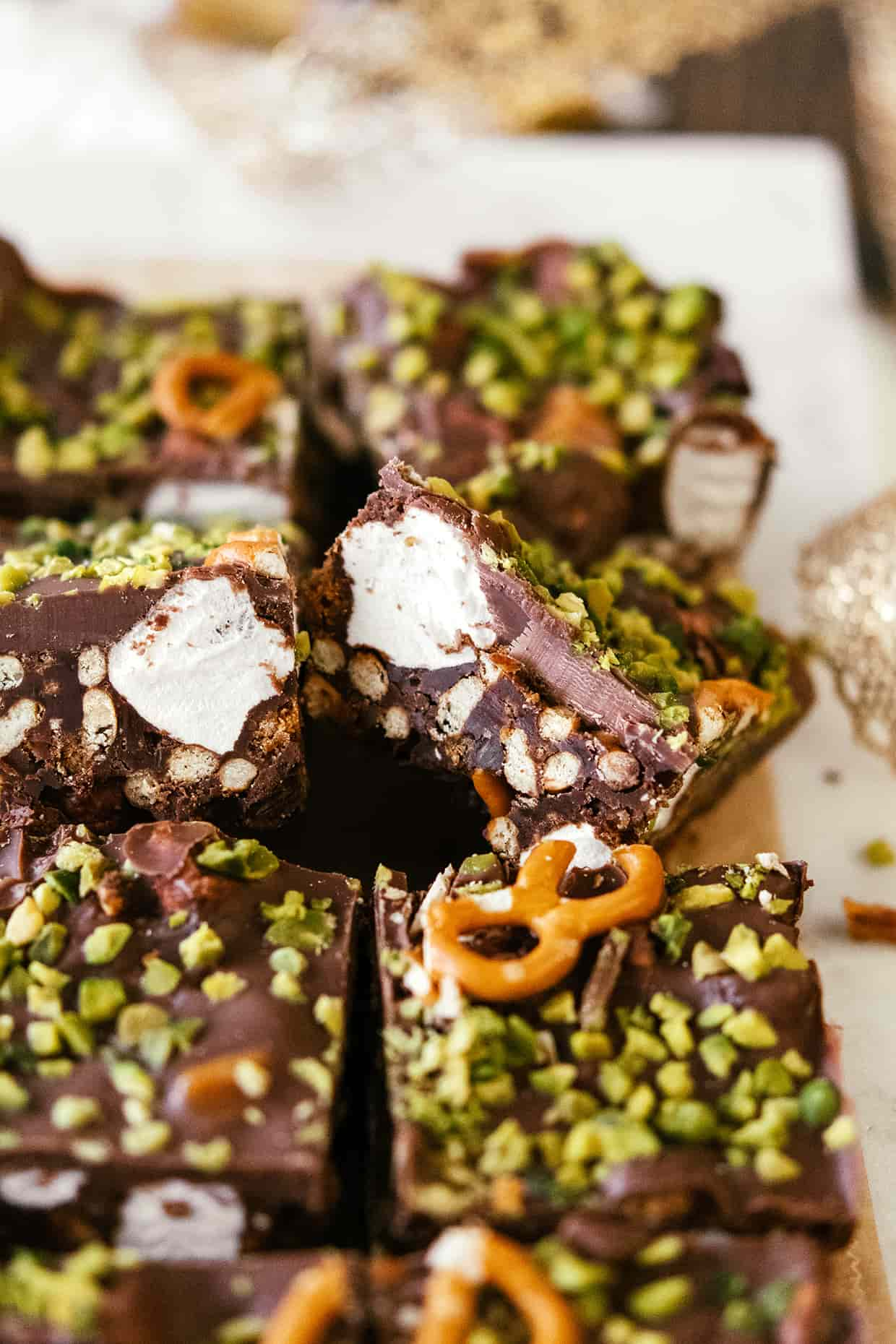 My mix: Caramel Biscoff rocky road
I decided to skip the nuts and the fruit this time around and I made Caramel Biscoff rocky road with pretzels! And chopped pistachios on top. It combines all of my favorite winter flavors.
Biscoff cookies are trully the most important ingredient. They add some flavor and spice to the ordinary duo of chocolate and marshmallows. These cookies with a cool name are really speculoos cookies. They are made by the Lotus company who call the Biscoff (the word is derived from the words Biscuit and Coffee, as these cookies are normally enjoyed with coffee).
Speculoos cookies are crispy spicy cookies that taste like cinnamon and brown sugar with a hint of ginger. So if you can't find Biscoff cookies specifically, you can use other speculoos (or speculaas) cookies in this recipe.
Notes on ingredients
Chocolate
To speed up the preparation process, I use a combination of melting and baking chocolate chips, both milk and dark chocolate. You can also just use regular blocks of chocolate that you finely chop before using. I like to use a serrated bread knife for chopping chocolate, as it makes it so much easier.
Marshmallows
Traditional marshmallows aren't vegetarian as they are made with gelatine. If that is an issue, you can find vegan marshmallows these days and use those instead.
Cookies and pretzels
Instead of using nuts, I'm using both cookies and pretzels for the crunch factor. Pretzels are crisper, more easier to crush and pleasantly salty. The cookies on the other hand give you that candy-bar vibe with plenty of flavor.
As you prepare the cookies and pretzels and crush them into smaller pieces, make sure that you have a variety. You want a mix of textures, everything from almost powder to some larger pieces.
Pretzels can be easily broken with your hands. But for Biscoff cookies, I like to use a sharp knife and a cutting board. That way I can quickly chop them up while getting a nice variety in the size of the pieces (as opposed to using a food processor).
Pistachios
The salty nutty flavor of pistachios is the cherry on top in this recipe. I think they also look really pretty against the chocolate. If you want to make the recipe nut-free, use anything else for decoration on top.
Hope you have as much fun as I normally do when I make and eat this Caramel biscoff rocky road. It is truly so satisfying. And if you're in the mood for other sweet snacks, try these crazy good cinnamon almonds.
Caramel Biscoff rocky road
A wonderful and easy no-bake dessert that is loved by everyone. A mix of caramel and Biscoff cookies makes it perfect for the holidays.
Ingredients
1

cup

(

130

g

)

(4.5 oz) semisweet chocolate chips

(see notes)

1 1/2

cups

(

240

g

)

(8.5 oz) milk chocolate chips

6

tablespoons

(

90

g

)

unsalted butter

1/2

tablespoon

maple syrup

3.5

ounces

(

100

g

)

Lotus Biscoff cookies, crushed

1 1/2

cups

(

70

g

)

mini pretzels, crushed

2.5

ounces

(

70

g

)

mini marshmallows

(or large, cut into smaller pieces)

2.5

ounces

(

70

g

)

soft caramels

(each sliced into 4 pieces)

2.5

ounces

(

70

g

)

chopped pistachios
Instructions
Line an 8×8 inch (20×20 cm) pan with parchment paper, leaving some overhang for easier lifting later on. Set aside.

Combine semisweet chocolate chips, 1/2 cup (80g) milk chocolate chips, butter and maple syrup in a heatproof bowl. Set it over a pot of simmering water, making sure the bottom of the bowl doesn't touch the water. When the ingredients are mostly melted, gently stir them with a spatula until they all come together. Remove bowl from heat.

Mix Biscoff cookies, pretzels, marshmallows and sliced caramels in a bowl. Pour the melted chocolate over the dry ingredients, mixing with a spatula until everything is coated.

Transfer the mixture to the prepared pan and spread it as evenly as possible with a spatula, getting into every corner too. Place aside.

Take the remaining 1 cup (160 g) of milk chocolate chips and add them to the bowl in which you first melted the chocolate. Place them over simmering water to melt. Once melted, pour the chocolate over the rocky road in an even layer. Sprinkle with chopped pistachios (and a few pretzels, if desired). Cover pan with aluminium foil and place in the refrigerator to harden. This takes about 2 hours, but you can wait longer.

Take it out of the refrigerator and pull the whole rocky road from the pan. Using a sharp knife, slice it into 16 pieces, then serve. (I like to leave it at room temperature for about 15 minutes before eating, so that it's not ice cold.) Store leftover rocky road covered in the refrigerator. 
Notes
I used a mix of baking and melting chips for this recipe. Both melt without an issue, but if you can find melting chips (morsels or drops), try those instead of the baking ones. You can also just use regular chocolate, finely chopped. (Extra tip: a serrated bread knife makes chopping chocolate a lot easier)
When crushing the cookies and the pretzels, leave some pieces larger than others. You want a mix of textures, not cookie powder. I find that pretzels are easily broken up with hands. And the Biscoff cookies are easy to quickly chop with a sharp knife.
If you can't find Biscoff cookies, you can use other similar cookies like Speculoos (or Speculaas).
Email recipe
Pin Recipe