A perfect homemade snack you can enjoy daily. These chocolate dipped coconut peanut granola bars are made with 5 main ingredients and are easily adaptable to your personal taste. They are soft and chewy, with a toasty top, and sweetened only with honey!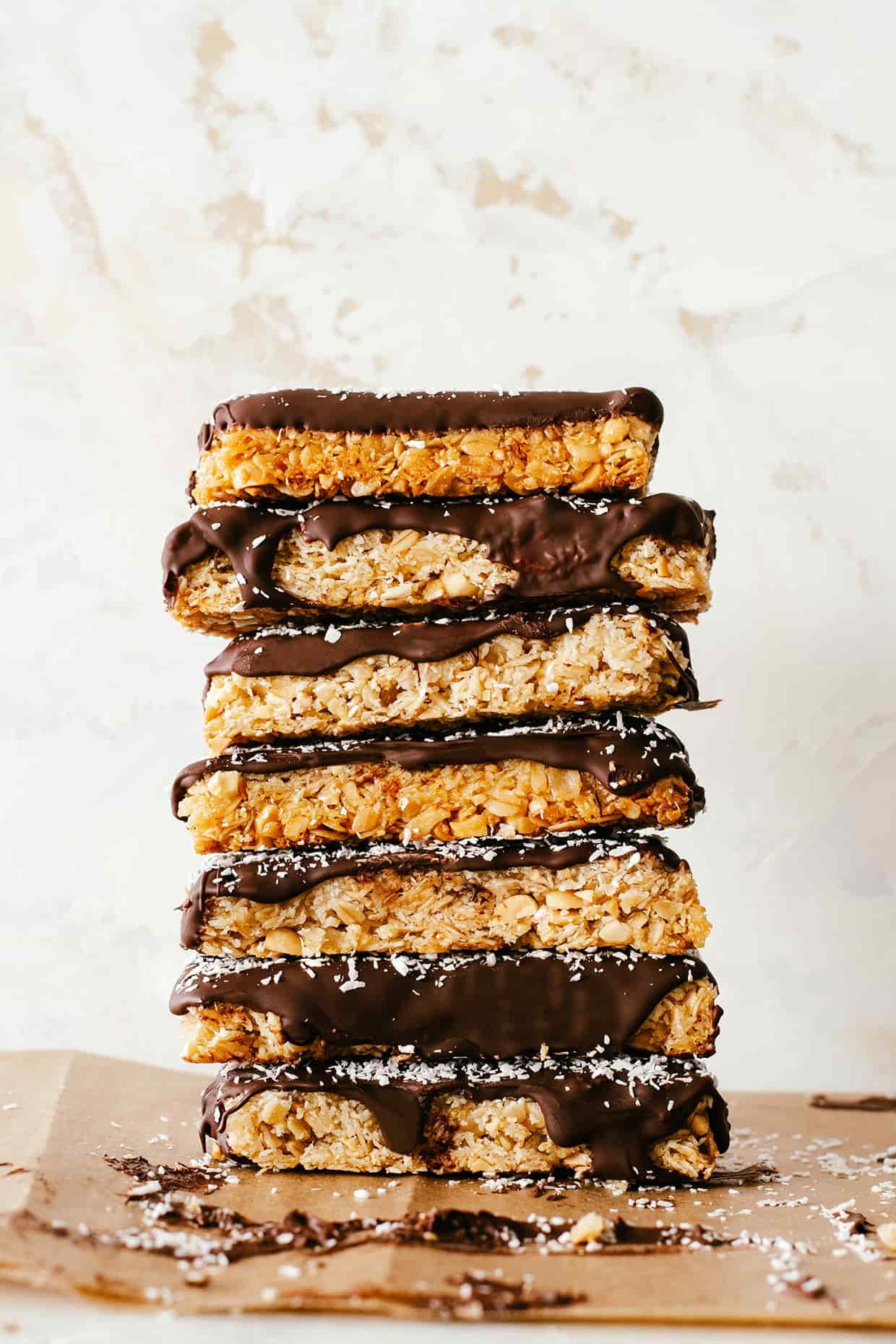 There's something very sentimental about granola bars. I didn't grow up with an abundance of sweets and snacks in the home, which probably explains why I have a full snack drawer now as an adult. But whenever we went on filed trips with school or my days were awfully long, my mom always tucked a granola bar in my bag.
My favorite one was "the yellow one". It was a chocolate banana flavored bar from Corny (yes, that's really the name of the brand) and I thought it was just the best thing ever. My second favorite was their chocolate coconut combo (with a blue wrapper) and my third favorite was a chewy nutty bar without chocolate that was wrapped in green.
Oddly enough they still look the same, so when I'm feeling nostalgic I'll pick one up. They're sweeter than I remember, but they're very satisfying.
These days however I prefer to make my own, like these chocolate dipped coconut peanut granola bars. And if I'm buying "power bars" I prefer the "healthier" kind that are based on dates and nuts and raw cocoa instead of chocolate.
But it's my chocolate peanut granola bars that hit that spot of childhood nostalgia mixed with a grown up flavor palate (not too grown up though).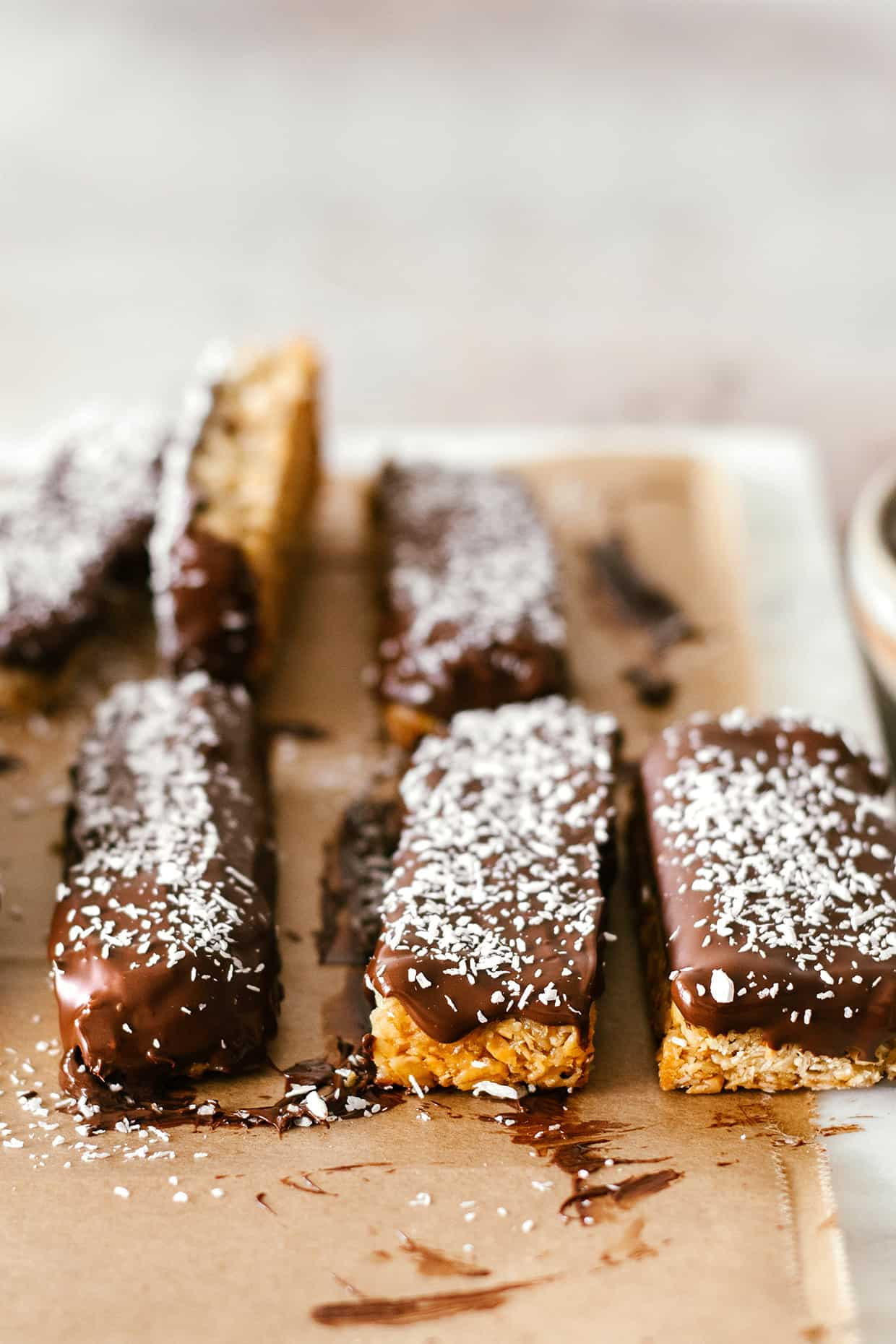 5-ingredient granola bars
If there's something I love, it's a short ingredient list. These are made with 5 main ingredients:
old fashioned oats
shredded (desiccated) coconut
peanuts
unsalted butter
honey
This mix gives you that perfect balance of chewiness, flavor, nuttiness and aroma.
To make things a bit more exciting, I also add some vanilla and sea salt. Both are completely optional. If you're using salted nuts or butter, you definitely don't need the salt. Vanilla extract is kind of a given with anything baked, but you won't miss it if you skip it.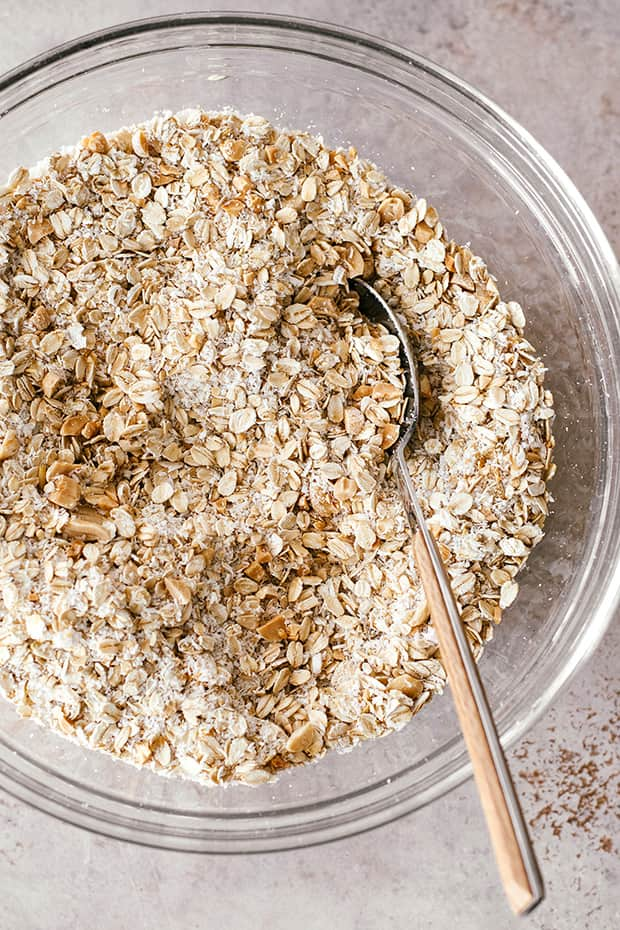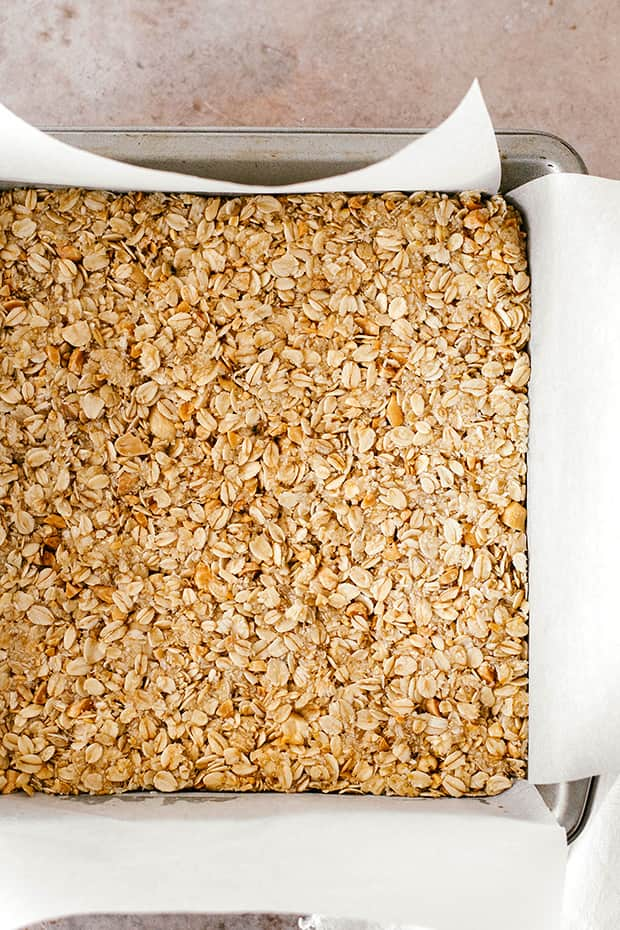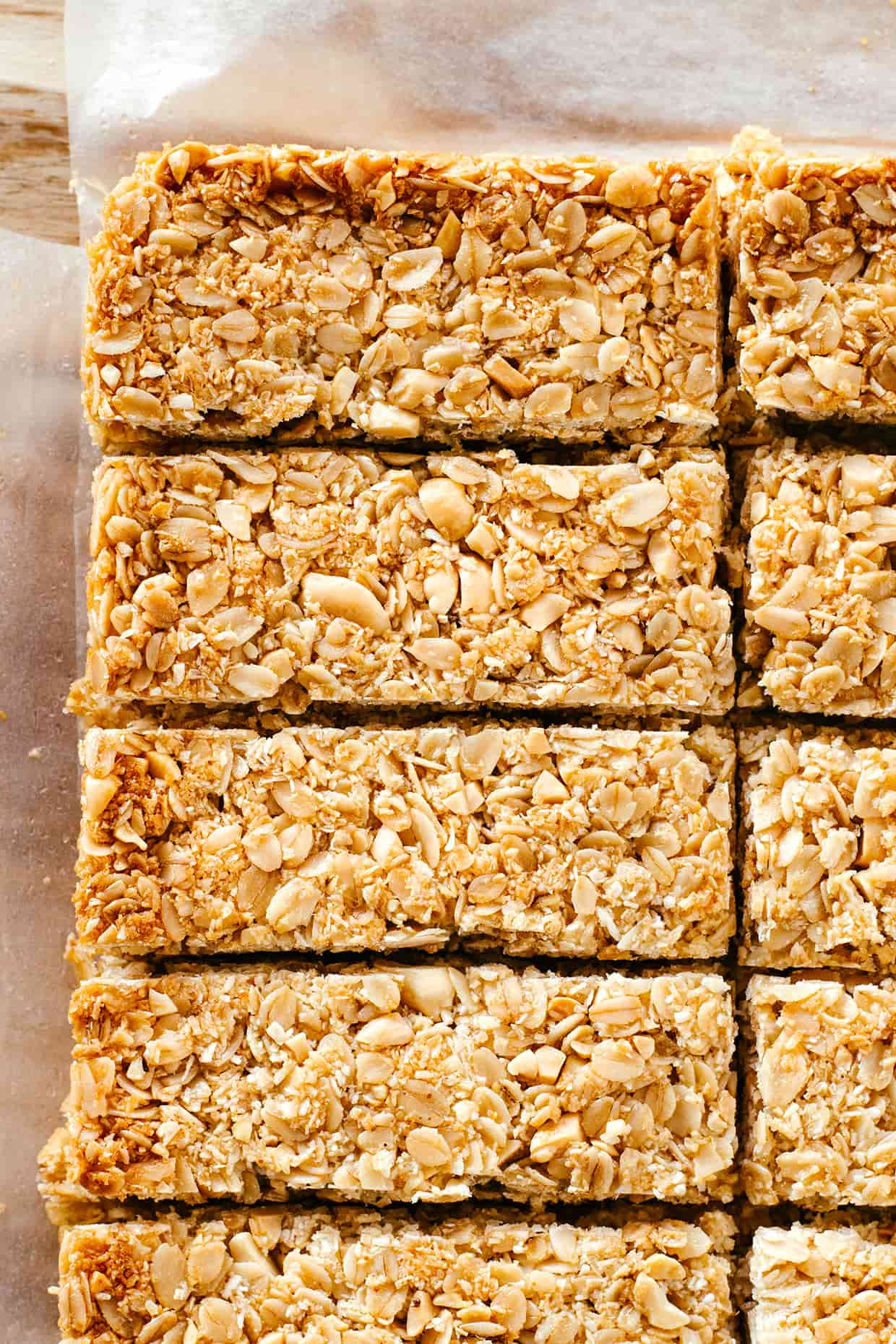 The process
Very few steps are involvied in making your own granola bars.
Mix the dry ingredients. All should be about the same in size, meaning you don't want really large chunks of dried fruit or whole nuts.
Mix the wet ingredients. Doing this gives you a nice and even flavor once you combine the dry and wet ingredients.
Combine wet and dry ingredients and mix until the mixture looks uniform, with no dry bits. Pack it into a baking pan as tightly as you can.
Bake granola bars. As they bake, that mix of butter and honey acts as a glue that will keep everything together. You also get really nice toasty flavor by baking bars, as opposed to simply chilling them.
Chill granola bars and then slice.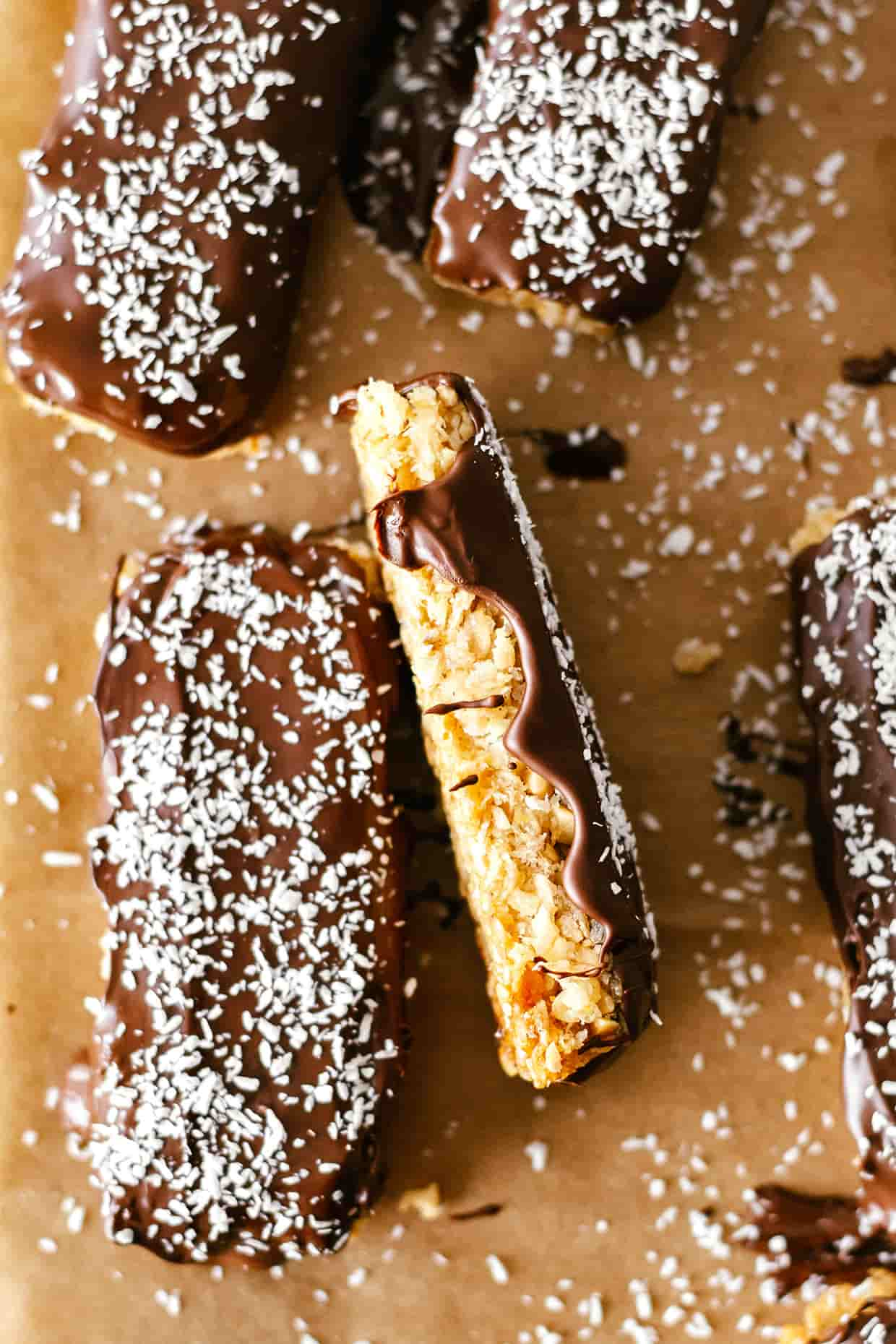 Homemade granola bar mix-ins
I understand that peanuts may not be for everyone, so feel free to use other types of nuts, seeds or grains.
I really enjoy chopped sunflower seeds, pumpkin seeds, puffed rice or quinoa, dried fruit and sesame seeds. Not all in one bar, but the great thing about granola bars is that you can switch it up any time you make them.
Speaking of dried fruit and cereal, you can try these apricot bars when you're in the mood.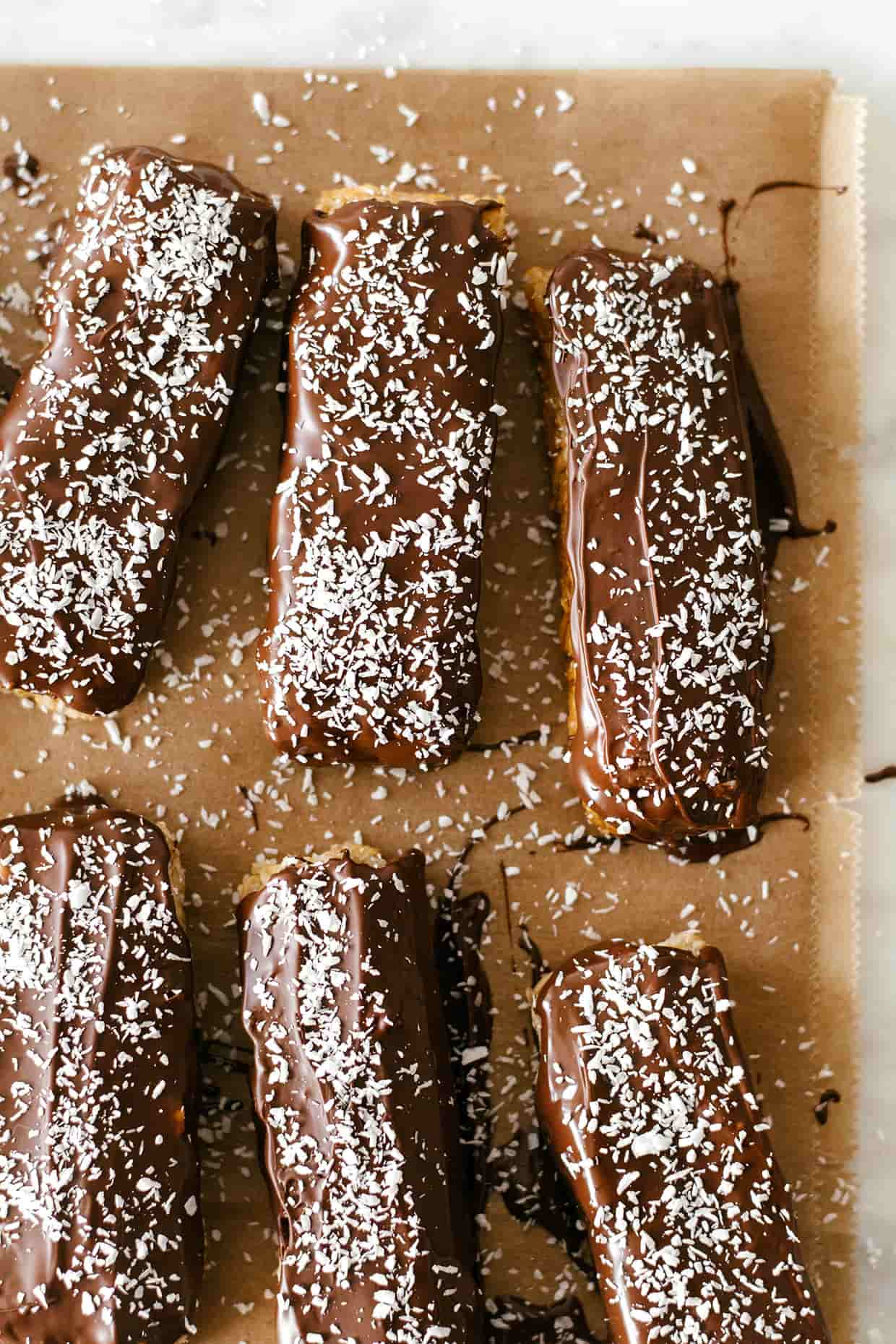 A few extra tips
Make sure that the bars are completely cool before slicing. Ideally, you should let these rest in the refrigerator for a bit before you slice them up. As they're made with butter, they are temperature-sensitive and can crumble if sliced too warm.
On the other hand, it's this mix of honey and butter that makes them really flavorful, soft and chewy.
If you decide to dip the bars in chocolate, also do this with very cold bars. It makes dipping a lot easier.
Keep bars in the refrigerator, either in a bag or a container. I like to add a paper towel in as well, to catch any moisture. If you like a very soft bar, allow these to warm up before eating them.
If you plan on bringing these with you, I suggest wrapping them in baking paper and some foil for easy handling.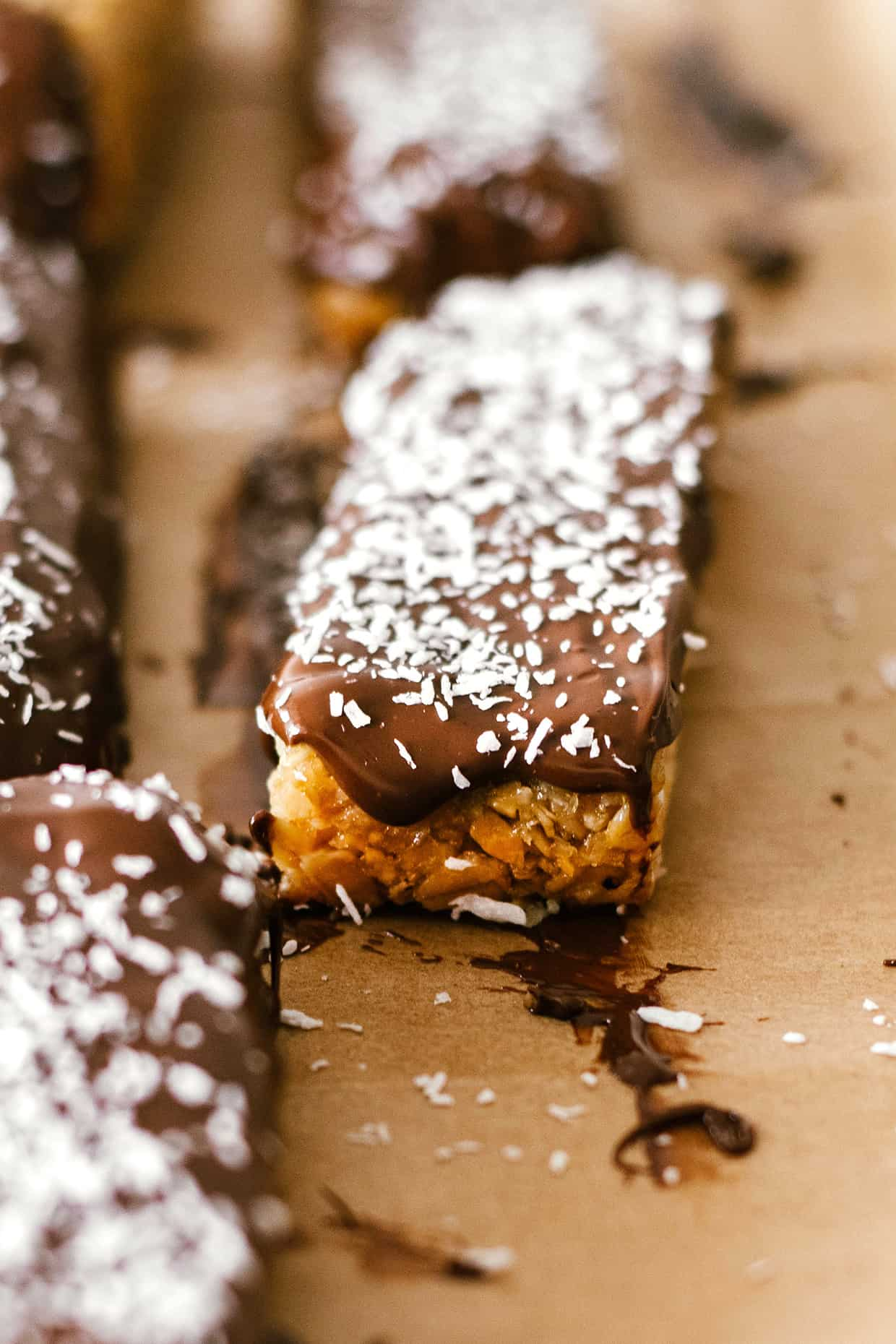 These chocolate dipped coconut peanut granola bars are made with 5 main ingredients. They're chewy and soft and just perfect for snacking at home or on the road.
Chocolate dipped coconut peanut granola bars
Soft, chewy, flavorful and made with 5 main ingredients only! 
Ingredients
1 1/2

cups

(

175

g

)

old-fashioned oats

2/3

cup

(

60

g

)

unsweetened shredded coconut

1/2

cup

(

70

g

)

unsalted roasted peanuts

,

finely chopped

6

tablespoons

(

80

g

)

unsalted butter

,

melted

1/2

cup

(

120

ml

)

honey

1/2

teaspoon

fine sea salt

1

teaspoon

vanilla extract

7

oz

(

200

g

)

semisweet chocolate

,

finely chopped
Instructions
Prep:Preheat oven to 350°F (175°C). Lightly grease and line an 8-inch (20-cm) square pan with 2 strips of parchment paper, in a crisscross pattern. Allow the paper to hang over the sides, so you can easily lift out the bars once baked. 

Make:Mix oats, coconut and peanuts in a large bowl. Set aside. Whisk melted butter with honey, salt and vanilla. Pour the mixture over the oats. Stir thoroughly with a spatula until all of the dry bits are covered. Transfer this mix to the baking pan and press it in tightly and evenly. (I use the back of a measuring spoon or a glass to get an even surface.) 

Bake:

Bake in the middle of the oven for 20 minutes, until the top is golden brown. Allow to cool completely in the pan, then continue cooling in the refrigerator for another 30-60 minutes. Pull the whole block out of the pan and slice it into 12 rectangular bars using a very sharp knife. 

To make chocolate bars, add chocolate to a heatproof bowl and place it over a pot of simmering water. Cook, stirring occasionally, until it's almost completely melted. Remove from heat and allow the last bits to melt. 

Dip bars into the chocolate. Place them on a baking sheet or plate (chocolate side up) and transfer to the refrigerator. Chill until the chocolate is set. Once chilled you can stack the bars or place them in a container. Keep granola bars in the refrigerator and eat within a week.
Notes
Make sure the granola bars (well, one large bar) are completely chilled before slicing. Because butter is a main ingredient, the bars soften at room temperature. That's why slicing them is the easiest when they are very cold. 
You can use other nuts and seeds when making these. I love sunflower and pumpkin seeds, sesame seeds, dried fruit and puffed rice. 
The chocolate dip is completely optional, but it does make these very tasty.
Email recipe
Pin Recipe
Recipe first published in 2015, revised and completely updated in 2022.