Up your snack game with these chocolate dipped coconut peanut granola bars!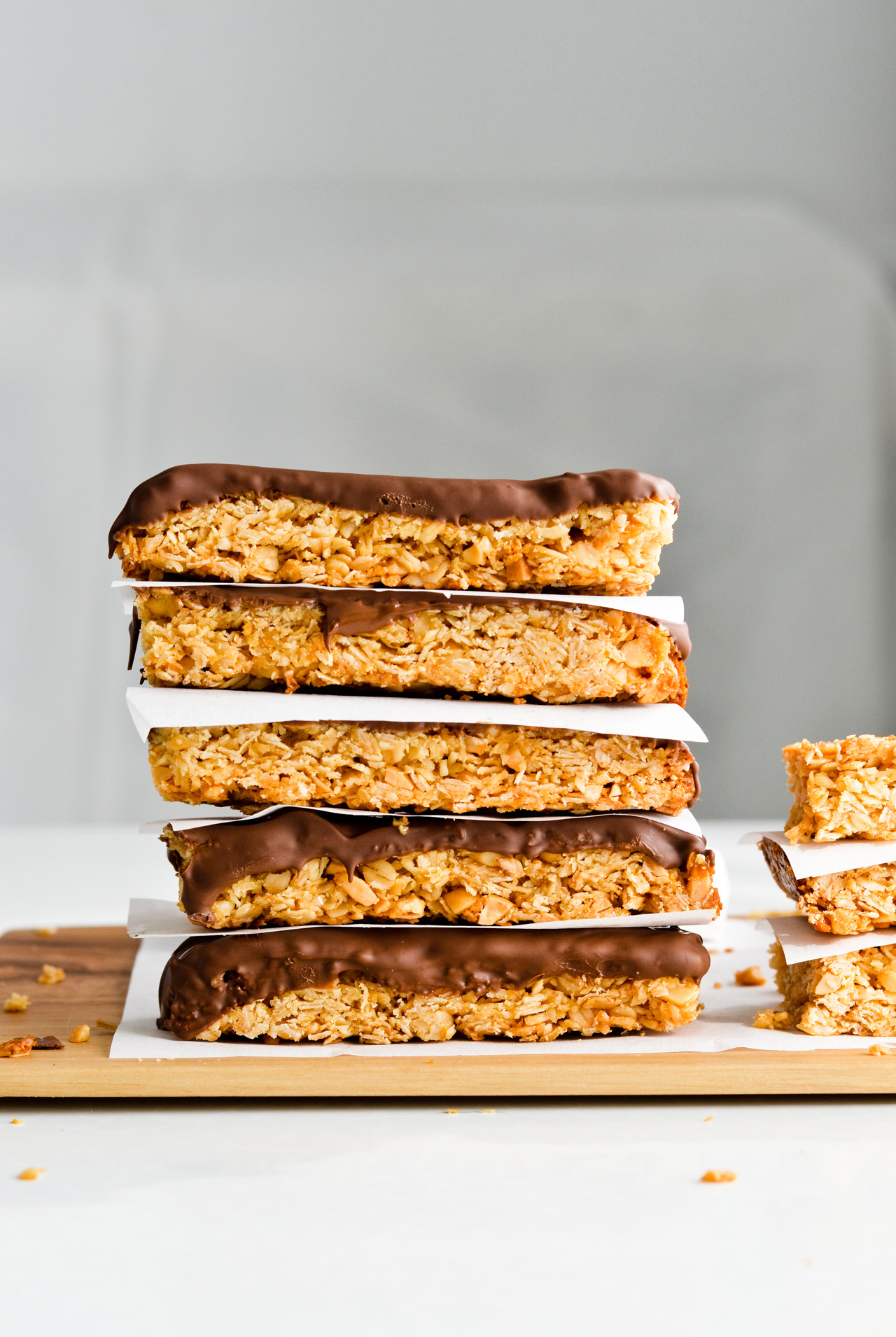 I'm eating the last granola bar of the second batch made in the past 2 weeks as I write this. Two batches in two weeks sounds a lot but it's really not. Granola bars are a great snack and both Rok and I love them, so we always have them on hand. And if you're wondering whether I'll make another batch soon, the answer is hell yes (!), I will.
Granola bars and me go way, way back. When I was in primary school my mom often tucked one in my bag whenever we went on school trips, and when I was older I lived off them. They were often my only snack at work or breakfast at college and they are still my snack of choice.
Speaking of snacks, years ago I bought those round plastic containers that protect your apple/orange/other fruit when you carry them around in a bag. Have you ever tried them out? Totally great and useful, but when compared to a granola bar, they still take up more space and as good as a Golden Delicious is, it's just not a granola bar. That's why the plastic containers are now collecting dust in one of the kitchen drawers.
I won't go all the way back to the first official job I ever had in high school, but I'll go back to one of the first jobs I got after finishing high school. Those four months before starting university, the four months some people use for the last parties before the craziness begins, were pretty crazy for me, but work-related crazy. By that point I had been done with partying almost completely and I needed to earn some more money before starting Uni. And so the craziness really started when I began working at two places at the same time.
Luckily, they were pretty much on the same street. I started my day at an office, doing finances, at 7 AM, worked there till three in the afternoon and then ran across the street to the gift shop I worked at till 7 PM. 12 hour work days and all that running around left me no time to properly plan my meals, sit down and have a snack. This went on for about three weeks and then I ended up working at the gift shop only, getting in more hours, as the office job, while it paid better, was only temporary. It wasn't until a year or two later, that I got to work there again.
The gift shop was small and lovely; I wrapped presents for people, had fun cutting glycerin soaps and made dolls out of towels. Yeah, I am not making this up. I worked alone so I couldn't really take a break to eat and that's when the granola bars came in handy. Think about it – they have no distinctive smell (like sandwiches), they're small, easy to eat while standing (unlike a salad), they don't leave any crumbs, they're easy to hide if someone walks in on you and they're quite filling. To sum up the pros of granola bars in three words – perfect work snack.
While I've always loved to cook, back then I never made my own granola bars. I often didn't even have the time to cook or bake anything, and if I did I used it for other things. But now things have changed and I really enjoy making my own. My taste is the same that it's always been though.
Whenever I buy some, there is one brand that I always reach for – the one my mom loved and introduced me to. It's a German brand called Corny and these granola bars today are inspired by their flavors (peanut, coconut and chocolate), even though I actually adapted the recipe from Maida Heatter's oatmeal bars.
And I can't believe what I'm about to say, but I love my homemade granola bars more than the Corny ones. And for someone that's been enjoying Corny for more than half of my life that says something. I am a sucker for anything homemade anyway, but these are really good. I tried to keep them as basic as possible, but packed with flavor.
The four mayor components of these chocolate dipped coconut peanut granola bars are old-fashioned oats, unsweetened shredded coconut, chopped toasted peanuts and honey. Butter, vanilla paste and a pinch of salt help develop the flavor into something really amazing and the chocolate is only optional.
I prefer a mixture of milk (sweet) and bittersweet (50%) chocolate, but you can go either way. And while I'd love to dip everything in chocolate, I spread it over half of the bars only. This way all the granola bars still considered to be snacks. But one half are more of a treat and the other half the type I can chop up and throw in my Greek yogurt for breakfast.
Print
Chocolate dipped coconut peanut granola bars
This recipe makes 14 granola bars, baked in a 22 x 28 cm (8.7 x 11 inch) baking pan.
Author:
Prep Time:

10 min

Cook Time:

30 min

Total Time:

40 minutes

Yield:

14

bars

1

x
Category:

Snacks
Scale
Ingredients
250

gr (2 1/4 cups or

8.8 oz

) old-fashioned oats

110

gr (1 1/4 cups – loosely packed, or

3.9 oz

) shredded unsweetened coconut

105

gr (3/4 cup or

3.7 oz

) toasted, unsalted peanuts, roughly chopped

115

gr (1 stick) unsalted butter

1/4 tsp

salt

1 tsp

vanilla paste or extract

160

ml (2/3 cup) honey

120

gr (4.2 oz) bittersweet chocolate (optional)

70

gr (2.5 oz) milk chocolate (optional)
Instructions
Preheat the oven to 180 degrees C (350°F). Grease a baking pan with some oil and line with parchment paper. Set aside.
In a large bowl, mix together the oats, coconut and peanuts.
Melt butter in a small saucepan OR in a heatproof bowl in the microwave. Once melted, stir in the salt and vanilla paste. Pour over the oat mixture.
Immediately add the honey and whisk the ingredients thoroughly, until they are all coated. Transfer to the baking pan.
Push down the mixture tightly with a spatula or with damp hands. You really have to pack it in, as tight and even as possible.
Bake for 25-30 minutes until golden brown-orange in color.
Once baked cool to room temperature then refrigerate for 3 or more hours before cutting. This way the granola won't fall apart.
Cut into 14 equal bars with a large, sharp knife.
CHOCOLATE BARS:
Melt the chocolate in a heatproof bowl placed over a saucepan of simmering water, stir occasionally with a rubber spatula. Once melted transfer the bowl to your counter.
Dip the granola bars one by one quickly and place them on a large plate (chocolate side facing up). You can also spread chocolate over each bar with a silicone spatula instead of dipping them. This allows you to do everything more slowly, as the chocolate is hot and dipping a bar for too long may break some of the bars (heat melts the honey and butter).
Cool in the fridge for an hour or more, until the chocolate hardens.
Notes
ON TOASTING THE PEANUTS You can buy toasted peanuts or toast them yourself. Toast on the stove: in a hot pan for a few minutes until they're aromatic and golden in color. In the oven: in an oven set to 180°C (350°F) for 5-10 minutes, spread over a baking sheet, until they're aromatic and golden brown. You can also toast the oats, coconut and peanuts together for some extra crunch. The honey itself gives a special aroma to the bars too, depending on what kind you use. I normally cook with wildflower honey, but made one of the batches with a mixture of wildflower and mountain forest honey. If you don't have a 22 x 28 cm (8.7 x 11 inch) baking pan, use the closest thing to that; even a square shape will do (e.g. 9 x 9 inch pan). STORAGE I store these in a small container in the fridge, individually wrapped in plastic wrap and parchment paper or foil. That makes it easy for me or Rok to just grab one and go. They last us about 7-10 days.