These chewy and naturally sweet coconut apricot puffed rice bars just might be your new favorite snack. They involve zero baking, very little prep and last for days. You can use them in your breakfast bowls or have one for an afternoon pick-me-up. And if you want a healthier dessert or cookie-type-of-thing to bring to your friends, these are perfect!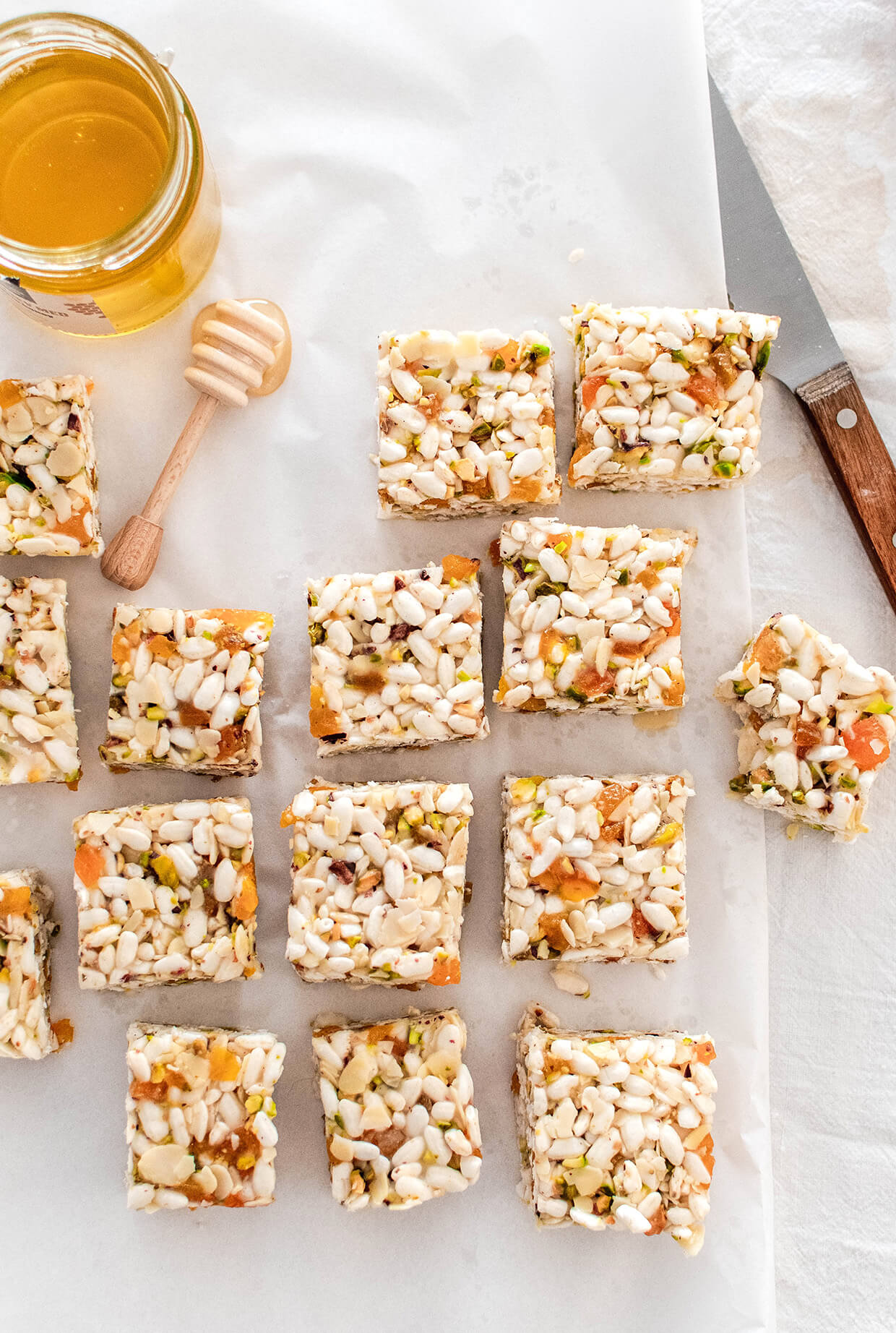 You know I honestly admire people that don't need snacks. Personally, I love having snacks on hand, even if it takes me a while to dig into anything, I just like the idea of having something accessible to rescue me when I need it (and yes, I'm very aware of how over-dramatic that sounds, lol). This is usually when I'm very busy and having a small snack in-between short breaks is all I need to sustain me for a while.
Well, that's how these coconut apricot puffed rice bars came about. I was getting tired of all the usual granola bars, even fruit, so I just needed something a little different (but still the same in a way). These bars are a mashup of things I tend to have on hand, because all components are great on their own too and I like to add them to morning oats or yogurt. But this time, I glued them all together!
So, let's talk about these coconut apricot puffed rice bars:
They are made with some easy and fun ingredients, like puffed rice, dried fruit and nuts! Puffed rice is something I love to use as a base (just liked puffed quinoa in this recipe) and then change the things around it depending on my mood. Lately I've been very into spring-summer combinations and coconut with apricots really fits that craving.
And speaking of ingredients, these bars are made with seven ingredients only! Which you could probably reduce even further, but 7 is good in my book.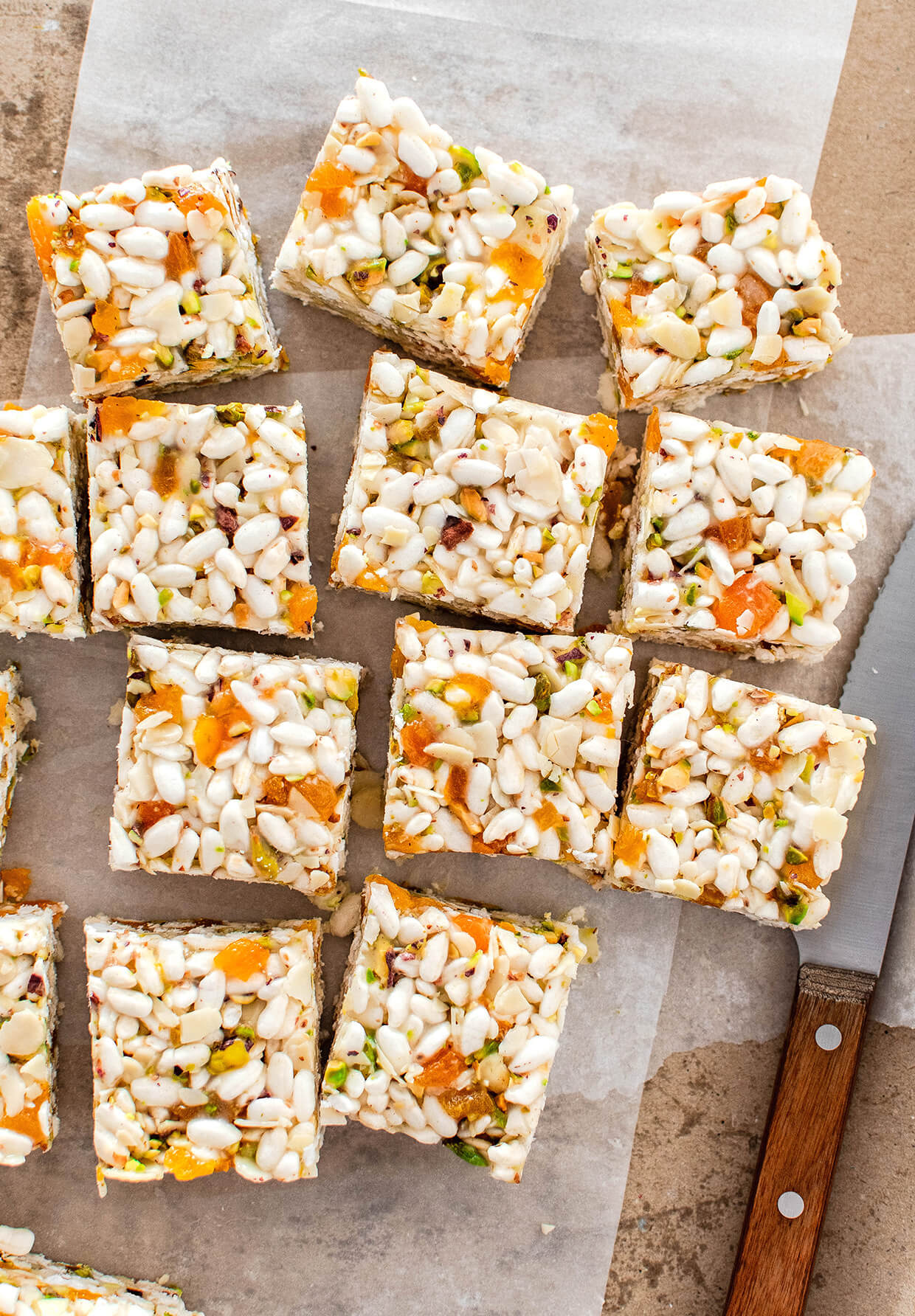 Most important thing to know is that these require zero baking! This makes these bars the perfect thing to make during the hot months. Just pop them in the refrigerator (or freezer) and you're good to go.
The only sweeteners used are natural. We have dried apricots and honey mixed into these, but nothing else and I really love that. You know I love anything sweet, but even I have my limits. And while this idea is something I still have to explore, I wonder if I could put coconut nectar nto these instead of honey? I think that could be really good.
Also, these puffed rice bars are simply delicious! I love everything about them, how they're chewy, crunchy, sweet and they smell amazing.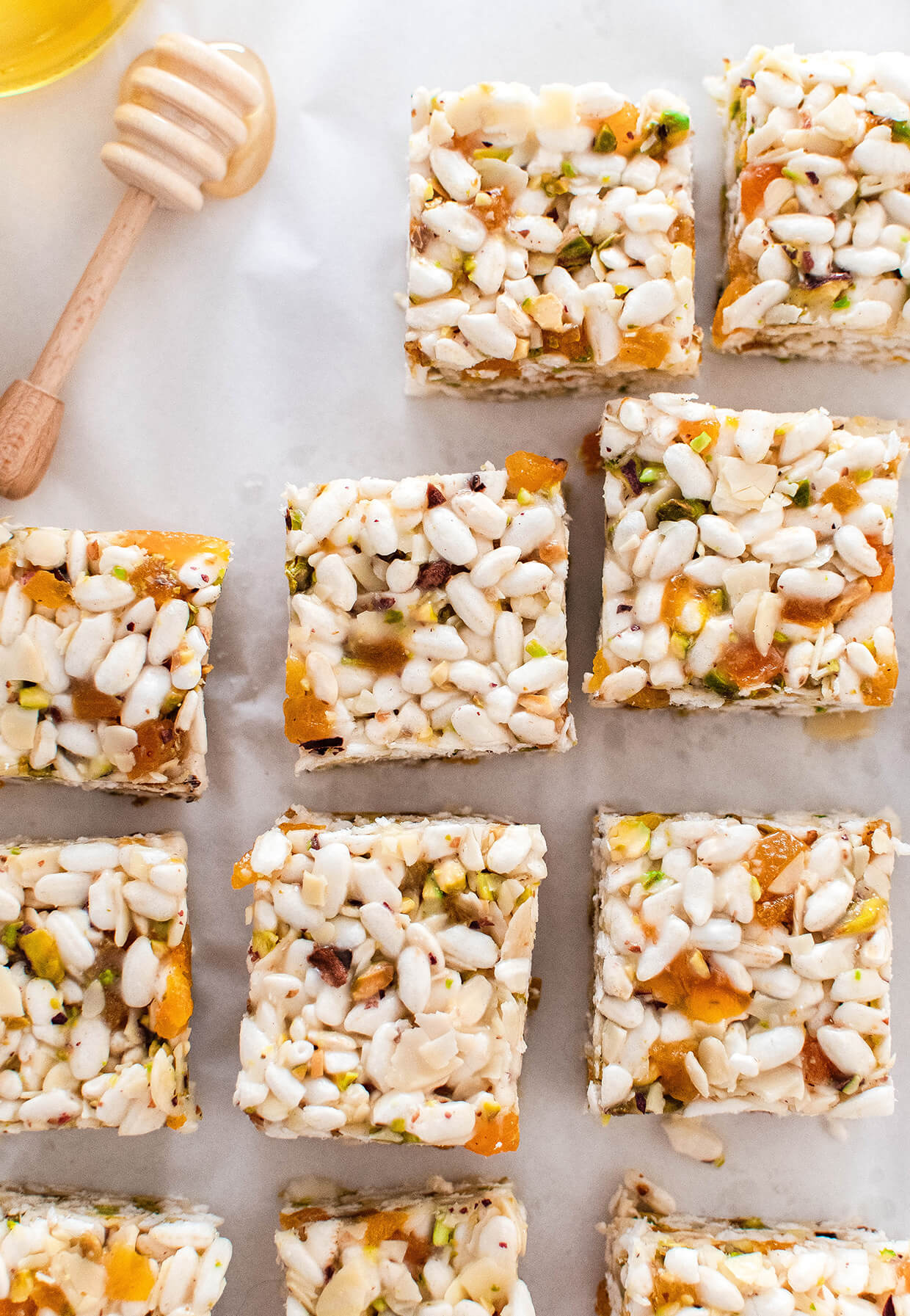 Are these just a snack?
While they make a great afternoon or post workout snack, these could totally function as a healthier dessert or cookie-type-of-thing that you can make for you and your friends. If you're in the mood for something extra, dip one side into chocolate, preferably semi-sweet. Yum!
Don't want a snack? Crumble one bar into your morning oats or yogurt or smoothie and make a whole breakfast! I love to do that, because all you need is some plain yogurt (coconut is yummy too) and maybe a piece of fruit and you have a very delicious breakfast on your hands.
Okay, this is where you tell me to stop. I could go on and on about these coconut apricot puffed rice bars, because I adore them so much. But they're really simple to make and really good, so I hope you find them as enjoyable as I do!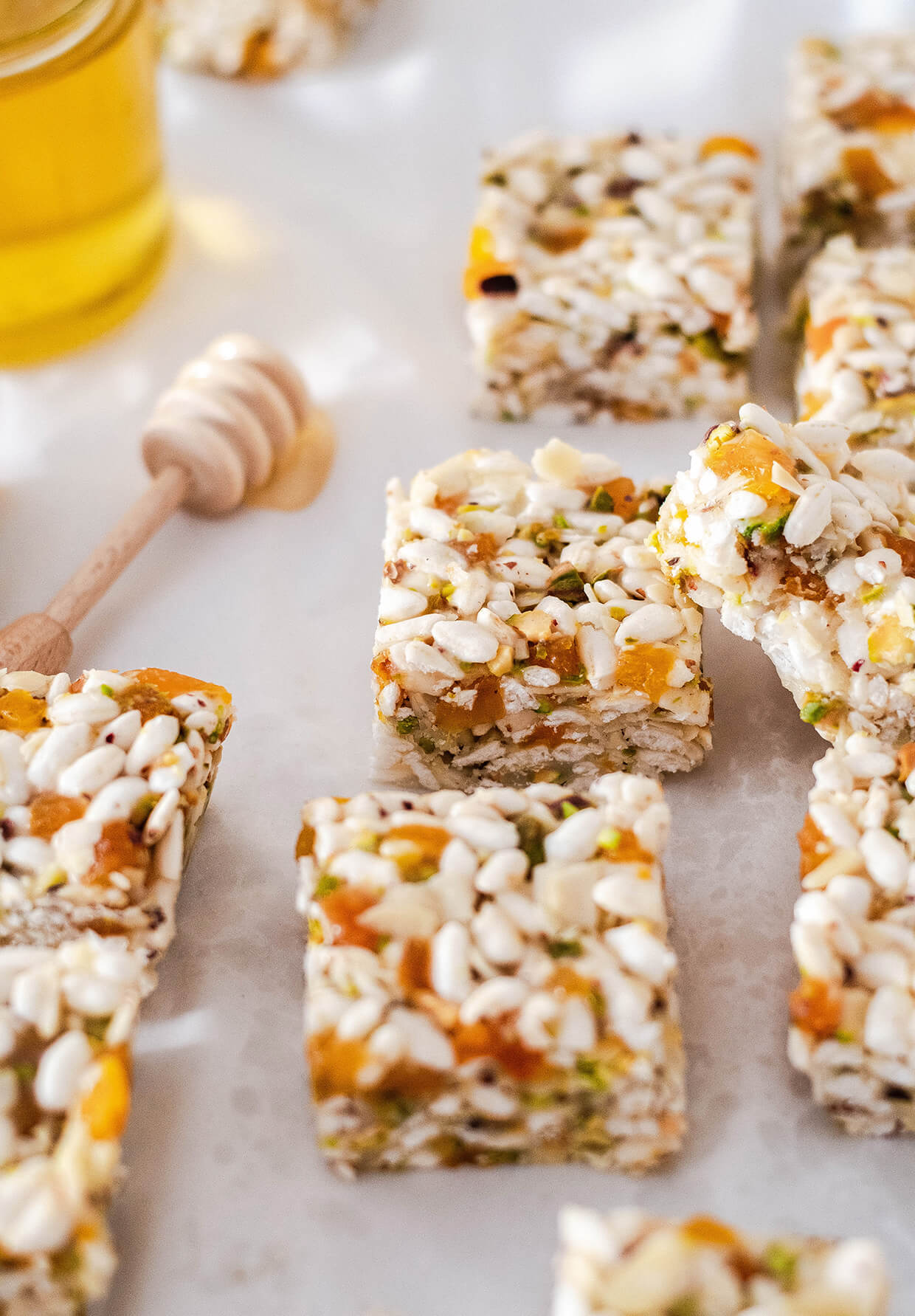 Coconut apricot puffed rice bars
Chewy, crunchy and naturally sweet coconut apricot puffed rice bars, that involve zero baking, very little prep, a handful of ingredients and last for days.
Ingredients
3

cups

(

70

g

)

puffed rice

1

cup

(

80

g

)

flaked almonds

((coconut flakes are great too))

1/2

cup

(

95

g

)

chopped dried apricots

1/2

cup

(

60

g

)

shelled pistachios

(chopped)

1/4

cup

(

60

ml

)

honey

1 1/2

tablespoons

(

20

ml

)

coconut oil

1/2

cup

(

140

g

)

coconut butter
Instructions
Place puffed rice, almonds, apricots and pistachios in a large bowl. Combine honey, coconut oil and coconut butter in a small saucepan set over medium heat. Let mixture get warm and keep stirring until the it comes together. Remove from heat and pour it over the dry ingredients. Stir well to combine and all dry ingredients are moistened. 

Line an 8-inch (20-cm) square pan with baking paper, leaving some overhang so you'll be able to pull the bars out. Scrape the rice mixture into the pan and press it down firmly with a spatula or spoon, making it as even as possible. Cover pan with foil and chill in the refrigerator for 1-2 hours or in the freezer for about 30-45 minutes, until set. 

Take the pan back out and slice the set mixture into bars or squares (I like to make 16 small squares and I find them easier to cut into when I pull the whole thing out of the pan). Keep bars in an airtight container in the refrigerator and eat within a week. 
Notes
You can change the ratio of all ingredients if you wish. Sometimes I love to use coconut flakes instead of almond flakes. Because apricots are already sweet, you don't want to go overboard with the honey. But if you're using different dried fruit or are skipping it entirely, feel free to use more honey or other sweetener.

 
Email recipe
Pin Recipe