Savory crepes are here for you when that Nutella just isn't cutting it!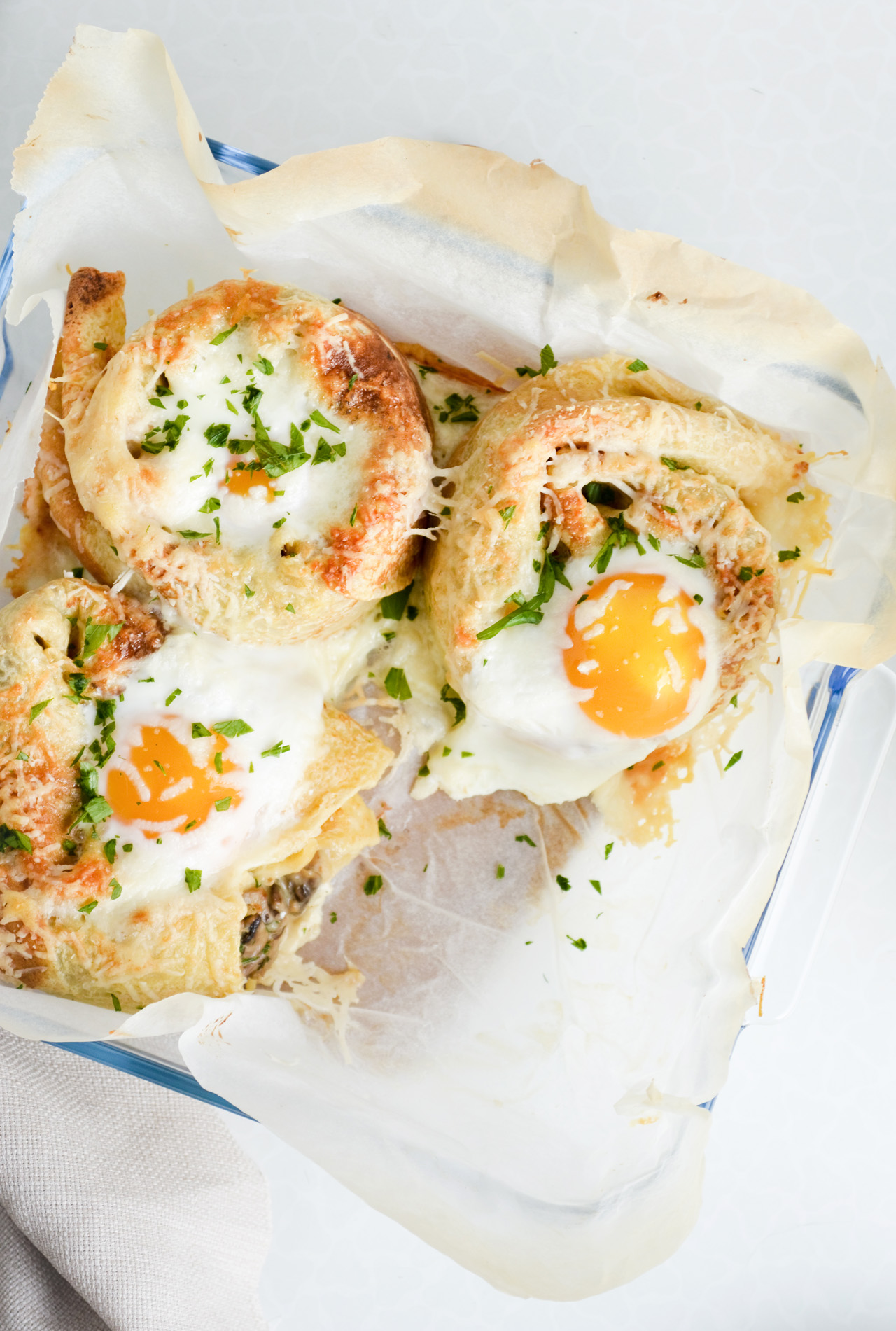 It's dark and windy out as I write this. The leaves are already changing color and the first have fallen down and filled the streets. The stores are stocked with pumpkins of all shapes and colors and I've been living in my Fall coat for the past week or two. I am really, really, reeeeally loving every minute of it. Fall is awesome and I can now safely say it's really here, we're past the half-summer-half-autumn phase.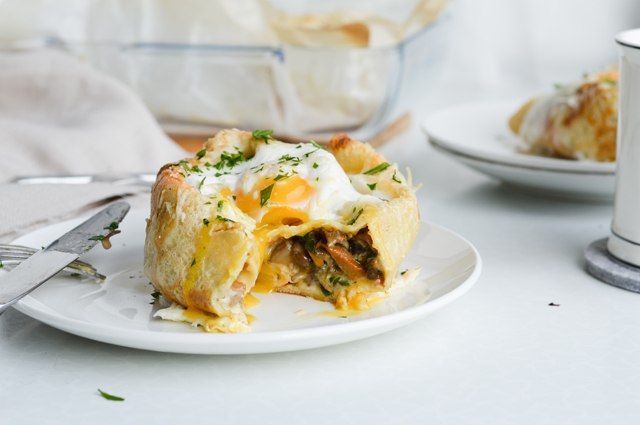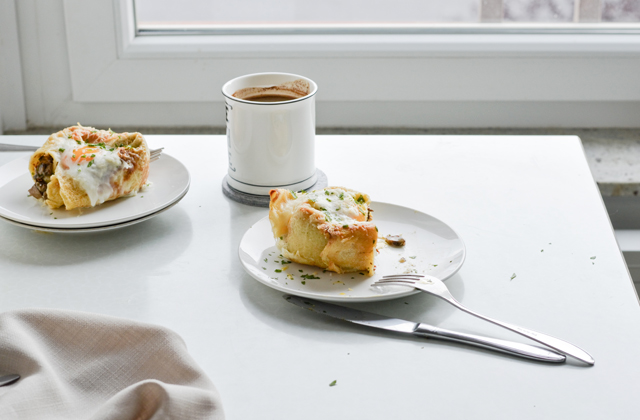 The summer was very dry this year, but ever since the temperatures dropped we've also had quite a lot of rain. This is typical  autumnal weather and it's also very good for mushrooms. I can't remember the last time I went mushroom picking, but I'm tempted to go this year. Whether I go or not, I'll still be enjoying mushroom dishes.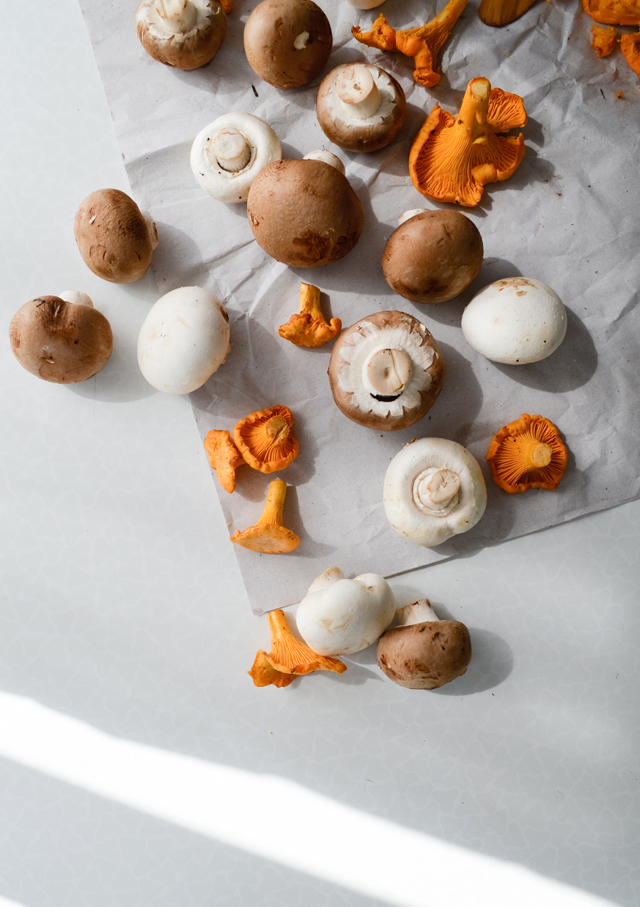 The awkward thing though is the fact that I'm known for saying I don't like mushrooms. I've shared this bit of information more than once here on the blog too. But the truth is I do like mushrooms, if I prepare them myself. I tend to avoid them everywhere else.
Mushrooms are special. Some people hate them, some love them, I'm in the middle grey area. Mushrooms have a strong (keep those windows open when you cook!) but wonderful smell, an amazing flavor, but a texture I'm not too fond of. Over years I've figured out what to do to make that texture palatable and any mushroom dish tasty.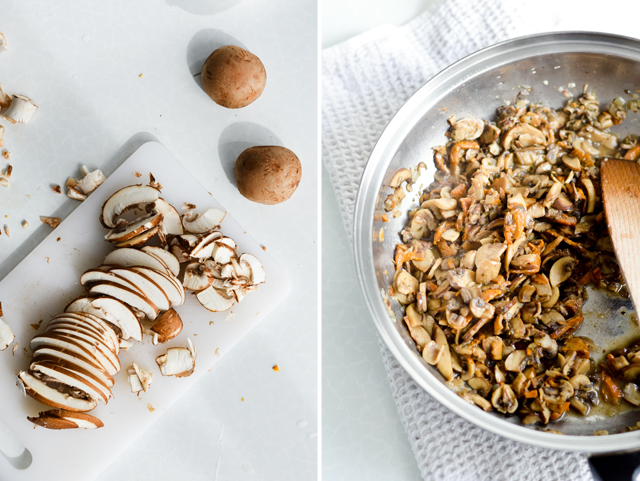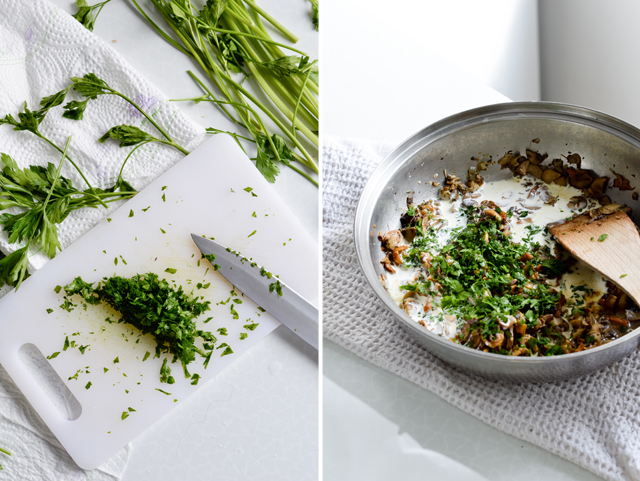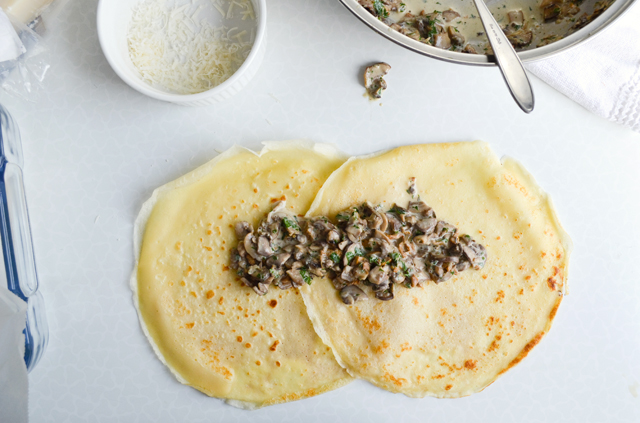 The key is in the chopping. I slice the mushrooms very thinly, which not only cooks them faster, but makes them less chewy. It really takes the bite out of them, which is very important to me. (No portobello burgers for me please.) This trick is why I now eat mushrooms.
Saveur has a recipe for mushroom ragout that I love to use, only slightly adapted to make it vegetarian, but the base is pretty much perfect. It's also what I use when making a sauce for pasta or a lasagna. If I can recommend a recipe to start your mushroom tasting with then it's this one.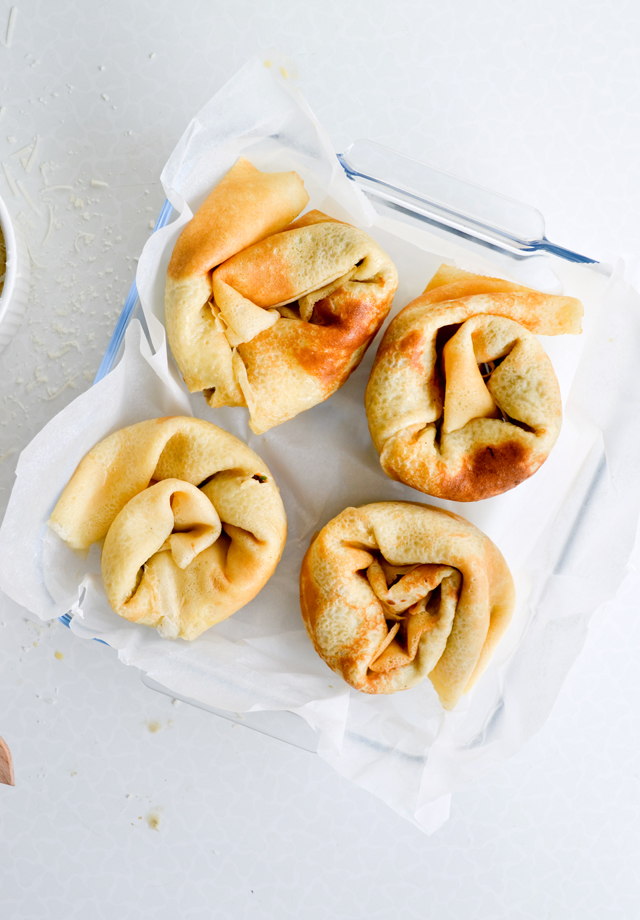 And while the mushroom ragout may look like the star of this dish,  it's just one component. The eggs and crepes are just as important.
Generally speaking, eggs and mushrooms are a dreamy food pair.  They work really well together. My mom often made scrambled eggs with mushrooms for herself when I was growing up and when getting into the mushroom world myself, this combination was one of the first I wanted to try.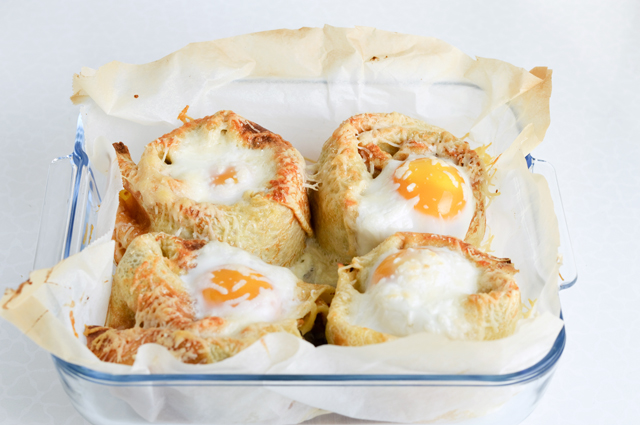 And it's a good combination, simple  but very good. However, you know me and my love for crepes. The temptation of adding a filling is too big and having them savory is a nice change from the usual Nutella.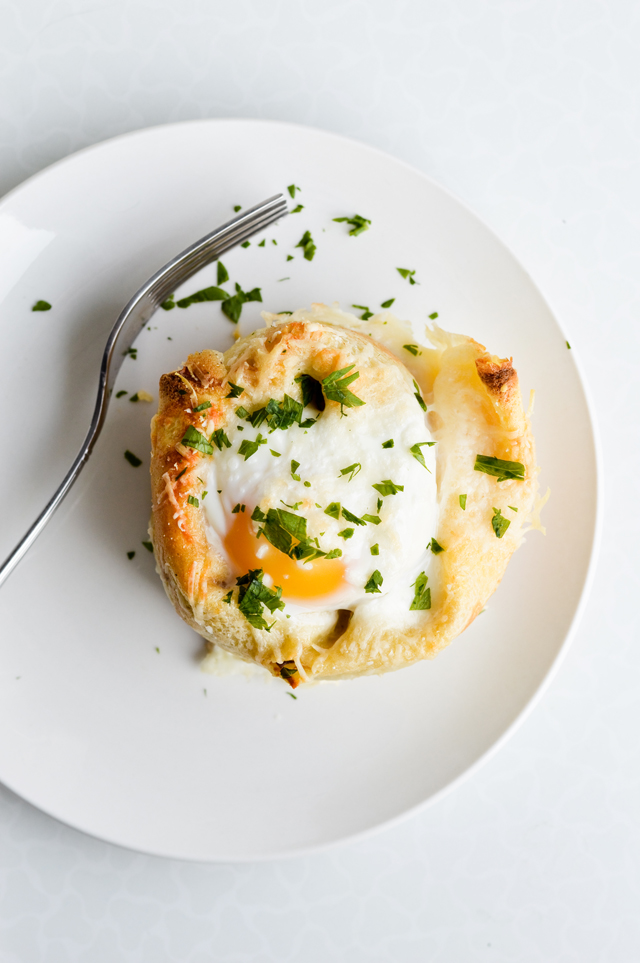 These savory crepes with mushroom ragout are out of this world.  I'm overly self critical and often have a hard time complimenting myself, but I'm convinced these rolls are perfect. Just the perfect combination of delicate soft crepes, creamy aromatic mushrooms, the crunchy cheese and the eggs on top that bring everything together.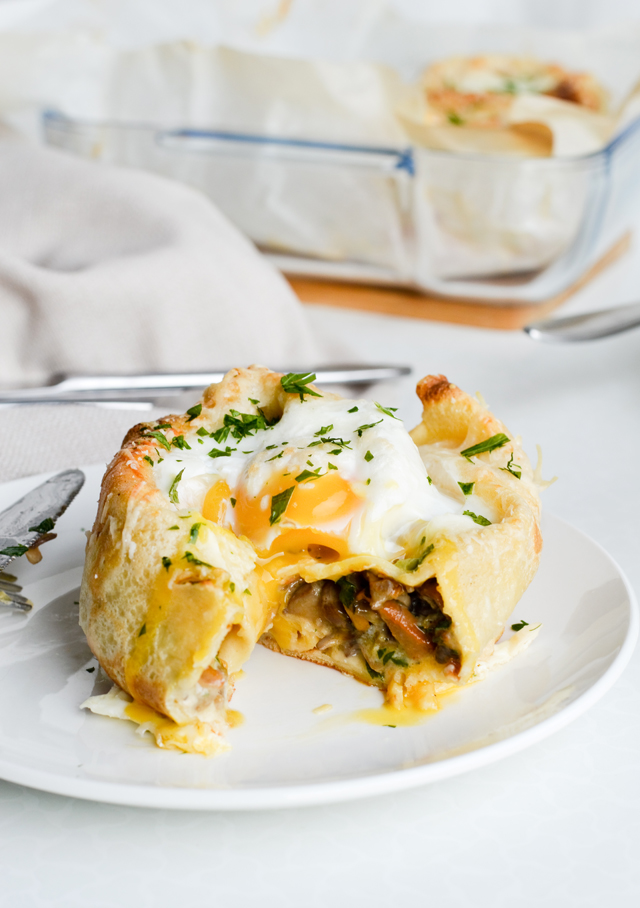 Print
Savory crepes with mushroom ragout and eggs
Truly amazing savory crepes filled with mushroom ragout and topped with eggs and cheese.
Author:
Prep Time:

15 min

Cook Time:

30 min

Total Time:

45 minutes

Yield:

4

servings

1

x
Category:

Breakfast, Main course

Cuisine:

Slovenian, European
mushroom ragout
350g

mixed fresh mushrooms (I use chanterelle and button mushrooms)

1 1/2 tablespoons

olive oil

2

shallots, finely chopped

2

small cloves garlic, grated

120

ml (1/2 cup) vegetable stock

1/2 teaspoon

dried thyme

80

ml (1/3 cup) whipping cream

2 tablespoons

fresh chopped parsley
salt and pepper
Other ingredients
8

crepes

5

eggs
about

160g

(

5.5 oz

) Parmesan or similar cheese, finely grated

1 tablespoon

chopped parsley
Instructions
Mushroom ragout
Remove the stems of button mushrooms and thinly slice all mushrooms. Chop bigger slices in two or three parts.
In a large pan pr skillet, heat olive oil over medium-high heat. Add shallots and cook until tender, stirring occasionally, for about 10-15 minutes. Add the garlic, stir and cook for another minute.
Add the mushrooms and cook until they release all the liquid, stirring occasionally.
Add the vegetable stock and thyme and cook for 5-10 minutes, until most of the liquid evaporates.
Add the cream and cook for another minute.
Remove mushrooms from the stove, stir in the parsley. Taste and add a pinch of salt and a grind of black pepper, or more to taste.
Preheat the oven to 250°C (480°F) and place a rack in the lowest row in your oven.
Line a small square baking dish with parchment paper, whisk one egg in a small bowl and set aside.
Take two crepes and put one over the other, so they partially overlap. Spread two large tablespoons of mushroom ragout in the center. Sprinkle with 2-3 tablespoons of grated cheese.
Brush all corners of the crepes with the whisked egg.
Gently roll the crepes in a log (not too tightly!), then roll again in a coil shape. Place in the baking dish and brush with egg.
Repeat with the remaining 6 crepes and make 3 more crepe rolls.
Gently pat down the crepe rolls, so they flatten on the surface. Crack an egg onto each roll. Generously sprinkle with more cheese.
Bake for 10-15 minutes or until you see the egg whites have turned from translucent to white. The yolk should remain runny. Often the yolk hardens on the surface but is still runny in the center. The crepes will be crispy on the outside.
Sprinkle with chopped parsley (about a tablespoon) and serve immediately.
Notes
I use an 8-inch (21×21 cm) square Pyrex glass baking dish.
If any of the crepe rolls crack as you roll them don't worry. Just place them in the dish, brush generously with the whisked egg and they will come out in one piece.
Recipe for mushroom ragout adapted from Saveur.