Quick preserved lemons should be a pantry staple!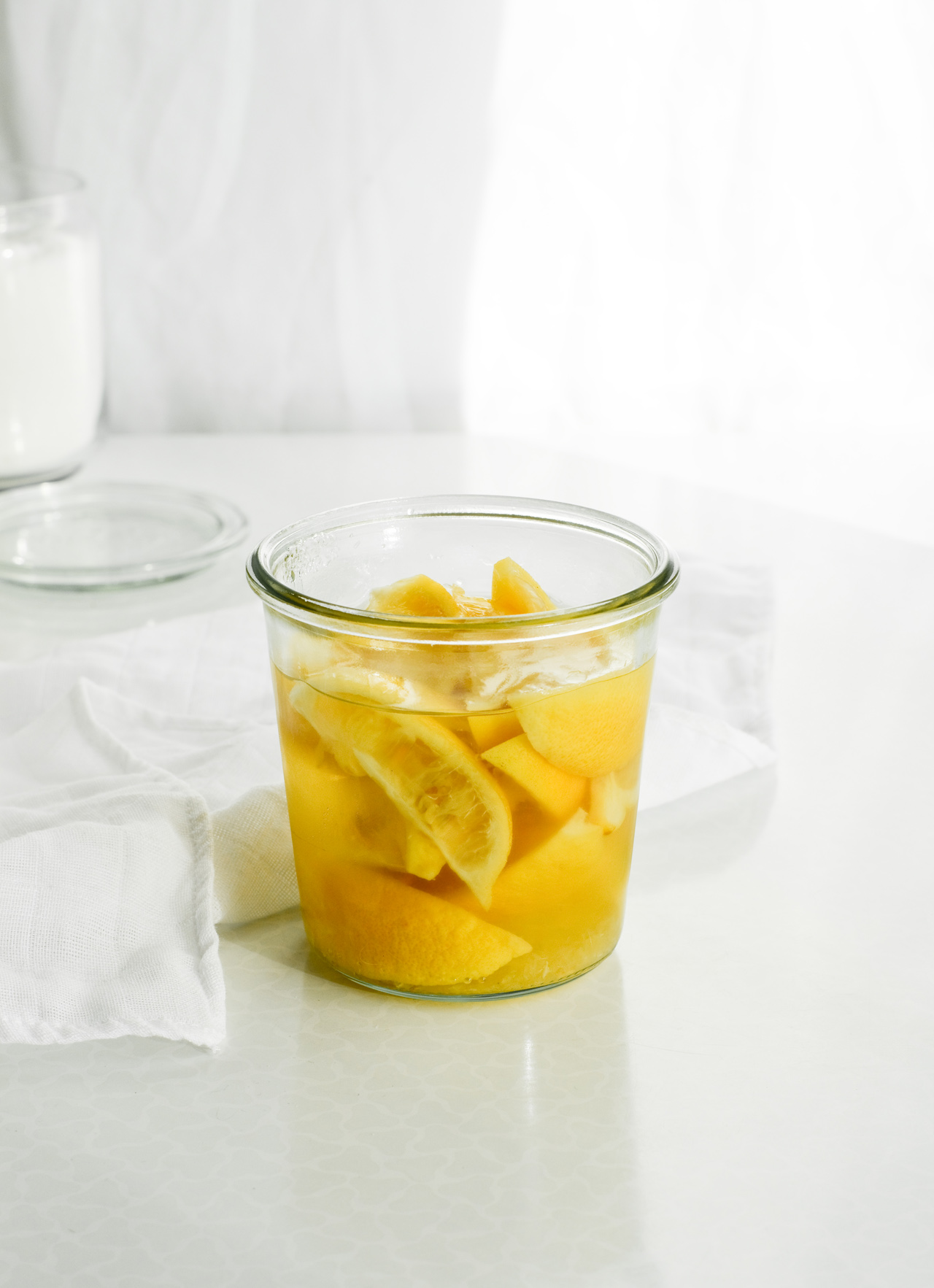 Okay, after that teaser photo on Instagram, it's about time I share this post with you. If you've been following me for a while, you know by now that I love lemons. Absolutely adore them. I try to put lemon juice or zest in anything I can. If I can't do that, I just make some lemonade. And I'm also that person that can eat a raw slice without a problem, while I know some people shudder simply at the thought (my mom was like that).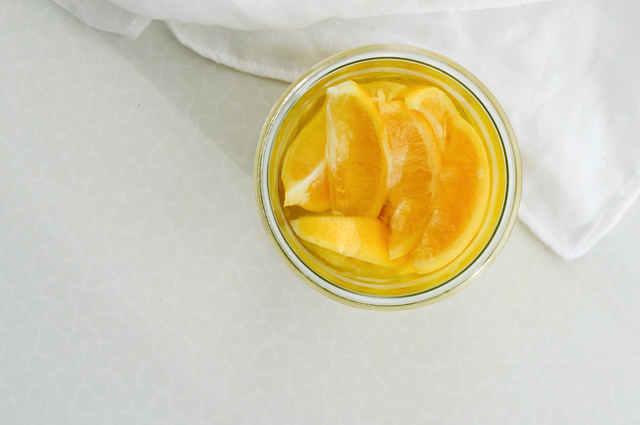 It's true that I mostly use fresh lemons, but I've become a fan of preserved ones too. I love how the rind of preserved lemons is softer and can be used whole in a dish. And I also love the fact that preserved lemons are so easy to make at home. It's one of those weekend projects anyone can do, you don't need any special equipment, just a little time.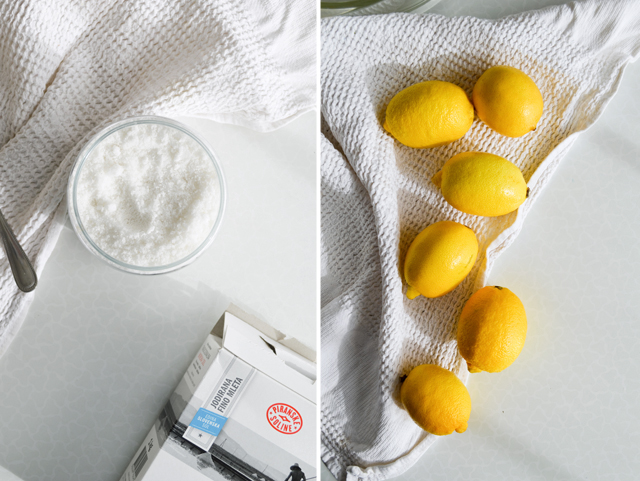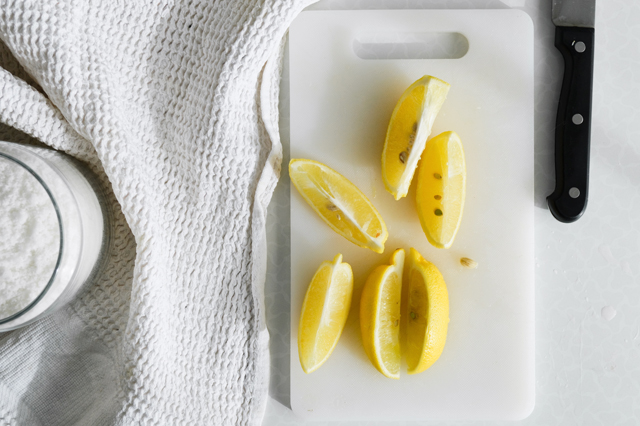 Now, you can preserve lemons two ways. The classic way I've always known of is the one where you vertically slice lemons into four parts, but not all the way through, so each lemon opens up like a flower. You sprinkle the lemons with salt, store like that in a sterilized jar and after about 3 weeks this will result in perfect preserved lemons. (David Lebovitz uses this technique in his great recipe for Moroccan preserved lemons.)
Since this takes time and I usually don't remember I have no lemons left until I want them, I prefer the other way because the result is quicker. I first saw it done like this in one of Ina Garten's Back to Basics episodes and I've been a fan since.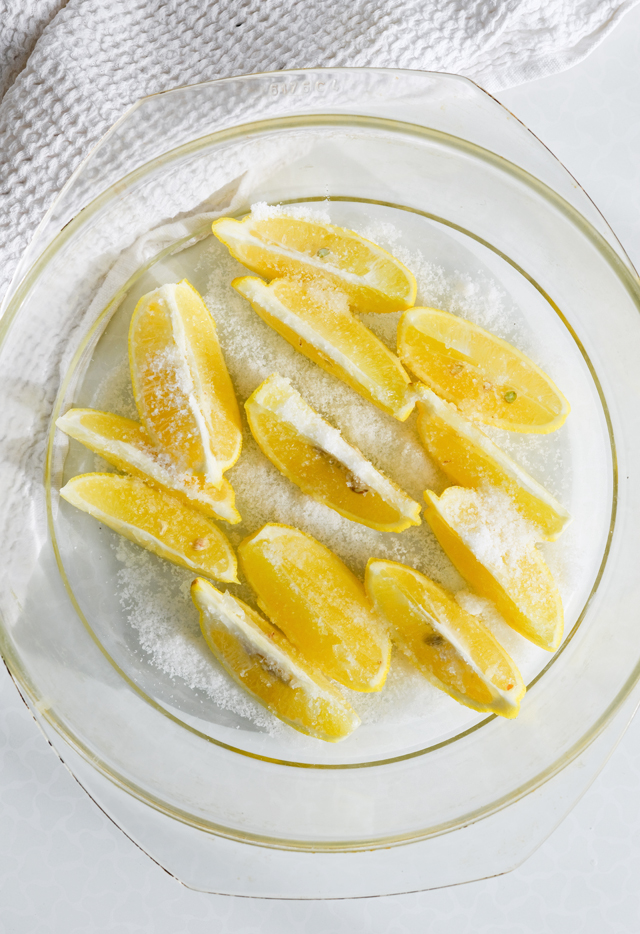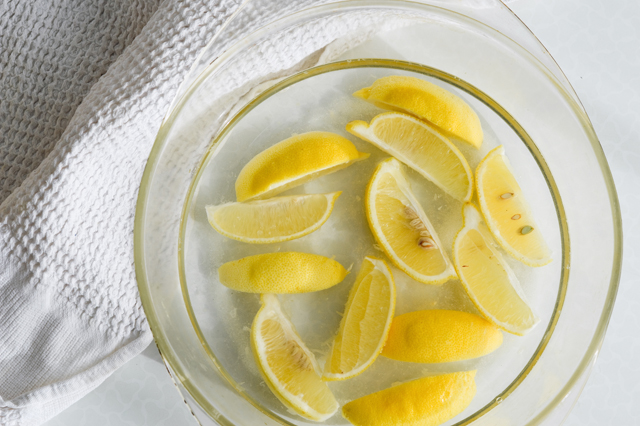 You can use these quick preserved lemons in numerous dishes, starting with tagines and stews, salads and salad dressings (try this red quinoa or this chickpea spinach salad), also in dips such as my tartar sauce, in pasta and pesto sauces (try spaghetti with cauliflower pesto for a combo), chopped over roasted potatoes or even in soups (like my cauliflower millet soup with lemon).
And since the winter holidays are almost here, I think giving someone a jar of homemade preserved lemons would be a great gift. You can use small jars, just big enough for one lemon, tie a bow around each one with a lovely note and I bet everyone will be happy to receive such a useful, thoughtful gift.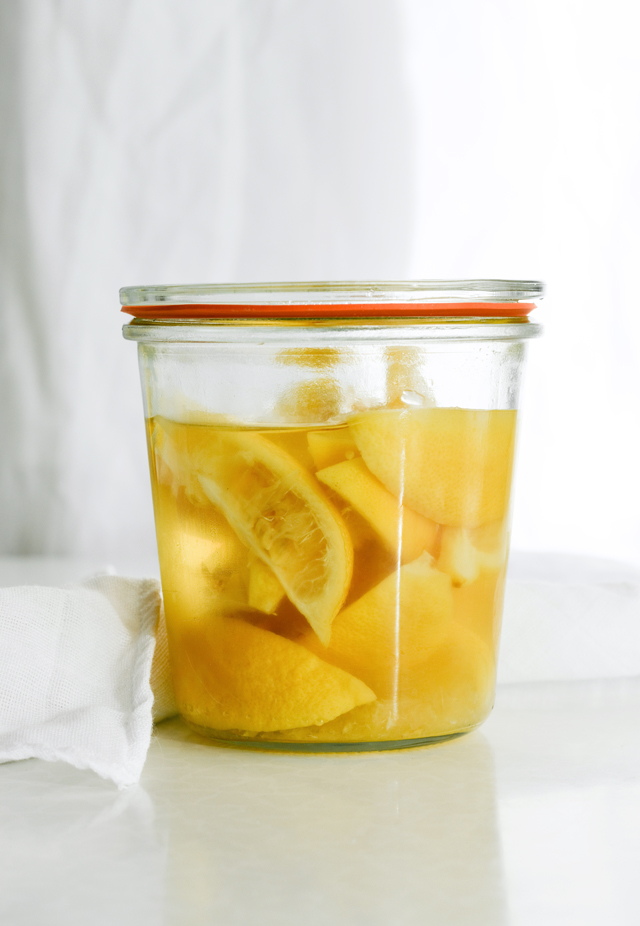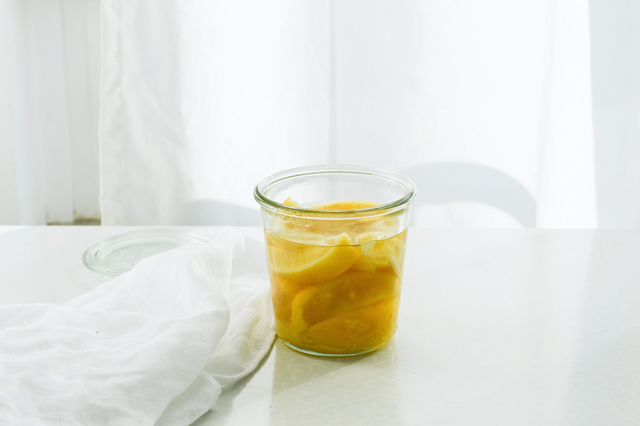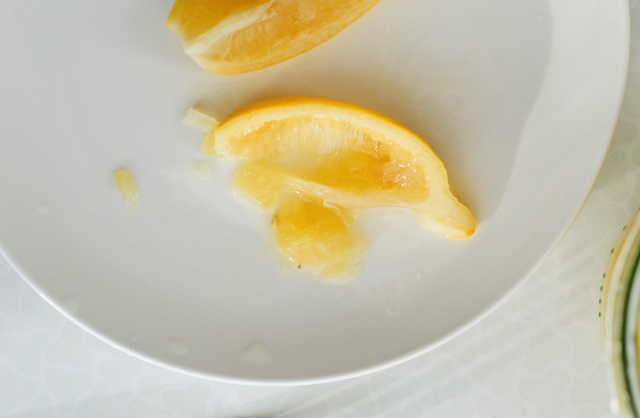 Print
Quick preserved lemons
Preserved lemons are a great addition to tagines, stews, soups, salads, dressings or dips.
Recipe makes one small jar of preserved lemons.
Author:
Prep Time:

10 min

Cook Time:

3 hours

Total Time:

3 hours 10 minutes

Yield:

1

jar

1

x
2

large (or

4

small) organic lemons

30g

(

2 tablespoons

) sea salt
filtered water
sterilized canning jar
Instructions
Preheat the oven to 120°C (250°F), with a rack placed in the center. Prepare a small glass or ceramic baking dish.
Under running water, scrub the lemons with a vegetable brush. Dry each lemon with a towel and cut it into six pieces, lengthwise. Place slices in the baking dish and sprinkle with salt. Cover with water completely and cook in the oven for 3 hours.
Once cooked the lemons will be visibly softer. Transfer them to the prepared jar, cover with water they were cooking in and tightly seal the jar. Let them cool completely on the counter, then store in the fridge for up to 6 months. Whenever you take some lemon slices out, make sure the rest are still covered with water.
Notes
When using the lemons, rinse each slice to remove excess salt and also remove the seeds.
Use quality ingredients: Because you will be eating these lemons whole, including the skin, it is important you buy unsprayed or organic lemons.
The best salt you can use in my opinion is quality sea salt or kosher salt. Personally, I always cook with Slovenian sea salt (produced by Piranske soline ) which has been praised by many chefs around the world. You should buy whichever salt is accessible to you.
You can double this recipe without a problem. Use one tablespoon of salt per one lemon, if it's extra large you can use 1 1/2 tablespoons. Just make sure the lemons are all covered with water as you cook them and use a big enough dish that they're not lying on top of each other.
The volume of the jar I used is 0.5 liter or 19.6 fl. oz.