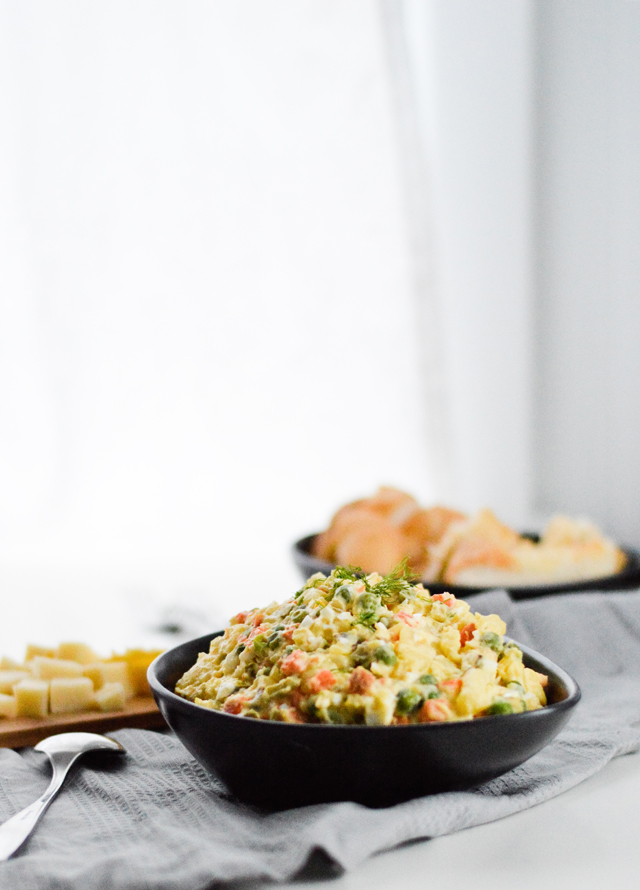 Whew, this week didn't start out as planned. I originally wanted to share a delicious chocolate hazelnut meringue cake with you, but that obviously didn't work out.
I baked both meringues in the oven at the same time, so they weren't both positioned at the same height which was a big mistake because one of them ended up being undercooked. That was a big fail and I still get mad when I think about it.
Meringues seem easy to make, and I still think they are, but it all comes down to the oven and cooking time. I did improvise a bit in the end, so we did have a dessert to enjoy after dinner, but I just couldn't post that as a recipe.
This little mishap made me hate desserts for a day or two though, which is why I decided to make something completely different. A salad, but not just any salad, the best, most indulgent salad in the world – my mom's vegetarian Salad Olivier.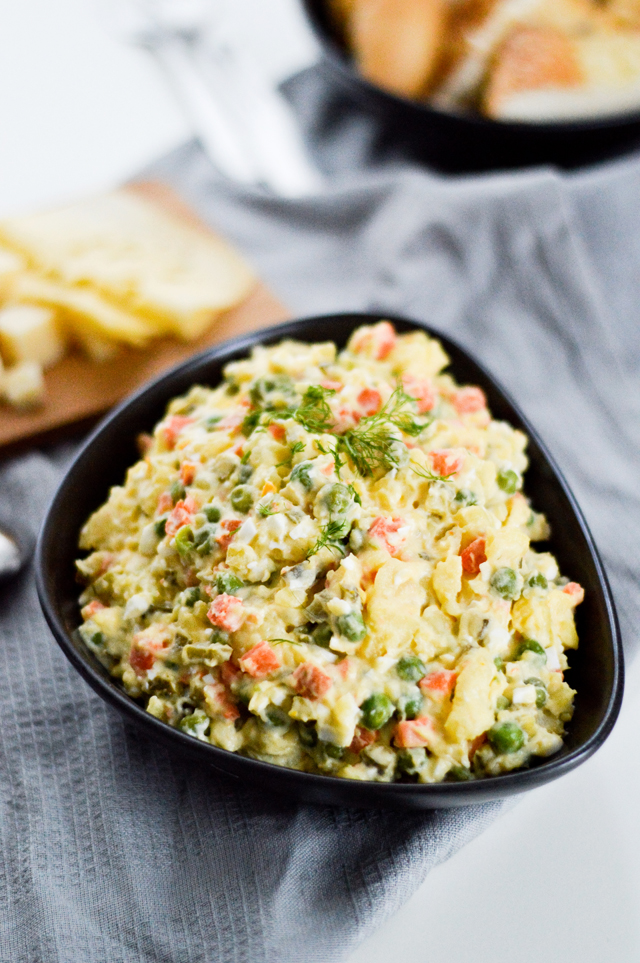 Where do I even begin? I have been wanting to make this for months now. December is the big "Salad Olivier" month and I am so happy it's finally here!
Seriously, I am not overreacting. Salad Olivier, also known as Russian potato salad, is a holiday staple where I live. And it's more than that, it's a celebration food must have. People serve this at birthday parties, at any family event, and it's always a big hit. When a bowl of this appears on the table, people reach for it, almost fight over it. It's one of those situations where you wish you could just keep the whole bowl right there at your plate, but we all have to be fair and kind and pass it around.
So, you take a few tablespoons, enjoy it greatly and then wait to see if there's any left in the bowl in the end. As a host, I love to make a bigger batch and save some for breakfast the next day. Salad Olivier, fresh bread and some cheese – now that is a killer breakfast.
Really, what more could you want on a sleepy Christmas morning? Besides coffee of course.


My mom was the Queen of this salad. Everyone I know knows how to make it, everyone has their own recipe, but I am being honest here when I say that my mom always got the most compliments on hers.
And it was funny, because she always said to me "I don't get it, it's so simple, I just put equal parts of everything in and it just works".
Maybe it's the love we put into it, that makes it that much more special, who knows? What I do know is that it's just amazing. Very indulgent and just so good. And I'm glad I made it with my mom so many times that I now know how to do it on my own.
Well, I was really more of an observer and a tester, always snooping around with a spoon in my hand, but I learned it just the same.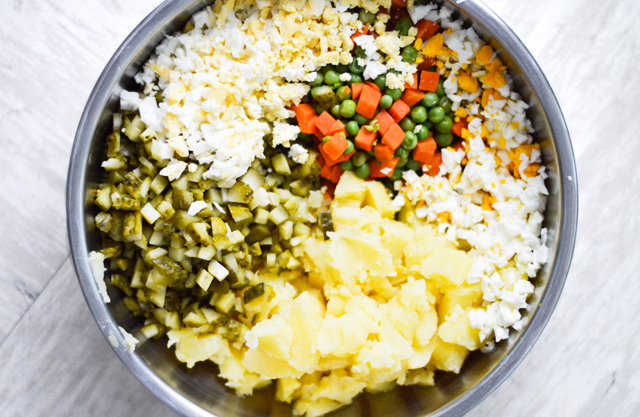 Calling this Salad Olivier vegetarian feels weird to me for some reason. While doing some research on it, I did find that the original recipe calls for meat, usually ham or chicken.
But I've never eaten it like this. The way we make it around here is just always made without any meat, so I never paid any attention to it. But here's the more interesting bit. We don't call it Salad Olivier, nor Russian potato salad. We call it the French salad.
No, I am not making this up and I have no idea where this comes from. If you Google french salad, you won't end up with this. But that is the name we use for it. It is also sold as such at the deli section in our grocery stores. And in the frozen produce section you can buy a bag of frozen veggies called "french salad mix", put together just for making this salad.
Whatever the name, one thing is clear, this is a really great salad. My favorite way of eating this, years ago before becoming a vegetarian, was in combination with toasted bread, beef tartare and butter. But these days, I personally  love to serve it with a cheese platter. It's just the best combination ever and it's become our favorite holiday dinner or breakfast. There is no December without Salad Olivier and cheese, that's just a fact.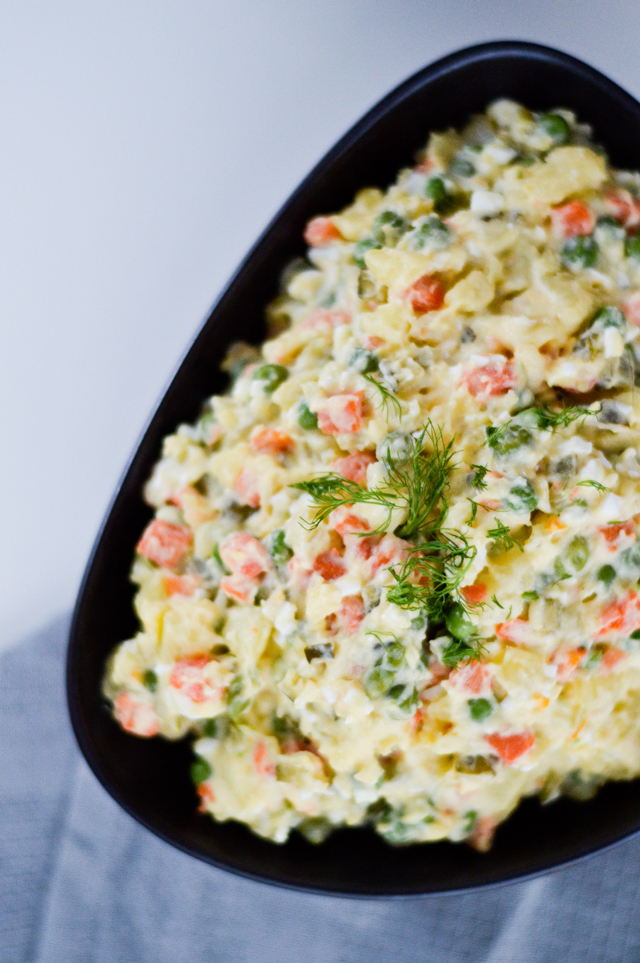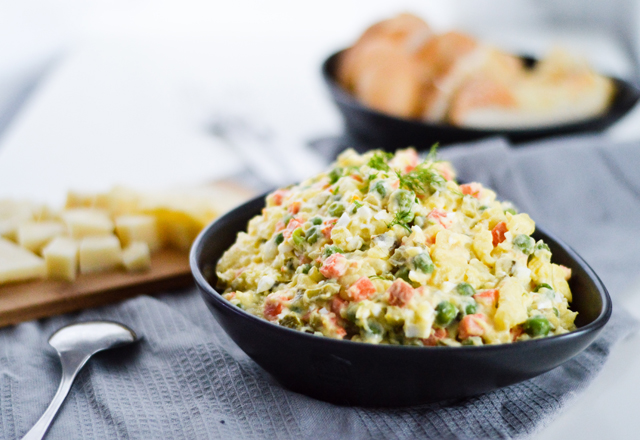 Print
Mom's vegetarian Salad Olivier
Author:
Prep Time:

30 min

Cook Time:

40 min

Total Time:

1 hour 10 minutes

Yield:

6

servings

1

x
Category:

Sides
about

820g

(1.8 pounds /

29 oz

) potatoes

225g

(

8 ounces

) green peas, preferably frozen

225g

(

8 ounces

) carrots, frozen or fresh

4

large eggs
about

220g

(

8 oz

) German or dill pickles

1

–

2

tablespoons of vinegar from the pickle jar

8 tablespoons

mayonnaise

2 teaspoons

fine sea salt + more to taste

1 1/2 teaspoons

red wine vinegar + dill for garnish (optional)
Instructions
Place potatoes in a large saucepan, cover with water and bring to a boil over high heat. Lower heat to medium-high, partially cover the saucepan with a lid and cook potatoes until easily pierced with a fork, 40-60 minutes (depends on the size of potatoes.) Once cooked remove saucepan from heat and rinse the potatoes under cold water. Peel the potatoes (the skins should come right off) and chop them in bite-sized pieces. Transfer to a large mixing bowl.
In another saucepan, combine peas and carrots, cover with water and bring to a boil. Cook for 10 minutes, or more, until tender. Drain vegetables and transfer to a large bowl.
Place eggs in a saucepan, cover them with water, put on a lid and bring to a boil over high heat. Once boiling, remove saucepan from heat and keep eggs covered. Let them sit for 15 minutes. Then rinse under cold water, peel and finely chop the eggs. Add to the bowl with peas and carrots.
Meanwhile, as the ingredients cook, finely chop the pickles. Transfer them to the large mixing bowl.
Stir ingredients until combined. Add mayonnaise, salt, vinegar from dill pickles. Taste and add more salt if needed, along with red wine vinegar (if desired) and more mayonnaise (if desired).
Keep tightly covered in the fridge until serving time. The salad is best served cold.
Store leftover salad covered in the fridge and eat within 2-3 days. The vegetables can soak in some of the vinegar and mayonnaise, so you can add more the next day.