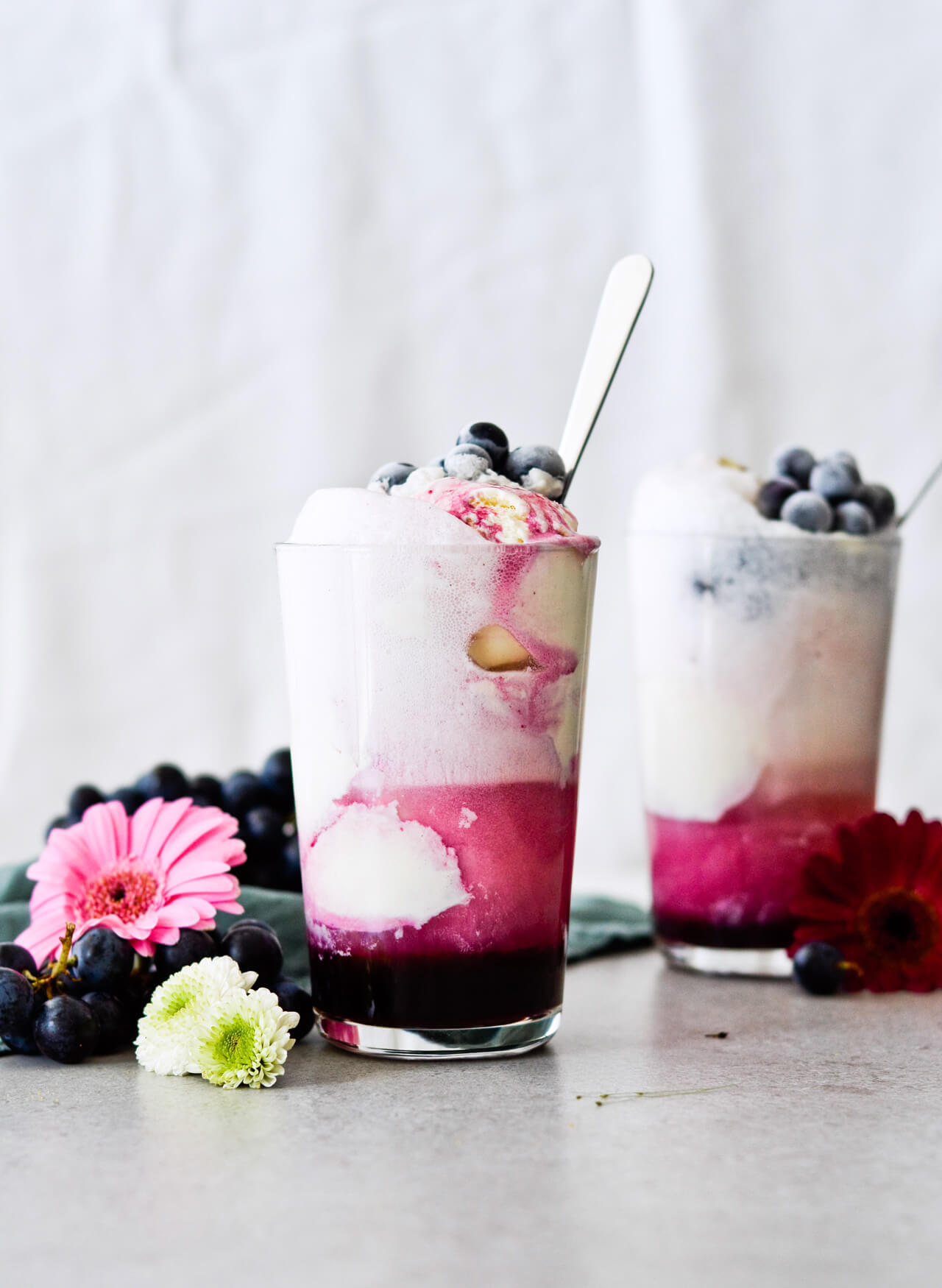 Hiiiii! Missed me? I really, really missed you guys. So much! If you follow me on Instagram, then you know that I do occasionally pop up on there so it wasn't like I was gone completely… but you know that I consider this blog my home base.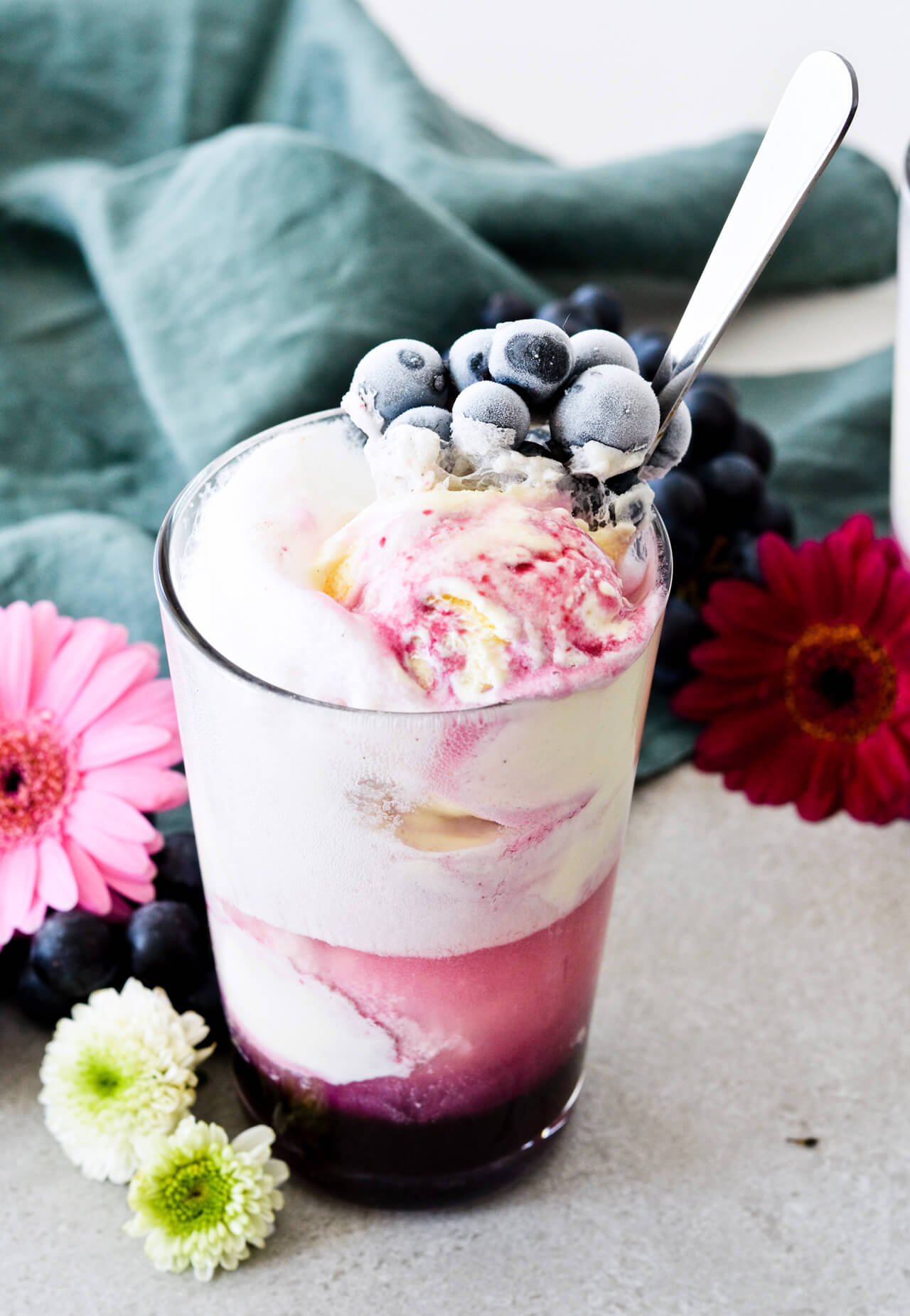 And speaking of that… notice anything different? Mitzy at Home got a little makeover! What do you guys think? I'm still polishing some stuff, but I'm very pleased overall. You definitely deserved a better, more functioning website after following me for 3 long years.
If you've read some of my older posts you know Rok and I (and the 3 furry babies) moved to a new place in the summer. I'm happy to report that I am now completely used to it, used to the new kitchen, everything. Actually saying I'm "used to it" is an understatement because I freaking love my new kitchen.
And while I've been making a lot of soups in the past week or two, I still decided to end this blog break with a drink. I mean… who doesn't love a good drink? 
[one-half-first]
 [/one-half-first]
[one-half]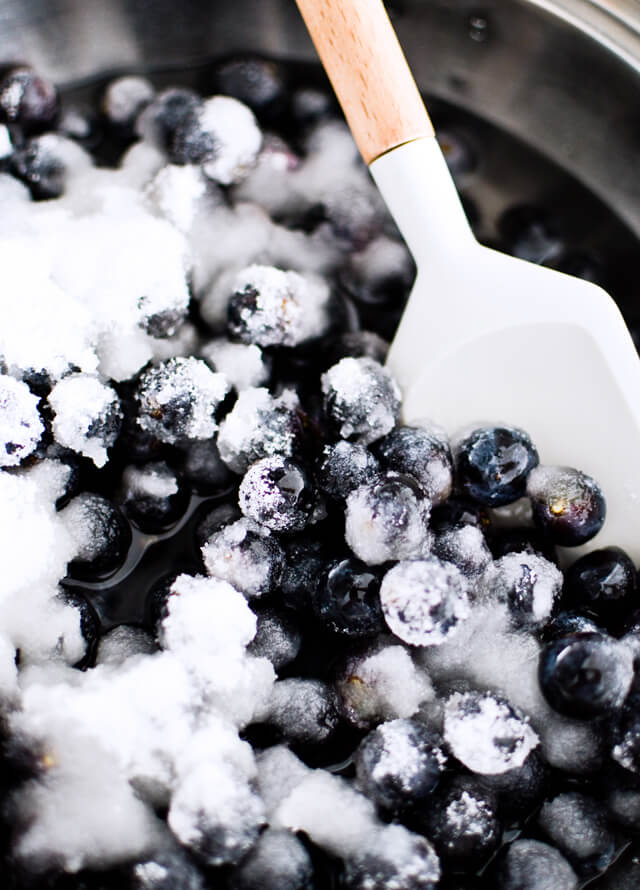 [/one-half]
[one-half-first]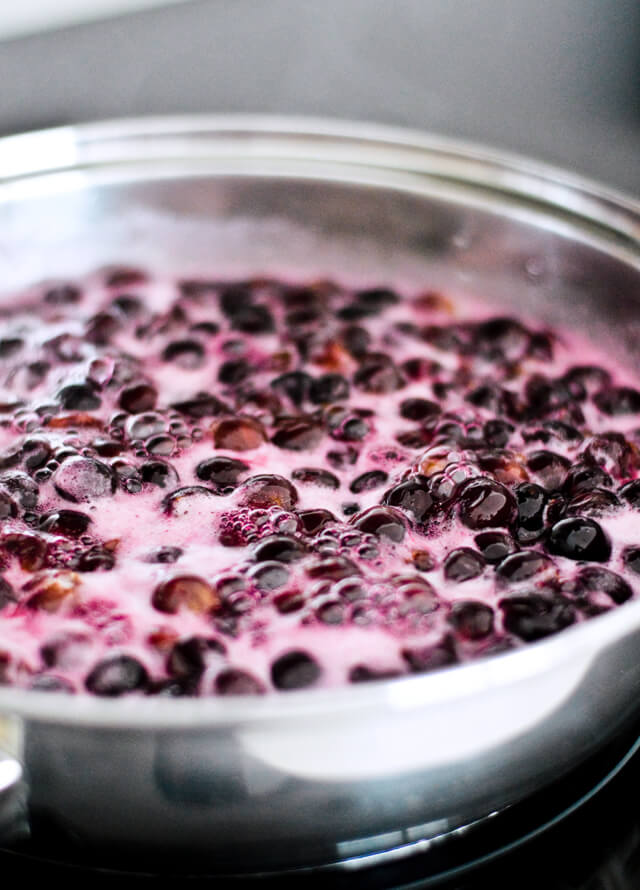 [/one-half-first]
[one-half]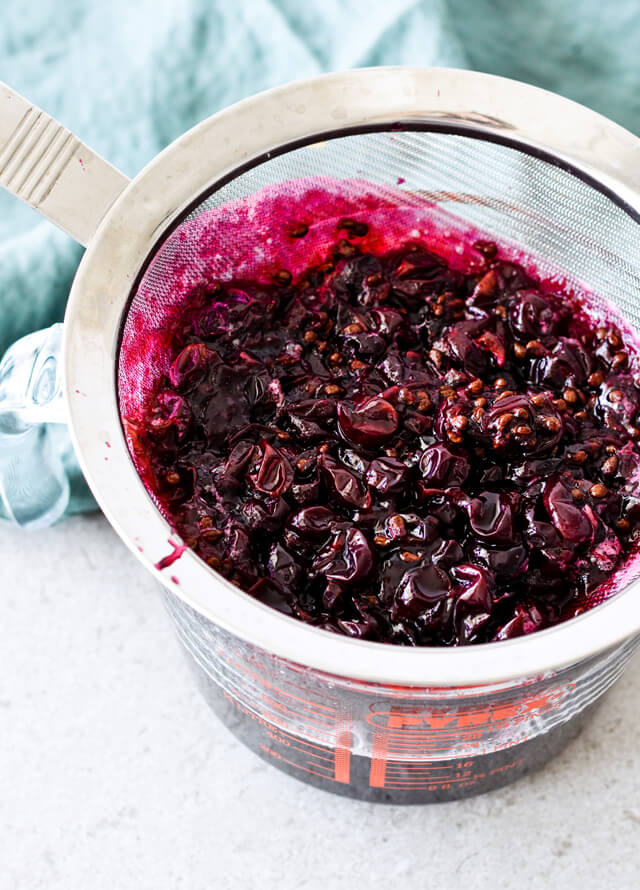 [/one-half]
I don't know what the weather is like where you live (do tell me), chances are it's still summery so you won't mind all the ice cream. But if it's cold, as it is here, I hope you won't mind it either. Because it's ice cream. I can't say no to it. Ever.
You do know that Fall is my favorite thing in the world, but I have to say it's been surprisingly cold. The breakup with summer was brutal. We wen't from "goshhh it's so hot" to "damn, why sin't the heating working" in a second. I so wish I was kidding, but I'm not.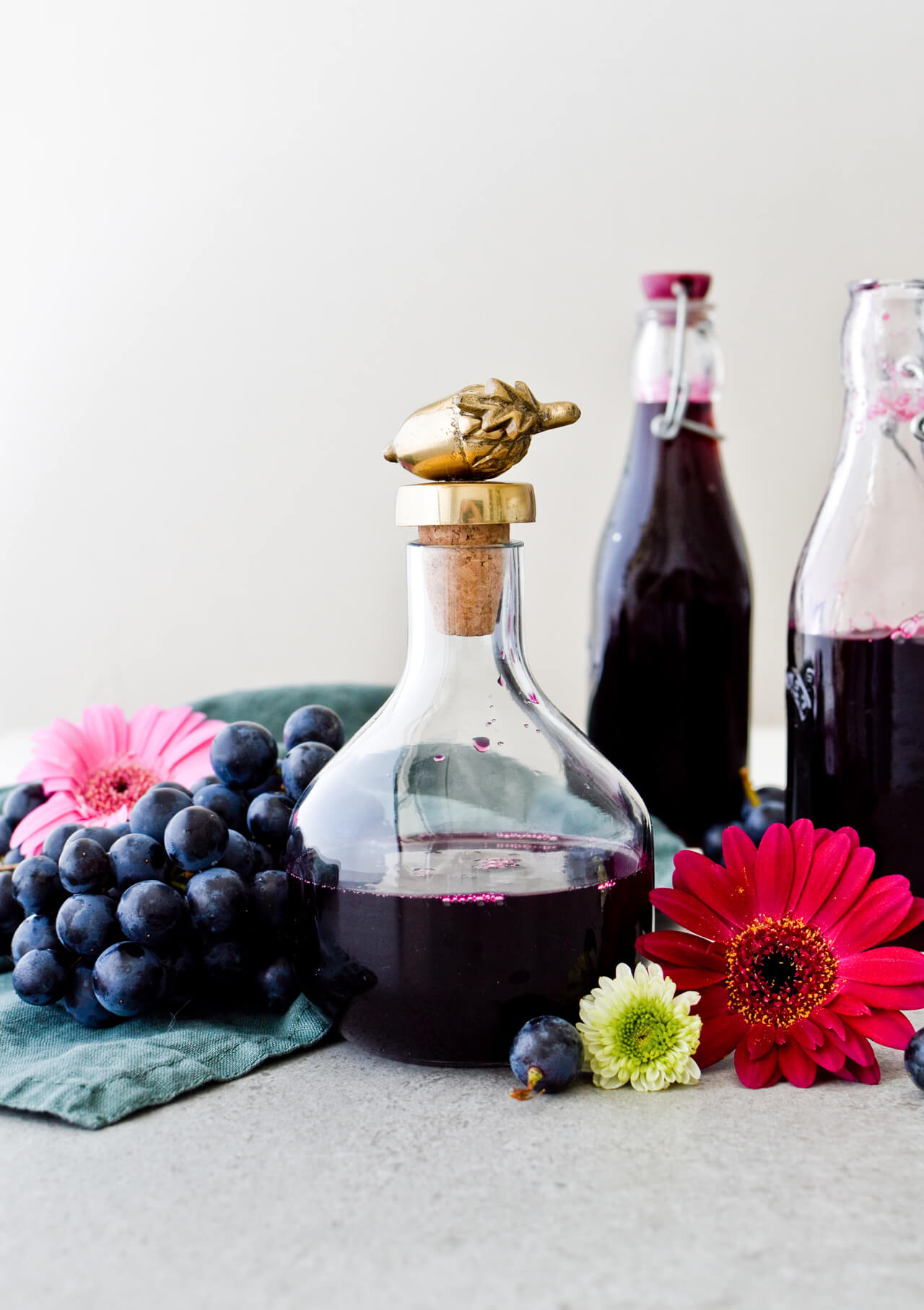 However, I am optimistic that we'll get some sunny days or weeks. But whatever the weather, I'm not letting go of ice cream. I can honestly tell you that these Grape syrup ginger beer floats are the best drink I've had in a while. Without exaggerating at all, I can tell you I feel like a kid when I drink one. A KID!
They're just magical, like bubble gum and ice cream wrapped into one, like a grape soda dream. I downed one for lunch when I was shooting the recipe for you guys and it was the best lunch I've had in a while. (I didn't say healthy tho!)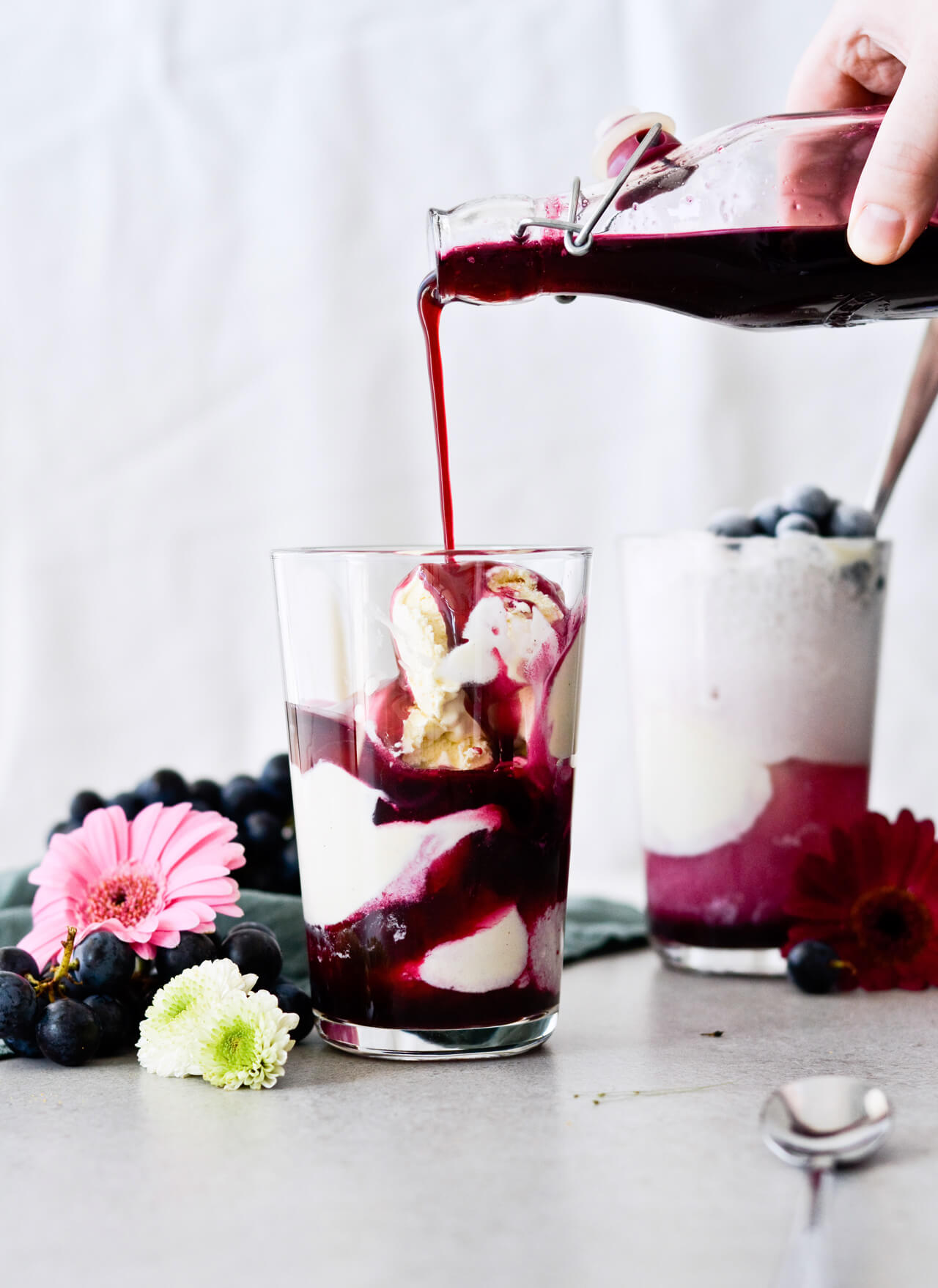 The window of opportunity for concord grapes is rather small, so I'm making use of them while I can. Naturally, I made syrup. I always try to turn fruit into syrups or spreads, so I can add them to all sorts of meals. I'm using the syrup in a drink today, but you can easily use it on pancakes or waffles, maybe even in a smoothie. It's so fruity and rich, I just know you'll love it. And it smells divine. On top of everything, it's absolutely gorgeous to look at. I am obsessed with its deep purple color and I'm not one to become obsessed easily.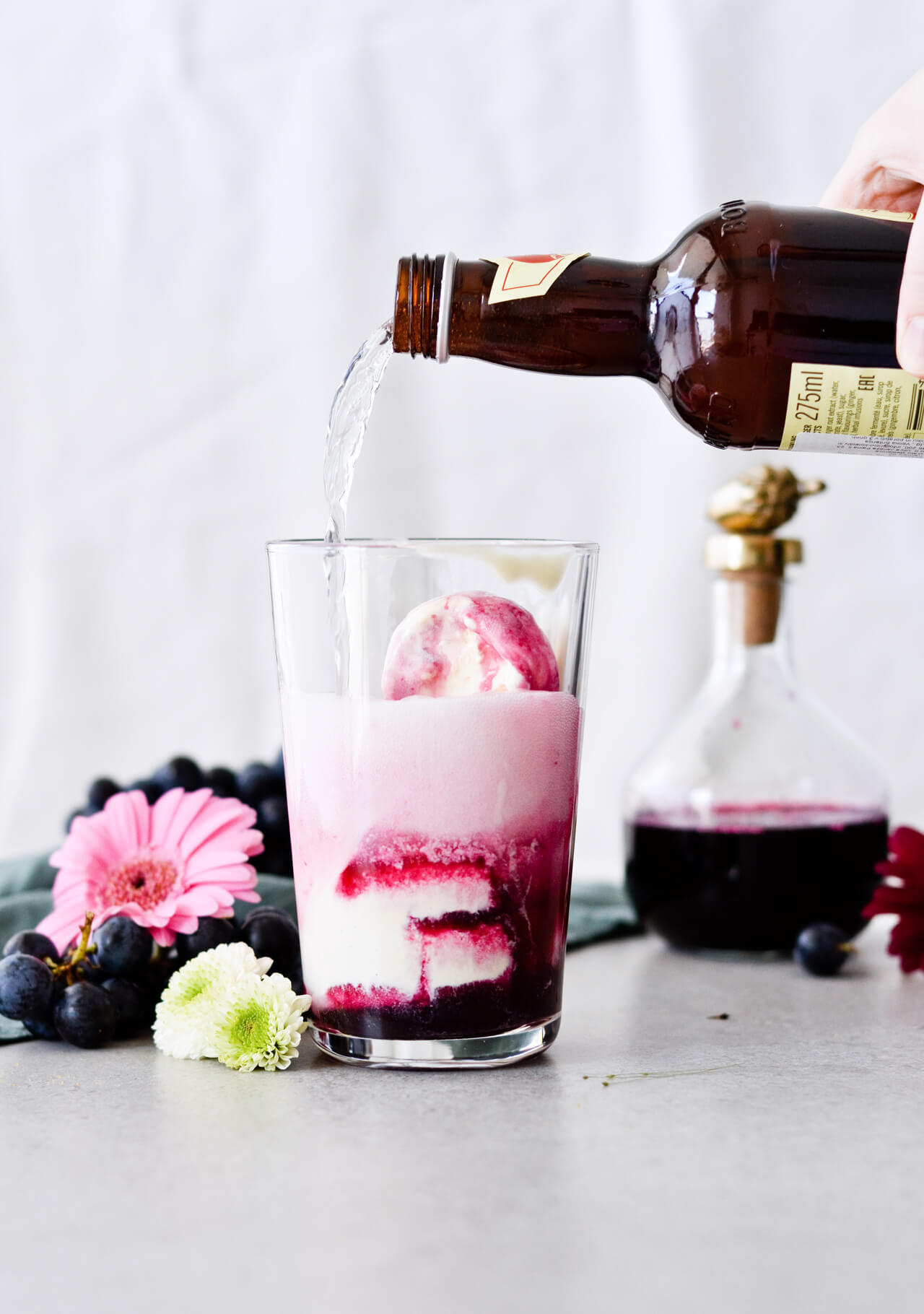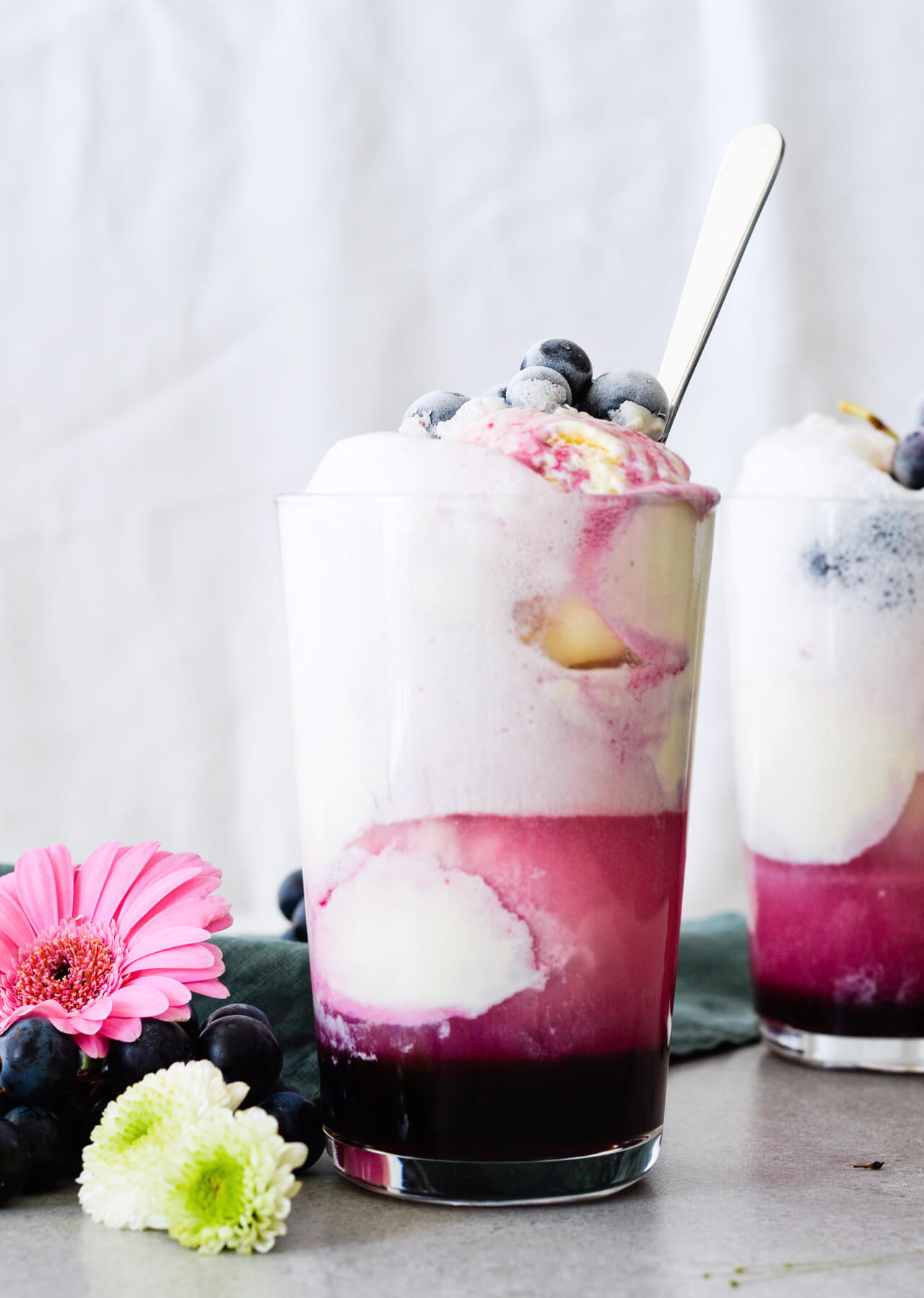 Now, once you have the syrup, the rest is just an ice cream party. The vanilla ice cream adds the perfect gentle creaminess to the syrup and the ginger beer gives it that special kick. You can use sparkling water or other soda if you want, but I really think ginger beer (non-alcoholic) adds a special note to the grapes. They just work beautifully together.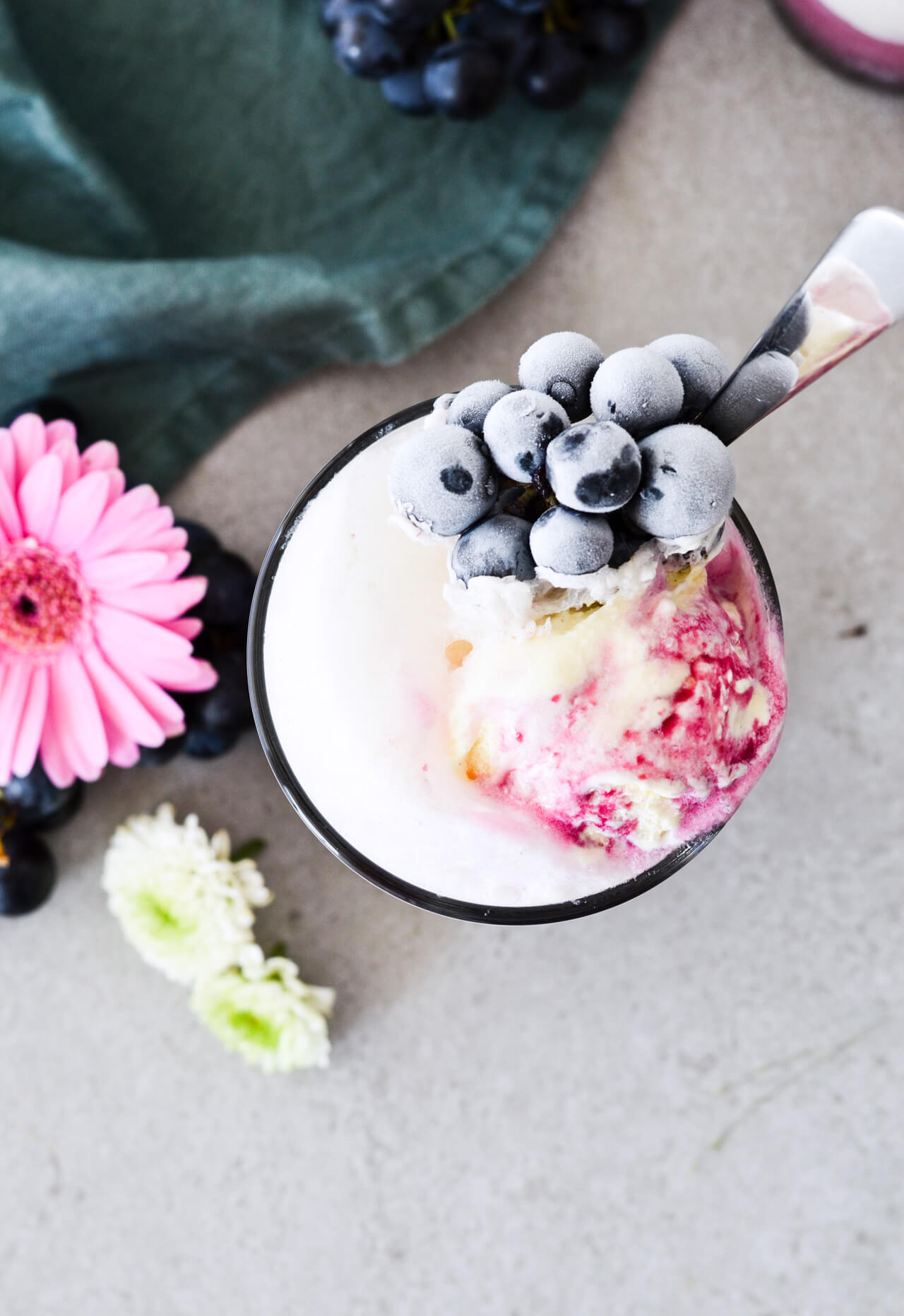 So… let's all make these creamy, autumnal grape syrup ginger beer floats (again and again) and toast to Fall!
Cheers!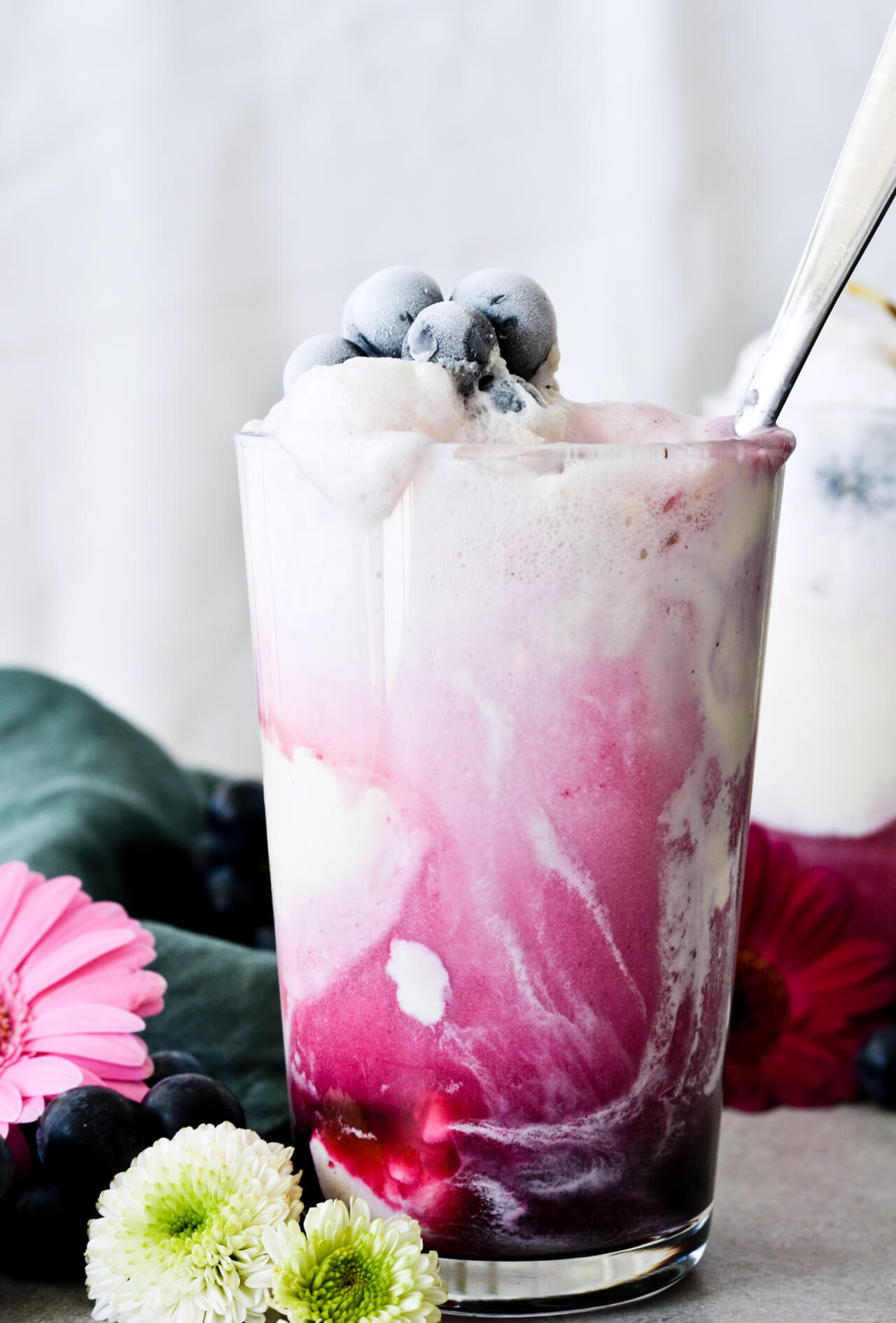 Print
Concord grape syrup
Gorgeous and rich syrup that is great for drinks or pancakes.
Recipe makes about 600ml | 1 pint of syrup.
660g

(1 1/2 pounds |

4 cups

) Concord grapes

400g

(

2 cups

) granulated sugar

240

ml (1 cup) water

1 teaspoon

lemon juice
Instructions
Combine all ingredients in a heavy saucepan. Bring to a simmer over medium-high heat.
Lower heat to medium-low and cook, stirring occasionally, until the fruit breaks down. This takes about 15 minutes. Mash fruit with a potato masher or a spatula and simmer for another 10 minutes.
Using a sieve, strain mixture into a clean glass jar. Discard the fruit and let the syrup cool completely. Transfer to a bottle and store in the fridge for up to a week.
Print
Grape syrup ginger beer floats
Amazing, creamy floats that are made in seconds! Perfect for early Fall.
Author:
Prep Time:

5 min

Total Time:

5 minutes

Yield:

2

servings

1

x
Category:

Drinks
500

–

700

ml (1 to 1 1/2 pints) vanilla ice cream

60

–

80

ml (1/3 to 1/2 cup) concord grape syrup (more to taste)

240

ml (1 cup) ginger beer or ginger ale (more to taste)
Serve with: frozen grapes for decoration, a long spoon and straw (optional)
Instructions
Place 2-3 large scoops of ice cream in each glass. Pour over the syrup and then the ginger beer. Serve immediately, unstirred, and enjoy!
Notes
Adjust the portions to your taste and add less or more of anything. For a creamier float, you want a lot of ice cream, for a more drinkable one you want more of ginger beer.
If you don't like ginger beer, you can also use sparkling water or soda. Or, if you're in the mood, use Prosecco instead!
SaveSave
SaveSaveSaveSaveSaveSave
SaveSave
SaveSave
SaveSave