These raspberry cheesecake brioche doughnuts are made with the classic fluffy dough (spiked with lemon zest and rum) and a fruity filling – a mix of tart raspberries and velvety cream cheese. I use the overnight method for the dough, which makes shaping a breeze and gives the richest taste. Unfilled doughnuts can be frozen and taste just as fresh once you thaw them.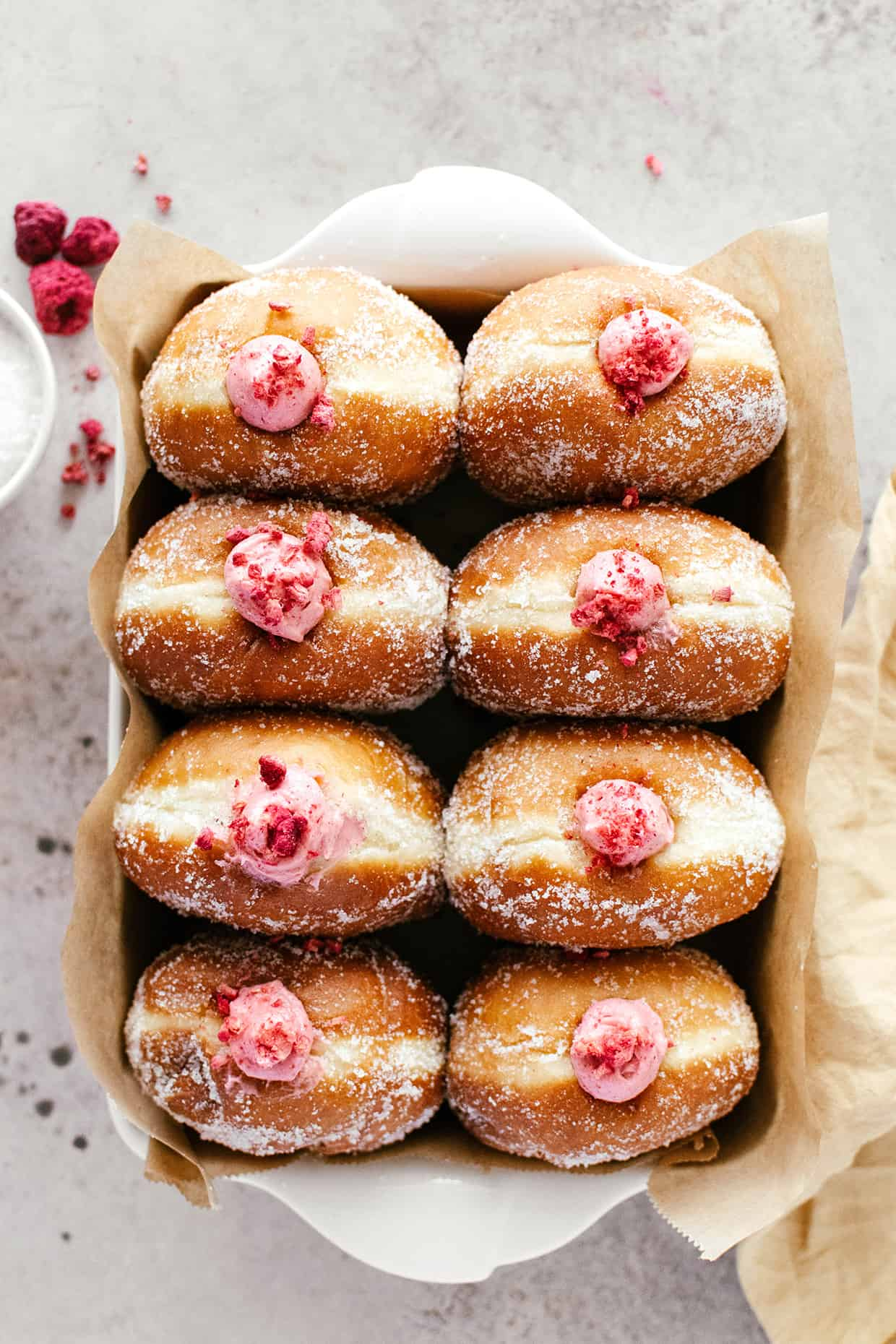 Few things are as satisfying as biting into a freshly fried, still warm doughnut. Sugar sticking to my lips, jam dripping down my chin. A ritual so sacred I only do it a few times a year. (I would love to make it a daily occurrence but I'm practicing this thing called self-control.)
Despite the millions of fillings one can find, I can't help it, I do think a classic jam doughnut is still the best one. But every now and then I'll reach for something else. Like these raspberry cheesecake brioche doughnuts. They taste more celebratory than jam doughnuts, more spring-like, perfect for the cold days of February.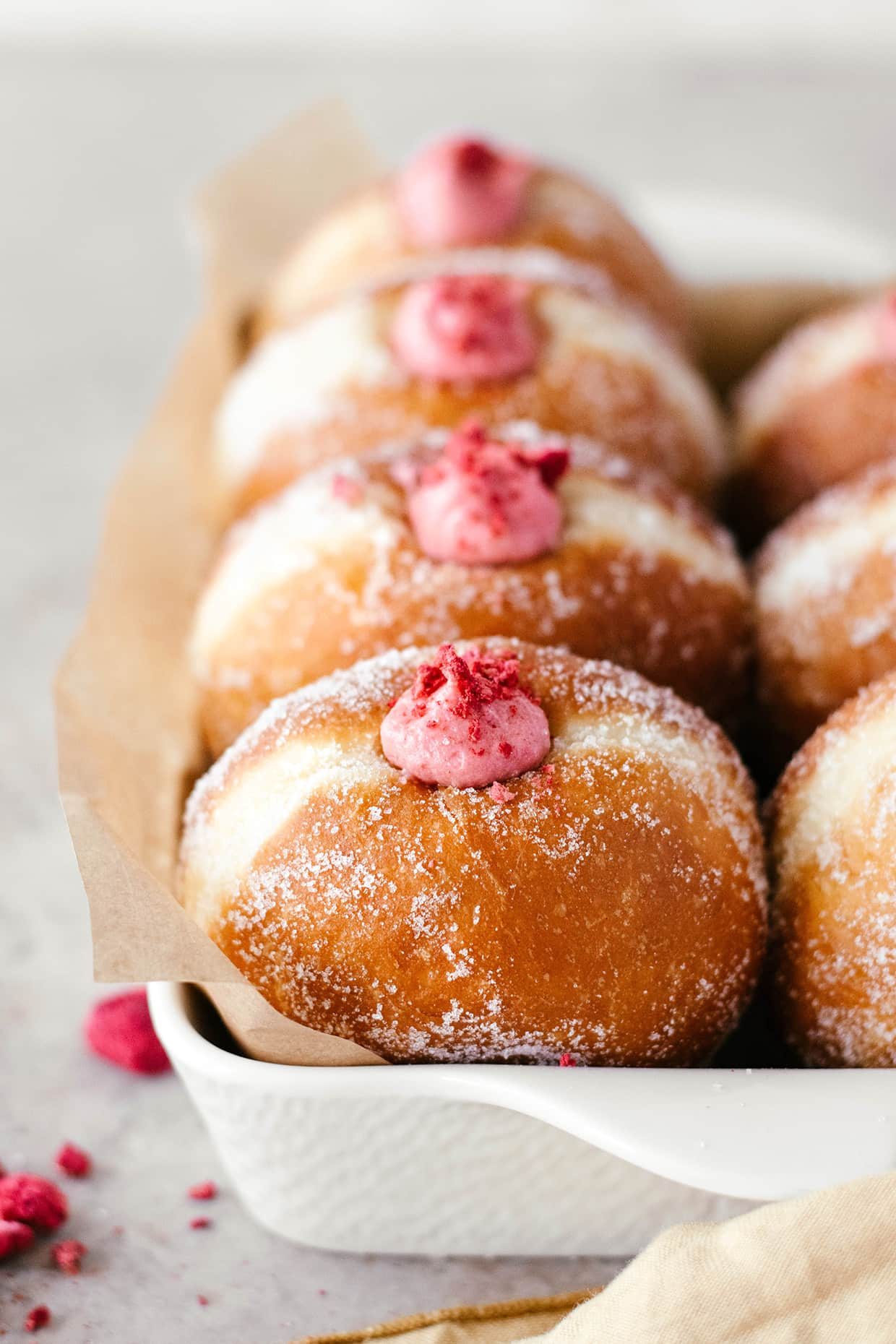 The fluffiest doughnuts
I am using my classic recipe for these doughnuts. It tastes the best and is the easiest to make.
What makes these doughnuts super fluffy is the enriched dough. The word "enriched" tells you everything, it means we're adding things to make the dough richer. Like butter and egg yolks, which make it pillowy soft, flavorful and puffy.
In true Slovenian fashion I also add lemon zest and a splash of dark rum. I don't really know where this tradition of adding rum originates from, but the memory of my mom and grandmother always doing this is embedded in my brain.
But that bit of dark rum makes all the difference. The aroma it adds to the dough is completely intoxicating and delicious. So much so that you'll miss it while it gets its rest and rise in the refrigerator.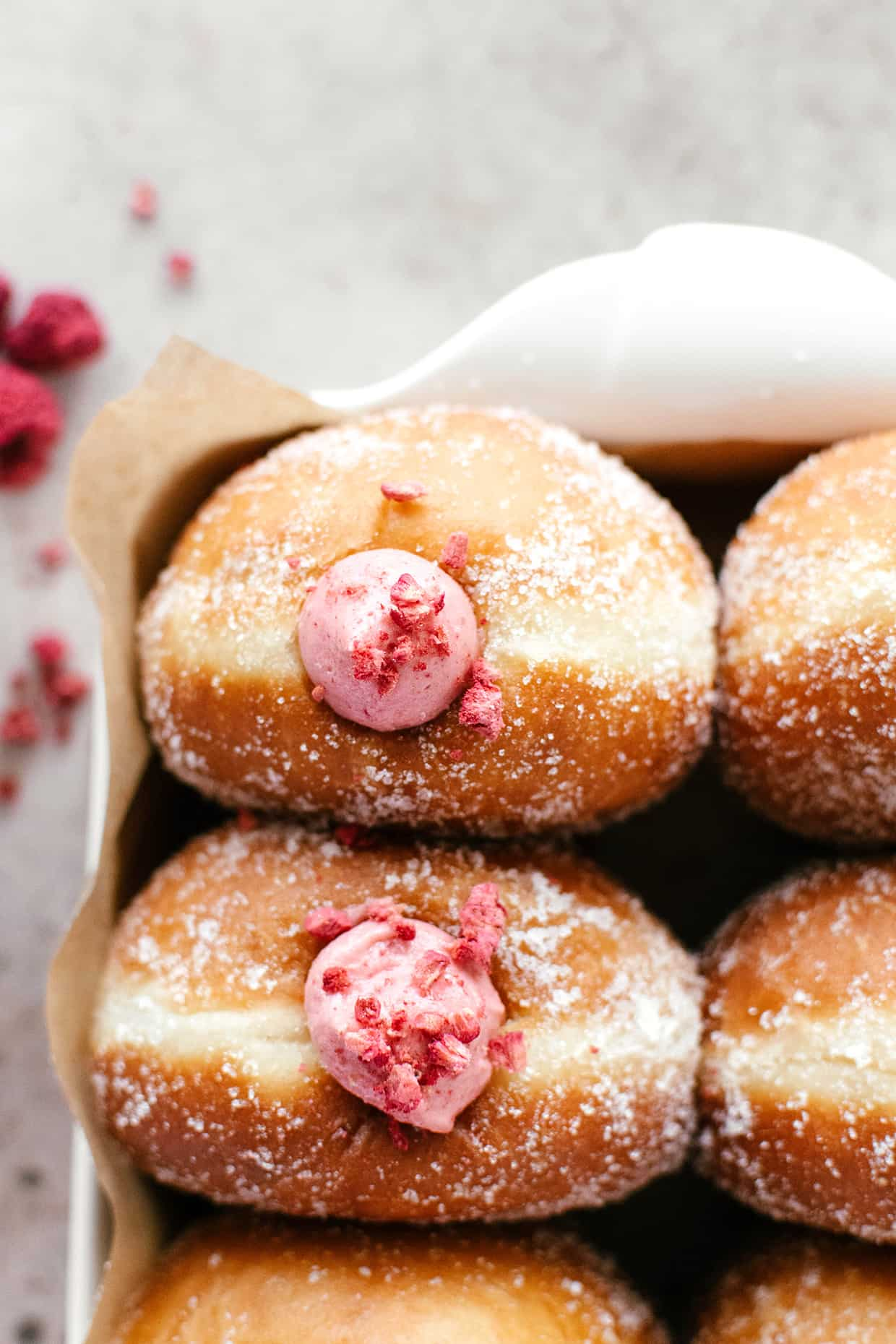 Overnight dough
I'm a big fan of overnight dough (I do the same thing for my rolls) not only because it cuts the work into two days, but also because it produces the most flavorful doughnuts that are also really easy to shape.
Once you make the dough and give it a good knead, I want you to store it in the refrigerator overnight. Alternatively, you can keep it in the refrigerator for a few hours only, if you want to make the doughnuts on the same day.
Cold dough is super easy to cut and shape into equal balls. Once you do that, you just let the doughnuts rise until doubled in size and get ready for frying.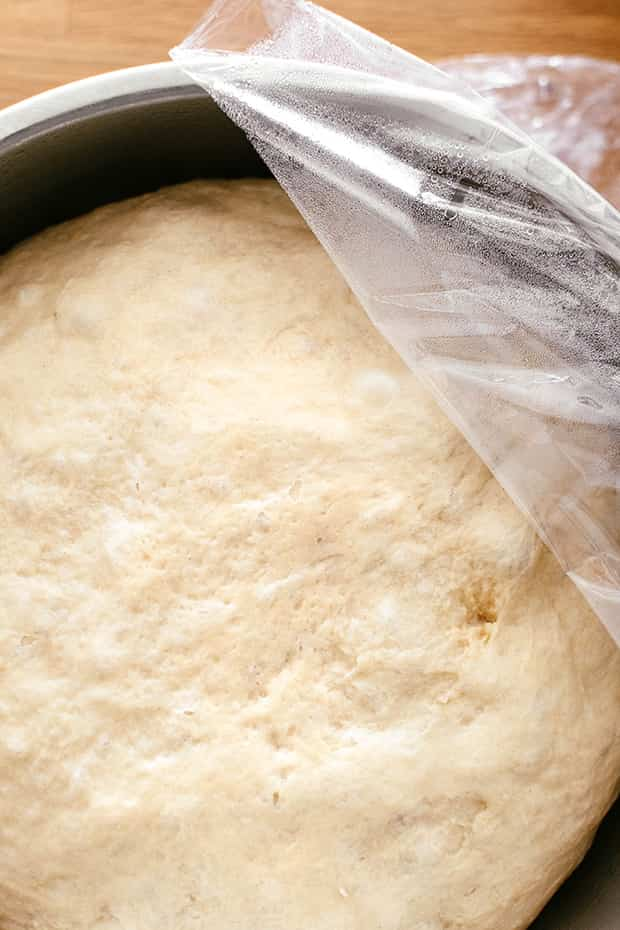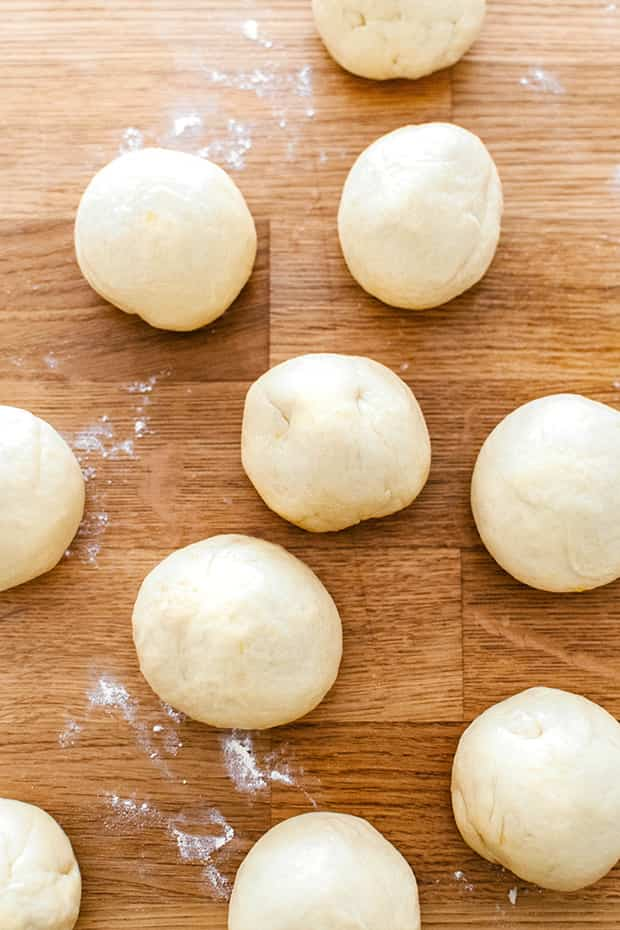 Can you freeze doughnuts?
Yes, you can freeze doughnuts! If you fill them with jelly, you can freeze them filled. But when making raspberry cheesecake brioche doughnuts, I only ever freeze empty doughnuts. I don't want to risk ruining cream cheese in the freezer, but you are free to try.
To freeze empty doughnuts you should double-wrap them. Meaning you should wrap them in plastic wrap and then put them in a bag. Or place them in one bag first, in a single layer, and then another larger one. Tightly seal both bags, squeezing out as much air as possible then freeze.
To thaw, leave doughnuts at room temperature for several hours or overnight. If you have a microwave with a defrost function, then you can also quickly thaw them like that.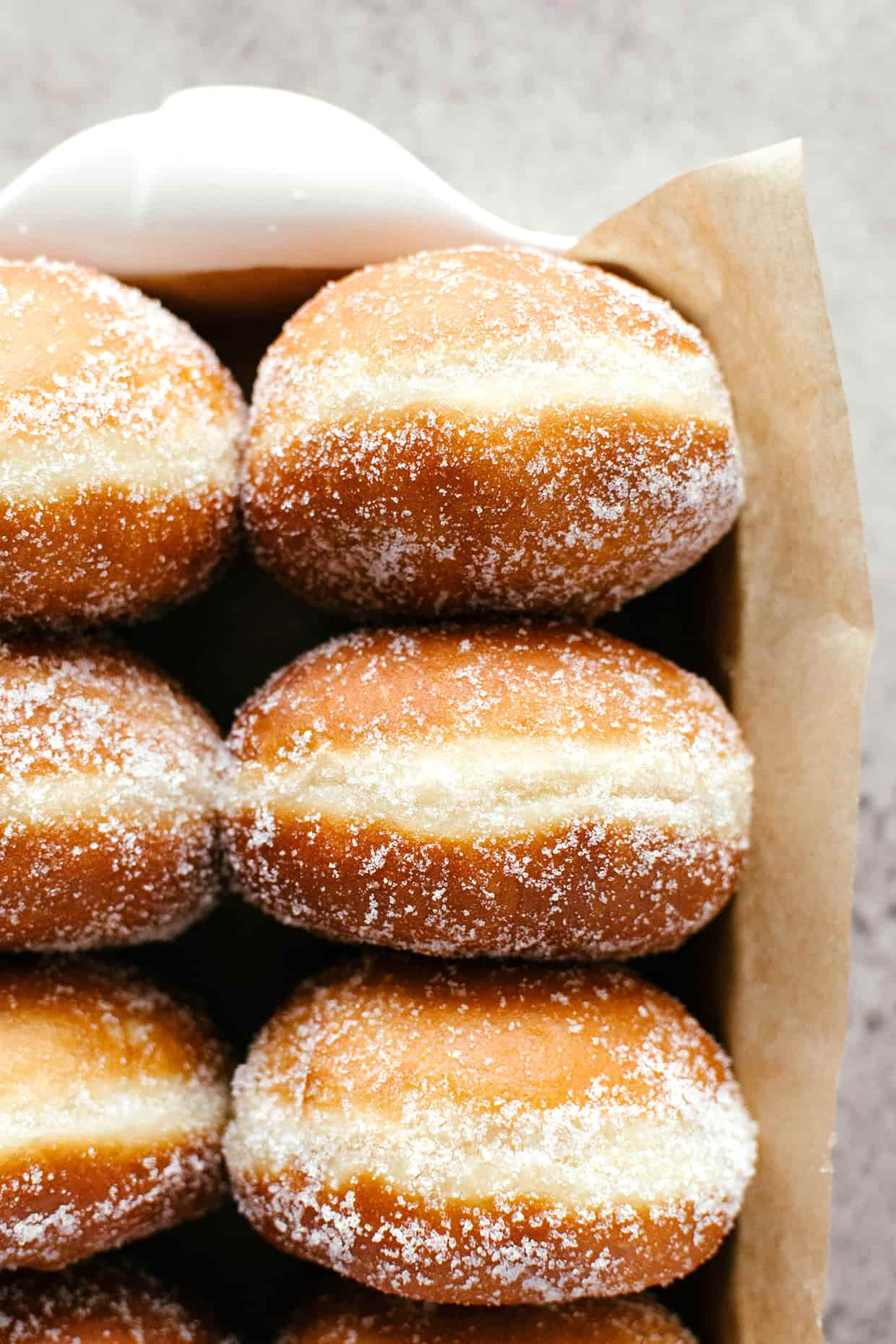 Fry doughnuts like a champ
Frying in itself isn't a difficult thing to do, but there are a few things to keep in mind if you want perfectly fried doughnuts. Crispy on the outside, fluffy on the inside, with a pale ring around the middle. A sign of a perfect doughnuts.
The equipment
There are three things you need to fry doughnuts. A cast iron skillet, a spider strainer and a thermometer.
I think cast iron skillets were made for frying doughnuts, they're just the perfect shape and size. With sides of the perfect height, not too low and not to high, just right to place in doughnuts and take them out.
A spider strainer is great because it lets you slip the doughnuts with ease and take them out without any extra oil. And a thermometer is there so you can keep an eye on the temperature.
With that said, you can still make great doughnuts without all of these things. You can use any other pan that is safe for frying. You can use a regular spatula instead of a strainer. And you can eyeball the temperature of the oil. But having those three tools sure makes frying easier.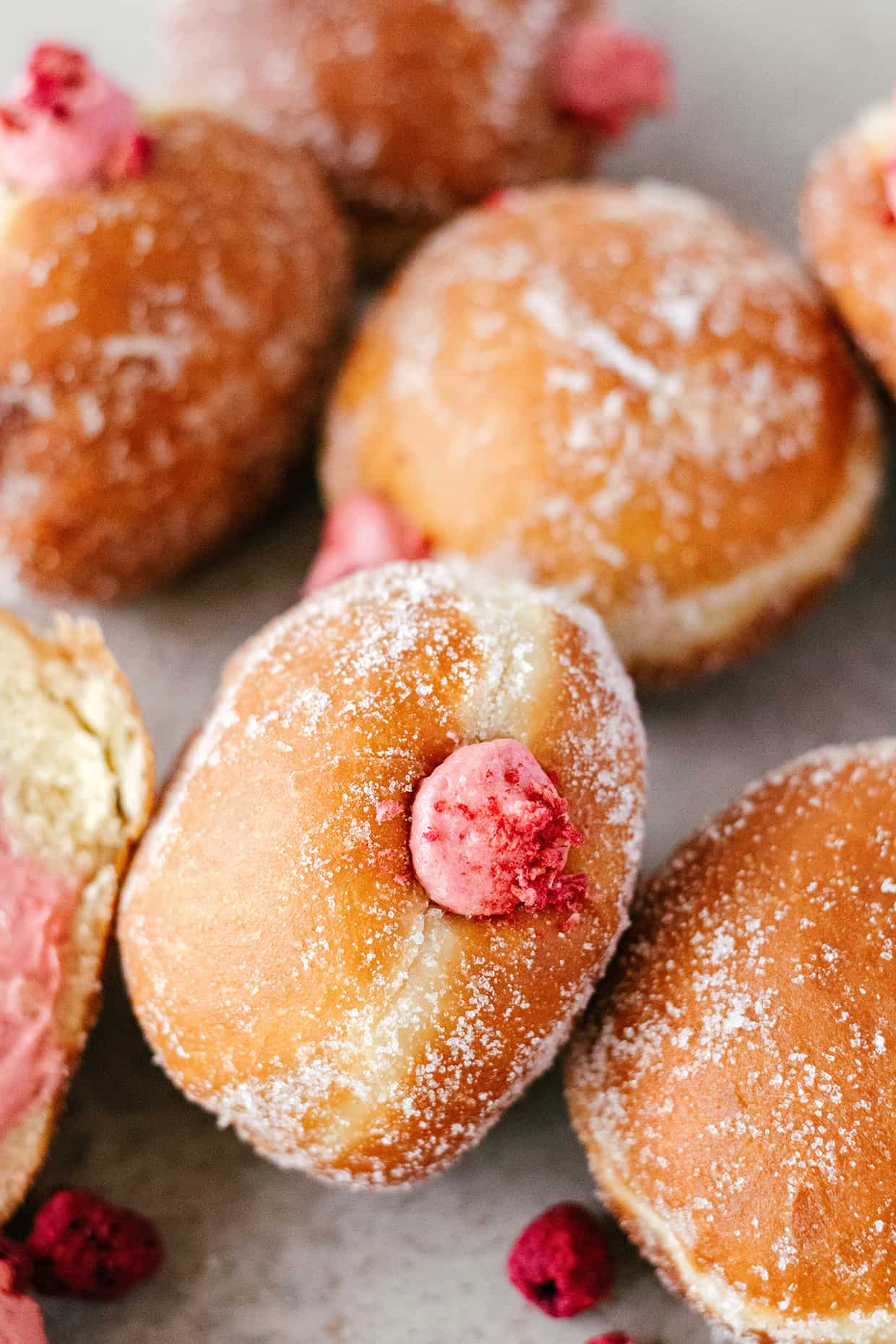 The temperature
The optimal frying temperature for doughnuts is between 320-340°F (160-170°C) and it takes about 2-3 minutes on each side for the doughnut to perfectly fry.
If the oil is too hot, you risk making doughnuts that are raw in the center or burned on the outside.
If the oil is too cold, your doughnuts will need to fry longer to get to that perfect brown color. This means they'll be too soaked with oil and you don't really want that.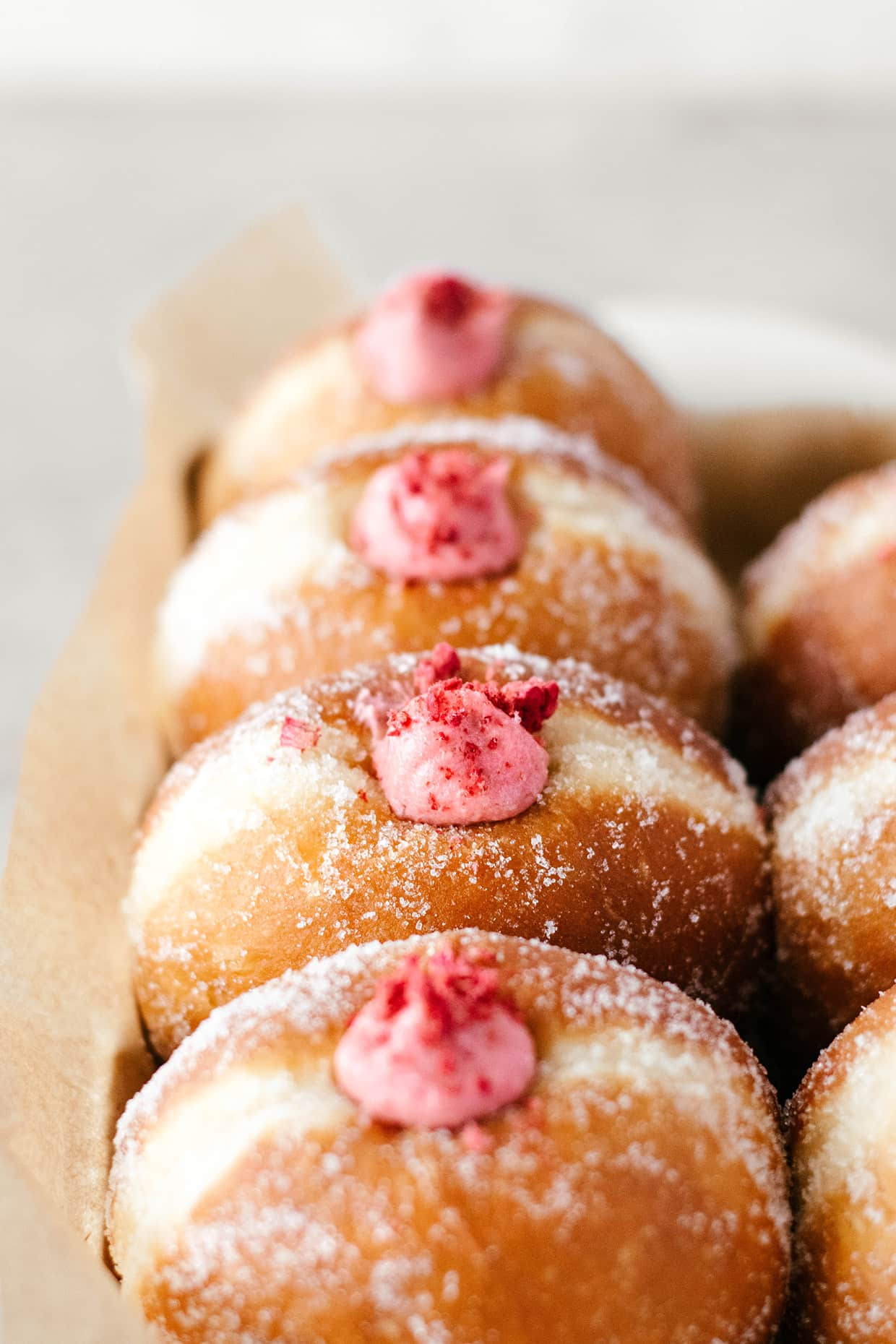 The easiest raspberry cream cheese filling
This is a very classic cheesecake filling, pretty much the same as the strawberry one from this cookie recipe.
The base is made with unsalted butter, Philadelphia cream cheese and sugar. If I do use cream cheese it's always Philadelphia, because the taste is just the best out there.
One thing to note is that I use tub cream cheese which is a bit softer from block cream cheese. The latter isn't available in Slovenia, but trust that tub cream cheese is just as good.
To get that perfect raspberry flavor, I only use freeze dried raspberries. They taste just like fresh raspberries, but are super handy for making fillings and frosting.
You can find freeze dried raspberries whole, crushed or in powder form. All three are the same. I usually buy them whole and make my own powder.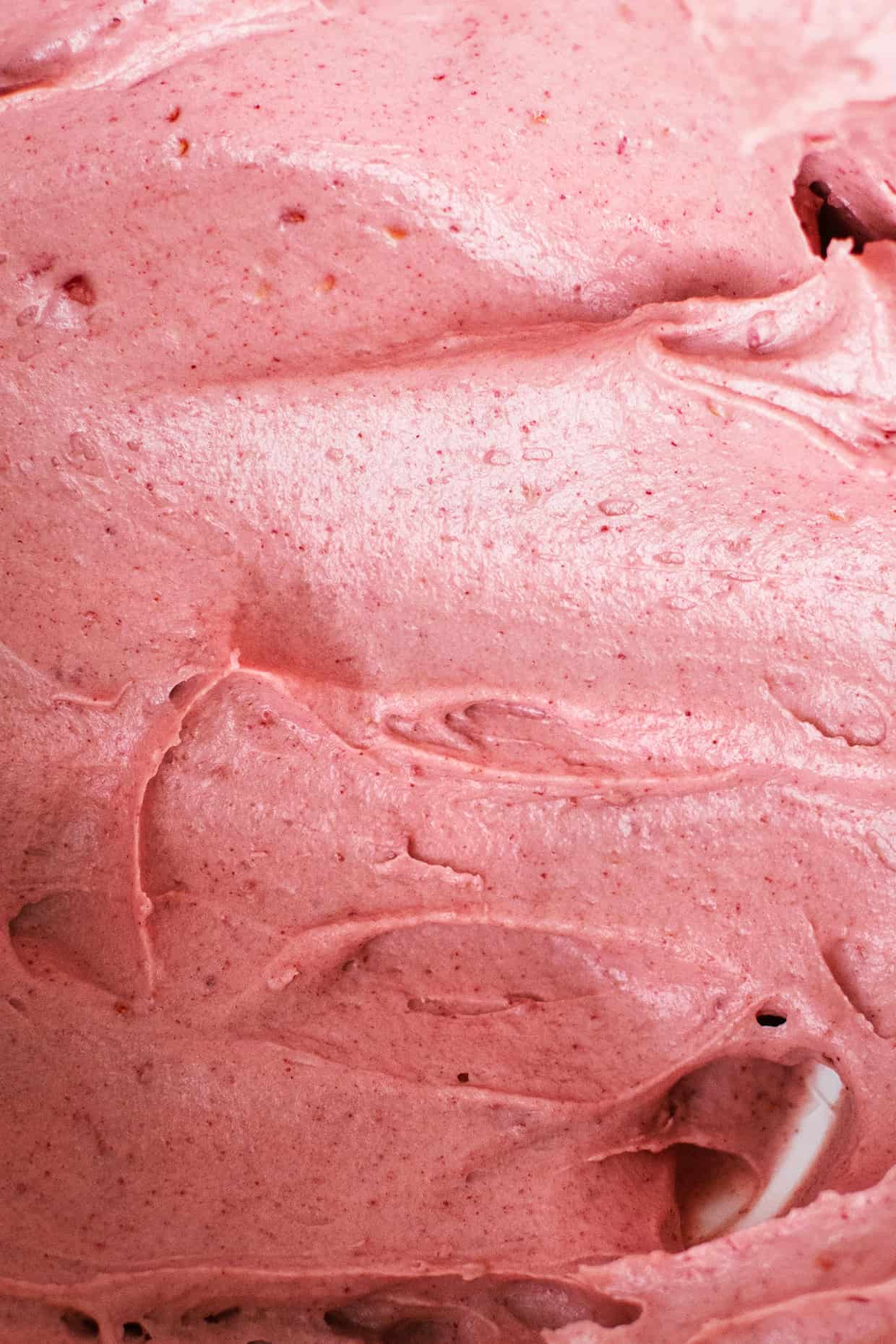 Raspberry powder
A heaping cup of freeze-dried raspberries makes about 1/4 cup of powder, the amount I use in the recipe. All you need to make the powder is a blender. Either a high powered one, a hand blender or a personal one (like a NutriBullet, a Ninja or similar). Pulse the raspberries a few times, then blend until they turn into powder. Strain this powder through a fine mesh sieve to remove the seeds and you are good to go.
And if you made more powder than you need in the recipe, store it in an airtight container and use it in smoothies, oatmeal, yogurt in other baking recipes.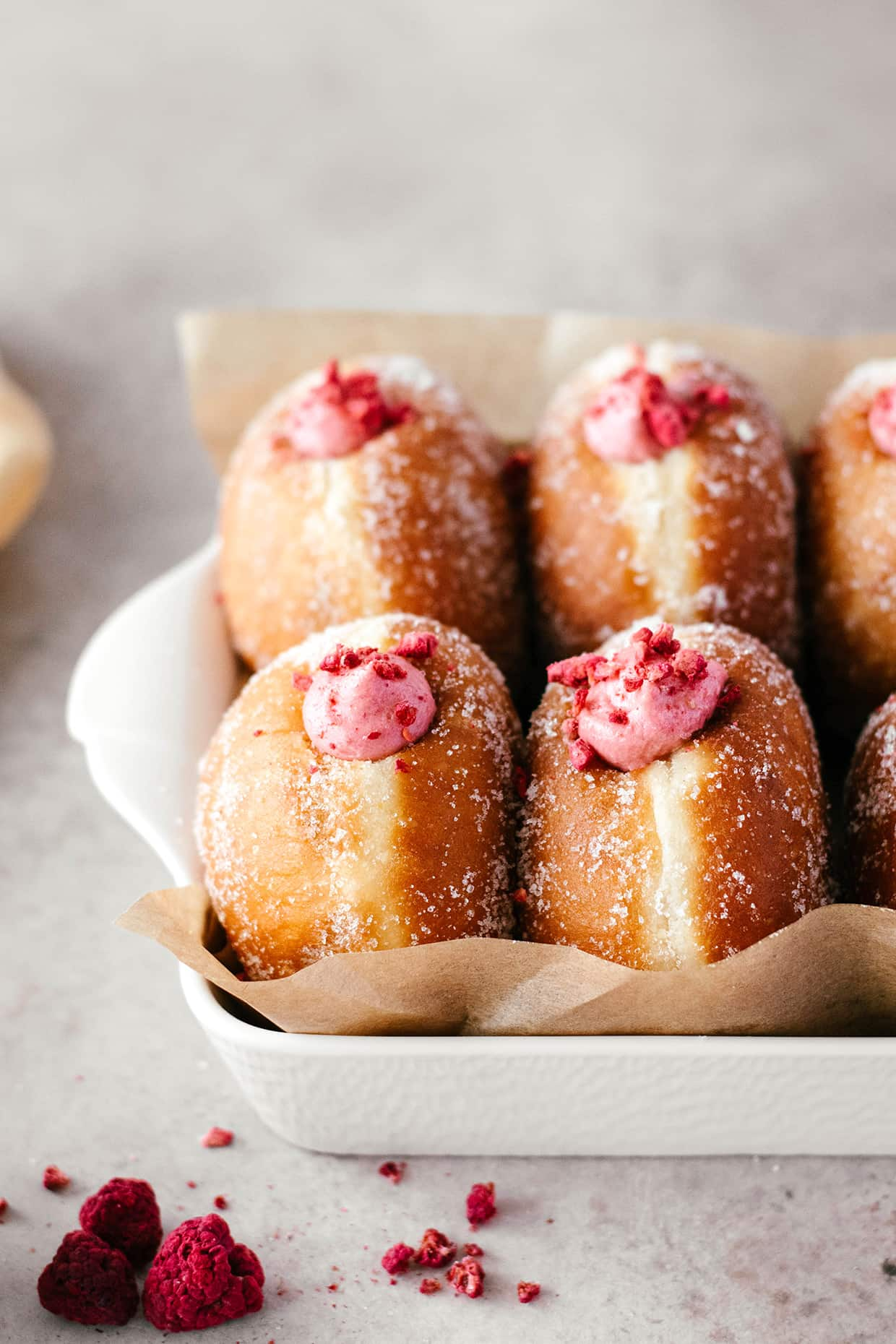 These raspberry cheesecake brioche doughnuts are so good you'll never get tired of them. They're a perfect combination of fluffy, rich brioche dough and creamy raspberry cream cheese. One batch makes 12 perfect doughnuts, great for any occasion.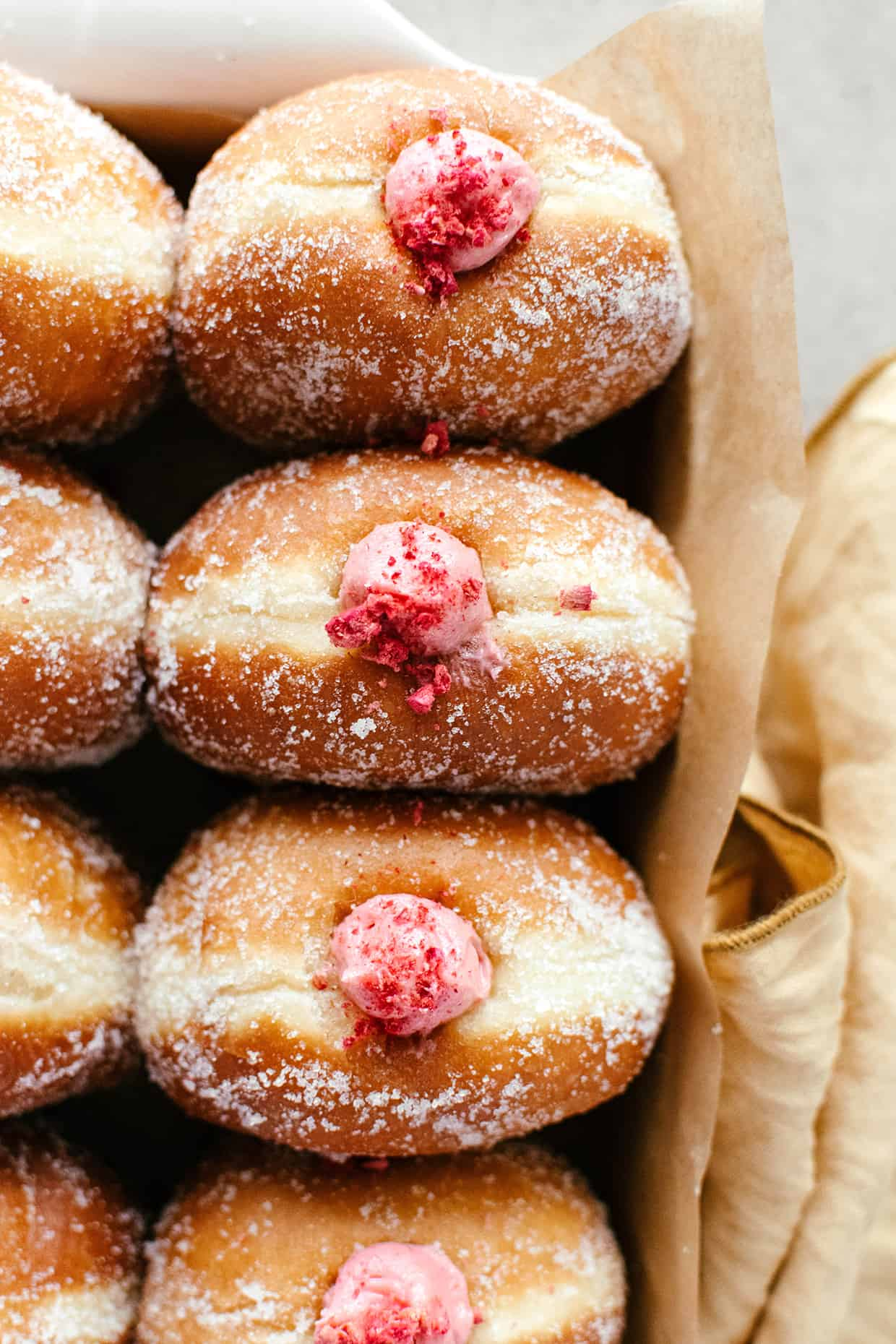 Raspberry cheesecake brioche doughnuts
Fluffy and flavorful brioche doughnuts (made with overnight dough), filled with the smoothest raspberry cheesecake filling (made with only 4 ingredients). Super delicious! 
Ingredients
Doughnuts
3 3/4

cups

(

500

g

)

all-purpose flour

1

cup

(

240

ml

)

full fat milk

1/4

cup

(

60

g

)

granulated sugar

2 1/4

teaspoons

(

7

g

)

instant dry yeast

,

(one envelope of yeast)

2

egg yolks

1

large egg

1/2

stick

(

60

g

)

unsalted butter

,

melted

1

teaspoon

vanilla extract

,

or vanilla paste

1

tablespoon

dark rum

1/2

teaspoon

fine sea salt

zest from 1 small organic lemon
Raspberry filling
13

tablespoons

(

180

g

)

unsalted butter

,

softened

1

cup

(

160

g

)

powdered sugar

9

oz

(

260

g

)

cream cheese

,

at room temperature

1/4

cup

freeze-dried raspberry powder
Extra
1

qt

(

1

l

)

sunflower, canola or other neutral oil

,

for frying

sugar

,

for coating the doughnuts
Instructions
Make the dough
Sift flour into a bowl (or bowl of your stand mixer)and set aside. Warm up milk (stove or microwave) until it's warm, but not hot, to the touch. Stir in one teaspoon of sugar and all of the yeast. Set aside until the yeast gets bubbly.

In another bowl whisk together the remaining sugar with egg yolks, egg, butter, vanilla, rum, salt and lemon zest.  Stir the yeast mixture into the flour slowly, then pour in the egg mixture and knead the dough with a dough hook for a few minutes until the dough comes together and pulls away from the sides. The dough will be somewhat sticky, but it should be smooth with no patches of flour visible.

Give the dough a light knead with your hands then transfer it to a large oiled bowl. Cover loosely with plastic wrap and transfer to the refrigerator. Let proof overnight (or for about 2 hours at room temperature).

The following day, take the dough out of the refrigerator, remove it from the bowl and place it on a lightly floured work surface. Slice it into 12 equal pieces (each should weigh between 2.5-3 ounces or 70-80g).

Shape each piece into a ball and place it on a piece of parchment paper (or silpat) dusted with flour. Leave enough room between all the dough balls, as they will rise. Cover the dough with a light kitchen towel (or plastic wrap) and let rise until doubled in size, about 2 hours. 
Fry the doughnuts
Pour oil into a large pot suitable for frying (I'm using a cast iron skillet), set over medium heat. Bring the temperature of the oil to 320-340°F (160-170°C). Using a thin spatula, pick up one doughnut at a time and place it into the hot oil.

You can fry 2-4 doughnuts a time, depending on your skillet size. Fry on the first side for 2-3 minutes, then flip over and fry another 2 minutes, until doughnuts are golden brown on the second side too. 

Place fried doughnuts on a platter/pan lined with paper towels. If using granulated sugar, dip warm donuts into granulated sugar to fully coat them. 
Make the filling
Combine butter, sugar and cream cheese in a large bowl and whisk on medium speed until the mixture is uniform and smooth. Whisk in raspberry powder. (Taste to see if you want more raspberries.)

Fit a pastry bag with a plain round tip. Fill it with the raspberry filling, then pierce each doughnut on the side and fill it generously with the filling. 

Serve doughnuts right away. Although they taste the best fresh, you can store leftover doughnuts in the refrigerator for up to 2 days. Allow them to come to room temperature (or warm them up in the microwave) before serving again.
Notes
If you can't find raspberry powder, make your own with whole raspberries. Using a blender, pulse and blend a heaping cup of freeze dried raspberries until they turn to powder. Using a fine mesh sieve, sift the powder into a bowl to remove the seeds. Use the powder in the filling. Store any leftover powdered covered in a dark and cool space and use in smoothies or other baking recipes. 
Why proof dough overnight?


Letting your dough rise slowly in the refrigerator results in better overall flavor of the dough. Shaping the doughnuts is also a lot easier when your dough is cold. 

About frying:
Make sure the temperature of your oil stays within the given range. This is because oil that is too hot will burn your doughnuts on the outside, leaving them raw on the inside and you don't want that. A temperature that is too low, will only soak your doughnuts with too much oil as they'll be cooking and not really frying.
Email recipe
Pin Recipe