Make this no-bake white chocolate strawberry tart when it's hot out! No oven needed.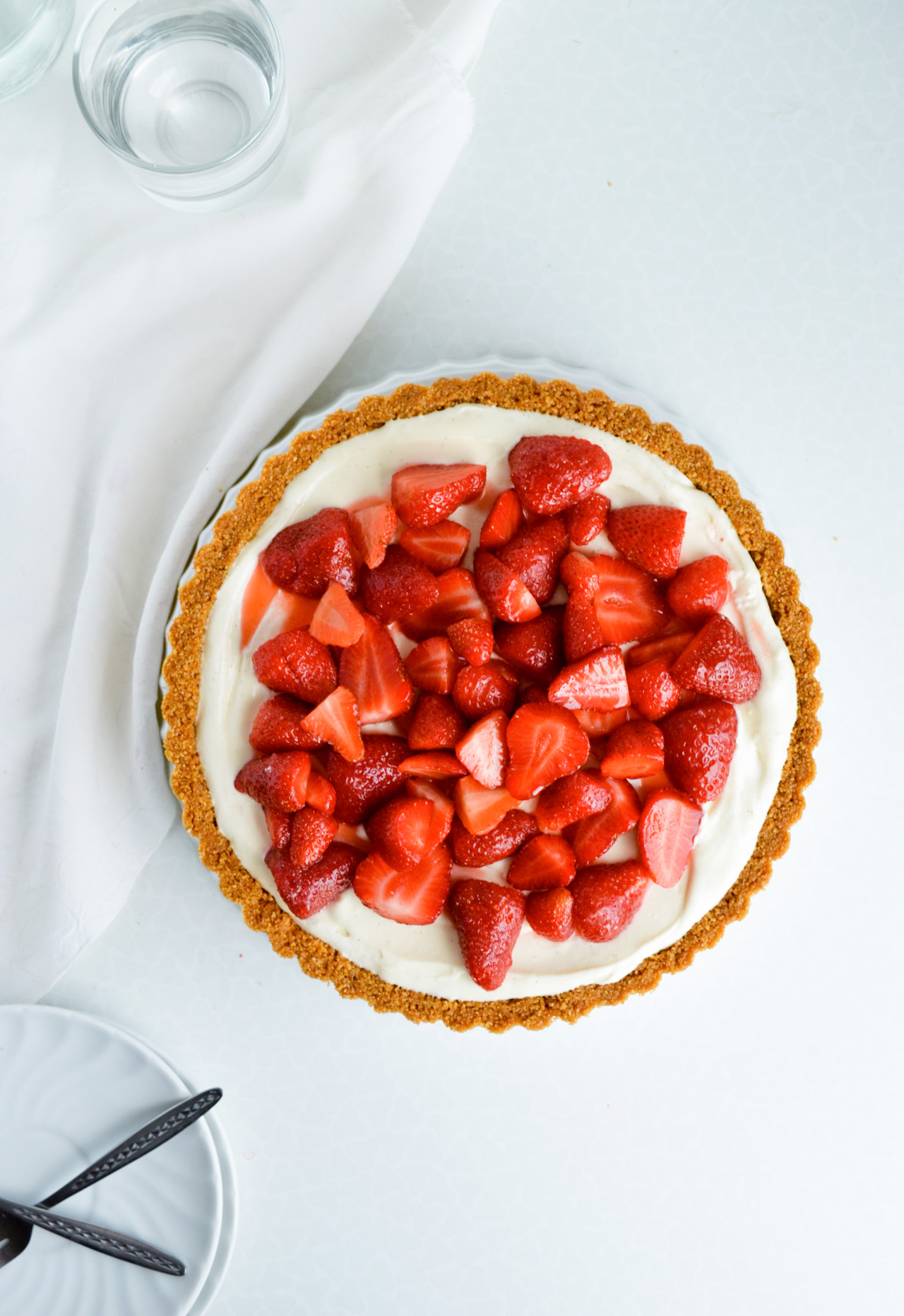 Is there an occasion that calls for pie or a tart? Or is any day good? I'm going with any day. And besides, it's been a while since my last pie/tart recipe.
I was thinking about birthdays the other day. I'm a December baby. And so I never get to have a summer pool birthday party or a birthday picnic. Not that there's anything wrong with that, December has its perks, but having a summer birthday would be fun. Maybe we should all celebrate birthdays twice a year?
I'd say there are good things and bad things with having a summer birthday. You can celebrate outside and serve super cold drinks, the days are long so no one feels it's late and they don't have to leave at 6 and you get more space when throwing a party outside.
(I promise these thoughts have a point.)
But while prepping for this can be easy, it can also be difficult on the other hand. I don't know about you, but when it's very hot outside I don't want to spend hours behind the stove. Although I often torture myself and do just that, but still, why not avoid it if you can?
And while I was daydreaming about a summer birthday, one thought lead to another and I began thinking about what I'd serve if I was throwing a summer party. Something that doesn't call for an oven. Mojitos, salads, grilled veggies, ice cream, lots of ice cream!
And this no-bake white chocolate strawberry tart; truly the perfect answer to the no oven question.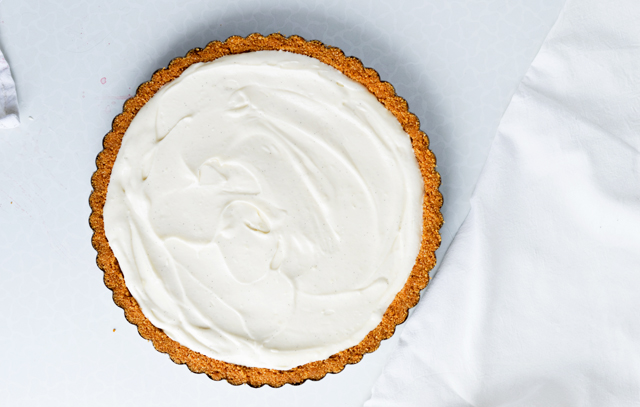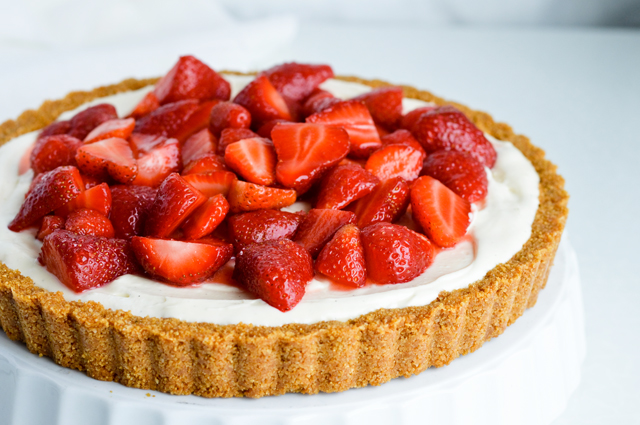 I love cookie crusts, they're so easy to put together and always taste good. With the abundance of strawberries right now, I just knew I had to make something with them.
This crust is made of crunchy cookies, not digestives you usually see. I think they're quite similar, but the Grancereale cookies have a really wonderful flavor which is why I chose them for this tart. The filing is simple, a mix of whipped cream and velvety white chocolate; sweet enough that you don't need to add sugar to anything else. Well, only a tablespoon or two to the strawberries, but that's it!
And about the strawberries – they are so refreshing and moist, just gently coated with lemon juice and sugar; the two things that make them stay pretty for days.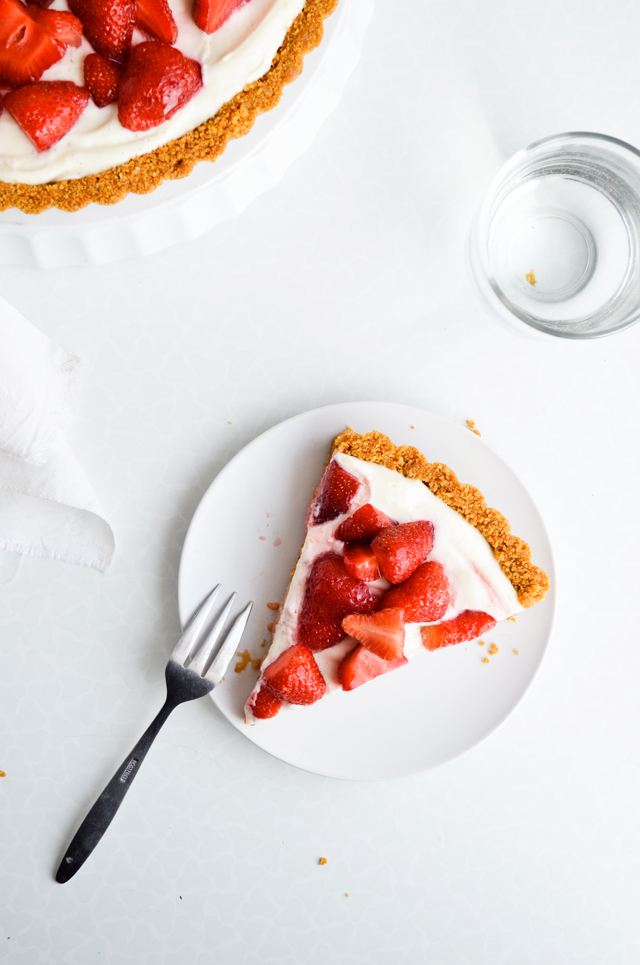 As I mentioned at the beginning, any day can be a tart day and we enjoyed this over the weekend. While I couldn't restrain myself and had one piece before the tart set (as evidenced by the third photo), do know that this tart requires some chilling time. I promise you it is worth it!  Once it sets it is absolutely wonderful and holds together nicely the next day too. Although, as any tart, this one is of course best served fresh and chances are you won't have any left to treat yourself with later anyway.
But if you do have any pieces of this no-bake white chocolate strawberry tart left, just cover them with plastic wrap, store in the fridge and dig in the next day!
Print
No bake white chocolate strawberry tart
This juicy tart is a perfect choice for the summer, or any season.
Recipe makes one 23-cm (9-inch) tart, that can serve up to 8 people.
Author:
Prep Time:

20 min

Cook Time:

15 min

Total Time:

35 minutes

Yield:

8

servings

1

x
Category:

Dessert
The crust
265g

(about

9 oz

) crunchy cookies (like Grancereale) or digestives or graham crackers

90

–

100

g (almost 1 stick or

7 TBSP

s) unsalted butter, melted

1/4 tsp

salt
Topping
300

ml (1 1/4 cups) heavy cream

200g

(

7 oz

) white chocolate, broken into pieces

1 tsp

vanilla paste

400g

(

14 oz

) strawberries
juice from

1/2

small lemon

1

–

2

TBSPs white granulated sugar
Instructions
First make the crust.
In a small heatproof bowl, melt the butter and salt in the microwave. Cool for a few minutes.
In a food processor pulse the cookies until they resemble fine crumbs.
Transfer 2/3 of butter to the crumbs and pulse until combined. Add the rest of the butter if needed, just enough for the crumbs to stick together.
Transfer to a 9-inch tart pan (the kind with removable bottom).
Press the crumbs down to the bottom of the pan and up the sides either with a spoon or preferably something that has a flat surface – like a cap from your olive oil bottle or a flat measuring cup.
Chill the crust in the fridge for an hour or more.
Meanwhile prepare the filling.
In a heatproof bowl set over a saucepan of simmering water, melt the chocolate. Stir occasionally. When melted transfer the bowl to the counter and let cool to room temperature.
Whip the cream with vanilla in your food processor (or mixer). Beat until soft peaks form.
Add the chilled melted chocolate and whisk until incorporated on low speed. (If your mixer is a super machine and still very fast on its lowest setting, whisk by hand so that you don't overmix the cream.)
Pour the mixture into the crust and smooth it with a spatula, making it as even as possible. Chill for 3-4 hours or more.
Add the strawberries before serving (or a few hours prior to that.)
For the strawberries, cut away the stems and halve them (unless they're really tiny). Transfer them to a shallow plate, sprinkle with lemon juice and sugar. Let sit for about 20 minutes.
Top the tart with the strawberries and chill until serving time.
Notes
This tart is best eaten fresh but is still pretty good the next day.
As the filling is sweet enough you don't need to add any sugar to the crust.