A vegetarian twist on an Italian classic, this Vegetarian brussels sprout carrot osso buco is packed with flavor and insanely satisfying. Great for dinner parties or hearty family dinners.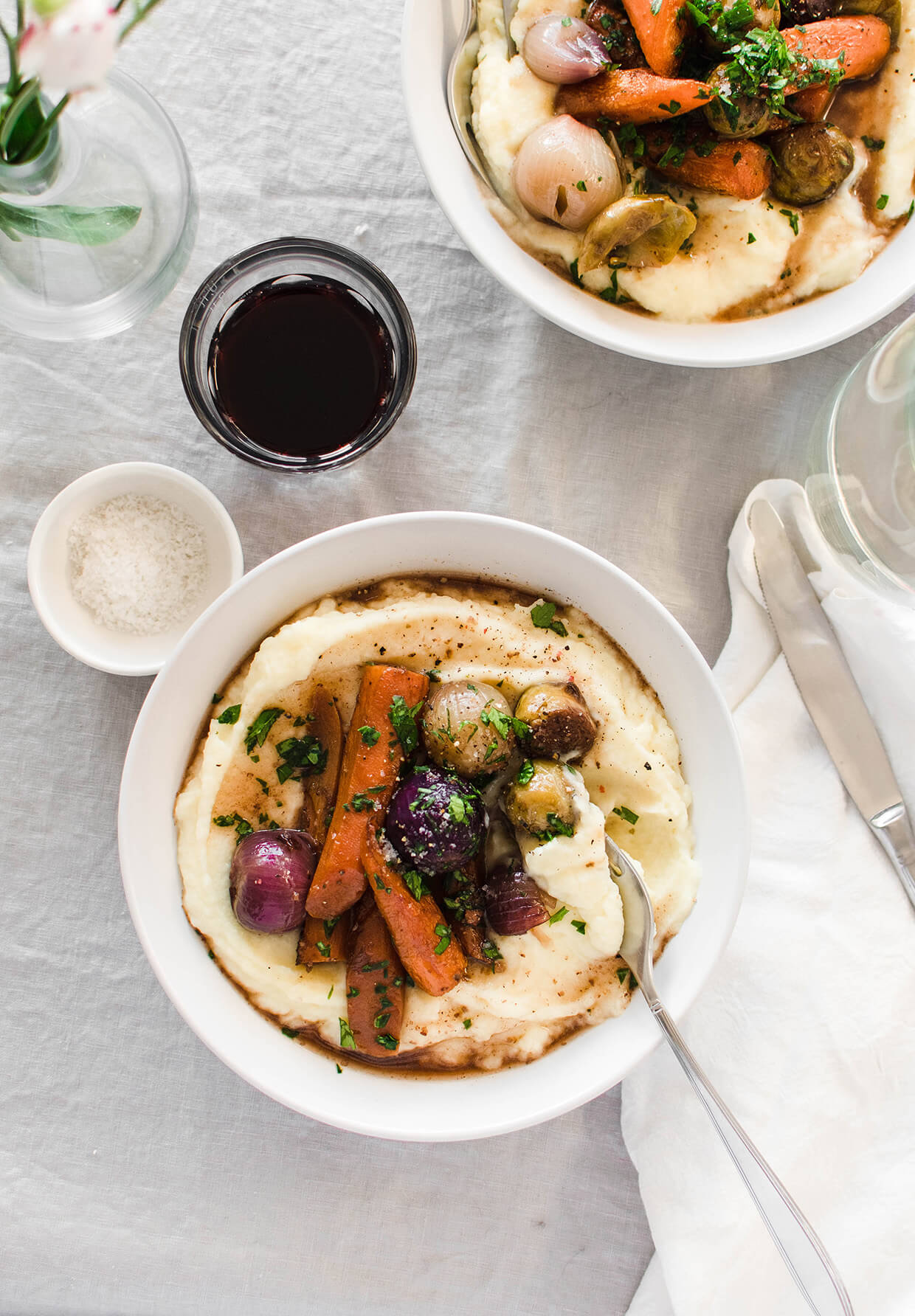 Living in Slovenia, which borders on Italy, you'd think I would know what osso buco is. But I didn't, not for a long time. It wasn't until I was rewatching Gilmore Girls a few years back, that the words "osso buco" peaked my interest. In one of the earlier episodes, Lorelai is dating Rory's teacher and he's making her osso buco for dinner. So, not only was he making her dinner, he was making something that sounds super fancy. Osso buco? Yep, I became interested.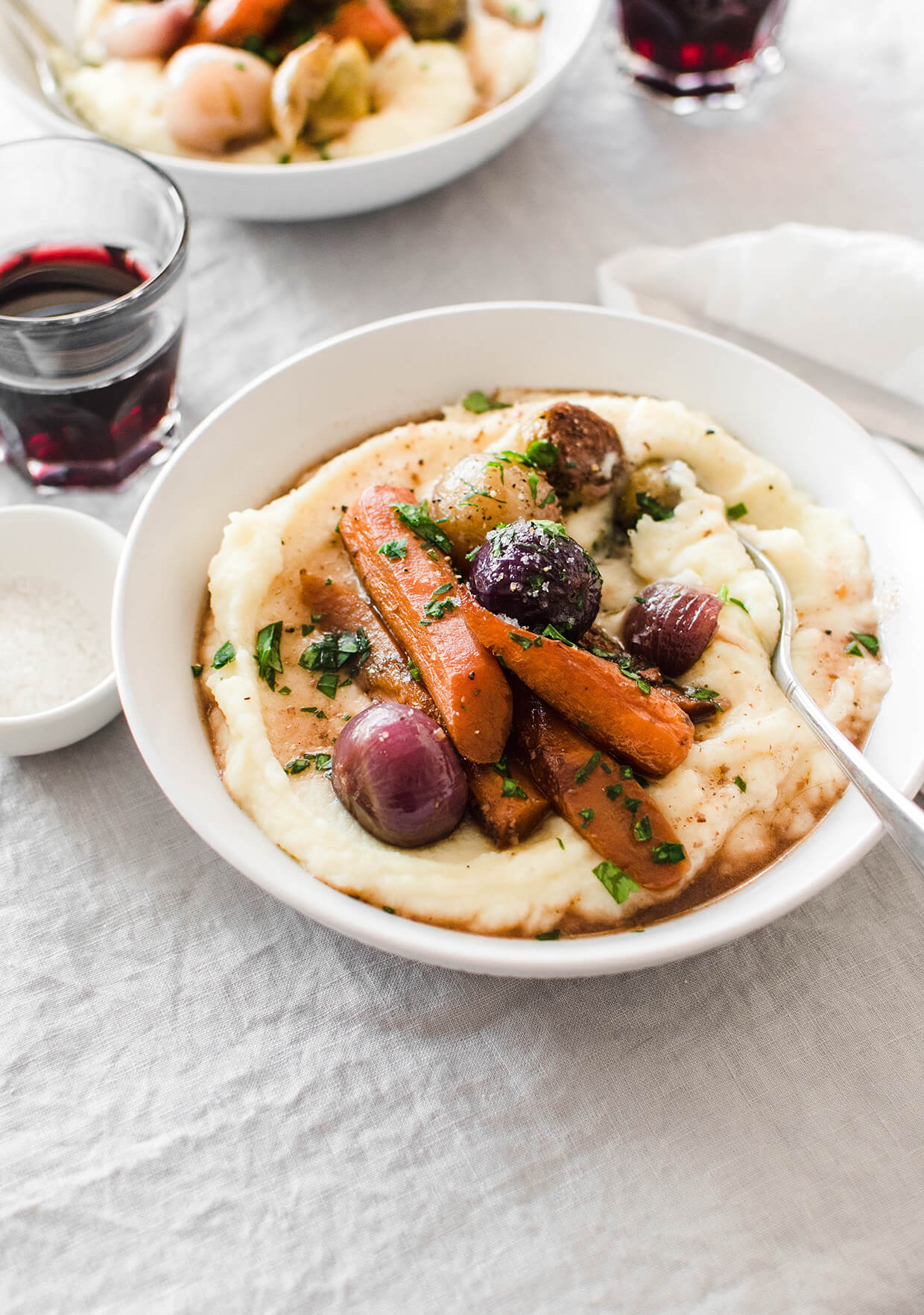 What is ossobuco?
Osso buco, or ossobuco, is an Italian specialty. More specifically, it's a specialty of Lombardy, a region in northern Italy with Milan right in the center. When you think about it, that's only about 325 miles (523 km) away, or a few extra depending on the route, from my hometown. A drive similar to taking a car from Los Angeles to San Francisco. 5-6 hours on the road, that's less than a regular work shift. Anyway, my point is I'm surprised it took me this long to learn about it.
So what exactly is it? It's a dish of braised veal shanks and vegetables cooked in wine and broth. Apparently ossobuco literally means "bone with a hole" (more on that here), which may sound really good or really disgusting to you, depending on what you like. Well, I'm not into bones with holes, so of course I had to make a major adjustment and leave the meat out completely. Some might argue that a meatless osso buco isn't osso buco, but I decided to call it this anyway… more specifically Vegetarian brussels sprout carrot osso buco.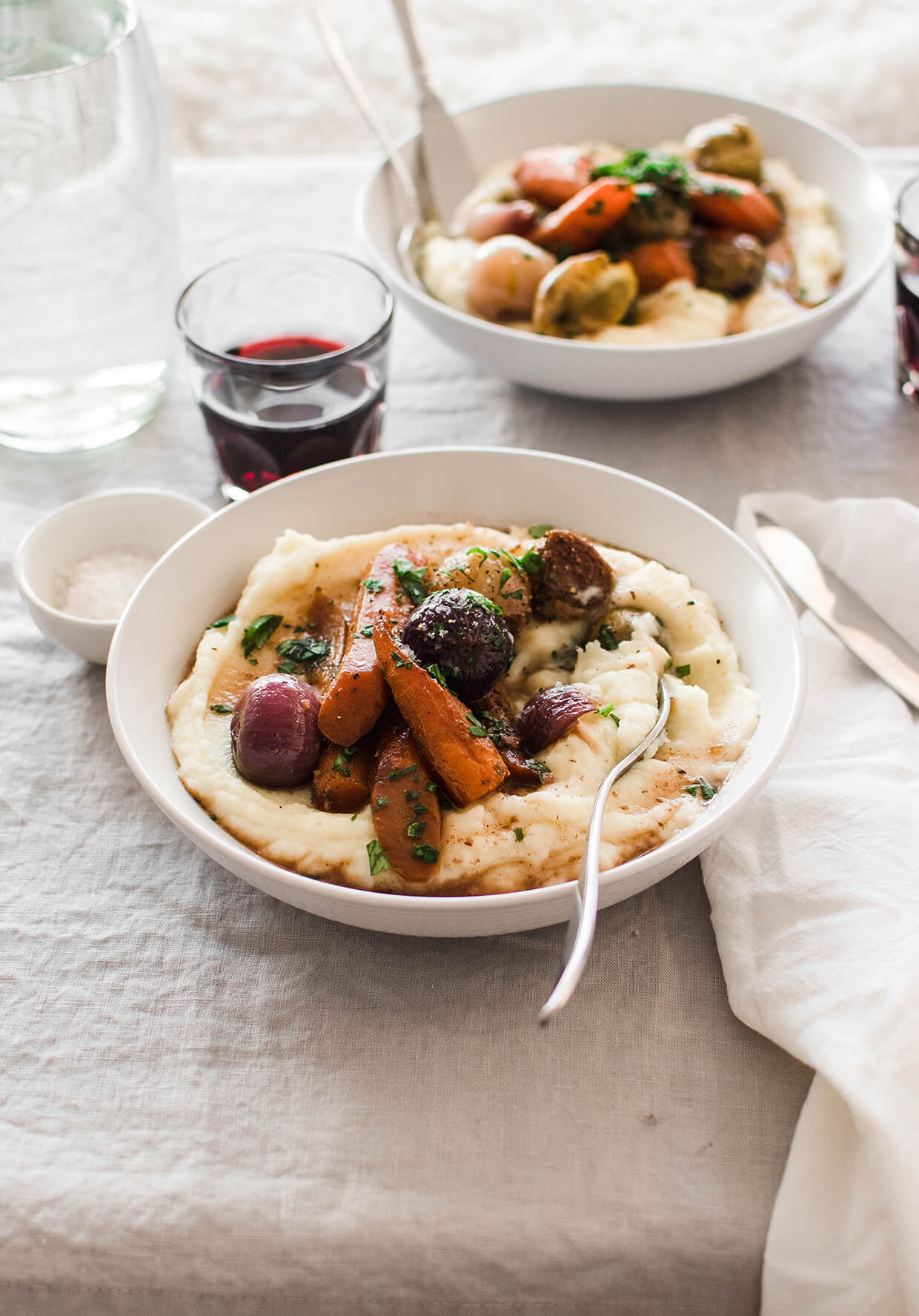 About my vegetarian osso buco:
It is lick-your-fingers delicious. The vegetables are first toasted on some olive oil and then cooked in a mixture of wine, stock and porcini powder. The flavors these ingredients add to the vegetables are incredible. This dish truly is all about the vegetables, but it's also so comforting you won't even think about the fact that you're eating something vegetarian.
Despite the name, this is incredibly simple to make. The recipe involves a few steps, but none are complicated and I trust that you'll sail right through them.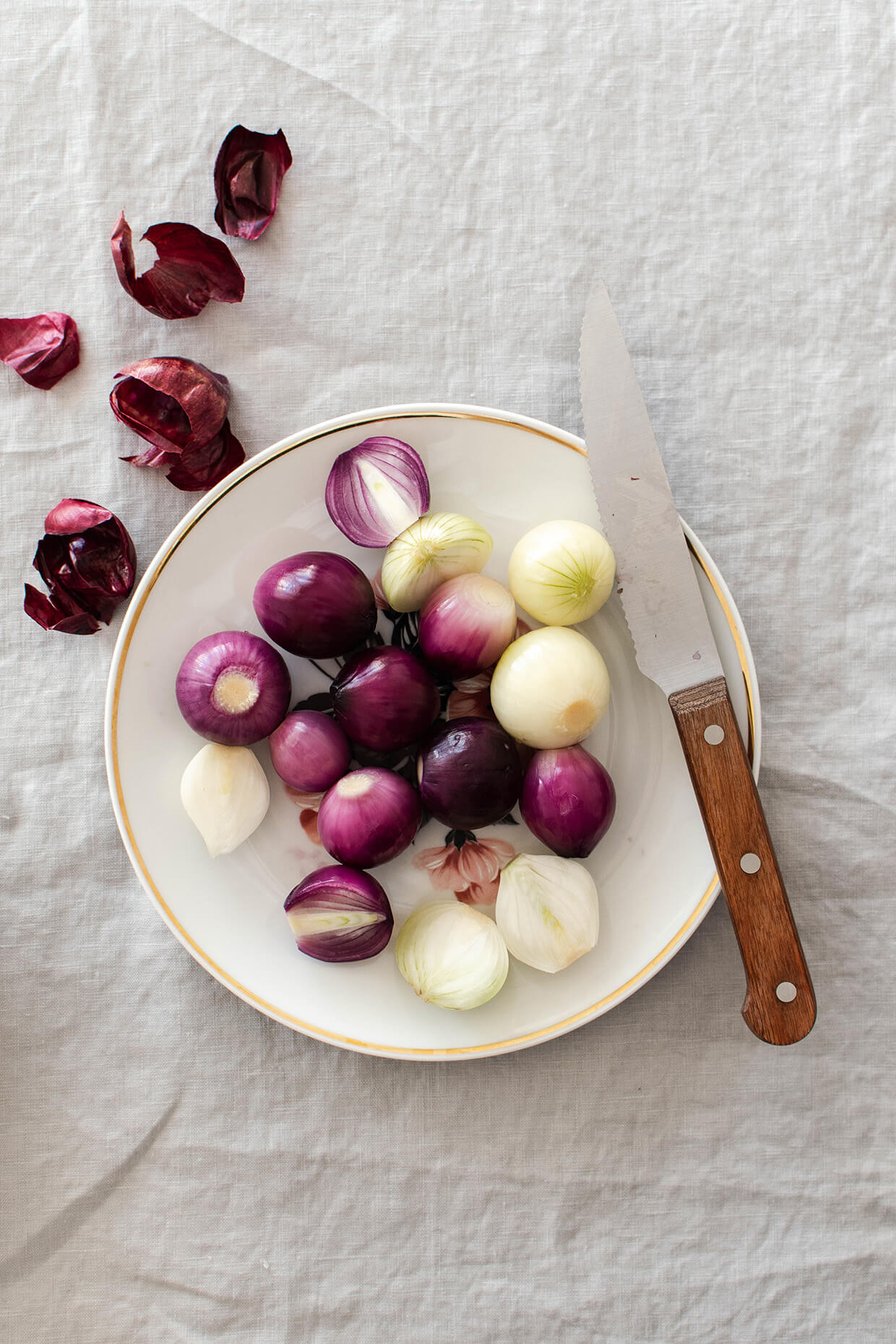 It is packed with vegetables. I keep saying this because it's true. And also because I'm so in love with vegetable-based comfort foods. Yes I adore pizza, fries and vegan burgers and I could eat mashed potatoes all the time, but having a bowl full of vegetables that are so good you don't even want anything else? Now that is next level comfort.
It's a show stopper. If you take those extra minutes to carefully plate this osso buco, your non-vegetarian friends will be totally impressed. This dish looks like something a chef would make, with it's shiny vegetables and aromatic sauce (and some extra wine on the table, haha).
Truly, if you're looking to add a new recipe into rotation for dinner then look no further. Or if you want the perfect holiday meal, look no further. A romantic dinner for two, with some leftovers? A catch-up with friends over drinks and good food? Look no further! I'm serious, this Vegetarian brussels sprout carrot osso buco is THE thing to make.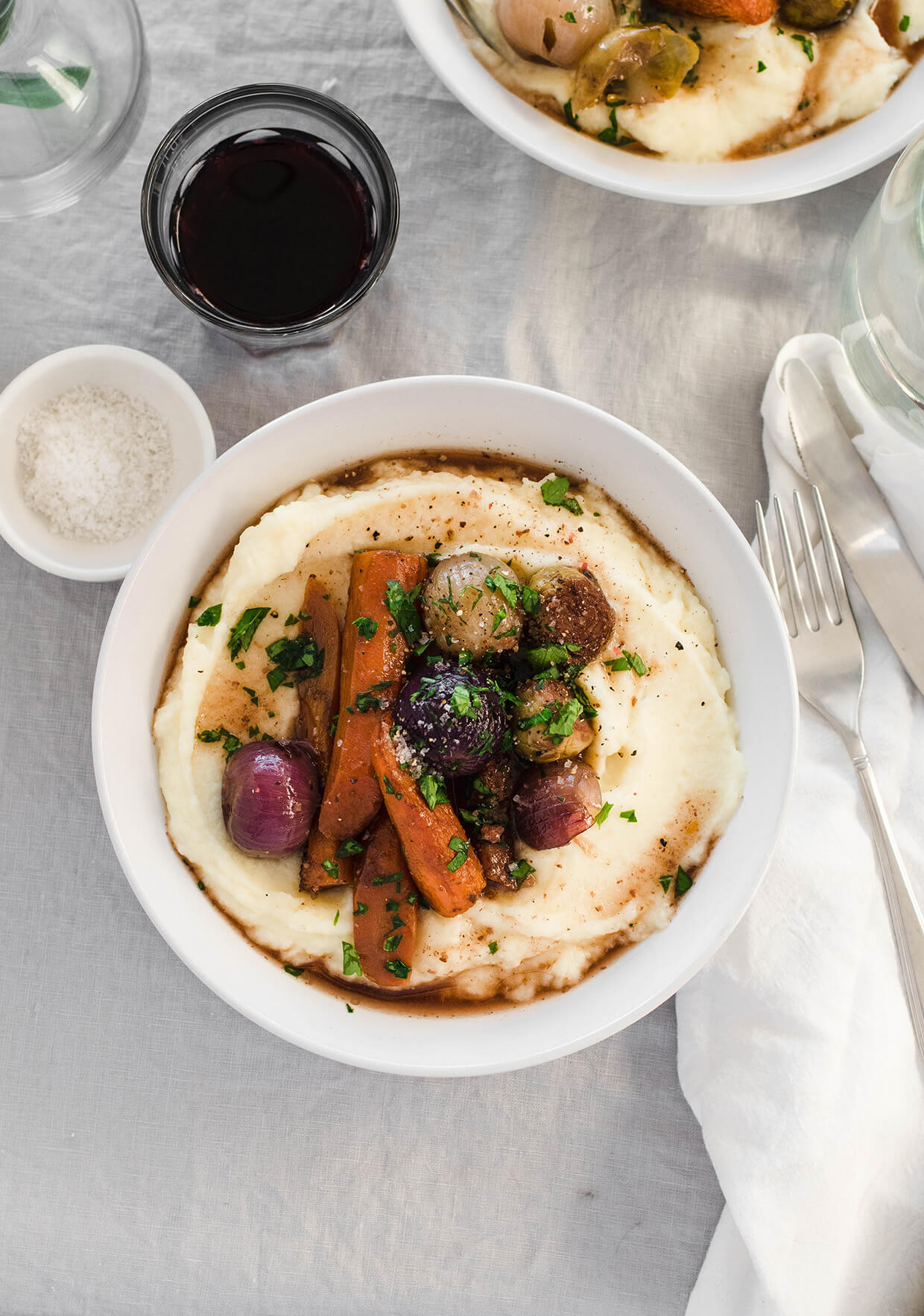 Vegetarian brussels sprout carrot osso buco
A vegetarian take on an Italian classic dish. Packed with flavor and healthy vegetables, this makes an impressive dinner that will make people beg for seconds.
Ingredients
8

oz

(

230

g

)

pearl onions

,

or baby red or white onions

2

tablespoons

(

30

ml

)

olive oil

1.5

pounds

(

650

g

)

carrots

,

peeled and ends trimmed

12

oz

(

350

g

)

brussels sprouts

1

cup

(

240

ml

)

dry white or red wine

1 1/2

cups

(

360

ml

)

low-sodium vegetable stock

2

tablespoons

porcini powder

fine sea salt

freshly ground pepper

,

add to taste
Instructions
Set your oven to 350°F (175°C) with a rack placed in the lower third of the oven. As it preheats, bring 1-inch (2.5 cm) of water to a boil in a medium skillet. Add the pearl onions and cook for 1-2 minutes. Drain the onions, then trim the ends and peel each one. Transfer them to a plate and set aside.

Slice carrots into 2-inch (5 cm) logs. Heat 1 tablespoon of oil in a large ovenproof pot (I use a 4-quart Staub). Add the carrots in a single layer, sprinkle with a pinch of salt and cook over medium-high heat for about 10-15 minutes, turning them frequently until they're golden brown on every side. (You can do this in batches to avoid crowding the pot.)

Transfer carrots to a plate, add another tablespoon of oil to the pot. Toss in the Brussels sprouts and cook for 2-3 minutes, stirring occasionally, until lightly browned. Add the pearl onions and, stirring occasionally, cook for another 2-3 minutes. 

Return the carrots back to the pot and pour in the wine. Simmer for 3-5 minutes, then stir in the porcini powder and vegetable stock. You want the stock to only partially cover the vegetables. Sprinkle vegetables with a large pinch of salt and a pinch of pepper, cover pot with lid and transfer to the oven.

Braise vegetables for about 30-40 minutes. Check on them after the first 20 minutes pass, turn them over and add more liquid if needed. 

The osso bucco is ready once all the vegetables are tender and easily pierced with a thin knife. Remove pot from the oven and taste the sauce, add more salt and pepper if desired. Keep osso buco covered until serving time, it stays warm for 1 hour easily. 

To serve: Spoon some mashed potatoes (or mashed cauliflower or polenta) into a shallow bowl, top with vegetables from osso buco, then add a few tablespoons of the sauce. Sprinkle with parsley and serve.  Store leftover osso buco covered in the refrigerator, reheat slowly on the stove. 
Notes
You can find porcini powder in well stocked grocery stores or on Amazon. You can also make your own by grinding dried mushrooms in a blender. Store leftover powder in an air-tight container, add it to soups and sauces for extra flavor. Another alternative could be the umami powder that Trader Joe's sell, although I have not tried that.
You can use mushroom stock in place of vegetable stock or wine (if you don't want to use it or simply don't have it on hand).

 
Recipe adapted from Food and Wine.
Text recipe
Email recipe
Pin Recipe