Made in under 30 minutes, this spaghetti with cauliflower pesto is a healthy-ish pasta dish that makes the perfect weeknight dinner. Made with a mix of fresh herbs, meaty sun-dried tomatoes, crunchy pine nuts, riced cauliflower and a few extra spices, it's insanely comforting, flavorful and creamy. It's pasta that will satisfy the cravings, but won't make you feel sluggish.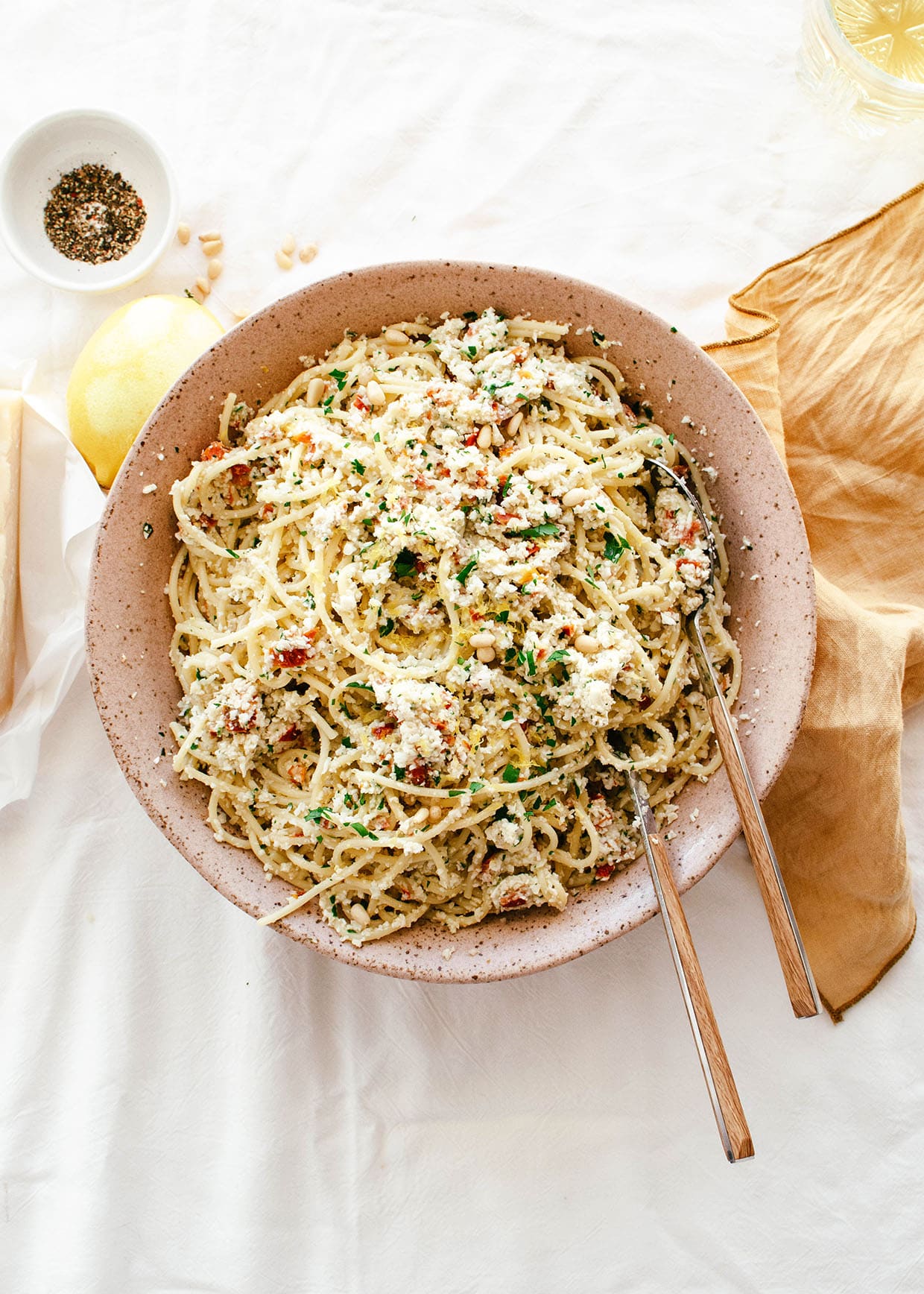 It seems as though cauliflower has gotten really popular in the past couple of years, so this recipe for spaghetti with cauliflower pesto should come as no surprise. What at one point seemed like a forgotten vegetable is now a star. You can find cauliflower pizza crust, cauliflower gnocchi, mashed cauliflower, whole roasted cauliflower heads, cauliflower steaks, smoothies with cauliflower, etc. I could go on and on, the point being that we all seemingly love cauliflower. As we should, it's a wonderful ingredient.
But I have a twist for you. The recipe today uses raw cauliflower, which freaked me out the first time I saw the recipe in Deb's Smitten Kitchen cookbook. I grew up eating cauliflower mostly in soups. Sometimes my mom would bake it in the oven or fry it, like a schnitzel and we'd eat it with mashed potatoes. It was the pure definition of comfort food. But raw? No.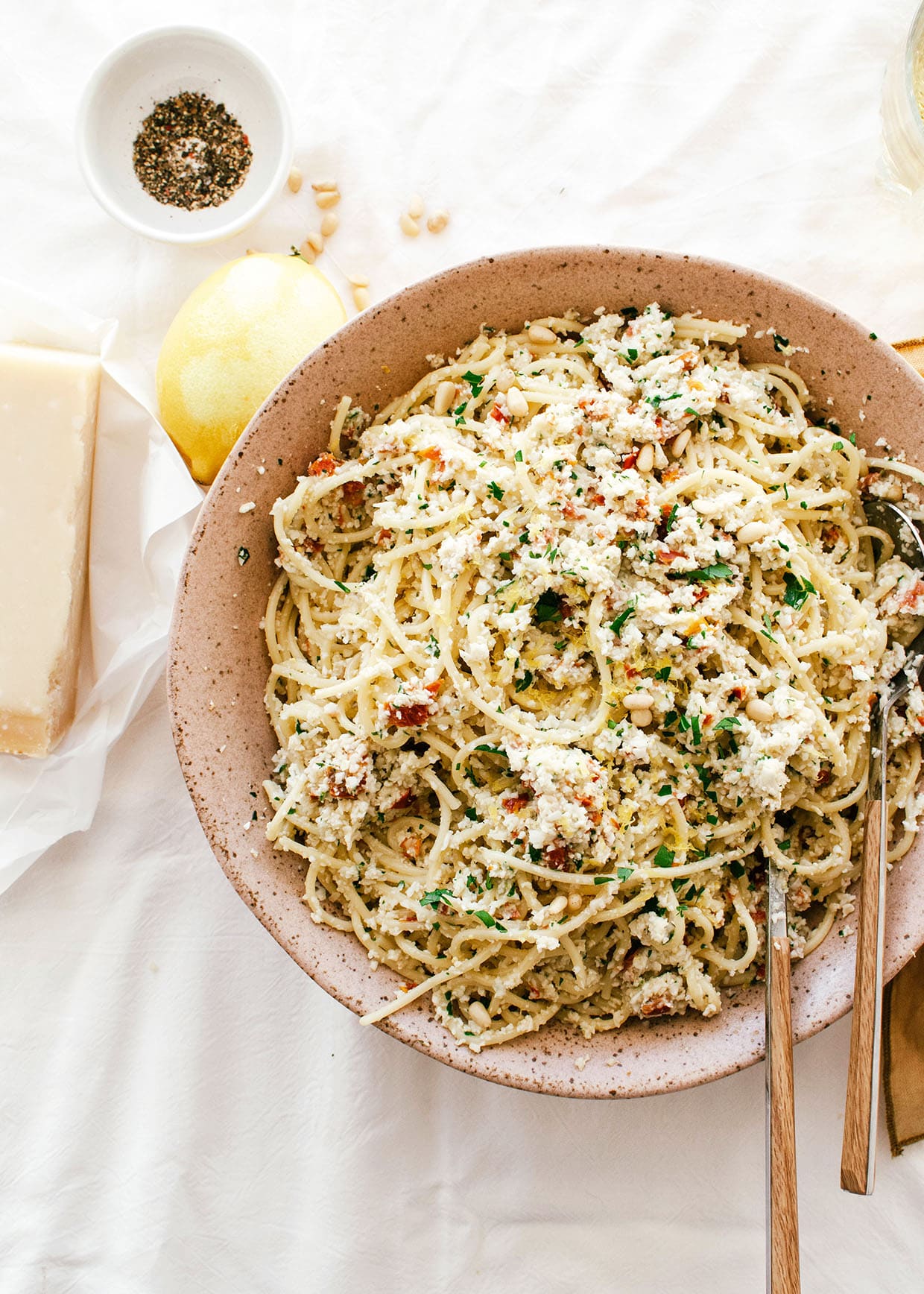 Can you eat raw cauliflower?
YES! Ugh, I know, I couldn't believe it at first either. But I now know some people enjoy eating raw cauliflower in salads or with hummus. Or in pesto, as we're doing today.
So… Spaghetti with cauliflower pesto
Now that we got the raw part out of the way, let me tell you more about this recipe. I'm using spaghetti but you can use any long type of pasta, like fettuccine. The star of this meal is definitely the pesto though. I think everyone in the food world knows Deb's taste is incredible, but I made a few adaptations in this recipe, hope she can forgive me.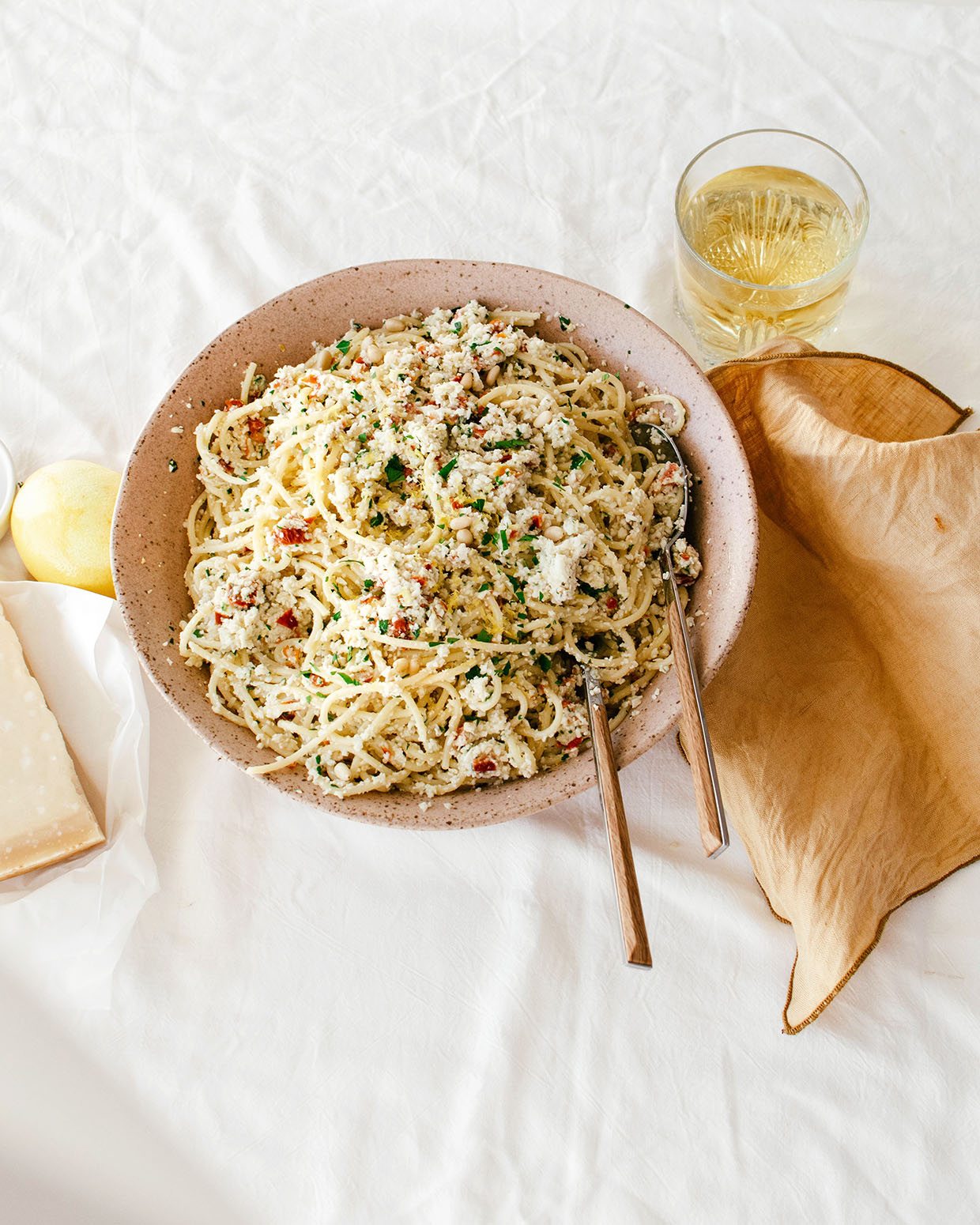 Let's move to the pesto, shall we. The first thing you need is a cauliflower cut into florets, that you then throw in a food processor. A few blitzes in there and you should end up with finely chopped cauliflower. It essentially looks like cauliflower couscous. If you don't have a food processor, you can try finely chopping the cauliflower with a knife or grab a bag of riced cauliflower in your store (if they carry it). I don't think riced cauliflower was a thing when I first found this recipe, but it definitely is now, which makes this recipe a breeze to make.
This riced, couscous-like cauliflower is the base that you build on. Like with every pesto, you need some nuts, some herbs, some cheese and some "juice".
Here are the rest of your pesto ingredients:
Pine nuts
Deb uses almonds, but I went with classic pine nuts because they're my favorite "savory" nut to mix into recipes. If you have a few extra minutes to spare, I suggest quickly toasting them, to get that extra nutty flavor. If not, raw pine nuts and their buttery texture still give enough flavor.
The herbs
A very simple choice in this recipe, we're using fresh parsley. You can experiment here, if you want, but I love parsley and how mild and fresh-tasting it is. According to The Vegetarian Flavor Bible (great book by the way), the following greens are great pairings for cauliflower: basil, chives, cilantro, dill, kale, oregano, spinach, thyme. But if you're making this for the first time, I need you to use parsley, just trust me.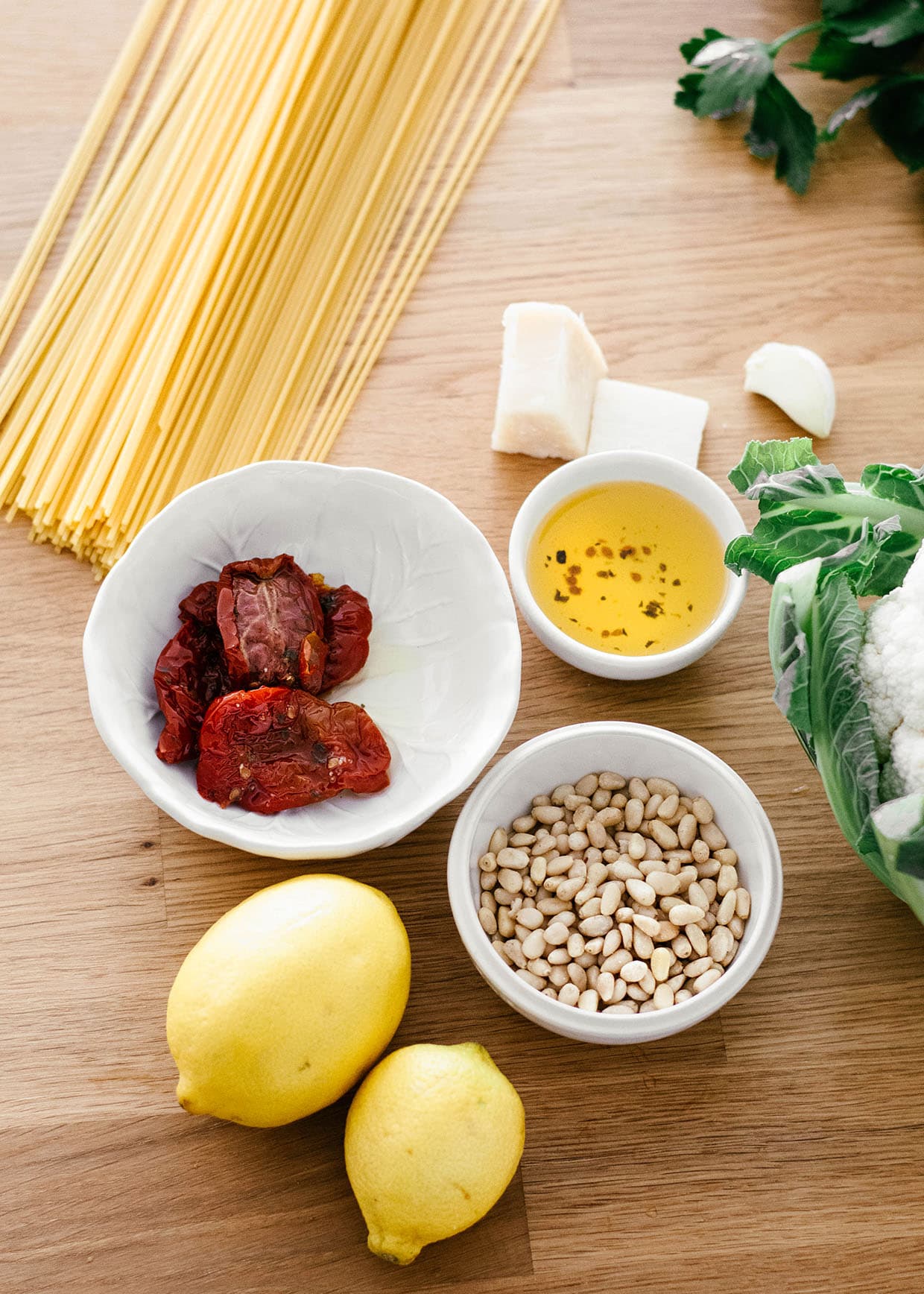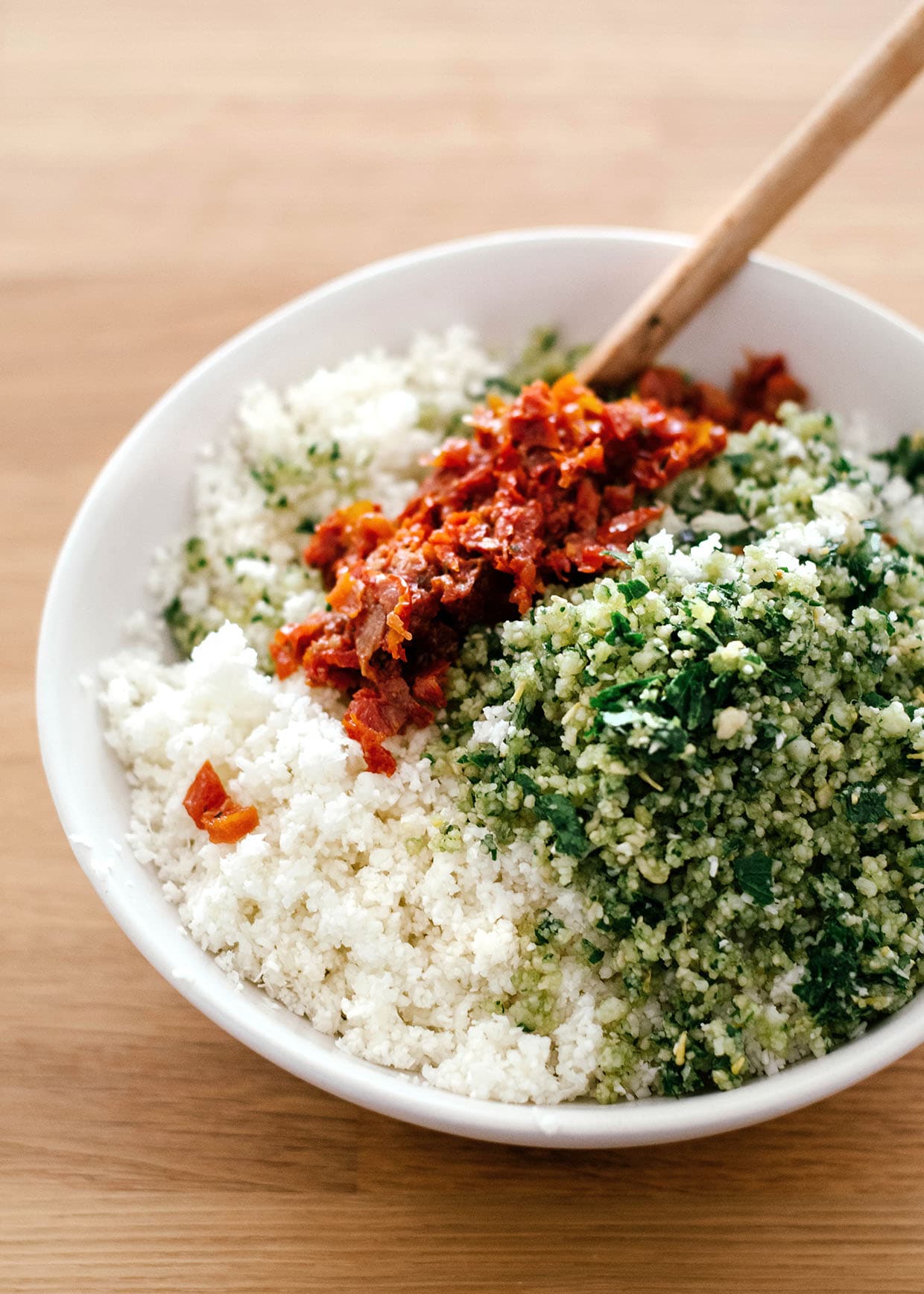 Cheese
Classic Parmigiano-Reggiano to make a classic pesto. Know that true Parmigiano-Reggiano isn't vegetarian, because it's produced with the help of rennet. I'm throwing that out simply as a fact and the ultimate call of what you're going to use is completely yours. If you don't want to use real Parmigiano-Reggiano, just look for parmesan-style cheeses, that are hard and salty.
Once you have that, you combine it with parsley and pine nuts in a food processor and blend until the mixture is crumbly. Then add it to the cauliflower.
Sun dried tomatoes and oil
Every pesto needs some oil and other seasonings to make it creamy and a flavor bomb. Just like Deb, I'm using sun-dried tomatoes. They are a pantry staple in my home, because they add so much meaty flavor to the simplest things. I love them in hummus and on pizza, in sandwiches and wraps. Basically everywhere.
Sun-dried tomatoes come packaged either dry or preserved in oil and the latter is always my choice. Deb used oil-free sun-dried tomatoes, but I am obsessed with those preserved in oil. That oil is packed with flavor and already seasoned. This pesto benefits from that greatly and the tomato flavor is really intensified, making the pasta that more delicious.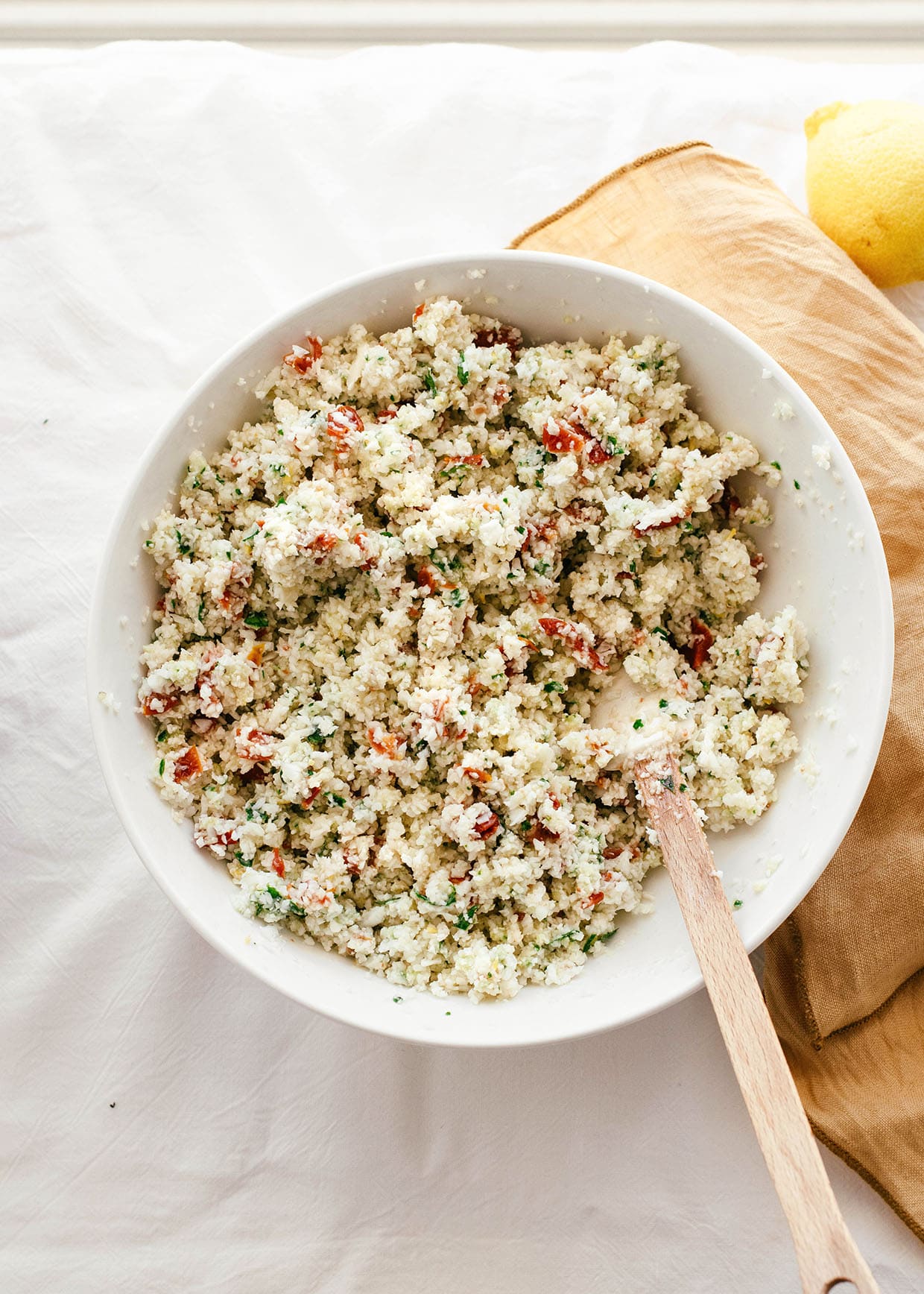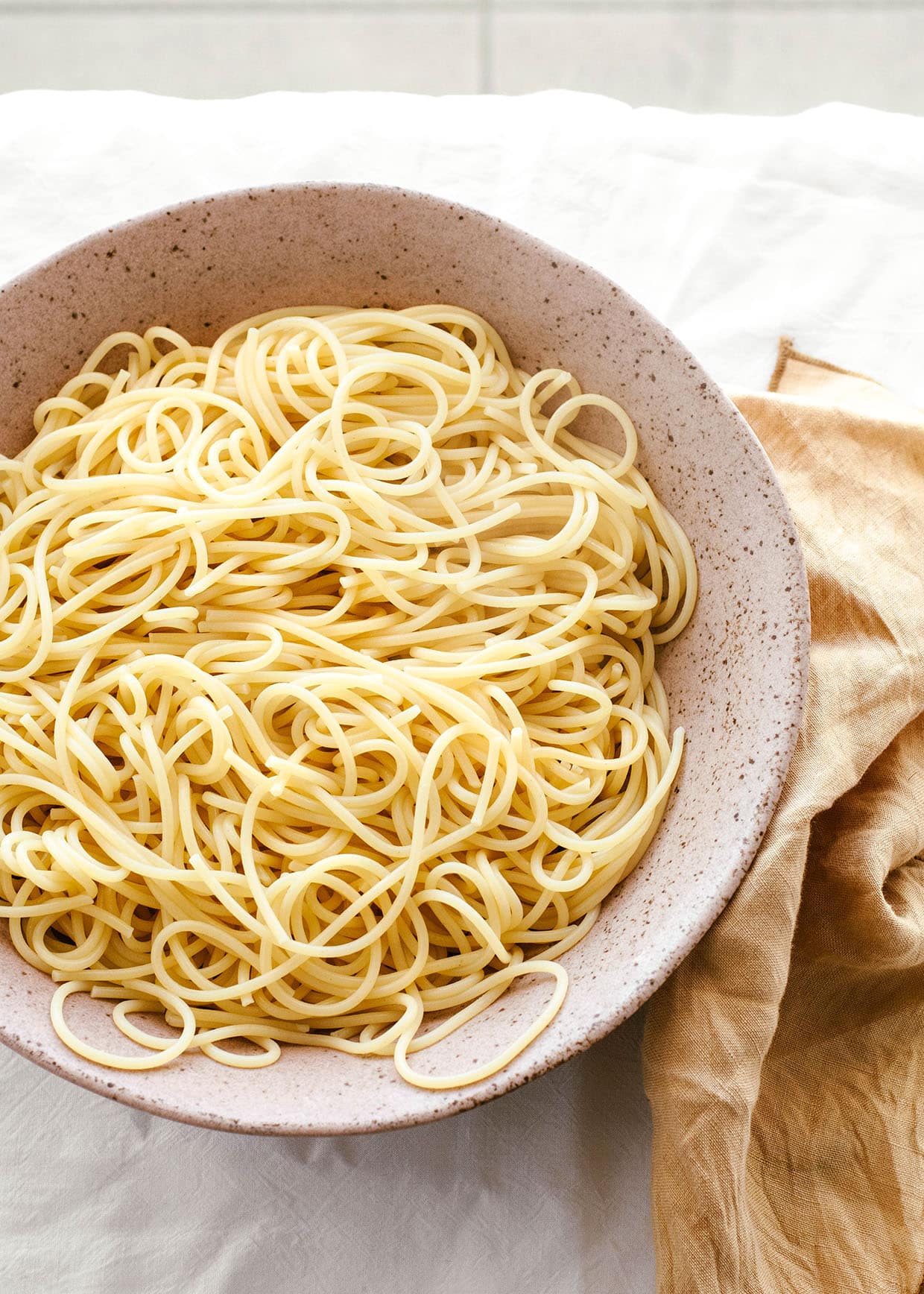 Lemons
To balance out all of the ingredients I've already listed, you want something acidic. I'm using lemon juice in the pesto, because it's not just acidic but also fragrant and fresh and I just love it. And then for serving, I add some fresh lemon zest as well. Double yum!
Garlic
Another pesto staple. I don't think you can have pesto without garlic, can you? Normally, people throw it in the food processor with parsley and nuts, but I'm actually grating it. I started doing this years ago. Whenever a recipe needs finely chopped garlic, I grate it instead.
Admittedly, I started doing it because I hate both chopping garlic and eating it in that form. I really do. And now I grate it because I find the flavor more pleasing. As you press garlic into the grater it not only gets shredded into tiny pieces, it also releases all of the juices. So instead of biting into dry chunks of garlic, you get this juicy paste. It's perfect for this pesto and any sauce you'll ever make.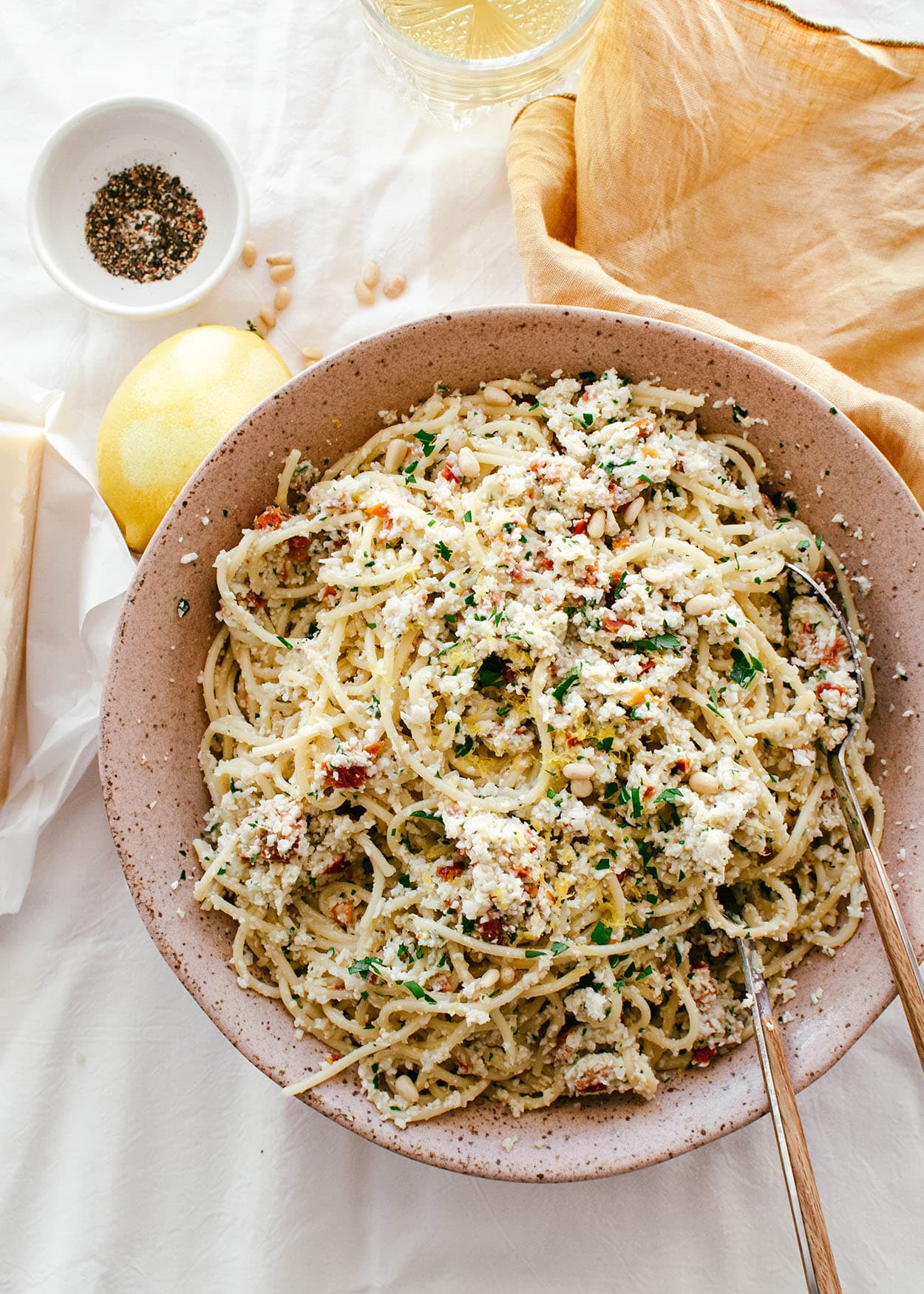 That's it. Your star component for the best ever spaghetti with cauliflower pesto:
After you make this a few times, you won't even need the recipe anymore, it's that easy. As well as made in no time at all, especially if you prep your cauliflower ahead of time. According to a quick google search, riced cauliflower (often called cauliflower rice) will last about 4 days in the refrigerator, stored in an airtight bag or container. If you have that on hand, you can whip up the pesto by the time your pasta is done cooking and then just toss the two together. Who doesn't love a fast dinner?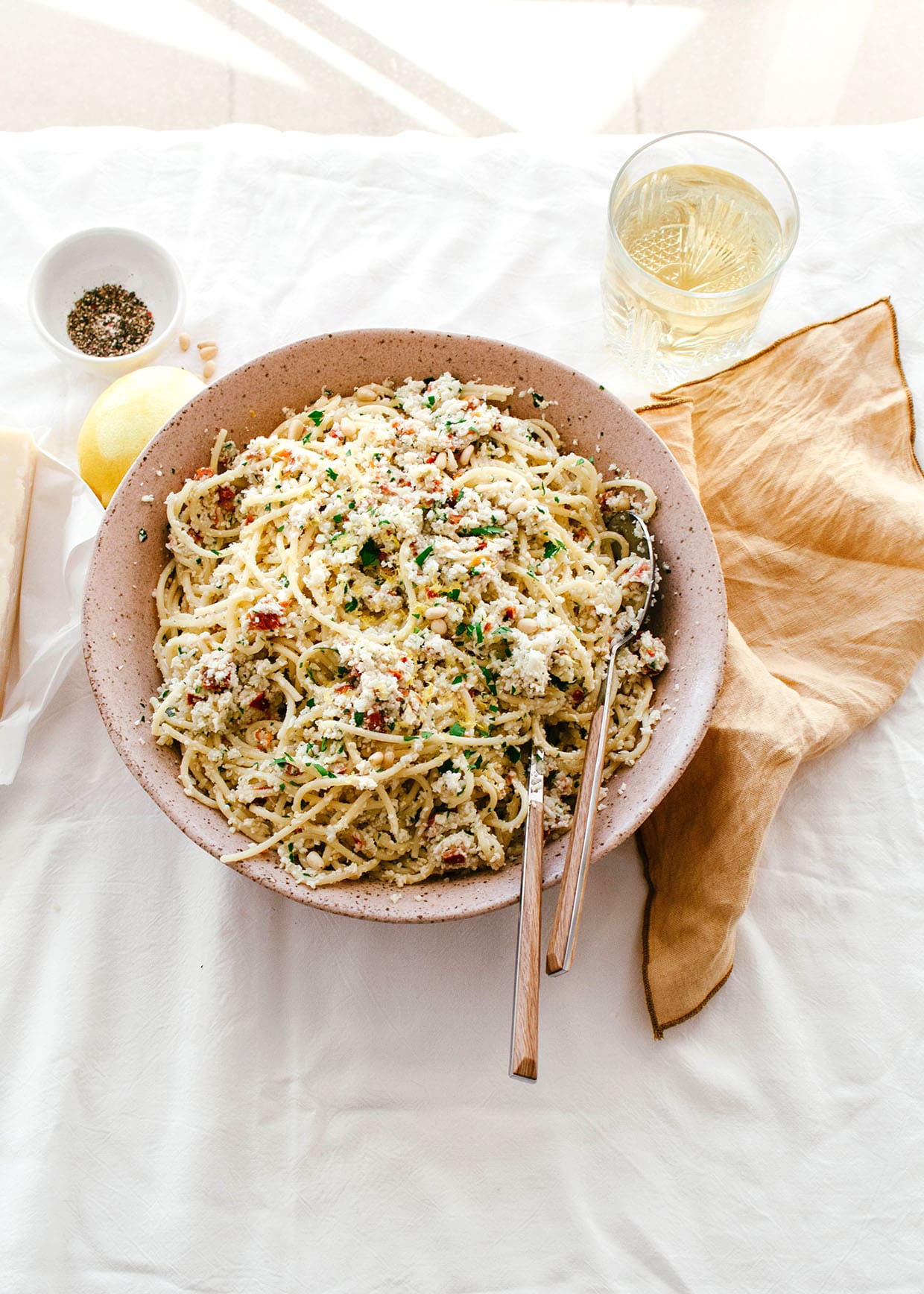 And I don't know about you, but I find pasta so comforting. Sometimes when my days are really long and I feel really stressed, the idea of a pasta dinner puts me at ease in a second. Especially when it's made with a recipe like this.
And funny thing, but this pesto is so fresh tasting and packed with flavor, you'll feel like you're eating more than "just" pasta. And if you want to go the extra mile, add some chopped black olives and you'll be transported to Greece with every bit you make.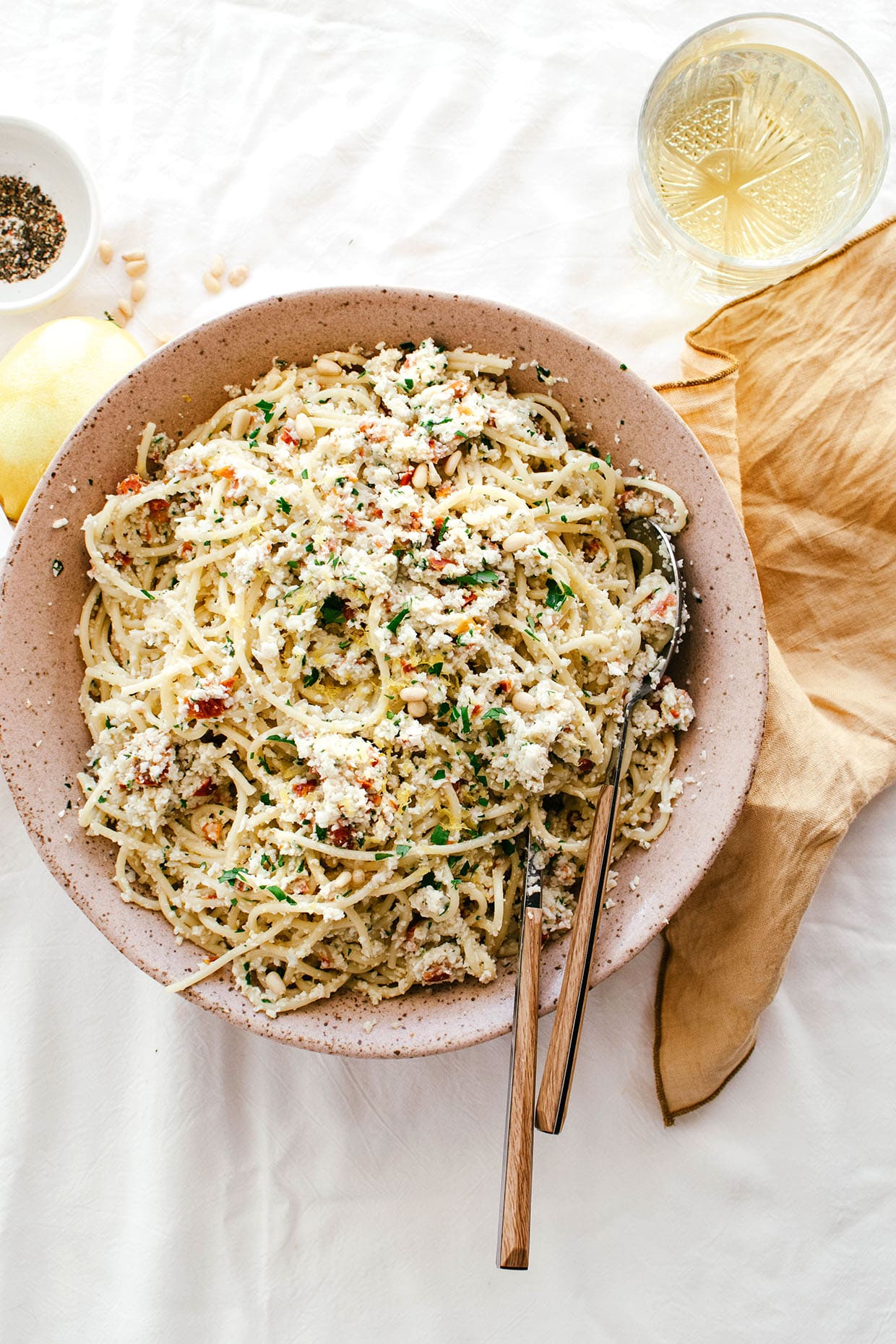 Spaghetti with cauliflower pesto and sun-dried tomatoes
Vegetarian eating at its best, this is easy to make and so satisfying! 
Ingredients
1/2

pound

(

230

g

)

cauliflower florets

,

(from about 1/2 medium cauliflower)

1/4

cup

(

40

g

)

pine nuts

1

oz

(

30

g

)

Parmesan cheese

,

plus more for serving

1/3

cup

fresh parsley leaves

6

sun dried tomatoes

,

preserved in oil, finely chopped

3

tablespoons

(

45

ml

)

sun-dried tomato oil (from the jar)

,

more to taste

1

small garlic clove

,

grated

2

teaspoons

fresh lemon juice

,

more to taste

7

oz

(

200

g

)

spaghetti

,

or other long pasta

sea salt

fresh lemon zest

,

for serving
Instructions
First make the pesto:

In your food processor, pulse the cauliflower until it resembles crumbs. Transfer it to a medium bowl. Next combine pine nuts, Parmesan and parsley in the food processor and pulse, until they look like breadcrumbs too. Add to your cauliflower.

Add sun-dried tomatoes, oil, garlic clove and lemon juice to the cauliflower mix. Stir until combined, season to taste and set aside.

Bring a large pot of salted water to a boil. Add the pasta and cook until al dente (add 2 minutes to that, if you want your pasta to have less bite to it)., about 8-10 minutes. Save a cup of pasta water and drain the rest. 

Return your pasta back to its pot (or to a large bowl) and add the pesto. Stir to combine. Start adding pasta water tablespoon by tablespoon, stirring inbetween, until pesto evenly coats all of the pasta and looks creamy. Add more cheese if you want. 

Serve into bowls or plates, sprinkle with pine nuts and fresh lemon zest. 
Notes
For a deeper, nuttier flavor toast the pine nuts before you use them in the pesto. The easiest way to toast pine nuts is in a pan without any oil, set over high heat for 30-90 seconds, just until they brown. 
About Parmesan: Know that real Parmigiano-Reggiano isn't really vegetarian. For a cheese to be sold under such name it has to be authentic, and it is only authentic if it uses calf rennet as an ingredient crucial for the production. Obviously that makes it non-vegetarian. Both Grana Padano and Pecorino Romano use rennet as well. If you want rennet-free cheese, look at the label first. Luckily you can find plenty of Parmesan-style hard cheeses that are made without it. 
TO MAKE VEGAN: Use more nuts in place of cheese or use vegan parmesan. I keep hearing great things about Violife parmesan, so try looking for that! 
Recipe adapted from The Smitten Kitchen cookbook. 
Email recipe
Pin Recipe