Skip the classic pesto and try these spaghetti with cauliflower pesto instead!
There is something very comforting in a big serving of pasta.  Or pizza for that matter. Carbs in general are very comforting, aren't they? If you're one of those people willing to cut them out in order to get a perfect bikini body, I applaud you. Personally, I don't have the willpower for that. But, that's a whole new story, so let's go back to pasta for now.
Growing up spaghetti Bolognese was my favorite dish. My mom always made the perfect, most amazing sauce. She  actually often served it with shell pasta instead and I could eat it with a spoon which was just magical. It's one of those dinners that makes me feel very nostalgic and I do sometimes miss it, as I do my mom's cooking in general.
Now as an adult, my absolute favorite is basil pesto. I love it so much I wish I could put it on anything and everything, it's just that good. So simple yet so amazing. There's really hardly anything better than that.
The word pesto originates from the Italian word pestare which means to crush (or to pound), and originally, before the food processors became a thing, that's how people made pesto – they crushed the ingredients by hand with a pestle and mortar. You can obviously still do this today and mortars do have a very rustic feel, but I admit I just use my food processor. Whichever method you choose, both are still simple and quick.
The great thing about pesto is that the whole process of making it is so uncomplicated, the room for change is very big. You can just switch the ingredients, add new ones, try different things out. I really think I should come up with a pesto recipe for each day of the week, that would be fun. (I just might do it, because I love a good challenge.)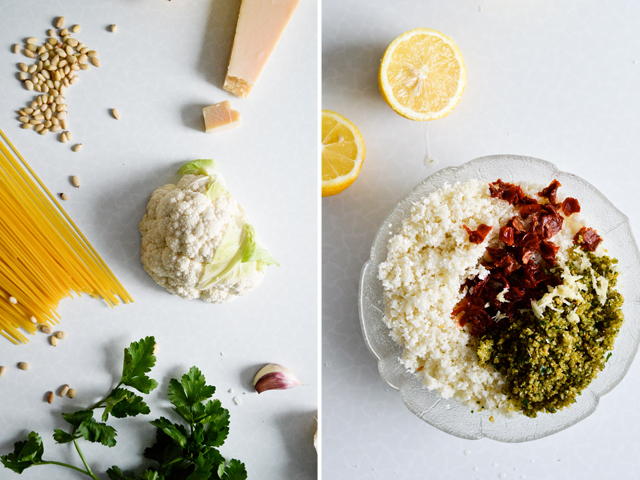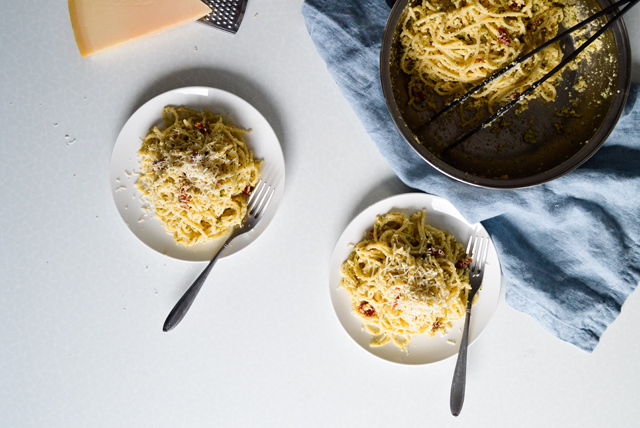 Cauliflower is the base of today's pesto, nicely crumbled, along with parsley, toasted pine nuts and parmesan. Roughly chopped sun-dried tomatoes add extra flavor and lemon juice gives this pesto the freshness I've been craving lately (remember the salad from last week and that divine lemon mustard dressing?). The best thing is that this is made in no time. Really, by the time the spaghetti are cooked, the pesto is done too and the rest is just throwing it all together. I really couldn't ask for a better weeknight dinner. I hope I've convinced you too.
Print
Spaghetti with cauliflower pesto and sun-dried tomatoes
Easy to make pasta with a lighter pesto that still has major flavor.
Author:
Prep Time:

15 min

Cook Time:

10 min

Total Time:

25 minutes

Yield:

2

servings

1

x
Category:

Main course
Scale
Ingredients
1/2

small cauliflower (about 220g or

1/2

pound), trimmed of outer leaves, cored, broken into chunks

40

g (1/4 cup or 1.4 oz) pine nuts, toasted and cooled

30

-gram (1-ounce) chunk Parmesan cheese, plus more for serving
about

1/3 cup

of fresh parsley leaves

40

ml (about

2 1/2 TBSP

) olive oil

1

small garlic clove, grated

3

–

4

sun-dried tomatoes, finely sliced
juice of

1/2

lemon (and more to taste)

200

g (7 oz) spaghetti, or linguine or similar
sea salt
Instructions
Set a large pot of water to boil. In your food processor, pulse the cauliflower until it resembles crumbs (or couscous), transfer it to a medium bowl. Combine pine nuts, Parmesan and parsley in the food processor and pulse, until they look like breadcrumbs too. Add to your cauliflower.
To the cauliflower mixture add the grated garlic, olive oil, sun-dried tomatoes, a pinch of salt and lemon juice. Stir until combined, season to taste and set aside.
Once the water is boiling, add a teaspoon of salt and the pasta.
Cook until al dente. (The time is usually specified on the package, the spaghetti I buy normally take between 8-10 minutes, but taste yours to be sure – they have to be cooked, but not mushy). Save a cup of pasta water, drain the rest.
In a large skillet or serving plate combine the pesto and pasta. Slowly add the pasta water, tablespoon by tablespoon, until you get the desired consistency of the pesto and the pesto is creamy (and coats all the pasta), not lumpy and thick.
Serve along with a chunk of Parmesan.
Notes
This recipe is adapted fromthe Smitten Kitchen cookbook.
Toast the pine nuts in a pan without any oil over high heat until they are aromatic and golden brown in color. Stir them while they toast, they should be done in a few minutes. Transfer to a small plate and they'll be cool in no time.
If you have any pesto left or want to save some for later, you can do that. Cover it tightly with plastic wrap, store in the fridge and use the next day.
About the Parmesan: Know that real Parmigiano-Reggiano isn't really vegetarian. For a cheese to be sold under such name it has to be authentic, and it is only authentic if it uses calf rennet as an ingredient crucial for the production. Obviously that makes it non-vegetarian. Both Grana Padano and Pecorino Romano use rennet as well.
Luckily, you can find hard cheeses which are very good copies of the real deal both in taste and looks, which is what I normally use. Just check the label, look for rennet, if it's not there take that parmesan right home with you! A lot of people also use the Swiss Sbrinz cheese instead.
Keywords: quick, vegetarian