Summer isn't summer without berries and ice treats, like these raspberry granita rosé cocktails!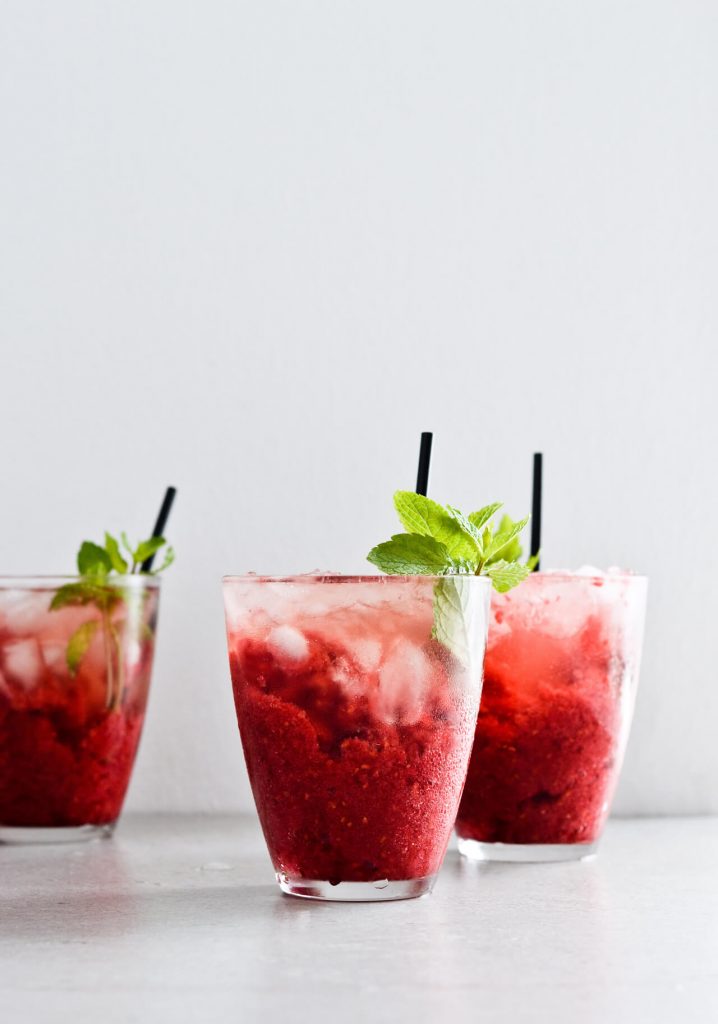 Have I told you guys I finished watching Stranger Things? I mentioned the show on Instagram a while back, right around the time I was done with it. I just thought it was worth mentioning here too.
I just love Netflix. It's no secret, really. I feel they've upped their game over the last few years and just keep getting better by creating original shows. And Stranger Things is one fantastic show with a great cast. It has that Super 8 – Steven Spielberg vibe, with a touch of  The X Files and a big dose of nostalgia. It's filmed beautifully, and just like with all the shows I fall in love with, I find myself wanting to stop at every scene just to make a screenshot of it.
I finished watching Stranger Things on the day I made these raspberry granita rosé cocktails, which are inspired by a Hugo Rosé cocktail.
Did you know that's a thing? Because I honestly didn't. And then when I was food shopping one day, the grocery store had all these bottles of Hugo Rosé for sale and you can bet I stopped my cart right there. I'm pretty sure my face lit up like that of a kid in a candy store and I'm just glad the store was close to empty.
You know how much I love my Hugo, but a Hugo made with rosé?! That is just something else and of course I had to make it at home, or something similar. I could've bought the bottled cocktail, but just as with the regular Hugo, I prefer making drinks at home from separate ingredients, instead of just buying one mix. Those tend to be too sweet for my taste.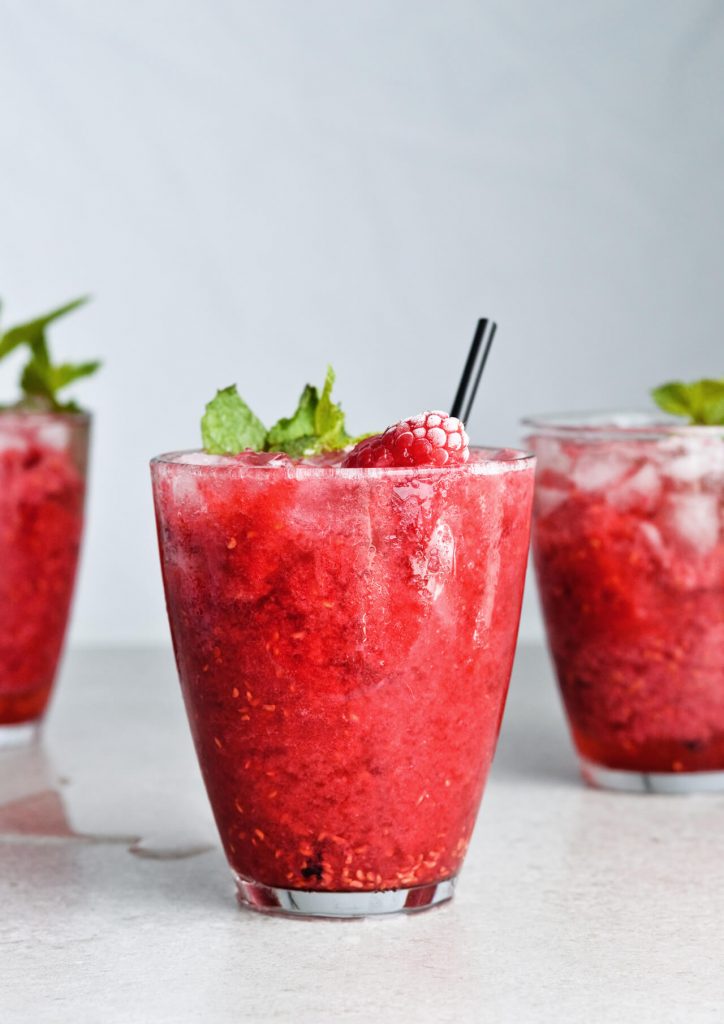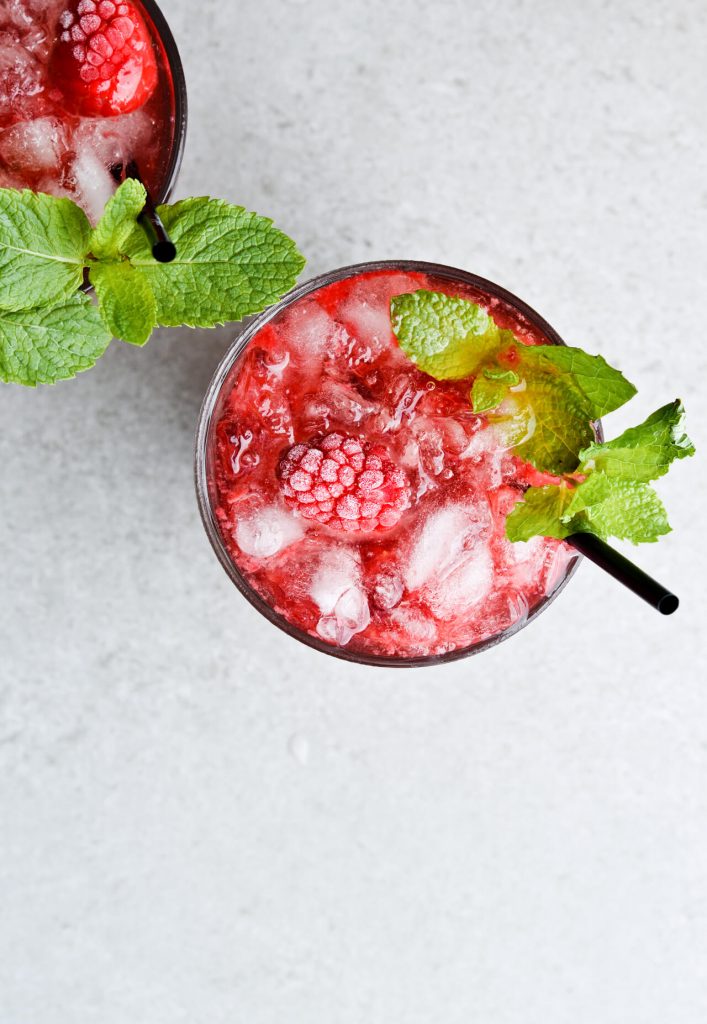 I tried to find recipes online, but all that comes up are ads from stores that sell Hugo Rosé and a few pics of pink Hugo with raspberries floating in the drink. So I guess the rosé version of Hugo has to have raspberries in it.
Or so I want to think. Because whether it needs them or not is probably debatable, but it was enough for me to make these Hugo inspired raspberry granita rosé cocktails.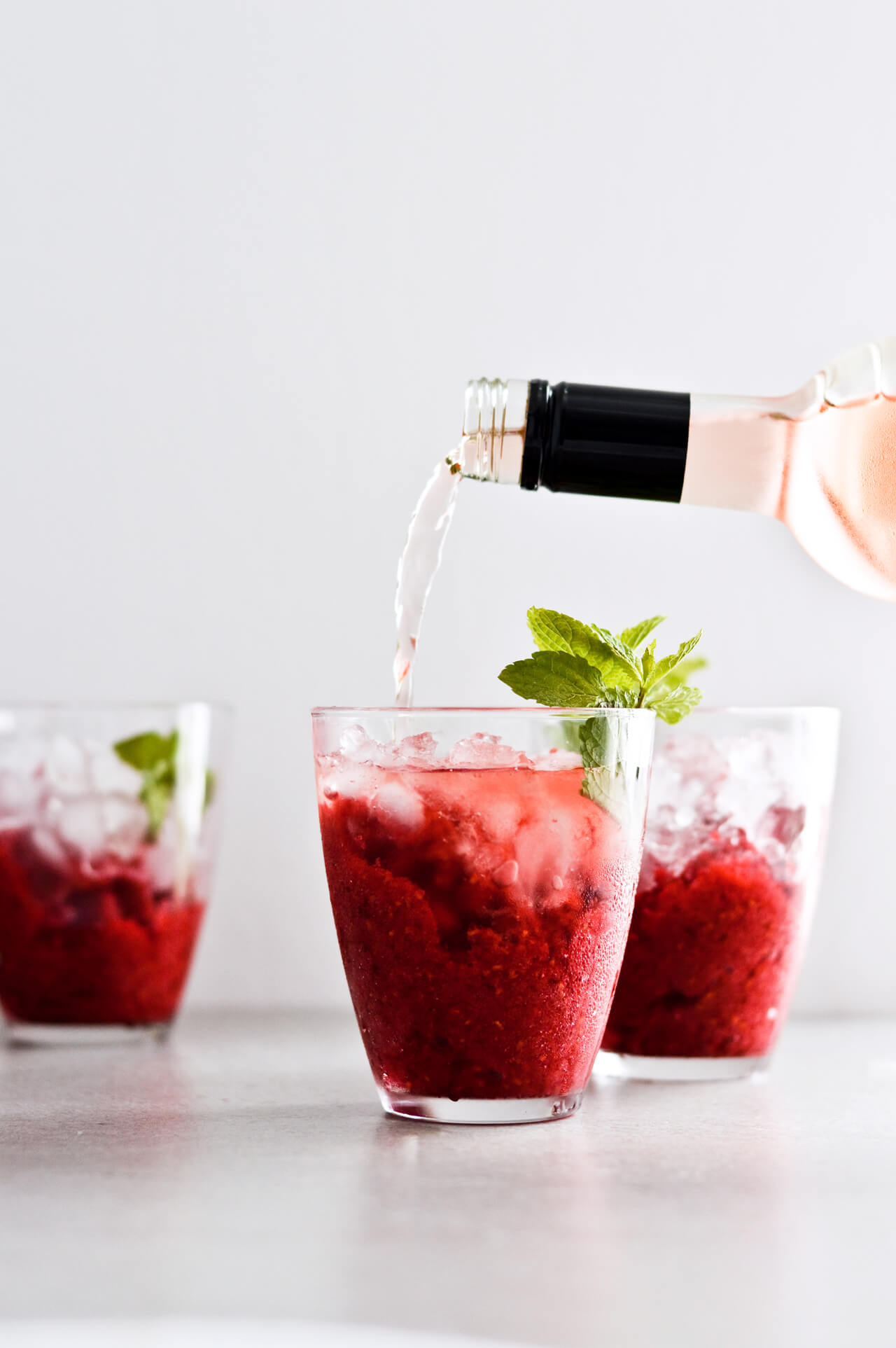 I can almost smell Fall, but as mentioned in my previous post Summer isn't over yet, so of course I made a raspberry granita instead of just smashing some raspberries in a glass. Not that that's wrong, but more ice means more fun, that is how this summer thing works for me.
These cocktails are really part drink and part dessert, the adult version of a raspberry ice pop. When unstirred the granita almost looks like wet sand under a sea of rosé. I think it's absolutely beautiful! And then magic happens when you stir it.
The raspberry granita is good for three days, which is amazing because you can make it today and then get it out of the freezer on Friday and say hello to the weekend by making raspberry granita rosé cocktails. And maybe give Stranger Things a chance, if you haven't watched it yet.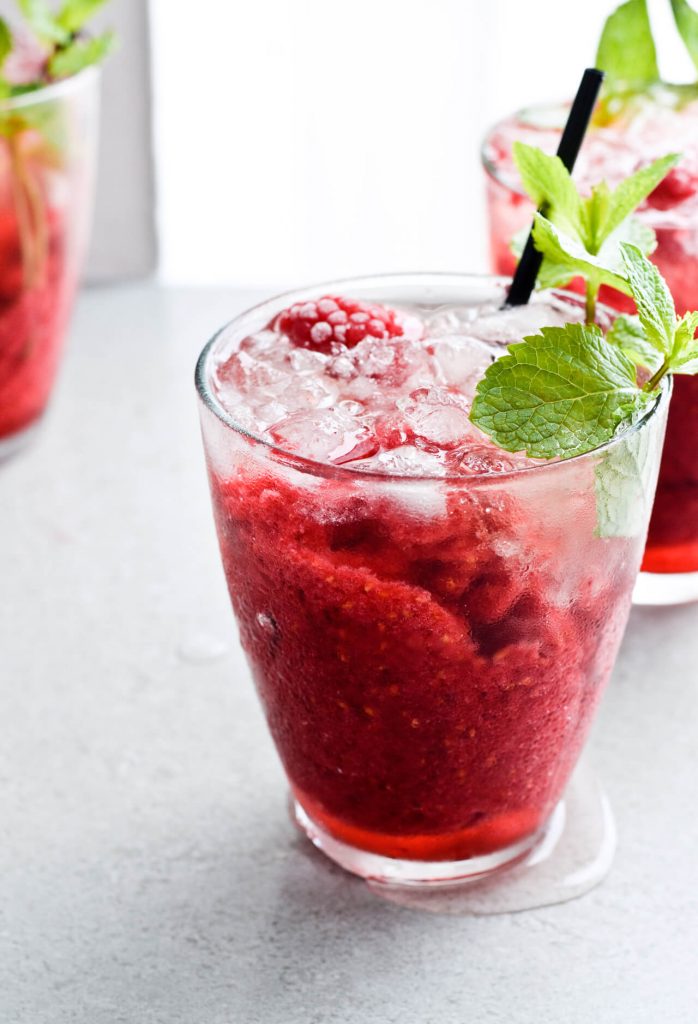 Print
Raspberry granita rosé cocktails
Refreshing, sweet, icy cocktails!
Author:
Prep Time:

15 min

Total Time:

15 minutes

Yield:

4

servings

1

x
Category:

Drinks
Raspberry granita
300

ml (1 1/4 cup) water

240g

(

1 cup

) granulated sugar

500g

(

3 1/4 cups

|

18 oz

) frozen raspberries (can use fresh)

1 tablespoon

fresh lemon juice (from

1/2

lemon)
Cocktails
1

bottle (750ml) rosé
crushed ice
mint leaves
fresh or frozen raspberries
elderflower syrup (optional)
Instructions
First make the raspberry granita:
Place water and sugar in a bowl and stir to combine. Let sit for about 15 minutes, stirring occasionally, until sugar completely dissolves. (You'll see how the mixture turns from white to a more translucent color as the sugar granules disappear.)
Meanwhile, place raspberries and lemon juice in a food processor. Add the sugar mixture and blend on high until completely smooth. Taste and add more sugar if needed.
Pour into a shallow freezer-proof dish (I useda glass 2 quart Pyrex dish). Cover with plastic wrap and freeze until almost firm, stirring 3-4 times in the first two hours.
Continue freezing granita for at least 3 more hours or overnight. Granita keeps for 3 days, keep it covered and frozen.
To make cocktails:
Take granita out of the freezer and scrape the surface with a fork to form crystals. Scoop granita into 4 glasses.
Top with a small splash of elderflower syrup (optional), crushed ice, mint leaves and pour over the rosé. Add more ice if needed, a straw and raspberries for garnish. Serve immediately.
Notes
To make lighter cocktails you can use less rosé and add some sparkling water or even raspberry juice instead.