Simple yet impressive, this orange almond carrot cake with creme fraiche frosting is pillowy soft and insanely flavorful. Made quickly and keeps for days.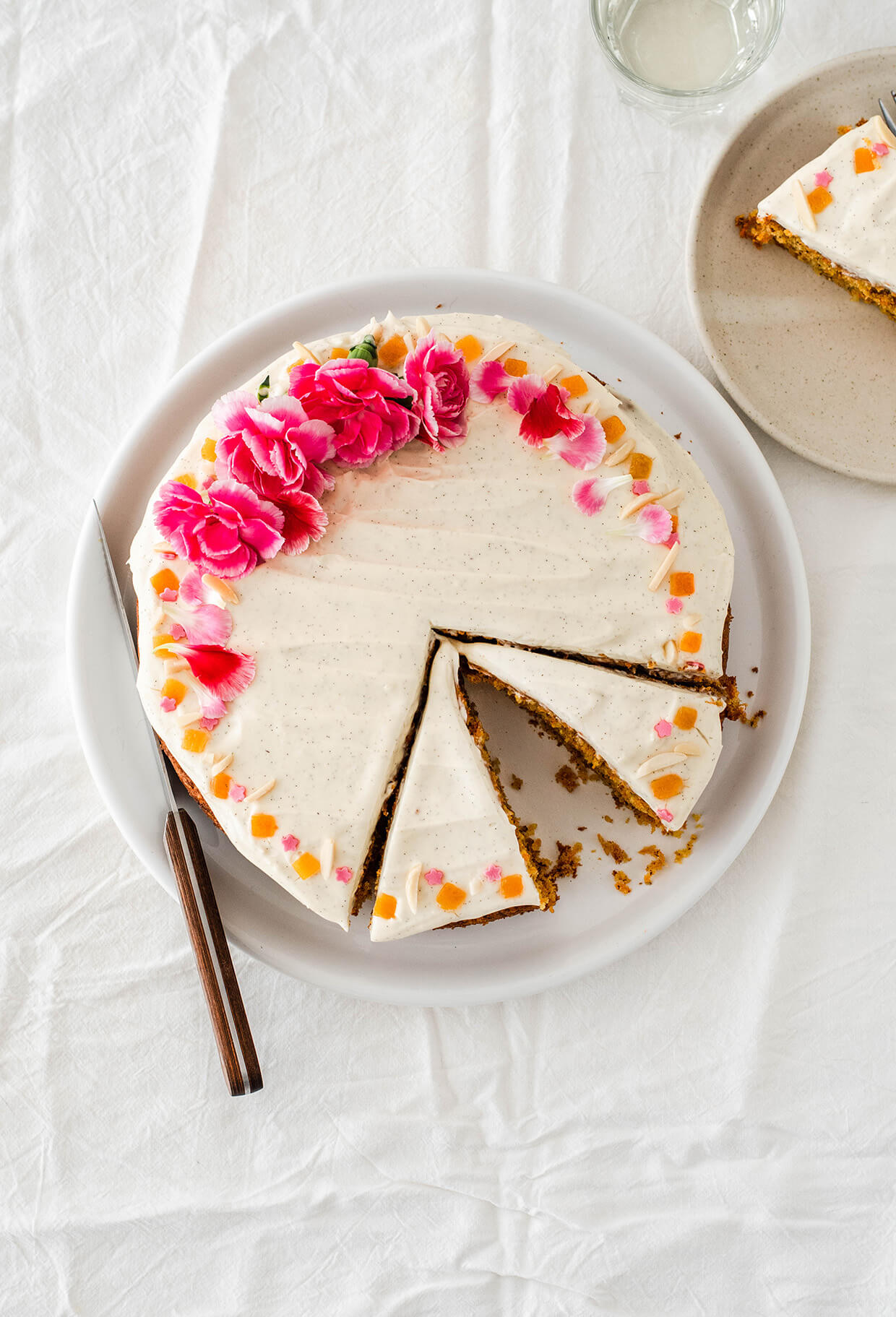 I cannot think of a cake more perfect for Spring than this Orange almond carrot cake with creme fraiché frosting. True, berry cakes are delicious, but there's just something so familiar and homey about a good carrot cake. This one today is a single layer cake, which I find especially enticing, but as you'll see in the notes you can change the size and dress it up or down as much as you want. I just love flowers on cakes, so of course I added some.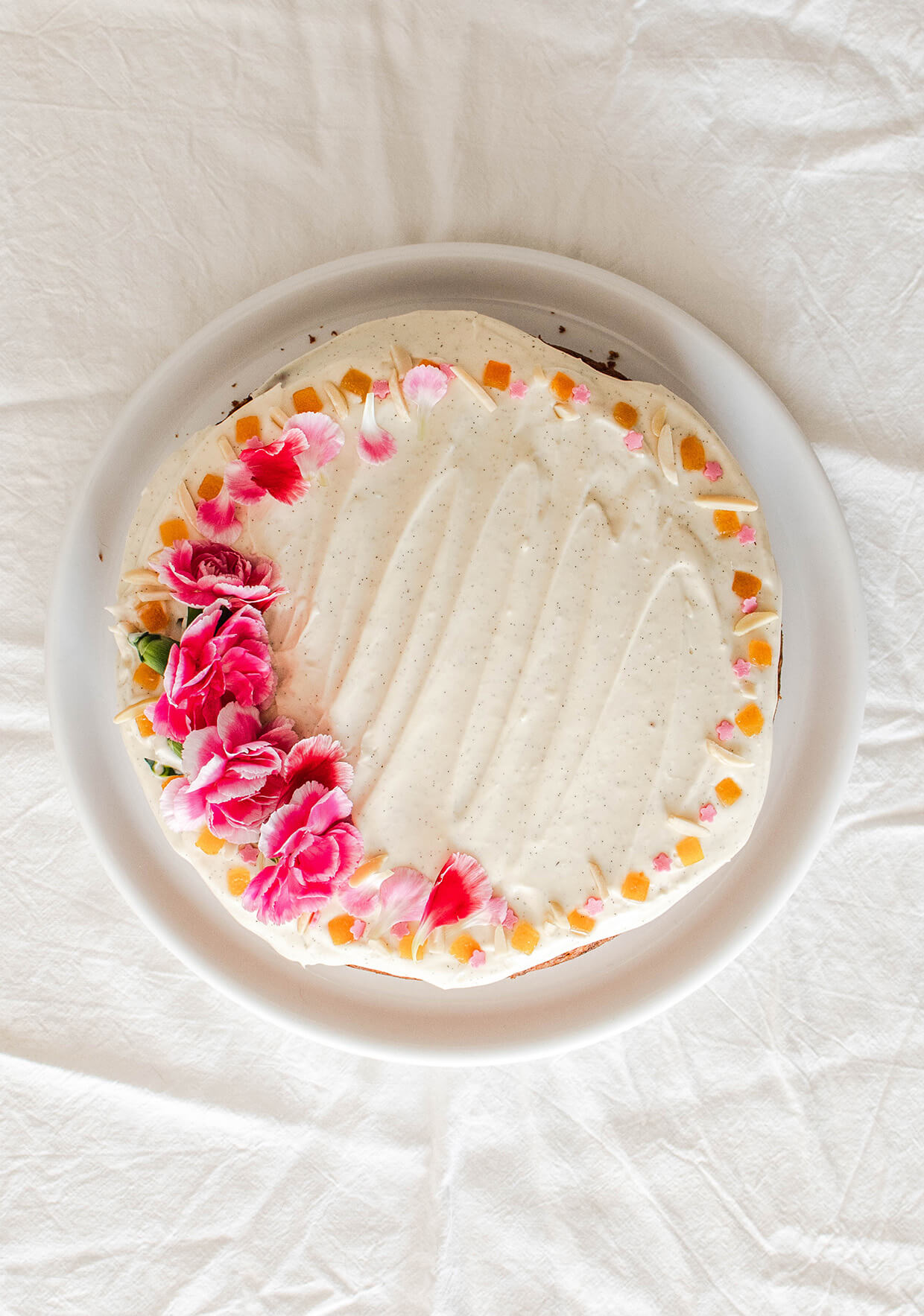 This carrot cake has so much flavor, it's insane. If the thought of a classic carrot cake makes you drool, then prepare yourself for this one. First off, it's the softest cake in the world, that just melts in your mouth. The addition of almond meal gives it a slight crunch and makes the cake incredibly hearty but not heavy at all. And the orange flavor is just the perfect pairing for carrots, it complements the sweetness and adds some zing.
Let me touch on the orange part for a minute, because we have three different ways in which the flavor is added to the cake. The first two are very straightforward – we have orange juice and zest. The first makes the cake moist and sweet, while the latter gives it that classic citrus zing. This leads me to the third component which is orange blossom water! It is this secret ingredient that gives the cake the most delicate, wonderful, floral aroma and I am in love!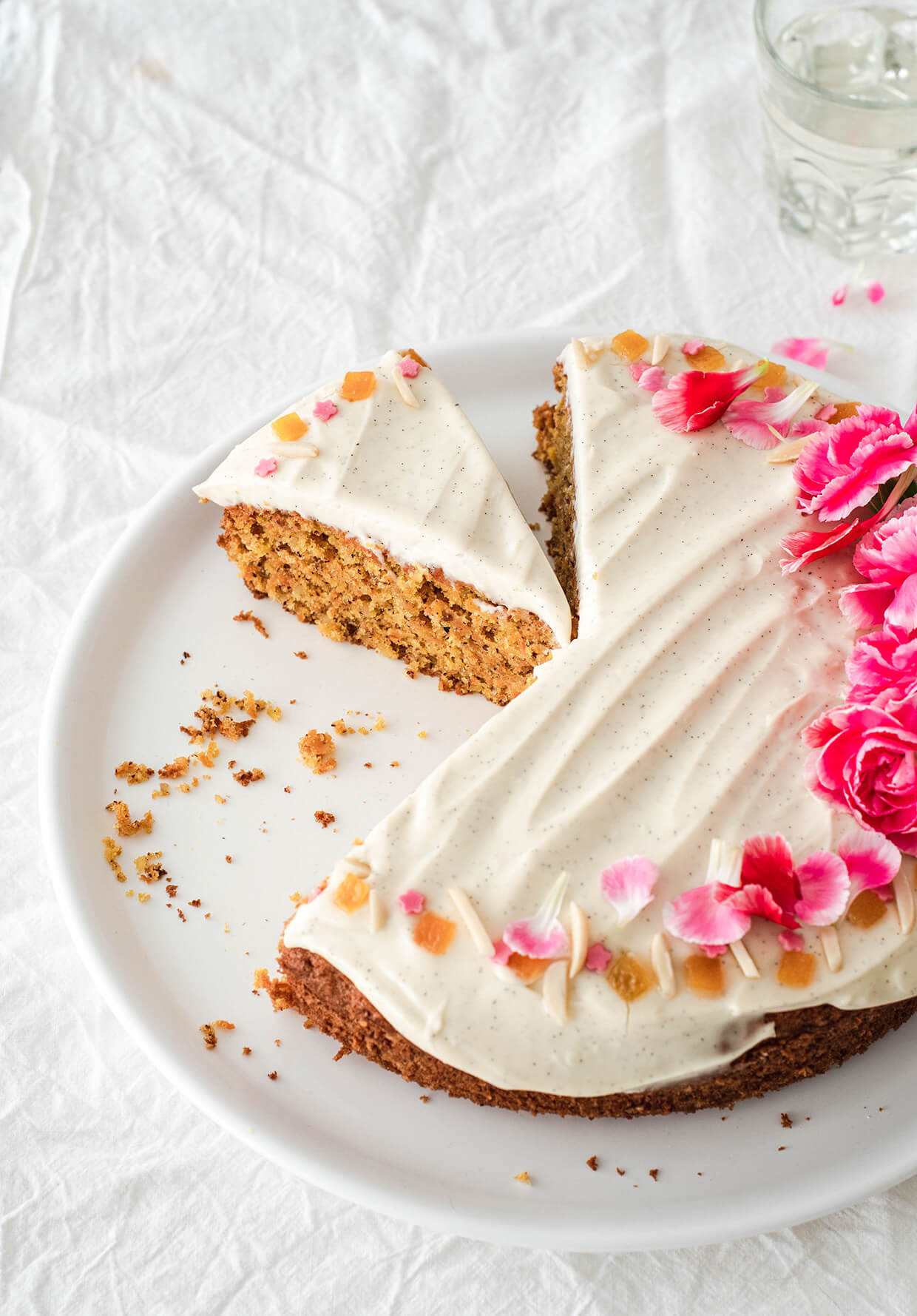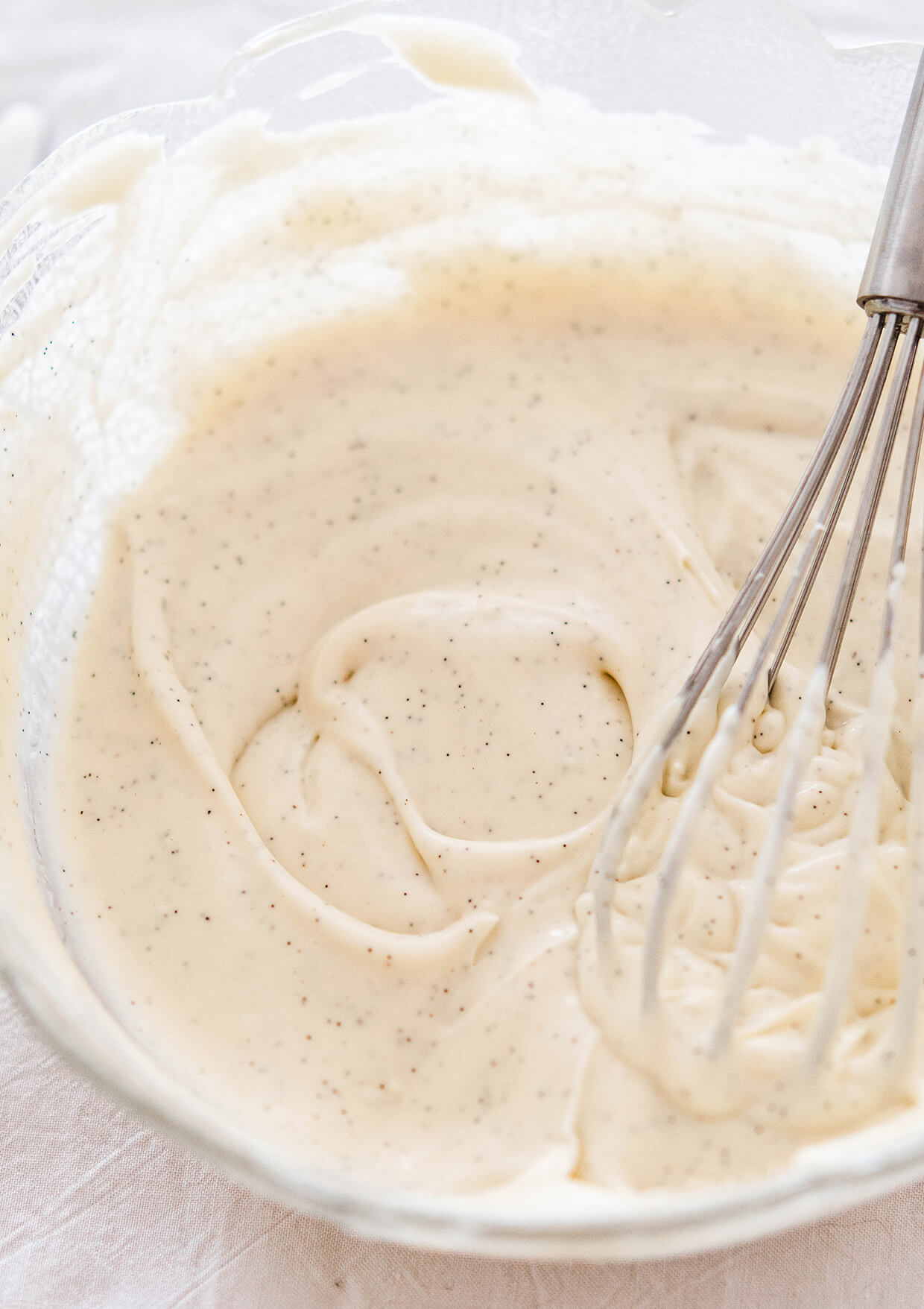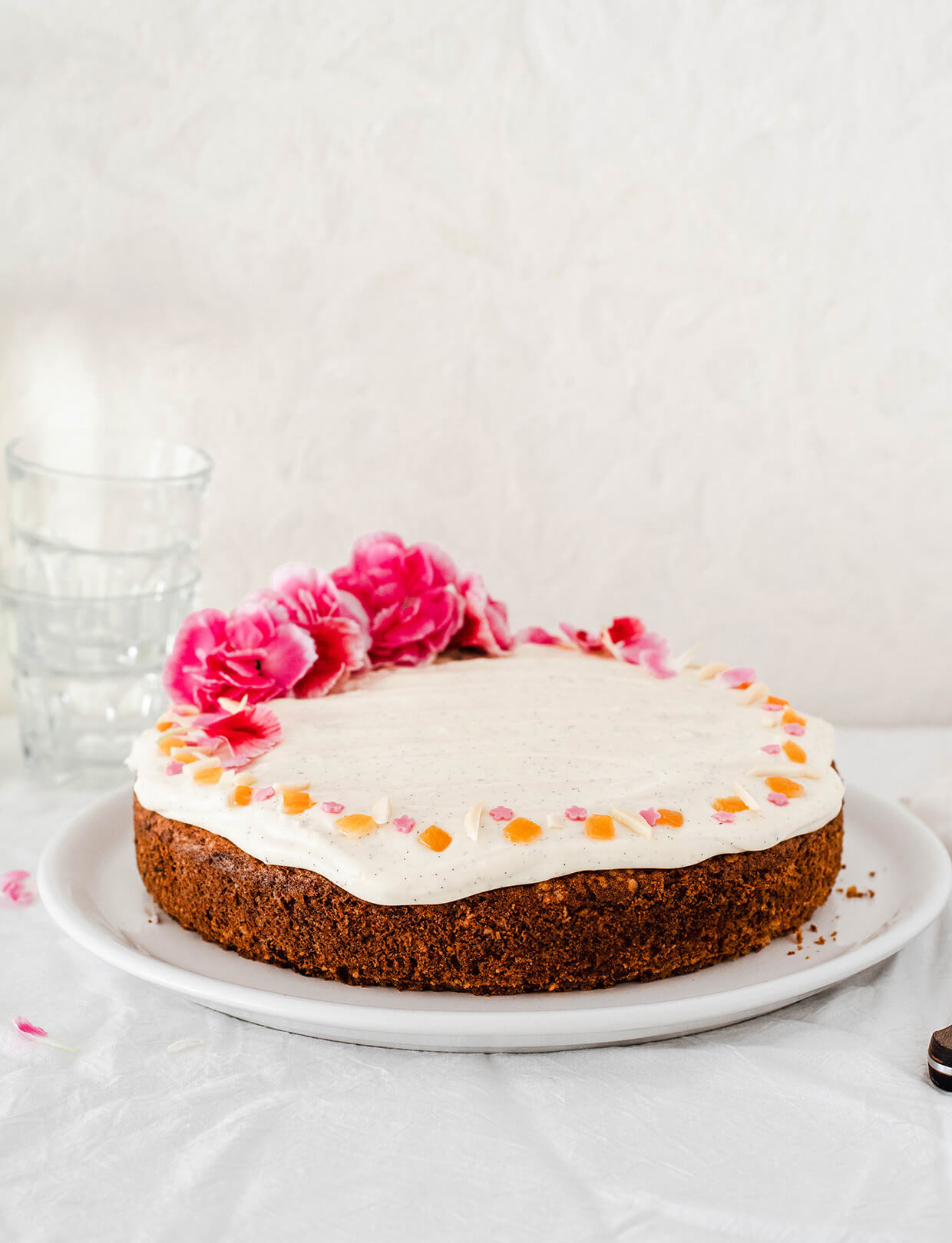 Because the cake itself is on the sweet side, it is only right that we include something fresher to go with that. Enter creme fraiche! As you know a classic carrot cake is usually made with a cream cheese frosting, which I personally adore very much, but I wanted something different for once. Creme fraiche is like a cross between sour cream and mascarpone, it's milky and smooth but still has some of that sour tang. It's unique in a cool way and gives the cake an extra twist.
There are a few ways as to how you can make a creme fraiche frosting. You can whip it with whipping cream for a fluffy effect, but this time I went with mascarpone to give it more weight. It sticks so nicely to the cake and it keeps perfectly overnight, that I just cannot recommend this combination enough.
No more convincing needed! This Orange almond cake with creme fraiche frosting is a thing of dreams and it's calling your name.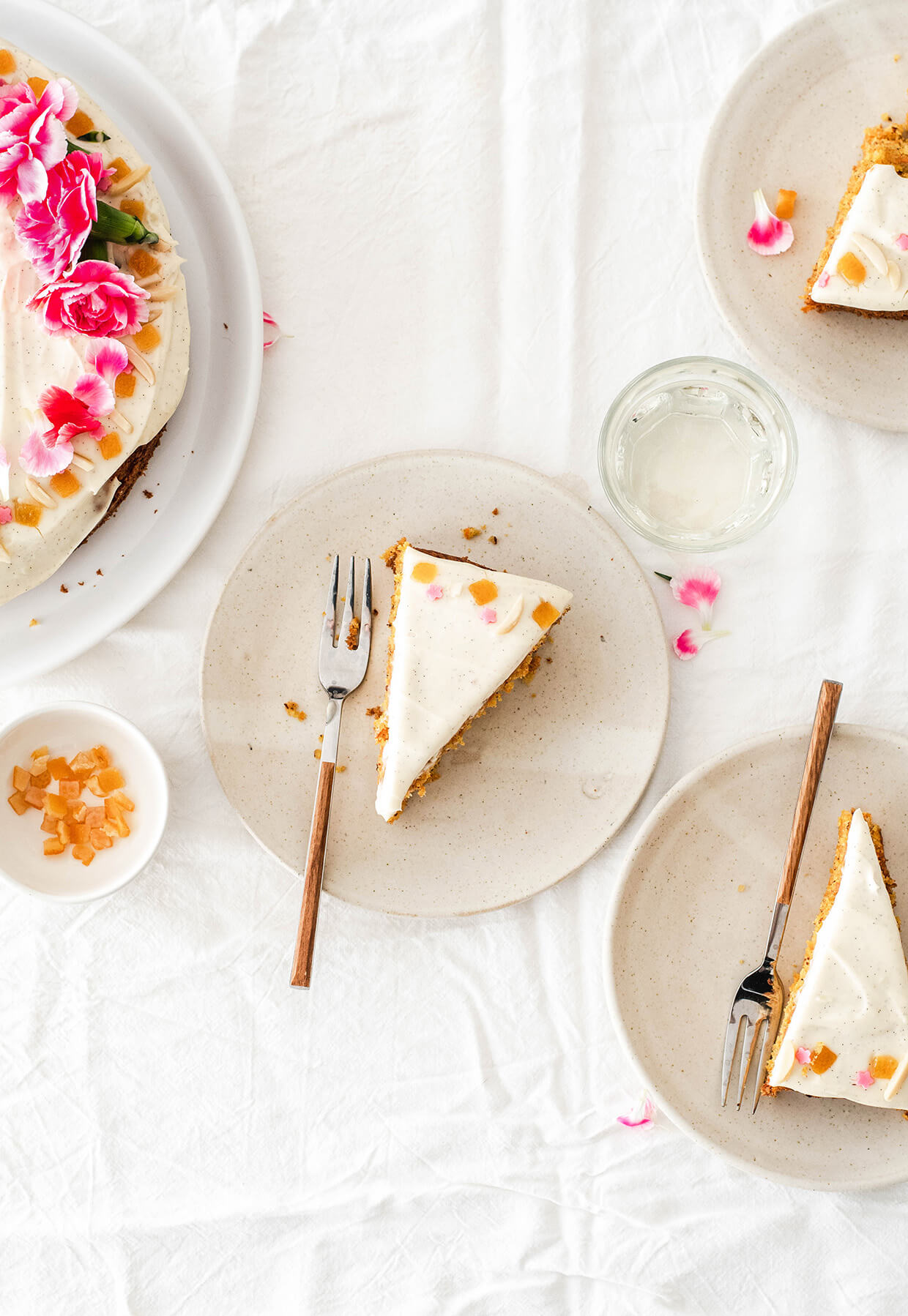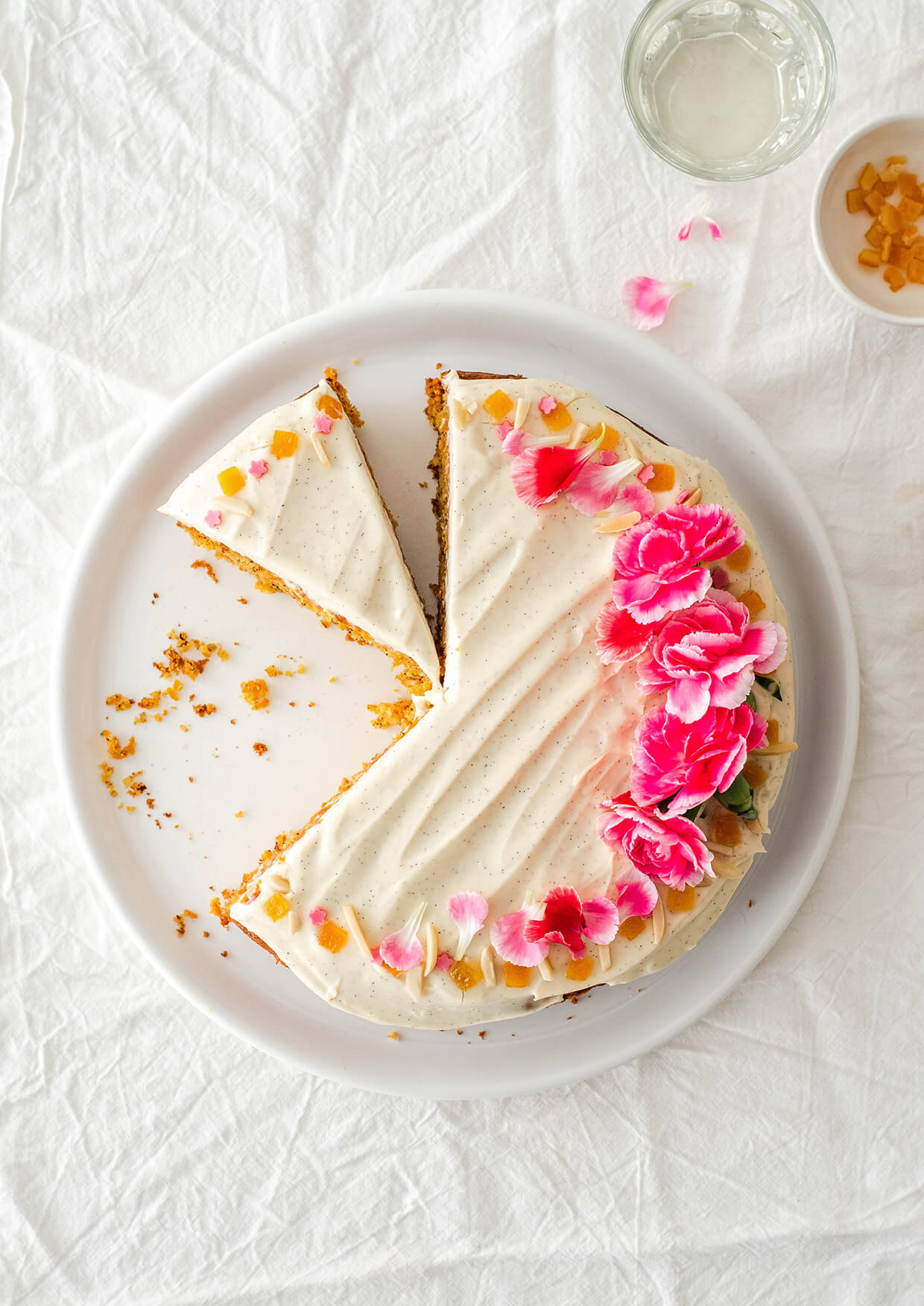 Orange almond carrot cake with creme fraiche frosting
Soft single-layer carrot cake with a creamy creme fraiche frosting that can be made ahead!
Ingredients
Cake
2

large

eggs

,

separated to yolks and whites

10 1/2

tablespoons

(

150

g

)

unsalted butter

,

softened

1/2

cup

(

100

g

)

white granulated sugar

1/4

cup

(

50

g

)

light brown sugar

1/2

cup

(

120

ml

)

fresh orange juice

1

tablespoon

orange zest

1/2

teaspoon

fine sea salt

1

teaspoon

vanilla extract

1

teaspoon

orange blossom water

,

optional

11

oz

(

320

g

)

carrots

,

ends trimmed, finely grated (about 2 cups grated)

1 3/4

cups

(

225

g

)

all-purpose flour

1

cup

(

110

g

)

almond meal

2

teaspoons

baking powder

1

teaspoon

baking soda
Frosting
1/2

heaping cup

(

150

g

)

creme fraiche

6

tablespoons

(

90

g

)

mascarpone cheese

1/4

cup

(

40

g

)

powdered sugar

,

plus more to taste

1

teaspoon

vanilla bean paste

1

teaspoon

orange blossom water
Instructions
Preheat oven to 350°F (175°C), grease a 9-inch (22-cm) cake pan and line bottom with baking paper (grease that too). 

Combine butter and sugars in a large bowl and beat on medium speed for 3-5 minutes until fluffy. Add egg yolks one at a time, then orange juice, zest, salt, vanilla and orange blossom water. Whisk until incorporated.

Next whisk in carrots, then flour, almond meal, baking powder and soda. The batter will be thick, but wet.

Place egg whites in a clean and dry bowl and beat them to stiff peaks. Fold them into the batter in two additions. Because the batter is thick, this will be a bit hard to do, but just slowly work them in. 

Scrape the batter into the prepared pan and pat it down so it's even all over. Bake cake in the center of the oven for 40-50 minutes or until a skewer inserted in the middle comes out clean (crumbs are okay, raw batter isn't). 

Remove cake from oven and let it cool for about 15 minutes. Run a thin knife around the sides of the pan, then remove cake from pan. Let it cool completely before adding the frosting. To store overnight, wrap the cake with plastic wrap (or an alternative) and keep it at room temperature. 

To make the frosting, put all ingredients in a medium bowl and whisk until combined and smooth. Taste and add more sugar if needed. Using a spoon or spatula, spread frosting all over the cake. Add decorations, if desired, and serve. You can also keep a frosted cake in the refrigerator for a few hours or even overnight. The cold temperature sets the mascarpone really nicely and makes the cake easier to slice. 
Notes
I purposely make this a single layer cake. If you double the recipe, you can make a single sheet cake (9×13) or a two-layer cake (2 x 9-inch pans) or a smaller three-layer cake (3 x 7-inch pans). Adjust the baking time accordingly.

 I used a springform pan, but any cake pan with high-enough sides is great. 

Orange blossom water or orange flower water is a citrusy floral water (think rose water but with an orange scent). It gives the cake a special, light and pleasant aroma. The use of this is completely optional, but it does produce a unique cake that people remember. Look for it in your local stores or on Amazon.

 
Email recipe
Pin Recipe