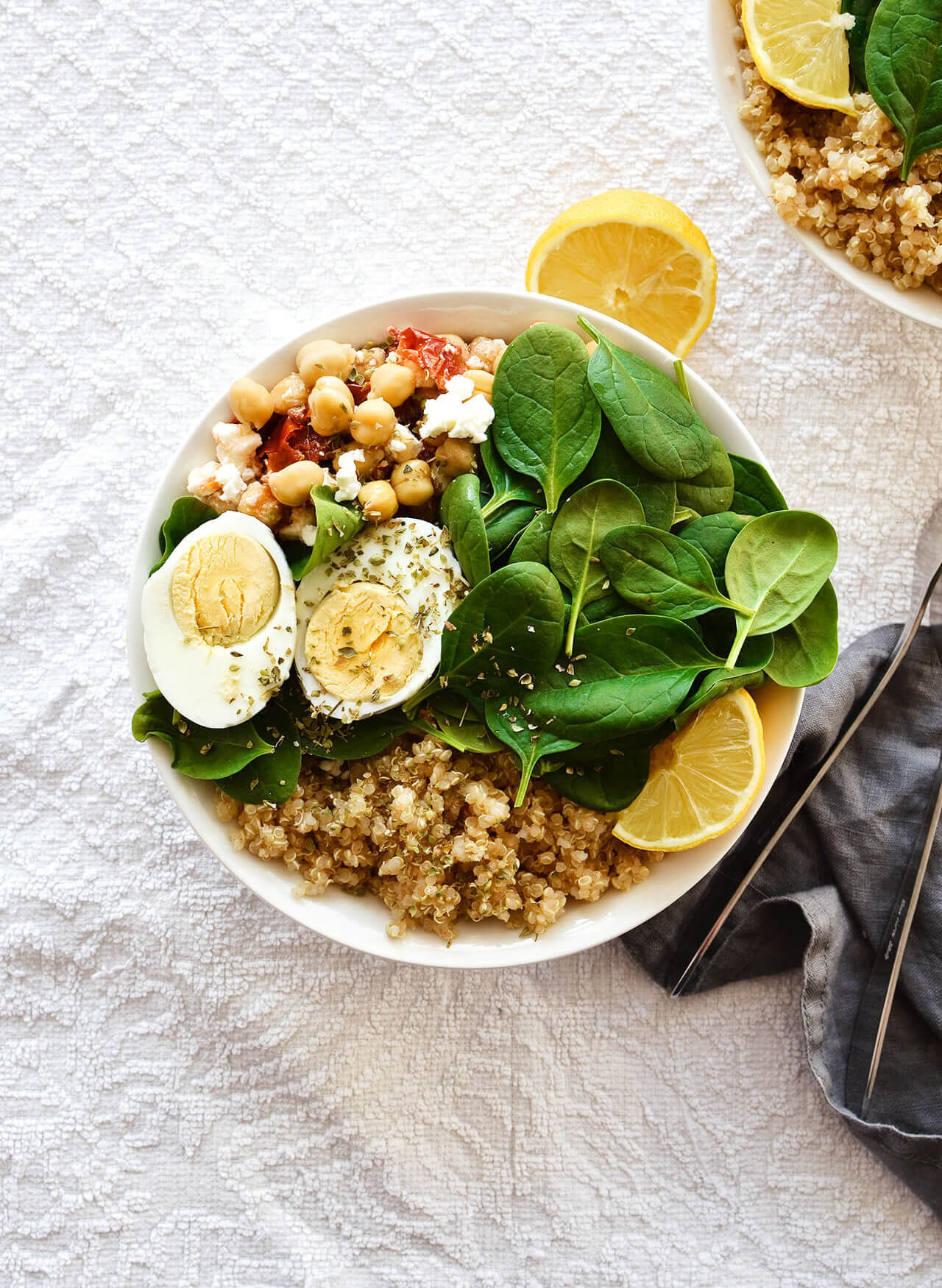 I got just the right post-holiday thing for you – Make ahead Mediterranean quinoa bowls! I'm kind of still in recovery mode after a 4-day weekend, so forgive me if I'm both over enthusiastic and less than at times. Not that this makes any sense.  You should know that Easter Monday is a public holiday in Slovenia, so yesterday felt very much like a typical Sunday around here. Quiet and peaceful.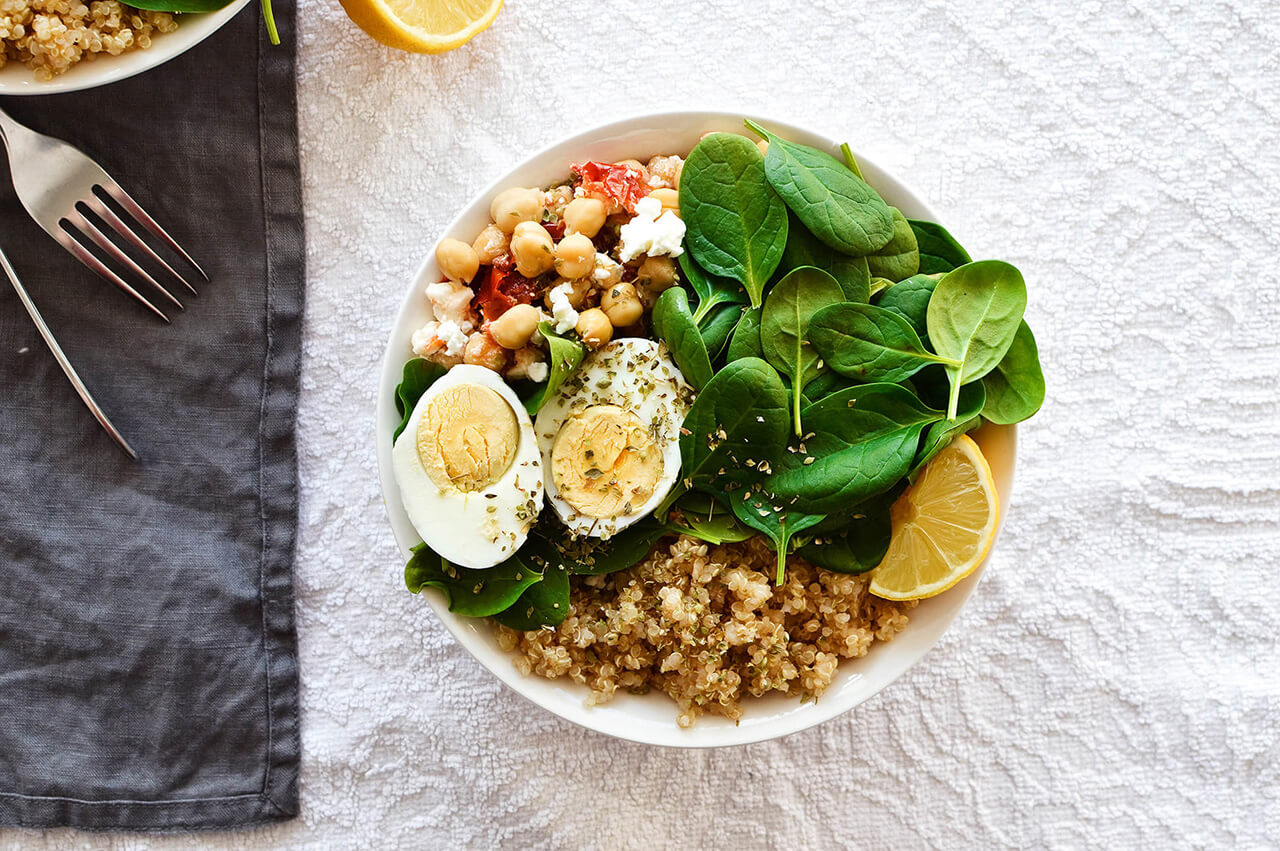 Our holidays were filled with both rain and copious amounts of sunshine, and more importantly with  too many sweets. We ate a lot of walnut potica, waaay too much lemon Colomba and ice cream. Yes, ice cream! Can't even remember the last time I had it. It had to be sometime in late Fall of 2017, basically a century ago.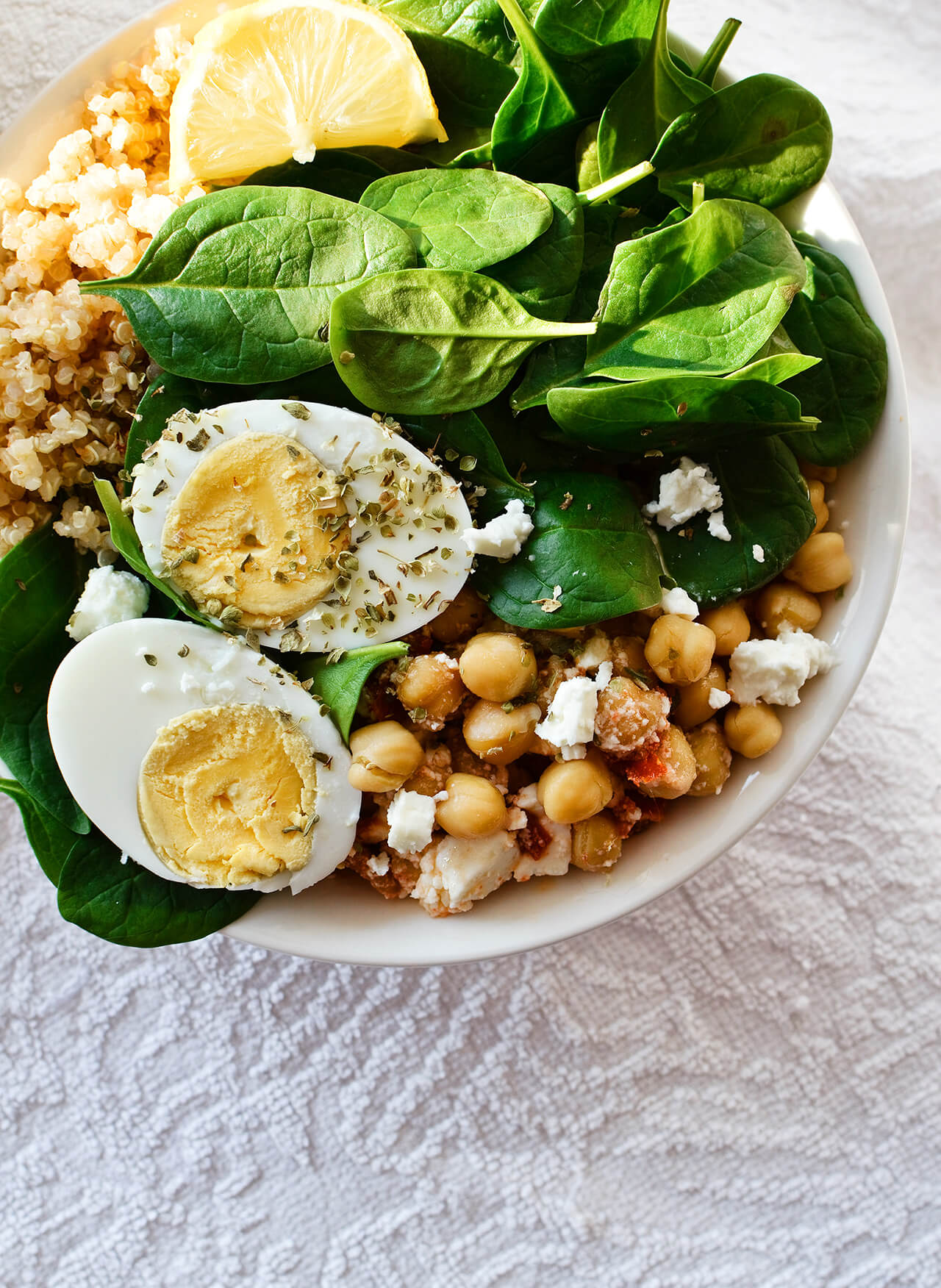 But all the sweets, while wonderful, are a bit much after a while. Which is where these Make ahead Mediterranean quinoa bowls come into play. This is one of my favorite ways to eat quinoa and greens. So easy to make and you can prep the bowls ahead, which is wonderful! No more sad desk lunches, because I got you covered with this one.
So what is it about these make ahead Mediterranean quinoa bowls that makes them so good? Well, they are packed with fluffy quinoa that I cook together with some tomato paste for extra flavor. Then I add a ton of fresh baby spinach, which I season only with lemon juice (hence the lemon wedge in the recipe).
And my favorite thing is a mix of chickpeas, sun-dried tomatoes and feta cheese. I prefer to buy sun-dried tomatoes preserved in oil, which makes a great dressing, because it has that tomato flavor which a regular oil of course does not. And the feta cheese is a thing of dreams. It's perfectly salty and creamy, just what a bowl like this one needs.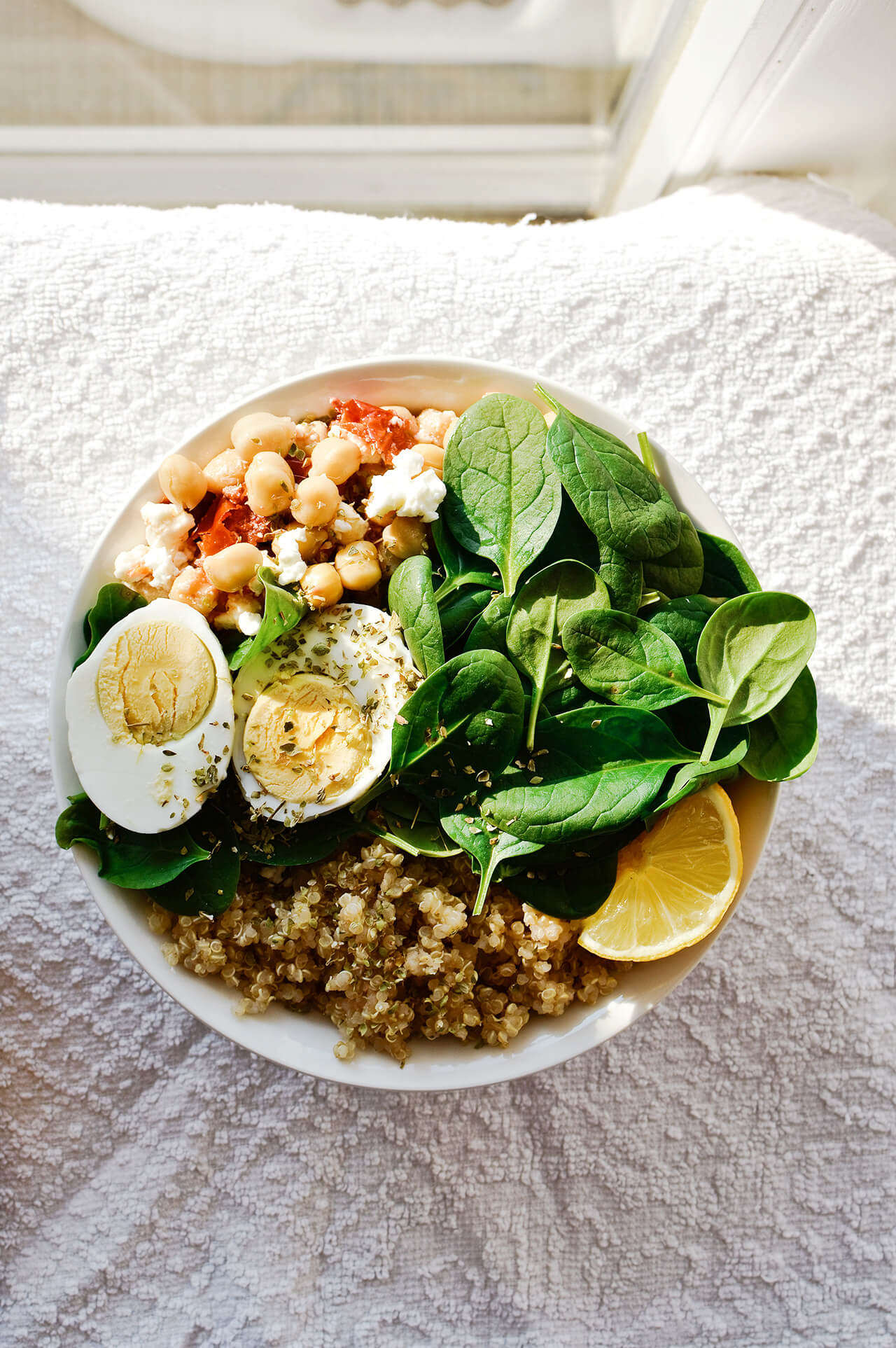 Of course I add eggs too. Which you can totally skip and I sometimes do too, but if you like them, a hard boiled egg really adds a nice flavor to the dish. It'll also keep you nice and full throughout the day.
The very last touch is a sprinkle of dried oregano. I just wish I could put it on anything and it's my number one choice when it comes to dried herbs. Yes, I will reach for oregano before I ever reach for basil. It's aromatic but not overpowering.
It's not hard to see why I love these make ahead Mediterranean quinoa bowls so much. They totally deserve some standing ovations. I mean really, for how simple this recipe is, it's so good. And you know I'm a big fan of simple + good. That's the best kind of food. (Rhyme unintentional, oops.)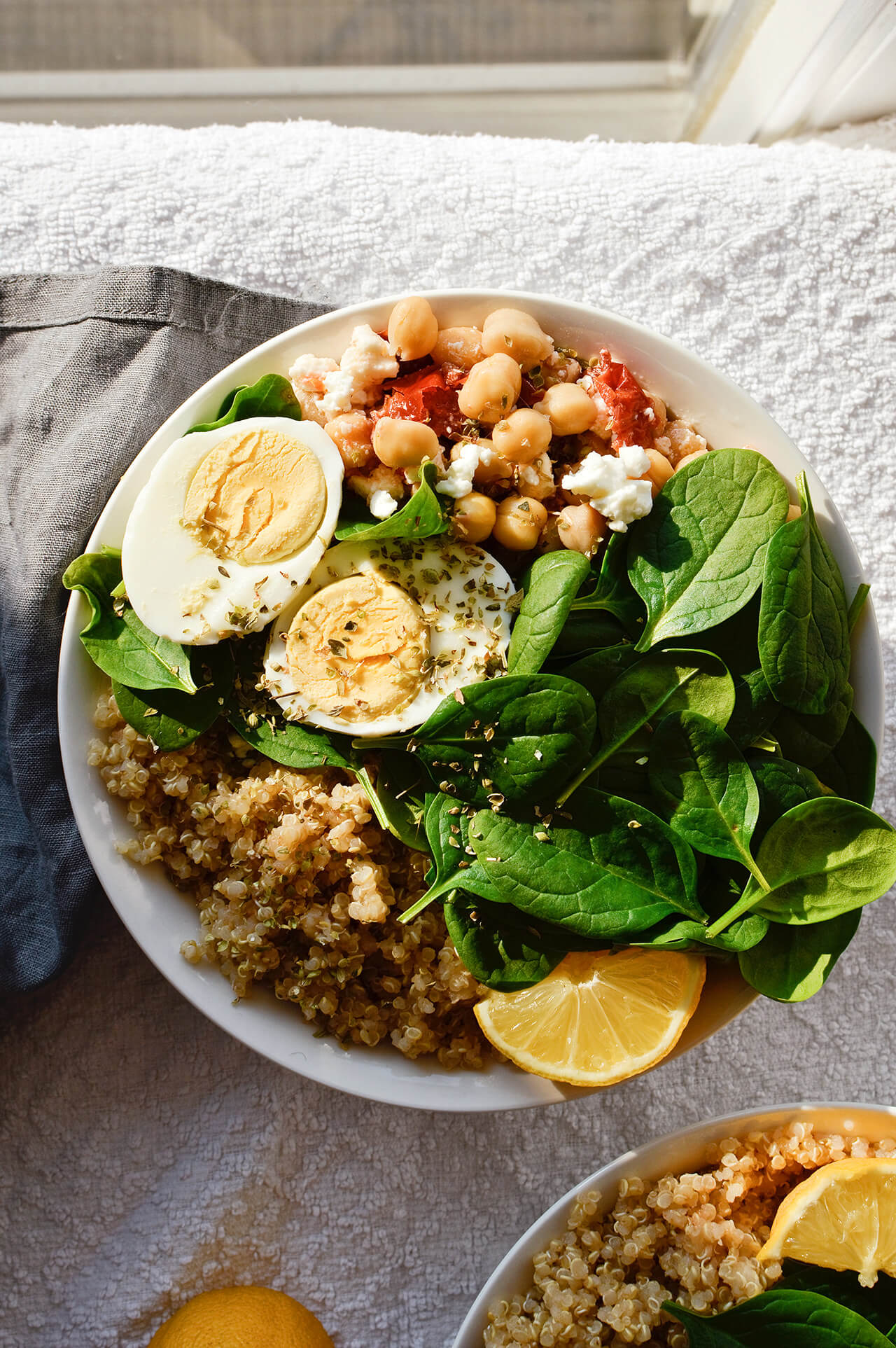 So, if your weekend was heavy and you never want to eat again (or just until the next holiday, haha)… try making these Make ahead Mediterranean quinoa bowls. They'll put you back on track, save you some hours and energy (because nothing is worse than being hungry and trying to think of where to go or what to make when you're busy working and you really just want something to appear in front of you).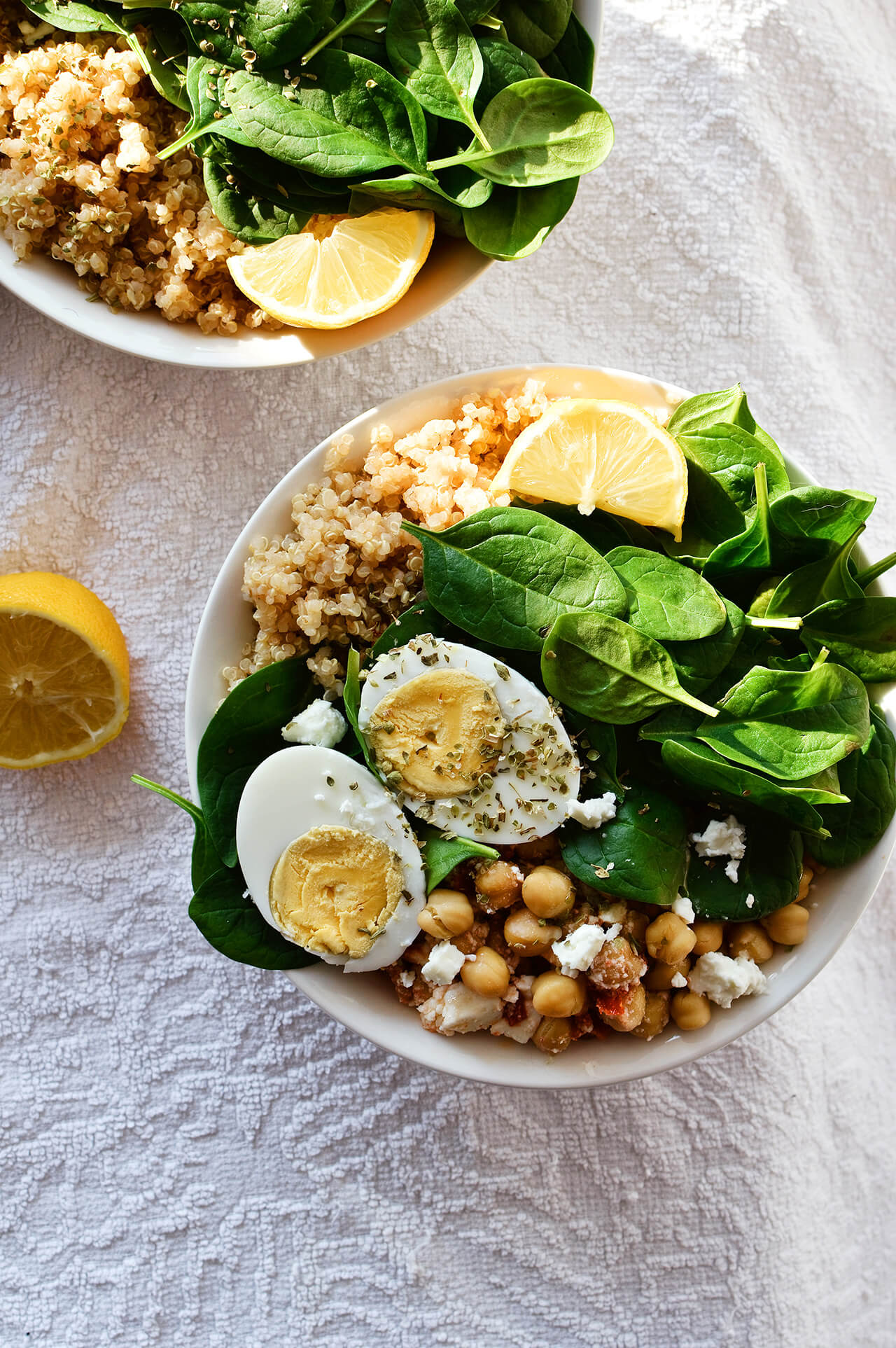 Print
Make ahead Mediterranean quinoa bowls
Easy, vegetarian make-ahead breakfast or lunch. Really filling and healthy.
Author:
Prep Time:

10 mins

Cook Time:

20 mins

Total Time:

30 mins

Yield:

2

bowls

1

x
Category:

Breakfast, Lunch
480

ml (2 cups) water

1 1/2 teaspoons

tomato paste

180g

(

1 cup

) quinoa

2

medium or large eggs

250g

(

1 1/2 cups

|

9 oz

) cooked chickpeas (store-bought or home-cooked)

100g

(

3.5 oz

) feta cheese, crumbled
a handful of sun-dried tomatoes (about 1/2 jar, I buy the ones in oil), chopped

100g

(

3.5 oz

) raw baby spinach, washed and dried

1

small lemon, cut in wedges

1

–

2

teaspoons dried oregano
Instructions
First cook the quinoa:
Combine water and tomato paste in a medium pot, stir until tomato paste is dissolved. Next, place quinoa in a sieve and rinse under hot water for 2 minutes. Drain and transfer to the pot with water. Cook on medium heat until it begins to simmer. Then lower heat just to maintain a simmer and cook until all the water has evaporated (this takes about 15 minutes). Remove pot from heat and cover with a lid. Let stand for 5 minutes, then uncover and fluff the quinoa with a fork. Let cool.
As the quinoa cooks, make the eggs:
Place eggs in a medium pot, cover eggs with water and cover pot with lid. Cook over high heat until eggs begin to boil. Remove from heat, keep covered and let stand for 10 minutes (or until cool). Peel the eggs.
Prepare chickpeas:
In a bowl, stir together chickpeas, feta cheese and tomatoes. Add a teaspoon or two of the oil from the tomatoes for extra flavor. Set aside.
Assemble the bowls:
Divide the quinoa between two bowls. Then add half of the chickpea mixture to each bowl and top with spinach. Add one egg and 1-2 lemon wedges to each bowl. Lastly, sprinkle with oregano. Keep airtight in the refrigerator for up to 2 days.
Notes
Tomato paste is usually a little salty and so is the feta cheese, so I don't add any more salt to these bowls. Definitely add more salt if you want.
Instead of a salad dressing, I use lemons to bring the spinach to life. A lemon wedge is easy to store and when I'm ready to eat, I just squeeze it all over the spinach and quinoa. One wedge usually does it for me, but this does depend on how sour a lemon is.  The oil in a classic salad dressing is replaced by the oil that sun-dried tomatoes come in.
I know this recipe is supposed to make 2 hearty servings, but you can easily turn it into 4 lighter bowls. Cook 2 more eggs and get more spinach, but keep the rest of the ingredients the same, just split them into 4 portions. That way you'll get four great breakfast or lunch bowls, that'll leave enough room for dessert.
Optional additions:
Chopped cucumbers for a Greek feel.
Sliced avocado or a spoonful of guacamole.
Almond, pumpkin seeds, sunflower seeds, … any type of seed / nut or a wonderful dukkah for extra crunch and flavor.
Chopped dried fruit for a sweet taste.
Fresh cherry tomatoes or peppers, for crunch and summer flavor.
SaveSave