Margaritas with a twist! These golden blood orange margaritas are sweet, smooth and insanely drinkable.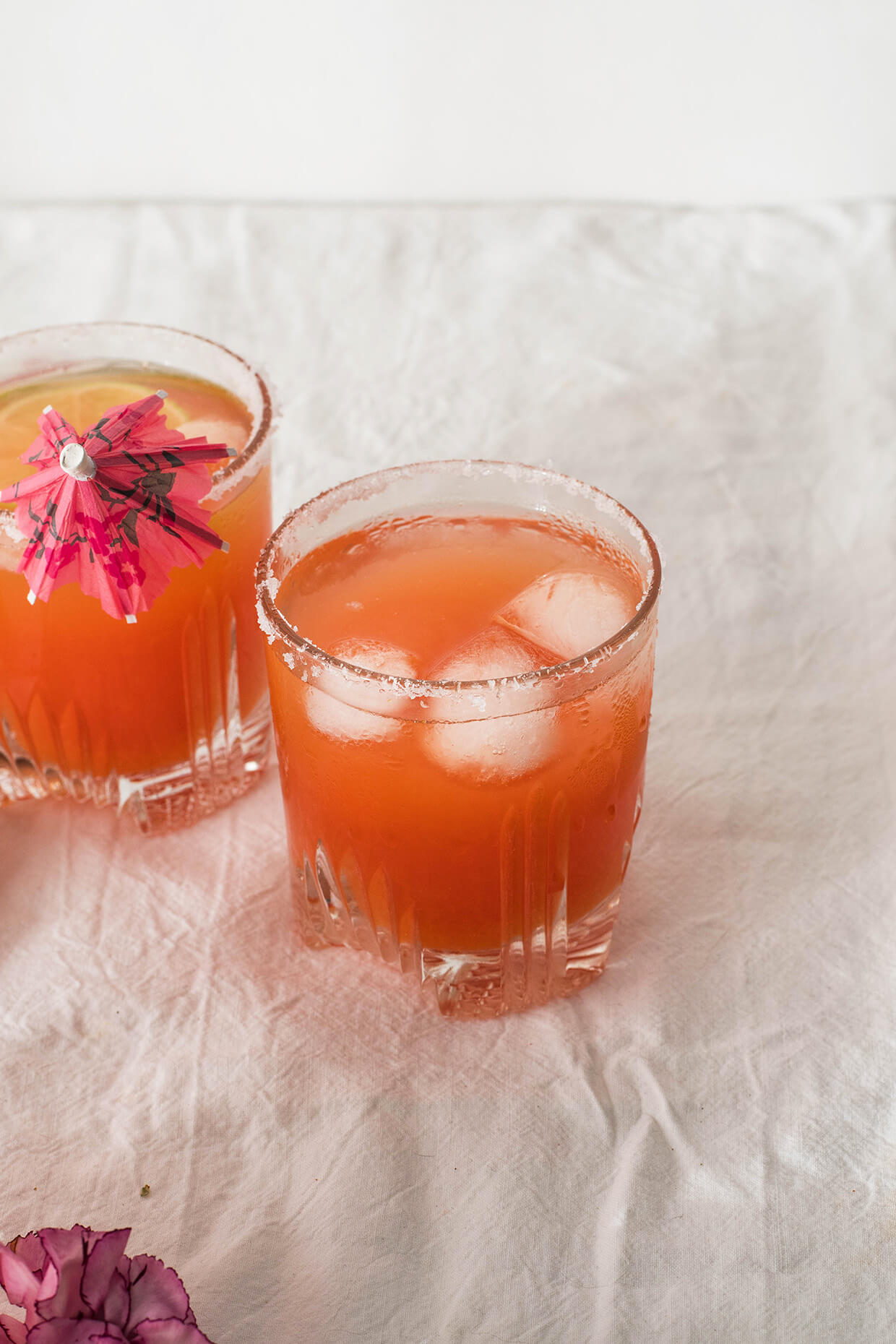 I'll come right out and say it, I'm not the biggest drinker, but I do enjoy an occasional glass of something good. With blood orange season in full bloom, or I should say the overall abundance of citrus right now, I thought I should mix up a drink honoring just that. Enter these golden blood orange margaritas.
Full disclosure, I used to only drink tequila shots. Somehow being young and doing shots seems like the only sensible way to drink anything. Lick the salt off your hand, throw down the tequila, bang the glass into the counter, bite into a lime. Writing it out like this, doing shots comes off as reckless, doesn't it? I think I'd still enjoy it though.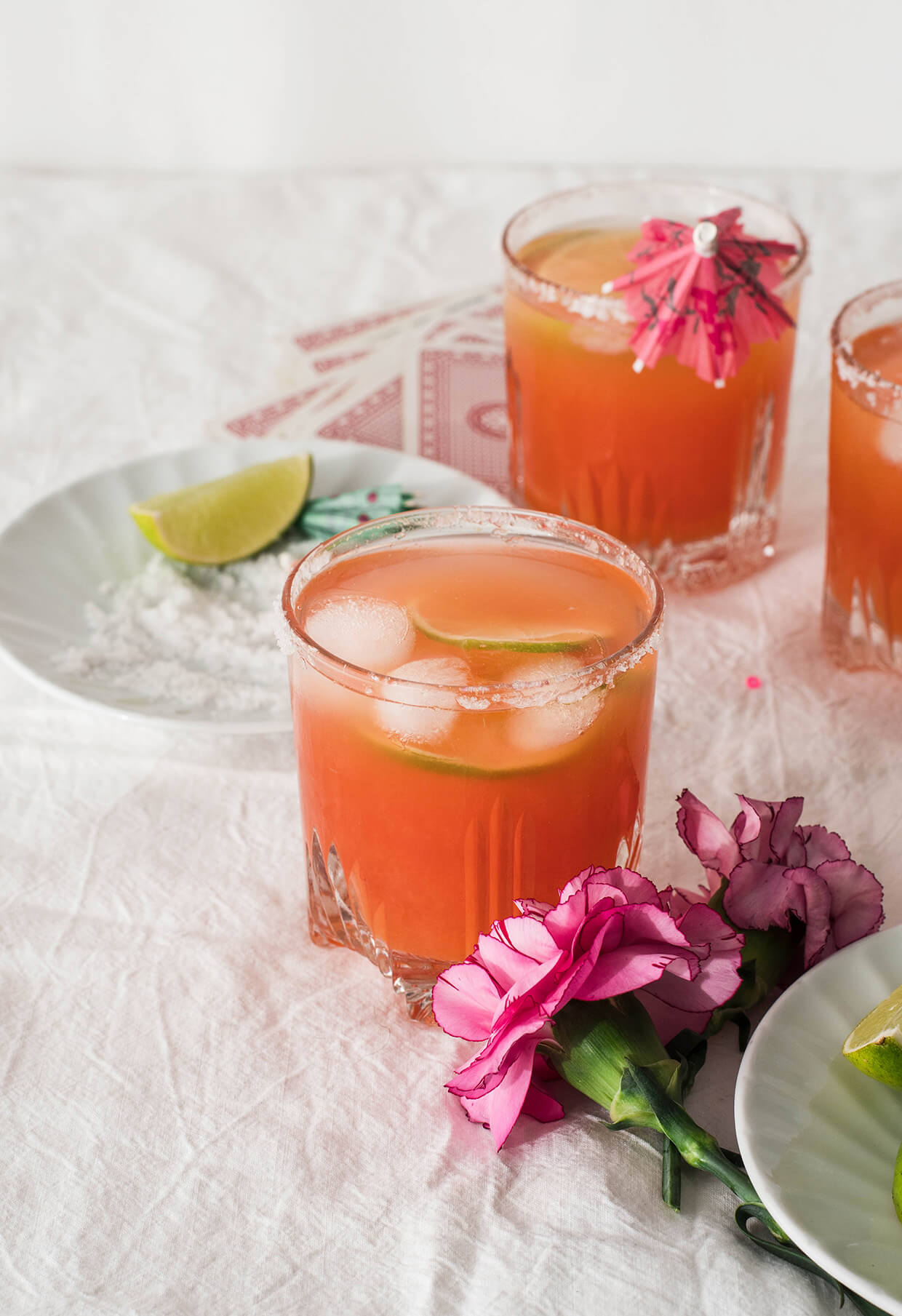 More on my Golden blood orange margaritas:
I was reading this article on The Kitchn about authentic (pure Mexican) margaritas and it actually inspired me. It makes a point of how people use too many ingredients and a classic margarita should be simple. Meaning you should only use good tequila, agave nectar and lime juice. Three ingredients, no fuss, all the natural flavor.
I really like that concept. The purity of a drink like that. As pure as, for example, pizza Margherita is with the few ingredients it uses (dough as base, tomato sauce, mozzarella cheese, basil). Why do we always complicate everything? You know, put 6 different things on pizzas and a million add-ins into drinks. I am gulity of doing this myself and I didn't want to do that today.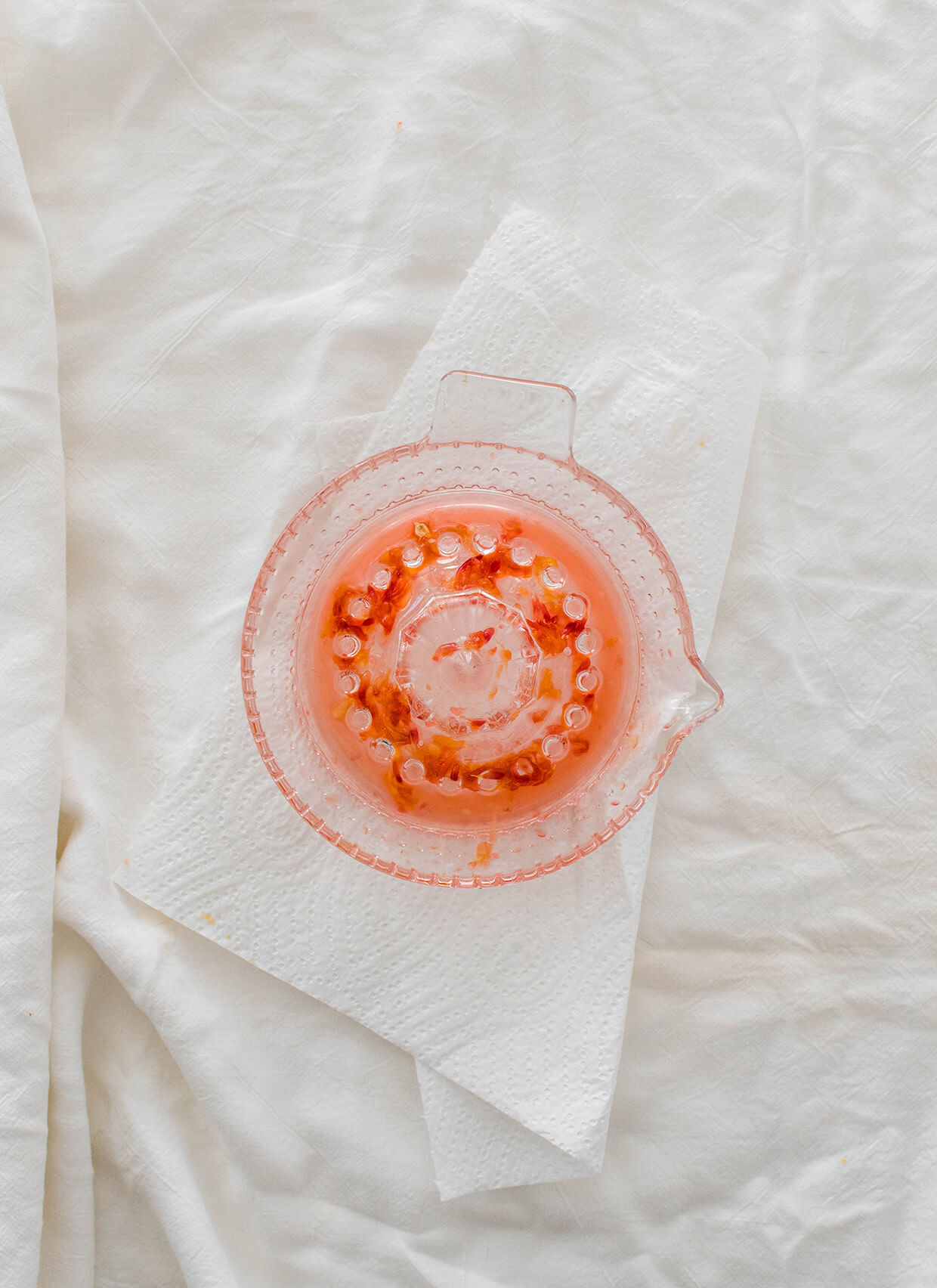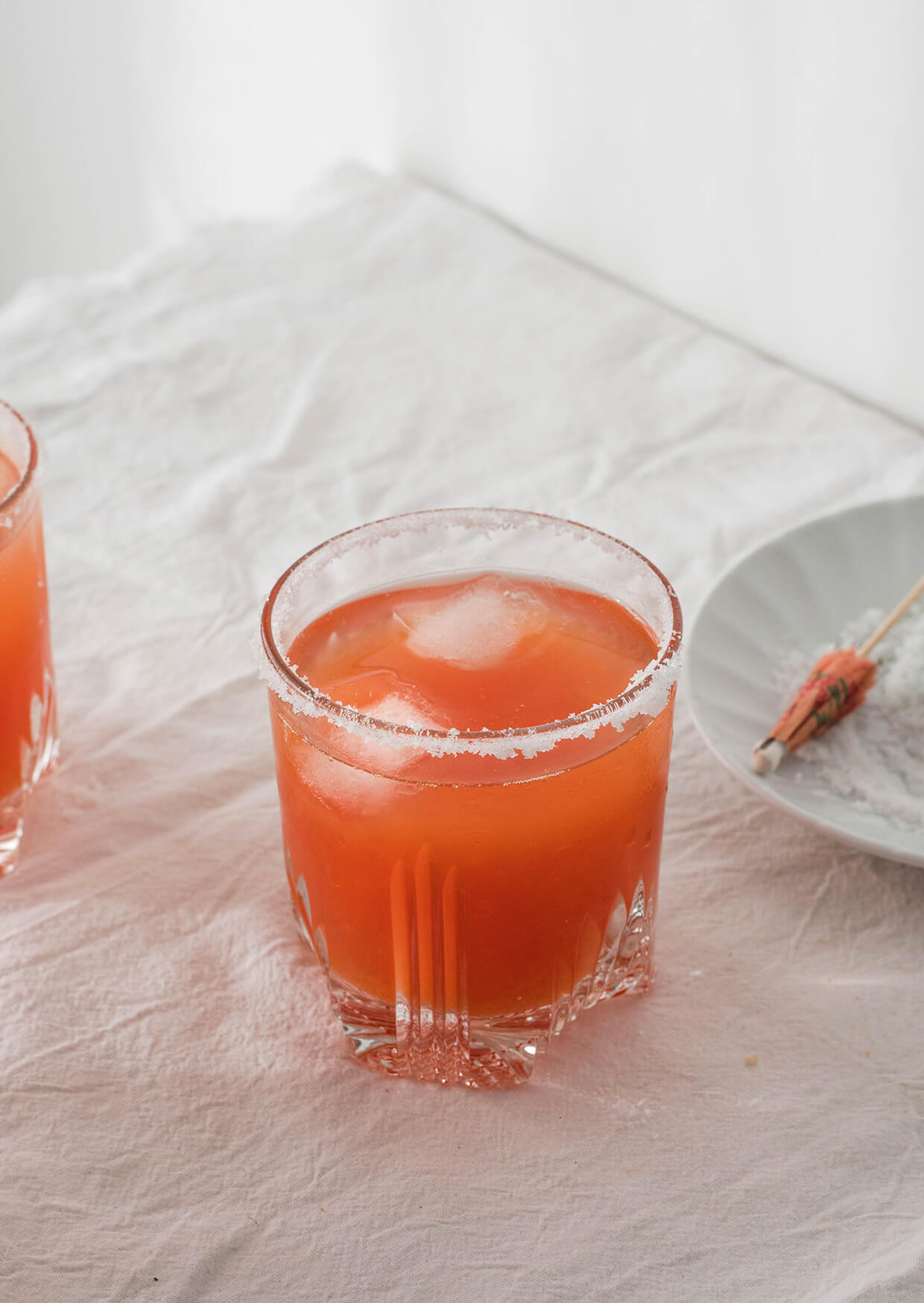 Therefore, this recipe for golden blood orange margaritas is very simple. Made with 4 ingredients only, not counting the salt. Instead of using purely lime juice, I do incorporate blood orange juice, because this is blood orange season. Next to the citrus juices, we're simply adding agave nectar and tequila. And speaking of tequila, I opted for the gorgeous golden Reposado tequila.
In case you don't know, reposado tequila is aged in oak barrels from 2 months to 1 year, as opposed to blanco tequila which isn't aged at all. Consequently, reposado has a deeper flavor, it's less punchy, for lack of a better word.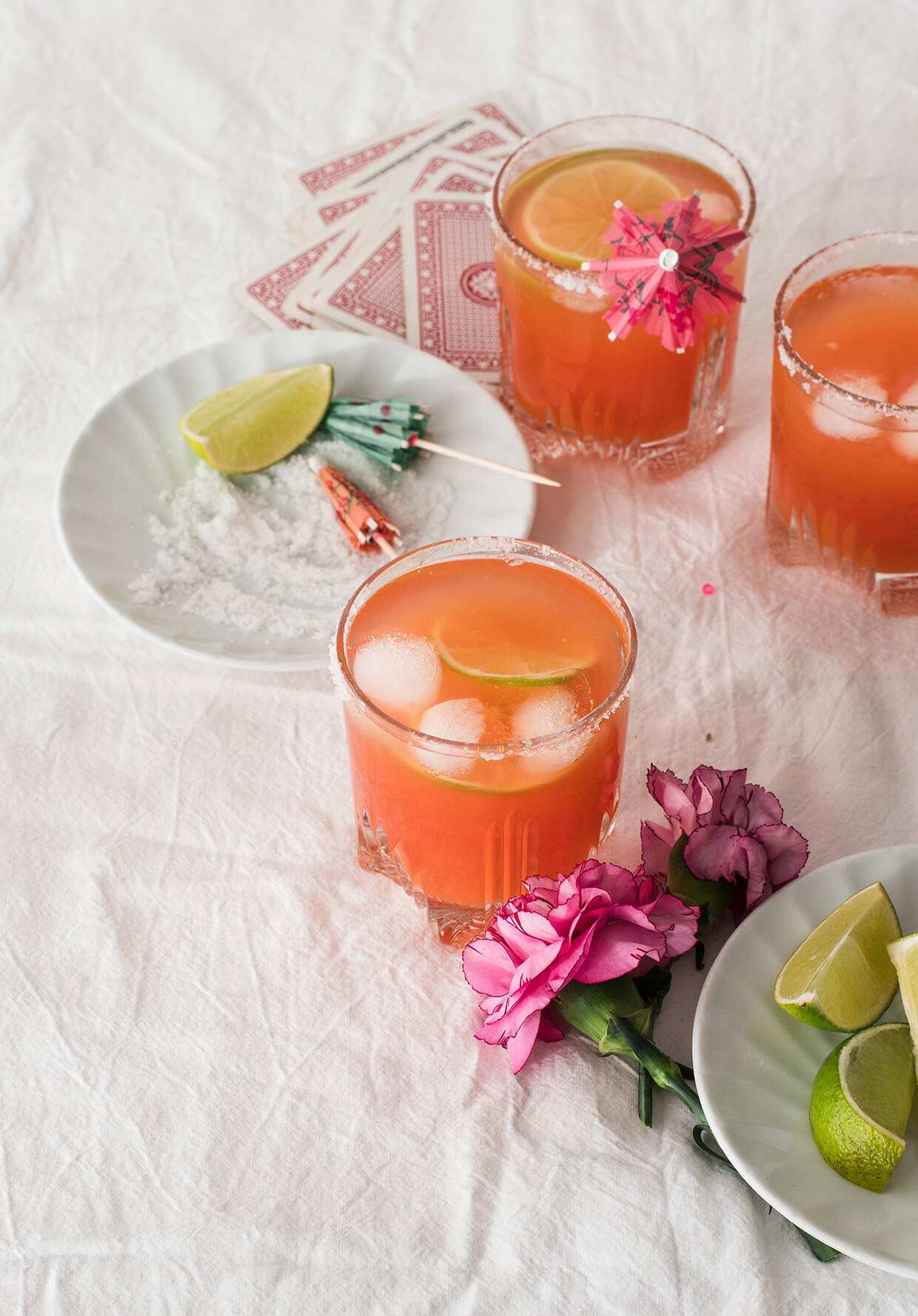 You could play around a bit and make these into spicy golden blood orange margaritas by adding some cinnamon (or cinnamon liqueur) to the mix. And you can always add an orange liqueur too, however as I said, I'm keeping these simple.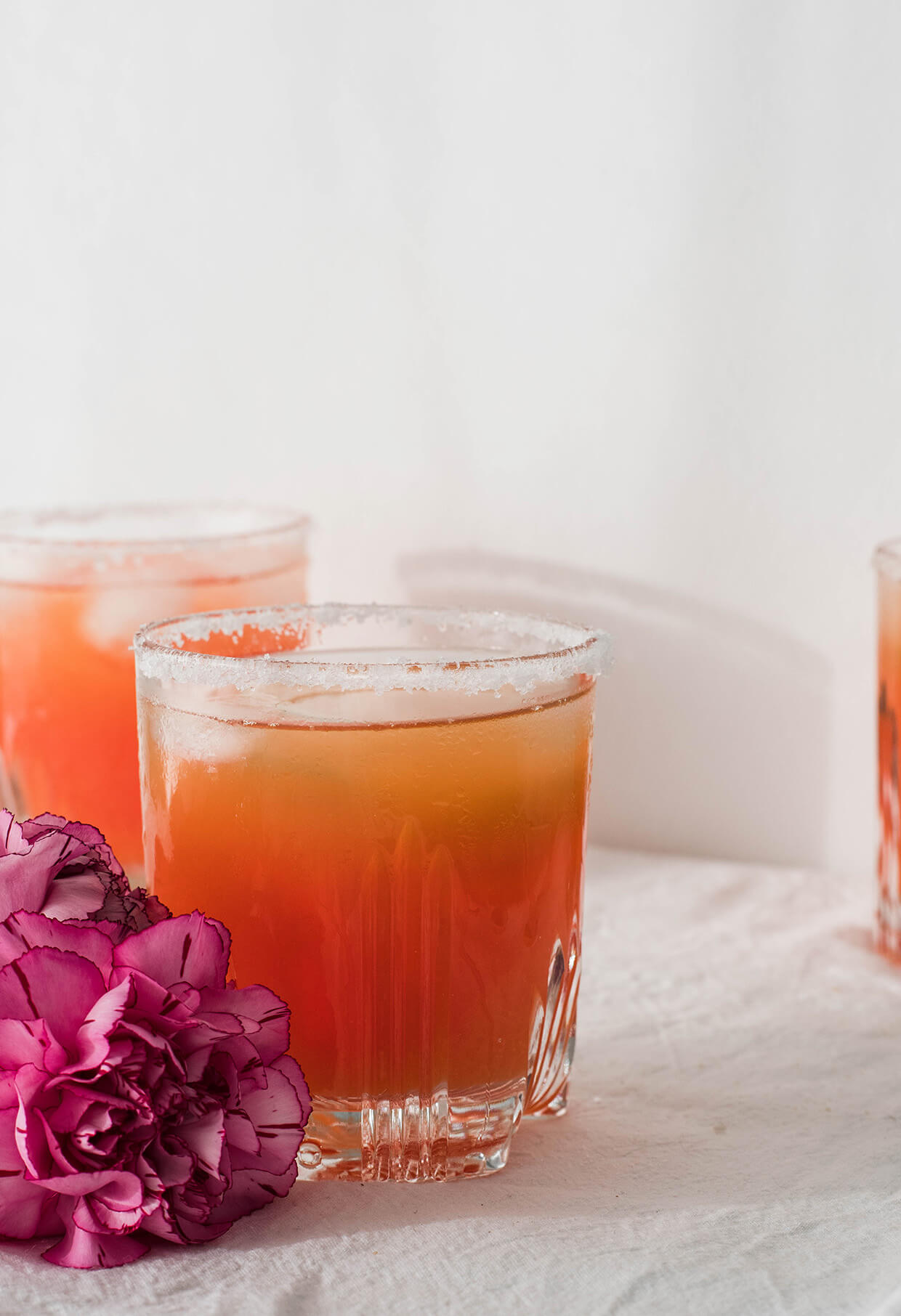 Golden blood orange margaritas
The easiest, yummiest margaritas you could make!
Ingredients
1/4

cup

(

60

ml

)

fresh lime juice

1

cup

(

240

ml

)

fresh blood orange juice

1/2

cup

(

120

ml

)

Reposado tequila

3

tablespoons

(

45

ml

)

agave nectar
Instructions
Sprinkle some sea salt on a small plate and set aside. Rub the rims of 4 glasses with a lime wedge (you can also use an orange). Press the rim of each glass in the salt, turning it around so the rim is coated. Set glasses aside. 

Stir together the lime juice, orange juice, tequila and agave nectar in a pitcher. Taste and add more juice or nectar, if desired.

Fill glasses full with ice then divide the margarita mix into the glasses and add a slice of lime. Serve!
Notes
Make these spicy by adding cinnamon (or cinnamon liqueur) to the mix!
For margarita slushies, you can add all ingredients and ice to a blender and make frozen margaritas.
Text recipe
Email recipe
Pin Recipe