Coconut chocolate popcorn is perfect for movie night!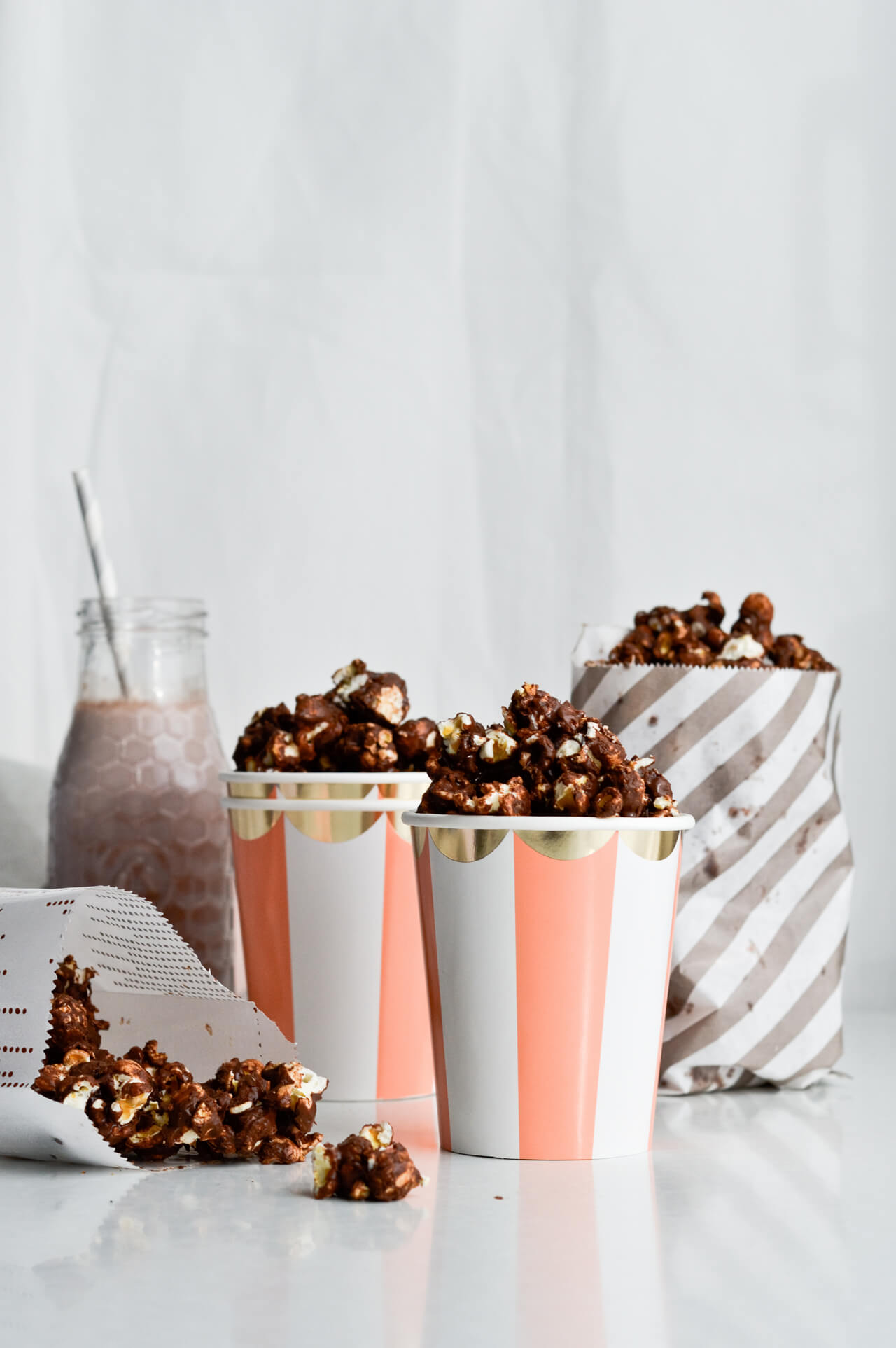 Is going to the movies a thing that enjoy doing?
I've been thinking about this lately as it's something I do like to do, but not a thing I do often. There are so many movies that I've rented on iTunes instead of going out. And sometimes I prefer to just wait for them to get on Netflix. The latest one we've rented is The Martian and you have to watch that ASAP! It's beautiful and smart and fun.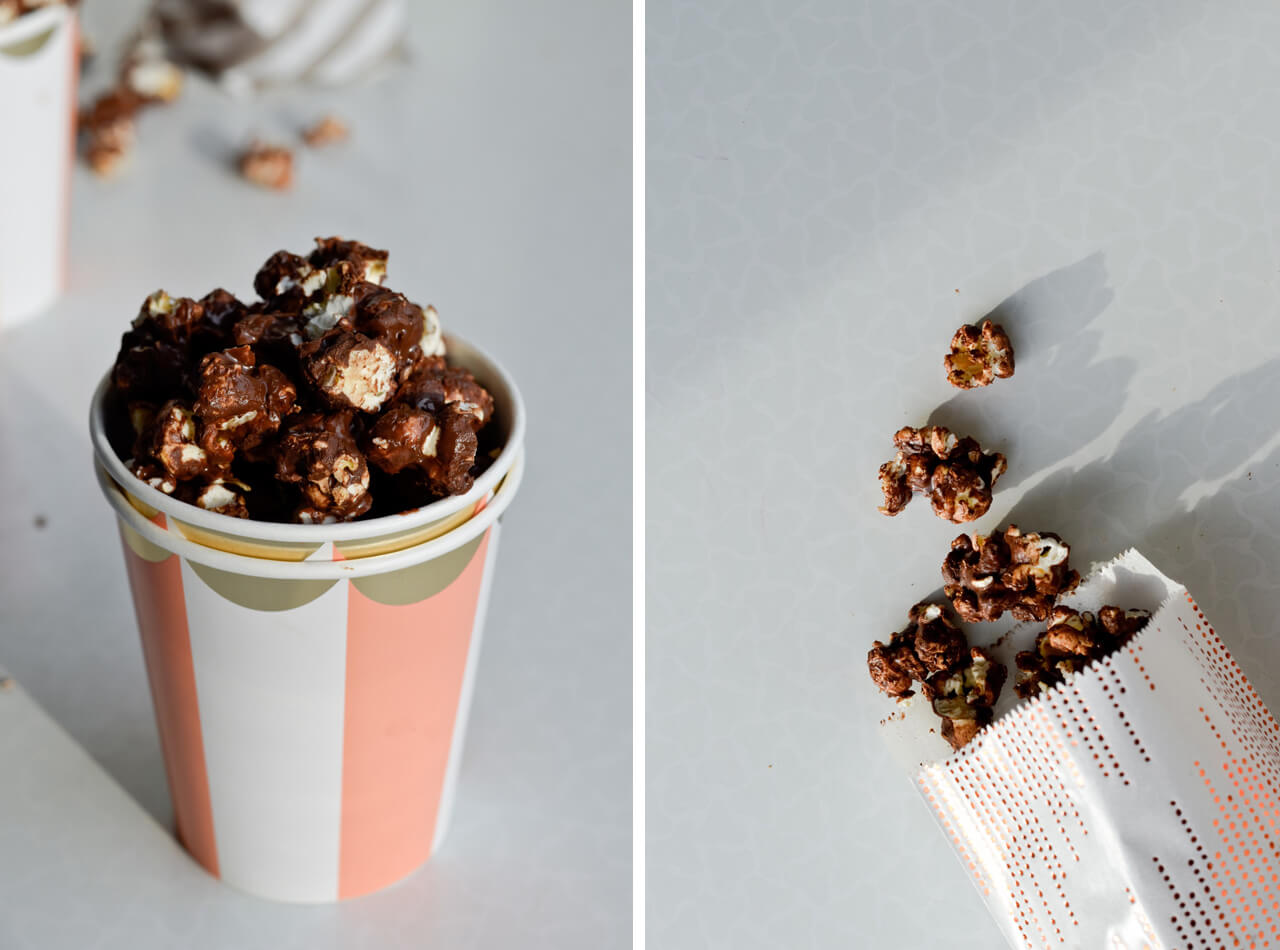 But sometimes we do go out to the movie theater. I prefer to go to the smaller ones and if we're lucky only a few people are there at the same time. That's just the most amazing feeling ever, to sit in an almost vacant movie theater. It gives me the comfortable feeling of being at home, but there are no distractions (I have cats, so…), the screen and the acoustics are on another level and there's popcorn!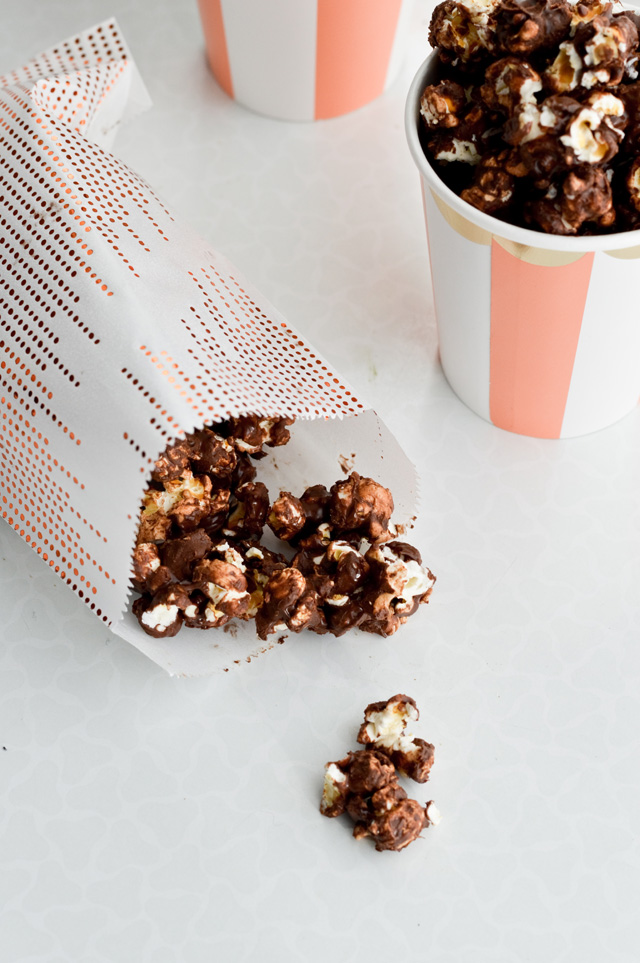 I still can't get over the fact that we weren't allowed to eat at the movies when I was a kid. Which meant that when we went on a school trip to see a movie most of the kids would hide snacks under their coats. Going to the movies was a winter activity at the school and puffy coats were popular, so it was easy. The minute the doors closed, the lights were turned off and the ads before the movie started rolling all you could hear were bags of crisps snapping and then almost a collective crunch as everyone began eating.
But I never enjoyed savory snacks, I hated the size of the bags and the noise, even the crumbs. Popcorn is an exception though, but we couldn't get any back then. But what I always had with me was a pack of gum and some Mentos. Preferably fruit or grape flavored. These are still my favorite thing in the world and to this day I associate them with movie-watching.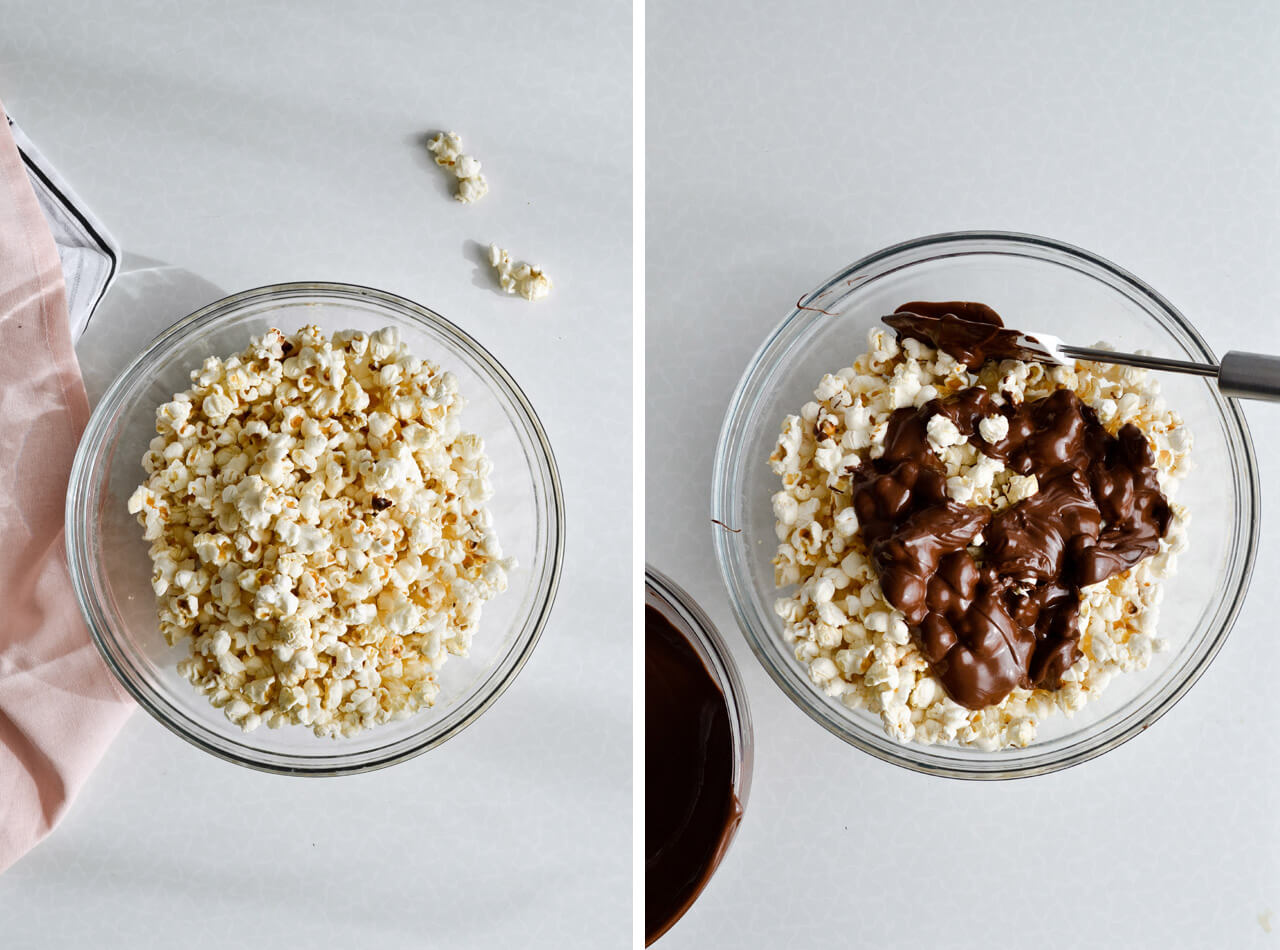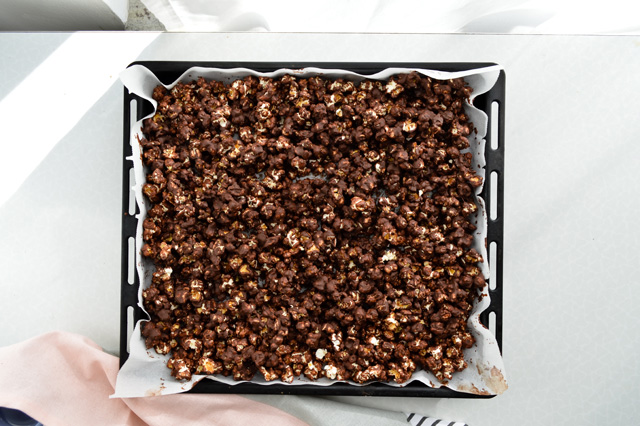 The last three movies we went out to watch were Jobs, Jurassic World and Star Wars Episode VII. Although I have a funny feeling that I'm forgetting one and I also don't remember if we ate anything during the first two, but I do know I had chocolate popcorn when we watched Star Wars.
My memory is really playing tricks on me and not remembering every detail makes me feel very old, but I can tell you two things: chocolate popcorn is amazing. And Star Wars VII is awesome!
I really need to see it again and I'm excited to see what happens in the next movie. And while I enjoyed seeing some familiar faces, I also loved seeing new ones. Especially Adam Driver a.k.a. Kylo Ren. He's the villain I hate to hate. I keep thinking about it, about him as a character, about what he did but I just can't hate him.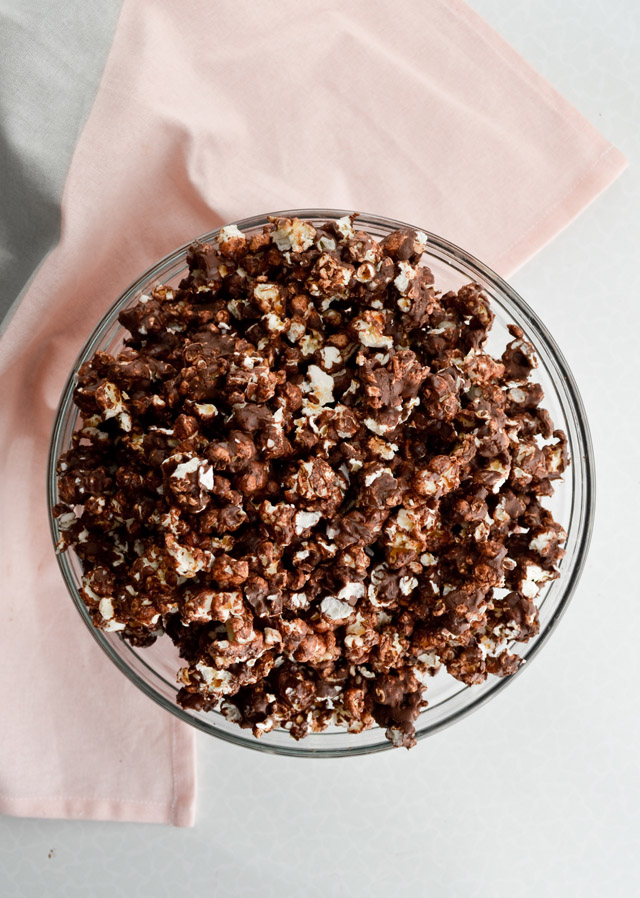 But I could talk about movies all day long and this isn't the first time that I'm doing this (the movie babbling) instead of talking about this: Coconut chocolate popcorn. It is the point of this post after all.
Coconut chocolate popcorn is a brilliant snack, very uncomplicated and made fairly quickly. If you're fast, making it will take about 20 minutes only. This popcorn has a delicate aroma of coconut and if made with a lot of chocolate it can almost look like popcorn chocolate bark. I love to drench my popcorn in dark chocolate, so it's not overly sweet. And then I love to eat it a little too much.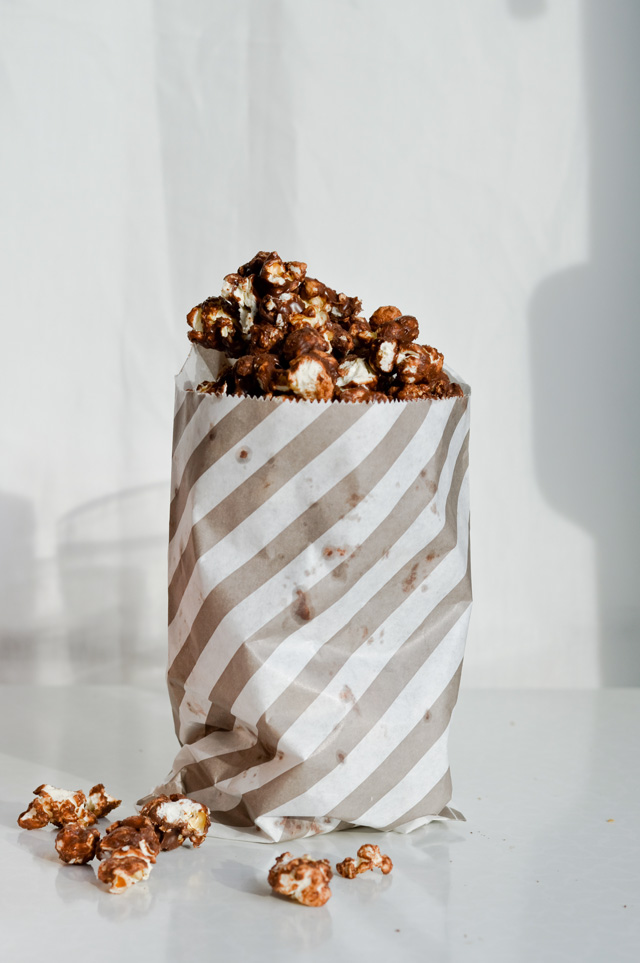 While I'm perfectly happy  with only a cup of coffee as I watch a movie, chocolate popcorn makes it a lot better. And just think about it. If the movie sucks at least you get to munch on a tasty snack. At least those two hours weren't completely wasted.
But be careful. Coconut chocolate popcorn is addictive and chances are you'll regret you didn't make a double batch.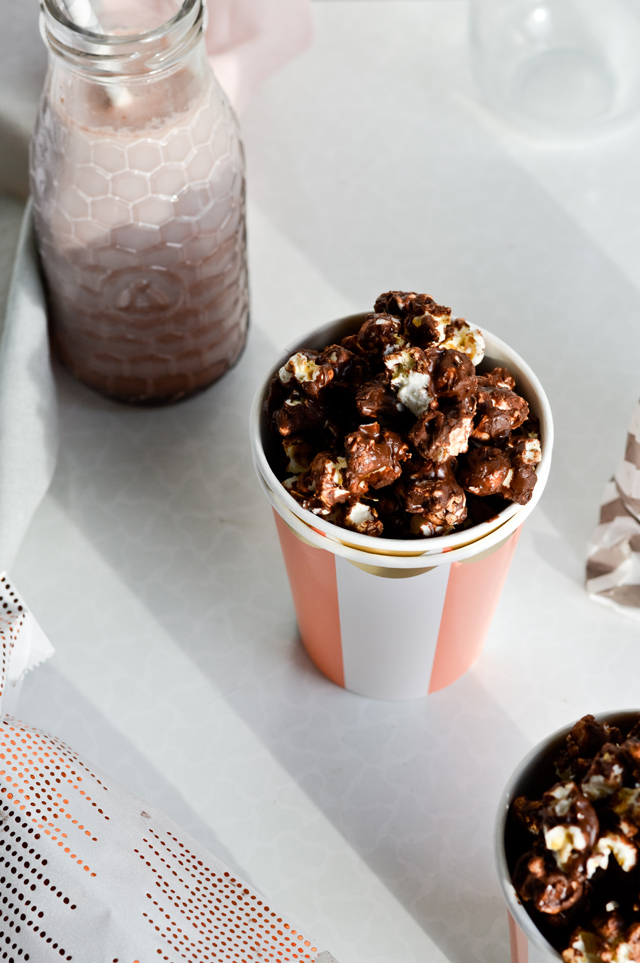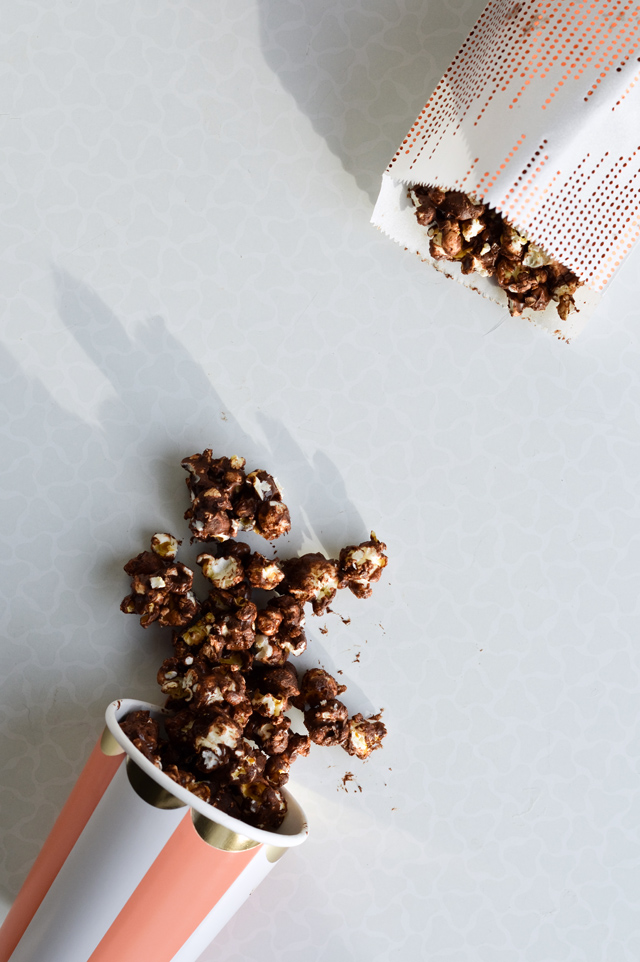 Print
Coconut chocolate popcorn
This coconut chocolate popcorn is a snack that makes any movie great. Simple and quick to make!
Recipe makes one big bowl of popcorn. Cut the recipe in half to make a smaller batch.
150g

(

2/3 cup

) popcorn kernels

2 tablespoons

+

1 teaspoon

coconut oil

400g

(

14 oz

) bittersweet (50%) chocolate, broken into pieces
Instructions
Line a baking pan, the kind that fits into your fridge, with parchment paper and set aside.
Place 4 kernels and 2 tablespoons coconut oil in a large pot, cover it with a lid. (I use an enamel pot with a glass lid.) Heat over medium-high heat. Once the kernels pop, quickly lift the lid and toss in the rest of the kernels. Shake the pot to evenly distribute the kernels, wait for them to pop.
Once they begin popping, shake the pot occasionally, until the popping slows down to about 3 seconds between each pop. Immediately remove the pot from heat, remove the lid and transfer popcorn into two large bowls. Remove any kernels that have not popped.
In a heatproof bowl, placed over a pot of simmering water, melt the chocolate together with the coconut oil. If the water is boiling too hard, remove the pot from heat for a minute, then put it back on. Stir occasionally with a spatula.
When melted pour the chocolate over the popcorn, 1/2 of it into each bowl. Stir with a spatula until all popcorn is coated. Transfer popcorn onto prepared baking pan and distribute in a single layer, if possible. Place in the fridge for 15 minutes.
Once chocolate has hardened, remove the pan from the fridge and transfer popcorn to a large bowl. Break any popcorn clusters created by the chocolate.
Serve. Keep leftover popcorn covered with plastic wrap and in the fridge for up to three days.
Notes
Chocolate adjustments: You can easily make this with milk or white chocolate instead. And with less chocolate too: Instead of coating the popcorn completely, you can place the popcorn on the baking pan first and then drizzle chocolate all over with a spoon. This results in less chocolate, while still giving you some flavor.
Make salty: Before placing the baking pan in the fridge, sprinkle popcorn with some sea salt for a salted chocolate effect.
Extras: Once you pour the chocolate all over the popcorn, you can sprinkle it with desiccated coconut for even more coconut flavor!
Or, once the chocolate has hardened, you can also sprinkle the popcorn with powdered sugar.