This caramel croissant pudding with rum is the easiest and most impressive dessert you'll ever make. Think bread pudding, but better! Made with buttery croissants that are soaked with a caramel custard that bakes into the most perfect pudding with a crispy top. A touch of orange and rum makes it extra festive and perfect for cold winter days.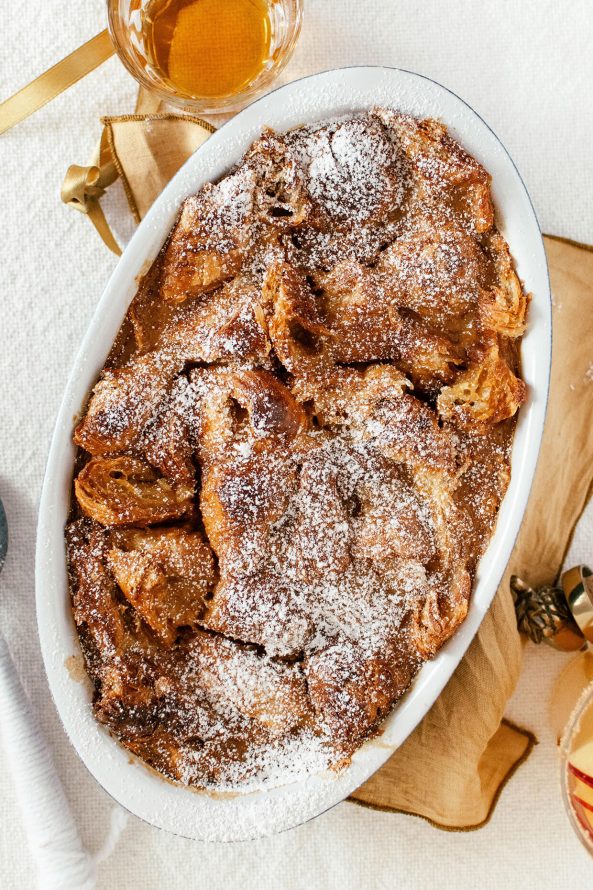 Where do I even begin with this caramel croissant pudding? I swear once the temperatures drop under a certain level and I have to wear a coat AND a hat when I go out, all I want to eat is gooey, warm bread pudding. And this croissant pudding is even better and so much more flavorful. I mean, a flaky buttery croissant is a thing of dreams but have you ever drenched it with milky caramel and rum and orange zest? No? Well you're about to.
Now let's rewind back to the start. This recipe that I'm sharing today is only slightly adapted from the one and only, domestic goddess, Nigella. Her cooking shows were one of the few that I regularly watched growing up and I still hunt for them on Youtube. Nigella has always had this relaxed approach to cooking and I love that. She makes it look effortless and everything she creates looks insanely delicious.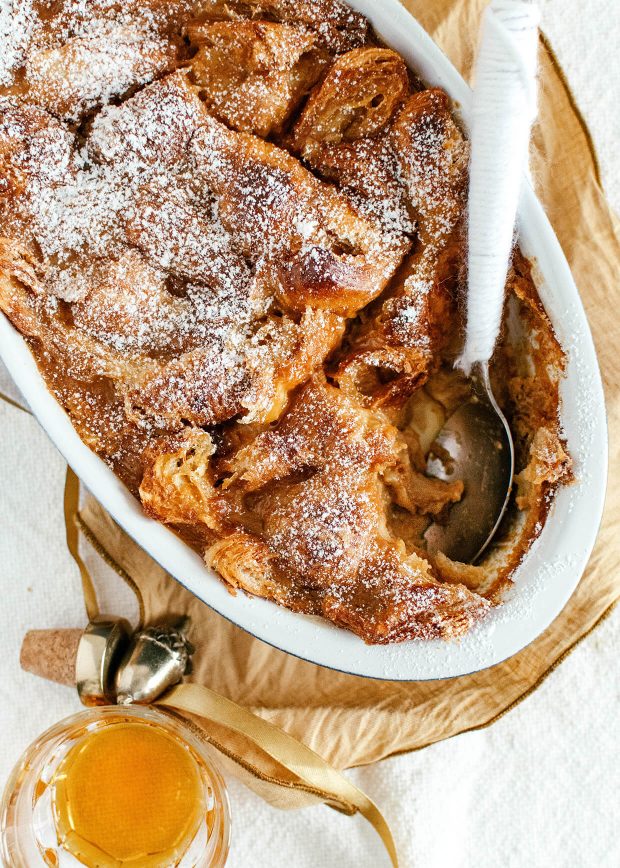 I specifically remember the croissant pudding episode. Nigella comes home from a dinner party and whips up this pudding in no time, like she just thought of it. She puts it in the oven and changes into her pajamas while it bakes. Once baked she takes a few spoonfuls, brings the bowl to her bedroom and eats the pudding in bed. In bed! Talk about indulgence and comfort. A whole MOOD!
Seeing that I just knew I had to make this one day. And so I did. And one-too-many-times since. How could I not? My grocery store offers really good and pretty cheap fresh croissants daily and it's hard to resist them. So when I'm grocery shopping I tend to pick up a few extra and save them for this recipe.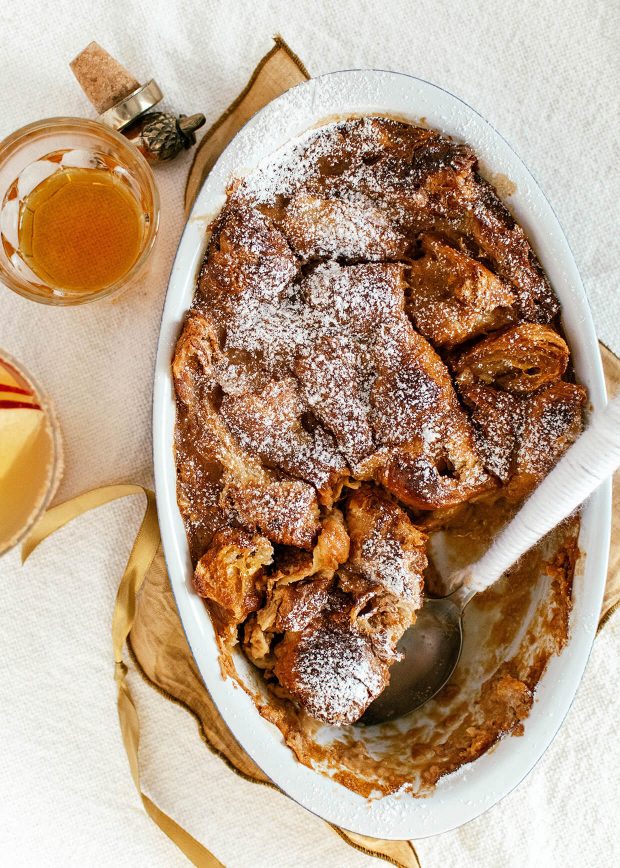 So… let's talk about this caramel croissant pudding with rum:
Clearly, you need croissants. Fresh crispy croissants taste the best. If you've ever had a day old croissant you know it tastes kind of the same but different. It's still buttery and delicious, but sitting for a day, it loses its crispness, it's more chewy and just more bread-y, for lack of a better word.
Personally I don't mind eating a softer croissant, but why not use it in a different way? See, day old, stale croissants are perfect for this recipe. You can most certainly use fresh ones though and they'll give you supreme flavor. However in this case you might have to cut the milk in half if you don't like a gooey bread pudding.
But stale croissants need some reviving and are perfect for the rich custard that you make with this recipe. As for the "type" of croissant? Definitely plain. You'll be tearing the croissants into bite-sized pieces and adding a rich caramel custard, so you don't need other fillings. But if you're feeling adventurous, you could try using chocolate filled croissants. I bet that would be delicious too.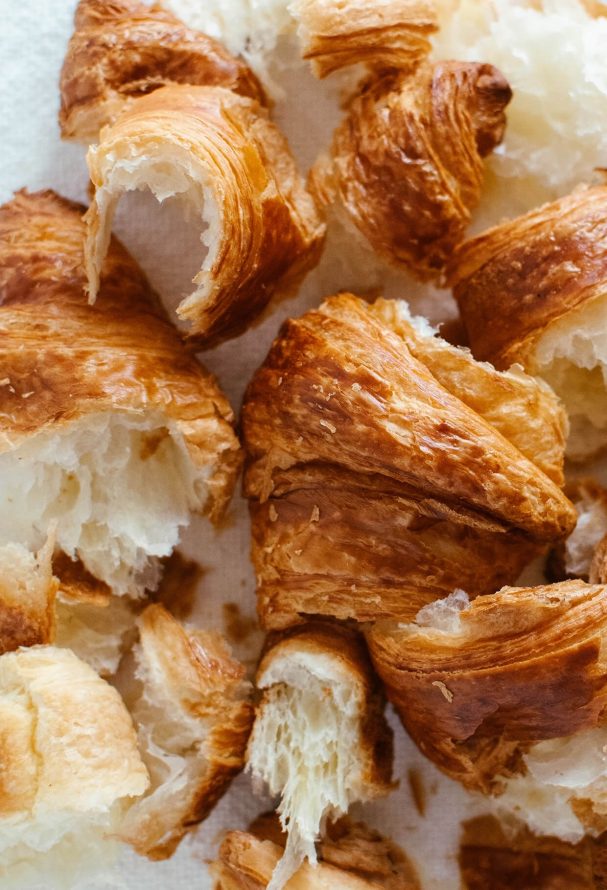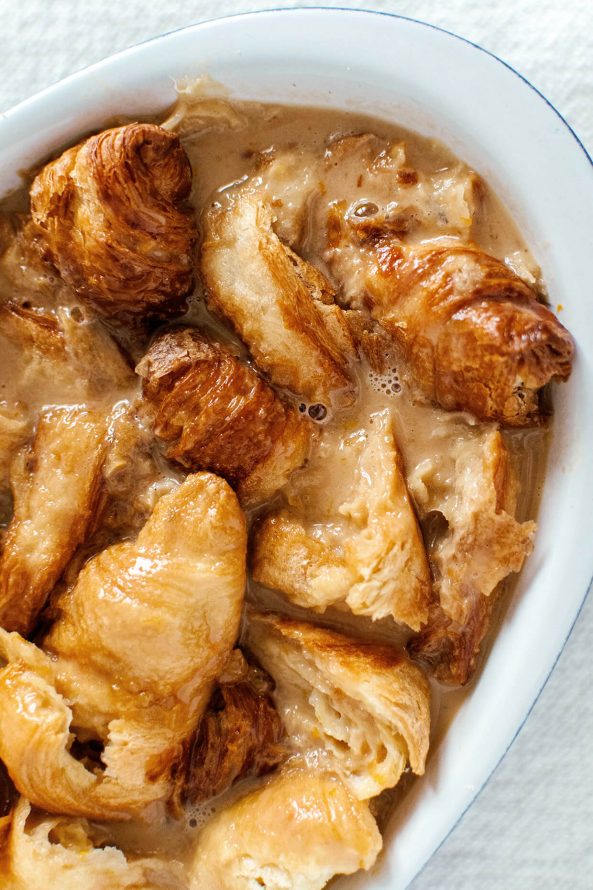 About caramel custard
Unlike a traditional bread pudding, that just uses a mixture of eggs, dairy and sugar, this recipe calls for a caramel base. I know that may sound complicated at first, but it's really not. Just take it slow.
First, you mix sugar and water and once dissolved, you cook this mixture over medium heat until it reaches an amber color. This takes about 10 minutes, but time can vary depending on the saucepan you're using and your stove. In any case, it's better to cook the sugar for longer and NOT rush. If you add too much heat too fast you can very easily burn the sugar and that's not what we want.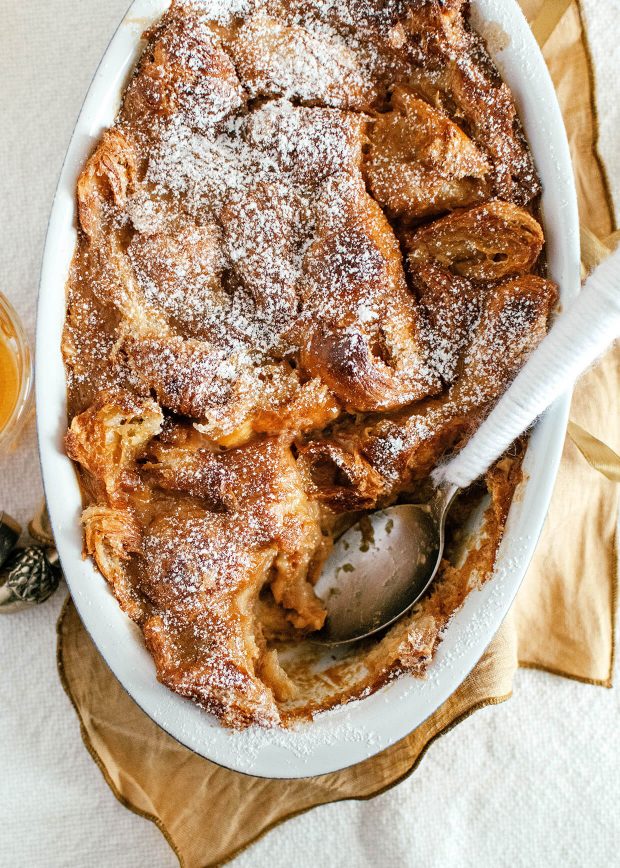 I actually find the whole process quite mesmerising; sugared water bubbling from a crystal clear to a deep amber color. It's beautiful.
Once it gets to that gorgeous color, you add the cream. The mixture will splatter and look as if it's attacking you, but you attack right back with a whisk. This is my least favorite part, because if you don't pour the cream slowly enough the caramel cools too much and turns into toffee.
But that doesn't mean the sauce is lost. If that happens, just keep whisking away until the sugar melts again. An alternative to this would be warming the cream before you use it, so you can avoid cooling the sugar too much. But I can be lazy and just skip this step, usually I don't have issues with the caramel.
Once you got that covered, you just add the rest of the ingredients. Then pour the mixture over the croissants and you're basically done! I like to let my croissants sit in the mixture for about 20 minutes and then bake them. You could even wait for a few hours, given that you keep the dish in the refrigerator. I haven't tried waiting overnight just yet, so I can report back when I do that.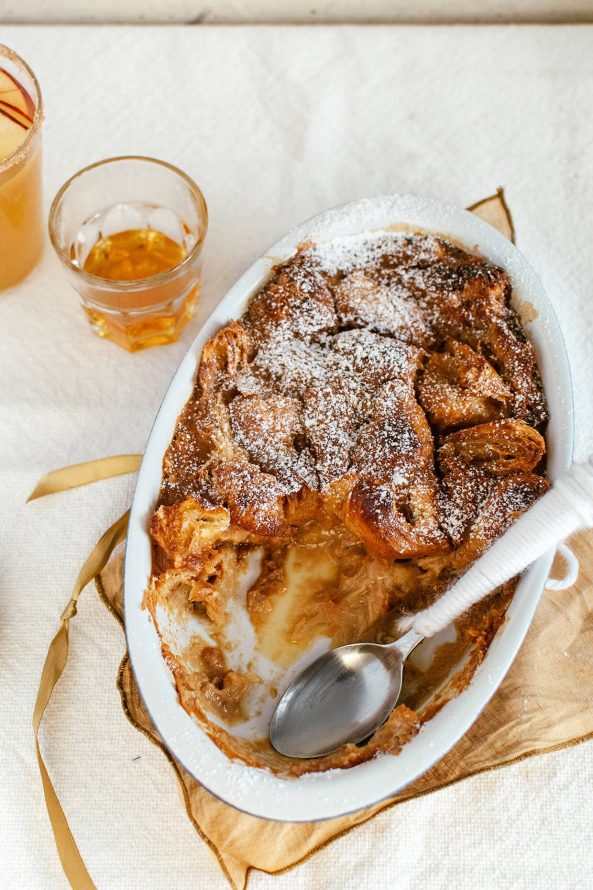 Two ingredients I need to point out: rum and orange zest.
A splash of dark rum adds a wonderful aroma to this dish, so I love to use it. If you don't cook with rum, feel free to skip it. However if you can find it, do add either rum flavoring (or "extract") or rum sugar to the mix. Both are really common and popular baking ingredients in Slovenia (and probably other parts of Central Europe), but I don't know what's available in your corner of the world.
The other thing is orange zest. You can use more if you're skipping the rum and it makes this croissant pudding extra special and very holiday-like. A touch of cinnamon would fit right in too. If you're looking for crunch, you can also add some pecans or walnuts.
Hungry yet? This can reach the TMI territory really fast, but I can't help it, my mouth is watering as I write about this wonderful pudding. I'm pretty sure I could eat the whole thing by myself, with a little determination and some very stretchy pants.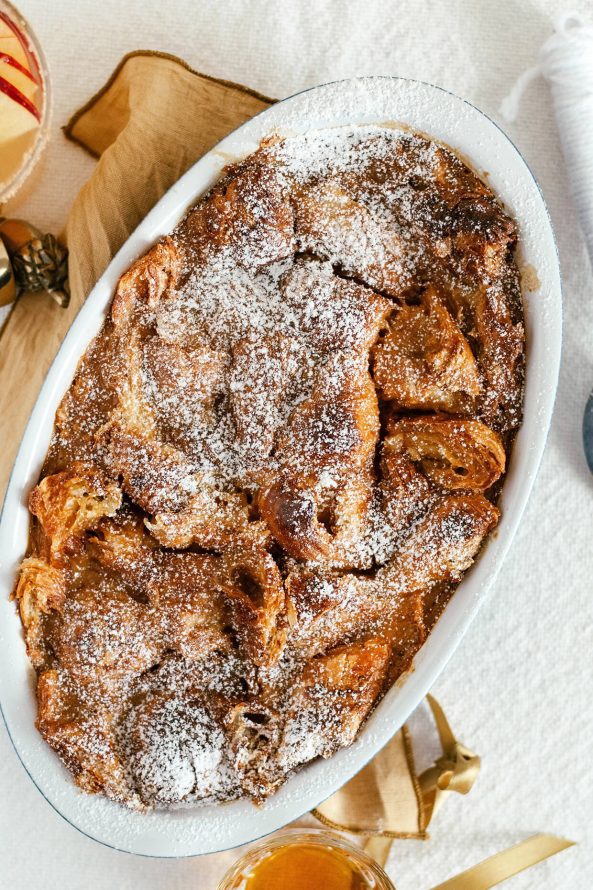 Clearly, I love this recipe. And I know I talk a lot about cakes (like this cider cake), but a good bread pudding can be a star too. And this Caramel croissant pudding with rum definitely is. The smell alone will make you hungry and if you're making this for guests, I know they'll be impressed.
A warm gooey pudding with a crisp top and caramel, rummy custard… yep, sounds dreamy. And if you want to make it super special, add a scoop of ice cream to each serving. Something magical happens when you combine warm sweet carbs with cold ice cream.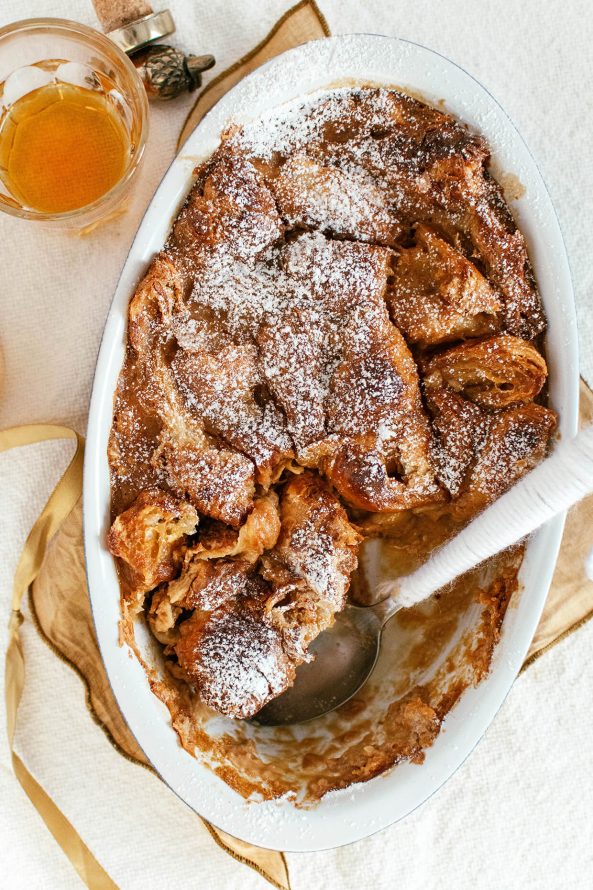 Caramel croissant pudding with rum
The easiest and most impressive dessert you'll ever make. Think bread pudding, but better! Buttery croissants and rich caramel custard with a splash of rum and orange zest, yum!
Ingredients
4

croissants

1

cup

(

200

g

)

granulated sugar

1/4

cup

(

60

ml

)

water

1

cup

(

240

ml

)

whipping cream

1

cup

(

240

ml

)

milk

(preferably full fat)

2

tablespoons

(

30

ml

)

dark rum

4

large eggs

(beaten)

1/2

teaspoon

orange zest

(more to taste)
Instructions
Preheat the oven to 350°F (175°C), with a rack in the center. Tear the croissants into bite-sized pieces and place them in a 1-quart (about 1-liter) baking dish. Set aside. 

Combine sugar and water in a heavy bottomed saucepan, stir to dissolve the sugar, then put the saucepan on the stove. Cook on medium heat, without disturbing the pot, for about 10 minutes or until the sugar caramelizes. —> The mixture will bubble up as it cooks, going from a crystal clear color to a deep amber color.

Once it's caramel in color, turn down heat to low and very slowly pour in the cream while whisking constantly. The mixture will splatter, so be careful and keep whisking. Once smooth, add the milk and rum. If you see any solid toffee keep whisking the mixture over low heat until the sugar melts.

Once completely smooth, remove mixture from the stove and whisk in eggs and zest. Pour custard over the croissants. Let sit for 10-20 minutes (the drier the croissants, the longer you should wait). 

Bake for 20 minutes, until the custard is set. Let pudding cool for 10-15 minutes before serving. Serve as is or with a scoop of vanilla ice cream.
Notes
As mentioned above, if any solid toffee forms after you add the cream and milk (because they are colder and can cool down the sugar), keep whisking the custard over low heat and the toffee will dissolve easily. Sugar melts with heat. 
Add a sprinkle of ground cinnamon to the custard to make the pudding extra aromatic. Sprinkle chopped pecans or walnuts on top to make it crunchy. If you don't like rum, use bourbon. And if you don't want to cook with alcohol, use rum flavoring ("extract"). 
If you're using really fresh croissants and don't want a gooey pudding, only use half of the milk. 
Email recipe
Pin Recipe