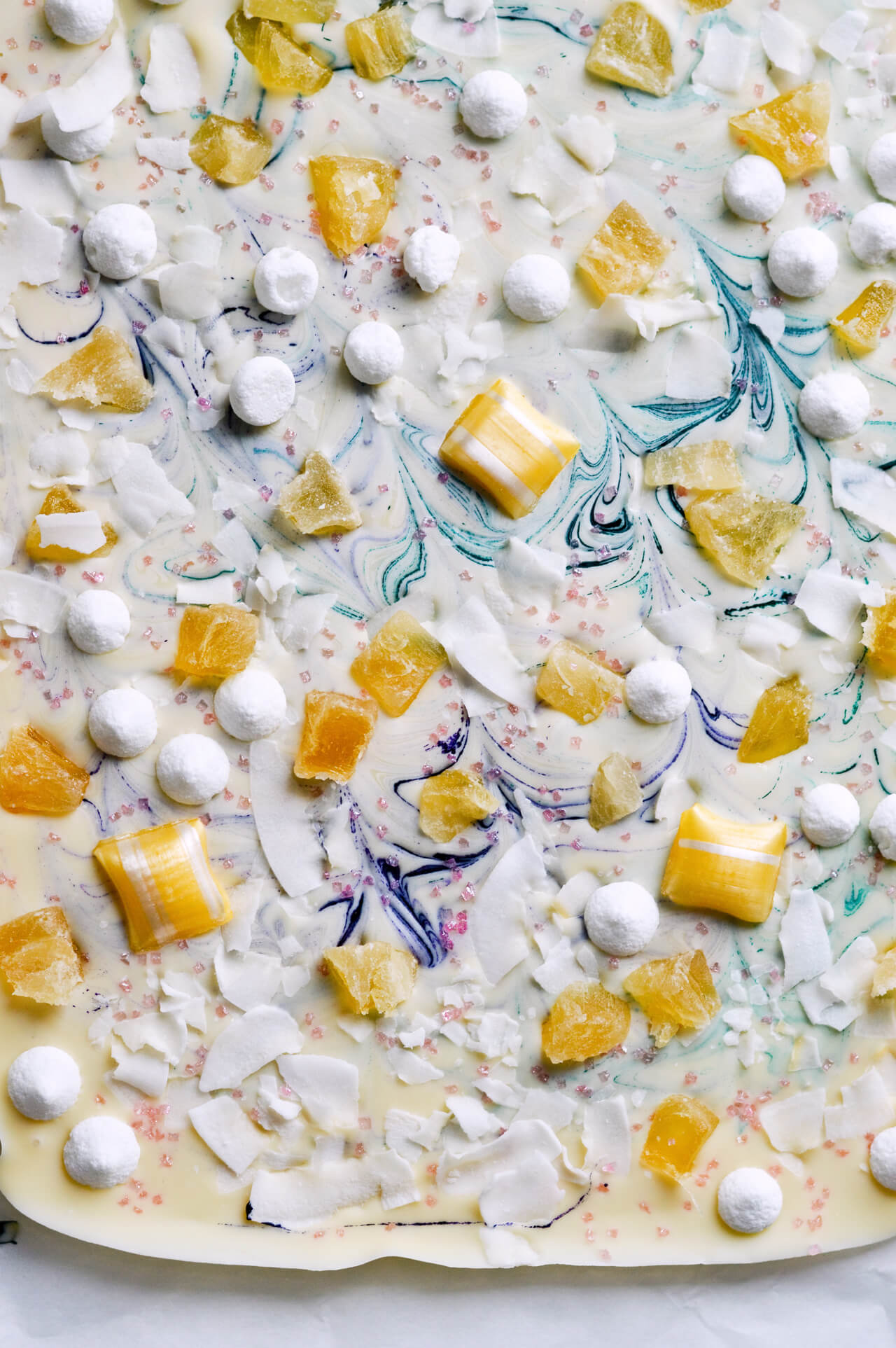 This tropical white chocolate bark is what my soul needs this week. Things have been all sorts of crazy over here. Some blog related, some just life.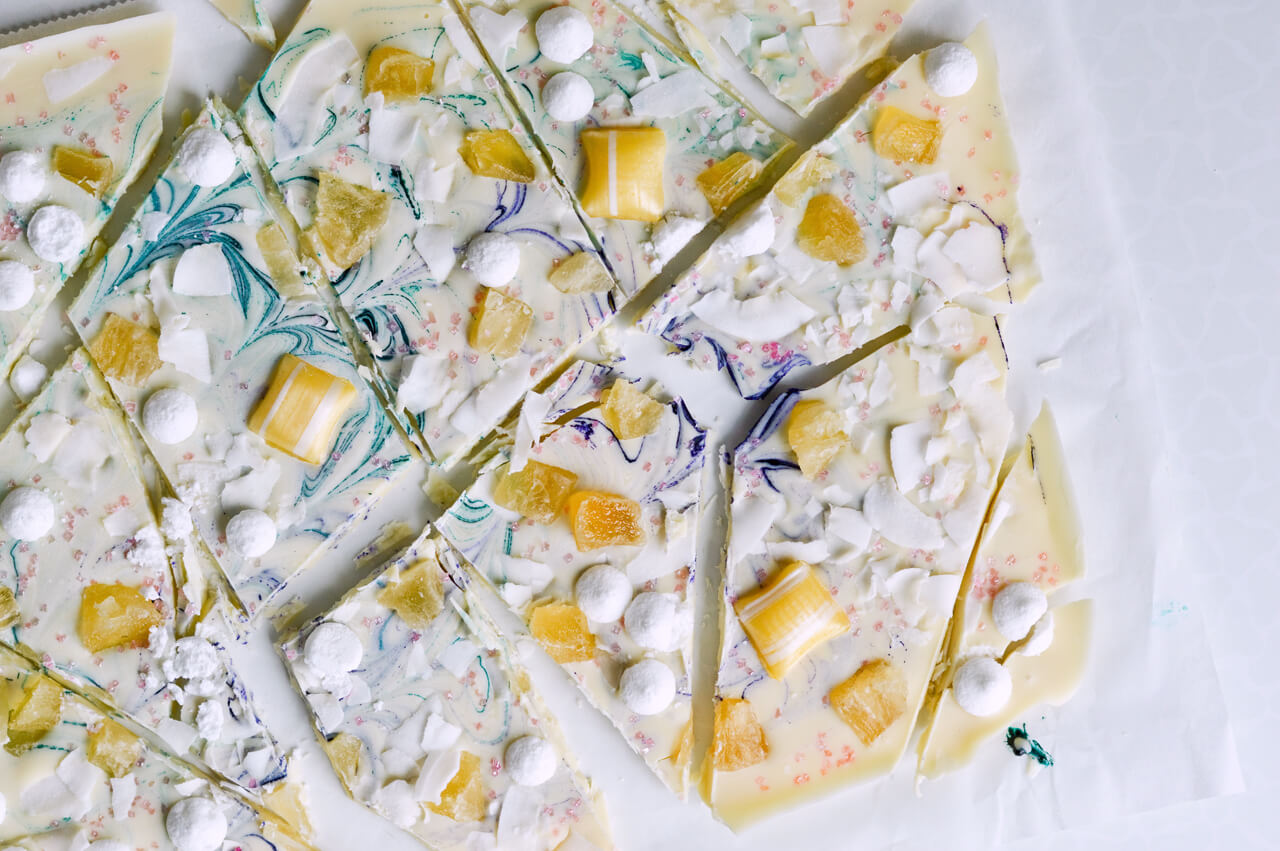 One of the flats in our building is getting renovated. The owners were nice enough to tell us all in advance, so I love them for that, but renovations are loud! And I get it, I really do. If I bought a place, the one we live in now or any place, I would probably rip out the whole kitchen and bathroom. That's a must. If the floors were old, I'd rip those out entirely too.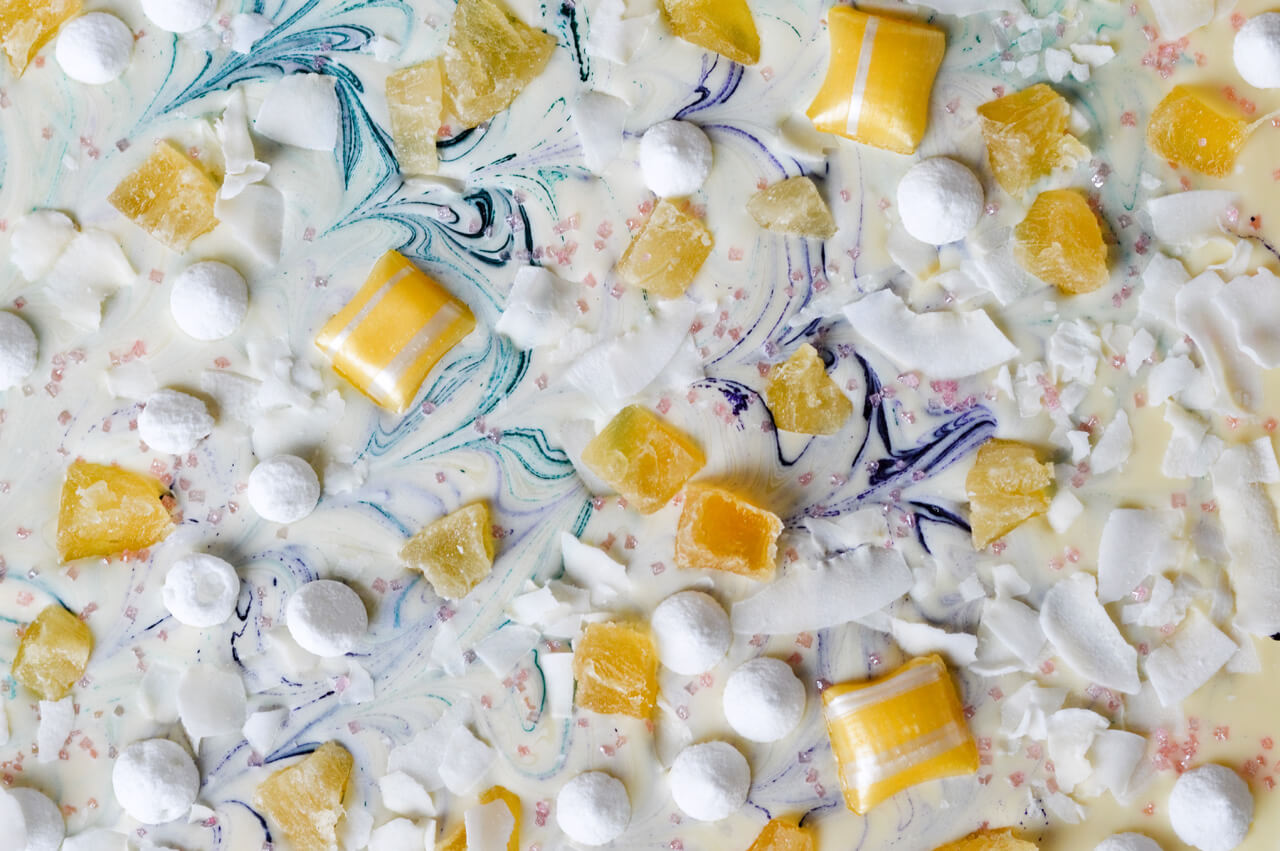 As you can see that's a lot of work. And I can just imagine them doing something similar, at least it sounds like it. Our building was built in 1990, so it makes sense that they want to make some adjustments. They promised to be done in a month and oh man do I hope they get it done by then. I've been listening to someone drilling holes in my head for two days now, so a whole month seems like an awful long time.
But like I said, I get it. And you know if someone out there isn't tearing stuff apart, you can bet I'll do it. I dropped a glass bowl full of tangerines on the floor yesterday. It was an accident, of course. Why do I feel like I need to point this out?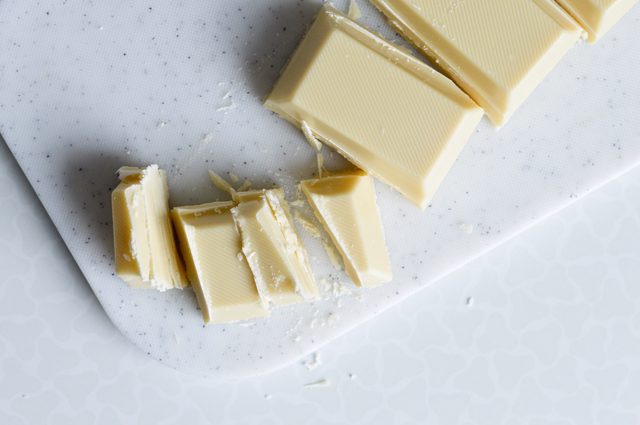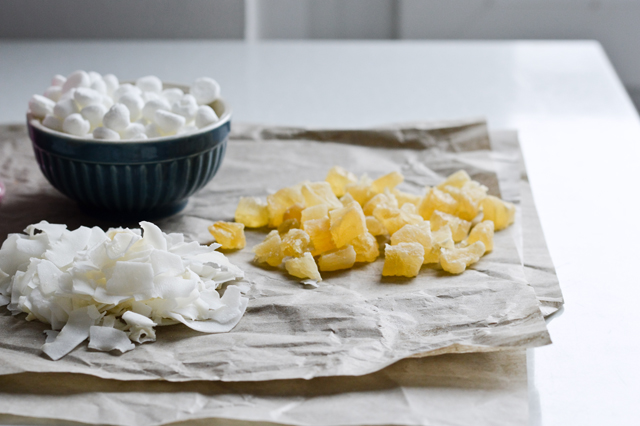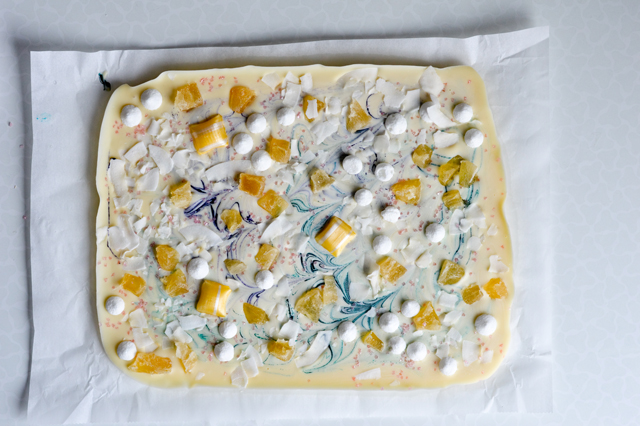 I have never in my life seen glass shatter like that. A big bowl turned into tiny bits of cracked glass that showed no signs of them ever belonging to something more than that pile of shit. It took me 30 minutes to carefully vacuum the whole kitchen. How crazy is that? I even found two pieces of glass in my orchid plant, which was placed way behind me, so basically the glass had to go over me to hit it.
I took it all to the dumpster, along with 3 cracked and broken glasses I destroyed in the last few months.
The best way to mute all the noise is to focus on something else completely. And so I made this bark. It's like my version of a coloring book for adults, although I really want one of those too!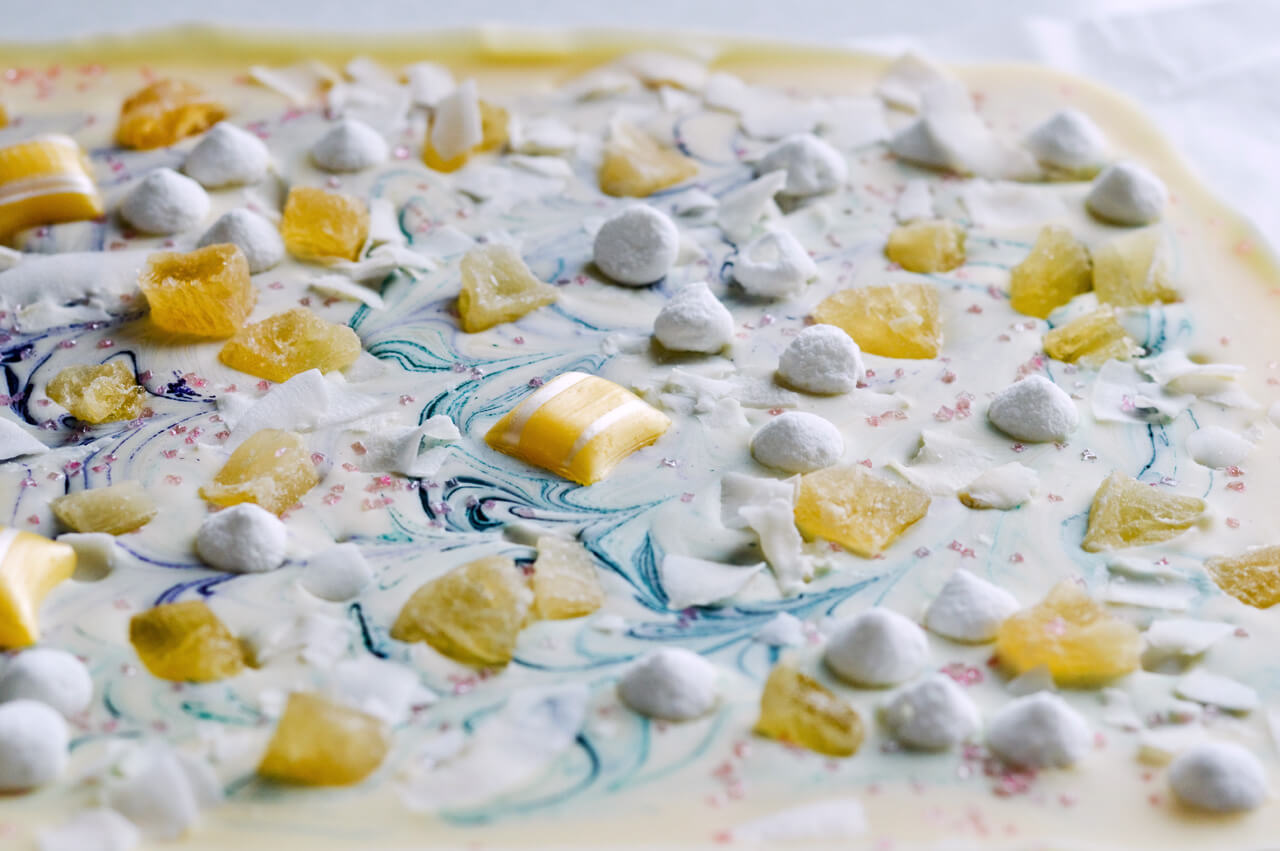 If I was more of a Tumblr girl, I'd call this unicorn poop bark or something of that sort, but I prefer tropical white chocolate bark. It's white chocolate with swirls of food coloring, sprinkled with coconut chips, dried pineapple chunks and tiny meringues. I added some sprinkles and hard candy to make it more fun, but it's the coconut and pineapple in combination with white chocolate that make this so, so good.
Enjoy this tropical white chocolate bark as a sweet snack, serve at parties or give as gifts.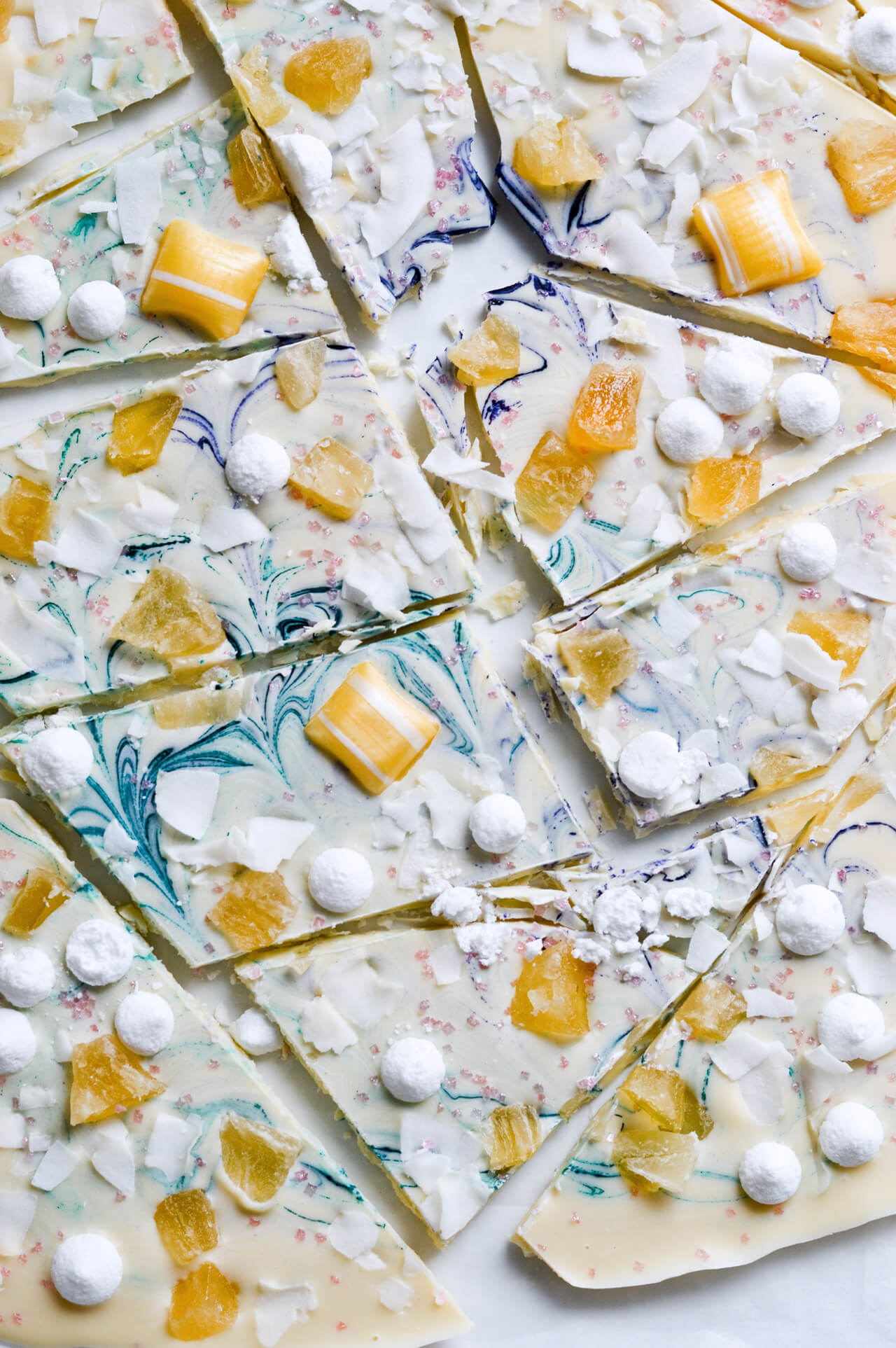 Print
Tropical white chocolate bark
White chocolate bark, topped with dried pineapple chunks, coconut chips and a few extra fun additions.
Recipe makes one 10 x 7-inch chocolate bark.
Author:
Category:

Dessert, Candy

Cuisine:

American
300g

(

10.5 oz

) white chocolate (couverture)
gel food coloring (Wilton's teal and violet)
coconut chips
sweetened dried pineapple chunks, chopped
mini meringue kisses (store-bought)
pink sugar sprinkles
yellow hard candy
Instructions
Line a 25×19 cm (10 x 7-inch) baking pan (or just a baking sheet) with parchment paper, set aside.
Set up a double boiler and chop the chocolate as the water warms up. Place 2/3 of the chocolate in the glass bowl and place over a pan of simmering water (make sure the bowl isn't touching the water). Let chocolate melt almost completely. When some chunks are still visible, stir the chocolate with a spatula and remove the bowl from heat.
Add the remaining chocolate and stir with a spatula again. Gently stir occasionally until all the chocolate is melted. If you're having trouble, place the bowl back on the saucepan.
Pour chocolate in the prepared pan in an even layer.
Randomly splatter some drops of gel food coloring over the chocolate and quickly swirl the drops in all directions with a skewer.
Add coconut chips, chopped dried pineapple and tiny meringues. Sprinkle with sprinkles and add a few hard candies where there is place.
Chill in the fridge for one or more hours, until the chocolate completely hardens. Then take it out and slice with a sharp knife, peel away the paper. If the knife is sticky after the first cut and you see melted chocolate on it, put bark back in the fridge.
Store the chocolate bark in an airtight container in the fridge.
Notes
Couverture chocolate is great for tempering as it has a higher cocoa butter content, which is perfect for making a nice bark, that is shiny and snaps as you break it.
As you temper the chocolate, make sure you don't let it sit in the bowl over boiling water as that can get too hot very quickly. I often remove the double boiler from the stove as the chocolate melts, and put it back on when needed, if I see that the water got too hot.
The Kitchn have a nice long article about tempering chocolate without a thermometer, which I never use and it's worth taking a look.