Learn how to make quick easy pain au chocolat (chocolate croissants) at home! This is a very simple how-to for croissants made in under 30 minutes. You'll hardly need to work to make this easy dessert.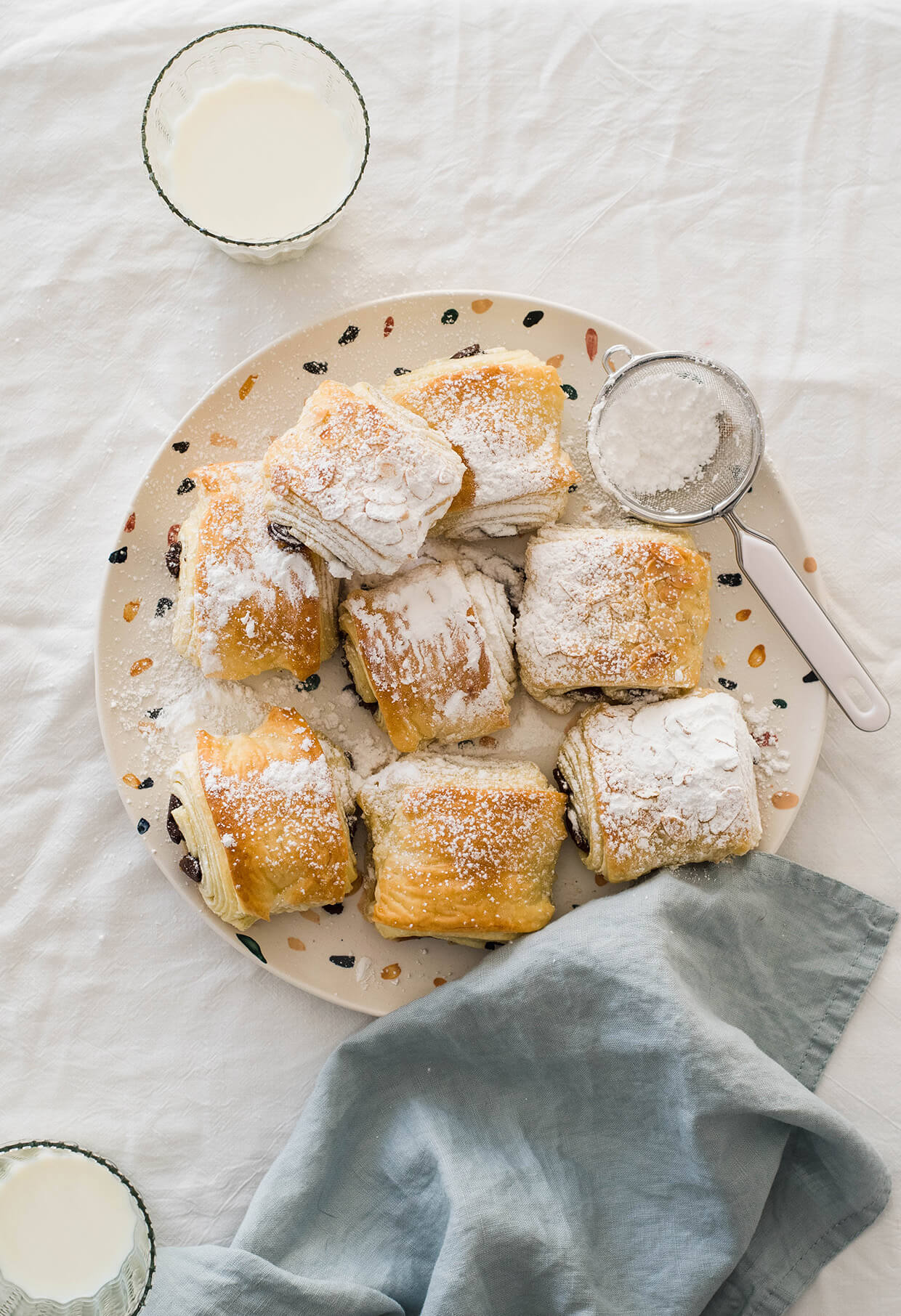 I was thinking about chocolate recipes a lot around Valentine's day and my mind kept going to Paris and croissants. But I wanted to give you guys a recipe or how-to for something quick… which is how these quick easy pain au chocolat (chocolate croissants) were born.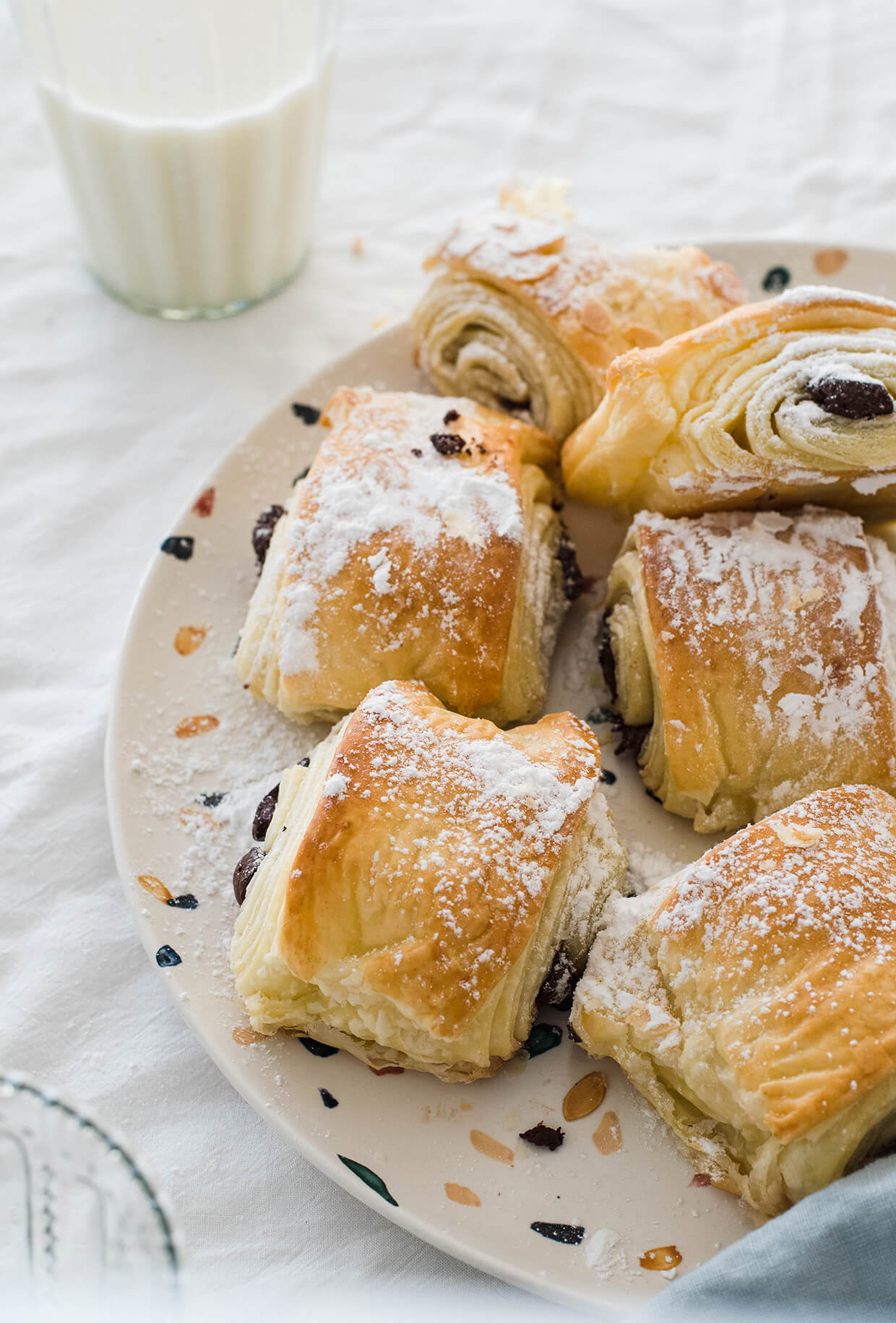 I was lucky enough to spend some time in Paris last Fall. The trip was short-ish, however insanely good and exciting and very sweet as that was my first time in Paris. And to say that I cannot wait to go back would be an understatement. On slow working days, I catch myself daydreaming about it, reliving the experience in my mind.
I imagine myself sitting under the trees at Jardin des Tuileries staring at the Eiffel Tower in the distance, snacking on a poppy seed lemon loaf and drinking a strong espresso. Out of all my Paris memories, those spent at the park are my favorite.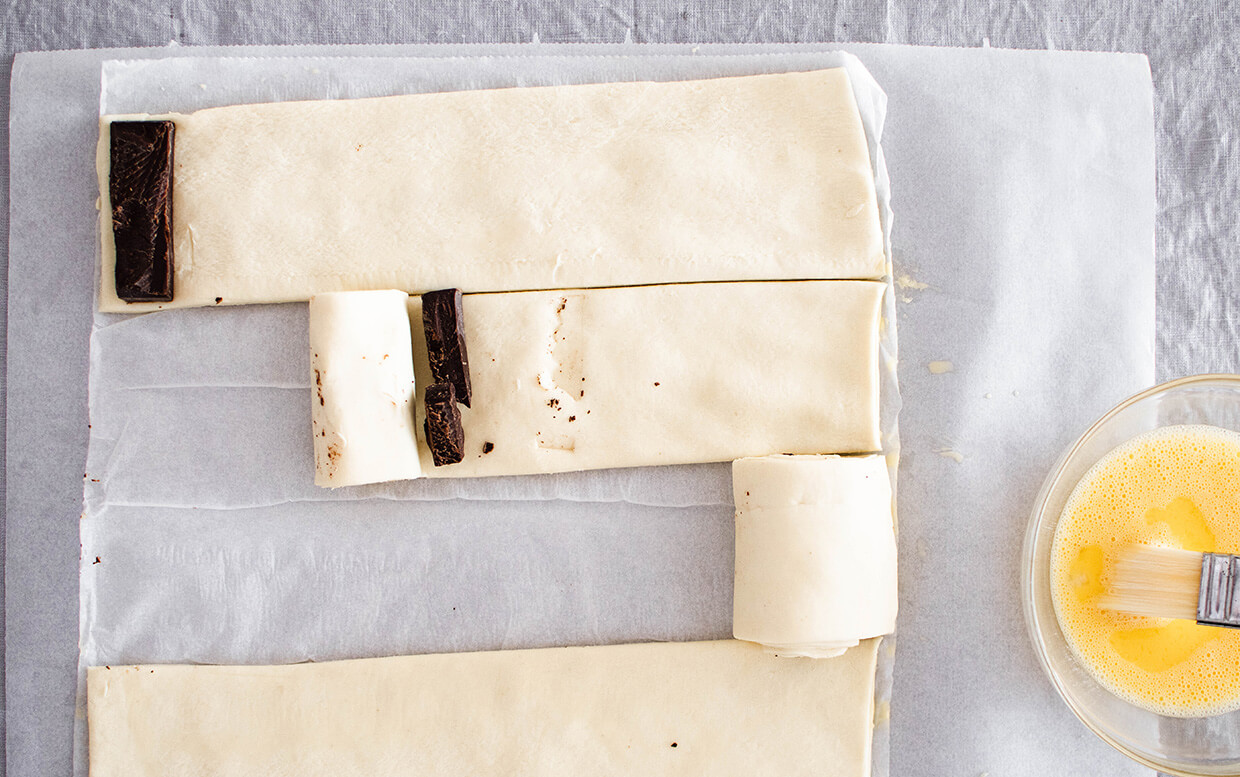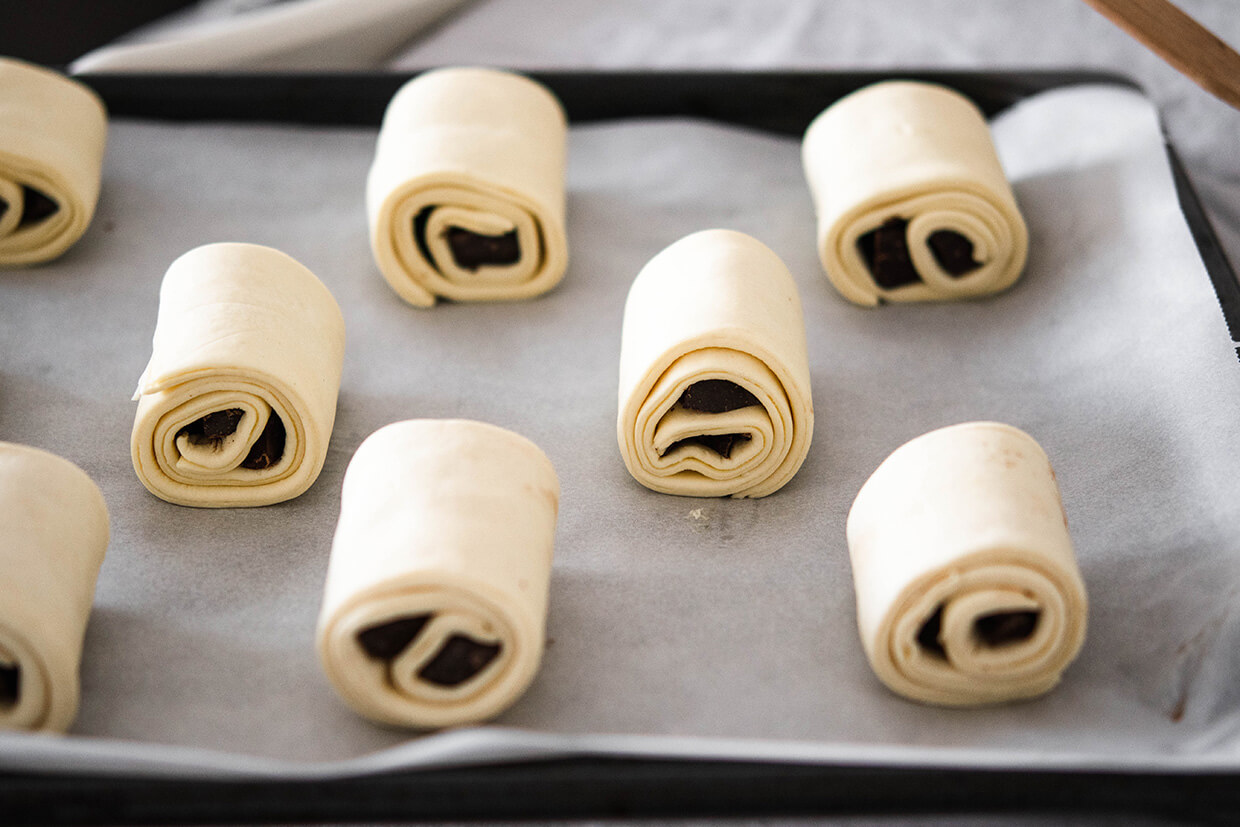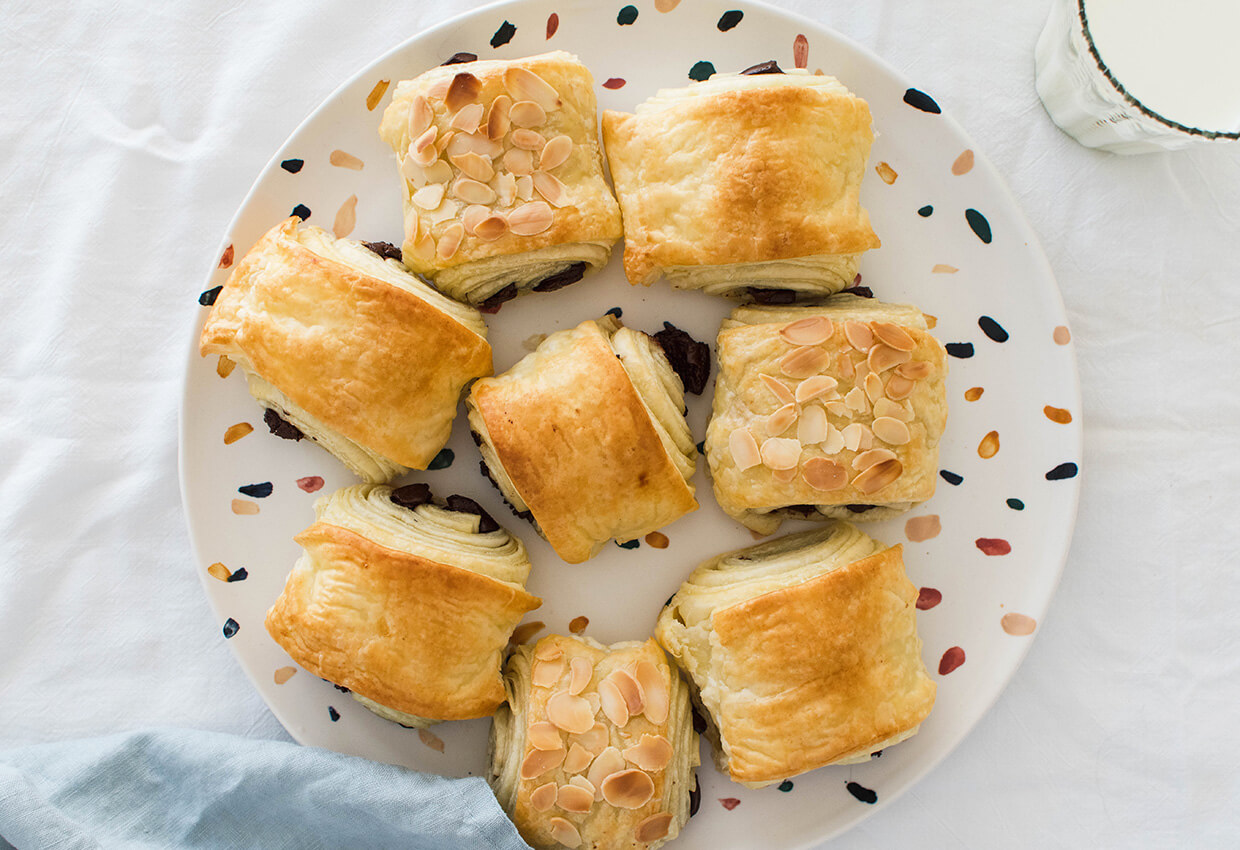 I ate a lot in Paris, because that's what you do when in Paris, right? I'm a sucker for anything sweet, anything with pistachios or lemons and Paris does not disappoint in that department. Of course I had my fair share of croissants and bread too. It's a good thing we walked everywhere (yes, literally everywhere), or I would've come home with a lot of extra baggage.
So thinking about Paris and chocolate and pastries brought me to these plump babies I'm sharing today. Now, these quick easy pain au chocolat (chocolate croissants) are the SUPER quick version. Traditional croissant dough involves a lot of steps and I'm all for putting in the time and effort when cooking, but sometimes I just want something quick and satisfying. And this recipe does just that!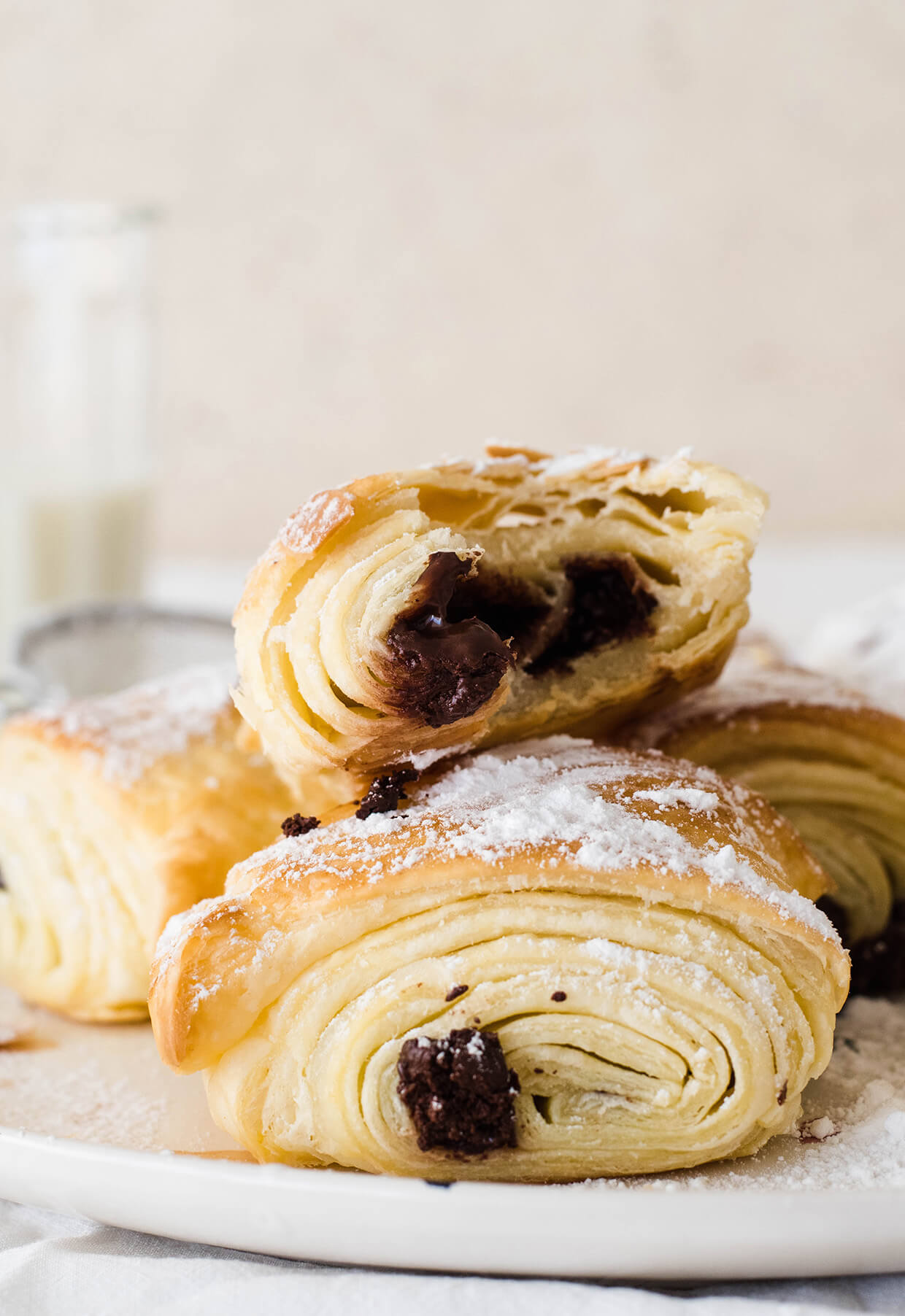 So about these quick easy pain au chocolat (chocolate croissants):
These pain au chocolat are made with store-bought pre-rolled puff pastry, simple pastry without any yeast, so you don't have to proof these (wait for them to rise). Assembly does take some time of course, you have to chop the chocolate (unless you're using batons!) and cut the pastry… but overall this recipe is as simple as it gets with great outcome.
You end up with a really cool dessert, a buttery pastry that is filled with gooey chocolate and dusted with a hefty amount of powdered sugar. Big enough to fill you up, small enough that you'll consider taking seconds. Also small enough to put in a paper bag and stick in your purse, because why not??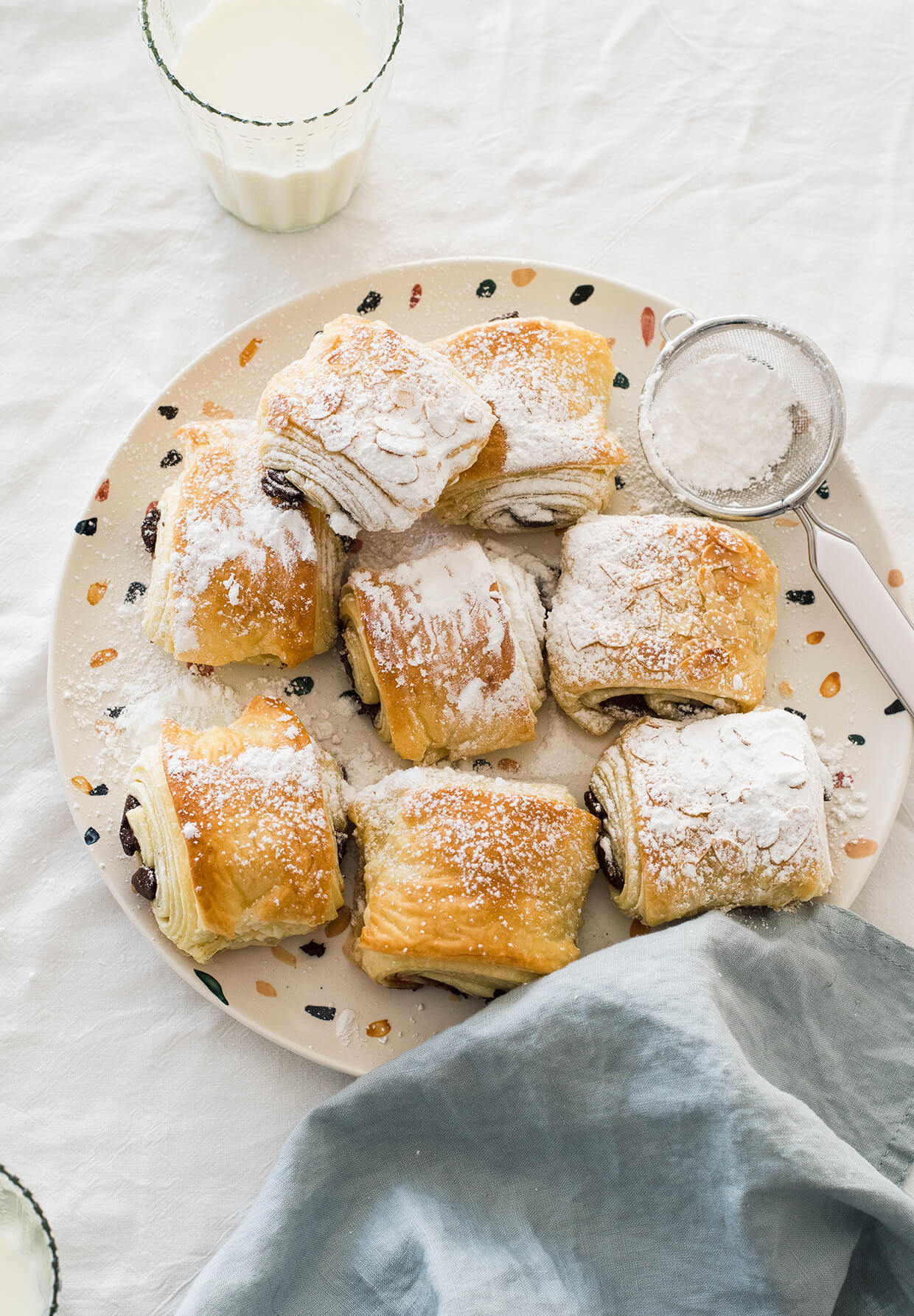 Another great thing about this recipe / tutorial? It'll save you in a crisis. If you keep the ingredients on hand you can whip up these quick easy pain au chocolat (chocolate croissants) in about 30 minutes, so if you're invited someplace, you have just the thing to bring. Or if people pop up unannounced (which they shouldn't, because who does that?), you can make these insanely fast and impress everyone.
Really, no one needs to know how you made these. It's only important that you did make them. And I'm sure everyone will be too busy eating them anyway. Have you ever met a person able to resist a warm flaky pastry? I haven't.
All in all, if you want a rich chocolate dessert, that's really simple to make, but insanely impressive… then look no further. These quick easy pain au chocolat (chocolate croissants)are here for YOU! Hourra!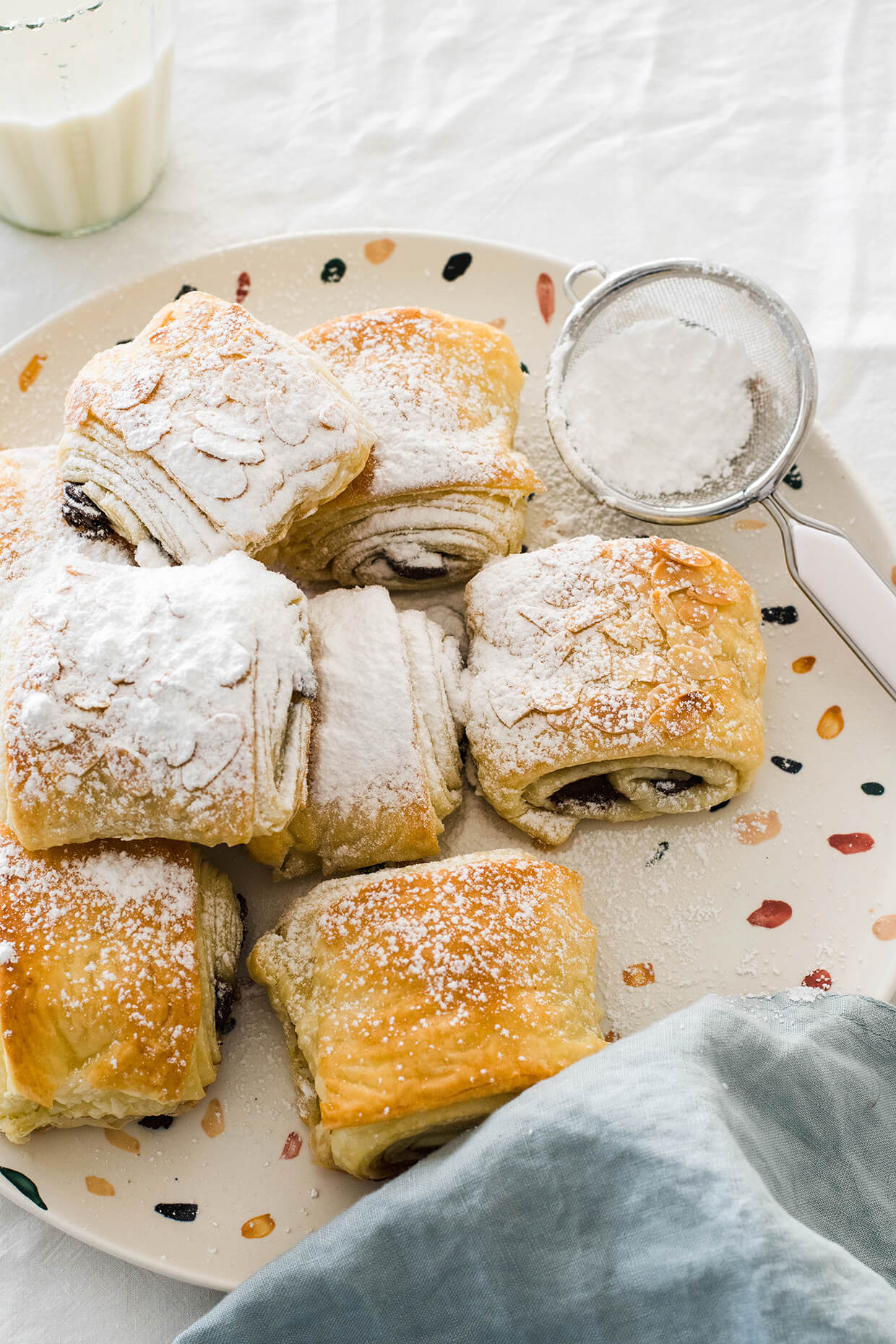 Quick easy pain au chocolat (chocolate croissants)
The easiest pastries you'll ever make! These buttery chocolate croissants are done in under 30 minutes!
Ingredients
7

oz

(

200

g

)

milk or semi-sweet chocolate

28

oz

(

800

g

)

puff pastry

,

(you need 2 sheets)

1-2

tablespoons

melted butter

1

egg

1

tablespoon

water
Instructions
Preheat oven to 400°F (200°C). Line a baking sheet with parchment paper and set aside. Break or chop your chocolate into tabs and set aside.

Pre-rolled puff pastry, that you get at the store, is usually rolled out very thinly, so we are doing a double pastry for this recipe, to mimic a bit of a thicker dough for pain au chocolat. –>Place one sheet of pastry on your working surface (lined with parchment), brush it with melted butter, then place another sheet of puff pastry directly over it. Trim the sides if there's any weird overlap, to create a nice, sharp rectangle (the exact measurements will depend on the brand of puff pastry you bought, as every company seems to have its own size).

Cut your rectangle vertically into thin strips, so you get smaller rectangles, about 2,5 x 9 inches (6 x 23 cm) large. Place a few pieces of chocolate on one end of each strip (to create a log that spreads from side to side) and roll the dough up, just to cover the chocolate. Add another log of chocolate and finish rolling the dough all the way up. The chocolate will be hidden in the center. Repeat with remaining dough and place croissants on the baking sheet, seam side down. 

Whisk egg in a small bowl with 1 tablespoon of water. Lightly brush each croissant with the egg wash and sprinkle with flaked almonds (optional). Bake croissants in the middle of the oven for 15-20 minutes, until they are puffy and golden brown on top.

Remove from oven, allow to cool for a few minutes before serving. Dust with powdered sugar right before serving (if you want, this is totally optional).

Store leftover croissants covered at room temperature or in the freezer for 2-3 months, although keep in mind that these taste best fresh. 
Notes
About the pastry:
the pastry used in this recipe is the basic puff pastry, that is made without yeast. However most, if not all of the recipes I've checked use homemade yeasted puff pastry for pain au chocolat. You CAN buy yeasted puff pastry, if the name on the packaged doesn't suggest that, check the ingredients list.
Because this type of pastry has yeast in it, you need to let your croissants rest at room temperature, to activate that yeast. So once your croissants are rolled, loosely cover them and let them rest at room temperature for about 45-60 minutes. Then do the egg wash and bake them for 15-20 minutes. 
Traditionally, chocolate croissants are made with chocolate batons. If you want a uniform look, you can get these on Amazon or at specialty stores. If using chocolate batons, cut the dough into strips that match the length of these batons. You don't chocolate to stick out of the pastry. This video greatly demonstrates what I'm talking about.
Email recipe
Pin Recipe