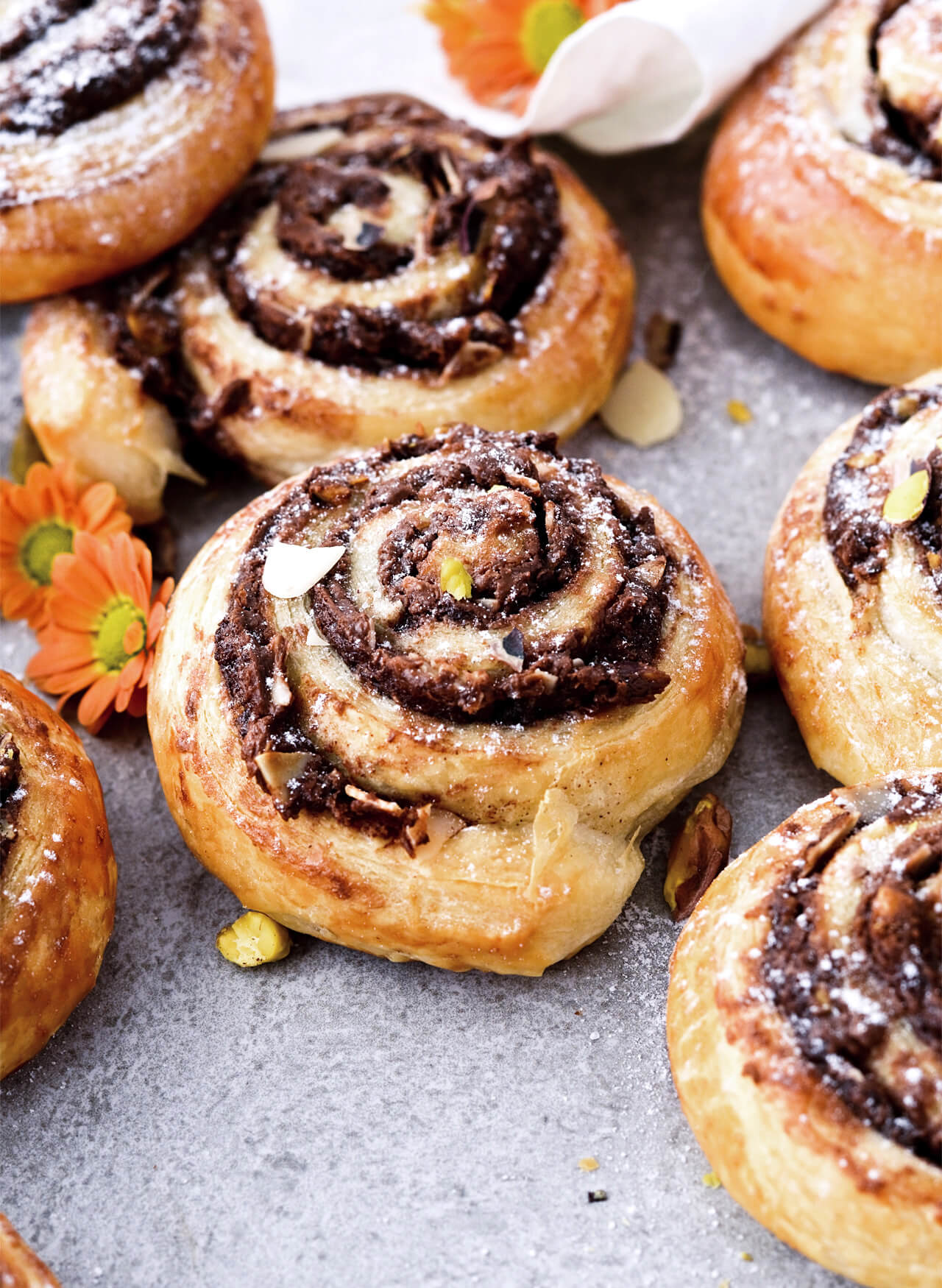 I have the easiest, most delicious recipe for you guys! I'm telling you right now, you need to put these pistachio Nutella cinnamon pinwheels on your grocery list ASAP. We have a – 5 simple ingredients, major flavor, done in under 30 minutes – situation going on that is just so worth it.
Truth be told, this is more of an assembly than a recipe. It's like putting Legos together. Actually it's even easier than that, because if you've ever played with Legos you know that some sets are kind of time consuming and difficult to put together. But I do love some Legos and winter sets are my favorite by far. We usually buy one each December, although this year I need to get one sooner than that because they tend to sell out.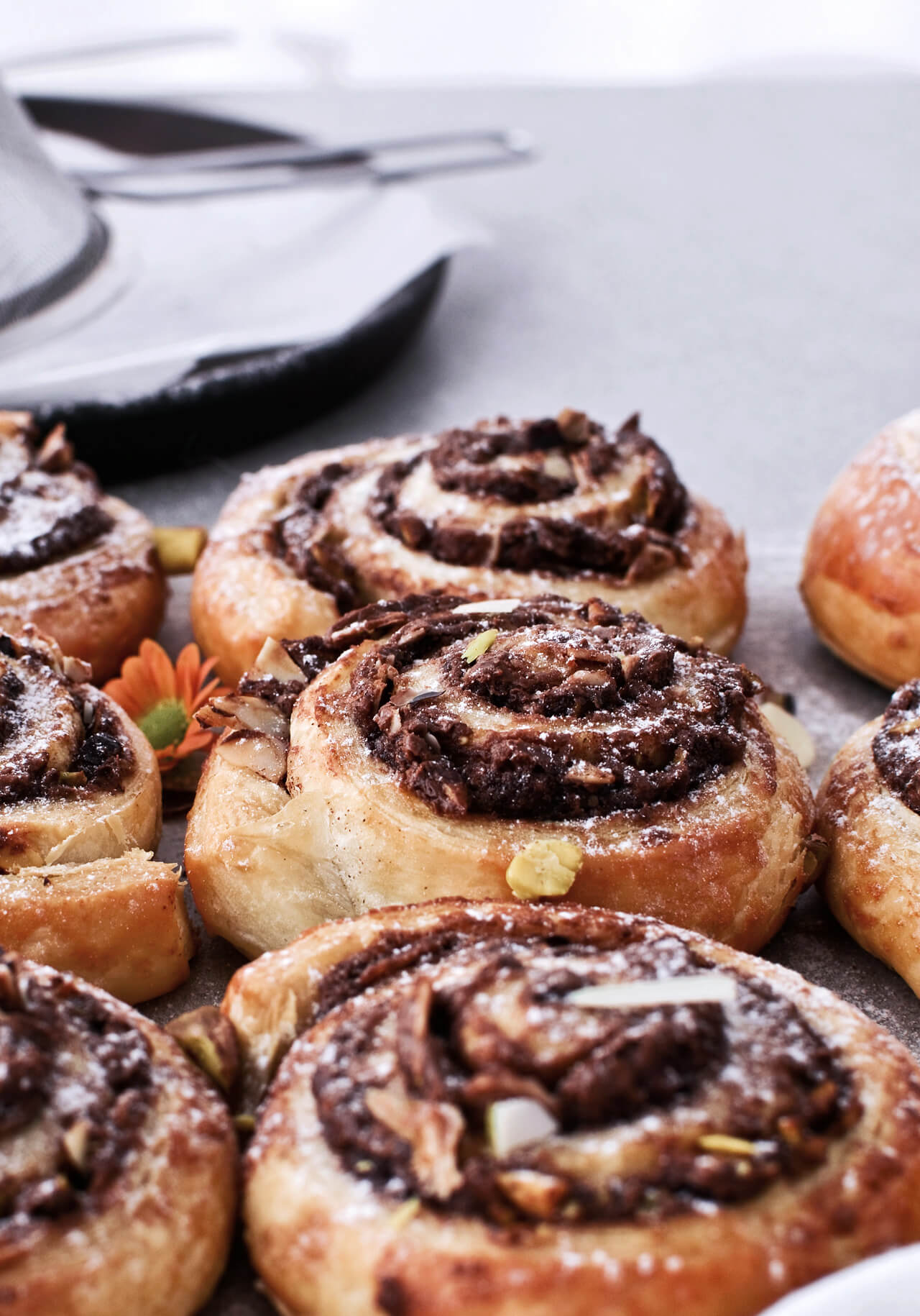 Anyway, back to the easiest recipe ever, the one that helped me stay calm in a moment of crisis. If you've seen this post then you know that we were without internet (and TV) for days and I was stress-eating like crazy. When your job is internet related (and I'm talking about my boyfriend too, not just me), it sucks when nothing works. And even with a good phone data plan, there are situations that an iPhone just cannot fix.
Also, internet aside, who doesn't love to sit down after a long day and just watch something random on TV? I've seen a lot of Hallmark Christmas movie reruns which seem like the perfect thing to watch in the evenings and I just couldn't do that. And then there's RHOC! I need to catch up on that.
But, and there's always a but, I did go to the library to pick up some movies and books (here's a winter book list from last year), so I survived. Which you can clearly see.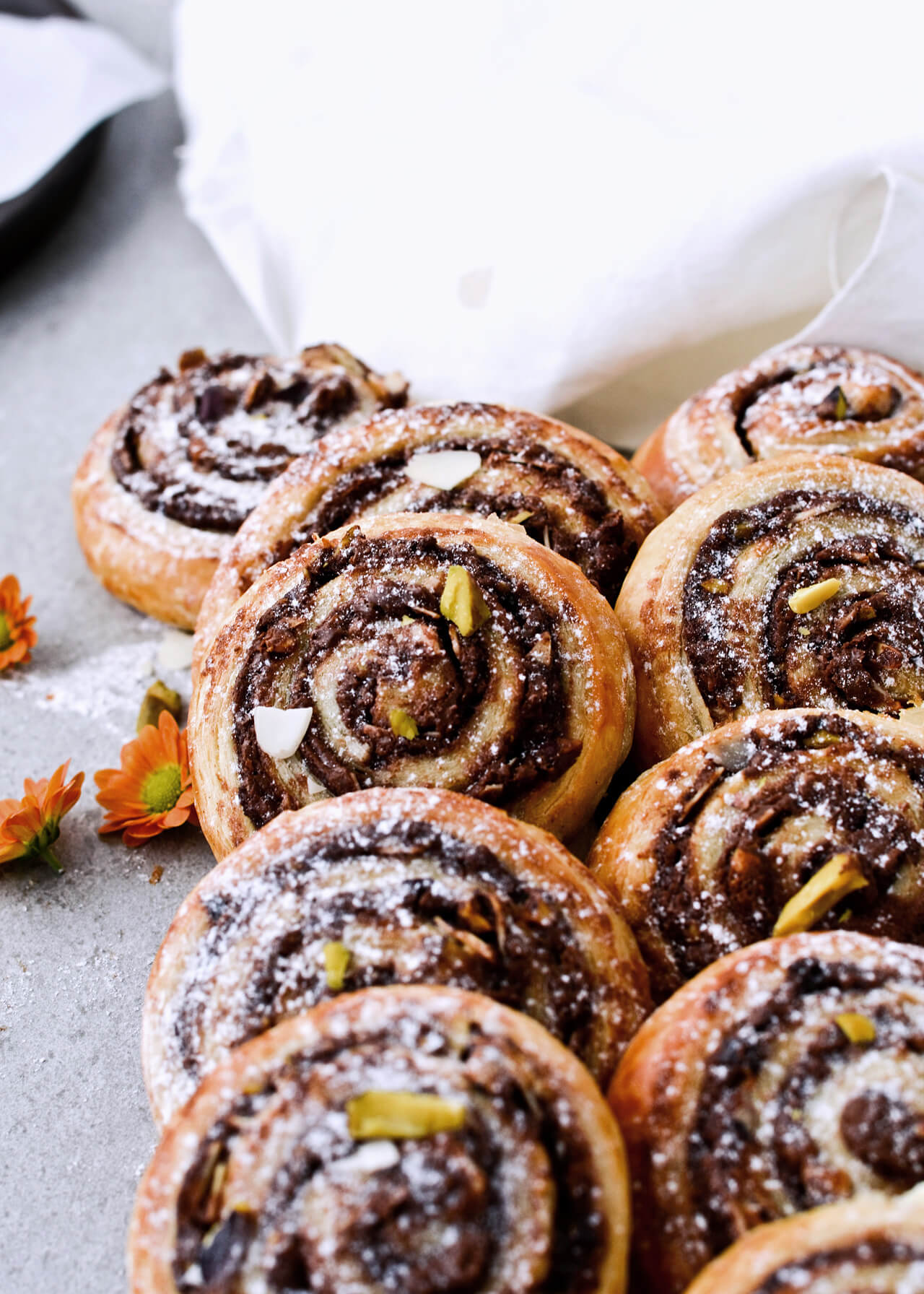 About the stress eating – eating 3 of these pistachio Nutella cinnamon pinwheels in a row counts as stress eating, right? I mean they're really good too, but I was so annoyed with the whole situation that I made another batch of these just an hour before the tech guy came by our place. As he was checking the cables, these babies were cooling on the counter and once he left, I ate… and ate. We got our internet back on day 6 and I was soooo happy.
Just as you will be when you make these. Here are the reasons why you need to:
they are made in under 30 minutes
you need only 5 ingredients
all of these ingredients are small enough to keep at home at all times
they're just unbelievably good!
Simple, super duper pistachio Nutella cinnamon pinwheels, that are chocolaty and crunchy, with wonderful nutty and spicy notes. Something amazing happens when you put chocolate and cinnamon together. It's dreamy… like coming inside from the cold and sitting down by the fire with a hot chocolate in hand. And it's like Christmas morning with a fresh coffee and a dash of cinnamon. It's all of those things combined.
[one-half-first]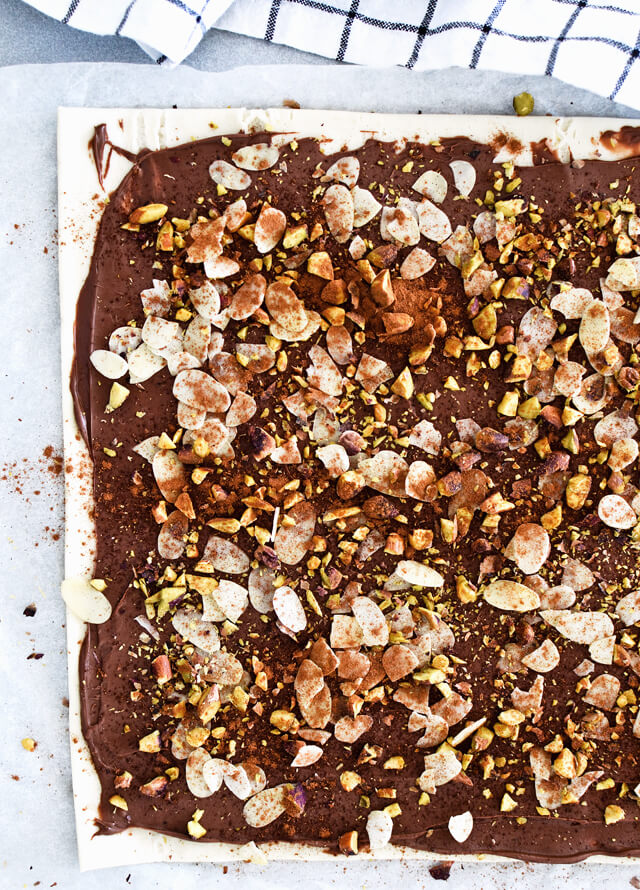 [/one-half-first]
[one-half]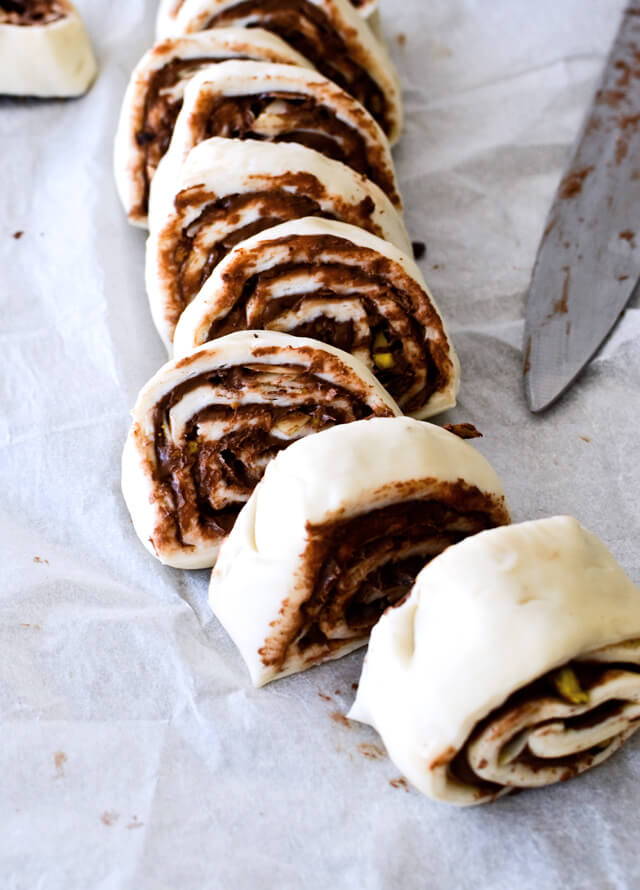 [/one-half]
There's so many scenarios I can imagine where these fit into. If you're having people over or are invited to someone's house, especially at the last minute, these will save you. Or if you're just feeling shitty after a long day, isn't it great when you can just throw these together quickly? And then sit down and watch or read something? And you can bring them to work, they don't take up much space and they can be kept at room temperature.
See, it's just win win WIN.
And if you do make these, I'd looove to know what you did with them. Obviously you ate them, but did you make them for yourself, for a crowd, bring them to work? Let me know.
Print
Pistachio Nutella cinnamon pinwheels
Super quick pastry recipe!
Author:
Prep Time:

5 mins

Cook Time:

20 mins

Total Time:

25 mins

Yield:

12

pinwheels

1

x
Category:

Dessert
400g

(

14oz

) rolled puff pastry (fresh or frozen & thawed)

180g

(

6oz

) Nutella

1/2 teaspoon

ground cinnamon

60g

(

1/2 cup

) shelled pistachio, roughly chopped
about

20g

(

3

–

4

tablespoons) flaked (sliced) almonds

1

egg, whisked
Instructions
Preheat oven to 200°C (400°F) and line a baking sheet with parchment paper. Also put a sheet of parchment on your work surface, then place on the rolled puff pastry.
Spread Nutella all over the pastry, leaving a 2-cm (1 inch) border on one of the shorter sides (let's say left). Sprinkle Nutella with cinnamon, then pistachios and almond flakes. Roll the pastry in a log (crosswise), starting at the right side and rolling gently towards the left side. Place seam side down.
Cut log into slices, about 1.5-2 cm (2/3 to 1 inch) thick. Place them cut-side down on the baking sheet and brush the sides with whisked egg.
Bake for 15-18 minutes, until the pastry is puffy and has a golden tone.
Remove from oven, cool for at least 10 minutes, then serve. Store any uneaten pinwheels in an airtight container at room temperature and eat within 1 day (for optimum flavor, otherwise they're fine for a few days).
Notes
If you find the dough to be super soft once you've rolled it in a log, you can wrap the log in parchment and chill it in the fridge for 15-30 minutes prior to cutting.
The size of puff pastry I used is 37 x 25 cm = 14.5 x 10 inches
Sometimes different brands sell the same size (e.g. 14 x 10 inches) but different weight (e.g. 10 vs 14 oz) of rolled puff pastry. In that case, always go for the heavier pastry, because it expands more nicely as it bakes (which makes sense, as it's not rolled as thinly).
If the puff pastry available to you is bigger than mine use more filling and cut it into more slices than I did. The same goes for smaller pastry – just use less filling and make less pinwheels.
SaveSave