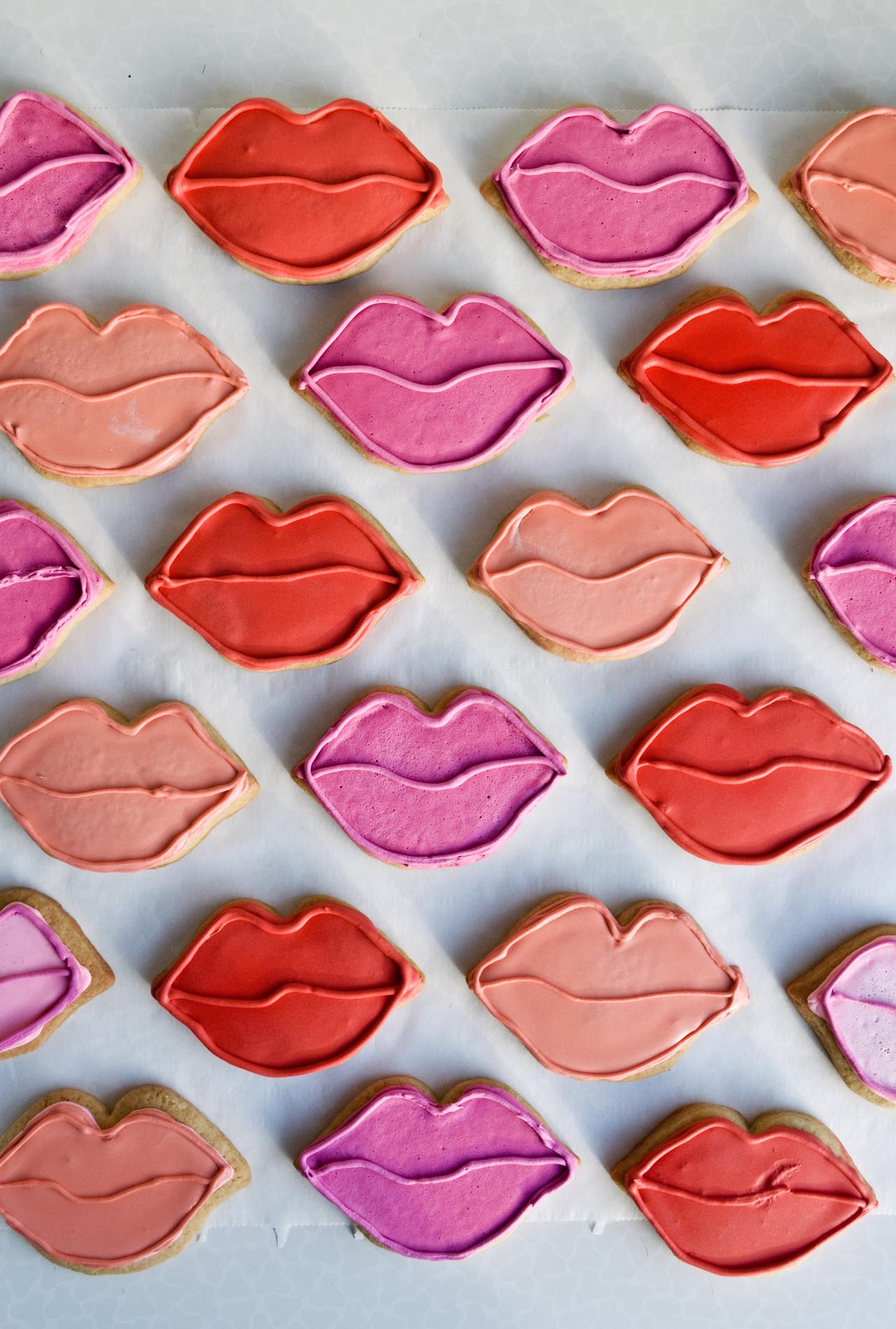 Guess what?
We have snow! I guess this is nature's way of telling us we're supposed to stay inside and cuddle all weekend long. Eat sugary food, play games, have a drink or two. Although it's already melting, because winter is being stubborn and is refusing to give us proper snow, but that's okay, I am sticking to my plan.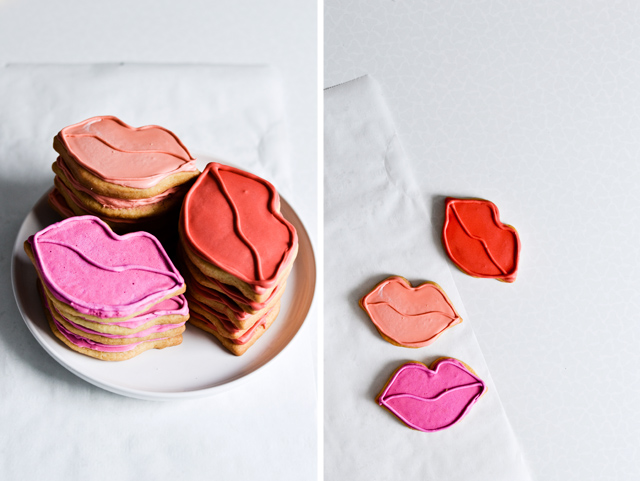 Rok and I aren't doing anything out of the ordinary for Valentine's day, it's not a big day for us. I think maybe when you're single there is this impression that it's a huge holiday, because everyone is talking about it, but I think it's not as big as some make it seem. Even when I was single, my girlfriend and I would just give each other chocolate and have fun like that.
Instead of celebrating the holiday in an over-the-top manner, I always choose to bake something fun and buy heart-shaped chocolates. And it's really got nothing to do with my relationship status, I'd do it either way.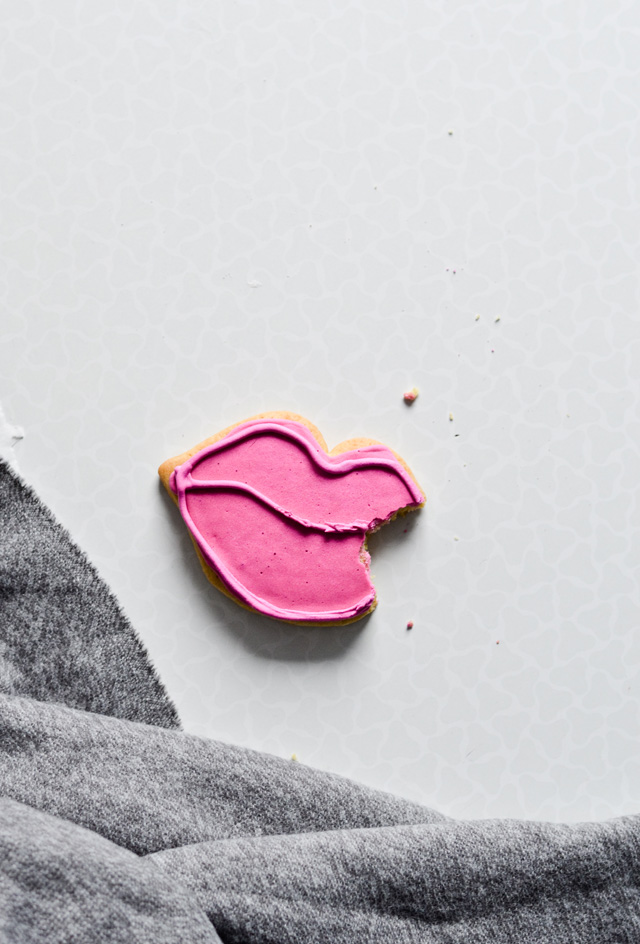 Besides a crazy gooey dessert, I wanted to make cookies for this weekend. I love sugar cookies because they're tasty but plain enough that I can have them with coffee, they're great for dipping in cocoa too. Rok especially loves the latter. And decorating cookies is fun. It is almost like drawing or painting, you get to mix the colors and draw, make a mess.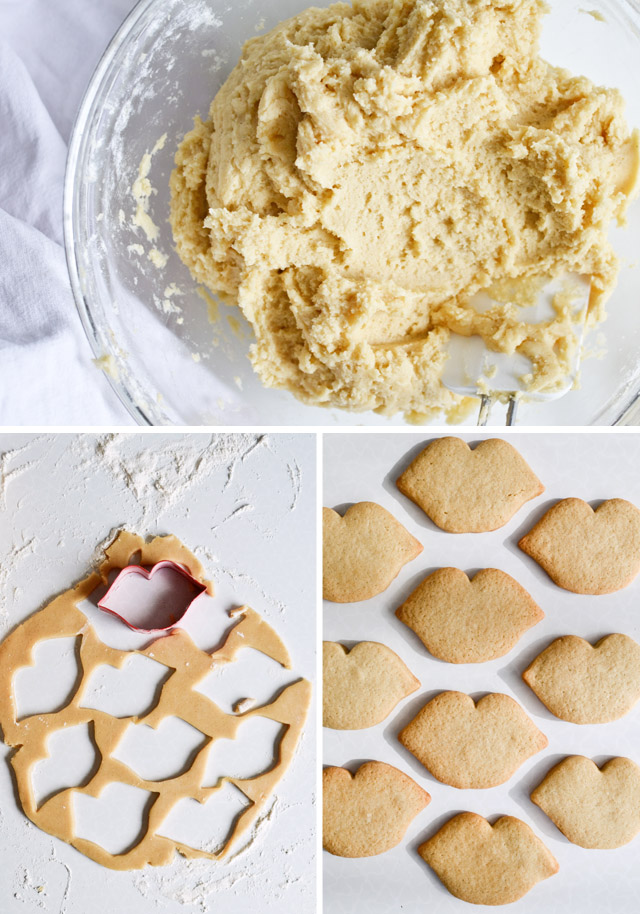 Now, making that royal icing does require some work and making pretty cookies takes practice, but accepting the fact that you're not a pastry chef is important. You know I really admire the people who make crazily beautiful sugar cookies that are too pretty to eat. But I also know that they weren't just born with that gift.
I guess I'm saying this because I know that, if you're anything like me, you'll judge yourself for how the cookies turned out. But I do think that if the cookies taste good and they're made with love, a speck here or there or an imperfect line really aren't a big deal. And especially not when you're giving someone a kiss in the form of a cookie!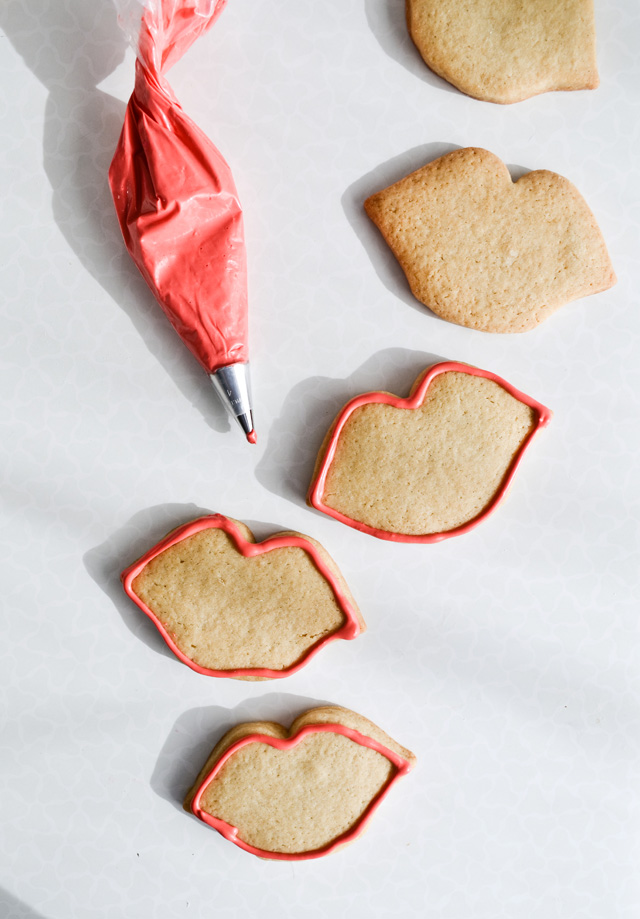 That's what I was going for. I didn't want to make hearts, as I was in the mood for something different and then it just clicked! I decided to make lip-shaped cookies as if I'm making kisses for everyone.
And I love makeup so playing around with lip colors is my thing. I saw this photo from Kylie and I really wanted to recreate the colors. Or get close to that, so there's not just the classic red but something more playful too.
And lips are perfect for Valentine's day. Right?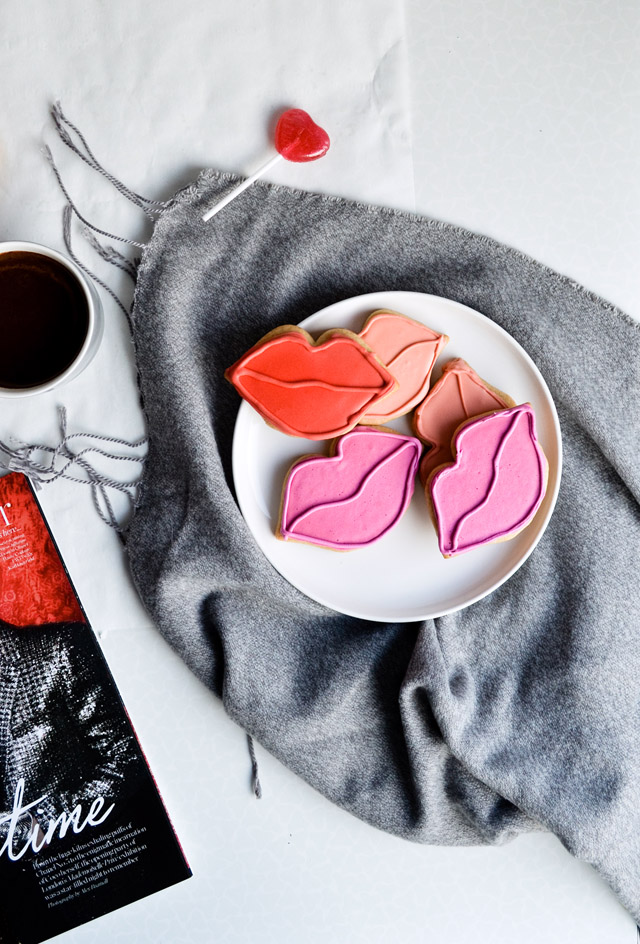 These lip-shaped sugar cookies are soft, flavored with vanilla bean paste and when you take a bite you might even see the beautiful vanilla beans. They're very delicate and sweet, like a warm spring breeze, they're not over the top sweet. Royal icing makes them sweeter, of course, but these cookies are quite big, so you still get more cookie than icing.
It's their gentle taste that makes them a great addition to anything; breakfast, lunch, late dinner or movie marathon.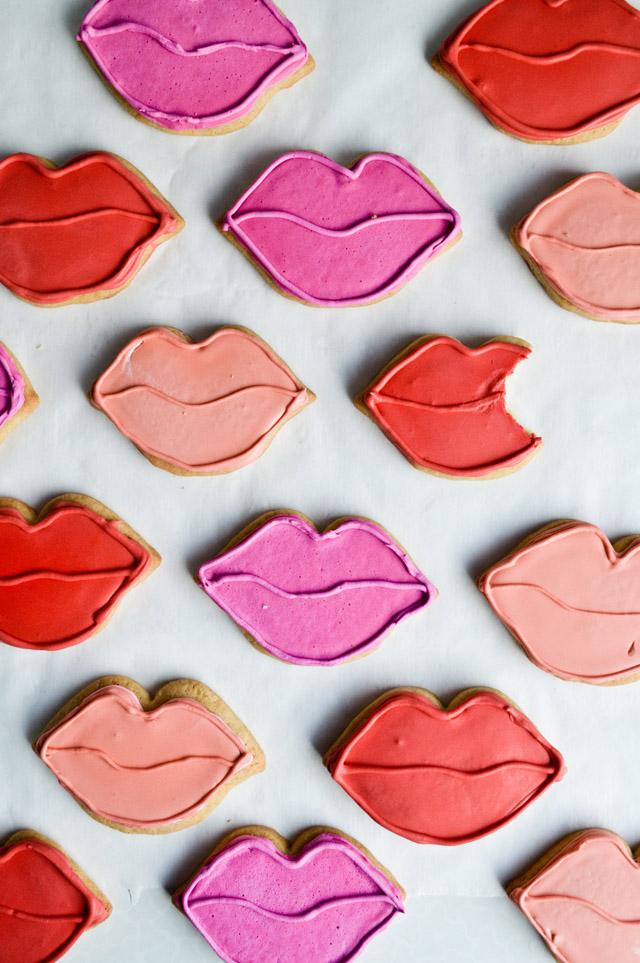 Print
Lip-shaped sugar cookies
Vanilla flavored and fun to make, these lip-shaped sugar cookies will surely brighten your day!
Recipe makes 28 big cookies.
Author:
Yield:

28

cookies

1

x
Category:

Dessert, Cookies
420g

(

3 cups

) all purpose flour

1/2 teaspoon

salt

1 teaspoon

baking soda

230g

(

2

sticks) unsalted butter, softened

205g

(

1 cup

) granulated white sugar

2

large eggs

1 teaspoon

vanilla bean paste
+ lips cookie cutter (I use the one from Wilton's trio set)
Instructions
In a bowl, whisk together the flour, salt and baking soda. Set aside. In another large bowl, or bowl of your stand mixer, cream the butter with the sugar. Keep whisking for a few minutes until the sugar is well incorporated and the mixture is fluffy and pale in color.
Stir in vanilla. Add one egg, whisk thoroughly, then add the other egg. Whisk until incorporated and you get a smooth mixture.
Lastly, stir in the flour. Keep whisking (on medium speed if using a mixer) until you get a smooth dough. It'll be sticky and soft.
Transfer dough to a work surface, divide into 3 parts and form each into a disk. Wrap each disk into plastic wrap and refrigerate for an hour or until the dough is firm to the touch.
Preheat oven to 180°C (350°F) and line one or two baking sheets with parchment paper.
Lightly flour your working surface and roll out one of the chilled doughs, about 0.5 cm (1/4 inch) thick. Turn dough as you roll it, so it doesn't stick to the surface.
Dip cookie cutter in flour, then cut out the shapes. Transfer cookies to baking sheet and chill in the fridge for about 15 minutes, just until the dough hardens a bit again. Take whatever is left of the dough and shape into a disk again, chill in the fridge for later use.
Bake cookies for about 10 minutes (depending on the size), until the edges turn golden brown, but the tops of the cookies are still pale.
Remove from oven and let cookies cool on the baking sheet for 1-2 minutes, then transfer cookies to a plate (or counter lined with paper towels), using a spatula.
Repeat process with the rest of the dough.
Once the cookies are cooled to room temperature you can decorate them.
Print
Royal icing recipe + decorating tips for lip-shaped sugar cookies
There are several ways to make royal icing.
One recipe uses meringue powder, the other egg whites and the third is just royal icing mix from a bag. I used the latter for this recipe, as the store where I normally buy supplies was out of meringue powder. As I wait for my order to come, I decided to use royal icing mix instead. You just mix it with water, as much as you need for a desired thickness of icing, then add food coloring to that. So easy!
Instructions
I make one large amount of royal icing, then divide it into separate bowls if I'm using more than one color. (Make sure you cover icing tightly with plastic wrap when not using it, as it does dry otherwise!)
For this recipe, that is three bowls of royal icing. Add a few drops of food coloring to each, most easily done with a toothpick.
OUTLINE:
The piping icing has to be really thick and needs to hold its shape. Spoon some icing into a piping bag, fitted with a small round tip (I used size 4). You need 3 bags for 3 colors. Twist bag at the end, pushing icing towards the tip. Outline the cookies. Imagine outlining your lips with a lip pencil.
FLOOD:
Add a few drops of water to each of the bowls with icing and stir until incorporated. You want the icing to be less thick, easily spreadable, but not very runny. Flood the cookies with this. Using a teaspoon, take some icing and spread it over each cookie. Push it towards the edge with a toothpick.
I prefer to work cookie after cookie, so when one is perfectly flooded I move to the next, because icing gets dry and stiff pretty fast, which makes it hard to spread.
When all the cookies are flooded let them dry. If the icing isn't very thinned out, the cookies dry completely in a few hours. If it's very runny, you may need to wait overnight.
DECORATE:
Once the cookies are almost completely dry, you can continue decorating, using the very thick royal icing again (first used for outlining). You'll probably already have some left in the before-used piping bags and you don't need much of it. Now trace the lips, also making the line between upper and bottom lip.
Let cookies dry. Once the cookies are dry, you can stack them easily (and eat them, of course)!