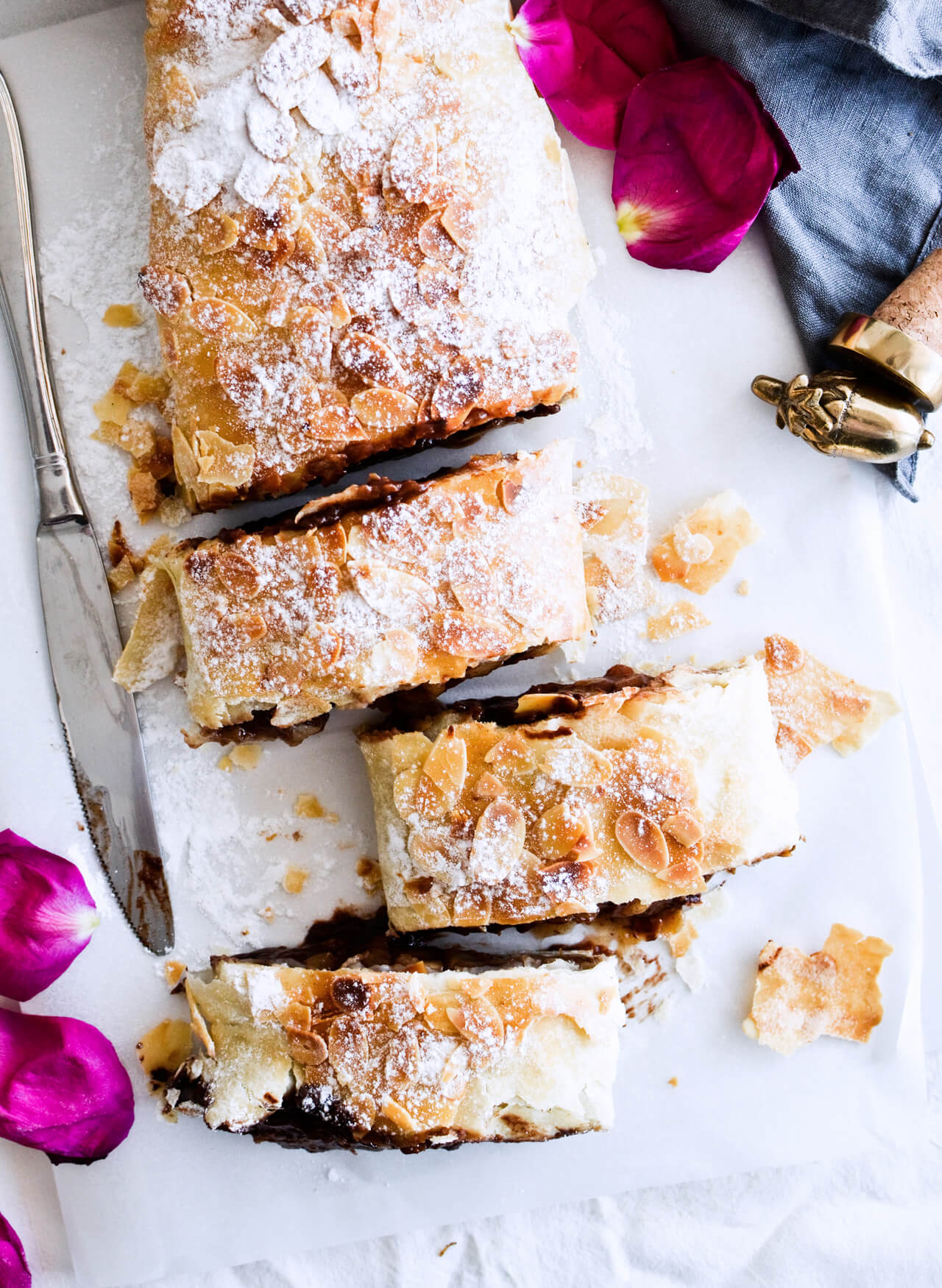 Hiii… how was your Halloween? Mine was pretty uneventful, as Halloween is when you're a Slovene. But I did binge on some scary TV. This year it was Stranger Things! We binge-watched the whole thing in 3 days, which seems like a lot, but I heard there are some people who watched the whole show in one go. Isn't that crazy?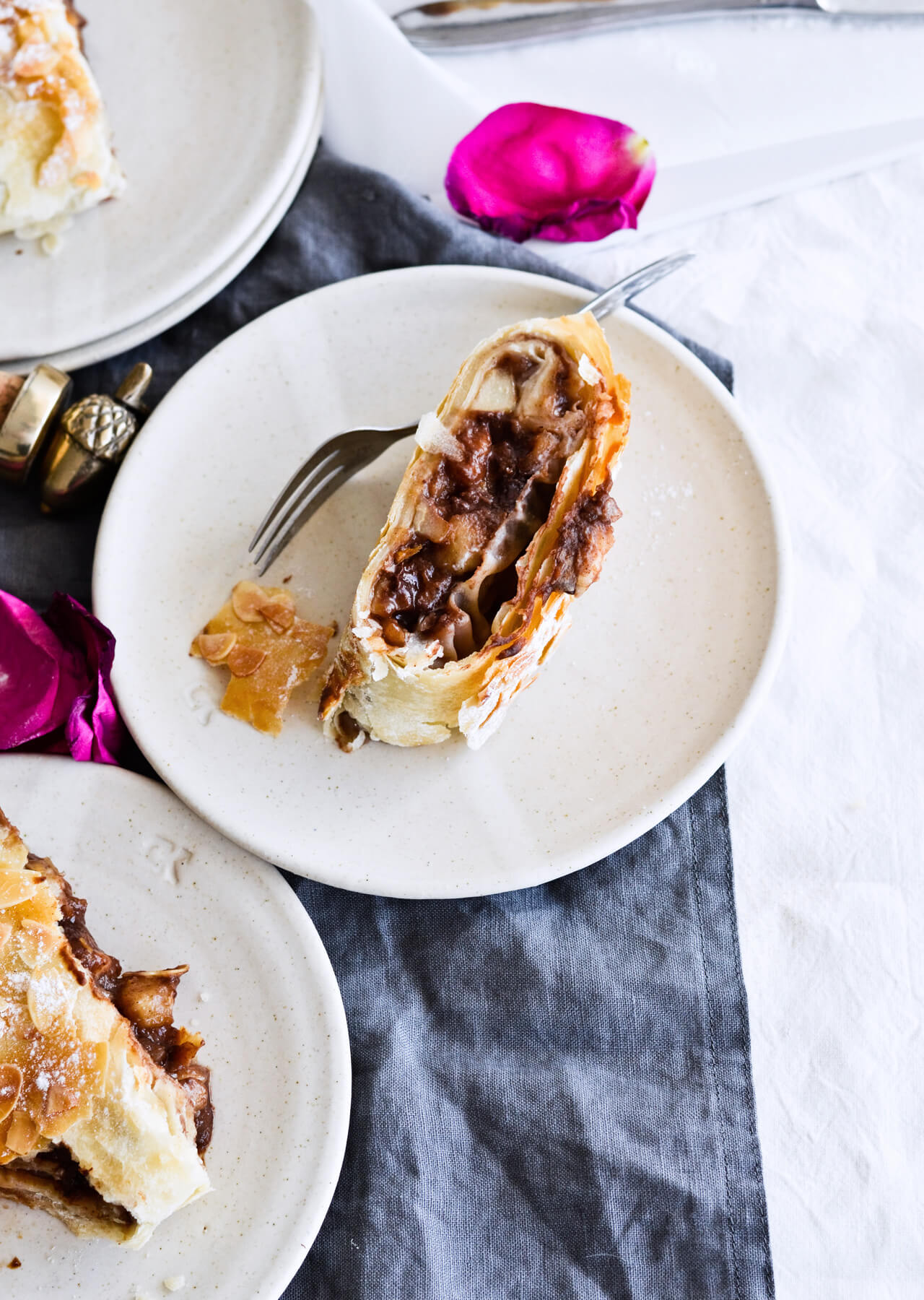 Good crazy though, I admire your determination. Really. I have to say I loved the second season as much as the first. However, I admit that there was one particular episode that I wasn't a fan of. It seemed to be more of a filler episode. I don't want to spoil anything for you, so I'm not getting into it… but I'm sure you'll know which one it is when you get there.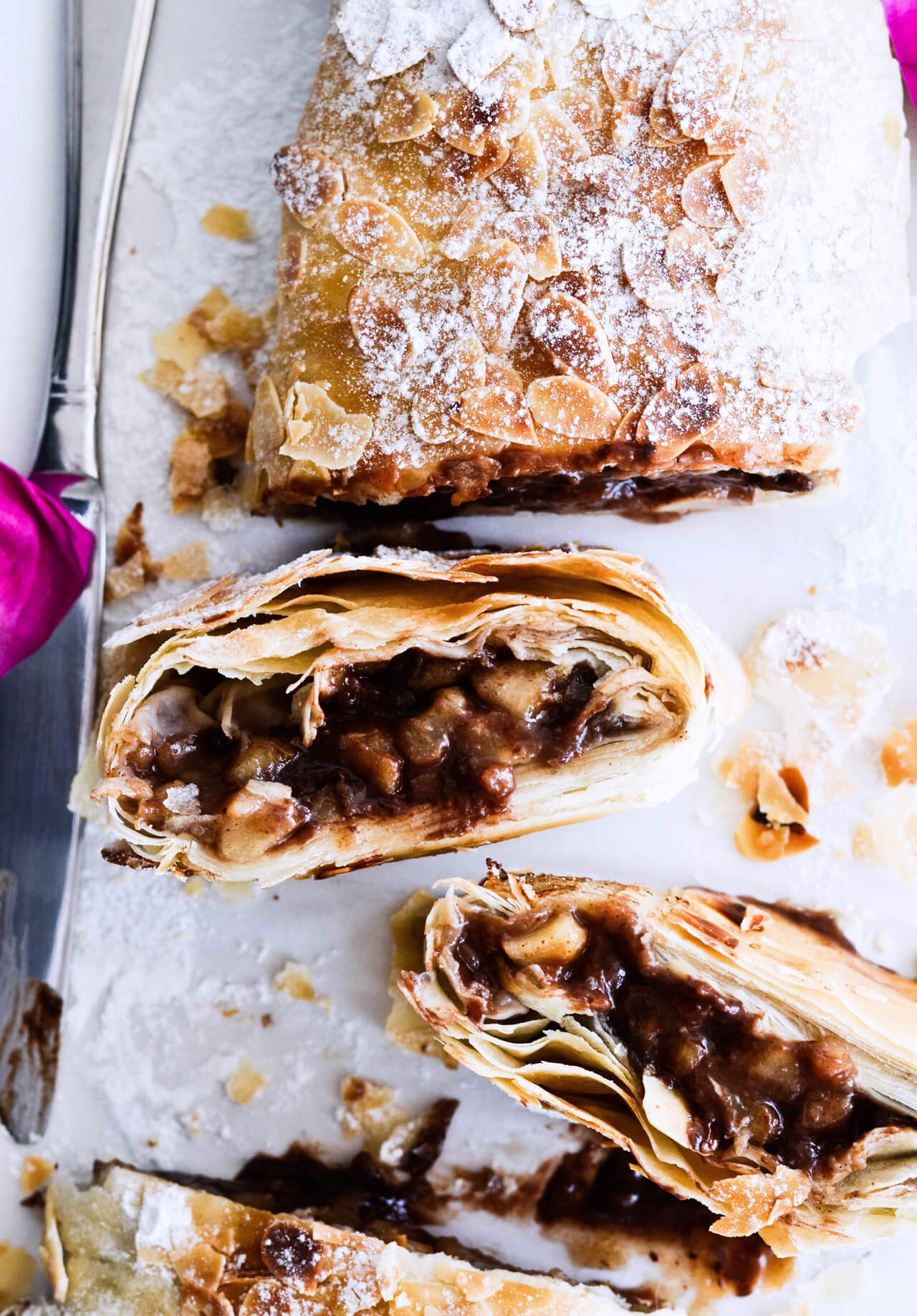 Anyway, scary TV aside, I've been doing a lot of baking these past few months. The oven is my enemy during the summer, so once the temperatures drop I cannot stay away. We are definitely BFFs right now. I'm thinking I should name her. How does Liza sound?
Okay, so… Liza and I made you this easy chocolate pear strudel. It's honestly the dreamiest thing. I already posted a similar recipe a few years ago, but I decided to rework the recipe because I wasn't completely happy with it, so here I am today with a new version.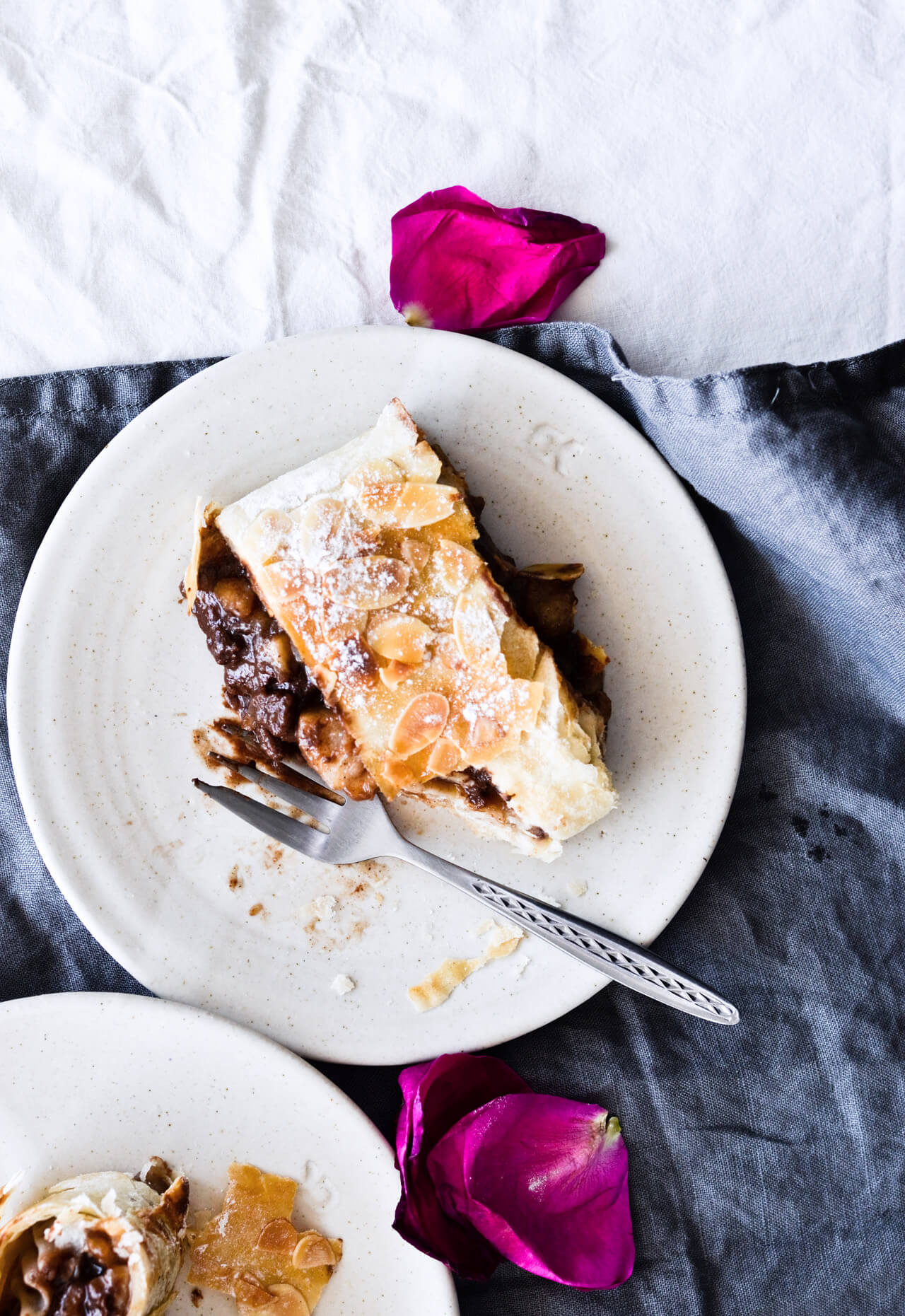 Strudel is essential to Slovene cuisine and to my life. I have vivid memories of my Oma making strudel for us, and my mom occasionally too, but Oma has this habit of making copious amounts of everything, so she always had a pan ready for everyone to take home with. Oma is a creature of habit and she sticks to classic flavors, so she always makes apple strudel, as well as quark strudel, but she doesn't venture outside of that.
Clearly, I'm different. Hence this Easy chocolate pear strudel. I mean, I adore apple strudel with all my heart, but trying out different combos is my jam.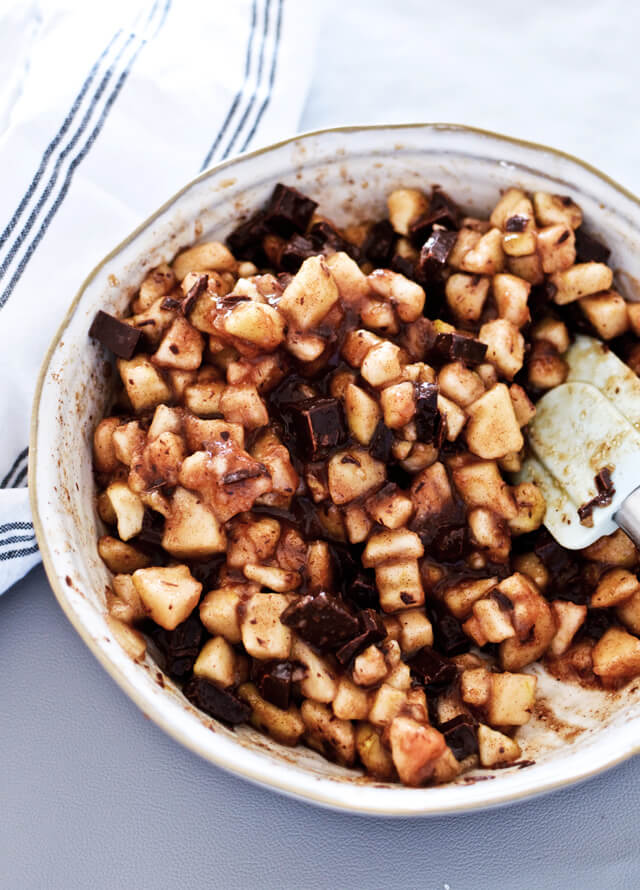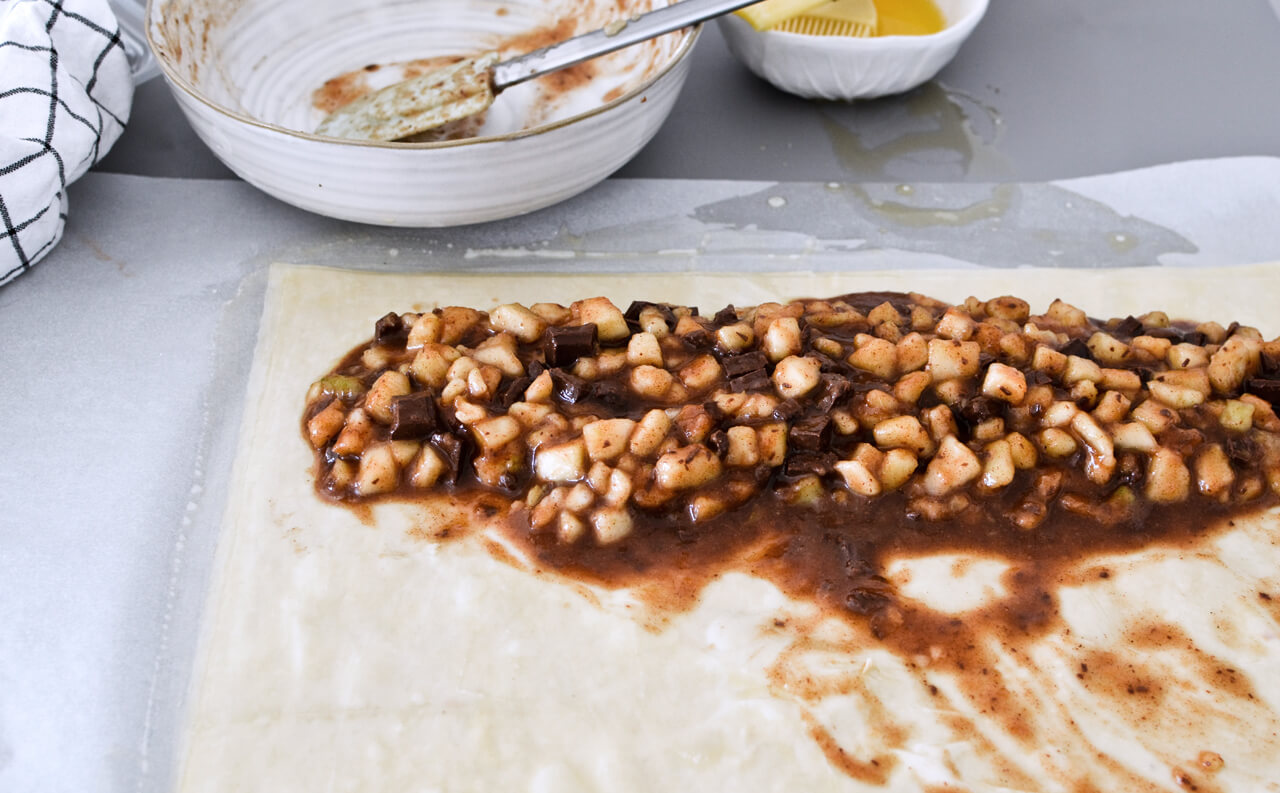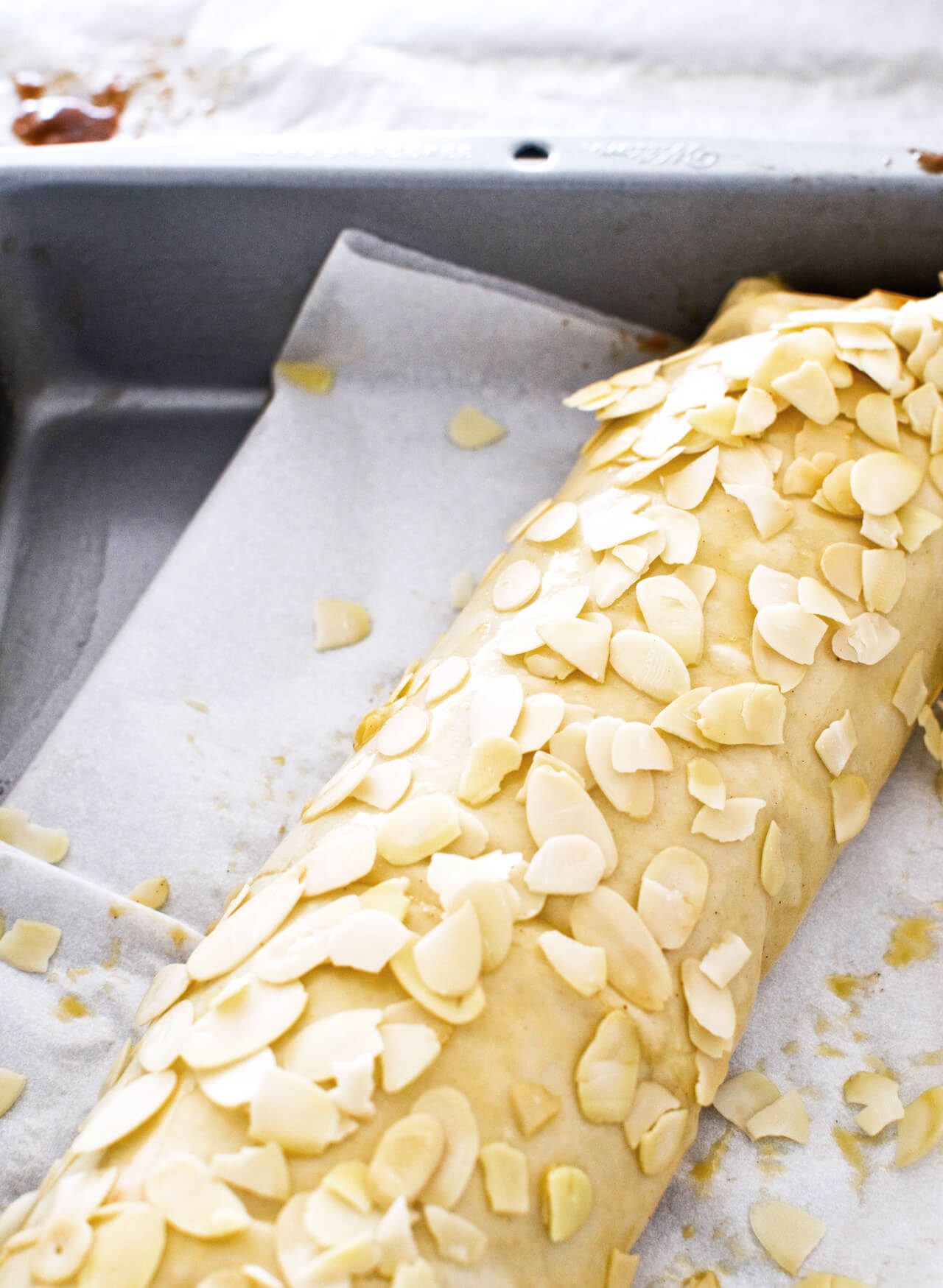 You've probably noticed I keep calling this strudel "easy". That's because it is! I took a major shortcut and bought phyllo pastry instead of making my own strudel dough. I know, I know… homemade is better, but honestly phyllo works just as well. I think you'll enjoy it too, because you can make a fancy strudel without really working a sweat.
The only thing you do with phyllo dough is you have to brush each sheet with butter and that's it. Then you just dump in the wonderful filling, roll it up and bake for about 30 minutes.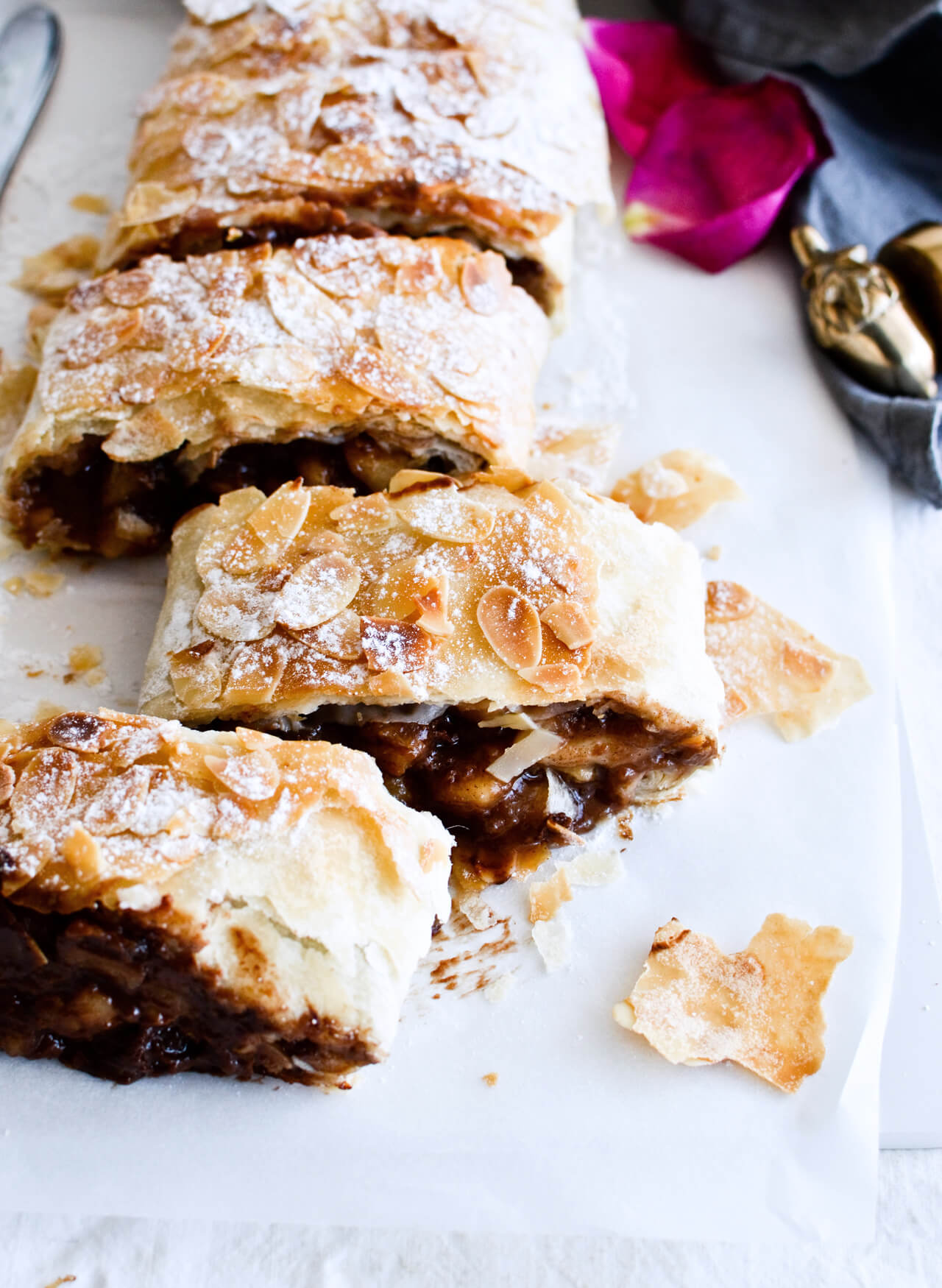 And about the filling, it's truly the most perfect combination of sweet and fruity and spicy. You start with the pears and season them with some cinnamon, nutmeg and almond extract. The latter gives a marzipan feel to the strudel, which makes it extra special without being overpowering. The next important addition is the chocolate. I used a simple 50% Lindt bar, but if you can handle more bitter chocolates, you can definitely use something darker.
There is sugar in the filling, which helps cut that bitterness. The last important addition is the cornstarch. When the strudel bakes, the pears release their juices which get mixed up with sugar and chocolate and create a wonderful chocolate sauce. The cornstarch will thicken that during baking, so you'll get a pudding-like texture once the strudel is done and it tastes DIVINE. Just the thought of it makes my mouth water.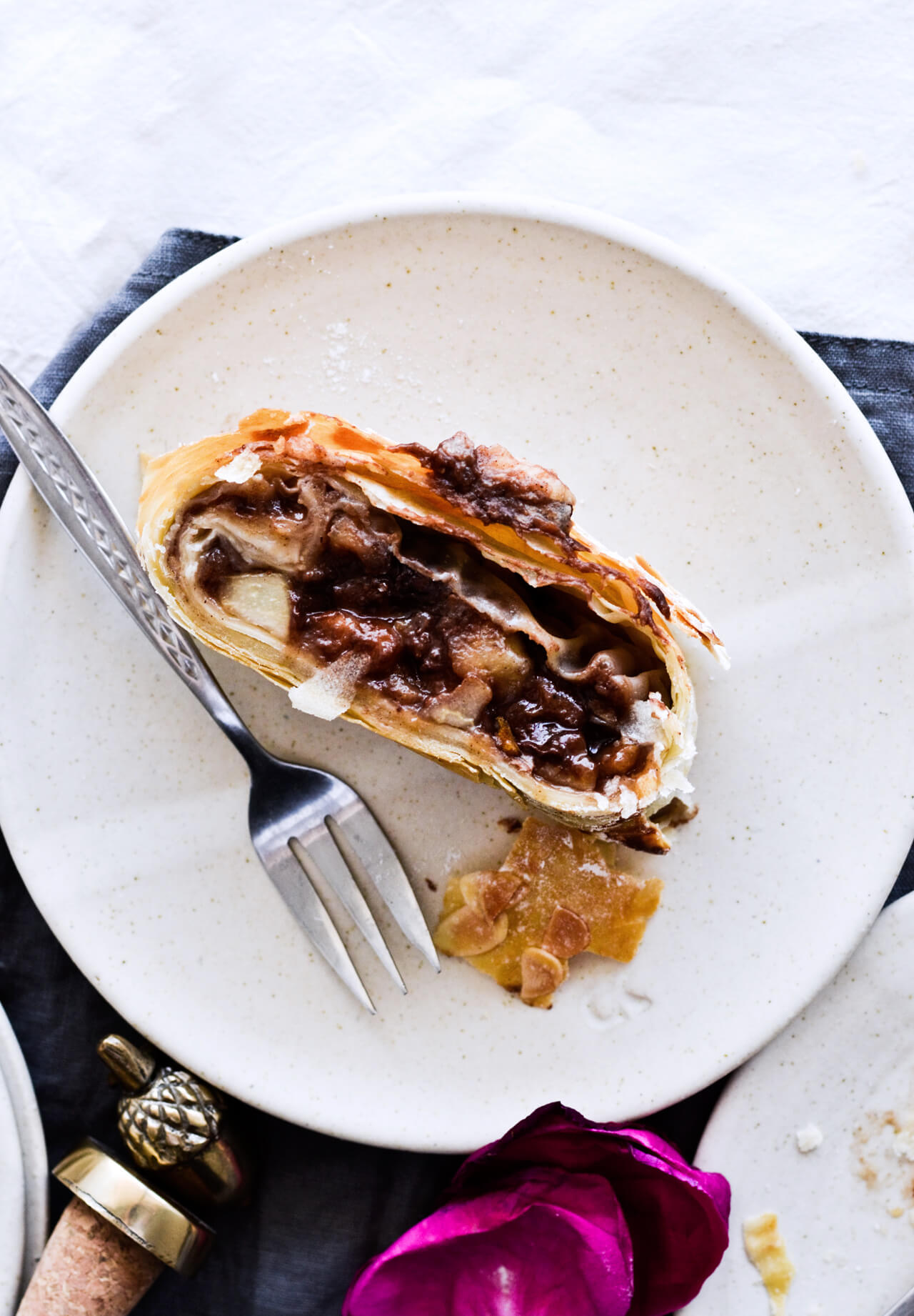 Now, if your pears are super juicy or you simply don't like strudel with a softer filling, you can add some breadcrumbs or cookie crumbs to the mixture and make the filling a bit thicker.
Either way, this super easy chocolate pear strudel is something you have to make this holiday season. If not for anyone else, just make it for yourself. It tastes great cold too, so you can even enjoy some for breakfast. Maybe have a green juice on the side, but mostly just focus on the strudel, okay? 🙂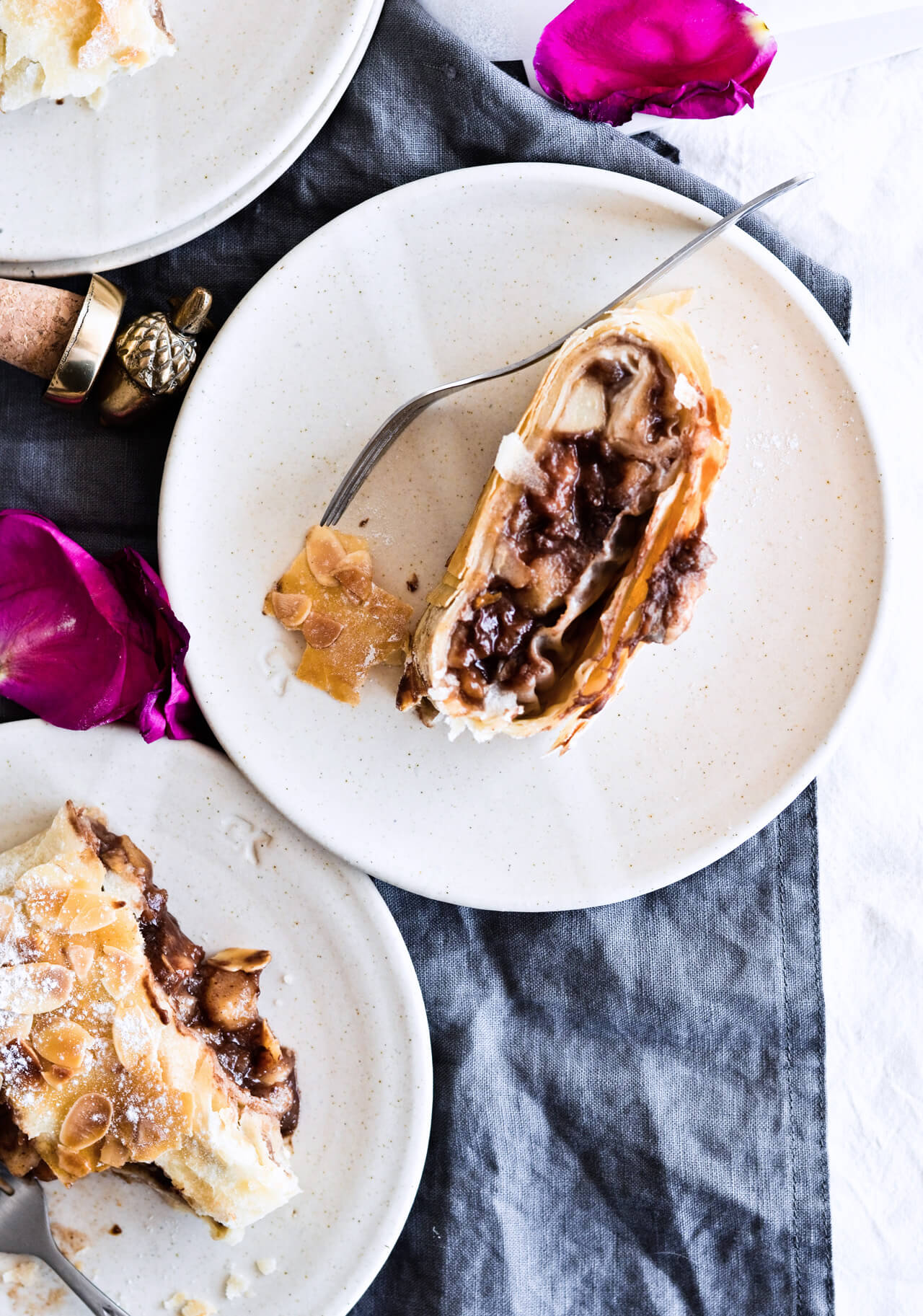 Print
Easy chocolate pear strudel
A wonderful mix of fruit and chocolate in this easy-to-make strudel that uses store-bought dough, so you can save some time!
Author:
Prep Time:

15 mins

Cook Time:

35 mins

Total Time:

50 mins

Yield:

8

pieces

1

x
Category:

Dessert

Cuisine:

German
4

pears (about

700g

/ 1.5 pounds): peeled, cored, finely chopped

1/2

–

1

teaspoon almond extract (or

3

–

4

drops of LorAnn almond oil)

1 teaspoon

ground cinnamon

1/4 teaspoon

ground nutmeg

2 1/2

TBSPs cornstarch

70g

(

1/3 cup

packed) Demerara / light brown sugar

2

TBSPs white granulated sugar

100g

(

3.5oz

) dark (50-55%) chocolate, roughly chopped

6

sheets fillo (phyllo) dough (

300g

or

10.5oz

package of dough)

115g

(

1

stick) unsalted butter, melted
a handful of almond flakes
Egg wash: 1 egg + 1 TBSP water, whisked

1

–

2

TBSPs powdered sugar (for dusting)
Instructions
Preheat oven to 190°C (375°F) and line a baking sheet with parchment paper. Set aside.
In a medium bowl, toss pears with almond extract. Stir in cinnamon, nutmeg, cornstarch, sugars and chocolate. Set aside.
Lay a sheet of phyllo dough on a clean surface. Brush with melted butter and cover with another sheet of phyllo. Repeat with remaining sheets. (You can end up having some leftover melted butter.)
You now have a rectangle of phyllo dough. Leaving a 3-cm (1-inch) border at the sides, place the mixture on one half of the dough lengthwise. Starting on the side with the filling, gently roll the pastry together, with the seam on the bottom. Pinch together the open sides, then tuck them under the strudel.
Brush strudel with egg wash, sprinkle with almonds and bake for 30-35 minutes, until golden brown. Remove from oven and let cool for at least 15-20 minutes. Dust with powdered sugar before serving.
Store leftover strudel in the refrigerator, covered with plastic wrap, and eat within 2 days.
Notes
When making this, you can use either almond extract or LorAnn almond oil. I actually use the latter, which has a very intense and wonderful flavor, so a few drops of this oil go a long, long way. You can get it on Amazon, in baking supply shops, etc.
If your pears are very juicy and you don't want a softer filling, add a few tablespoons of breadcrumbs (or cookie crumbs) to the filling before baking. This will thicken the mixture. Personally, I find that I don't need the crumbs.
About phyllo dough:
For this recipe I used a 300-gram (10.5-ounce) package of phyllo dough which consisted of 6 sheets.
However, know that different brands sell packages of various weights and/or number of sheets. For example, another brand of phyllo dough that I use sells 400-gram (14-ounce) packages of phyllo with only 4 sheets. So I get more dough overall, but less sheets and that's perfectly fine!
If the only type of phyllo you get comes in larger sheets, you can easily use 4 sheets instead and simply spread out the filling more. Instead of rolling the pastry just once, you might do two rotations (since the dough is wider), which still results in a wonderful strudel.
If you cannot get phyllo anywhere, use puff pastry instead. However in that case, you might have to use less filling or just make several smaller strudels.
SaveSave