An unfussy recipe with simple ingredients that will make you think of Spring, because of its vibrant color and the abundance of vegetables used. This winter green soup is packed with cruciferous vegetables – cauliflower, brussels sprouts, broccoli – that make the soup insanely flavorful. Cooked in about 30 minutes, it'll fill you up while giving you enough leftovers to freeze or eat later.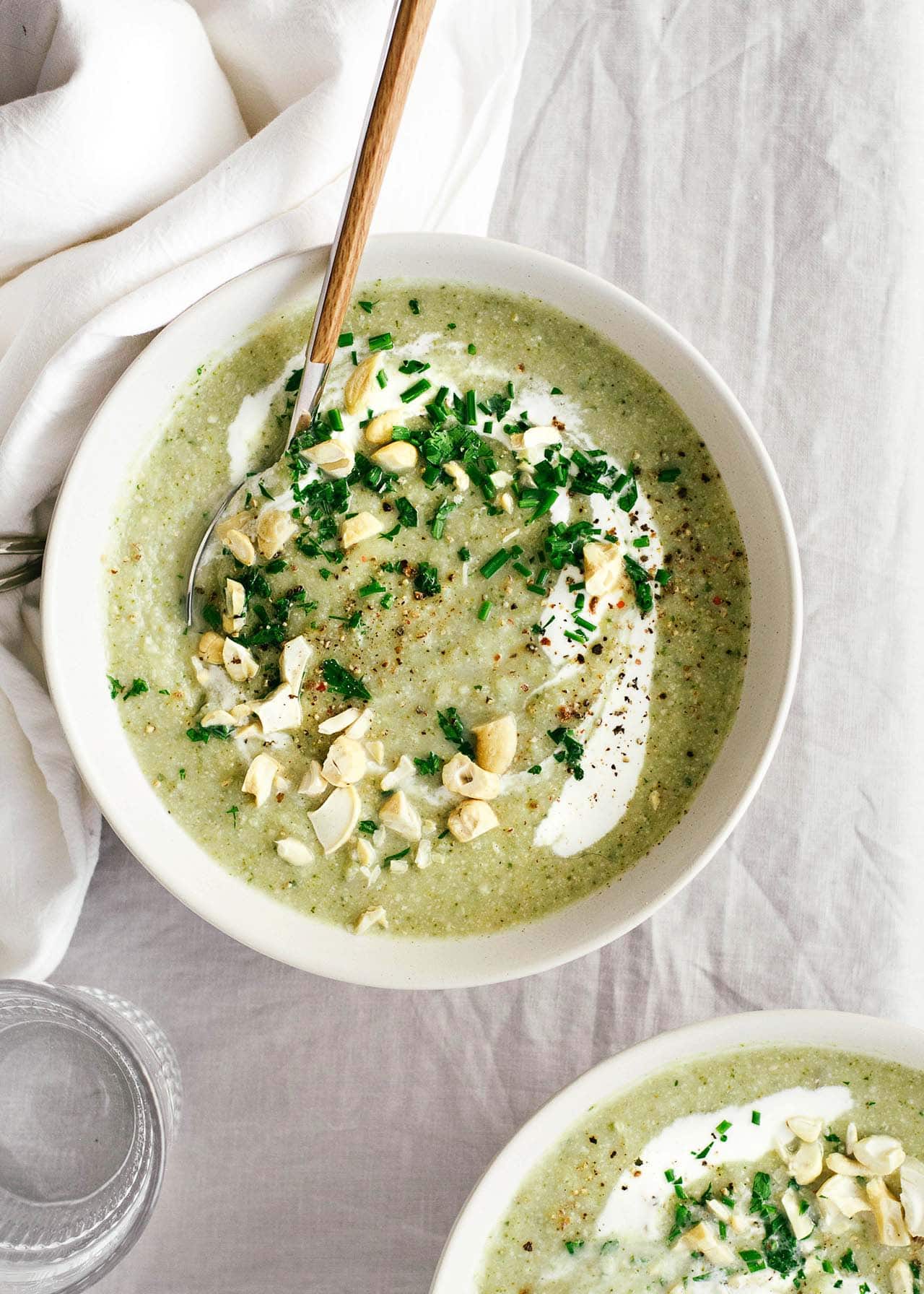 I never thought this random winter soup would become a favorite one day. I say random because the original recipe came about completely spontaneously years ago and now here we are, here I am, still making this soup every winter.
When I think about it, a lot of the things that are unplanned turn out to be pretty great. Spontaneous coffee dates, that new sweater you buy on the day you swore you won't be shopping at all, a soup made of the vegetables currently in the fridge.
That happened with this winter green soup. I often buy produce with a certain dish in mind and then end up making something else. Or sometimes I just buy vegetables that look really good and think about the dishes later at home. Is it just me? Luckily, soups in general are very forgiving and almost impossible to mess up, which is why I love them so much.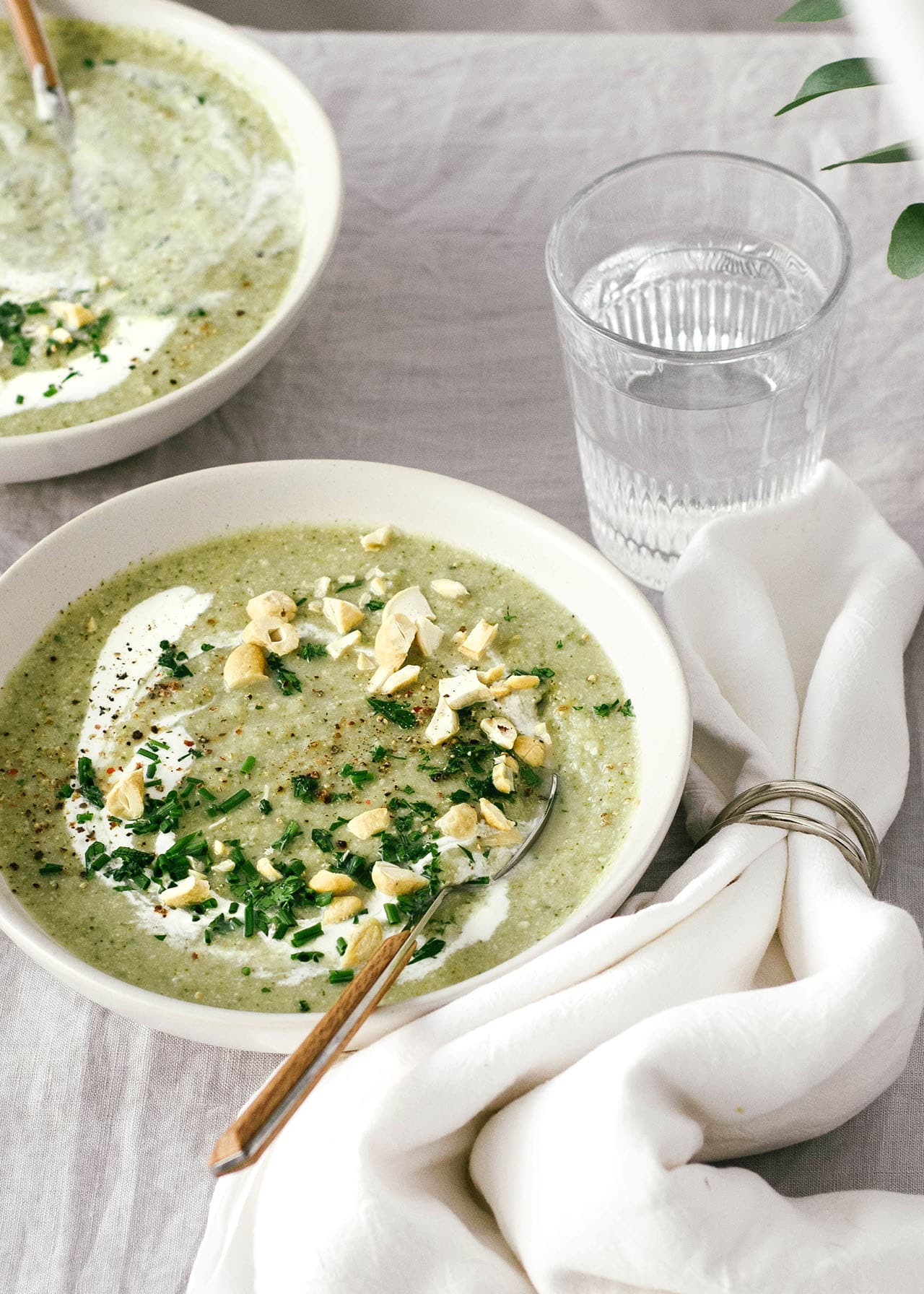 So this winter green soup, is it broccoli soup? Cauliflower soup? Brussels sprouts soup?
Well, it's everything. It's a cruciferous vegetables soup, made with all the winter vegetable jewels. Understandably there is some chopping involved and I think the prep time is more time consuming than the actual cooking. But the good thing is that you don't have to be very precise because you're pureeing the soup in the end anyway. With that said, know that the smaller the pieces, the faster they cook. I try to cut all kind of equally, but it honestly depends on the time I have and you definitely shouldn't stress over it.
Okay, moving on. The base of this green winter soup is very classic. You start by cooking onions in oil and to that you add leeks. Sometimes if I'm out of onions, I'll use more leeks, but ideally you want both for that really great flavor. I normally make this soup with yellow or red onions, but will often add 1-2 shallots to the mix. Surprisingly, I'm not using any garlic, which you totally can if you want. If anything, I sometimes throw in some garlic powder but overall I actually prefer the more gentle mix of onions and leeks.
Next, we have the cruciferous vegetables. Each one brings something extra to the table or I should say pot. Cauliflower is the super creamy one, so I always make sure to put enough of that in the soup. And if cauliflower takes one part, then the other is reserved for the rest of the greens.
This winter green soup is the perfect soup for those broccoli stalks! I know we always talk about broccoli florets and I adore roasted broccoli, but don't neglect the broccoli stalks. It will add more bulk and some extra creaminess to your soup so make sure you use it! I like to peel the stalk like a potato and cut away and bad parts (if there are any). Then I just slice it in thin discs and add to the rest of my ingredients.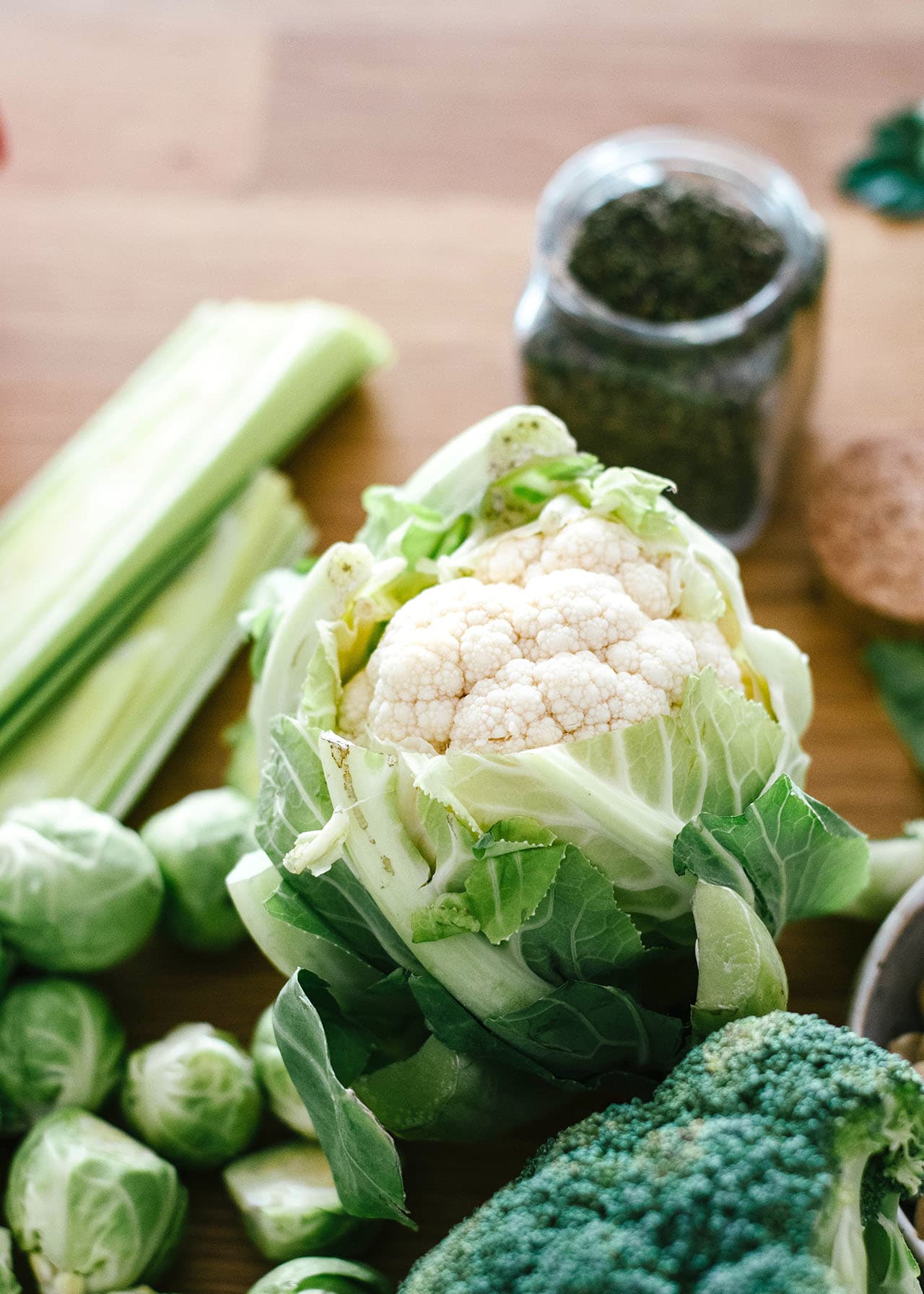 Fresh or frozen vegetables for this soup?
As you read through the recipe, you'll see I'm using fresh vegetables. If cauliflower, broccoli and Brussels sprouts are in season, I see no need to buy frozen. However, I am a big fan of frozen vegetables and always have some on hand for easy dinners. So yes, you can absolutely use them in this recipe.
Frozen vegetables are not only a money saver in some instances, they can also save you some time, since they're prepped for you already. As far as flavor is concerned, frozen vegetables are picked and frozen in their prime time, so they're not actually lacking in flavor.
If you're using frozen vegetables, even only a part (e.g. frozen broccoli and the rest are fresh vegetables), use them as you would fresh. Simply cook the onion and leeks in oil, then add all of your veggies. Toss them straight in without thawing and continue with the recipe.
Vegetable stock, water or stock cubes?
Of course, as with any soup, I'm using vegetable stock. You can make your own, buy it in the store or simply use vegetarian bouillon cubes or powder. Personally I'm a big fan of stock cubes, because they take so little space in my spice drawer, but add all the flavor I want in a recipe. They're also much easier to keep on hand than vegetable stock. And luckily, this soup is also heavily based on vegetables, so you're not relying on the bouillon cubes. Instead you're only amplifying those already present natural flavors.
What makes this winter green soup extra creamy?
When I initially came up with this recipe, I didn't use any nuts. It was all vegetables and a dollop of cream for serving. But over the years I've really some to adore cashews in savory dishes. On their own cashews aren't the most interesting nuts, they're rather plain. But their texture is creamy and they have a slight sweet taste to them. So they may not be obnoxious or loud, but they serve a purpose and that is to add creaminess.
If you've ever made your own nut milk, you know that some nuts need to be strained (e.g. almonds) and some don't – like cashews. They blend beautifully, so they're perfect for soups. Once the soup is cooked and the vegetables are tender, you simply add them to the pot, cover the pot with a lid and wait about 10 minutes. The boiling hot soup softens them pretty fast and then all you have to do is blend.
Can I add cream?
You definitely can! The cashews and cauliflower really do make this soup creamy enough, but for serving I like to add some sour cream or creme fraiche. Both add a nice contrast to the earthiness of the vegetables. But if you want to make an overall richer soup, you can add cream straight to the pot of soup once it's blended and finished. Add as much as you want according to your own taste. If you want a dairy-free alternative, coconut milk would be a great choice.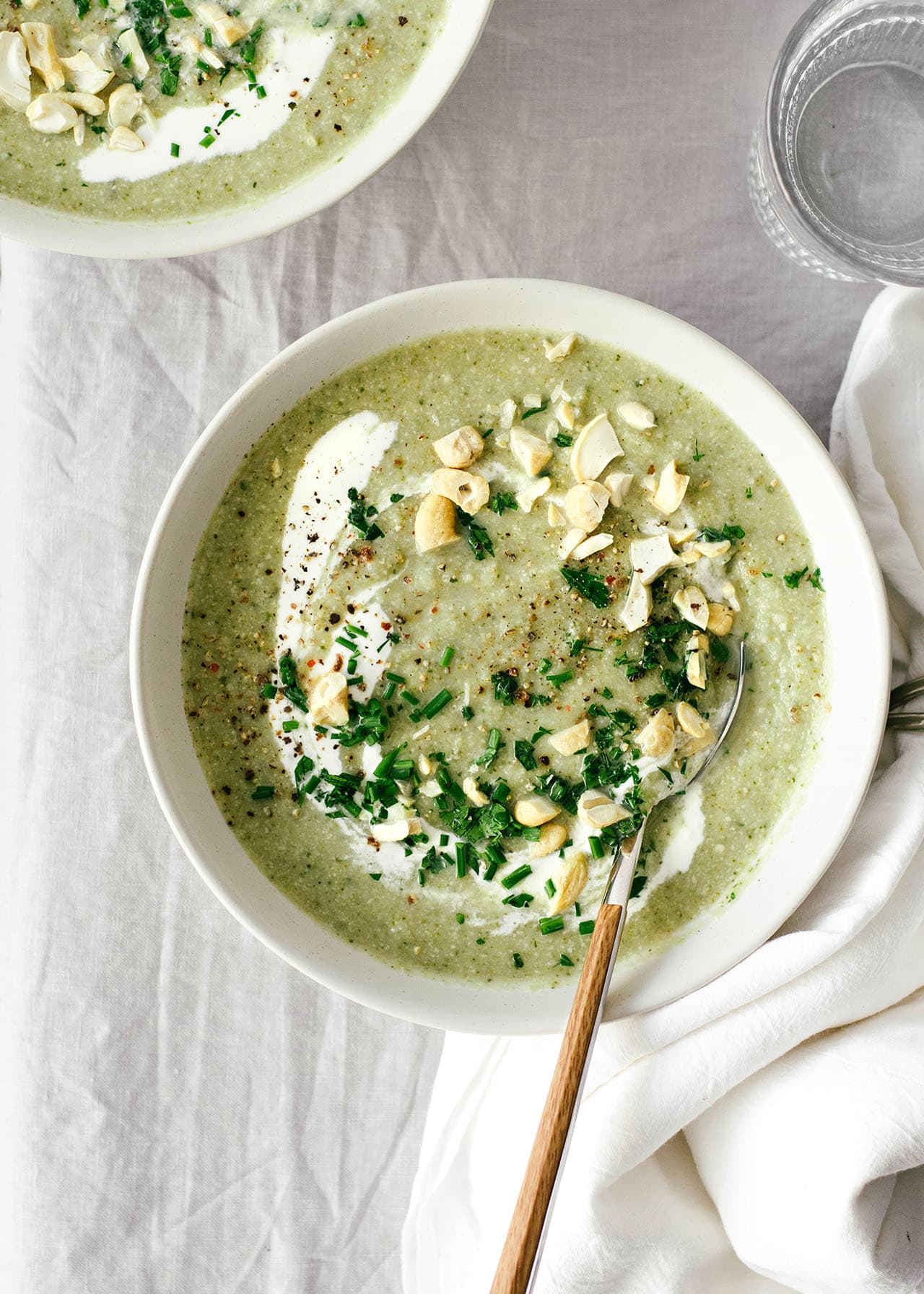 And now you have the best winter green soup ever!
Every soup is the best soup ever because soup in general is amazing, I fully stand behind that. But I do hope you love this winter green soup as much as I do. Because it's unfussy and packed with everything that is good for you AND made pretty quickly once you get the chopping out of the way.
Also, it's creamy without being laden with cream and filling even without potatoes, which I usually build my soups on. It's a winter staple that makes me think of Spring, because of its pretty color. And I am especially thinking of Spring now, on a cold late rainy February evening. And in the event that this soup doesn't cut it, try this yummy leek tart.
Winter green soup (cruciferous vegetables soup)
A low-carb soup packed with winter vegetables that is healthy and easy to make. Freezer-friendly too!
Ingredients
2

tablespoons

olive oil

1

medium onion

(finely chopped)

1

large leek

(trimmed and halved, white parts thinly sliced)

1/2

teaspoon

sea salt

(more to taste)

1

teaspoon

dried thyme

12

oz

(

350

g

)

Brussels sprouts

(ends trimmed, yellow leaves removed, sliced into small disks)

12

oz

(

350

g

)

broccoli florets

((from 1 medium-to-large broccoli))

27

oz

(

750

g

)

cauliflower florets

((from 1 large cauliflower))

5 1/2

cups

(

1300

ml

)

vegetable stock

1

small bunch parsley

(roughly chopped)

1 1/3

cups

(

150

g

)

raw cashews

pepper

(to taste)
For serving
sour cream or creme fraiche

(or a vegan alternative)

cashews

(roughly chopped)

fresh herbs

(such as parsley and chives)
Instructions
Heat olive oil in a large saucepan set over medium heat. Add onions and cook for 1 minute, stirring occasionally. Then stir in leeks, salt and thyme and cook for 3-5 minutes, until the leeks soften.

Add brussels sprouts, broccoli and cauliflower florets. Mix with the leeks and let vegetables cook and sizzle for about a minute. Pour over the vegetable stock, just until all the vegetables are almost completely covered. Set temperature to high heat to bring soup to a boil, then lower heat to medium and cover saucepan with a lid.

Cook (maintain a simmer) until the vegetables are tender, around 20 minutes, stirring occasionally. Remove saucepan from heat, toss in the parsley and cashews and keep covered for a few minutes.

Working in 2-4 batches, transfer soup to your food processor or blender (you can also use an immersion blender) and puree soup until smooth. Transfer soup back to saucepan, taste and season with salt and pepper to taste.

Ladle soup into bowls and garnish with a dollop of sour cream, cashews and chopped herbs. Serve.
Notes
Use a 4-quart (4-liter) saucepan at a minimum. With soups like this one it's better to go bigger.   
Use all the vegetables: Because you are pureeing this soup, you can use parts of vegetables that you otherwise might not use if you were making a stir fry or similar. If your cauliflower or broccoli have nice, fresh looking outer leaves chop them and throw them in the saucepan along with the florets. As you trim the cauliflower or broccoli stalks, only remove the very ends and any weird looking parts and chop up the rest for the soup. The stalks add a nice creamy texture to the soup.
Alternately, you can also chop the leaves and stalks and freeze them to use whenever you're making vegetable stock.
While I give pretty exact measurements for all the vegetables, feel free to adjust the quantities, depending on what is available to you. This is a great soup to use up leftover greens and other vegetables.
Cashews are completely optional, but add such a creamy texture that you should definitely try adding them, in case you're not allergic or have a sensitivity to nuts. 
Alternatives that make the soup extra creamy: sour cream, soy creamer, coconut milk. 
Store leftover soup covered in the fridge for 1-2 days or in the freezer for 2-3 months.
Email recipe
Pin Recipe