Let me tell you what weekends are for: vacuuming, watching TV and baking banana bread. Okay, yeah, going out for brunch or on a hike is pretty great too, but sometimes my weekends are very uneventful. And so was this one and I actually like that. I'm content with just staying at home.
I really think staying at home is underrated. There always seems to be that question lingering in the air of "what are you doing over the weekend" and if you say "nothing really" it's not good enough. Am I overreacting? But when I think about it, having a peaceful home, where you can feel calm and happy, is so important. It shouldn't be taken for granted and it should be cherished.
So, I spent this weekend cleaning, cooking, watching TV, reading a book. I'm a bit peculiar with my vacuuming, so it always takes me over an hour to completely vacuum our entire apartment. And then there's the TV watching, I just love finding new shows and weekends are perfect for that. The one I discovered yesterday was Scream made by Netflix. It's like Scream – the movies, but set in the present.
I've seen two episodes so far and I enjoyed both, so I'm definitely watching the whole season. But what I've realized now is how watching TV has changed.
I remember being a kid and studying the TV guide to see what I could watch. And I would always have to plan ahead, so that I didn't miss anything. And then if I really liked a movie or show, I cut out the description of it from the TV guide and I glued it into this notebook I had specifically for movies. I guess I was kind of a geek.
But these days we have Netflix.  You get a whole season of a show in an instant. A show, speaking specifically of Scream, that mentions things like YouTube, podcasts, Instagram; a show in which a character says "Well, he must be ancient if he thinks we're still on Facebook."
Things have changed so much in the last 10-15 years, which is both crazy and really cool at the same time.
And then there's the banana bread. It's not that I don't make it over the week sometimes, but it's such a weekend thing for me. Banana bread and coffee at 5 o'clock on a Saturday, that is all I need. And then I always have some bread leftover for Monday anyway, even Tuesday, which is great.
This banana bread, as seen in the name of the recipe, is vegan. It gets its brown color from a combination of things, starting with olive oil, then vanilla bean paste, whole wheat flour and almond meal. It does have sugar in it, but it's surprisingly not sweet at all. It's also loaded with toasted hazelnuts which I adore.
And this is my tip for you: always toast your hazelnuts. Or any nuts for that matter. Toasting nuts makes the biggest difference in the world, they get a crunchier texture and a wonderful aroma, that is quite addictive.
And then to make this more of a weekend bread that can also sub as a coffee cake, I smothered it with bittersweet chocolate and sprinkled pearl sugar on top. I should let you know that pearl sugar is pretty crunchy, very much like hard candy, so if you want something that requires less chewing but gives a similar visual effect, then coconut flakes are the way to go.
And think about it – banana, chocolate, coconut – a great combo isn't it?
This vegan olive oil banana bread is moist and crumbly. The hazelnuts give it a nice crunch and the bittersweet chocolate on top balances out the sugar used in the bread, which makes this bread only mildly sweet.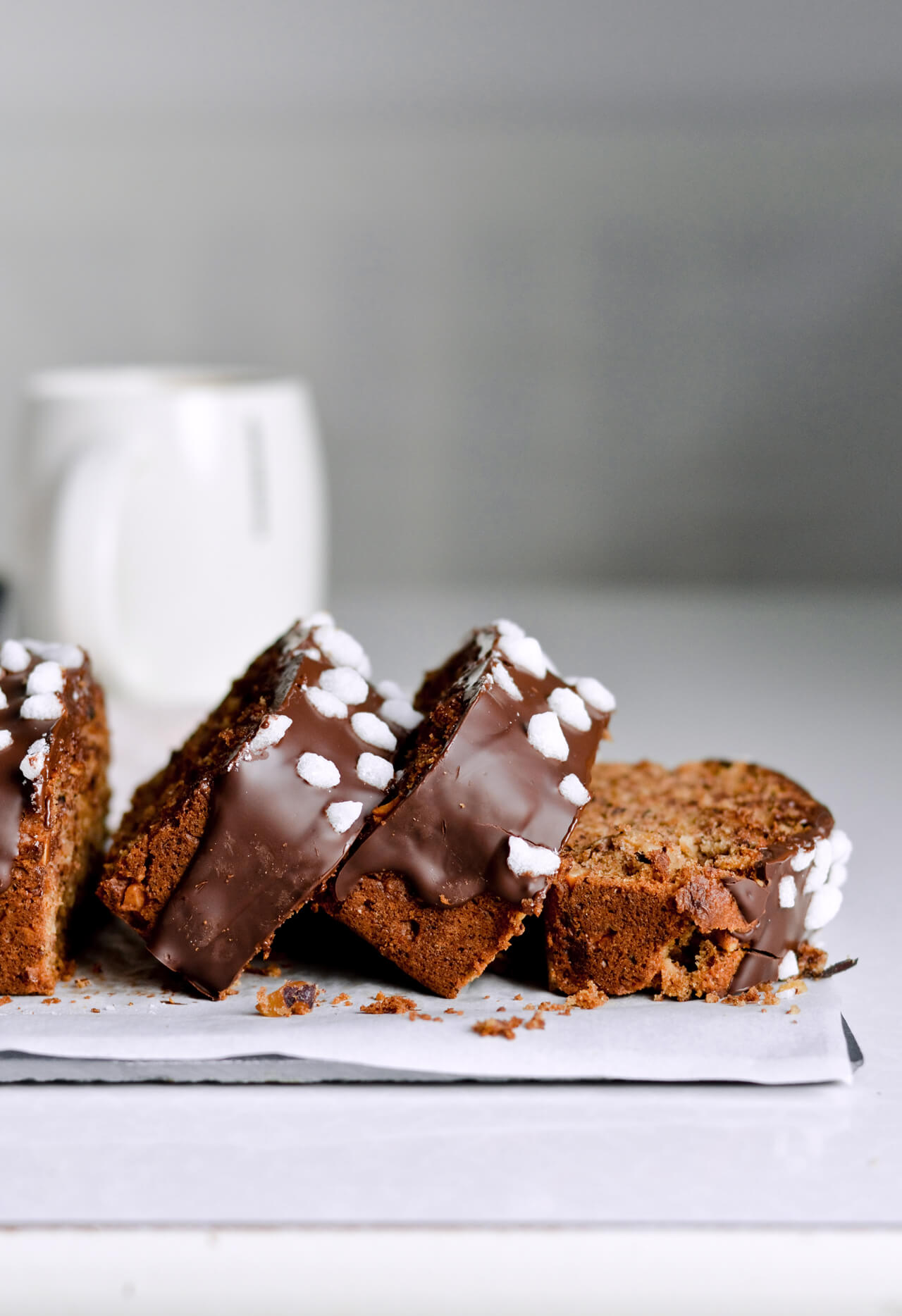 Print
Vegan olive oil banana bread
A healthier alternative to the usual banana bread. Recipe makes one 10-inch loaf.
Author:
Yield:

10

servings

1

x
Category:

Dessert, Breakfast

Cuisine:

American
160g

(

1 cup

or 5,

6 oz

) raw hazelnuts

50g

(

1/2 cup

or 1,

8 oz

) almond meal (or hazelnut)

250g

(

2 cups

or 8,

8 oz

) whole wheat flour

1 teaspoon

baking soda

3/4 teaspoon

salt

2

medium ripe bananas, mashed

120

ml (1/2 cup) olive oil

1 teaspoon

vanilla bean paste

105g

(

1/2 cup

or 3,

7 oz

) white granulated sugar (or Demerara sugar)

120

ml (1/2 cup) water

200g

(

7 oz

) bittersweet (51%) chocolate (dairy-free), roughly chopped
pearl sugar for decoration
Instructions
Preheat oven to 180°C (350°F). Grease a 9 or 10-inch loaf pan with oil, line bottom and the longer sides with parchment paper, dust uncovered sides with flour. Set aside. Place hazelnuts on a baking sheet and toast in the center of the oven for 5-10 minutes, until aromatic and the skins start to come off. Remove from oven and let cool while you prepare the batter.
In a medium bowl, combine the almond meal, flour, baking soda and salt. In a large bowl, stir together the bananas, olive oil, vanilla bean paste and granulated sugar. Whisk in water, then gently the flour mixture. Don't overmix.
Roughly chop the toasted hazelnuts and fold them into the batter. Transfer batter to the prepared pan and bake in the center of the oven for 40-50 minutes, until the top is brown (but not burned) and a skewer inserted in the center comes out clean.
Let bread cool in the pan for about 5 minutes, then transfer it to a wired rack placed over a piece of parchment paper.
As the bread cools, set up a double boiler. Place 2/3 of the chocolate in the glass bowl. When it melts, remove bowl from heat and add in the rest of the chocolate. Let it melt completely, stir occasionally.
Pour chocolate over the bread, spread it evenly with a spatula. Let chocolate set for a few minutes, then sprinkle bread with pearl sugar.
Place banana bread in the fridge and let it cool completely, until the chocolate hardens. Remove from the fridge, slice and serve. Store covered at room temperature.
Notes
On freezing: I haven't frozen a loaf with chocolate before, but when I make this bread without chocolate, I cut it into slices, wrap each slice in plastic wrap and store them in a ziplock bag/plastic container in the freezer. This way I can only take out a slice and don't have to defrost the whole loaf. For best results, freeze the bread (sliced or not) right after it cools to room temperature. This way it'll taste like freshly baked once defrosted. Recipe inspired by Gluten-free and vegan holidays by Jennifer Katzinger.