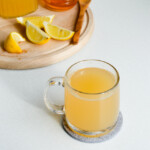 Drink tea!

The one sentence I've said more often than any other in the past two weeks. I wake up and think of tea even before I think of coffee. I take a sip of that coffee, followed by two sips of tea. I go out on coffee dates but order tea. It's tea this, tea that. I'm obviously going crazy with it because it really helps my throat, but a cold or no cold, tea is good, there's no denying that.




I have a few favorites, all very basic tastes like chamomile with honey, ginger with lemon or mint. I'll sometimes buy "special" mixes like evening tea or energy tea, whatever that means. It's fun and I don't need much convincing to try a different blend. I do drink a lot of coffee though, and tend to stick to herb and fruit flavors because of that.



This is autumn aka apple season and there's a lot of apple peeling happening, for things such as this apple sauce or fregola with caramelized apples and let's not forget apple pie. That means being stuck with piles of apple peels and cores. And while I wouldn't describe myself as being extremely frugal, I actually am to some extent. This apple peel tea is proof.