Up your breakfast game with these seven hearty breakfast recipes!
Some may be surprised by this, but having a food blog and writing about food doesn't mean I always make the best choices. Because I don't and I think that's completely normal (right?). On some days when I'm busy or just super late and out of time, I just have a banana with my coffee and don't think about a real breakfast until much later, when I'm all weak and ready for lunch.
What I've realized is that having things written down on a list, a little breakfast menu if you will, can help so much. I skip the whole "what do I want? what's in the fridge?" process and get right to it. Having a list also helps me plan ahead and have more versatile breakfasts, because I fall into a routine of having the same thing every day way too easily.
And I want you to have this list of options too, so here's a selection of my favorite seven hearty breakfast recipes. The mornings are already a bit chilly here and some trees already have yellow or brown leaves peaking out. I'm really getting back in the mood for pancakes, waffles and apple smoothies. The smell of cinnamon alone makes me really happy. 'Tis the season after all, and now don't need an excuse to put it on everything.
These are whipped up in no time and are so flavorful and moist! Yogurt and honey are both healthy toppings and filling too, so you're not leaving the table hungry.
You can easily use apples instead of pears or a mixture of both.
This is real comfort in a jar, almost as if you're having apple pie for breakfast!
This gluten-free porridge will fill you up for hours. Cooked with chopped apples and sprinkled with a lot of cinnamon, it's such a cozy meal. Add almonds for some crunch and extra fiber.
Great for those days when you want something crunchy yet refreshing. As your bread is toasting simply prepare the cottage cheese and slice the grapes, the rest is just layering ingredients.
Store leftover cottage cheese for an afternoon snack, it's divine!
This breakfast is for those days when you have some extra time on your hands, but I promise it is well worth it!
The waffles are crispy, drowned in sweet baked ricotta and creamy bananas. Your kitchen will smell absolutely amazing as you bake these.
I am absolutely in love with these. Whenever I make a batch breakfast is so easy. As we are granola bar termites, they don't last more than a week in my home; but can easily keep longer.
Grab one on your way out the door or chop it up and add to a cup of Greek yogurt, along with a chopped banana or other fruit. So good!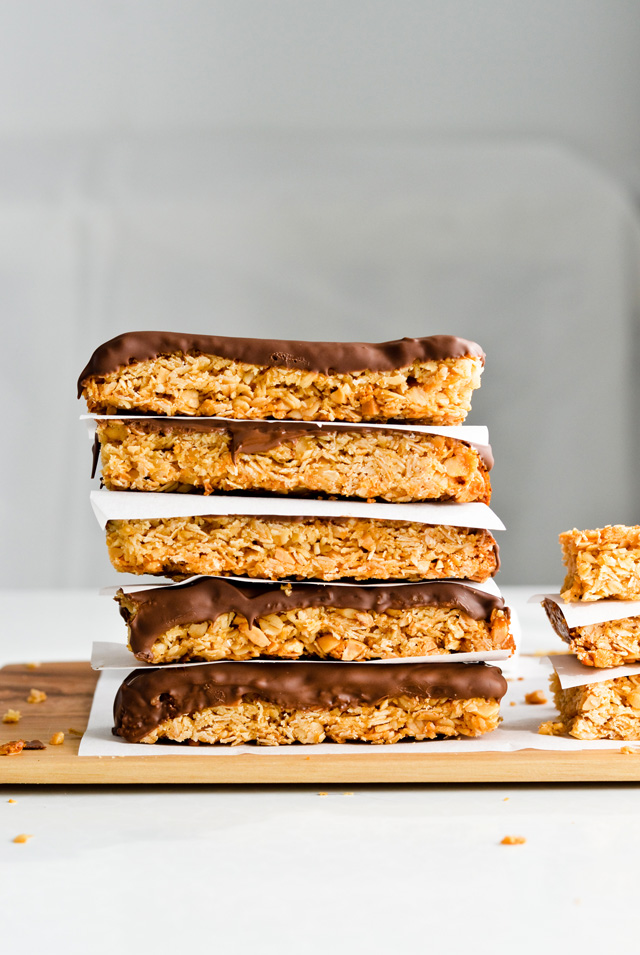 A true breakfast of the champions, these savory pancakes are everyone's favorite. The pancakes are made of batter mixed with parsley and chopped sun-dried tomatoes, then topped with a crispy fried egg and simple spinach dressed with lemon juice.
Print
Breakfast shopping list
A shopping list for all the ingredients you need to make these 7 breakfasts.
Some quantities are rounded, for your convenience and to make sure you have enough.
4

slices of bread

6

large eggs

240

ml (8.5 fl oz) honey

120g

(

4.2 oz

) bittersweet chocolate

70g

(

2.5 oz

) milk chocolate
Fruit and vegetables
6

sun dried tomatoes

1

bunch of parsley

50g

(about

2 oz

) baby spinach

1

small lemon

1

pear

5

medium bananas

3

medium apples

200g

(

7 oz

) green grapes
Grains, nuts, …
250g

(

8.8 oz

) old-fashioned oats

180g

(

6.5 oz

or

1 cup

) millet

110g

(

3.9 oz

) shredded unsweetened coconut

105g

(

3.7 oz

) unsalted peanuts

160g

(about

5.5 oz

or

1 cup

) whole almonds

6

medjool dates
Dairy
230 g

(

2

sticks) butter

2

liters (2 quarts) whole or part-skimmed milk

1

small Greek yogurt

85g

(

3 oz

or

1/3 cup

) sour cream

120

ml (4.5 fl oz or

1/2 cup

) whipping cream

150g

(

5 oz

) ricotta cheese

250g

(

0.5

pound) smooth cottage cheese
Flour and sugar
650g

(

23 oz

) all-purpose flour

100g

(

3.5 oz

or

1/2 cup

) white granulated sugar

1 tablespoon

light muscavado sugar
Extras
few tablespoons sunflower oil

4 teaspoons

baking powder

1/2 teaspoon

baking soda

2 teaspoons

vanilla paste
cinnamon
sea salt
black pepper